This article may contain affiliate links; if you click on a shopping link and make a purchase I may receive a commission. As an Amazon Associate, I earn from qualifying purchases.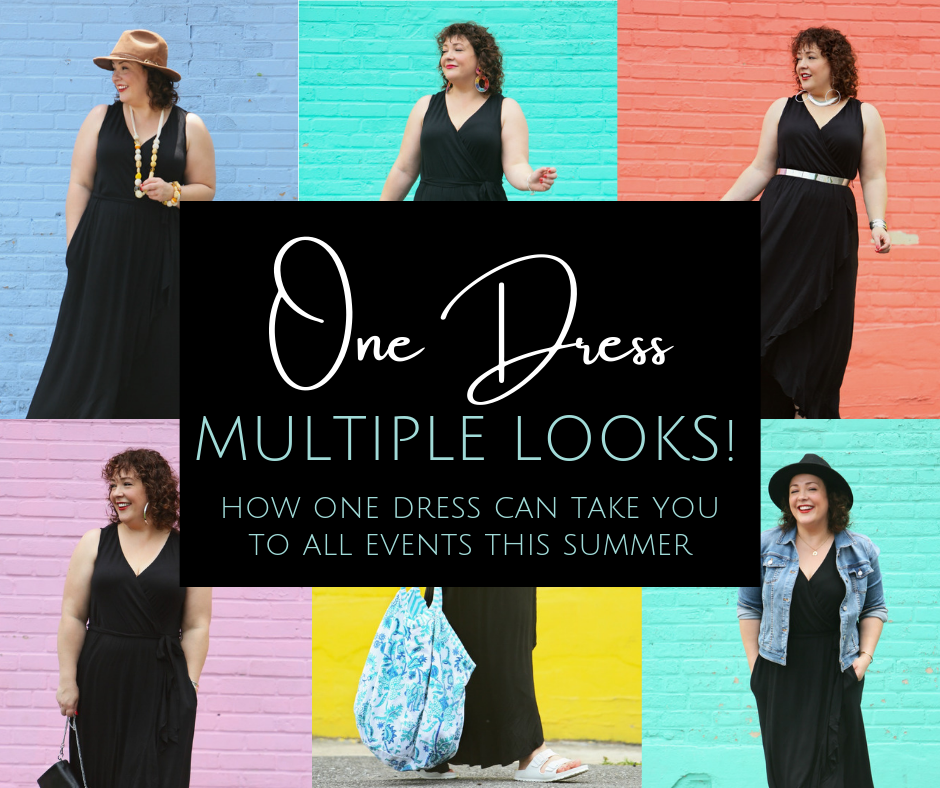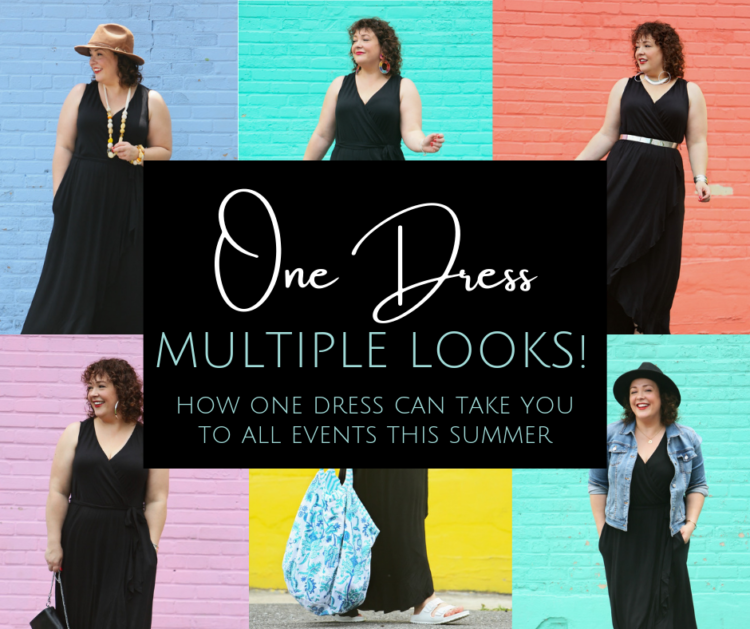 We all know Soma for carrying amazing bras, panties, and sleepwear. But did you know that Soma also carries apparel? One of my favorite summer dresses is from Soma; you can see it in this post and this post. I got it in 2016. It has been worn as a beach coverup, as loungewear, it's been shoved damp into a suitcase, been in the dryer, and had even more abuse to it yet it still looks and fits just as it did three years ago when I first got it. This is typical for Soma dresses, and because of this Soma has become my go-to for summer dresses.
This spring, I was looking at Soma for some go-to summer dresses and saw this dress and knew it would be the perfect summer dress. I reached out to Soma to ask if they would like to partner so I could showcase how incredibly versatile this dress is. From a weekend at the beach to an elegant evening wedding, this soft jersey ruffle border maxi dress in black is a great choice. And like my three-year-old Soma dress, this dress is made of the same silky jersey that dresses up and down with ease, washes great, travels well, and has pockets! Below I share seven ways to style this one dress for almost every event on your social calendar this summer. And while taking these photos I thought of even more ways to style this dress and also will share those ideas below.
For a Street Festival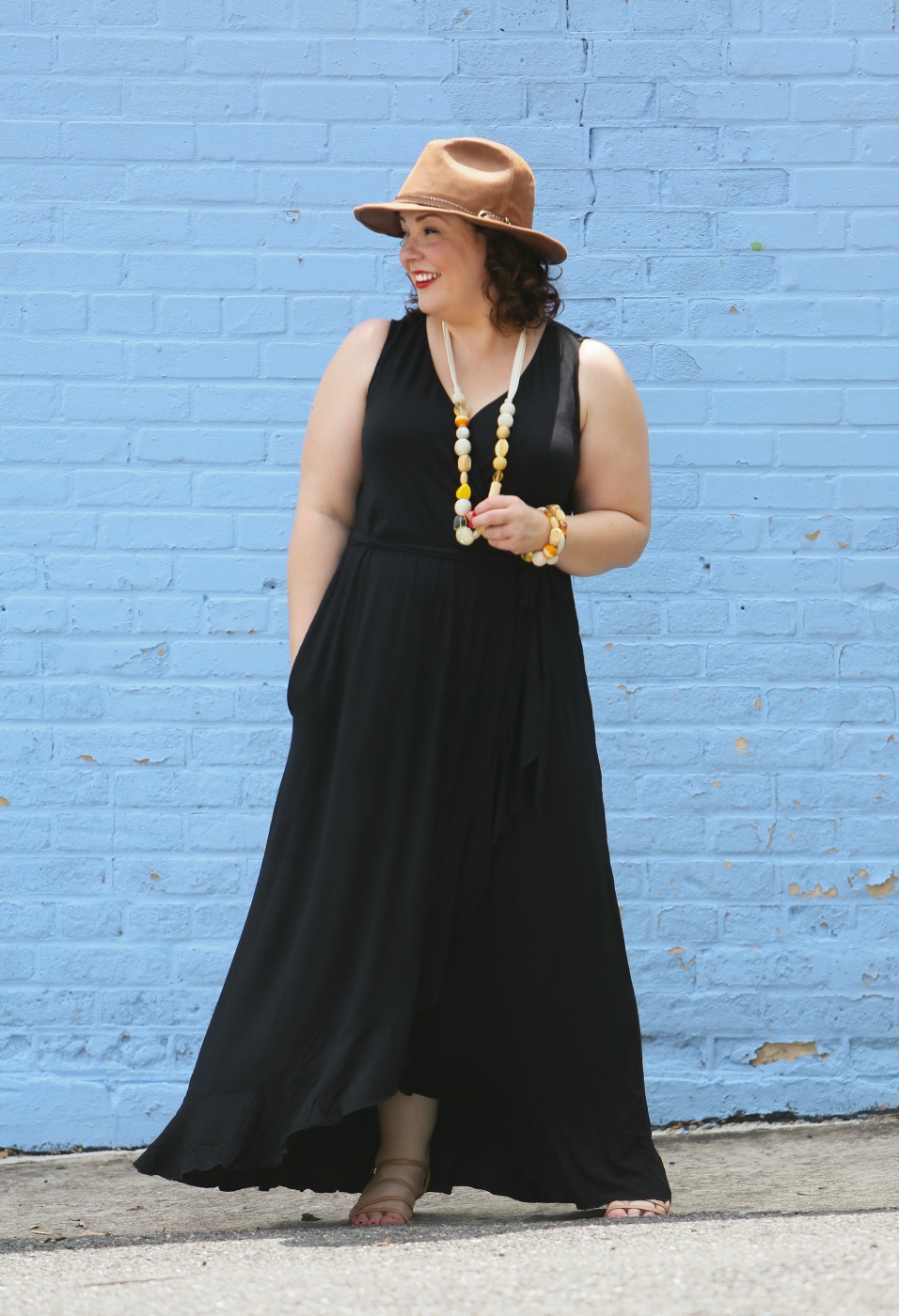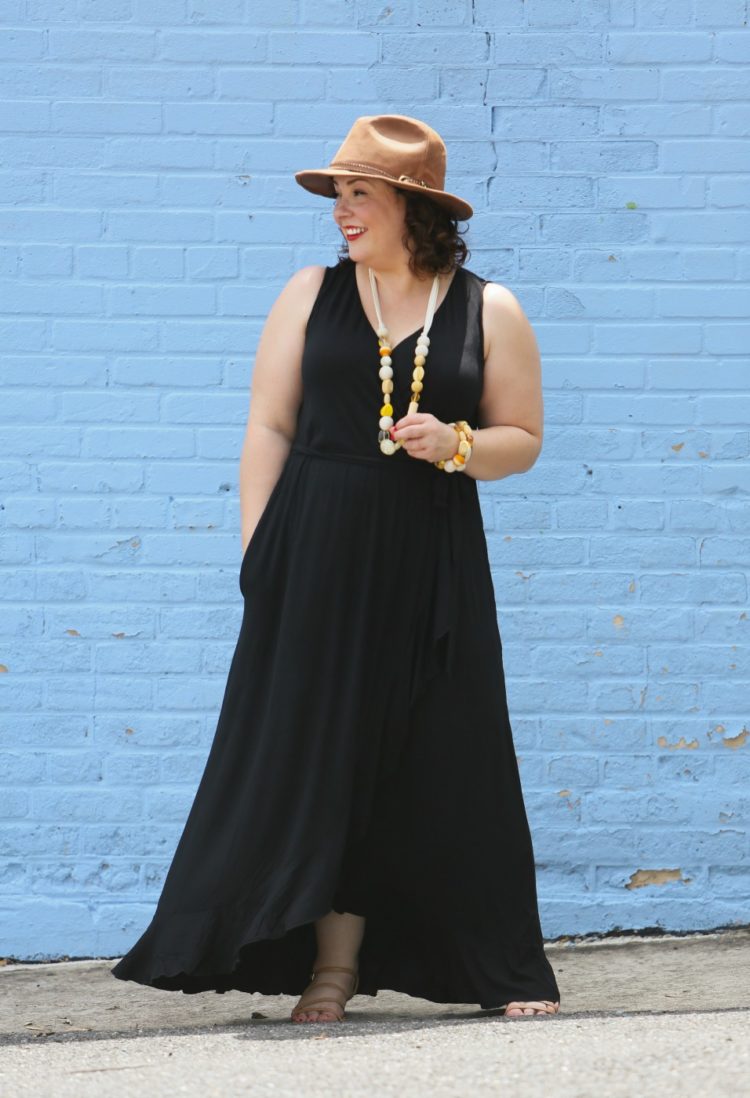 dress | necklace | bracelets (2) | hat | sandals
Whether it's your local farmer's market, a city celebration, or a festival at a vineyard, a maxi dress is a great choice. Add some slipshorts underneath to prevent chafing, wear your most comfortable sandals for a day of walking, and add a hat for sun protection. Chunky colorful jewelry makes the black dress feel more festive.
For the Beach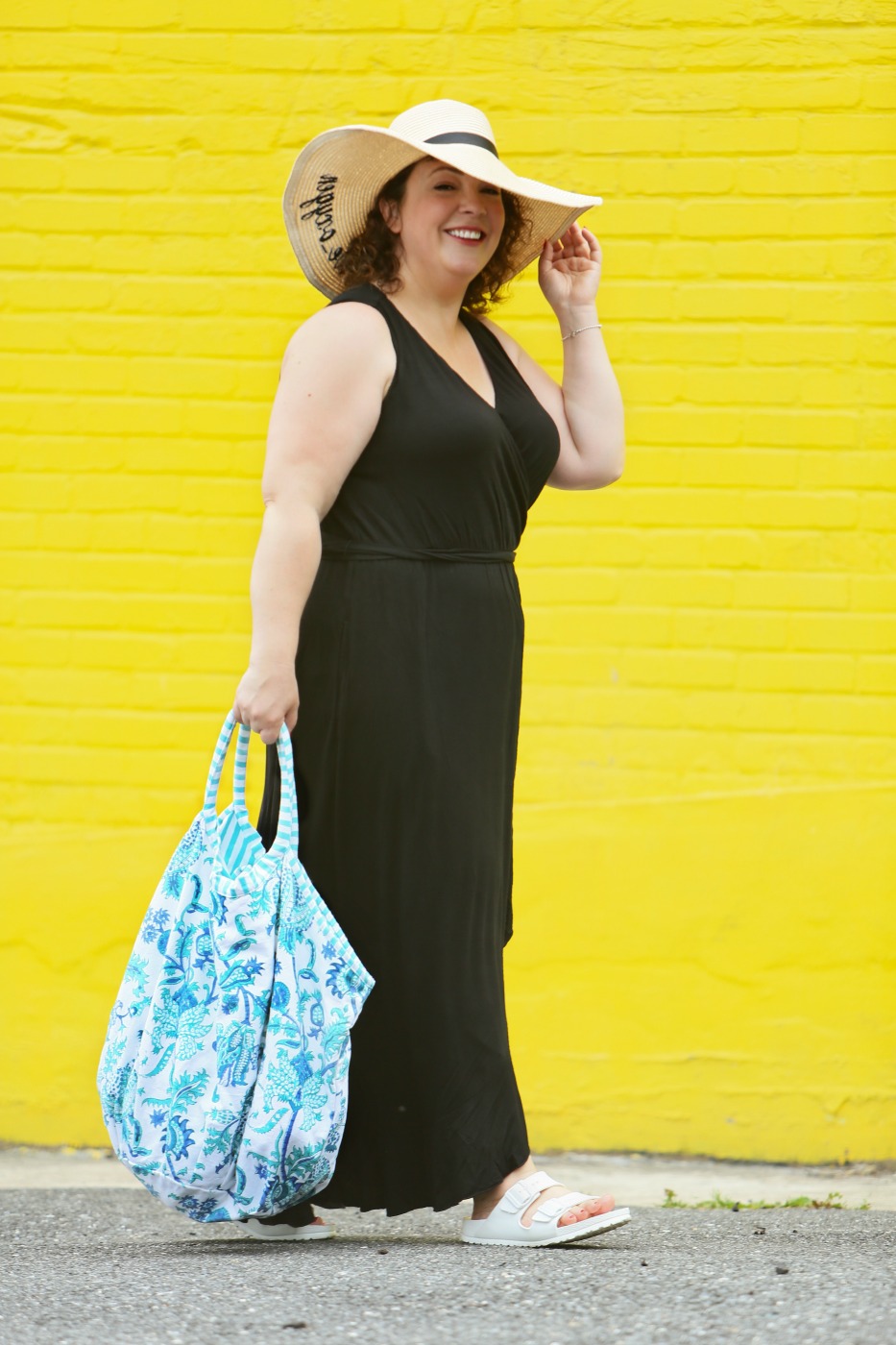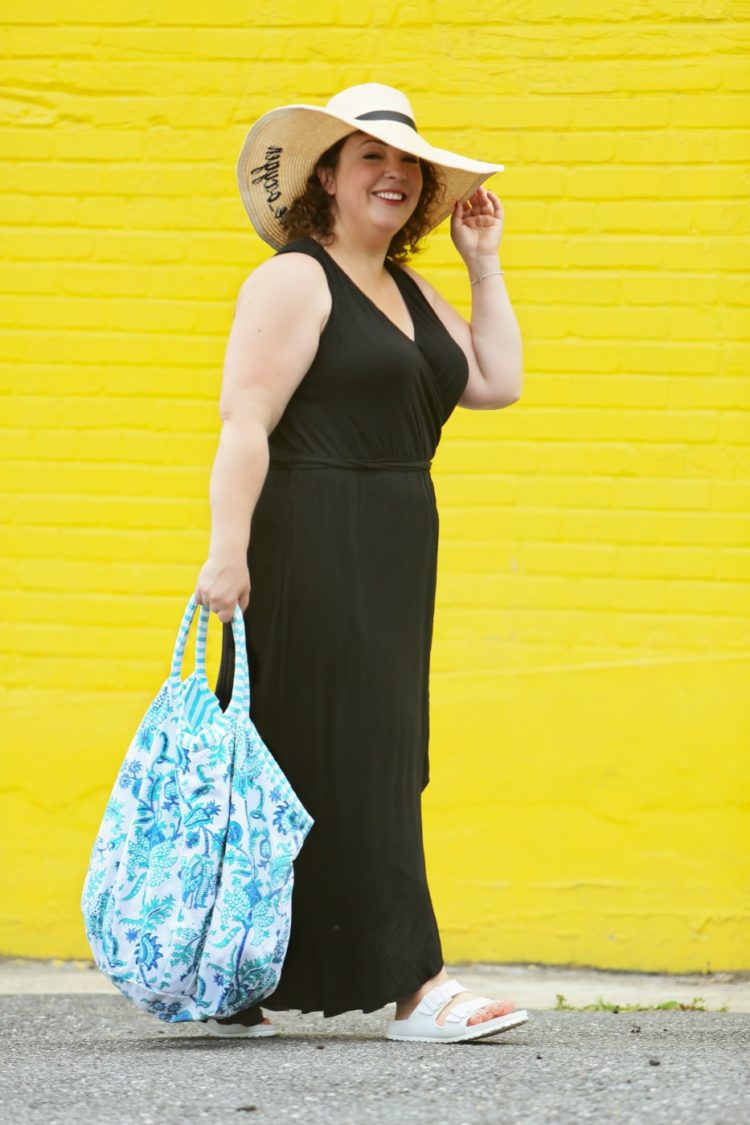 dress | hat | similar tote | shoes
I love maxi dresses for beach and pool weekends. They're comfy and soft, easy to throw over a damp swimsuit and look polished enough for lunch on the boardwalk or even a nice little cafe. Since the dress is black, you won't see wet spots. Comfort and athletic sandals in all colors and materials are a hot trend this summer and a stylish alternative to flip flops. A sunhat protects you and covers up salty or chlorinated hair and a large tote not only carries all your essentials but can double as a purse for moments away from the water.
For a Daytime Wedding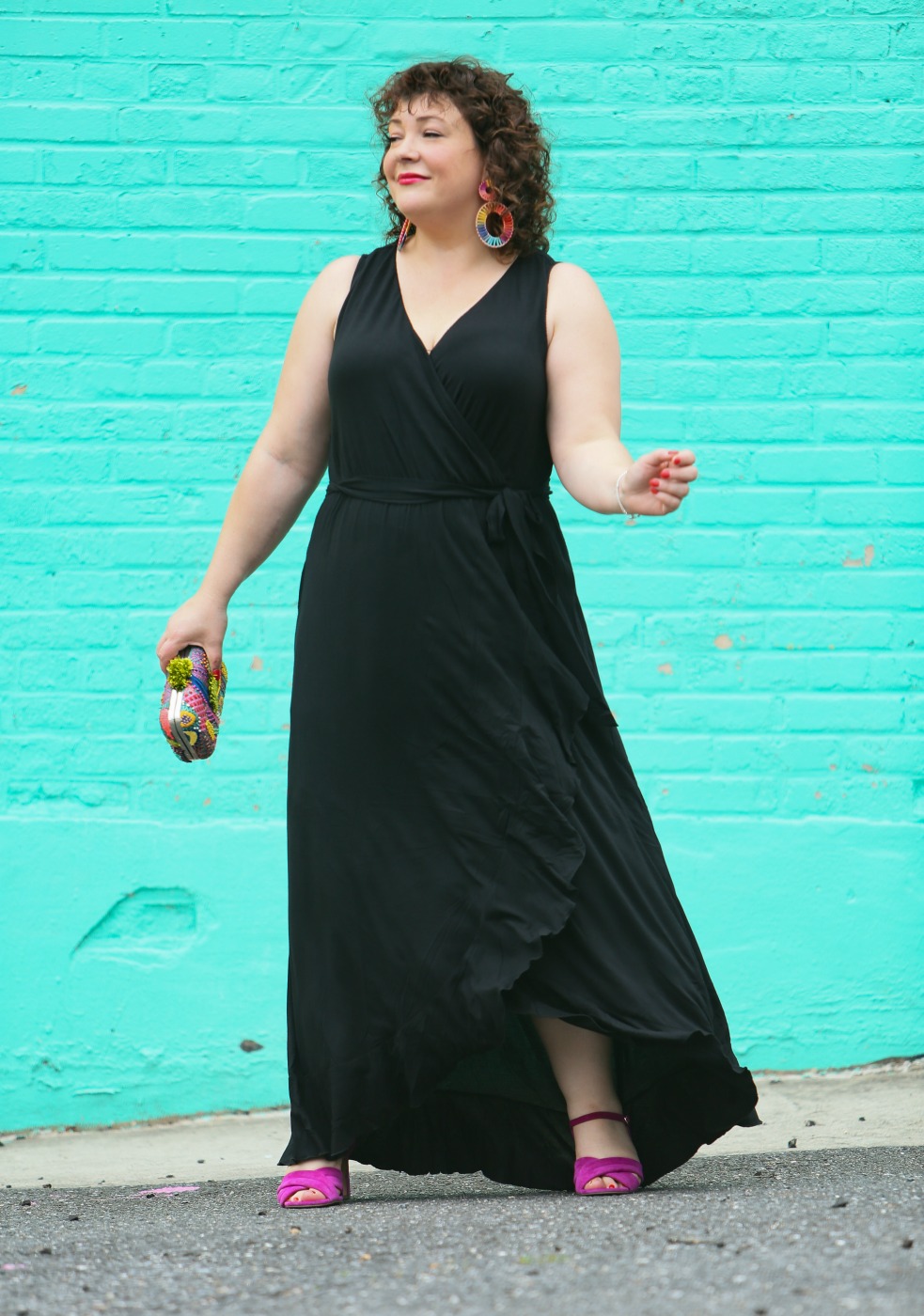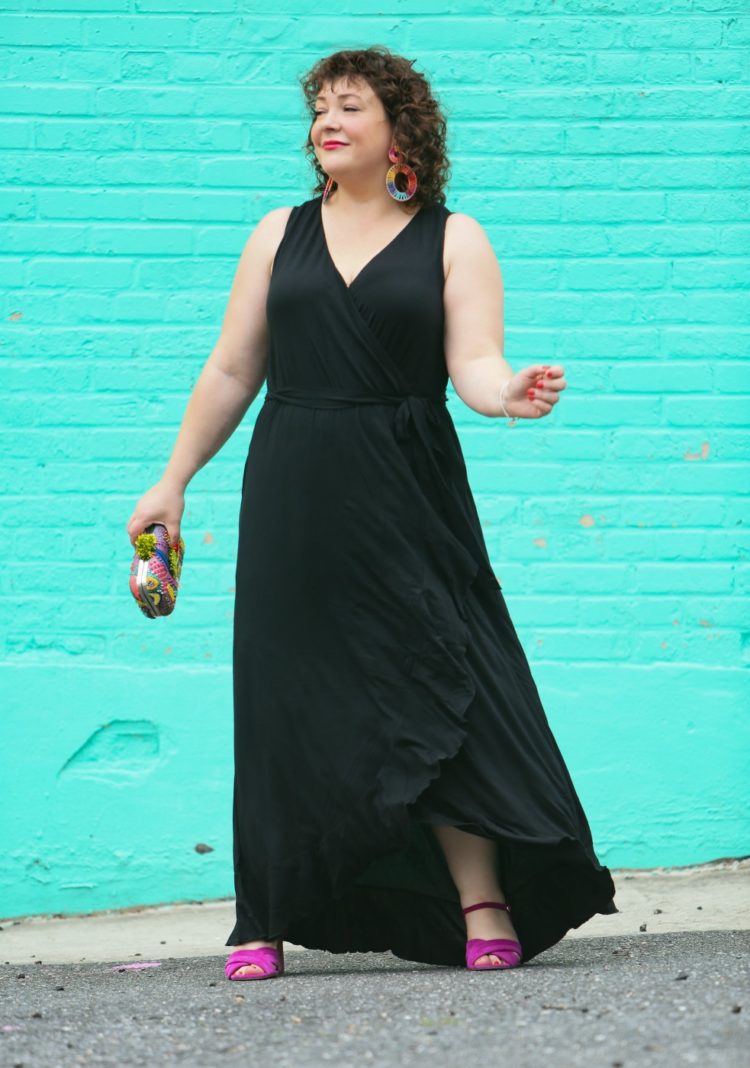 dress | earrings | similar shoes | similar bag | lipstick
Black can seem dreary for a celebration but it can be a great base to let fun accessories in bright colors pop. For this look, I brightened up the dress with hot pink heeled sandals, colorful statement earrings, and a quirky clutch bag (a clutch bag dresses up any look!). For an extra pop of color and fun, I chose a hot pink lipstick. This dress is fun to dance in, it swishes and sways with you, but because it's a faux wrap, you always stay covered!
For an Evening Wedding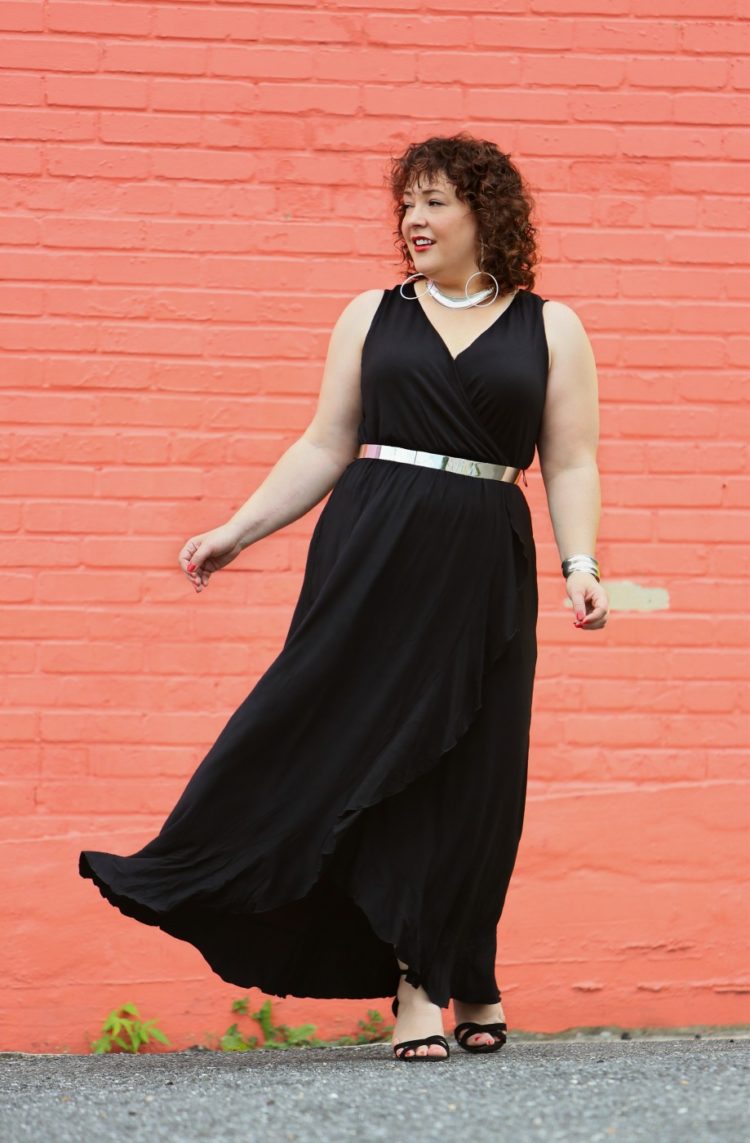 dress | similar earrings | similar necklace | belt | similar shoes
It's amazing how accessories can transform a look. Switching out colorful accessories for bold silver ones elevates the look and adds a feeling of formality. Add a pashmina in a metallic or your favorite color to ward off an evening chill. Here, I removed the self-belt and added a metal one I had in my wardrobe. Big silver statement earrings, a silver choker, and silver cuff adds shine to make the jersey evening-appropriate. Delicate heeled sandals complete the look.
For an Outdoor Concert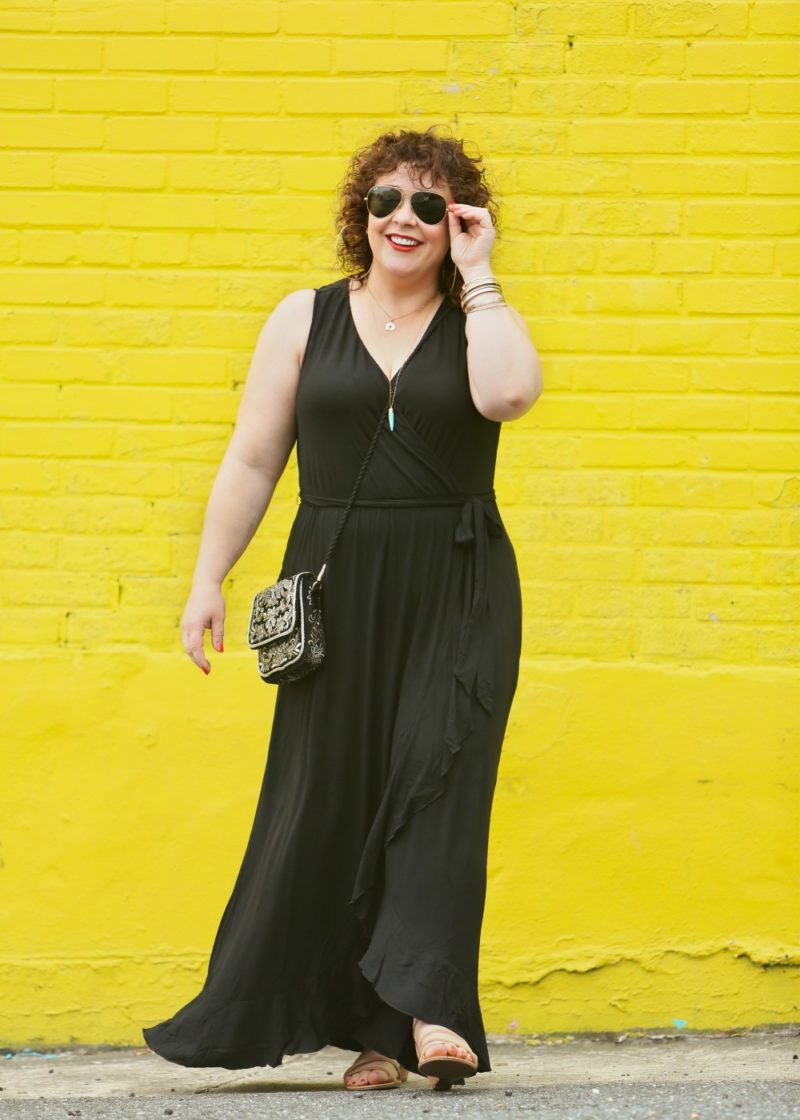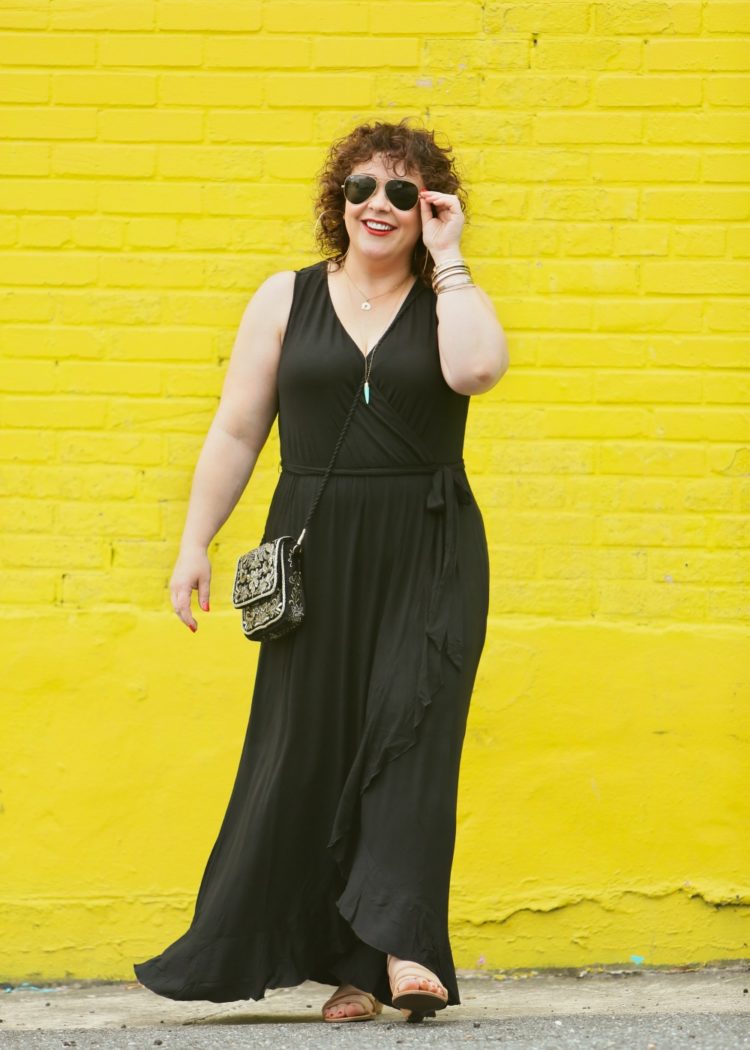 dress | bag | earrings | similar bracelets | shorter necklace | similar longer necklace | sunglasses | sandals
One of my favorite pastimes in the summer is seeing live music. Here in the DC area, we have several outdoor concert venues where we can lay out a blanket, enjoy a meal al fresco and a performance under the stars. I love wearing a stretchy maxi dress to such events; you remain covered while sitting on the ground, nothing is binding or bunching, and it's a lot of fun to dance in! For this look, I added boho-inspired gold jewelry for a bit of shine and fun, and a crossbody bag so I can keep all my essentials on me while I dance or walk around the grounds.
For Weekend Brunch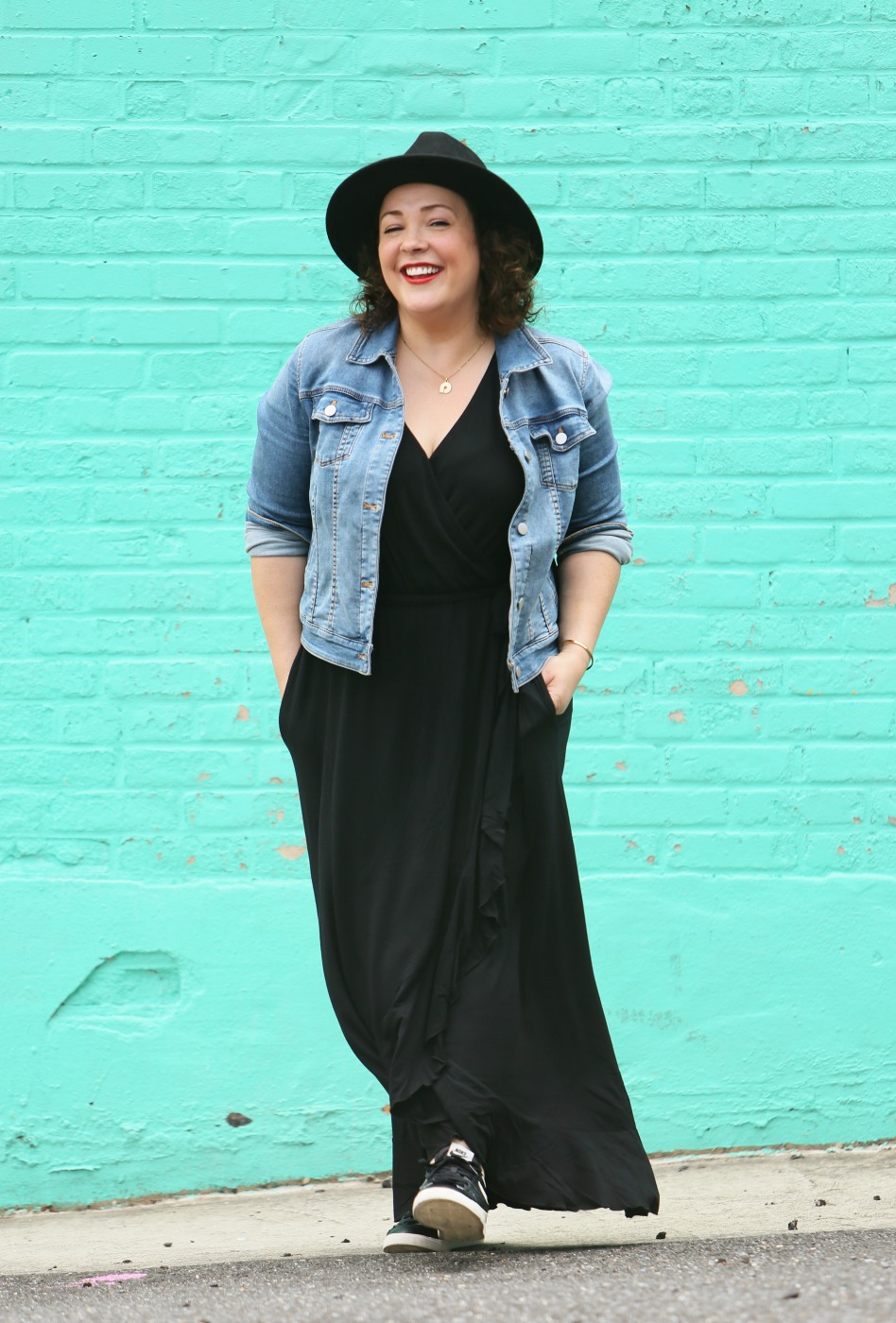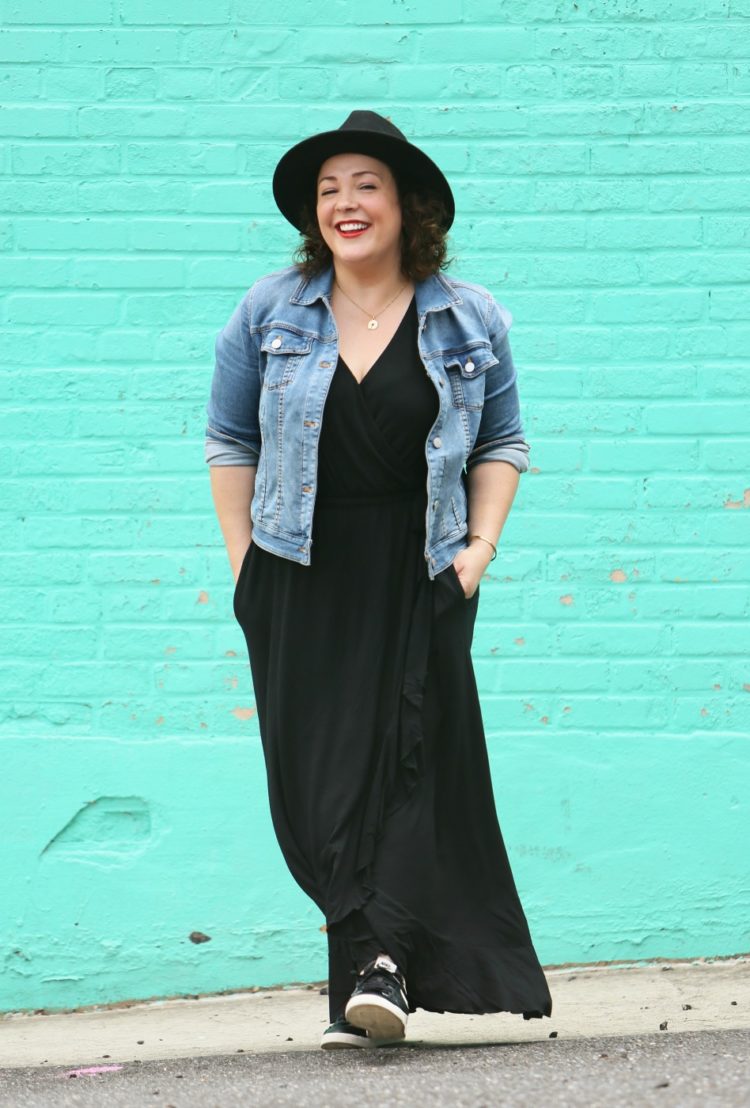 dress | denim jacket | similar hat | shoes
This dress looks positively smashing with a denim or leather moto jacket, which is great for cool mornings and evenings as well as helping this dress transition into fall. A hat is a way to look great while also hiding next-day hair (or woke up late hair!). And who would have thought a dress that looks great with heels can also rock a pair of trendy sneakers? I've worn this exact outfit twice and both times I got compliments not just on the look but the addition of sneakers. Gotta love it when current fashion trends are also comfortable!
For the Event with Unknown Dress Code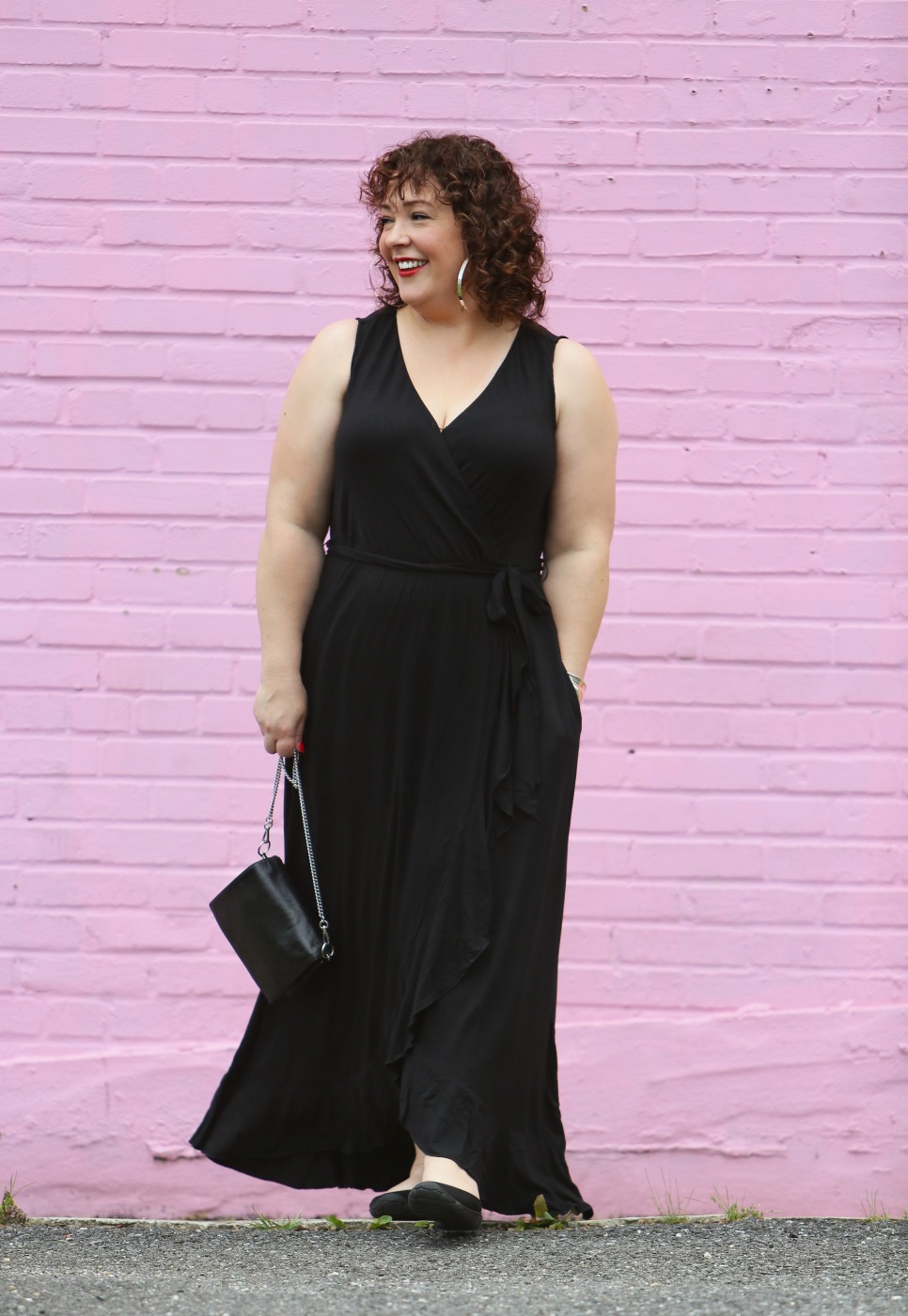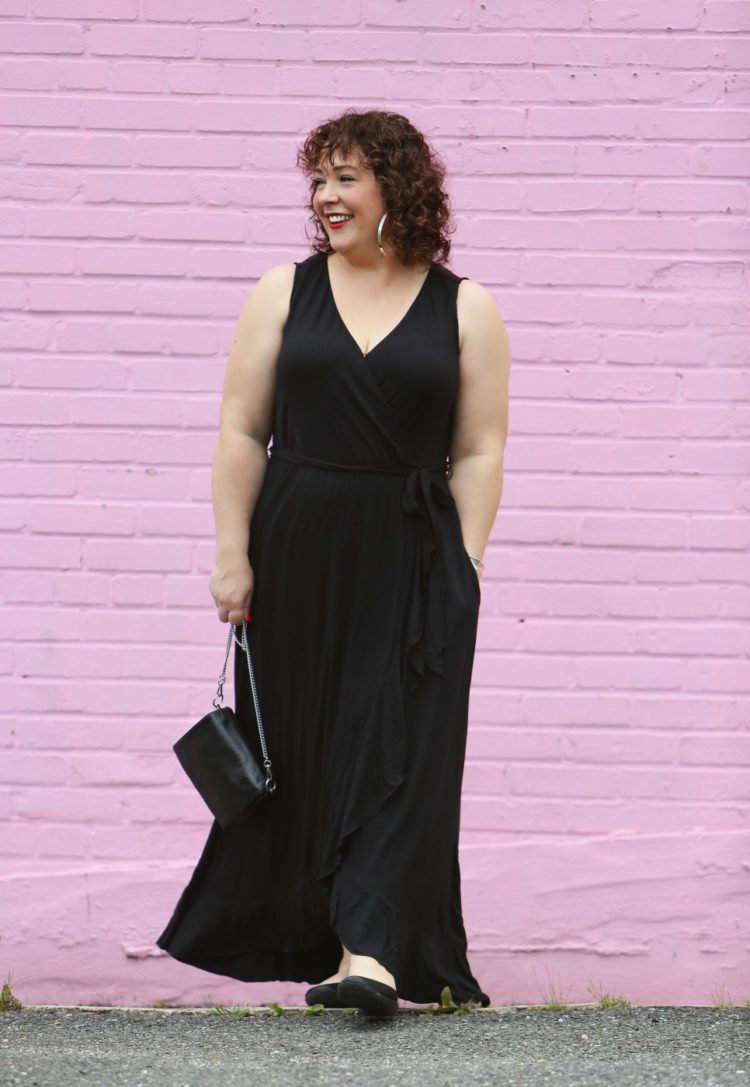 dress | earrings | bag | shoes
Not sure the dress code of an event? Think there may be people in jeans and others in festive dresses? You can't go wrong with a maxi dress. It is one of the most versatile pieces that can easily read dressy or casual based on the crowd. For this look, I kept everything relatively simple so it would be easier to morph into whatever the situation requires. A metal statement earring adds personality if it's casual and shine if it's dressier. A small purse with a metallic strap can be a casual crossbody or a dressier bag. A pair of black flats will blend into the woodwork while also keeping you comfy.
Additional Ideas for Styling This Maxi Dress:
Switch out the self-belt for a vintage leather one and add cowboy boots. Pair with your favorite pieces of turquoise jewelry.
Roll the sleeves of a denim or chambray shirt and knot it at the small of your waist. Tuck the shirttails in for a clean line in back. Add a silk scarf at the throat. As for shoes… anything from flats to heels to sneakers will work!
Since the dress isn't bulky, it works with layers. Try a cropped linen sweater over it for a different silhouette, or a boxy cropped t-shirt.
This isn't the only dress from Soma; they have a great selection with sizes up to XXL (for reference I usually wear a 14 and wear a size Large with their apparel). I also have this dress from this season; I love that the straps are the perfect width and placement to cover a standard bra and how the waistband is comfortable yet still adds figure definition. Below are my picks from their selection of dresses for summer:
Thank you Soma for sponsoring this post. I truly believe you can achieve more style with fewer items in your closet. The key is to shop smartly and thoughtfully. Consider the life you currently have, don't buy something if you can't imagine wearing it three different ways, and choose brands and materials that will survive your lifestyle. I believe dresses like this one and others that Soma has can achieve all that and am honored they would support my idea on how to showcase it.