This article may contain affiliate links; if you click on a shopping link and make a purchase I may receive a commission. As an Amazon Associate, I earn from qualifying purchases.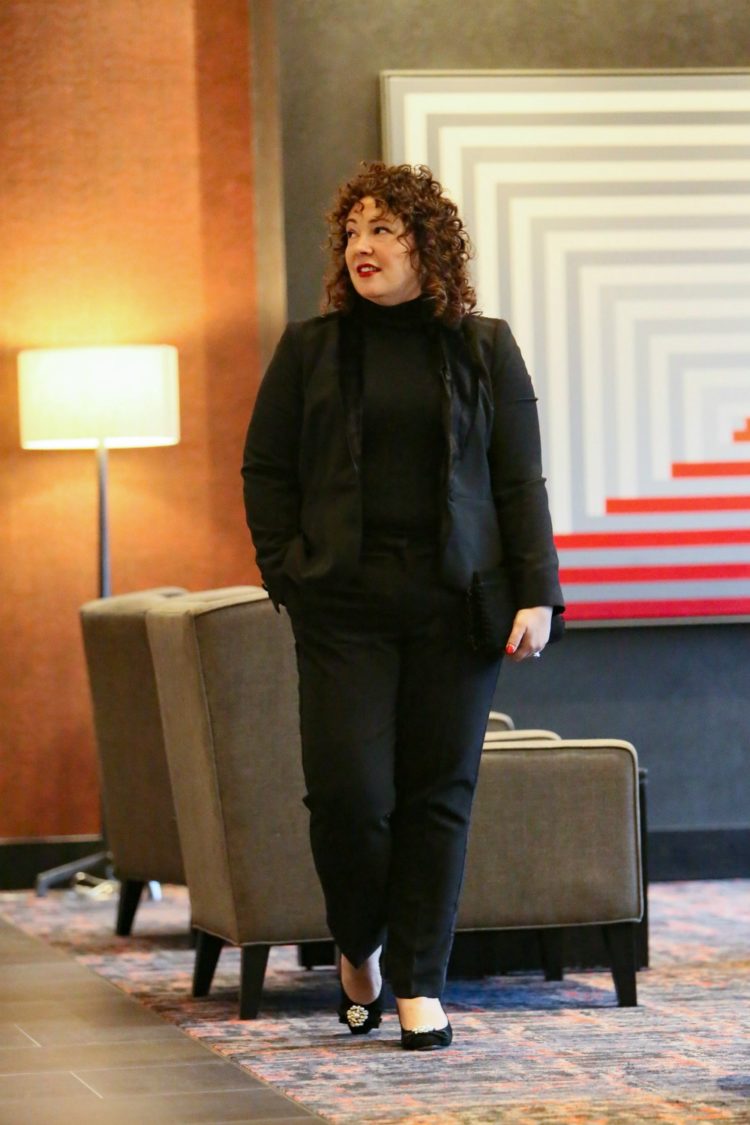 When I created my holiday capsule wardrobe, I said I would be sharing looks from the outfit to make it easier to visualize how the capsule wardrobe works. Here is the first look! I am wearing the Talbots tuxedo with a cashmere turtleneck; I think this would be a great look for a work-related event even beyond the holiday season. While sophisticated and polished, this ensemble is warm on a cold winter's day, professional, and comfortable.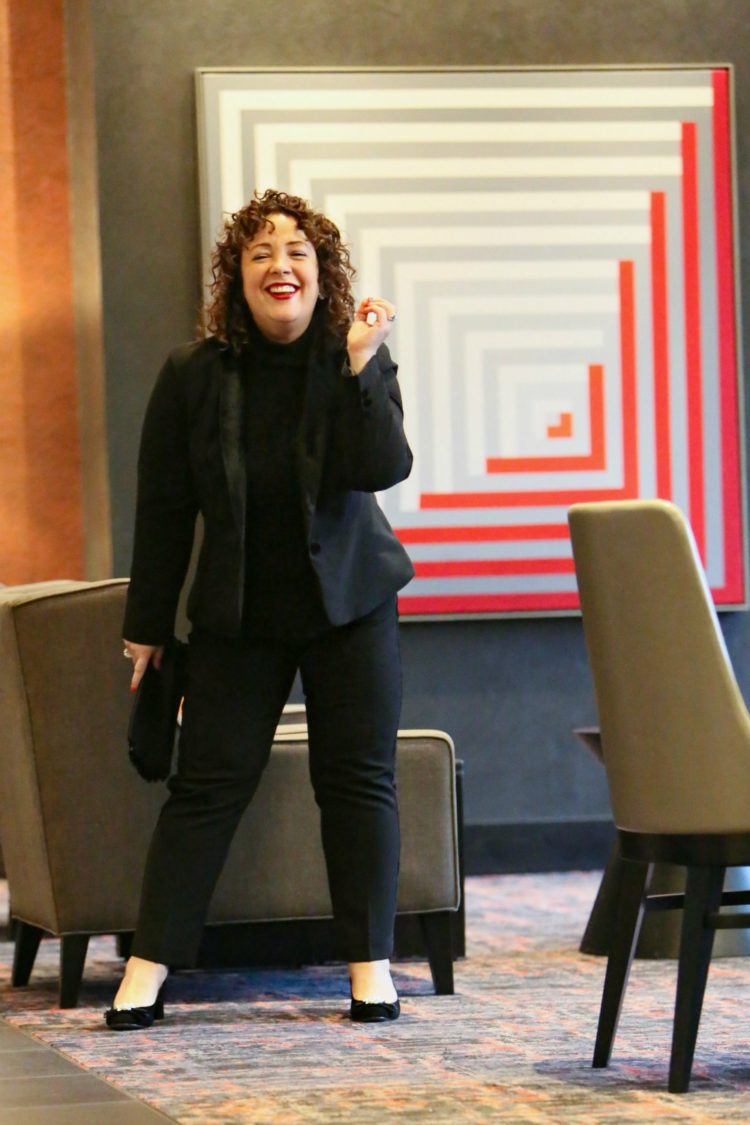 jacket | pants | sweater | shoes | bag | ring | earrings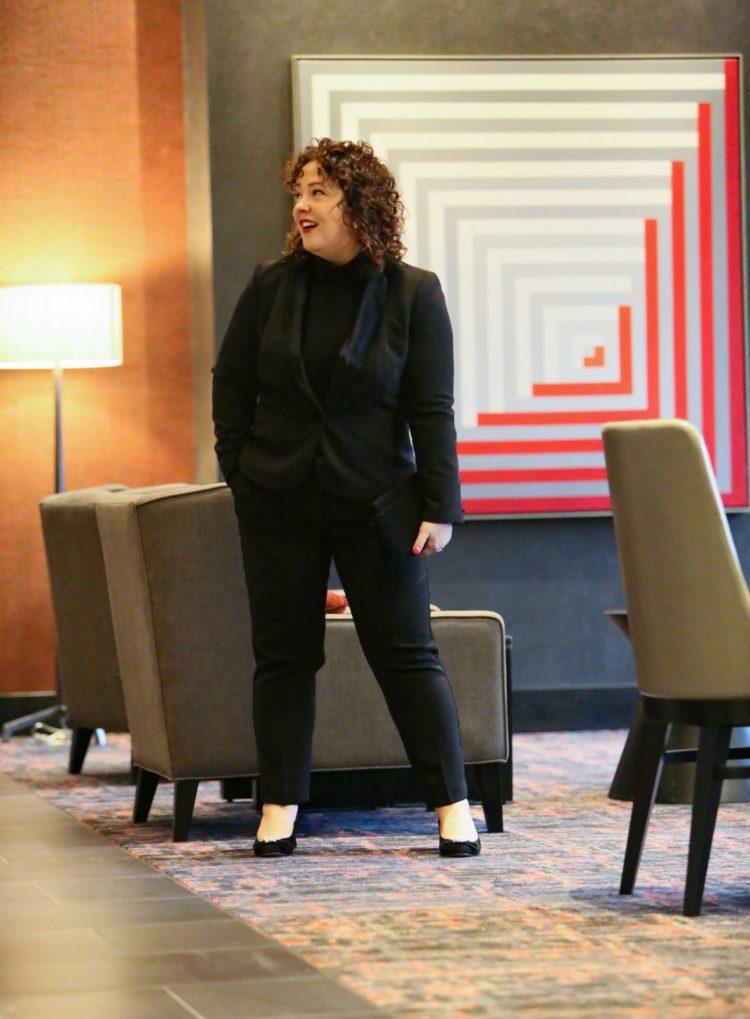 Jacket: Stretch Crepe Tuxedo Jacket c/o Talbots (14P) | Pants: Stretch Crepe Tuxedo Pants c/o Talbots (14P) | Sweater: Nordstrom Collection (old; similar) | Shoes: c/o Talbots (old; similar) | Bag: c/o Talbots (old; similar) | Earrings: c/o Talbots (old; similar) | Ring: Sceptre Pave Ring c/o REALM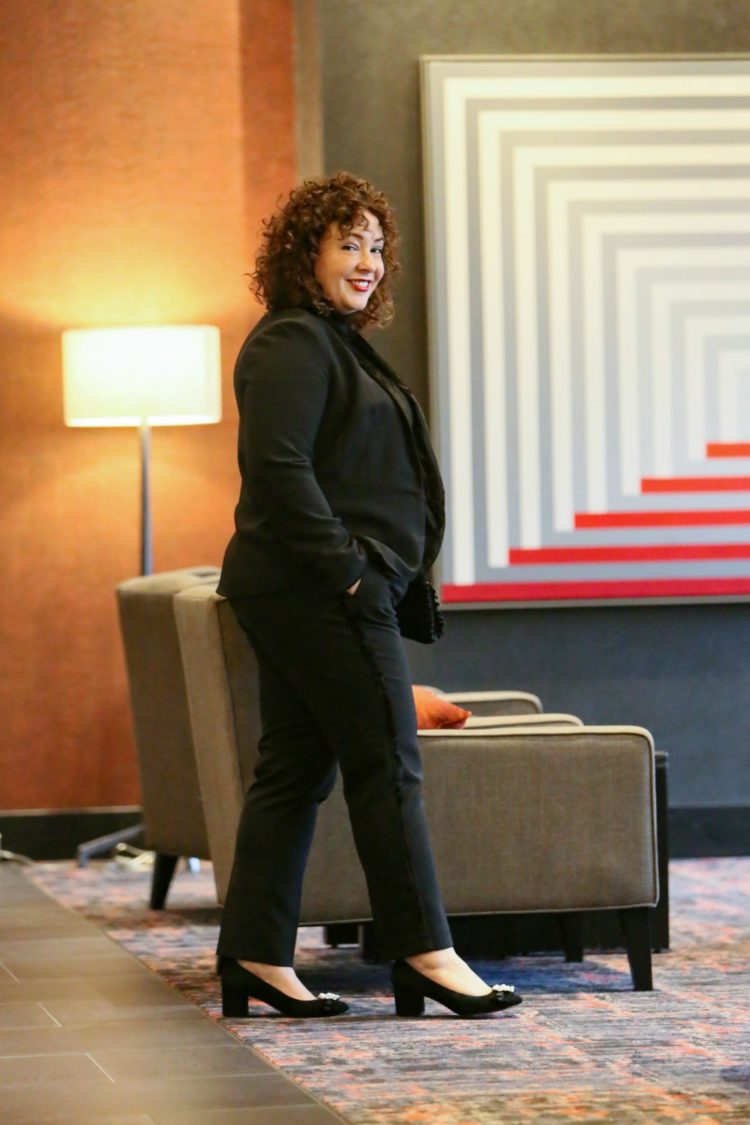 Why do men get to be warm and comfortable at dressy events yet we women are expected to have heels, bare legs, and tight dresses? I think a cocktail pantsuit or lady tux is a fantastic alternative. I wore this cocktail pantsuit previously with a cami and heels, but for this look, I amped up the comfort without sacrificing formality with a cashmere turtleneck and a much lower block heel. These pumps are from Talbots' 2018 holiday collection but very similar to this year's version. You can see me wear these shoes previously in this blog post. The clutch is from Talbots' 2017 holiday collection; it's solid suede with a ruffle detail and no visible hardware. While I am a big proponent of a statement clutch that can complete a look, there's something to be said for a solid black one in a fabric like suede that doesn't steal the spotlight while being big enough to carry what you need for an event. Without a lot of defining details, this is the kind of bag that will give you many many years of stylish wear. I've searched the internet and found some similar bags that do the trick:
Shop Subtle Black Clutch and Dressy Shoulder Bags: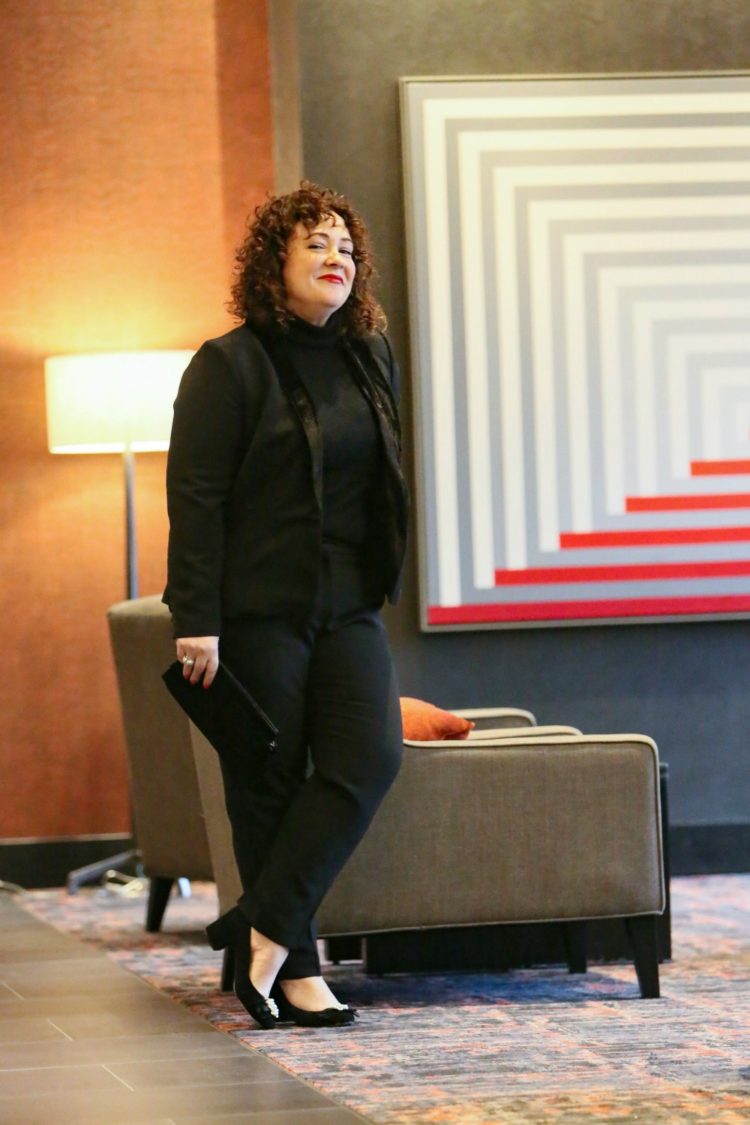 I don't often like sweaters under blazers. I feel like the Michelin Man, and it's not the sleekest look with thick arms and a large bust. However, the combo of soft cashmere and this less-structured blazer it works and is actually comfortable. If it still feels like too much bulk, a lightweight turtleneck like this one from Universal Standard that I own and adore is a nice alternative to still be warm and covered up while looking chic. And if you want a bit of warmth at the ankles, a velvet ankle boot would be a great choice!
Shop the Post: