This article may contain affiliate links; if you click on a shopping link and make a purchase I may receive a commission. As an Amazon Associate, I earn from qualifying purchases. 
This post is sponsored by ShopStyle and Paula's Choice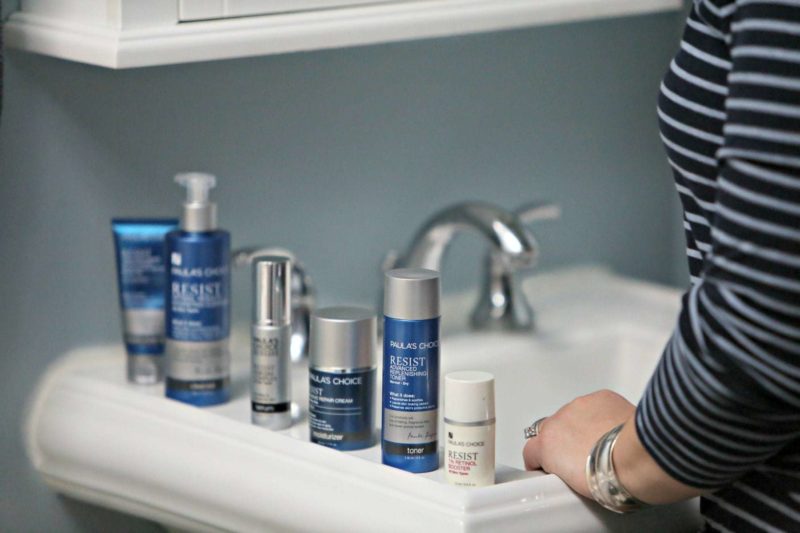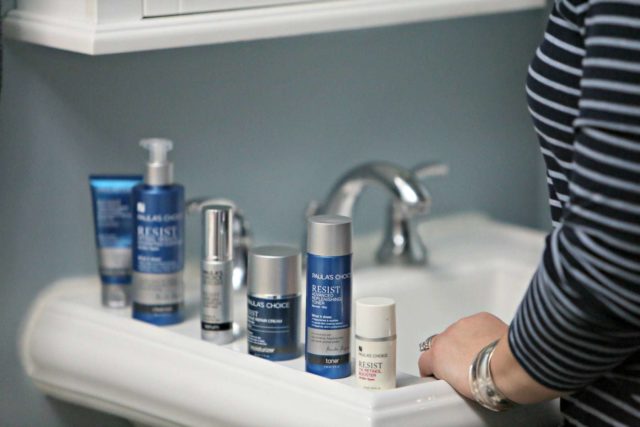 In 2001, I began working for The Body Shop. I managed the store in the Baltimore Inner Harbor. The store had high shrink (theft), not enough staff, and visitors from across the globe who saw The Body Shop the way it was in the UK (which was way cooler than Bath and Body Works, which ruled the early oughts). These customers knew their products, and I needed to be one step ahead. I hit the library to learn behind the fact sheets the company provided to keep up with my clientele. I don't recall how I found Don't Go to the Cosmetics Counter Without Me, but it soon became my bible. I ended up owning more editions of that book than Our Bodies, Ourselves. Because of Paula Begoun, I could school the rich bored housewife who every Monday came in to return last week's purchase because it was, "too caustic." I could keep up with my overseas customers who knew natural ingredients and essential oils while still making sure no one stole everything off the front table. And to those who also read Begoun's book, I could justify our products' ratings and turn around a sale (hey I may have agreed with her, but I did have sales goals to make!). I think Paula Begoun and her books helped me get promoted so quickly; with what I learned about skincare I was chosen in less than a year to train future Body Shop store managers for the East Coast. Without trying, Paula Begoun disrupted the skincare industry. She was the precursor to Makeup Alley, EWG's Skin Deep, and other websites that break down the ingredients, problems, and efficacy of beauty products.
And now it's 2018. I've had this blog for 13 years, and for most of that time I've been discussing skincare. Skincare has been a favorite topic since my years at The Body Shop, and often when I discuss it I bring up Paula Begoun. I trusted Paula implicitly, so why have I never before reviewed her skincare line Paula's Choice? I'll admit Paula's Choice has gifted me product over the past year or so but I haven't tried it because I had a good thing going with my current skincare routine and had been burned too many times (sometimes literally) with sponsored beauty posts. I was scared to risk my face with change.
For this sponsored post, I was gifted not just one product but an entire skincare regimen. With every step of my skincare process from Paula's Choice, I can really see how it works. Paula Begoun created her skincare line, Paula's Choice after years of researching other brands. Her readers asked for it, and she made the skincare products she wished existed. I knew Paula wouldn't make a terrible skincare line, so many of you have raved about Paula's Choice over the years… so why did I wait until now?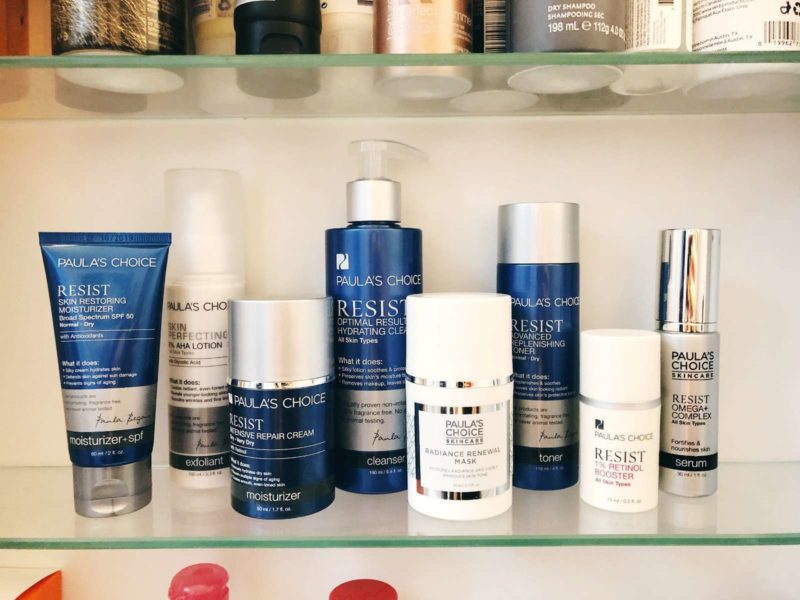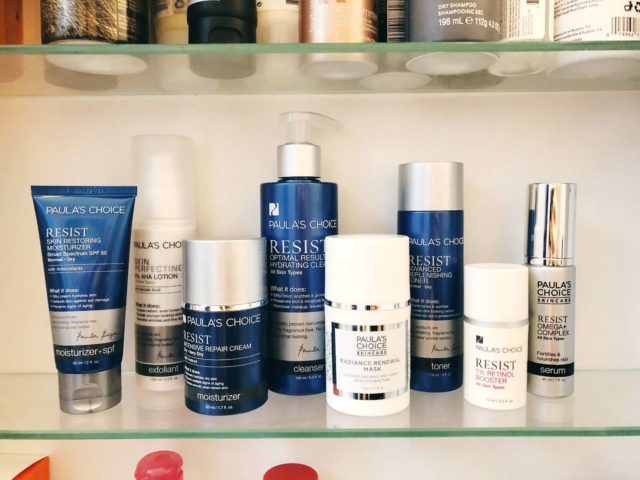 Paula's Choice provided a questionnaire to determine what skincare would be best for me and decided on their RESIST Anti Aging Skin Care Collection. Since I have dry skin, the majority of the products I received were focused on caring for normal to dry skin. I received:
As soon as I received the products I boxed up all other skincare I owned and made a complete switch. At night, I used the Hydrating Cleanser, then the Toner, then the AHA Lotion, then the 1% Retinol Booster mixed with the serum, then the Intensive Repair Cream. In the morning, I cleansed with the Toner, applied the AHA Lotion, the Serum, and the Restoring Moisturizer. The only additional beauty products I used during this time were hydrating facial sprays (a favorite especially in winter to keep my skin feeling and looking dewy).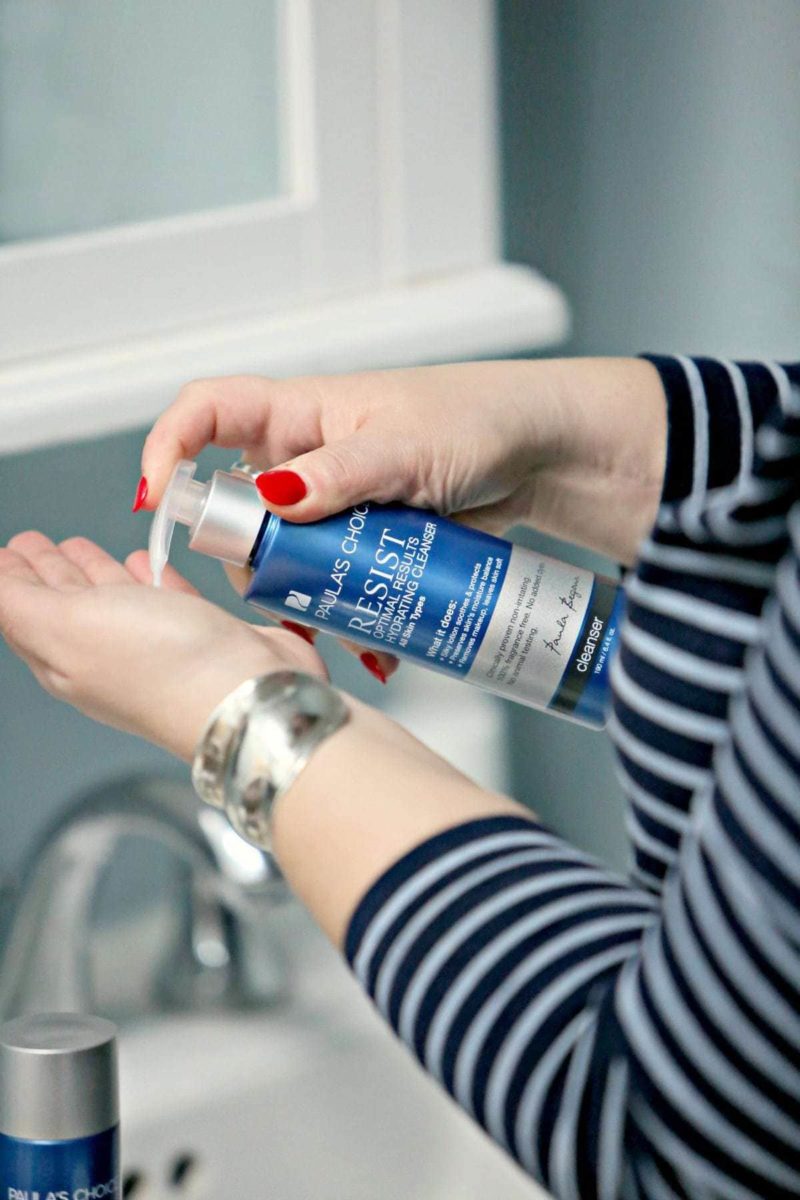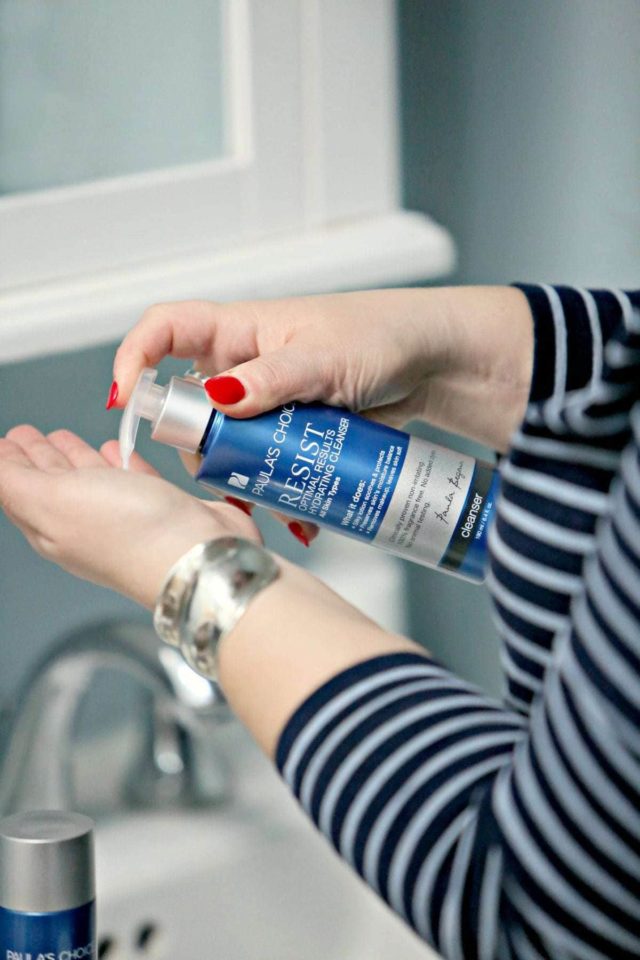 I am super pleased with the results. Paula's Choice is clearly high quality ingredients, formulated to be effective. The packaging is low-fuss but again effective – pumps in opaque bottles to dispense the correct amount and not have the ingredients be affected by light. Clear instructions, including order in which to use the products. This is a fantastic brand for the no-BS woman who desires products that deliver without 50,000 steps. The Hydrating Cleanser takes even waterproof makeup off in one step, leaving skin feeling clean and not stripped. The milky toner leaves skin feeling happy and soft. The AHA lotion didn't make my skin red or irritated, but a bit of tingling that made me know it was working. Same with the retinol, which is nice considering I often have reactions to retinol. The moisturizers are thick but not greasy; the Skin Restoring Moisturizer has SPF 50 which is awesome. It takes longer to rub in since it's a true sunscreen but worth it because you know your skin is being protected. The mask is the kind you can wear overnight and when you do you wake with plum, dewy, happy skin.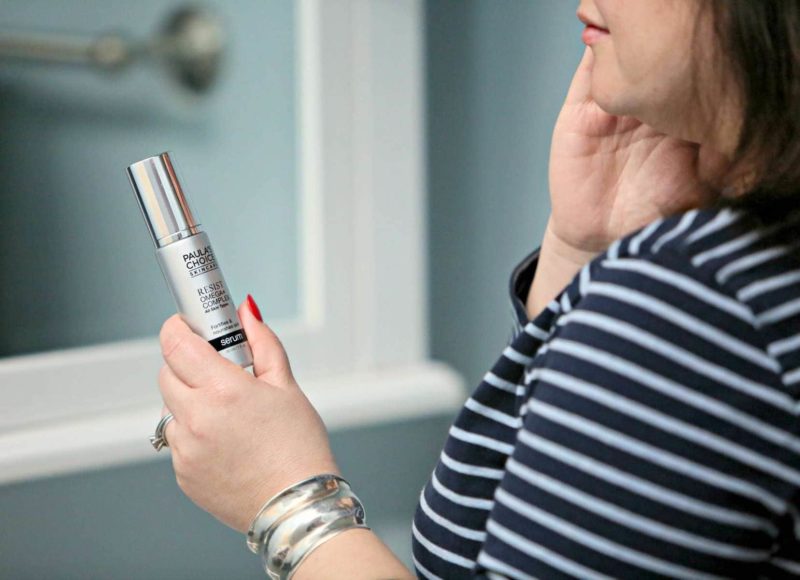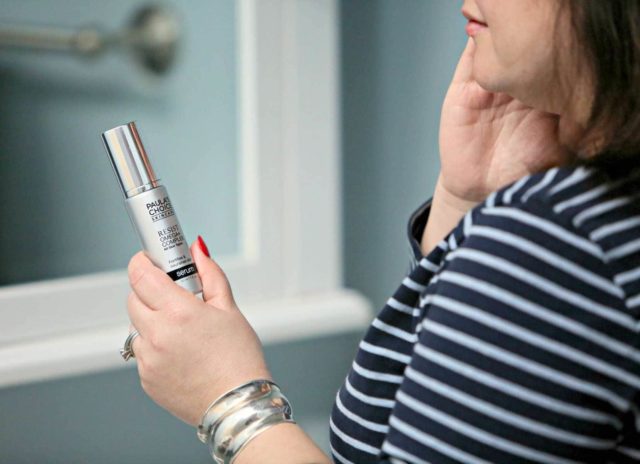 I was surprised by how few steps could provide such an effective result. I realize I had bought into all the hype that Paula's books a decade ago taught me to ignore. I was swayed by influencers, Instagram photos, and trends. I should have known, I knew when I read Don't Go to the Cosmetics Counter Without me. Well thank you Paula's Choice, I again see the light and remember that beautiful skin comes from quality, not quantity. That you can't judge a book by its cover or a serum by its trendy bottle.
The Paula's Choice website is a place to order the skincare line, but it's also a goldmine of information. On the page for each product you find Why Is It Different, What Does It Do, and How to Use. You will also find a complete ingredient list, a list of research done on the product and ingredients, and amazing detailed reviews from customers. Those reviews taught me how to customize my routine, like mixing the Retinol Booster with the Omega+ Complex Serum before applying.
It's ridiculous that it took this long for me to do a full Paula's Choice skincare review. This won't be the last. I love when sponsored posts force me out of my comfort zone and turn me onto an amazing product. Thank you Paula's Choice for this partnership and for taking such good care of my skin!