This article may contain affiliate links; if you click on a shopping link and make a purchase I may receive a commission. As an Amazon Associate, I earn from qualifying purchases.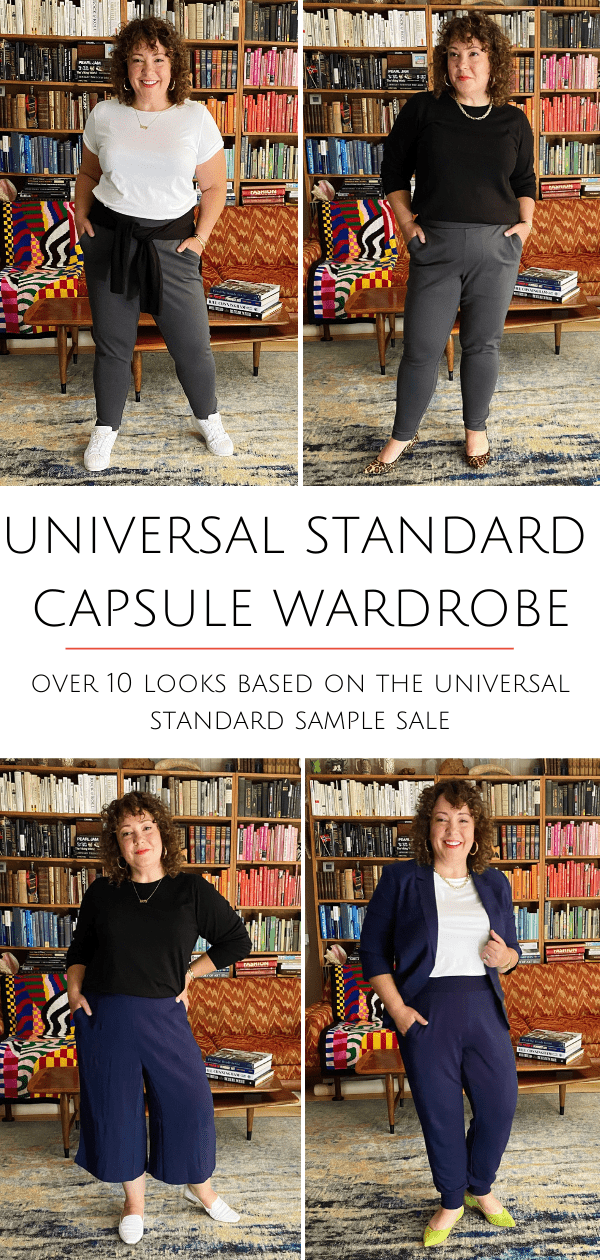 Universal Standard is one of my favorite fashion brands. High quality, great style, and inclusive sizing (sizes 00-40 with a few long and petite options). Universal Standard often has sales, but starting today the best Universal Standard sale has returned: The Universal Standard Sample Sale! And your gal Alison has made a Universal Standard capsule wardrobe from the sale offerings.
The Universal Standard Sample Sale offers wear-now fashion at up to 75% off. We're talking suiting, cocktail dresses, athleisure, weekend looks, work looks, and everything in between. Looking at the options I saw many pieces that I have in my closet and wear regularly. I also saw many pieces I have been eyeing for a while and are now at a fantastic price. If you want a vibe of the great items available, check out last year's review of the Universal Standard Sample Sale.
Know that items sell out FAST. This is no Nordstrom Anniversary Sale where they keep replenishing with new product and size offerings. Once it's gone, it's gone. If you'd like some sizing advice with Universal Standard, ask in the comments or visit the Wardrobe Oxygen Community on Facebook where there are many Universal Standard fans that are happy to guide you with this clothing brand and sale!
Universal Standard Capsule Wardrobe Based on The Brand's Sample Sale Offerings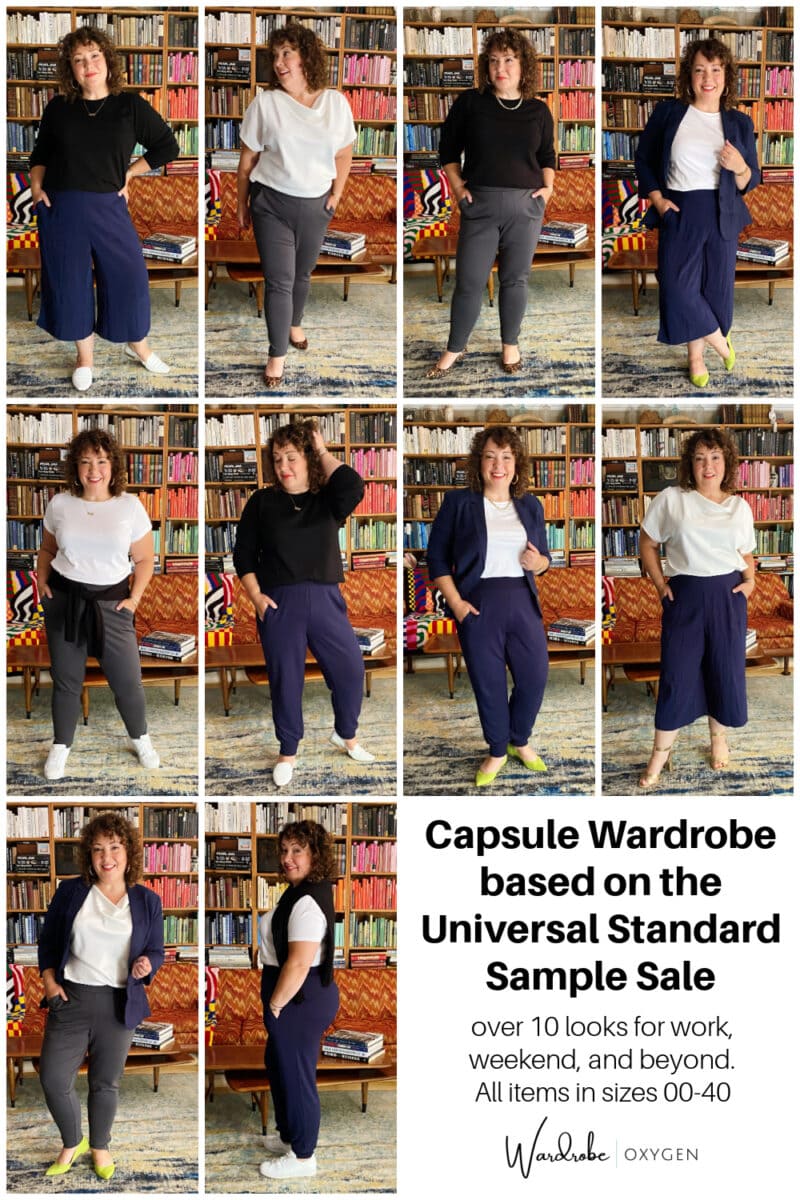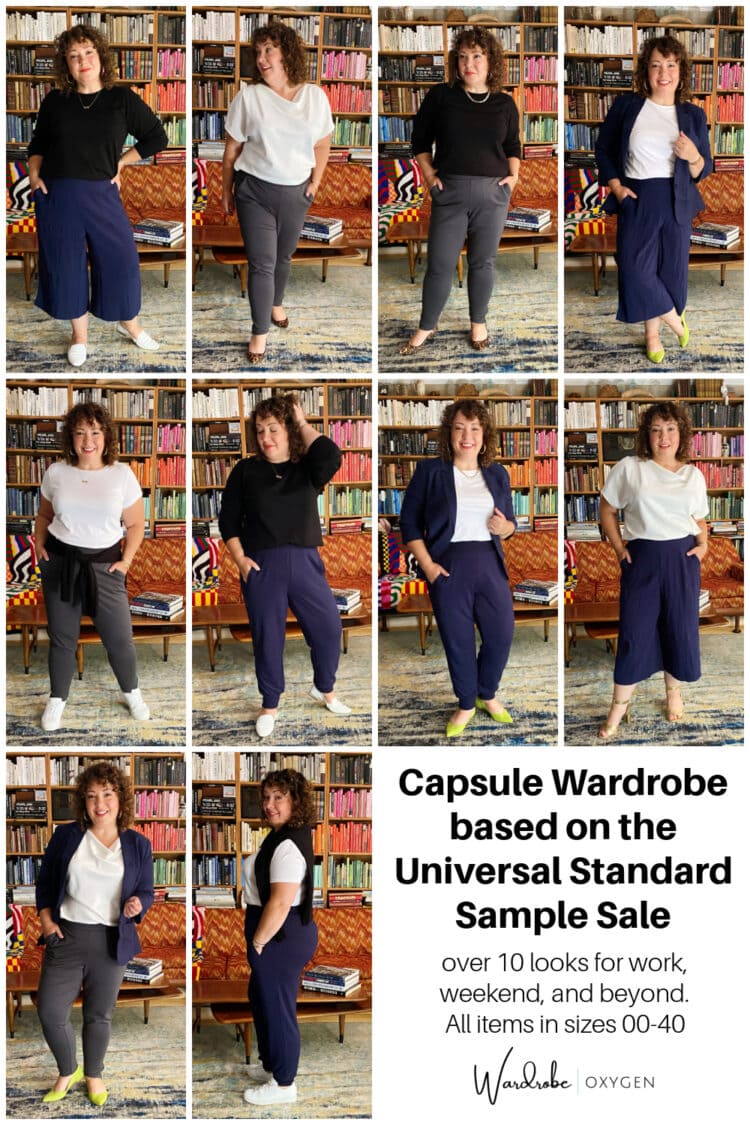 You know how much I love a capsule wardrobe, and I decided to make one with offerings from the Universal Standard Sample Sale. This capsule wardrobe is for life in general for fall. There are looks for the office, looks for the weekend, for casual activities, dressier events, and more.
I also used this opportunity to show how black and navy together can be quite chic. There is a dated fashion rule stating the two should not be combined, but I think in the past years this color combination has proven to look quite modern and feel very chic. The key is to have contrast; you want a navy that feels more blue so it's an obvious contrast instead of two black pieces that don't quite match.
This capsule wardrobe also should have you thinking about what is already in your closet that could replace items in this capsule, or extend it beyond the ten outfits I created. Imagine if you added a pair of jeans, a Breton top, a denim jacket, a pencil skirt, a button-front shirt… my hope is this inspires you to find new outfits and capsules within your own wardrobe.
I am using six pieces from the Universal Standard Sample Sale as well as the Universal Standard Tee Rex, which in my opinion, is the best white tee shirt out there. It is opaque, the sleeves a hair longer which dresses it up (I sometimes roll them for a casual look). Not boxy but not fitted, a silky finish, washes like a dream, and a curved hem so it looks fab untucked or tucked in.
What's In My Universal Standard Capsule Wardrobe?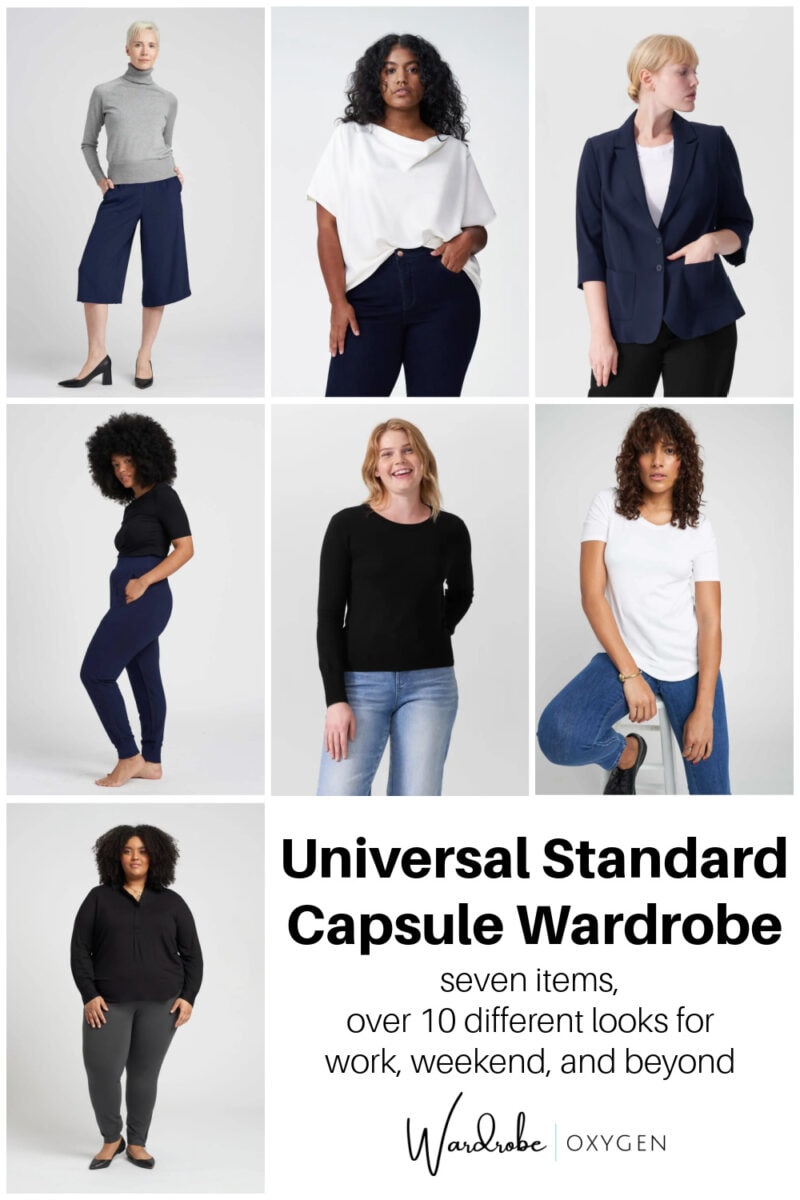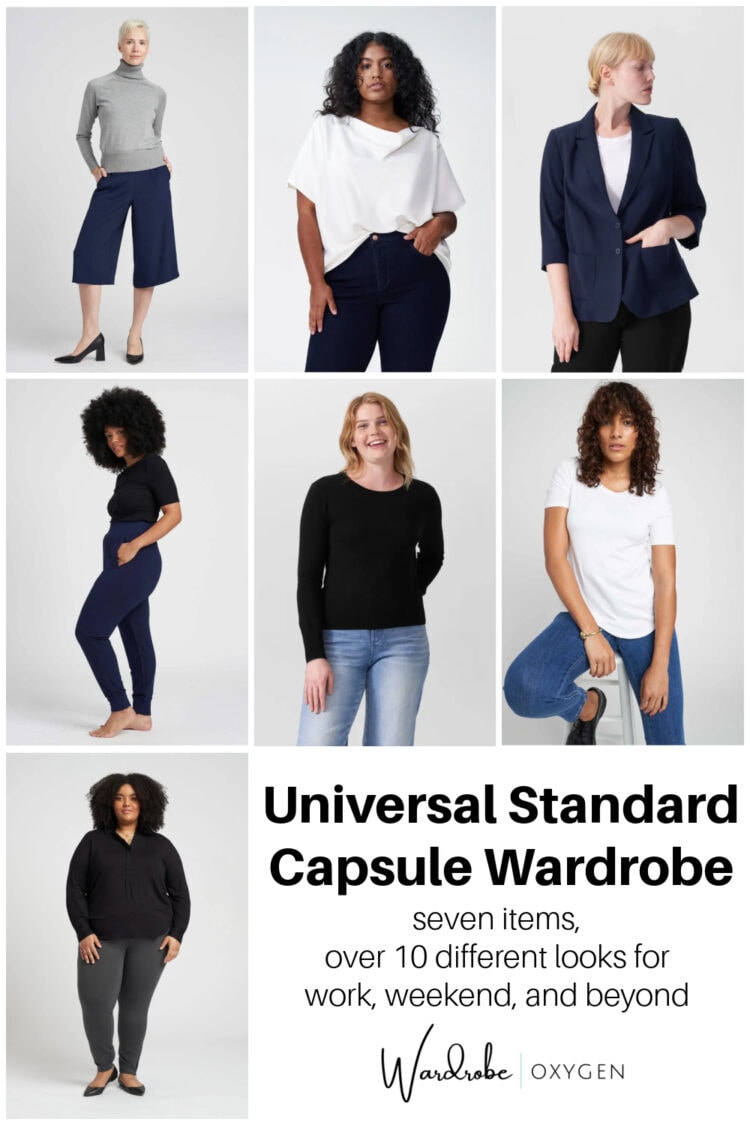 I am doing a paid promotion of the Universal Standard Sample Sale on Instagram today (come over and give it some love!). As part of that campaign, I was able to select a few pieces that would be available today in the sale.
I chose items I would really want to wear more than once, not even realizing that I was choosing a capsule wardrobe of sorts. I didn't realize until I opened my delivery and saw how they all worked so beautifully together. In case you're wondering, I also got this blazer, this leather jacket, and this tunic which I plan to rock over my NTN bodysuit!
So once I saw how it was like a capsule wardrobe, I decided to go that route with the Instagram post. And of COURSE I had to share it here on Wardrobe Oxygen! For reference, the items in this capsule wardrobe:
And with that, let's dig into the ten outfits I created from these items from this Universal Standard capsule wardrobe! Below are the images. Click on any image and it will pop up on the screen larger. Use the arrows to scroll through the images and click anywhere outside of the slideshow to return to this screen:
I know some of you may be curious about the accessories:
I hope this capsule wardrobe gets you thinking about how you can create more style with a small closet. And if you are shopping the Universal Standard Sample Sale do share with me what deals you got! Stay tuned, you will be sure to see more of these items throughout the coming months on the blog!
Shop the Post: