This article may contain affiliate links; if you click on a shopping link and make a purchase I may receive a commission. As an Amazon Associate, I earn from qualifying purchases.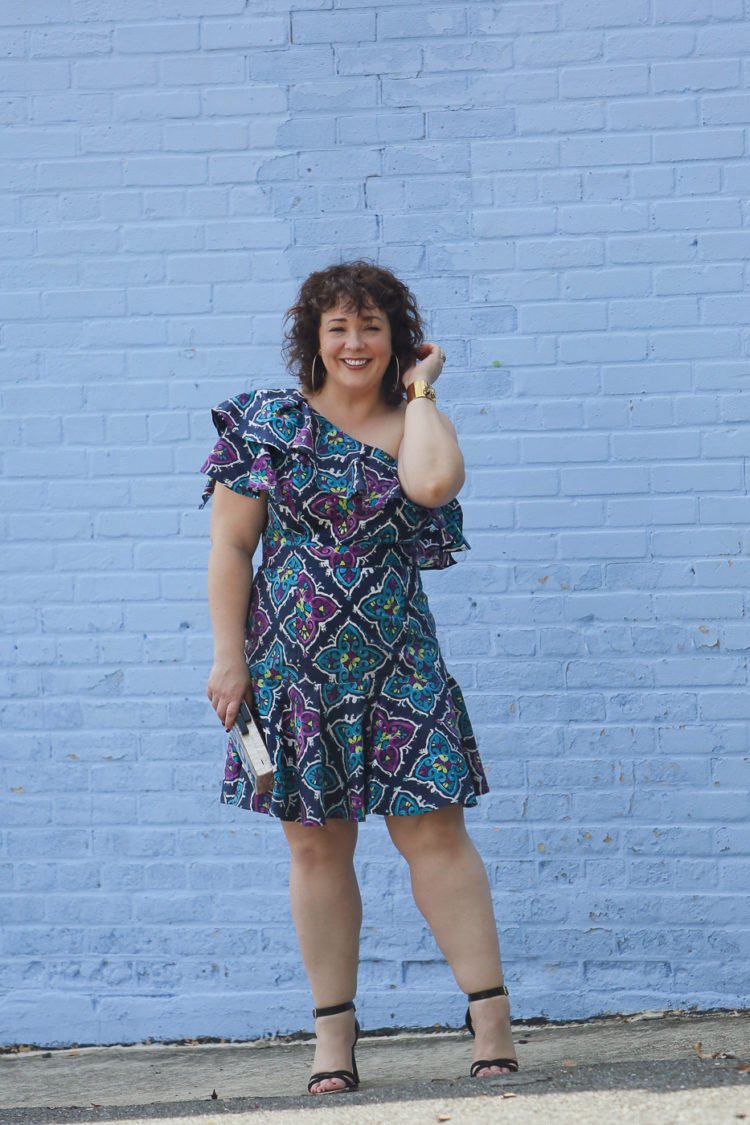 Below I share my experience with Rent the Runway Unlimited. This Rent the Runway Unlimited review focuses on the beginning of my Rent the Runway subscription. If you would like to read more about my experience with a Rent the Runway subscription, check out my other Rent the Runway articles.
In January I went on a girls' trip to Charleston.  One of my friends had this super cute moto jacket.  I asked her where she got it, she said Rent the Runway Unlimited.  She's an attorney and spends most of her week in conservative suits; she found Rent the Runway Unlimited helped her create a fun and stylish weekend wardrobe without her needing to go shopping or be hip on current trends. 
Last summer I complimented a friend on her sundress; she said it was from a brand she never heard of but she rented it from Rent the Runway Unlimited and was planning to purchase it because she fell in love with it. That fall, every time I went to a fashion or influencer event and complimented a friend on their look they'd tell me they rented it from Rent the Runway.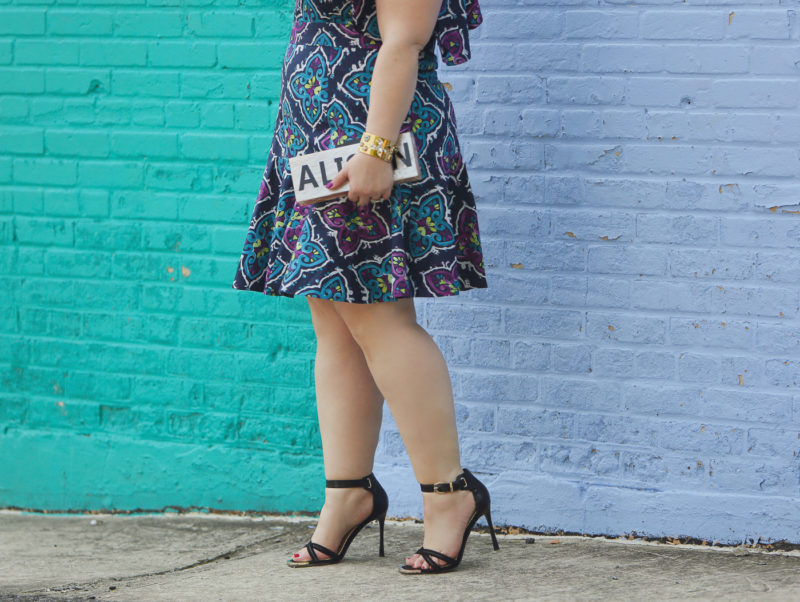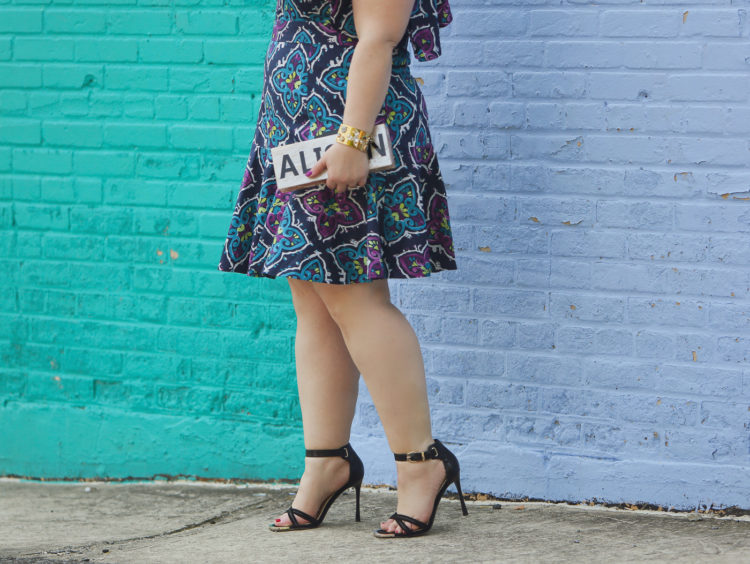 I had been recommending Rent the Runway for years for special events. Renting a cocktail dress or evening gown is far cheaper than buying one, especially when you likely won't wear it more than once. However, I was hesitant to try Rent the Runway Unlimited. I was that weird middle ground between straight and plus sizes and also do better with petite sizes. Would Rent the Runway work for me?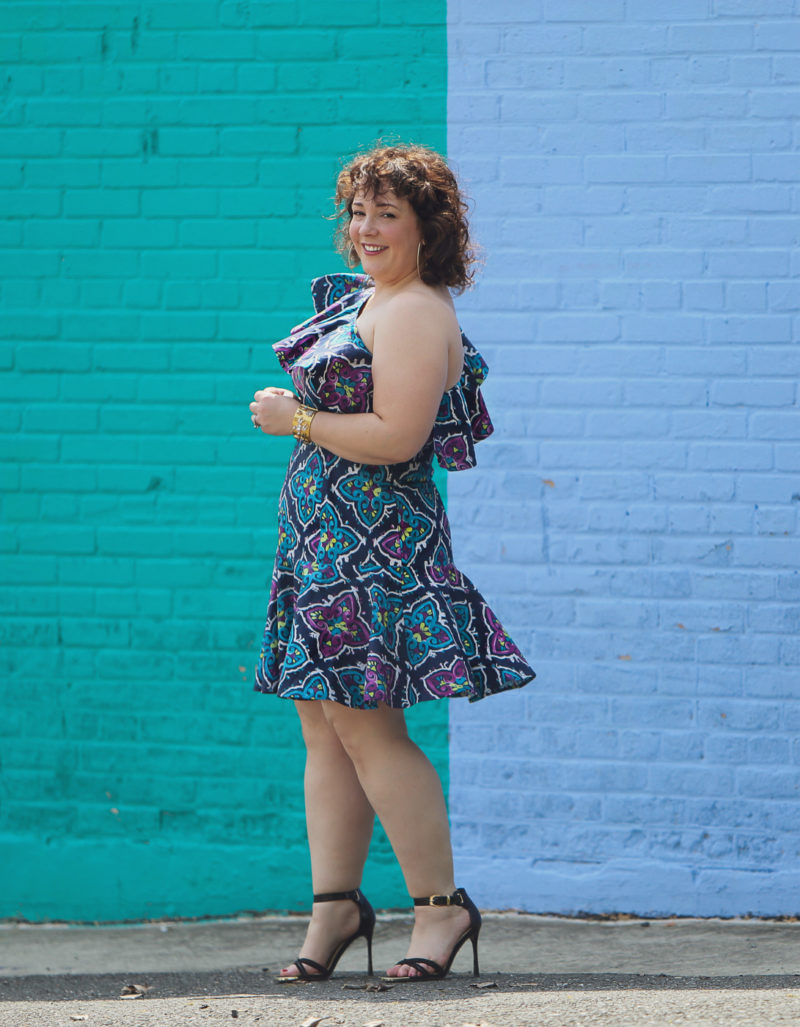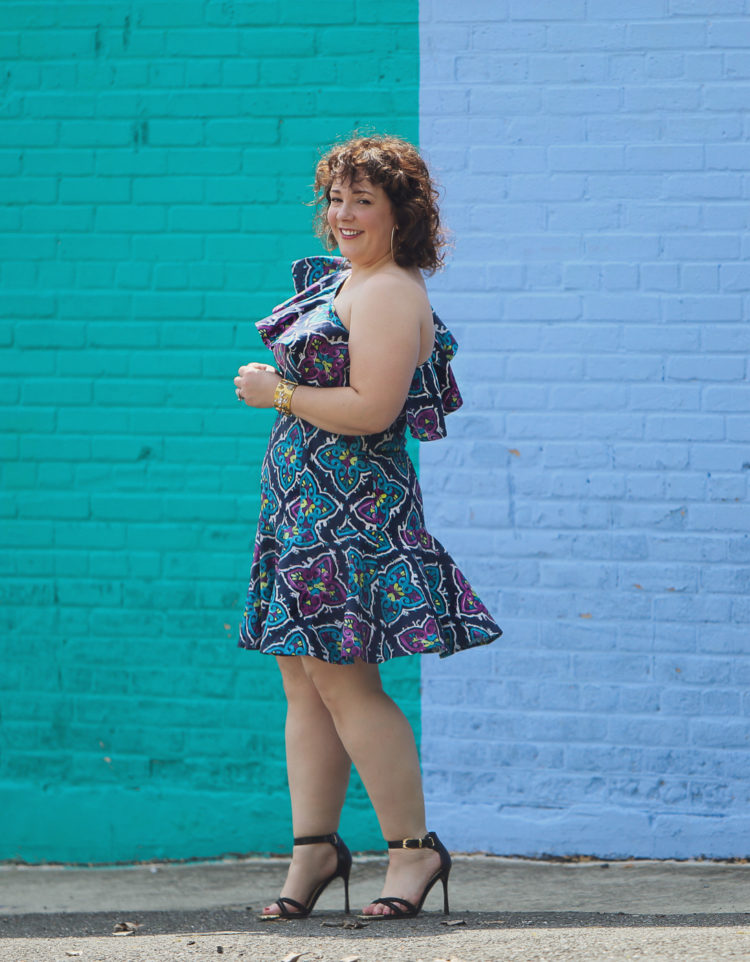 Dress: Josie c/o Rent the Runway Unlimited (16) | Shoes: River Island | Bag: Gift | Bracelet: c/o cabi | Earrings: Monogram Hoops c/o Jenny Bird
My Experience with Rent the Runway Unlimited
Rent the Runway lets you borrow four items from their ever-changing collection.  Dresses, separates, outerwear, handbags, jewelry… even sunglasses are available.  They offer department store brands mixed with some designer (we're talking Rachel Comey and Tory Burch versus Gucci or Prada) and like the traditional Rent the Runway, customers share extensive reviews, often with photos.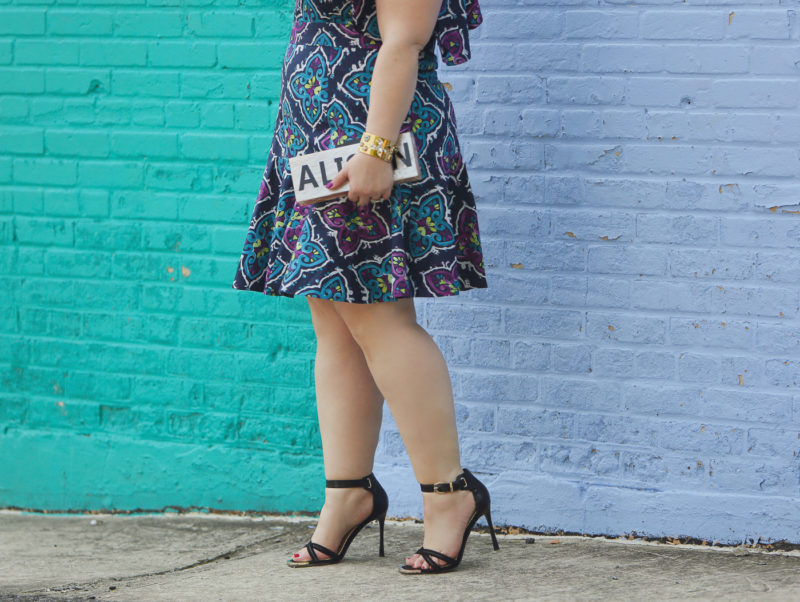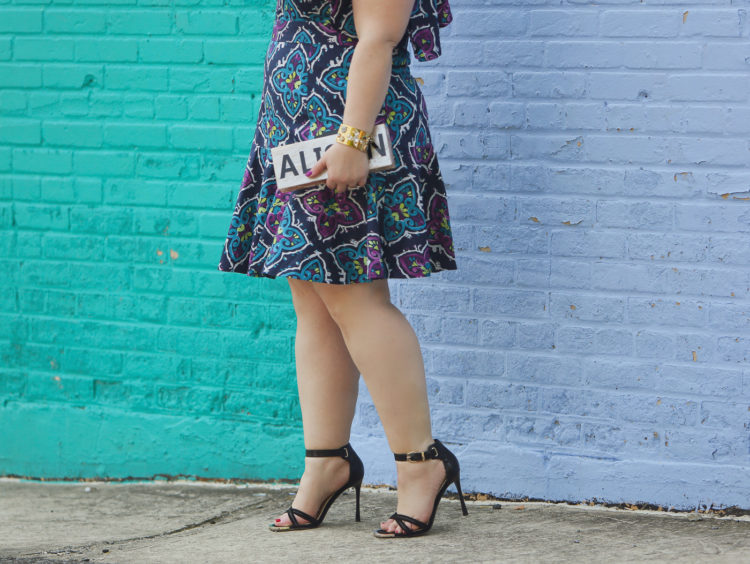 This past winter I tried Rent the Runway and canceled after one month.  I had great success with their outerwear – I got amazing coats and bags.  However, the clothing was difficult – everything was too big or too small and if it fit it usually was for a woman several inches taller.  A mall 14 is far different from a designer 14 which is drastically different from a 14W. I ended up canceling after a few deliveries.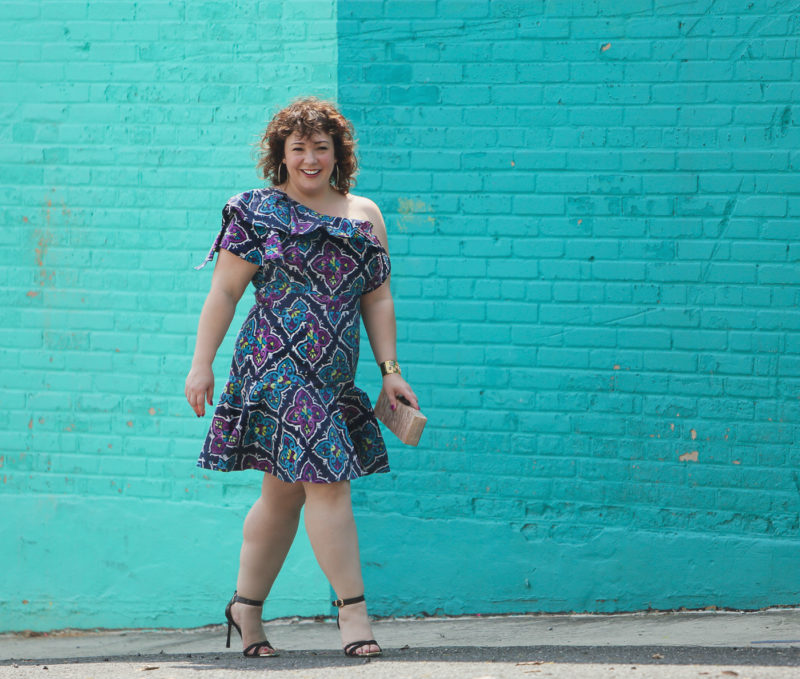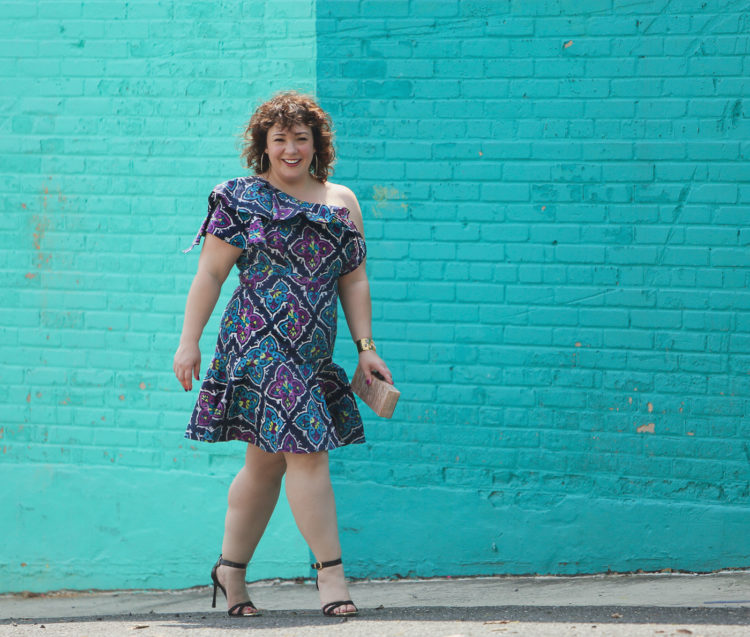 Rent the Runway reached out this spring and asked if I'd like to try their program again. I had seen so many friends my size have success I wondered if my fail was due to my choices not my size. I was using Rent the Runway Unlimited to find high-end really funky things I would love to own but could never afford. I decided to use it less like a fantasy rich quirky woman wardrobe and more the way I have recommended the program – a way to add to your wardrobe without purchasing a lot of things. Items to wear to weddings, to work events, to try out new brands, to add interest to my closet basics.
This dress came in my first spring Rent the Runway Unlimited order.  Josie is the clothing brand by intimates brand Natori, and it's a collection of pieces that are feminine, a touch sexy, with interesting architectural details. I never would have tried this brand, I didn't know it existed and I never would have thought the brand would come in my size (this is a 16).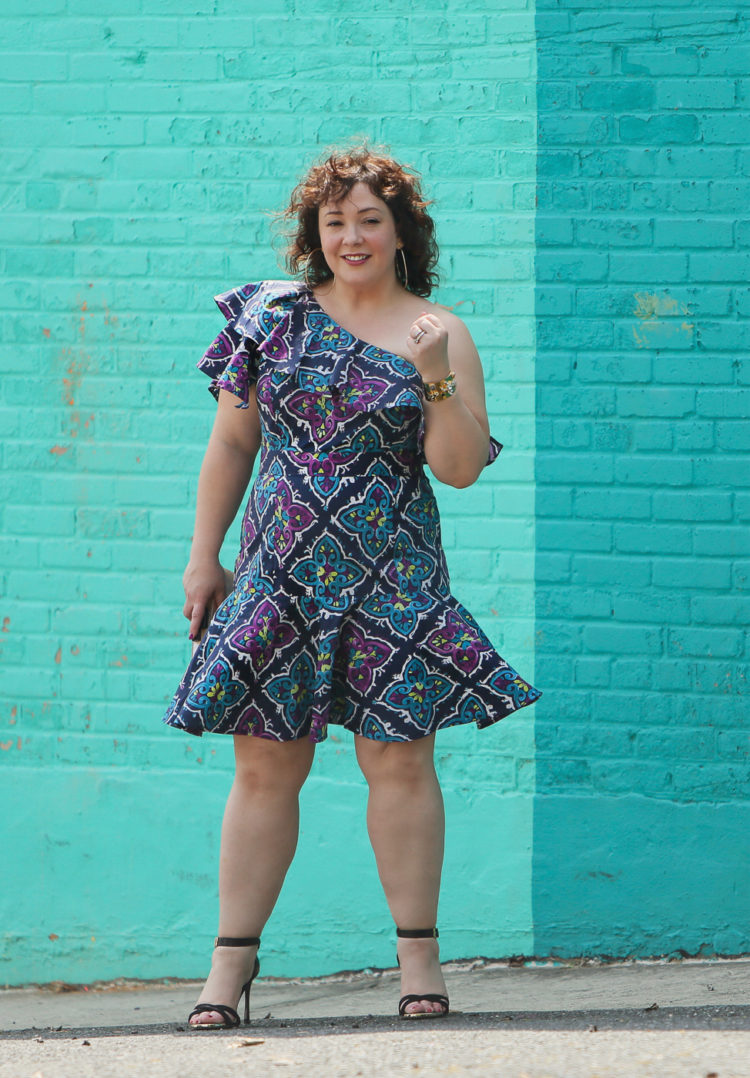 This is the kind of dress I'd wear to an event, maybe again later in the summer on a date or to a wedding and then never wear it again and regret that I spent so much on it. Instead, I get to wear it once or twice, send it back, and can even re-rent it later in the season. And if I decide I do want to keep it, I can purchase it at a discount.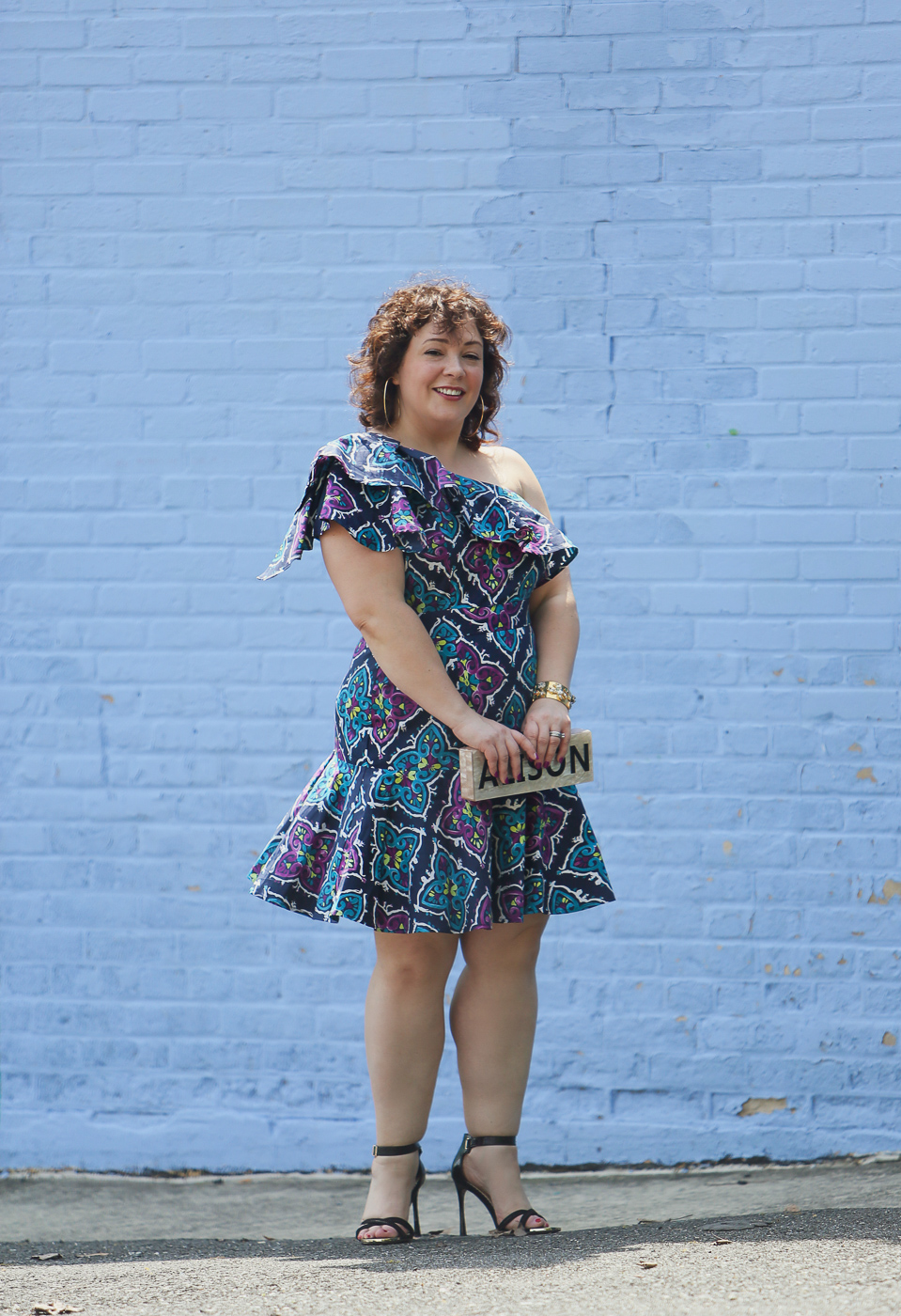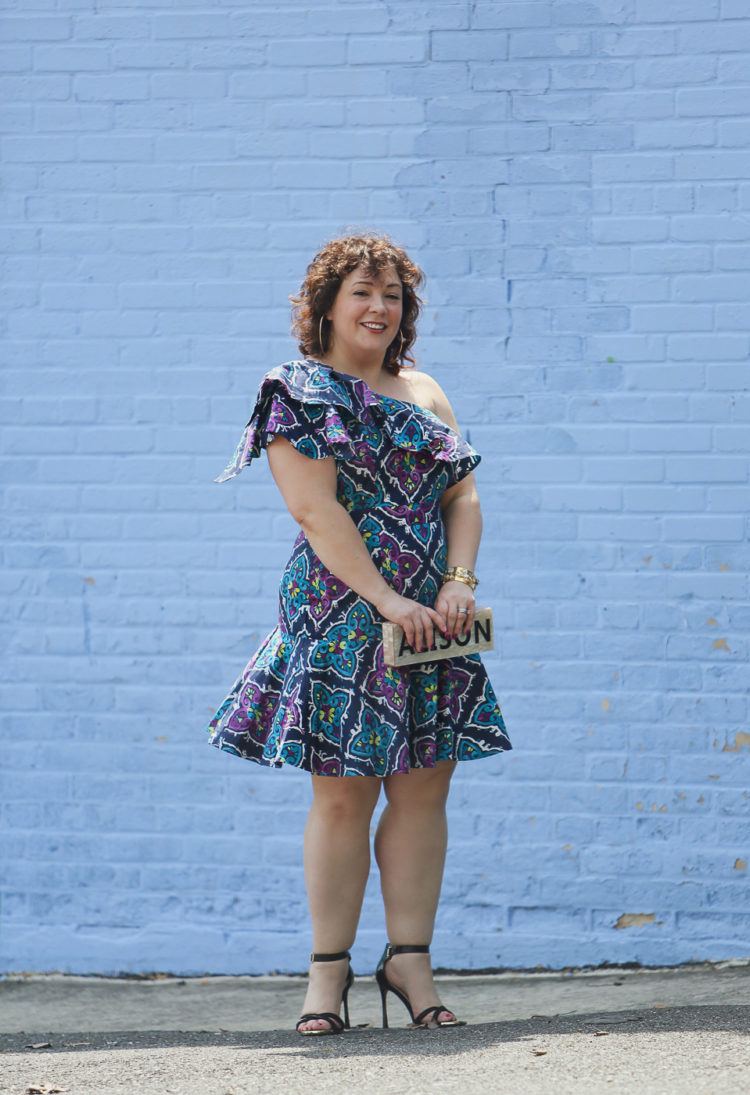 Also in my first order I received a sleeveless shirtdress from J. Crew I had my eye on (got a 16, too big, will re-rent for 14), an orange gauzy off the shoulder dress from Nicholas (went with a 16, should have done 14), and a pink mirror-finish clutch from Rebecca Minkoff (I was considering wearing pink earrings and a pink clutch with a white suit to a conference and didn't own a pink bag). 
Unlike the winter where I struggled to find things, this spring I have already "hearted" several items I'd like to try in my future deliveries. I have a three-month free subscription, I'll continue to share what I get from Rent the Runway Unlimited and we'll see if it seems enough of a value to continue my subscription after the free trial.
Rent the Runway Unlimited FAQ
Tell me about the shipping and returns.
When you schedule an RTR delivery you get it super quick. Once I got it next day, the other times it was there in two days. The delivery arrives in a canvas garment bag that zips up to be a package the size of a traditional shipping box. Unzip, clothing is on hangers covered with dry cleaning bags. bags and accessories are in dust bags or small accessory boxes. The garment bag has a loop to hang it off a hook, it has little mesh pouches to hold small accessories and also has your return label. When finished wearing all the pieces, pack them back up, slip the mailing label in the clear pocket on the front and drop the bag off at a UPS drop-off.
What if I want to cancel?
A lot of subscription programs make it nearly impossible to cancel.  I found it relatively easy with Rent the Runway Unlimited.  I used their contact form and let them know I wanted to cancel.  They replied the same day.  Of course, they asked why and offered solutions (visit the Georgetown store, try it another month, etc.) but when I stated no, I wanted to cancel they did it right away same day.
Can you order more than one size?
When you sign up with Rent the Runway Unlimited they will ask you what sizes you wear most often. Searches will provide only those sizes and when they are in stock, but you can adjust the filter. Also, once you pick an item you can pick whatever size you desire. And yes, you can order two or even three of the same item in different sizes. Just know that they all count as a piece in your four-piece delivery.
Can you get fancy dresses through Rent the Runway Unlimted?
Yep! RTR Unlimited also has the evening gowns, the sparkly clutches, and the pretty jewelry to have you look fab for a cocktail party or gala as well as for work or brunch with your friends.
Do you need to clean items before returning them?
Nope, RTR will take care of cleaning. However, you need to return items in wearable condition. They know accidents happen and account for them, but if something is damaged let them know before you send it back.
Do you get clothes that smell like another person?
I've now tried three clothing rental programs, and the other person smell is real and gross. Sometimes it's perfume, sometimes it's B.O., sometimes it's a super strong detergent. I've only received one thing that smelled a bit like perfume, everything else has been fine. One time I got a large suede tote and it was shoved in a too-small dist bag causing it to have a crease and not hang properly. However, more than that I get items still with the tags on them that I'm the first wearer of the garment. In general, I find the condition of the items I've rented far better than the other two clothing rental companies I've tried.
I'm plus size, will Rent the Runway Unlimited work for me?
Rent the Runway Unlimited only goes up to a size 22. They seem to be working hard to improve their plus size offerings as it's way better than when I tried it a few months ago.  Back in the winter, if you got into plus sizes you went from fancy brands to basic mall brands.  From a dress that retails for $350 to one that retails for $45. What's the point of renting clothing when the rental fee isn't much less than buying the items outright?  However, this spring in size 22 offerings I see multiple styles from brands like Tanya Taylor, Unreal Fur, Badgley Mischka, Jason Wu, Amanda Uprichard, Christian Siriano, The Kooples, and Jay Godfrey.
While I did receive a three-month subscription to Rent the Runway Unlimited for free, I was not asked to write this post nor will be paid for it. All thoughts are honest and my own. There are affiliate links in this post; if you click on a link and make a purchase I may receive a small commission.