This article may contain affiliate links; if you click on a shopping link and make a purchase I may receive a commission. As an Amazon Associate, I earn from qualifying purchases.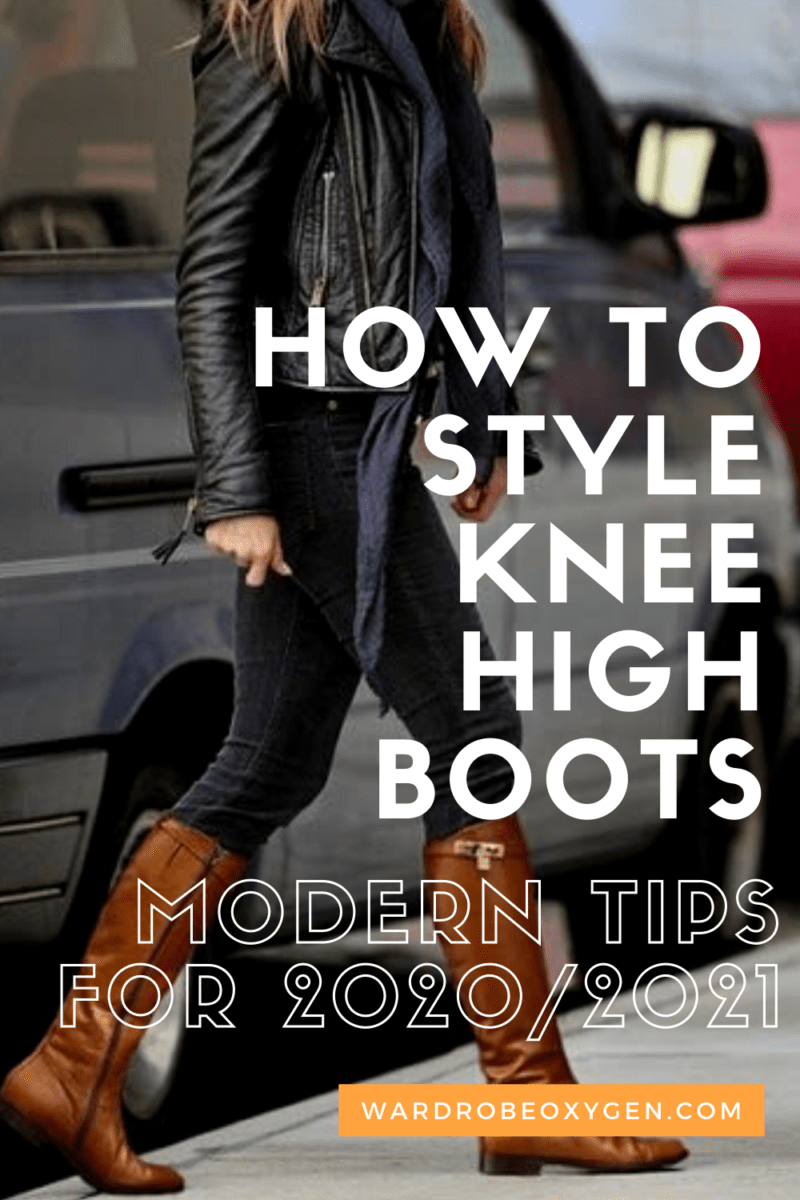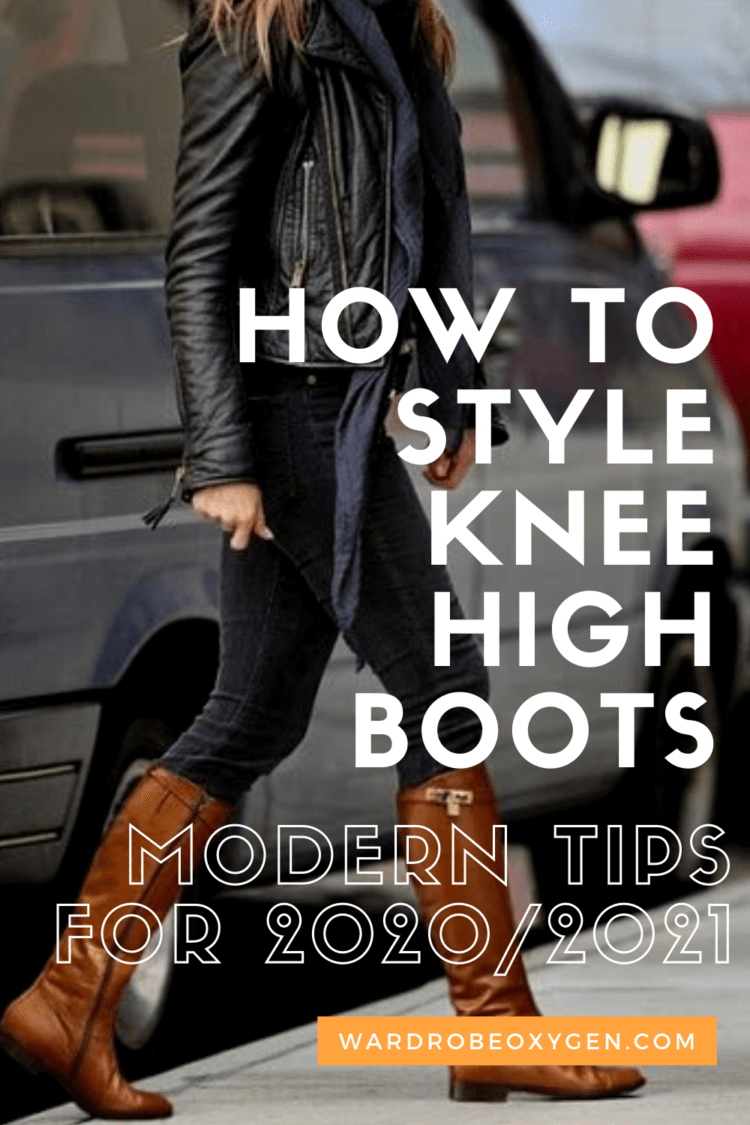 Knee-high boots have been a popular fashion trend almost consistently for over a decade. Few fashion trends have such staying power. Why have tall boots remained popular for so long? For the same reason that many fashion trends last and occasionally overstay their welcome – it's a trend that is accessible to a variety of body types and budgets. Knee-high boots were practically a women's fashion must-have from 2005-2015. But after a decade, the trend began to feel very tired. The style went from sleek heeled styles and classic riding boots to all sorts of fabrics covered with studs and buckles and plenty of stretch panels worn with a uniform of very skinny stretchy jeans and either a tunic sweater or a button-front shirt topped with a faux fur, quilted, or puffer vest. The trend had been so overdone there were memes made about it.
In 2017 I wrote a post about how knee-high boots were no longer in style and it angered a lot of people. The thing is, I never said to get rid of your knee-high boots. I suggested styling them in a fresh way or possibly retiring them for a while. If you didn't own such boots already, to not buy them at that time. Well it's almost 2020 and now is the time to take your knee-high boots out of storage and if you were wanting a pair, I recommend shopping now while there is plenty of selection. Recently I shared my picks for stylish wide-calf boots to give you some shopping inspiration. Below I share ways to style knee-high boots for 2020 – the outfits are similar but have specific details that make the looks modern; I share how the trends have changed.
The Old Way of Styling Knee-High Boots
There were two ways that knee-high boots were styled in most of the 2000's and 2010's – either with short skirts and dresses having knees exposed, or slipped over skinny jeans and styled with lots of layers.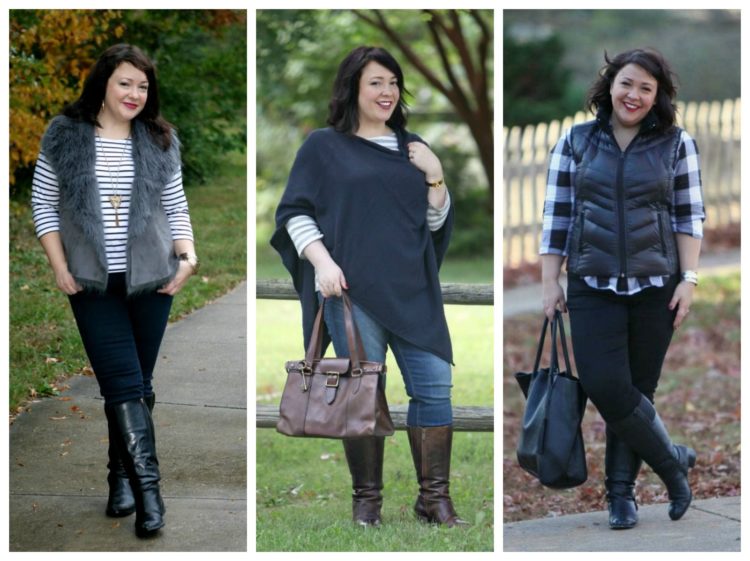 The most popular way to wear knee-high boots during this era was what we now mock as "basic". Knee-high boots styled with jeans or leggings and lots of layers. Think the cliché "Christian Girl Autumn" of blanket scarves, floppy hats, and steaming cups of pumpkin spice latte. Where I live, knee-high boots were quite popular with skinny jeans, plaid flannel shirts, and puffer or faux fur vests (I was known to rock this combination from time to time) which also inspired its own meme.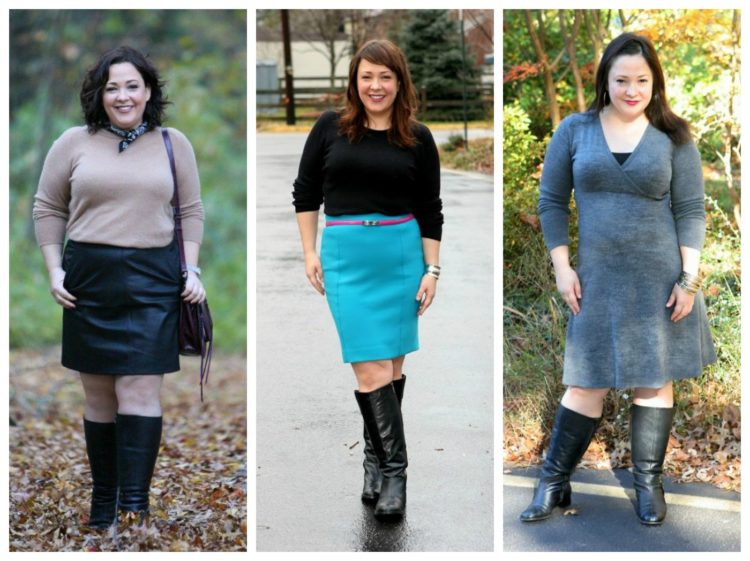 The other way knee-high boots were styled was with short skirts and dresses with knees and often a bit of thigh exposed. More often than not these looks were styled with bare legs. Hosiery went out of style for a bit during this time unless it was tights in a statement color, so boots were often put with looks that didn't necessarily benefit from them just to stay warm.
How to Style Knee-High Boots Now
The way knee-high boots are stylish in 2019 is the way they were stylish before the late '00s and early teens. Think about how style icons across the decades wore such boots or would have worn such boots if they owned them. They are worn to keep one warm; they are tall enough to slip under a longer skirt to have no bare skin. They are worn slipped over pants and jeans when riding horses or being outdoors because they are fantastic wind protection and a fabric that can withstand a lot. The difference are the details.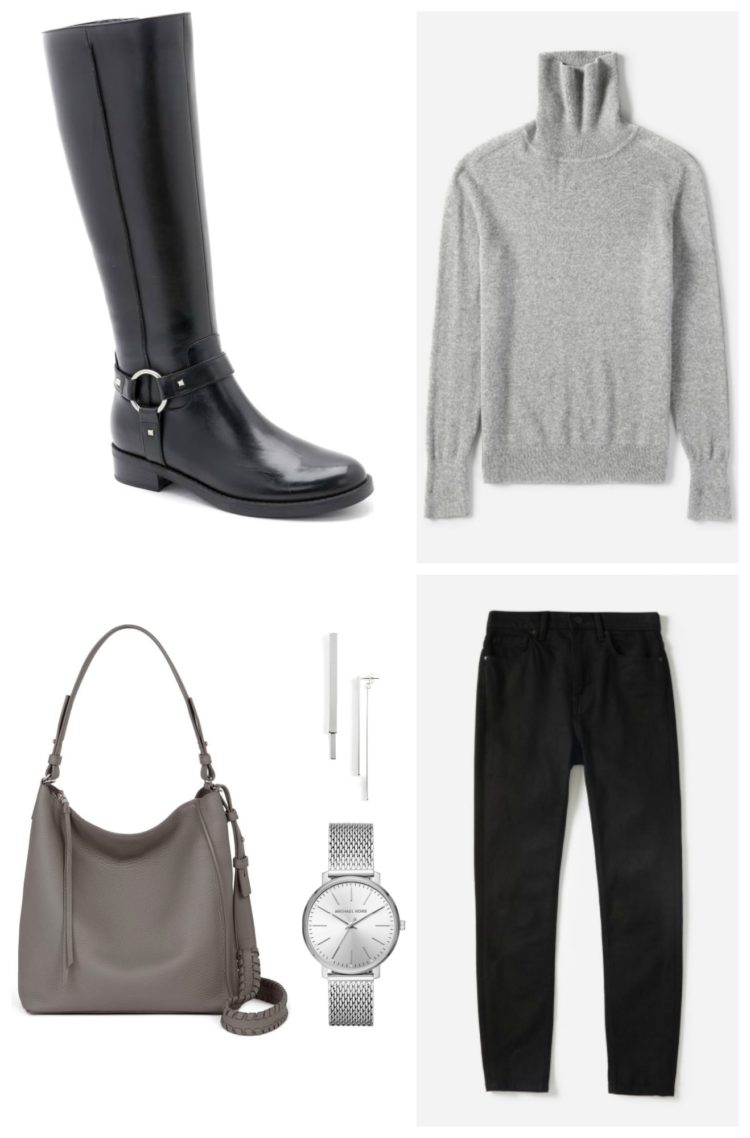 Shop the Look: sweater | jeans | boots | earrings | watch | bag
At first glance, this look appears similar to how knee-high boots were styled a few years ago. But the difference is the details. The sweater is lightweight, not bulky and worn either tucked in or fitted and skimming the body. The jeans (which I own and love) are not skin-tight and have a higher rise which is a current trend. Having the boots and the jeans the same color elongates the leg and looks more luxe. Previously, the bag would have been chosen to match the color of the boots. Having the bag and accessories instead coordinate with the top makes the outfit airier and light while also giving a feeling of modern luxury.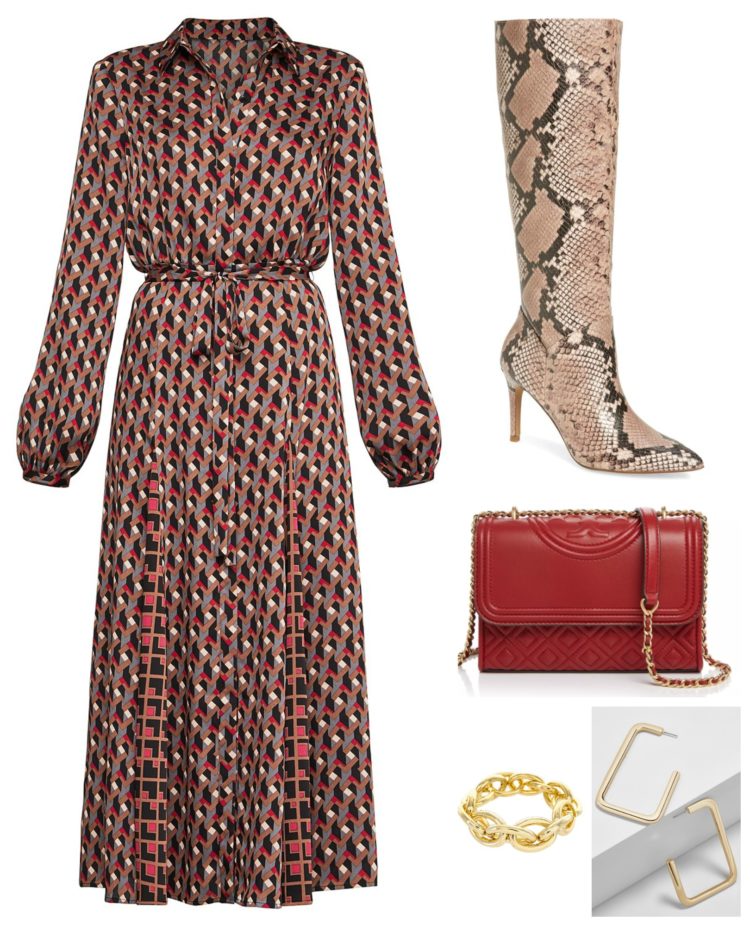 Shop the Look: dress | boots | bag | bracelet | earrings
I've thought for over a decade that leopard print is a neutral; well this season has deemed snakeskin to also be a neutral. Not only that, it looks extra fresh and fashionable when mixed with other patterns. Previously, such boots would be styled with a short black dress and black tights, or black leggings and a black sweater to let the boots earn the spotlight. Make printed boots modern by letting them blend into the background and complement another pattern. Florals, paisleys, and graphic prints all look great with snakeskin and other subtly patterned knee-high boots. Since the pattern mixing is busy, keep the rest of your look simple a classic. High-shine gold jewelry that is classic with an edge, and a traditional-looking handbag in a color to pick up the dress print is a perfect addition and makes the print mixing purposeful.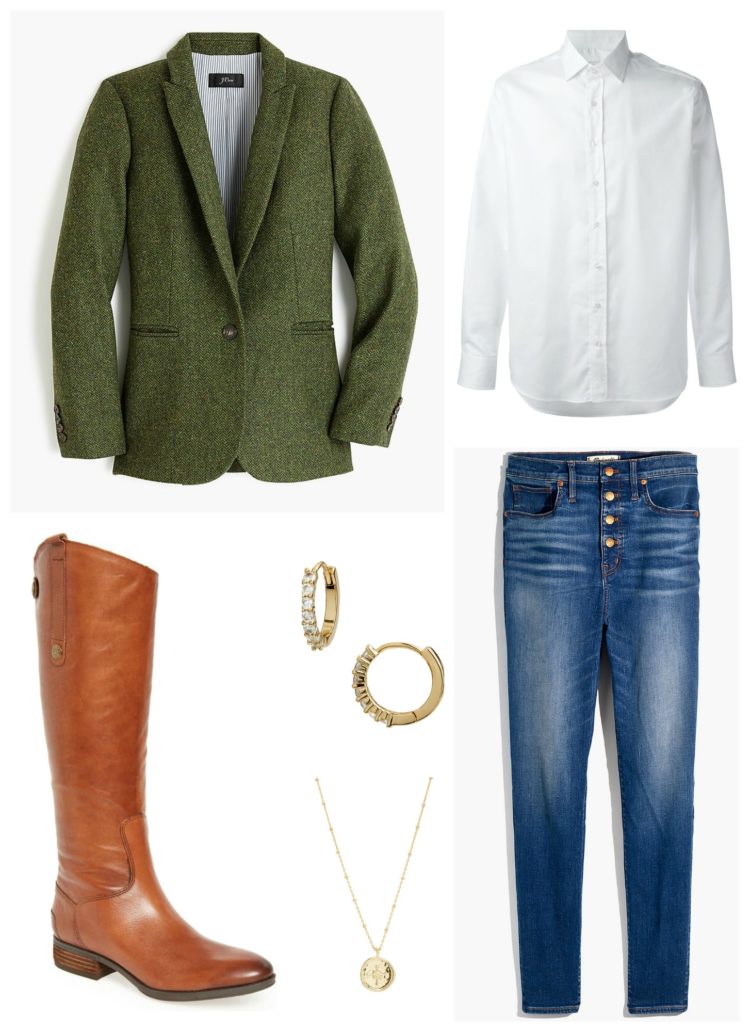 Shop the Look: blazer | shirt | jeans | boots | earrings | necklace
Boots are still great slipped over skinny jeans, but to make the outfit modern, go classic. Instead of waterfall jackets, long sweater coats, puffer vests, and blanket scarves add some tailoring and an equestrian feel. Tweed, plaid, and wool blazers are popular this season and look so right with the riding boots that may already be residing in your closet. While a few years ago the trend would be to wear the blazer over a Breton striped tee, this season consider pairing it with something more traditional like a button-front shirt (I have this one and love how it doesn't wrinkle, stretches, and looks fresh right out of the dryer while being comfy even under a blazer). Consider skinny jeans with a higher rise; button fly jeans have returned and offer an interesting outfit detail while also slimming the midsection.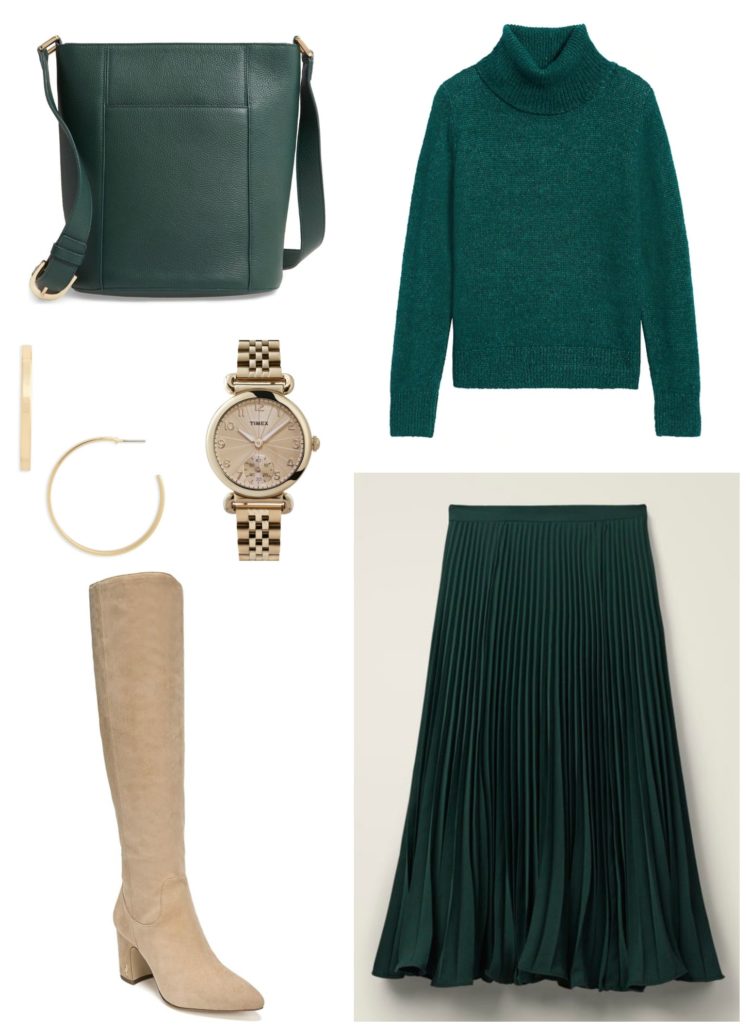 Shop the Look: sweater | skirt | boots | bag | earrings | watch
The '70s inspired look of a boot with a midi skirt is very on trend, and a cozy warm trend too! Whether it's a wool a-line or a pleated silky fabric like the one featured above, this is a way to keep yourself completely covered while still looking dressy and work-appropriate. Continuing with a popular trend, I balanced the softness of the skirt with a thicker, shorter sweater. Half-tuck the sweater in front and leave the back loose to draw attention to the waist while still looking relaxed. I liked the monochromatic effect, but there is no need to do this; feel free to wear what colors you like or even have a patterned skirt. This look is best with a slim-fitting boot with at least a 1″ heel. I went with a beige suede which is a popular finish for knee-high boots this season, but honestly, any color, finish, and heel style can work with this concept.
The four looks above aren't radically different from how we styled knee-high boots 5-10 years ago. The difference is the details – the fit, the silhouette, the subtle switch in patterns and cuts. The best way to make the knee-high boots in your closet feel modern is to ensure they fit well, look for ways that they can blend into your outfit instead of stealing the spotlight, and be sure they are in great condition. Take them to the cobbler to get reheeled, resoled, and a good polishing. Consider insoles for comfort (I personally love these and have them in several pairs of boots; they also come with a wool shearling version).
What Kind of Knee-High Boots Should I Buy?
If you're a grown-ass woman, you should be wearing grown-ass shoes. Go ahead and scrimp on jeans and t-shirts and denim jackets and casual dresses. But shoes are one place you should spend money. Not only do you deserve a comfortable shoe, but you're too old to be wearing cheap leather alternatives and weird embellishments. Unless you are against leather, get leather. If it's too expensive, wait. And make sure that leather is quality leather – thick enough that the shafts won't slide down mid-day, a smooth finish that can handle being polished like grown-ass women do with their leather shoes, hardware and heels that would have looked at home in 1972 as well as 2022.
When Do I Need Knee-High Boots with Heels?
Heels equal dressy in most situations. Adding a heel will read dressy and be a better pairing for skirts and in the workplace. A turtleneck sweater with jeans and flat boots – casual and comfy for a weekend of running errands. A turtleneck sweater with jeans and heeled boots – a chic look you can wear to brunch or to a creative workplace. A heeled boot adjusts the shape and appearance of one's legs, making boots that are a bit shorter on the calf look more proportional.
That being said, heels are not necessary. A flat boot with a slim silhouette and almond-shaped toebox can still look quite polished. However, it's even more imperative that the boot fits well. Cobblers can narrow boot shafts and some will even custom shape the shaft so it perfectly skims your leg from calf to ankle. Bulk-creating details like buckles above the ankle, elastic gussets, cuffs, and lacings will make a boot look less dressy and will also reduce its versatility.
What Color Knee-High Boot Should I Get?
What color you buy has everything to do with your existing closet and your goals for wearing the boots. A modern look right now is to have your boot match or be in the same color story as your pants, skirt, and/or hosiery. A snakeskin print chiffon dress with brown tights and brown boots. A teal sweater with black jeans and black boots. A camel blazer with cream jeans and brown boots. Gray suede boots with gray jeans and an ivory sweater. You get the idea. The low-contrast look is not only leg-lengthening but modern and definitely not 2015.
How Tall Should My Boot Be?
As I shared in my stylish wide-calf boots post, you should measure not only the calf width of your legs, but also the length from below the knee to the top of your heel. Everyone's legs are different heights and you want to have boots at a stylish and comfortable height.
When you are petite, you may find knee-high boots bow out at the top like pirate boots, or they get caught in the back of your knee when walking or sitting. This means the boot is too tall. However, I think a boot just under the knee looks best on my short and wide-calf legs so I had a cobbler take my boots that looked like they belonged to Blackbeard and tailor them for a perfect fit. They have become the most-worn boots in my wardrobe.
When you are tall, you may find boots hit at an odd point on your calf muscle. Luckily, right now there is no specific height for boots so you can either rock that height if you like it, or look for a higher shaft. There are many styles of just over the knee boots with a lower back that look quite chic as traditional knee-high boots on taller legs.
Unless it fits your personal style, I don't recommend right now buying half-height boots that hit mid- to low-calf muscle. That length is hard to wear not just because it can shorten and thicken the look of a leg, but because it's harder to style. Knee-high boots are an investment and it makes sense to pick a style that is versatile and classic.
Do I Need Knee-High Boots in My Wardrobe?
Absolutely not. What is great about fashion right now is that it's fluid. In the past, you would look dated if you had the wrong heel shape, the wrong pant leg opening, the wrong width of blazer lapel. Style now is about knowing yourself and expressing it through your wardrobe. No one needs knee-high boots, only purchase them if they fit your personal style.
The most important aspect for style these days is fit. If you do not have a tailor or cobbler, visit your city's NextDoor or go to Yelp and look for one. Whether a dress or a boot is from Walmart or Saks Fifth Avenue, it will look more stylish if it fits you correctly. When items don't fit right off the rack (or right out of the shoe box), it's not because there is something wrong with you. Nobody, except the brand's fit model, can wear clothes off the rack and have them look perfect. Celebrities and fashionistas – they look great not because they wear designer clothing but because they get everything, boots included, tailored to fit. Buy fewer items, buy slowly looking for the best quality and style you can find, and spend the money to get them tailored. You'll end up with a smaller but more stylish and versatile wardrobe!