This article may contain affiliate links; if you click on a shopping link and make a purchase I may receive a commission. As an Amazon Associate, I earn from qualifying purchases.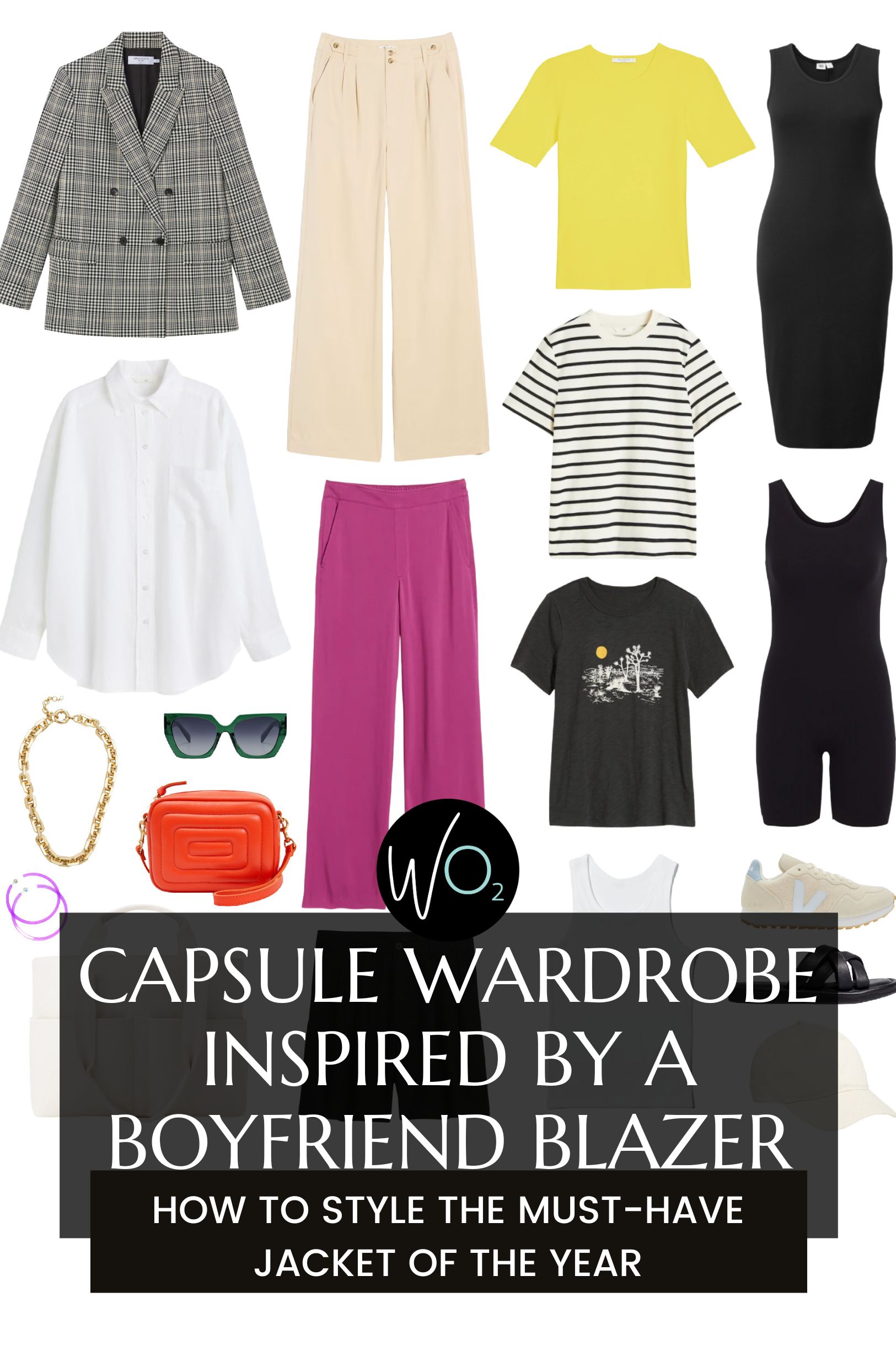 I recently visited the DC M.M.LaFleur showroom and tried a lot of their spring and summer offerings. One item I fell for was the O'Hara Blazer in Plaid Sharkskin. A lighter-weight blazer but still full of professionalism and quality construction, this is how to style the boyfriend blazer of 2023 in a sophisticated manner. I was playing in my closet finding ways for styling a boyfriend blazer like this and it inspired this capsule wardrobe.
Blazers have been a wardrobe staple for decades. In the '80s they were part of a power suit to exude authority in the workplace. In the '90s they were oversized, sometimes thrifted. Thanks to folks like Amanda Woodward and Ally McBeal, in the 2000s blazers were nipped and tucked and worn with matching minis or a camisole and jeans. In the 2010's they continued being part of our "going out" attire, getting creative with fabrics and details.
Now in 2023, the "it" blazer is an oversized boyfriend blazer. But unlike the oversized blazers from our past, this one is tailored to fit in the shoulders and across the back, giving a cleaner, more polished effect while still being slouchy, relaxed, and extremely versatile.
A Capsule Wardrobe for Styling a Boyfriend Blazer
I live in the Washington D.C. area and summer comes fast. We go from warm days with breezy nights to hot hot hot. However, as I know it is in many other parts of this country, when we are indoors it is air-conditioned. Offices, malls, grocery stores… while we may be sweltering in linen and cotton outdoors we may want a bit more when inside.
This capsule is for those who see value in a lighter-weight blazer during this time of year. Pieces that can work for being outside can also jazz up a blazer. This isn't a capsule to replace a wardrobe, but to show the versatility of a piece like the M.M.LaFleur O'Hara Blazer and how you don't need to make it office-friendly (and IMO, it's chicer when not paired with the matching pants or skirt). I hope this helps you with tips for styling a boyfriend blazer, whether it is this blazer or another in your closet.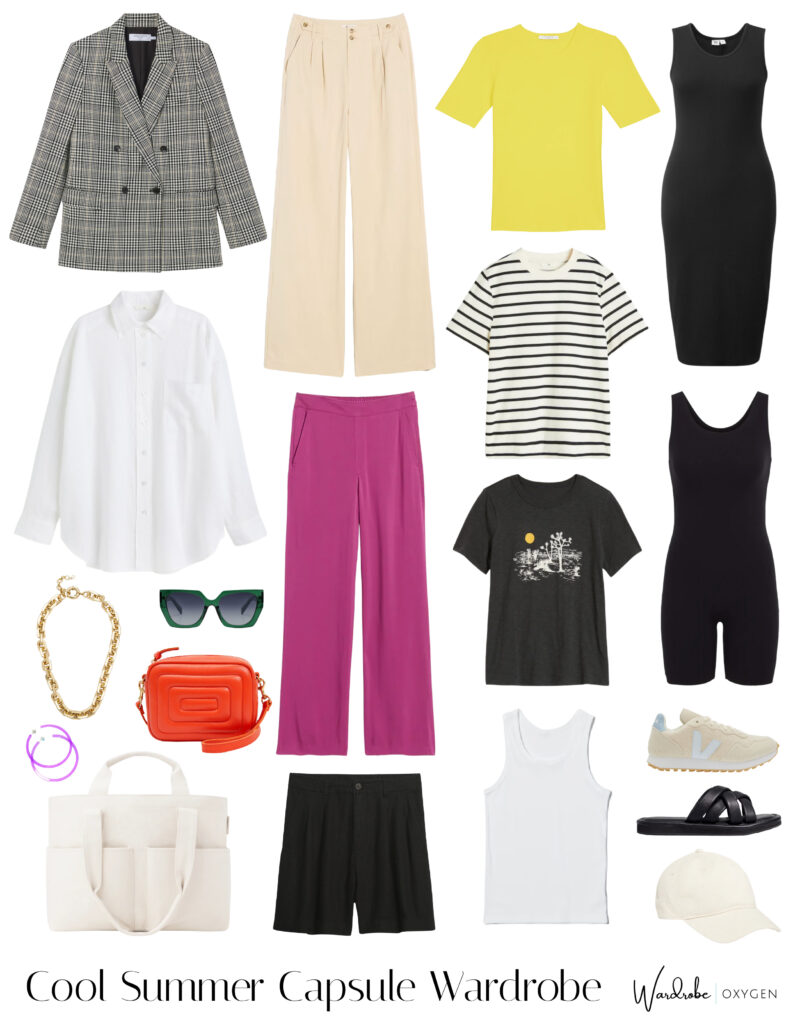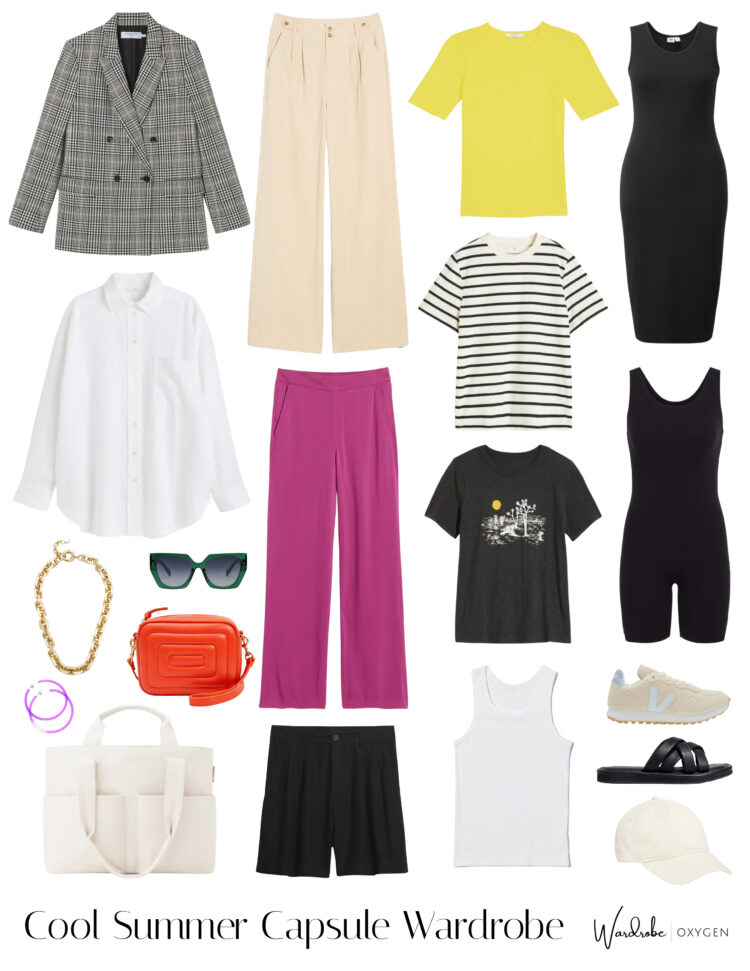 Shop this Capsule Wardrobe:
plaid blazer (00-18) | white linen shirt (XXS-4X) | beige wide-leg chinos (00-28 w/ petite & tall) | pink wide-leg jersey pants (XS-4X w/ ptite & tall) | black linen shorts (00-20 w/ petite & tall) | chartreuse refined knit top (XS-XXL) | black and ivory striped tee (00-40) | black graphic tee (XS-4X) | white ribbed tank (00-40) | black ribbed tank dress (XS-4X) | black bodyshort (XXS-XL) | gold necklace | green sunglasses | orange crossbody | magenta lucite hoops | ivory canvas tote | cream sneakers | black sandals | ivory canvas baseball cap

I know that this blazer may not fit your body or your budget, so I have gathered several other boyfriend blazers that would fit this capsule wardrobe easily. You can scroll through the carousel below and if you know of a fabulous boyfriend blazer not featured, please share in the comments!
Shop Boyfriend Blazers:

If you look at this capsule wardrobe and find it a weird hodgepodge of pieces, you're not alone. But I hope the outfits below help you understand my mindset, and how this blazer can live multiple lives in your closet. I also want you to know that if you so desire, you can wear some of these trendy combinations as a grown-ass woman. YES, you can wear a bodyshort under a blazer with a baseball cap and sneakers. YES you can wear a white ribbed tank top with a gold chain and oversized sunglasses.
Eff that noise that only certain trends are for certain ages or bodies. Plus, these trends are not brand-spanking new. Once you can find those trends in Old Navy, know they're for the masses. If you're comfortable and feel confident, wear it. I know I will (and do) and I promise you, no one is looking at me cross-eyed as I head into Target in my Universal Standard Next to Naked Bodysuit under a blazer or oversized linen shirt.
Sample Outfits Styling a Boyfriend Blazer (and Beyond)
Below are 21 looks I created from this capsule wardrobe. Not all feature the blazer, but most do. I just wanted to show how such pieces are more versatile than they may look at first glance. Also 21 is just the tip of the style iceberg for this capsule wardrobe. I just wanted to create the most creative looks to get you started. Click any of the thumbnails to see the image larger. Use the arrows to scroll through and then click the "X" or anywhere outside the image to return to this screen.
I added text to these images, but the images' metadata has the same text that the gallery tool says a screenreader will capture. If this is not so and you use a screenreader, please let me know. I was trying to find a way to share some styling tips and "why" behind the creation of each outfit.
I did add a few extra items to this capsule: these square-toe flats, these reading glasses, this scarf, these hoops, this lip oil, this cream blush, and this blush brush. The all-over color is from Flyte.70; I own it and use this brush to tap along my cheekbones then tap on my eyelids for natural color perfect for spring and summer. Use WOXYGEN15 for 15% off your order. The lip oil is from MERIT; I have been impressed with the products from this line that I have used thus far. I will be reviewing both of these beauty brands in the near future.

I also mention the Beltaway belt in one look. I think this is one of the most genius wardrobe tools I own. It's great for holding your jeans up without bulk (or getting pinged at TSA), but it is great for achieving a tucked-in look without the bulk. This Reel video I made helps explain how I use the Beltaway. The Beltaway is available in Misses and Plus sizes.
As mentioned, I personally have the Universal Standard Next to Naked Bodyshort which inspired this, but I've seen similar boyshorts at Old Navy, Lululemon, and Amazon. I used the one from Athleta because it has wider straps. You can also replicate this look with a matching fitted tank and shorts or capris. The key is fitted; if styling a boyfriend blazer over a loose tank will not achieve the same modern effect.
Trying New Trends at Any Age
Not every capsule wardrobe on Wardrobe Oxygen is for everyone. We all live different lives, have different priorities, different comfort levels, and desires. But I do hope with my capsule wardrobes, I help you see that you don't need more clothes to have more style. That it's worth it to play with what's already in your closet, trying new combinations because you may not need to buy another garment to feel modern and fresh. And that style rules are dated; nothing will age you faster than wearing what someone said two decades ago will make you look slimmer or taller or smaller or essentially hide yourself.
Taking Up The Space You Deserve in 2023
2023 is about taking up the space you deserve. Instead of looking at how the young folks are exposing so much skin or are wearing so much baggy ill-fitting clothing, see the message they are sending. They are unapologetic. They are accepting that they come in a range of sizes and shapes, abilities, and priorities. That they are much more than their body, and they don't use their body to define them but to express what they are inside.
Take up the space you deserve in the way that makes you feel good. Wear those oversized linen shirts untucked over linen pants. Rock a bodyshort with a boyfriend blazer. Buy a dress with a side or back cutout. Feel comfortable in chunky sneakers and sandals with arch support, and instead of hiding in black or gray try something in your favorite color. We will not fade away, we are more interesting, wiser, and way cooler now than we were years ago and we too deserve to have our outsides be a way to express the beauty that is within.