This article may contain affiliate links; if you click on a shopping link and make a purchase I may receive a commission. As an Amazon Associate, I earn from qualifying purchases. 
If you follow fashion and beauty bloggers, I'm sure you have heard of JewelMint, StyleMint, and ShoeMint. These are celebrity-sponsored sites that offer a monthly "showroom" of pieces based upon your personal style.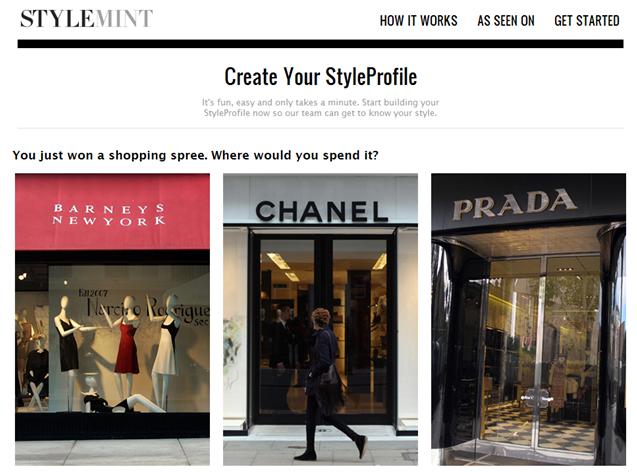 You start by filling out a survey of your personal style – are you more Zara or J. Crew? If you're getting a pedicure would you rather read InStyle or Cosmo? From this, the Mint site decides what from their collection is most appropriate to your taste and creates your custom showroom. The collection is updated each month, so you have new pieces to choose from.
The idea is fabulous – jewelry designed by Kate Bosworth and her stylish friend, shoes picked for you by Rachel Bilson, tees via the Olsen twins (and skincare via Jessica Simpson, though I won't be discussing BeautyMint site in this article).
All of these sites are subscription sites – once you make your first purchase, your credit card is on file and you will be charged every month. You have the first five days of the month to dash to their site to say "skip this month" or else you will be charged the monthly cost ($29.99 for Style and JewelMint, $79.99 for ShoeMint).
Last year, I won a "gift certificate" to JewelMint. I had a devil of a time trying to figure out how to use it, and realized in essence it was just a free credit for the site. I went to the site, and wasn't too impressed with the options – my skin doesn't react well to rings not made of silver or platinum, I am not really an earring person, and I don't like delicate necklaces. However, they had a green pendant on a longer gold chain that looked promising.
The necklace came quite quickly, and I was impressed with the packaging. A glossy mint green box with magnetic closure, the necklace was carefully displayed on a velvet-covered foam box insert. The packaging was so pretty and luxe, I felt I was getting an item from a high-end designer. Then I opened the box… and was underwhelmed. The necklace was… fine. The quality was average to below average – lightweight, a weird color of gold that looks fake even from several feet away, an odd length of chain. A stylish friend said it looked like a piece from Forever 21 and I had to agree.
JewelMint has a referral program – get others to join with your custom URL and you get free credits towards more jewelry. I ended up acquiring four credits in 2011. Each month I would go to JewelMint to use my credits, and leave with nothing. Seriously, I could get free jewelry and couldn't find a single thing I would actually wear. Last month I saw a gold link bracelet that looked promising and used a credit towards it. Again, the piece arrived very quickly, and in quite luxe packaging. And again the piece is underwhelming. While this bracelet is a better color of gold, it's still lightweight, simplistic and should cost less than $29.99. I have heard from friends and fellow bloggers that pieces have turned their skin green and have broken in just a couple months' time.
Even with my less-than-awesome experience with JewelMint, I was curious about StyleMint. I respect Mary Kate and Ashley's personal style and taste. Also,the blogger A Girl in Boston had the StyleMint "Venice" tee and I liked how it looked on her. I also got an email from StyleMint for a discount on my first purchase so I decided to give the site a go.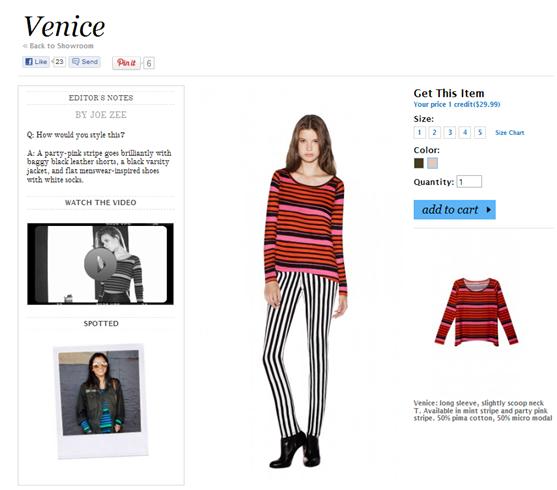 Based on the size chart on StyleMint, I got a size 5/XL. With my shoulder, arms, and bust I usually err on the side of too big with tees to get a flattering and work-appropriate fit. While I felt the cut of the "Venice" tee would be cute with jeans on weekends, I was also hoping to wear it sucked into pencil skirts for an office-worthy ensemble.
As with JewelMint, the purchase arrived quickly and was wrapped with care. At first glance, the tee looked pretty nice – a soft lightweight knit that had a luxe, silky finish. Unlike cheapy big box retailer tees, there was care to have the stripes line up at seams. I liked the neckline – a slim hem that would look appropriate with a blazer or for casual wear.
The other night I tried on my tee… and it was huge. HUGE. The sleeves were so long they went past my fingertips, the neckline gaped and displayed a bra strap, and the swing cut made it look like a maternity piece. With all these Mint sites, returns are accepted but it cannot be worn, washed, must be in its original packaging, you need to contact them for a shipping label, and while shipping is free there is a $5.95 restocking fee.
I looked at the label – 100% cotton (though online it says 50% cotton, 50% modal), though it said to wash on gentle and lie flat to dry. I decided to throw it in the washing machine and dryer in hopes it would shrink. It did – not a lot, but enough to make it wearable. I was pleased to see that the color did not fade, and the knit held up nicely through the machines.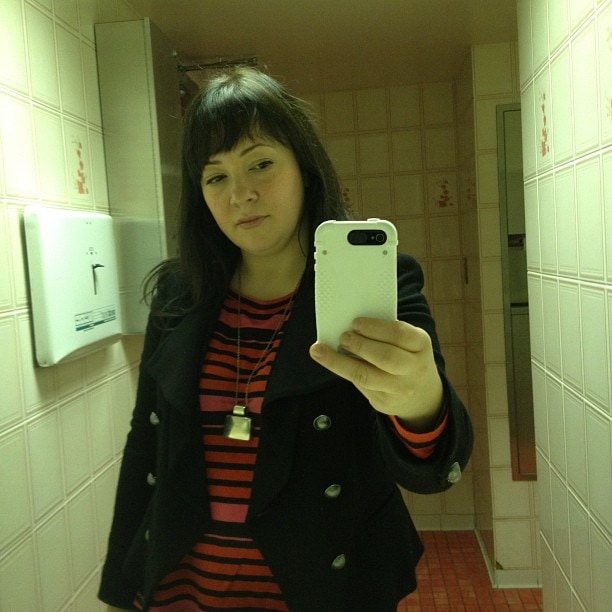 Me in the StyleMint "Venice" tee
Yesterday I wore this tee, and I like it… okay. It's a beautiful color scheme, and a unique silhouette, but I don't know if it's really worth it for a tee sight-unseen, especially with the return process. The swing style is a bit too short to be flattering on most – even my sister agreed that a couple more inches would make the style more wearable (able to tuck in), and more flattering. It's nothing dramatically awesome, and by looking at this month's options, I don't really know if any of them are. While the price is reasonable for a designer brand tee shirt, I don't really consider StyleMint to be a designer brand, just associated with designers/style icons. I would rank the quality and style to a store like Gap or LOFT.
These Mint sites are great if you have a pretty standard size or personal style and crave something new each month. However, they can quickly become expensive if you aren't quick to manage your memberships. Unless you tell them otherwise by the 5th, these sites will charge your card each month, whether or not you purchase anything.
The cancellation process for these different sites vary – for StyleMint you need to call them during business hours, for JewelMint you can send them an email. I sent an email today and within a couple of hours, they replied saying it had been done. I was pleased to find it so simple, no attempt at wooing me back with discount codes, just a cancellation notice and request to rate the customer service experience.
I have not tried ShoeMint because I am a hard-to-fit person. I know certain brands fit me best, and prefer to have the ability to try the shoe on in the store.



Have you joined any of these Mint sites? What are your experiences with the product or the service?
Follow Me | Twitter | Facebook