This article may contain affiliate links; if you click on a shopping link and make a purchase I may receive a commission. As an Amazon Associate, I earn from qualifying purchases.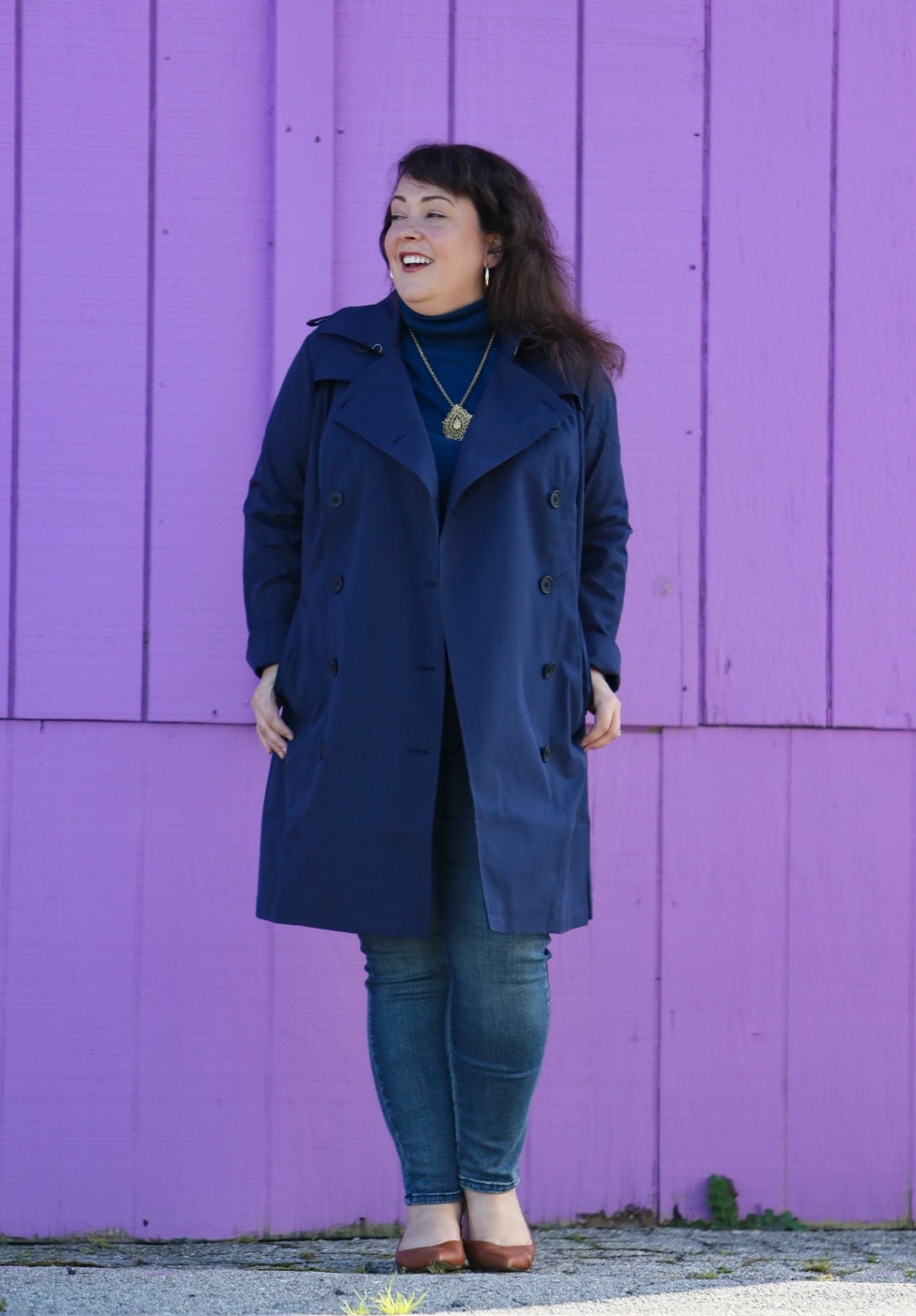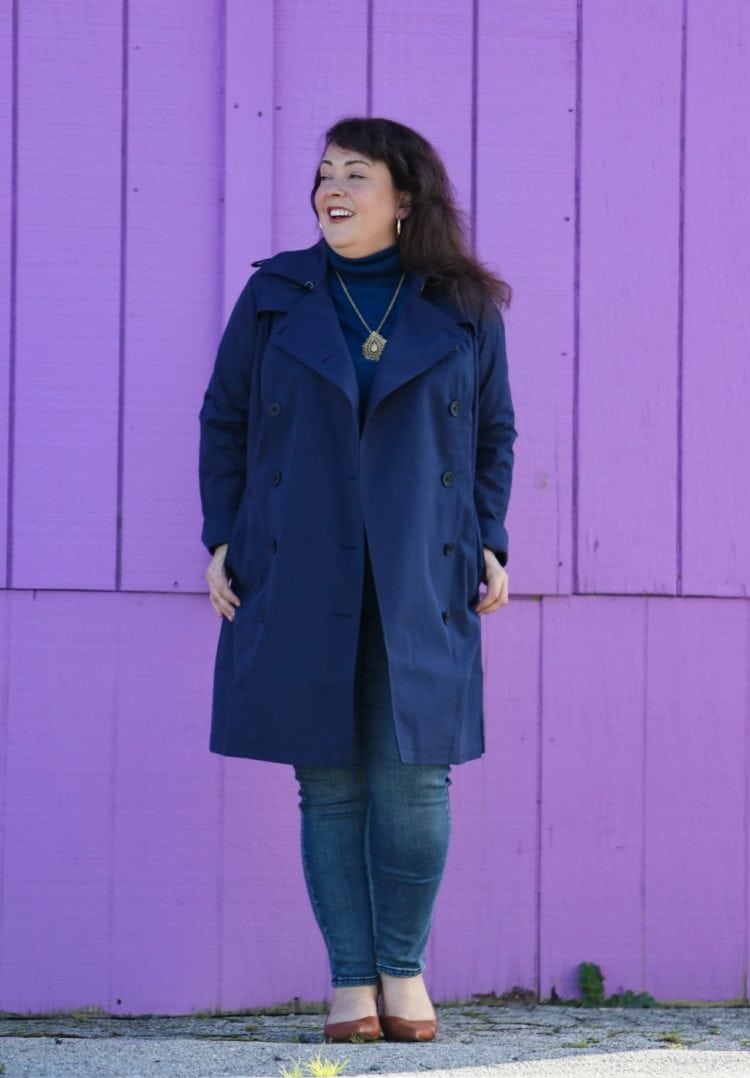 You know I am a huge fan of Universal Standard so when I see they release new pieces, I race to their site to see what may work for my life. I recently ordered the Universal Standard Derjon Trench Coat in Navy and the Universal Standard Renee Raglan Turtleneck in Ocean because I know that similar pieces from Universal Standard worked for me in the past. See, I owned the previous version of the Derjon Trench Coat and I also spent a good portion of last winter wearing Universal Standard's Maria Merino Wool Turtleneck. While I loved both I didn't love the gray colors I had so was excited to see them in shades of blue. While the merino turtleneck remains a fave, I ended up getting rid of the original Derjon Trench because just by losing five pounds the coat which before I felt was slouchy cool suddenly overwhelmed me. The new details made me think it would have more shape and be a better choice for my body; here are photos and a detailed review of the Derjon Trench as well as the Renee Raglan Turtleneck.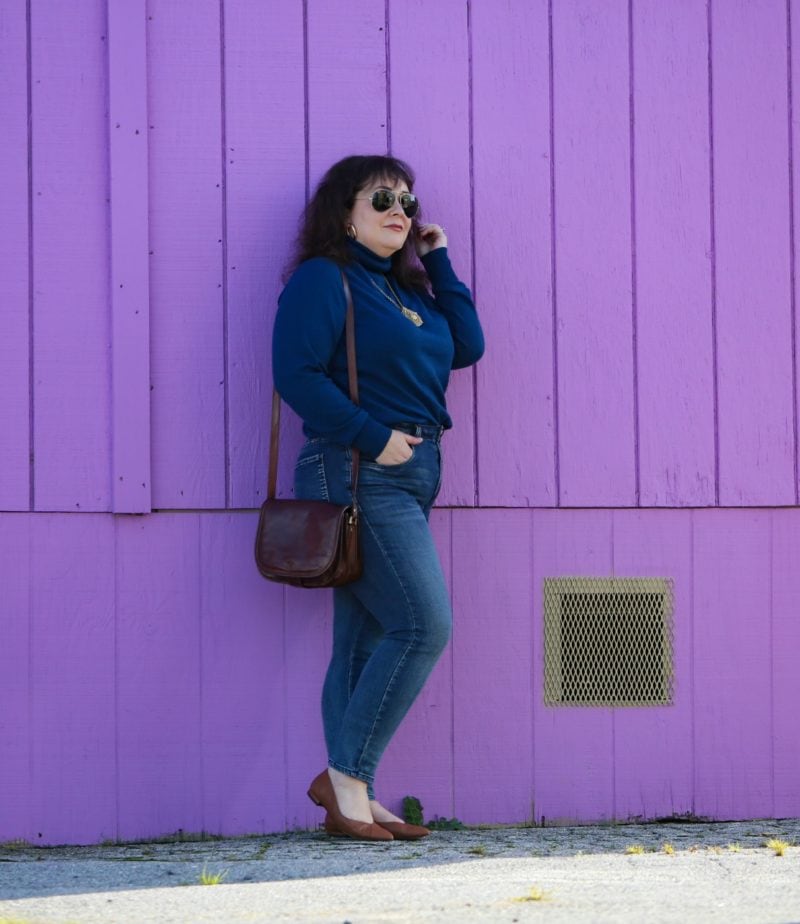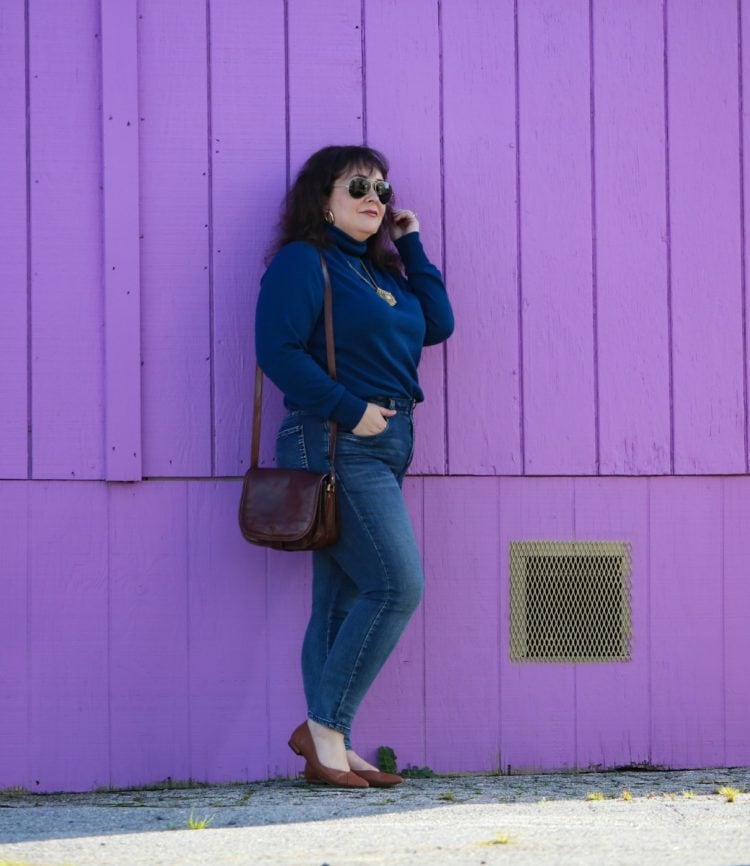 Turtleneck: Universal Standard (XS) | Jeans: Seine 27″ c/o Universal Standard (size 10) | Coat: Universal Standard  (XS) | Bag: c/o Maxwell Scott | Necklace: Vintage (I think this may be the same one?) | Earrings: c/o Chico's | Sunglasses: Ray-Ban | Shoes: c/o ALLY Shoes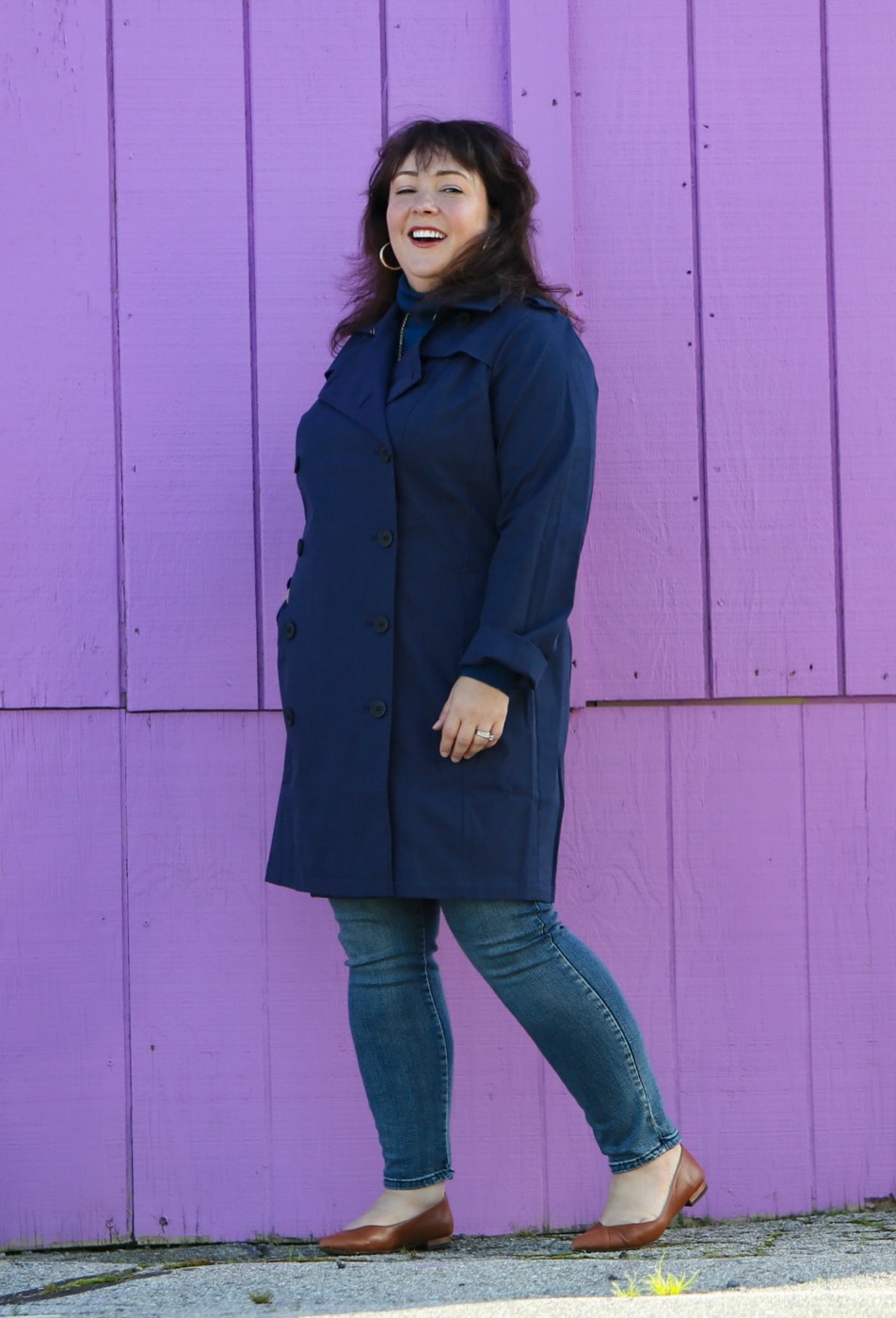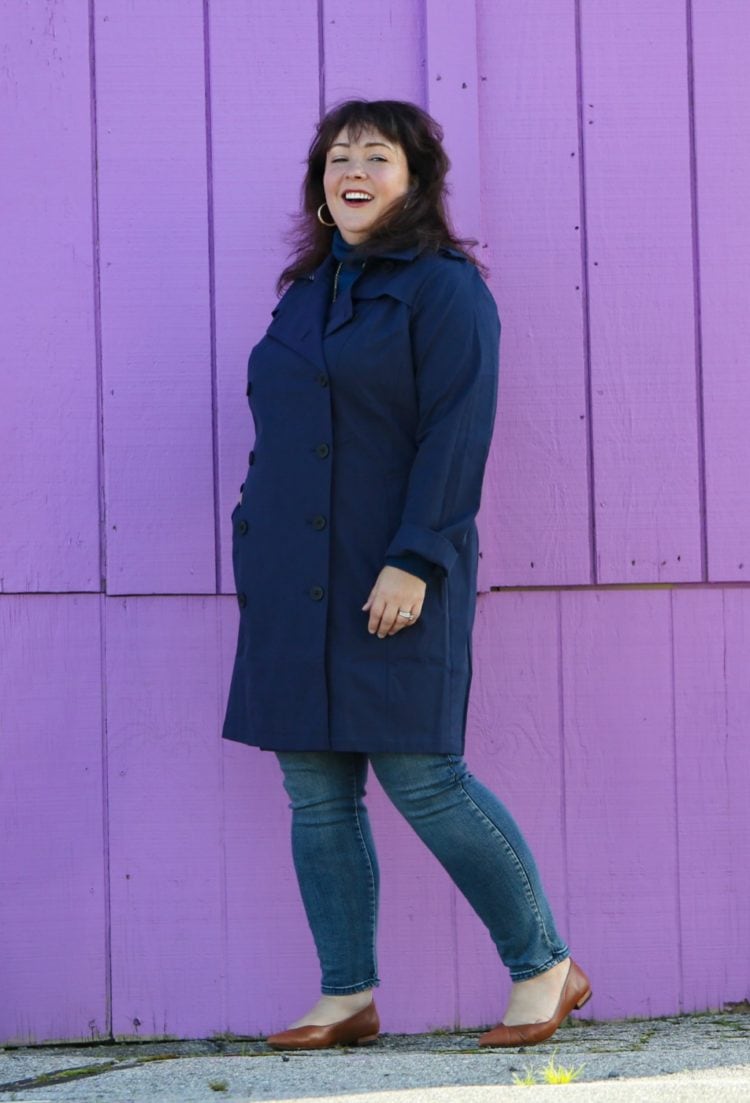 While I am a 12/14 and more of a 14 on top, with Universal Standard 99% of the time I am an XS which equates to size 10/12. This is the size I got in the Derjon Trench Coat. Gosh I wish Universal Standard would carry petites again, I had to roll the sleeves twice and rebuttoned the half-belt to the smallest setting so this wasn't a tent on me. You can see from the photos that the trench is a good fit even with my large bust, and the arms have enough room for me to wear a thick sweater, but I think the style of it with the double-breasted front, a-line silhouette, and length is overwhelming on my frame. That being said, I am 5'3″. If one was even 2″ taller I think this trench coat would be quite chic. Even looking at the models on the website, the coat is shorter on them and that shortened length makes the fullness swingy not tent-y.
The old Derjon Trench Coat… I can't recall if it claimed to be water-resistant but I can tell you that it was not. Even a mild drizzle left my shoulder sopping wet. The fabric was softer and had more drape. One reason the current Derjon overwhelms my frame is the reason why Derjon 2.0 is a better trench – the fabric is waxed so it truly is water-resistant. You can just feel the fabric is made for the elements while the original Derjon was made for looking good.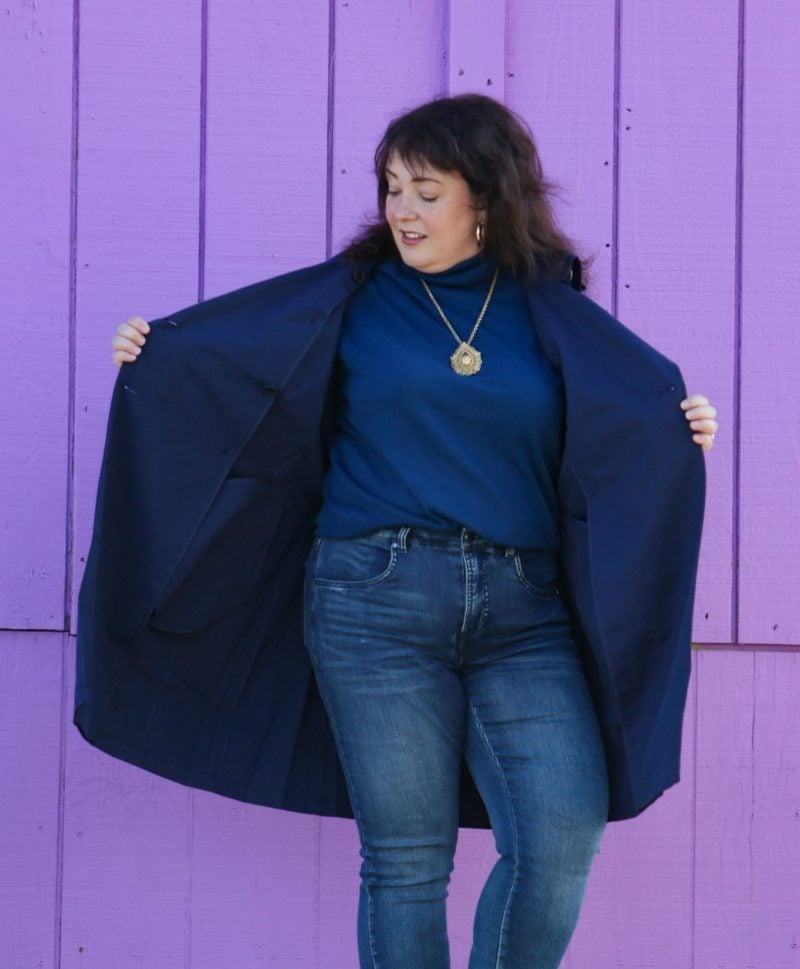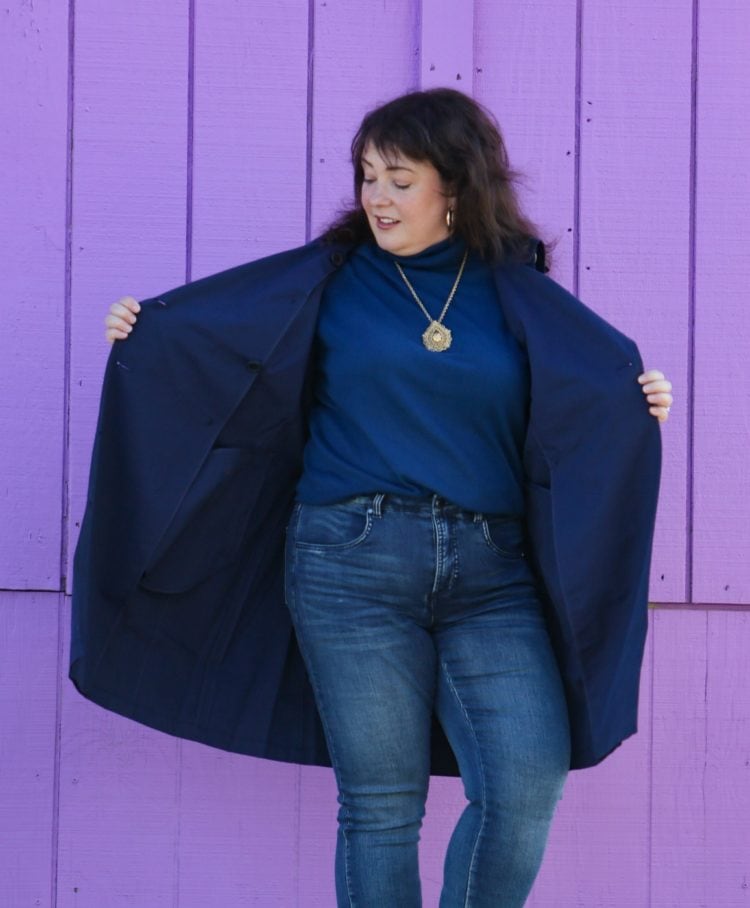 Like most Universal Standard pieces, the Derjon Trench Coat is well crafted, the buttons are secure, the seams are straight, the details beautiful. This is the kind of coat that will be a classic for years to come. And this coat is the kind of thing that is rare to find in plus sizes. While $188 is not cheap, this is a coat that if it was sold at Nordstrom, it would be at least this price if not more, and likely wouldn't come larger than a size 14. This is why I love Universal Standard, they democratize fashion offering quality and style for all.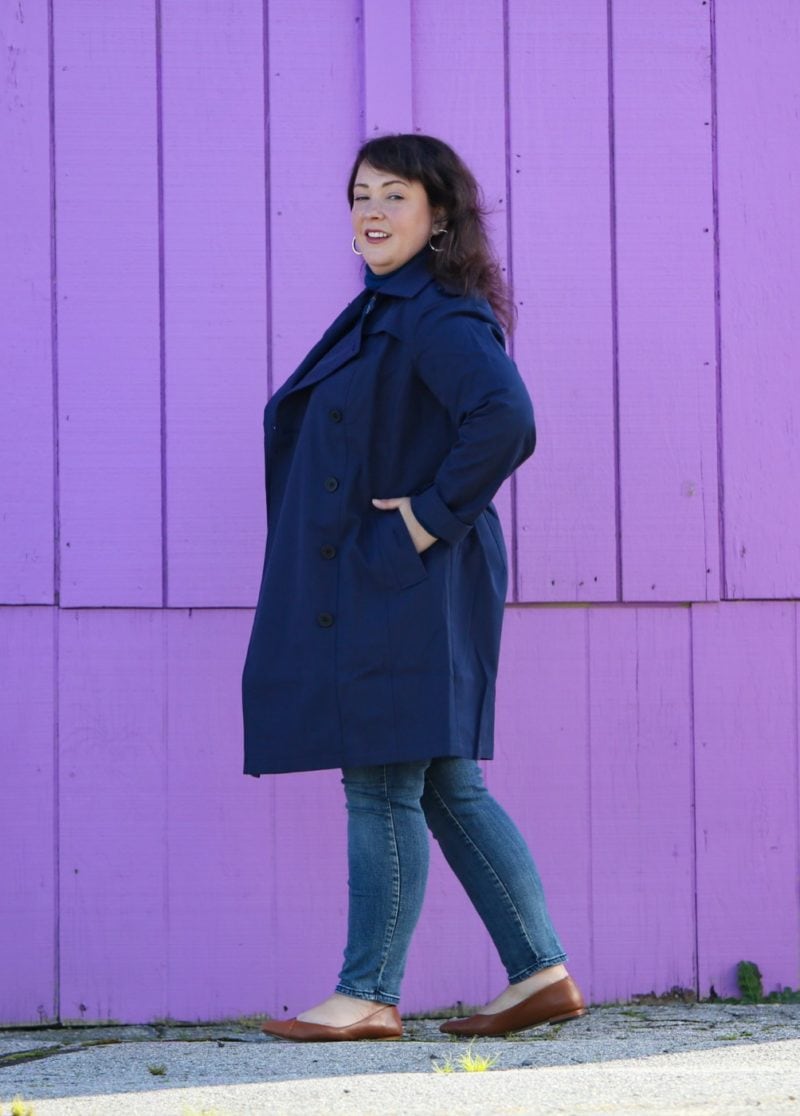 The Renee Raglan Turtleneck… is fine. The color is really pretty but the fit… it's not like their Maria Turtleneck from last year and for me that is a shame. The raglan fit plus big boobs made for a messy silhouette, the length of the turtle is really long; I would have preferred 1-2″ removed so it didn't bunch up on me. I don't think I am the only one who has a full chin and finds most turtleneck sweaters frustratingly too long. The sweater is made from a sustainable yarn (20% recycled cotton, 35% cotton, 45% recycled polyester); I didn't really like the slightly rough feel of it but appreciate this feature. This is a casual sweater with a loose fit throughout, which is great for comfort, but not what I was looking for.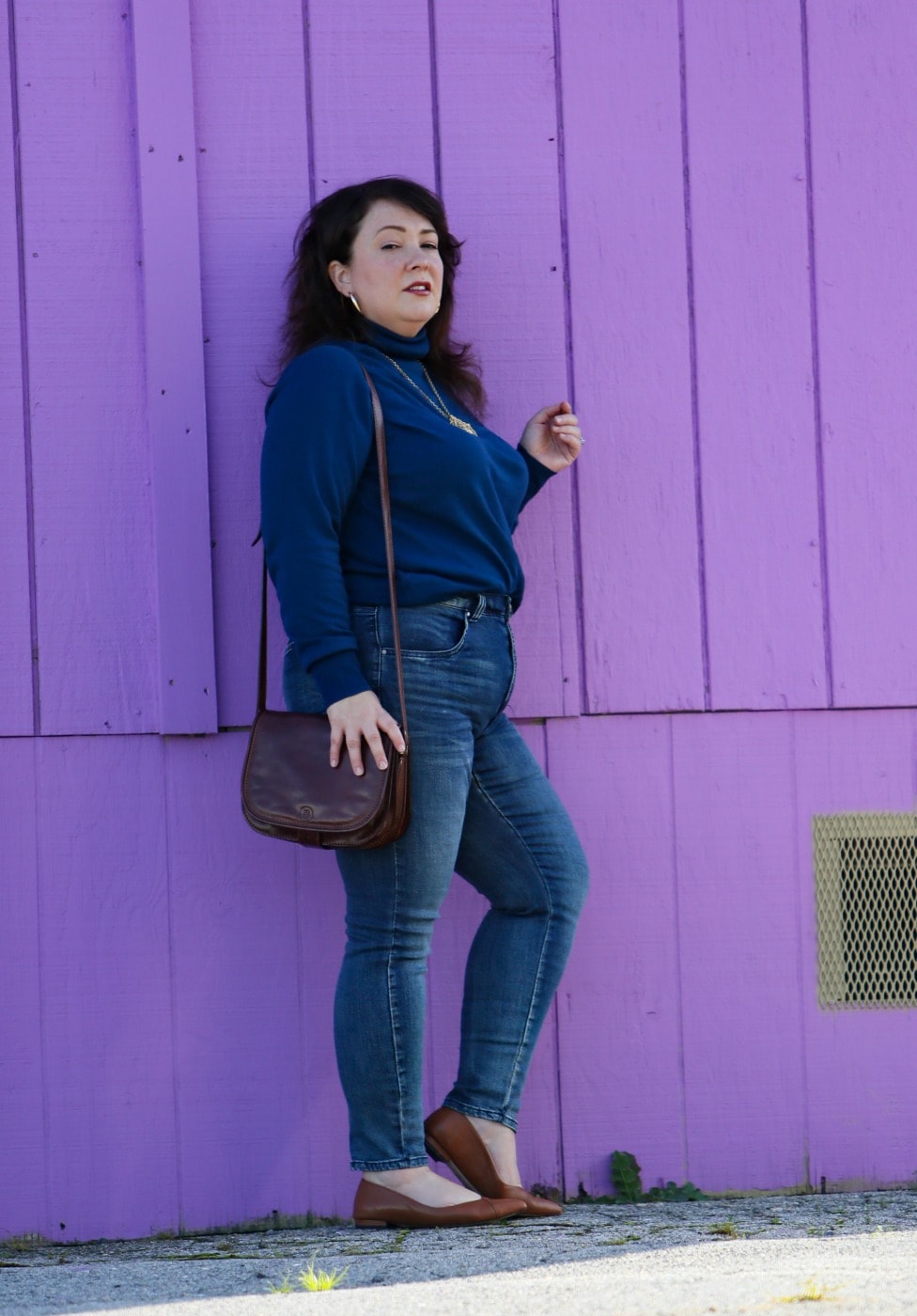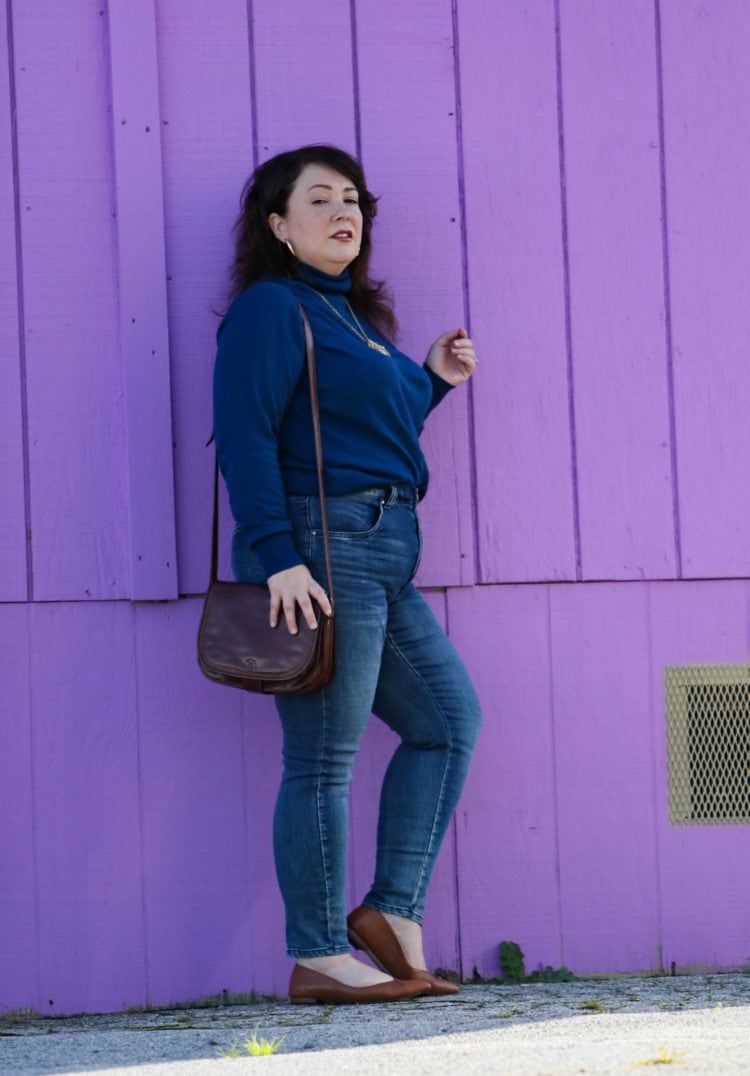 Maxwell Scott is offering Wardrobe Oxygen readers an exclusive discount! Save 10% at checkout on your entire purchase at Maxwell Scott with promo code ALISON10.
The jeans are Universal Standard and I am thinking around a year old. While their petite jeans fit me perfectly in the rise, the length is too short. The next best thing I've found was to size down with the regular and choose the 27″ length. I am not a 10 in anything, but I am in US jeans. These jeans have been washed and even thrown in the dryer at least a dozen times and still look and fit great.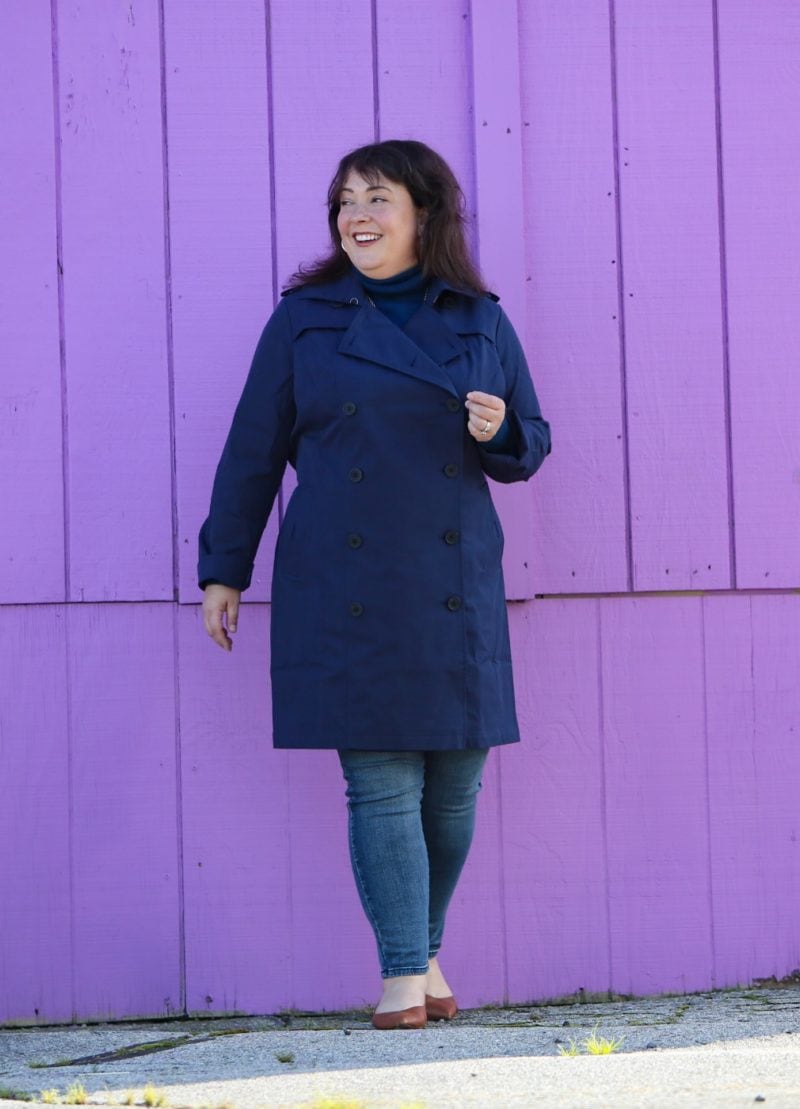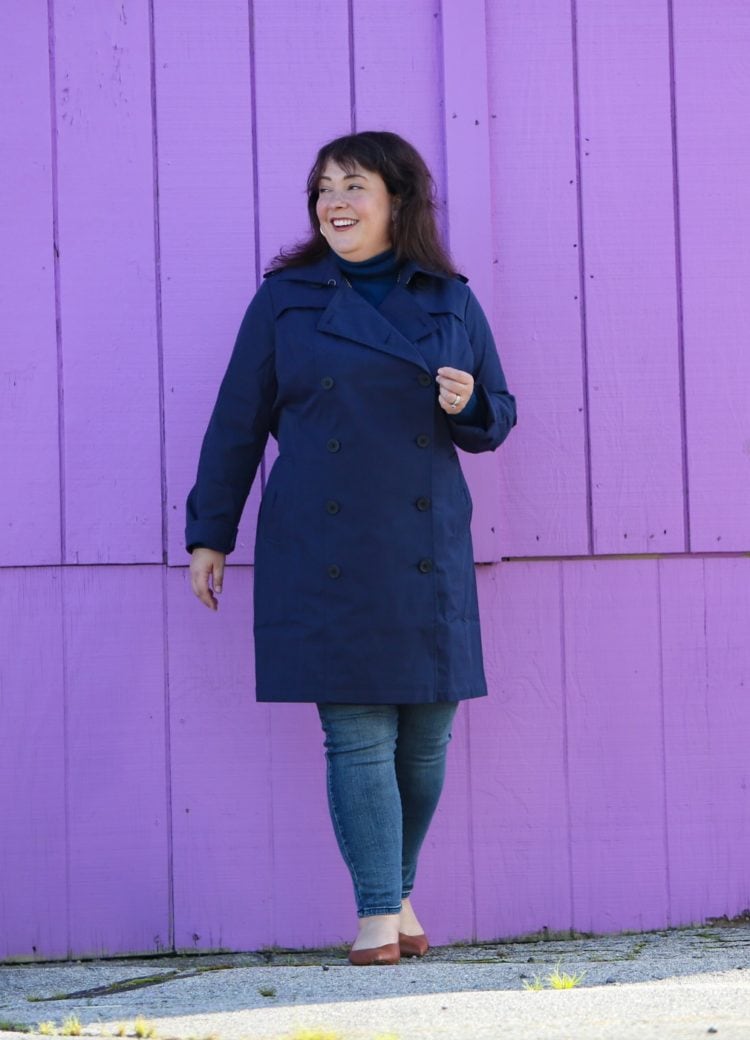 I've shared these flats on Instagram Stories and have worn them several times, but have yet to review them. Stay tuned, I will have a full review of ALLY Shoes' new flats very soon! Until then you can read my review of ALLY Shoes' pumps.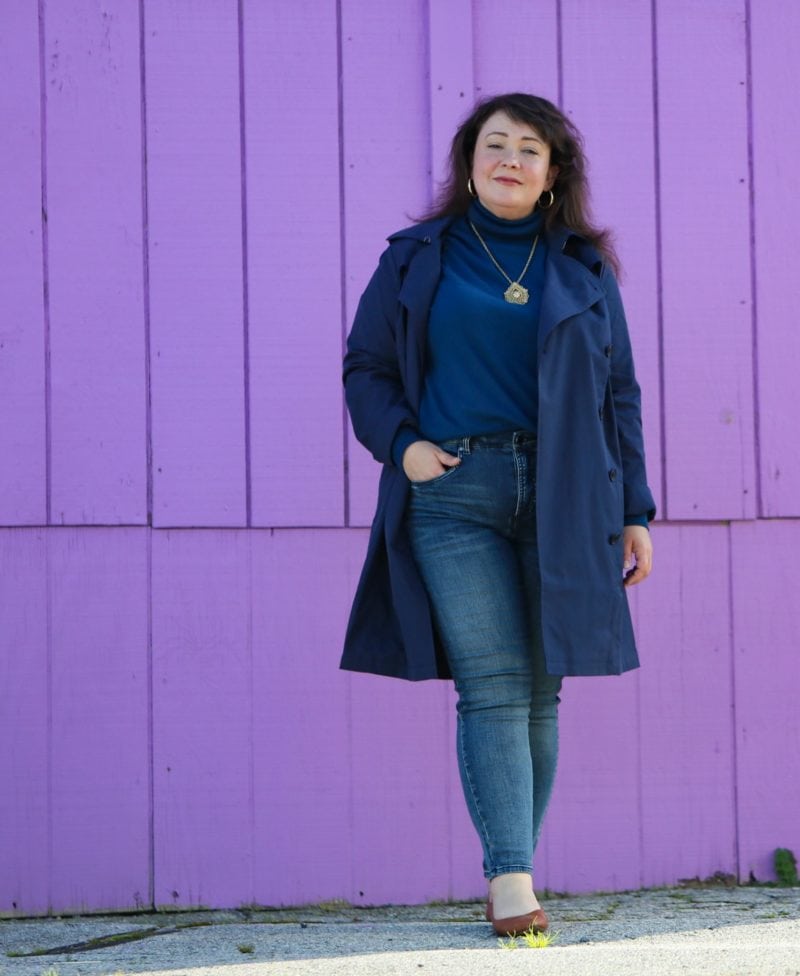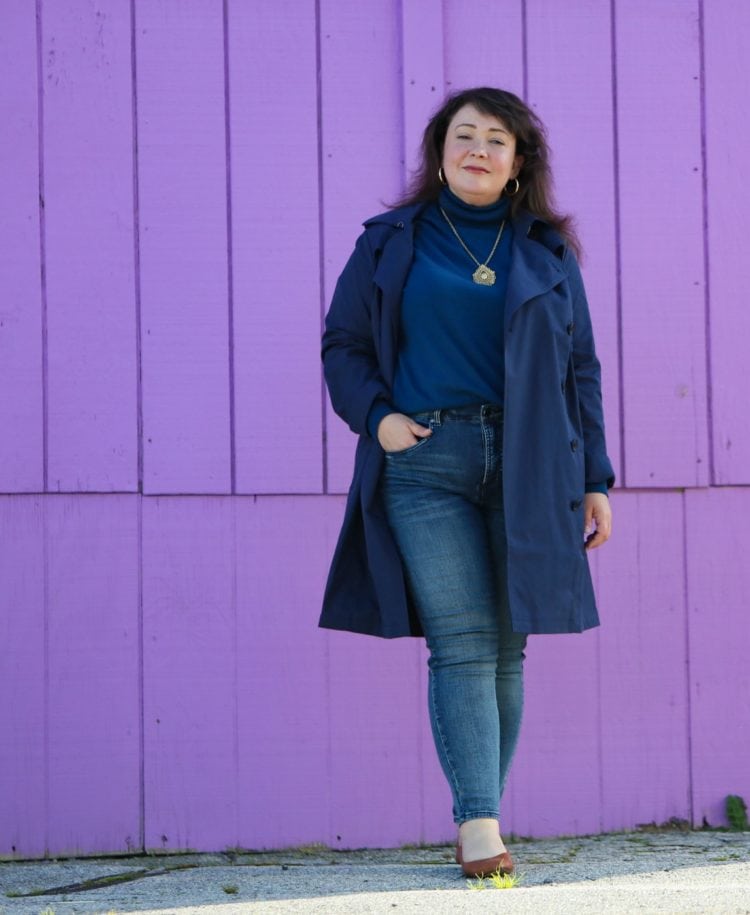 As for the necklace, it is vintage but I went on a search on Etsy and found a bunch of this necklace and similar ones. I linked to some of them below in the carousel but if you wish to do your own search I believe the brand is Crown Trifari which was popular in the late '60s and through the '70s and necklaces like this retail between $25-$60.
Shop the Post: