This article may contain affiliate links; if you click on a shopping link and make a purchase I may receive a commission. As an Amazon Associate, I earn from qualifying purchases. 
I'm hoping you can help. I bought these pants from Lands' End on a whim. I chose the evergreen color thinking they'd be fun for fall. The problem? I'm just now jumping on the slim and ankle length bandwagon, so I have NO clue what to wear with these. I'm especially stuck on the shoes. If it helps, I'm 5'4″ and a size 14. What would you suggest? Thanks!
A colorful ankle-length pant is a great addition to the wardrobe, bringing a fresh new look to closet staples. Problem is, the length and fit may be drastically different from the rest of your pants, making shoes confusing. A cropped pant, especially on those of us who aren't tall and slim can shorten our figure, so a shoe that elongates the leg is your best bet. Below I offer four different types of shoes that work well with cropped pants like the Lands' End Portico Ankle Pants.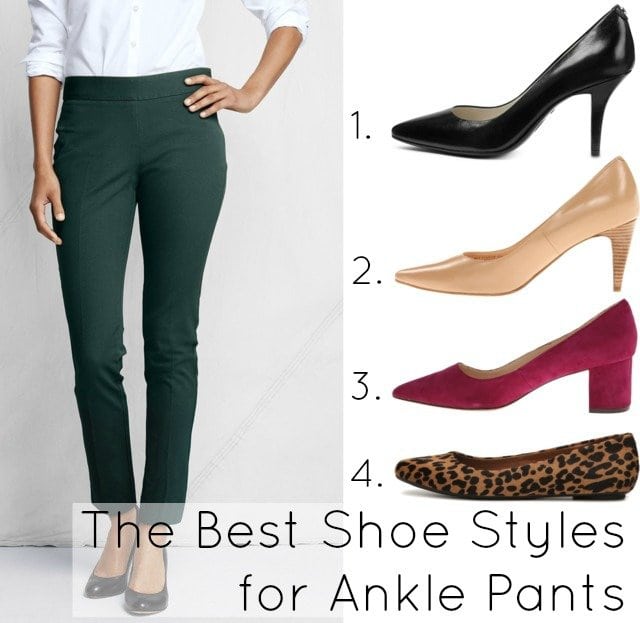 As seen on the model in Lands' End, a classic pump with a traditional vamp (not too high, not too much "toe cleavage) and pointed or almond toe is a great choice with such pants. However, with a classic/preppy feel as these pants offer, you don't want the heel too high. Here I feature the MICHAEL Michael Kors 'Flex' mid-heel pump (1) which has been a favorite of mine for years because of its wearable heel height yet leg-lengthening pointed toe. The sole is flexible and rubbery, giving good traction when walking on slick sidewalks or over slippery fallen leaves and I find I can wear them all day with comfort. This height and style of shoe is a great way to make these pants work for the office. Pair with a blouse and jewel neck cardigan, or a blazer and shell for corporate-friendly looks.
Another way to lengthen the leg is with a "nude to you" shoe. Since I purchased a pair of nude leather pumps this summer, they have become the hardest working and most worn shoes in my closet. Here I feature the Cole Haan 'Air Juliana' (2) which comes in a variety of neutral shades and the wood heel keeps it from looking too dressy with the ankle pants. A shoe like this is chic all year long, this season, and seasons to come. A nude shoe can quickly dress up a pair of pants like these; pair with a crisp white blouse and sparkly necklace for happy hour, or silk camisole and pendant for cocktails.
I think one of the best ways to wear a colorful pant is with a colorful shoe. Sticking with the pump with a longer toe, I adore the Nine West 'Ike' (3) in dark pink suede. Dark pink with dark green isn't too preppy looking, and a wonderful combination to highlight neutrals, basic black, denim, and chambray. Pink isn't the only hue that works with evergreen pants, I'd also love these merlot leather pumps and these steel blue suede ones. A colorful (or print, as I mention below, an animal print is gorgeous with dark green!) shoe is great for business casual and the weekends; pair with a striped tee and cardigan or leather jacket, a simple merino v-neck or turtleneck, or a denim shirt so the colors and shapes can shine.
Finally, know that you don't have to wear a heel with shorter pants to look balanced. An almond or pointed toe and low vamp can give that effect without the height. For this look I paired the Lands' End ankle pants with a leopard flat from Dr. Scholl's (3). The green beautifully complements the animal print, and adds interest to closet basics from a denim shirt to a black turtleneck sweater. You can switch out the leopard for any other print or color; these same flats come in a cute black and white polka dot, I adore the scallop detail on these magenta flats, and the rich elderberry Saffiano leather of these flats would look great with so many fall trends this season. As with the colorful shoe, a pointed or almond toe flat looks business casual chic with a blouse or sweater and weekend cool with a simple knit top and cardigan.
As for clothing silhouettes, it's better to have items hit at the hip or higher so not to stunt your shape. A tucked-in blouse will lengthen the leg; consider tucking in a top under a cardigan so you still have the coverage without segmenting your body too much. As for what kinds of tops, most anything goes from crisp button fronts to ruffled silky blouses to Breton tees and cashmere twinsets. Once you start playing around in your closet you'll find these pants can be quite versatile!
Shop the Post: