This article may contain affiliate links; if you click on a shopping link and make a purchase I may receive a commission. As an Amazon Associate, I earn from qualifying purchases.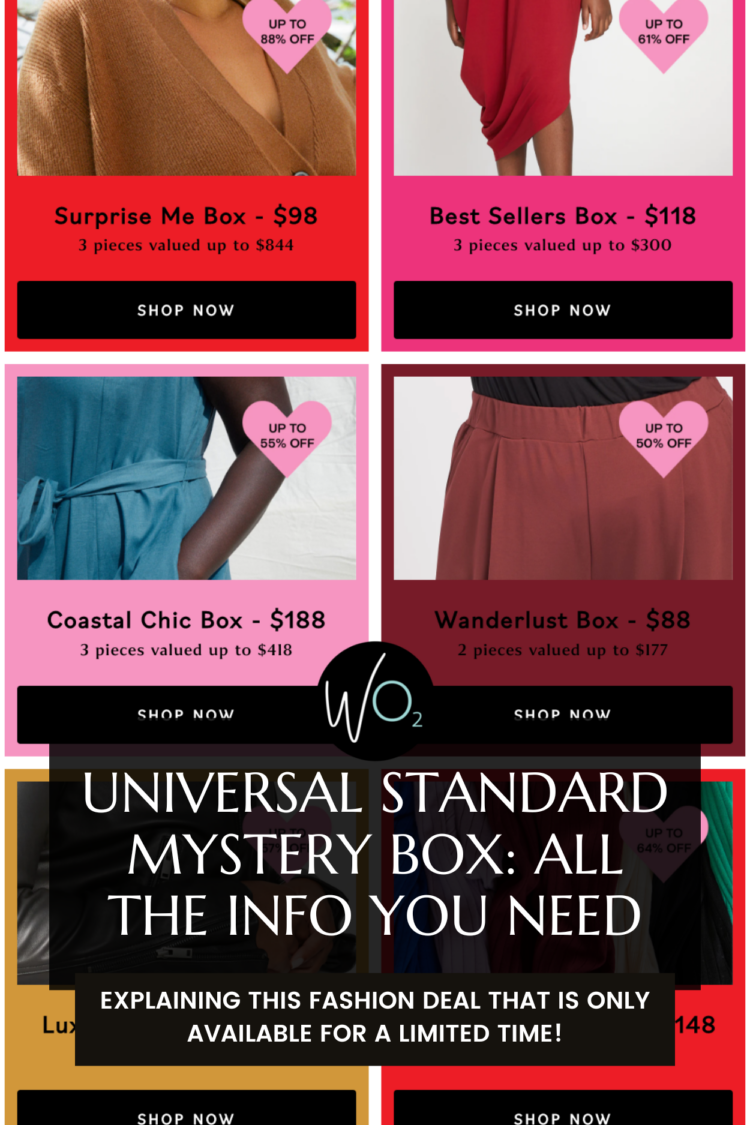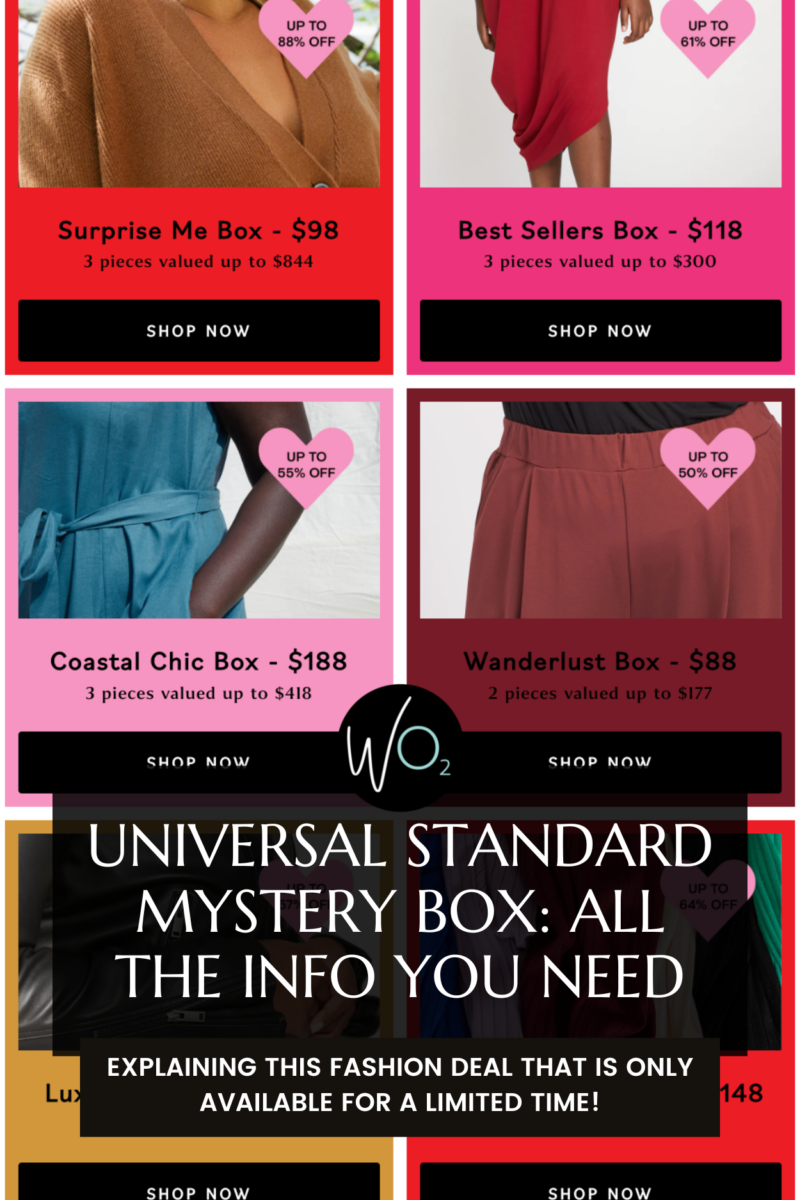 For the fifth February in a row, the Universal Standard Mystery Box promotion is back! Through February 22, visit Universal Standard and try one (or more!) of their Mystery Boxes to get an amazing deal on their quality size-inclusive fashion. Starting at just $58 per box, this is a great way to try Universal Standard for the first time or to update your wardrobe for the coming year. Below I will break down what you need to know about the Universal Standard Mystery Box promotion for 2023:
What is the Universal Standard Mystery Box?
Universal Standard is an apparel brand that offers their entire collection in sizes 00-40, with some pieces availale in lengths or petites. Best known for their denim and their high-quality Tee Rex t-shirts, Universal Standard sells high-quality loungewear, athleisure, work-friendly suiting and separates, outerwear, and the occasional designer collaboration or funky on-trend limited edition collection.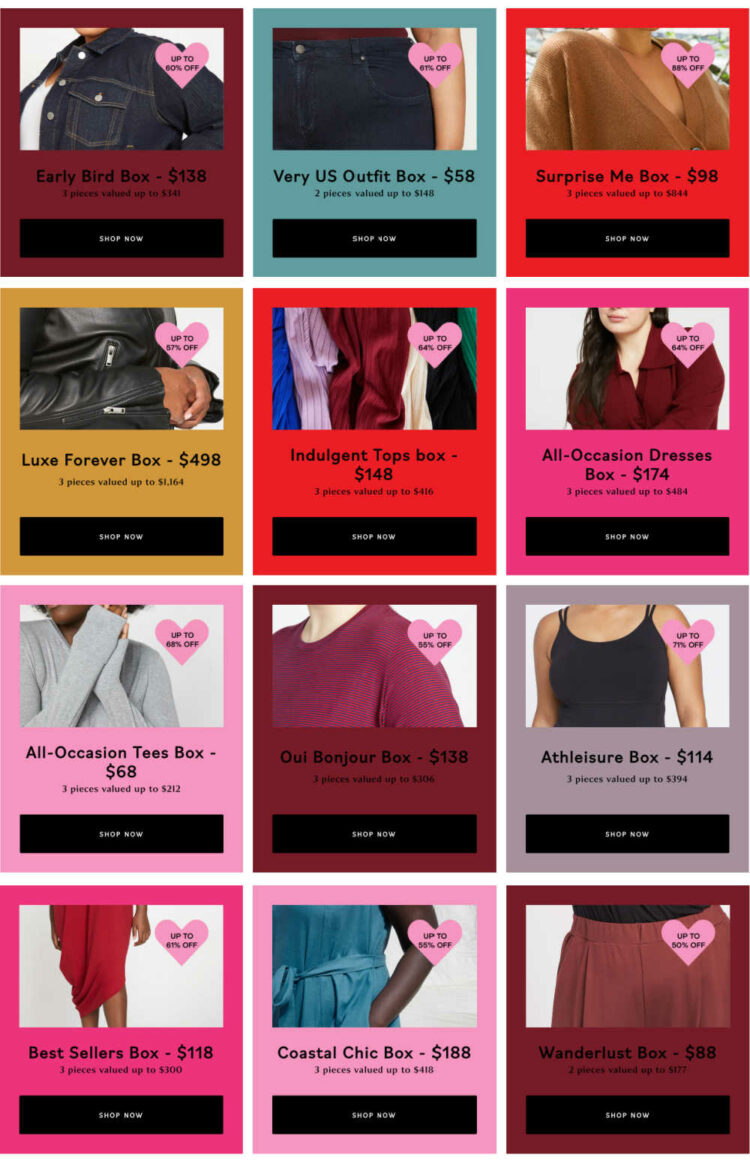 The Universal Standard Mystery Box promotion is where you pick a box of your choice (14 right now but don't be surprised to see others show up over the next few days) and what is inside is a mystery. Each box has a theme (Lounge, Petites, Luxe, Athleisure, Coastal Chic, etc.) and will share how many items you will receive (2-3) and each box will cost less than if you bought the contents individually. But you will not know the contents until it arrives at your doorstep.
The Universal Standard Mystery Box is a gamble. If you are a regular customer, there is a chance you will receive something you already own. If you are a different size on top than on the bottom you may receive a piece that doesn't fit great. And you may not like any of the items you receive. On the other hand, I have received in Mystery Boxes items that I have positively fallen in love with.
For example, last year in my Mystery Box I received the Stephanie wide-leg ponte pants with stripes down the sides. I would have never ordered these pants; I found the blue hard to match and the stripes looked hokey on the website. However, I received them and fell in love. I wear these pants ALL THE TIME and love them so much I have added more pairs of Stephanie pants to my wardrobe.
The Universal Standard Mystery Box is great for those who are unfamiliar with the apparel brand. You will receive 2-3 pieces at a price less than buying individually (and then use my code INFS-10ALISON for an extra 10% off) and you can experience the fit and quality of Universal Standard.
What Was in My Petites Mystery Box
Universal Standard invited me to get a free Mystery Box of my choice in exchange for promotion on Instagram. They had the offer to have some requests for the box to help with our promotion but we couldn't guarantee we'd get it. Otherwise, we'd get the same kind of box a customer would get. I specifically did not request anything to see what I would get.
Being 5'3″ and having mixed results with Universal Standard pants, jeans, and dresses due to my height and taking absolutely any opportunity possible to encourage Universal Standard to expand their petite offerings (the average woman in the United States is my height) I asked for the Petites Box (cost is $130 and valued up to $454).
In the time of year when I don't want to wear a single thing that is restrictive and considering the current Petites offerings include structured pieces, I went with my larger US size, Small Petite. I received the Geneva Dress in Jam ($128), the Elbe Popover Stretch Poplin Shirt in White ($114), and the Cigarette Pants in Charcoal ($138).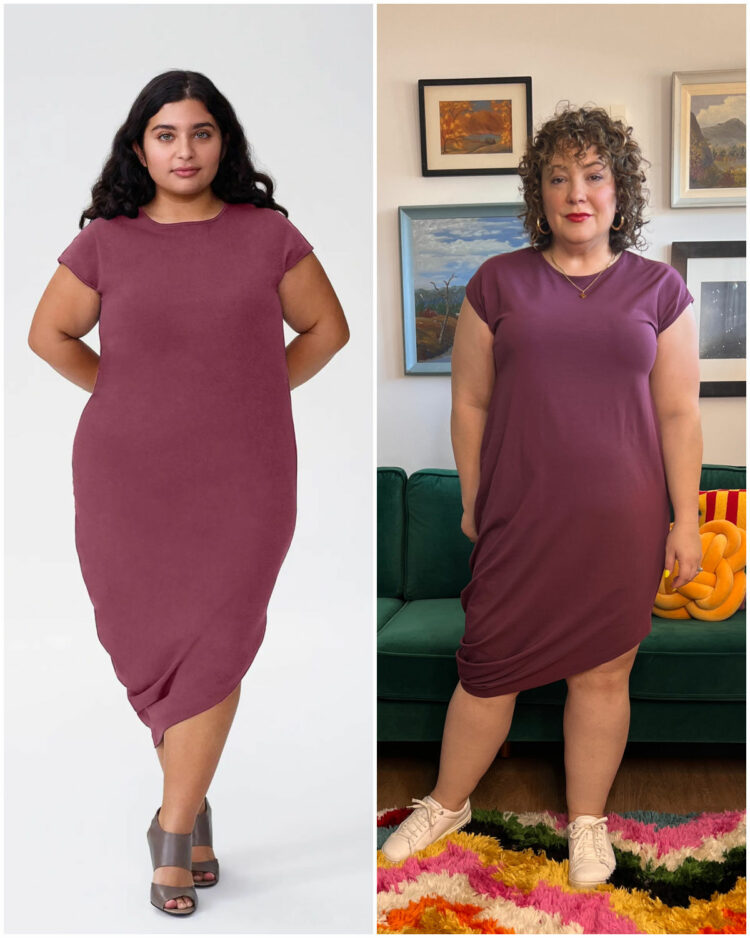 I already own the petite Geneva dress in olive and teal (neither color still available). This Jam color looks better in person than I thought online. It's the kind of color that goes with brown, black, camel, and tan and can work all four seasons. My Genevas are XS Petite and depending on the time of the year or month I don't feel as confident wearing them. In Small Petite, it's more a fit I'd wear on a regular basis.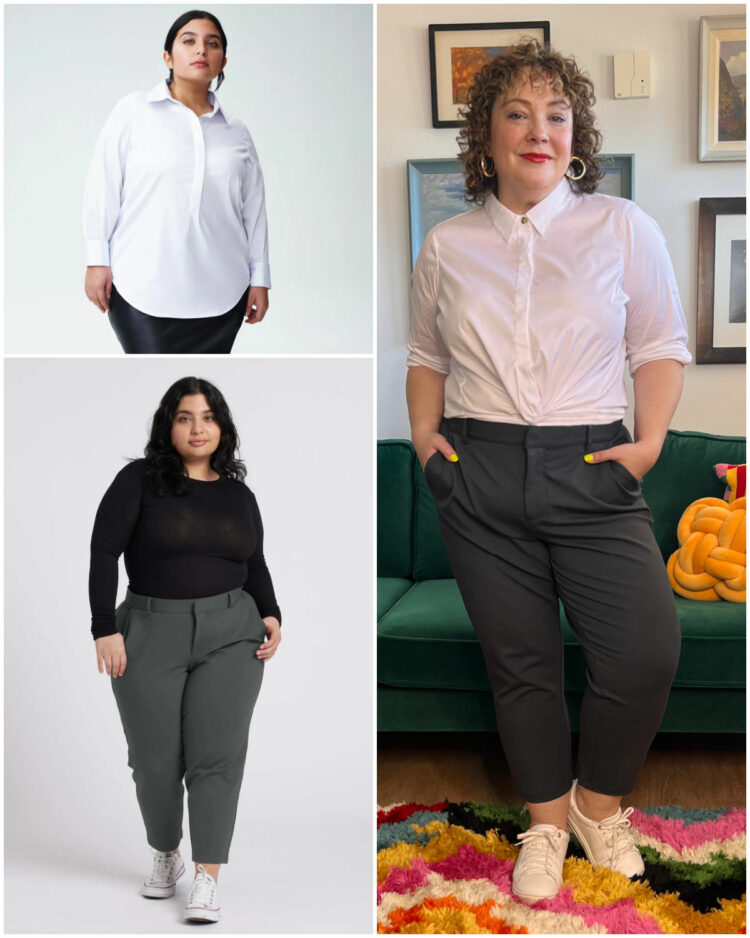 I had the black Elbe years ago and never wore it (you can see it on me at this link). I feel too Johnny Cash when I wear black collared shirts. The white is more my style and I like the wood buttons with the white. The petite fit means I can wear it untucked and I don't have as much excess fabric under the arms. This is a great top for those who hate having buttons gape on complete button-downs; it's also nice to wear layered under sweaters because there's less bulk of a placket down the midsection.
The Cigarette Pants are too big in Small; I tried XS at the Universal Standard Trunk Show this weekend and they fit great. This color is called Charcoal but this is a really cool greenish-grey color I'd personally call something like putty. Paint colors like this are often called Pewter Green. I'd rock a whole suit in this color, which would look amazing with pinks, purples, and I personally have worn it with pine and olive greens to make the green pop.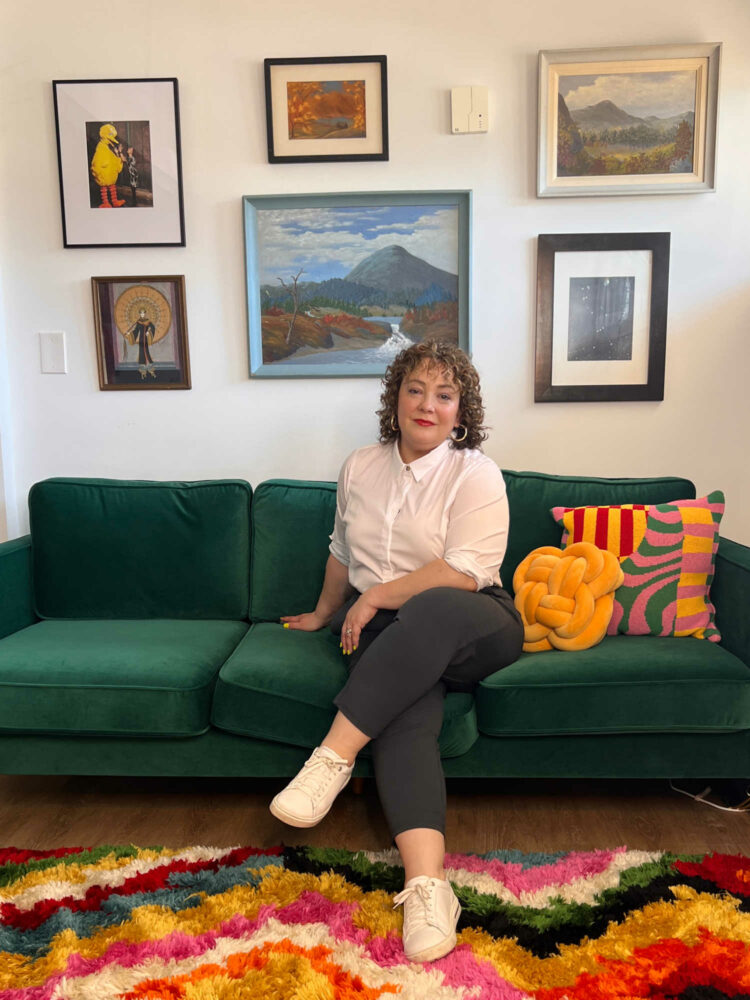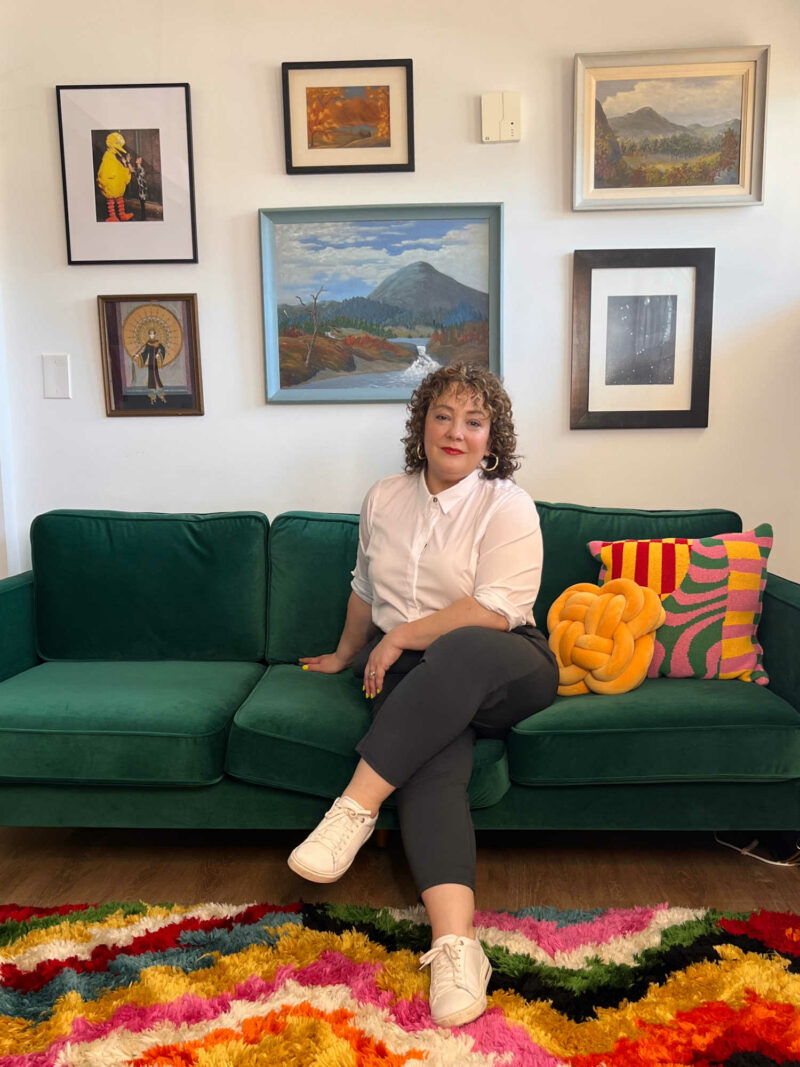 Mystery Box FAQ
Universal Standard sizing is new to me, can you explain it?
When Universal Standard started, their smallest size was 10/12 so they called that size XS. As the brand grew and they expanded its size range to 00-40, they didn't change their naming convention for sizing. IMO I love this because the whole XS/M/XL/etc. concept is arbritary. If 67% of the women in the United States wear plus sizes, an 18/20 being a size Medium sounds pretty sensible to me!
I recommend if you are new to the brand, check out their Find My Size page and don't make assumptions based on what you wear in other brands. For example, I am usually a size 14 in clothing yet with Universal Standard I am usually a size XS (10/12) unless it's a structured non-stretchy piece when I choose S (14/16). For this Mystery Box, I went with S because I was choosing petite, and liked the fit for two of the three items I received.
Can I choose one size for tops and one for bottoms?
Most of the Mystery Boxes are available to order in just one size. There are two boxes that are just tops that you may consider if you are very different sizes on top and bottom, and a few of the boxes (for example the Wanderlust and Oui Bonjour) will ask you for your top and bottom sizes when ordering.
If you are between sizes and sometimes need a bit larger on one half of the body, I recommend going with your larger size. Consider the savings of the promo code and the Mystery Box promotion as a way to pay on tailoring if something is a bit big. For example, with my Mystery Box, the cigarette pants I received were a bit big, but nothing my tailor can't alter for a custom fit.
How long will it take to get my Mystery Box?
In 2021, it was taking up to four weeks. Last year it took less time, but it still took about two weeks. I do not know, but expect it to take longer than ordering a standard purchase from Universal Standard.
If I don't like my Mystery Box items, can I exchange or return them?
All Mystery Box sales are final. However, you will not have a hard time selling or trading your items if they aren't right for you. There are many buy/sell/trade groups on Facebook where such items will move fast (even Wardrobe Oxygen has a B/S/T group!). Look for ones that are focused on your size, on this brand, as well as ones focused on workwear or sustainable/minimalist fashion. I have had great success selling Universal Standard on Poshmark and know others have had success on other resale sites.
Previously I was able to fill out a survey/create a wish list to customize my mystery box. Can I still do that?
Over 100,000 Mystery Boxes have been sold over the years and the Universal Standard Mystery Box promotion has only gained in popularity. Due to this, boxes cannot be customized and Universal Standard will not be checking your past purchases to prevent duplicates.
Alison, do you know what the heck are in those creatively named boxes?
Nope, no idea what Oui Bonjour or Coastal Chic is. I have my guesses, but you probably do too and we will just have to see. I gotta say I too am hella intrigued by the titles of these boxes!
Can promo codes be used on the Universal Standard Mystery Boxes?
Yes, and I have an exclusive code for the Wardrobe Oxygen Community to save an additional 10% on Mystery Boxes (and any other purchase at US!).
Universal Standard Promo Code
Universal Standard has offered Wardrobe Oxygen readers 10% off sitewide through February 22, 2023 with promo code INFS-10ALISON. This additional 10% off discount code will work on Mystery Boxes as well as any other purchase at Universal Standard through 2/22/23. This is a fantastic way to save even more on the Mystery Boxes and I am so glad to offer this promo code to you!
Are you going to get a Mystery Box this year? What do you think of the Mystery Box offerings from Universal Standard?