This article may contain affiliate links; if you click on a shopping link and make a purchase I may receive a commission. As an Amazon Associate, I earn from qualifying purchases.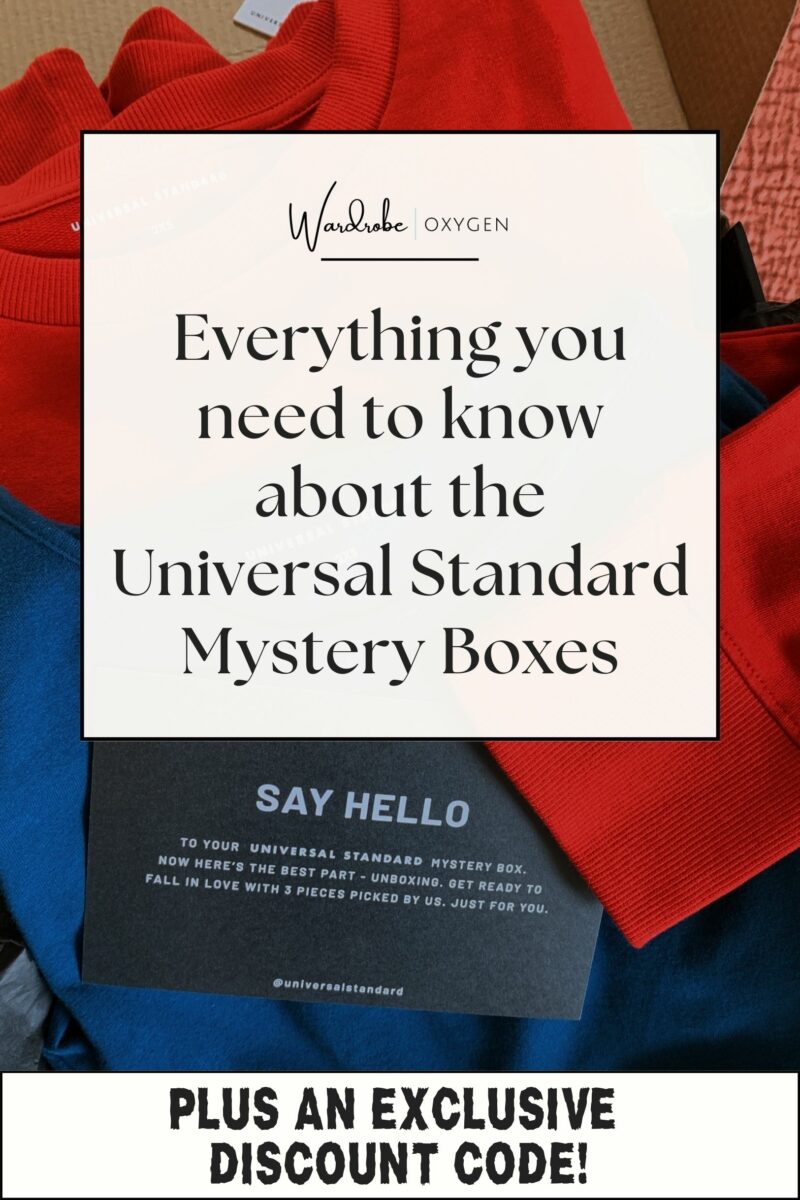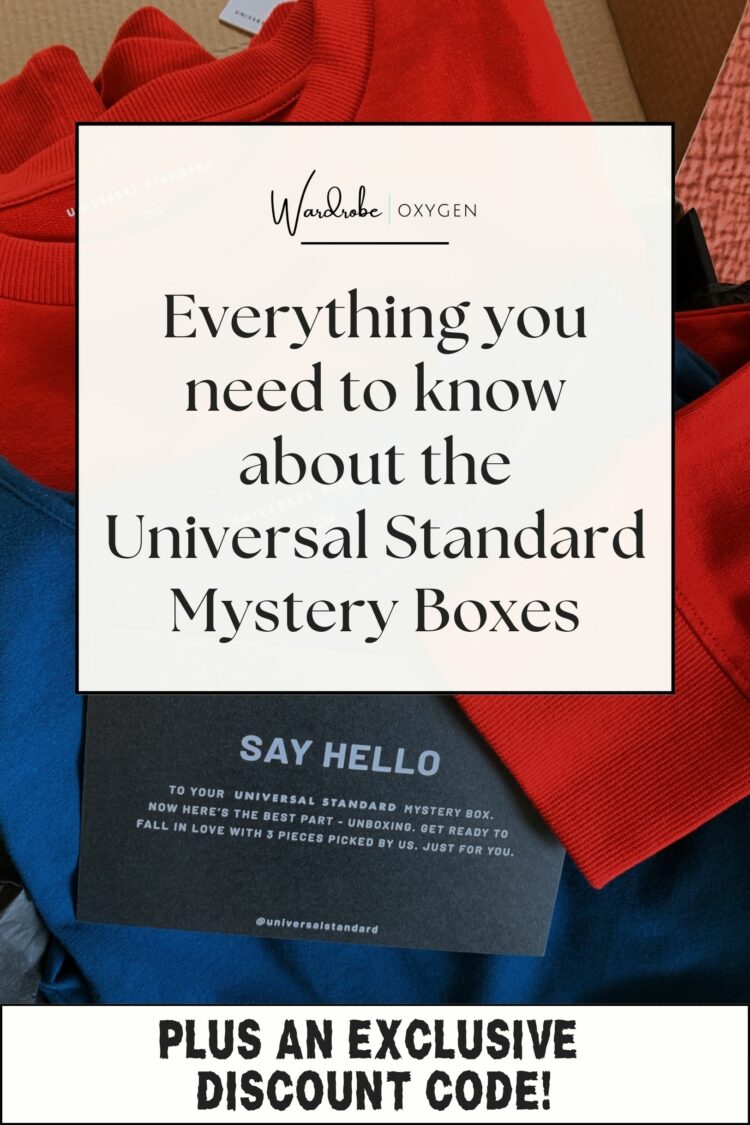 The Universal Standard Mystery Box promotion is back! Through October, visit Universal Standard and try one (or more!) of their Mystery Boxes to get an amazing deal on their quality size-inclusive fashion. Starting at just $75 per box, this is a great way to try Universal Standard for the first time or to update your wardrobe for the coming year. Below I will break down what you need to know about the Universal Standard Mystery Box promotion for Fall 2023, especially since this is the last time Universal Standard will ever have their Mystery Box promotion! Also at the end you will find an exclusive discount code to use at Universal Standard.
What is the Universal Standard Mystery Box?
Universal Standard is an apparel brand that offers their entire collection in sizes 00-40, with some pieces available in lengths or petites. Best known for their denim and their high-quality Tee Rex t-shirts, Universal Standard sells high-quality loungewear, athleisure, work-friendly suiting and separates, outerwear, and the occasional designer collaboration or funky on-trend limited edition collection.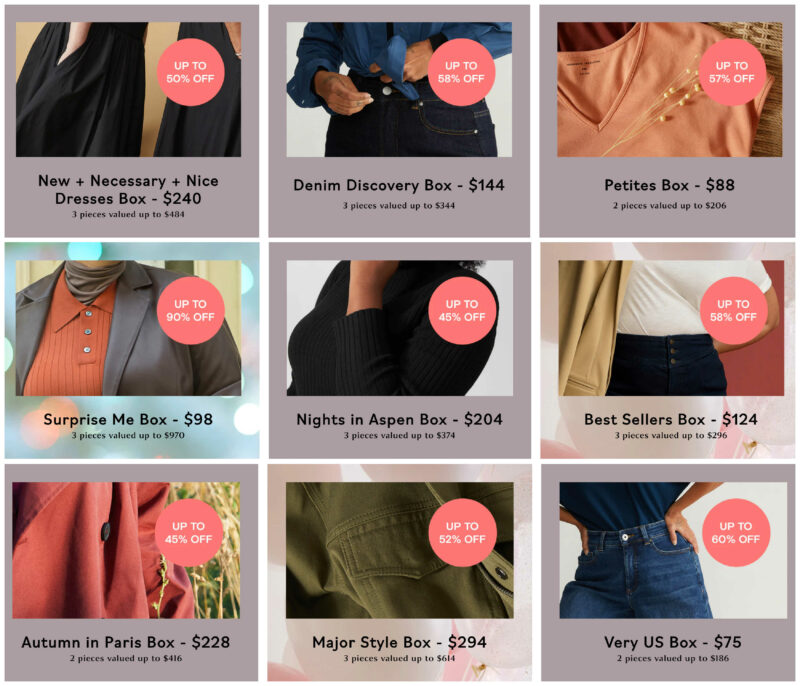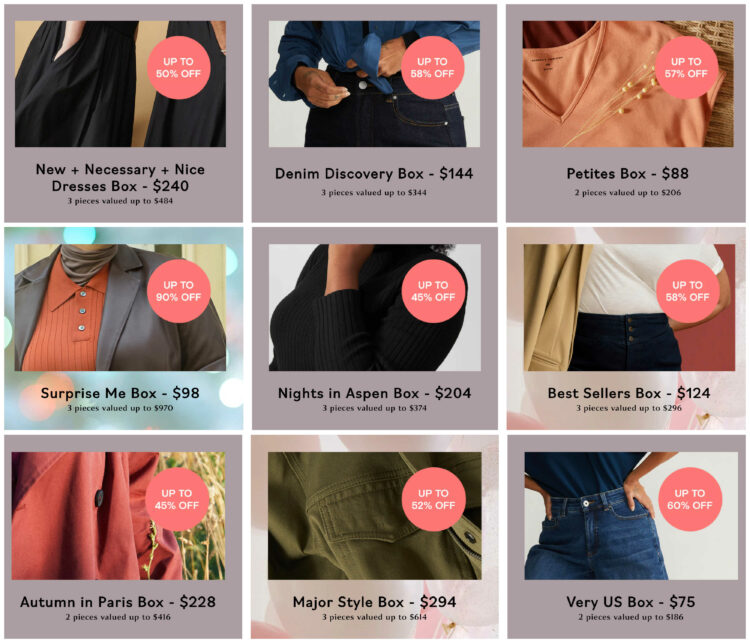 The Universal Standard Mystery Box promotion is where you pick a box of your choice (9 right now but don't be surprised to see others show up over the next few days) and what is inside is a mystery. Each box has a theme (Dresses, Best Sellers, Autumn in Paris, etc.) and will share how many items you will receive (2-3) and each box will cost less than if you bought the contents individually. But you will not know the contents until it arrives at your doorstep.
The Universal Standard Mystery Box is a gamble. If you are a regular customer, there is a chance you will receive something you already own. If you are a different size on top than on the bottom you may receive a piece that doesn't fit great. And you may not like any of the items you receive. On the other hand, I have received in Mystery Boxes items that I have positively fallen in love with.
For example, one year in my Mystery Box I received the Stephanie wide-leg ponte pants with stripes down the sides. I would have never ordered these pants; I found the blue hard to match and the stripes looked hokey on the website. However, I received them and fell in love. I wear these pants ALL THE TIME and love them so much I have added more pairs of Stephanie pants to my wardrobe.
The Universal Standard Mystery Box is great for those who are unfamiliar with the apparel brand. You will receive 2-3 pieces at a price less than buying individually (and then use my code INFS-MBALISON10 for an extra 10% off) and you can experience the fit and quality of Universal Standard. And unlike last time, this code can be used multiple times. This means if more Mystery Boxes launch later in the sale, you can get 10% off them as well with my code!
What Was in My Major Style Mystery Box
Universal Standard invited me to get a free Mystery Box in exchange for promotion. All I was able to do is offer my size so I would receive the same type of Mystery Box available to customers. I vary between an XS and S with Universal Standard (their sizing is atypical, do not assume because you're a M in say Gap you're a M in Universal Standard. Please check out their size chart before ordering).
I received the Major Style Mystery Box from Universal Standard. The description of this box: "This incredible assortment is valued up to $614 and up to 52% off. As soon as you unbox these styles you'll understand the inspiration behind one brand new style in particular… but there's so much more than meets the eye. We wanted to create an outfit inspired by one of our favorite shows. Remember, it's the series finale of Mystery Box and your only chance to get these new must-haves."
I received the Derjon Trench in Camo ($228 value), the Elbe Liquid Jersey Shirt in Classic Fit in White ($94 value), and the Marina Double Luxe Pull-On Pants in Black ($198 value). This is a total of $520 worth of clothing for the Mystery Box price of $294. Not a bad deal, and all three pieces are high quality, elegant, and versatile.
I apologize, but at the time of writing this I haven't photographed myself in these pieces. I am still healing from my eye surgery earlier this month and the eye gets tired fast and isn't too cute in photographs. However, I plan to shoot them anyway this weekend and at that time, will update this post accordingly. I will also be sharing in video and stories on Instagram so be sure to follow me over there too!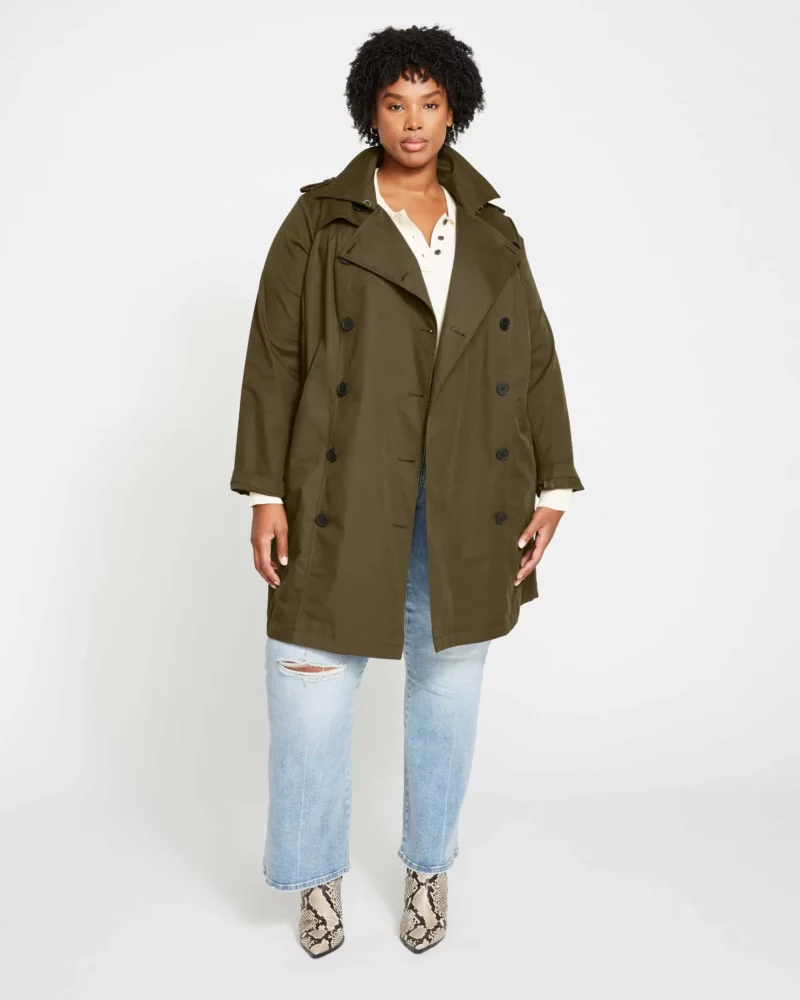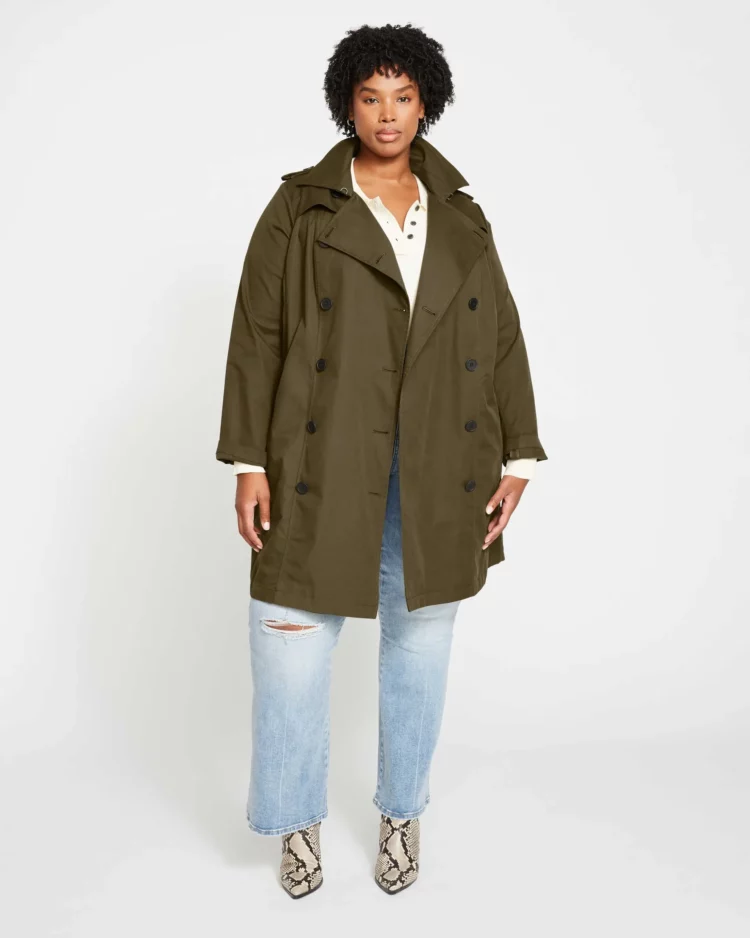 I had tried the Universal Standard Derjon Trench before in XS and found it a bit wrong in fit. Unfortunately the S, while more comfortable of a fit, it is designed for someone at least 2″ taller than I am. This trench however, it so incredible. I remember years ago visiting Christian Siriano's boutique in NYC when he sold additional brands including Universal Standard. That's where I first saw this trench and found it so elevated, so luxe so… quiet luxury. It's really a fantastic piece.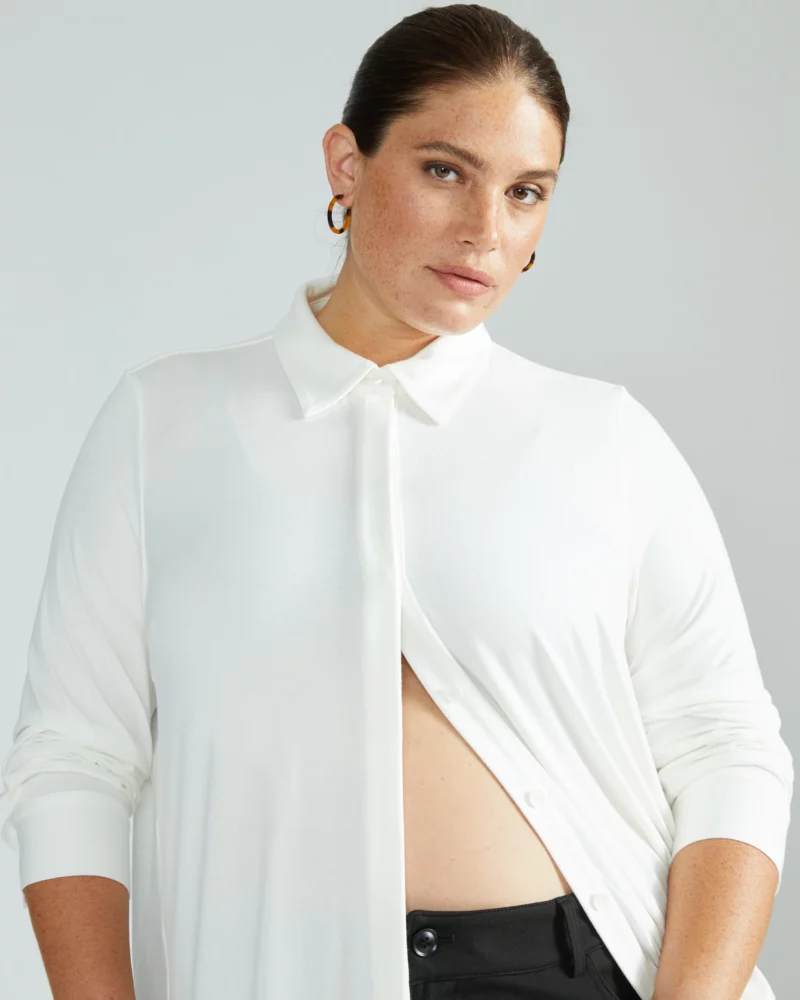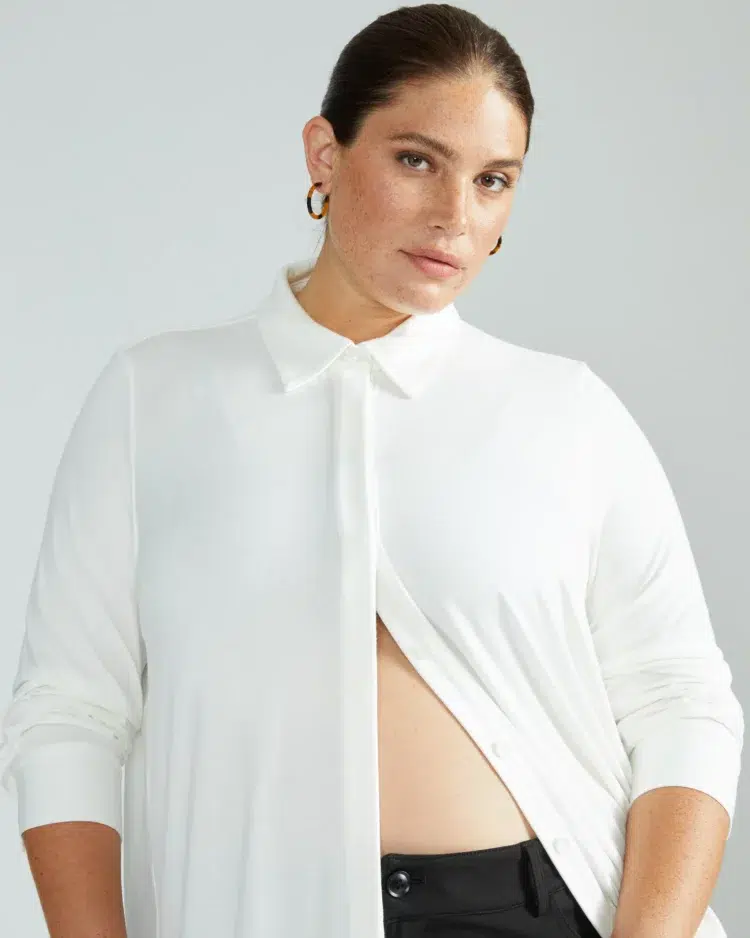 I tried the old knit Elbe shirt in the past and found it… fine. I never tried the liquid jersey one and wow what an upgrade! Stretchy and soft, however this fabric looks and feels expensive and turns this knit top into something very polished and at home in a boardroom or client meeting. However, it could easily dress down for the weekend.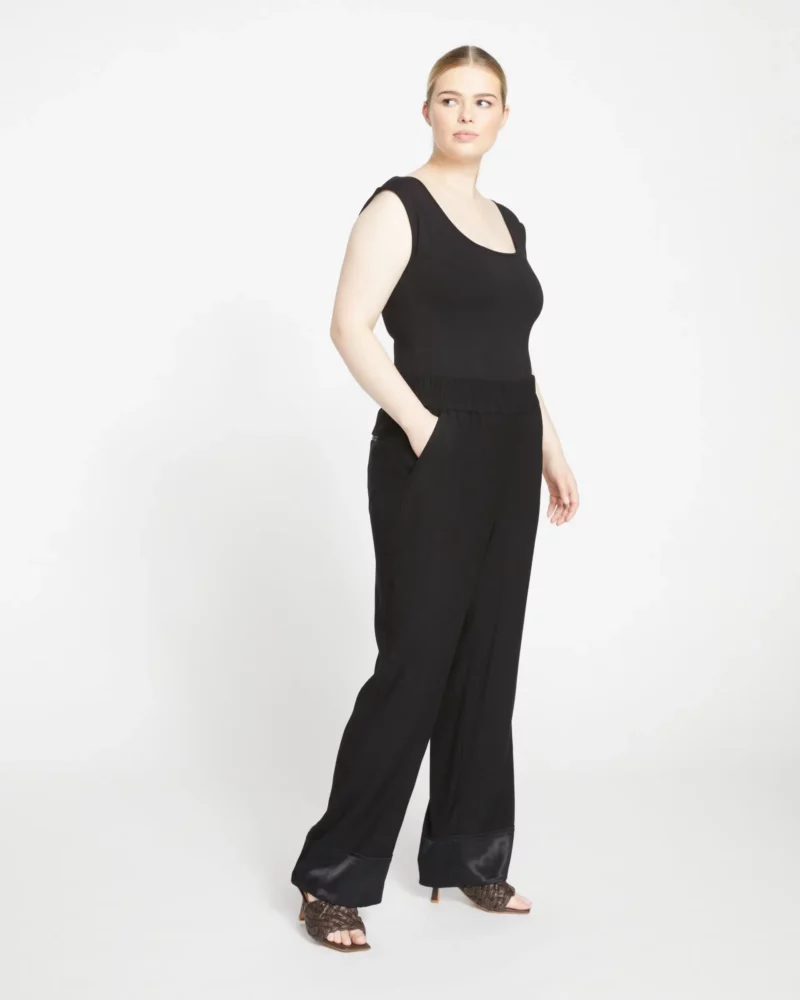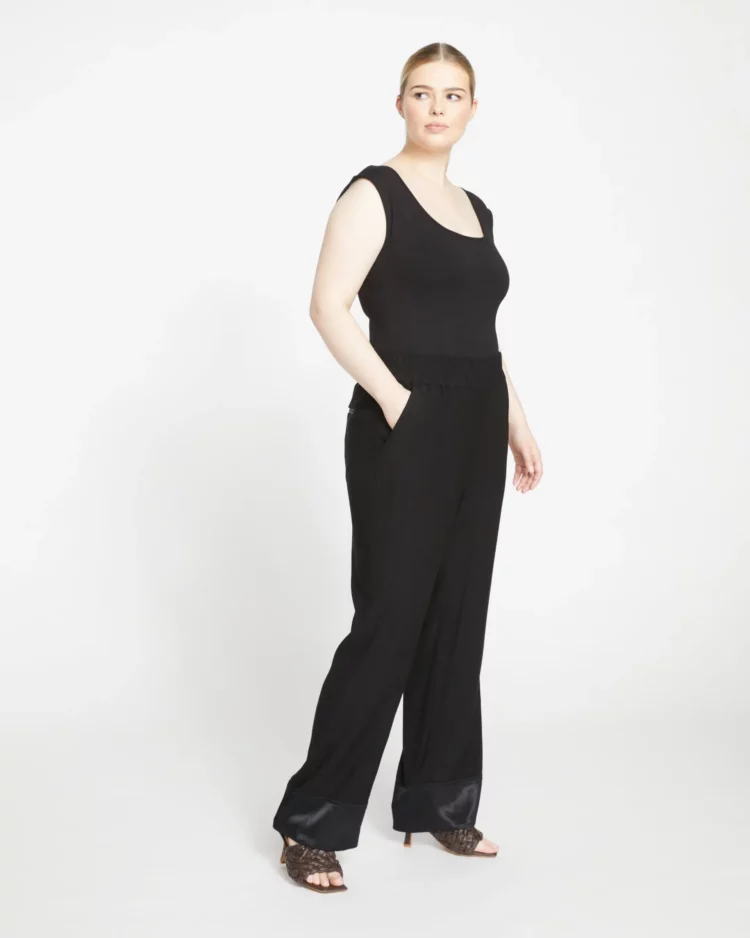 The Marina pants remind me of my Universal Standard Avenir dress in being a rich satin-backed crepe pull-on trouser with a shiny satin band at the bottom of the pant. Even though these have an elasticized waist, it's a wide waistband that I would find chic exposed or under untucked tops, and a pant you could wear to the office with a sweater, for a night out with a camisole or one-shoulder sweater, or for relaxed elegance with an untucked silk or satin shirt or tunic.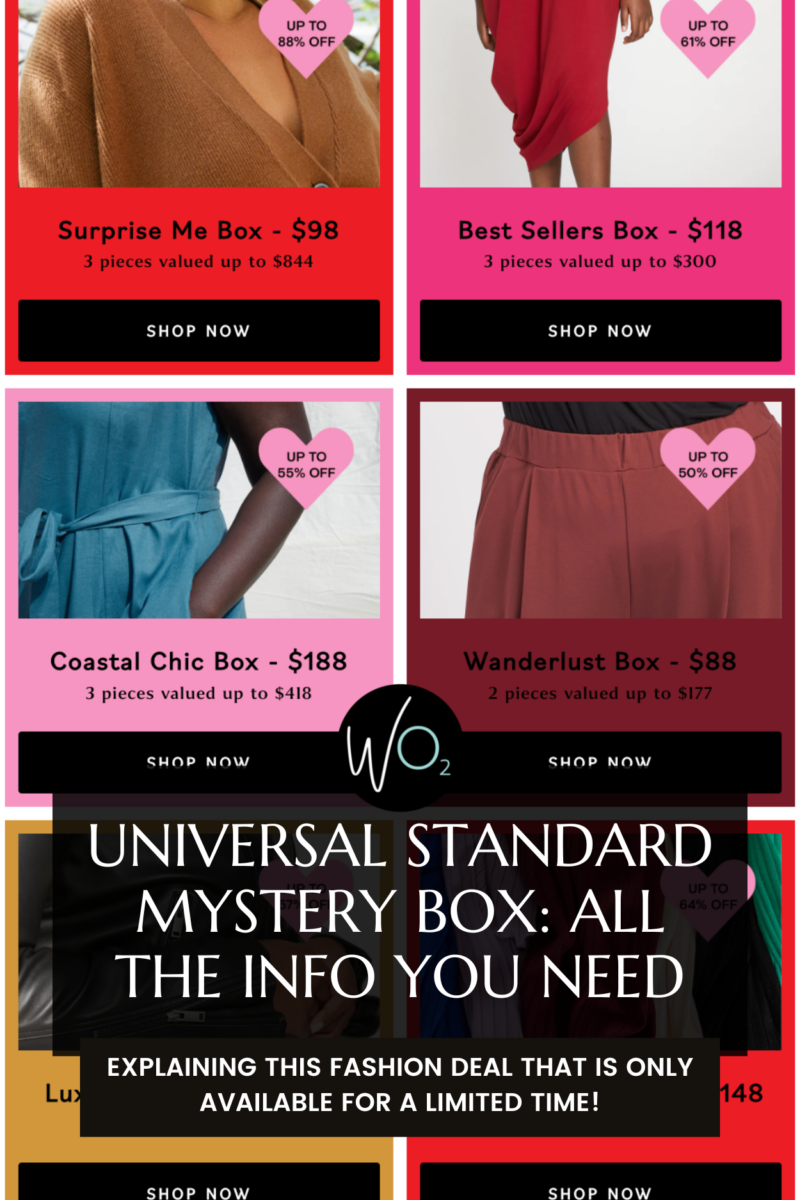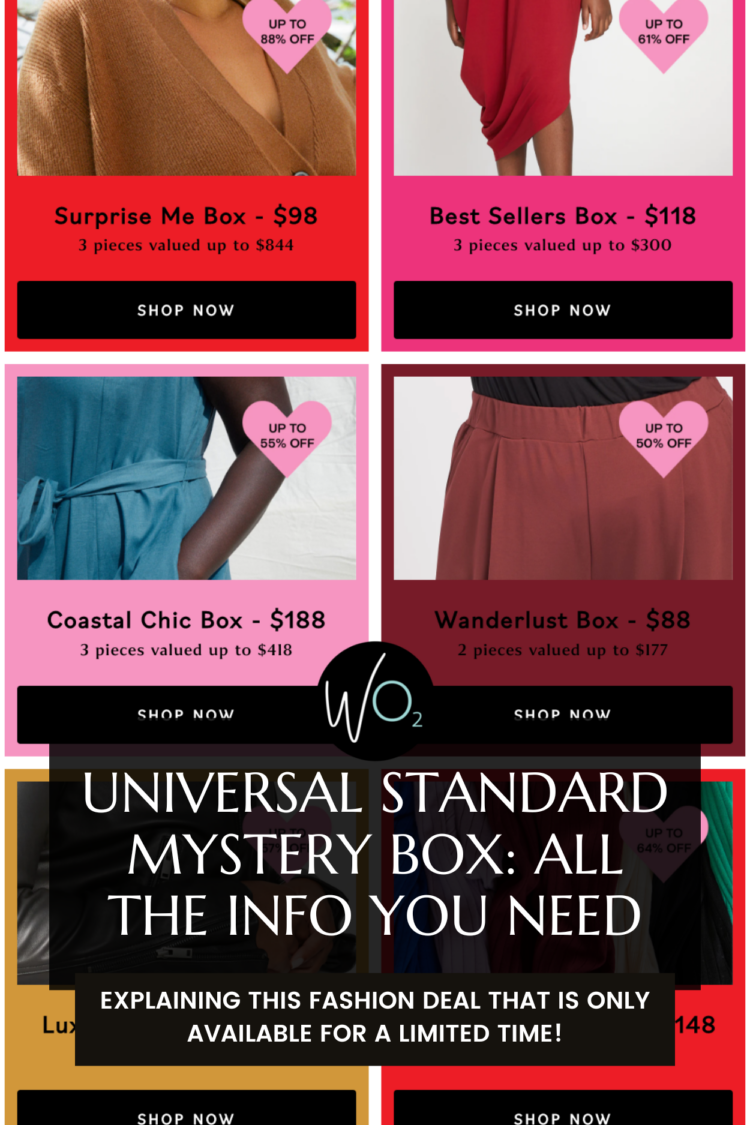 Mystery Box FAQ
I heard this is the last time Universal Standard will be having their Mystery Box Promotion. Is this true?
Yes, I am sad to say that this is the FINAL time that Universal Standard will be offering their Mystery Box promotion. Previously an annual event, Universal Standard has decided to end it. This means now through October 1st is the last time to take a gamble and get more US fashion for less. It's a mix of brand new, items from the archives, and classic best sellers from Universal Standard and always a fun way to update your closet. I will miss it, and I must say knowing it's the last time makes me want to buy more boxes! Ack!
Universal Standard sizing is new to me, can you explain it?
When Universal Standard started, their smallest size was 10/12 so they called that size XS. As the brand grew and they expanded its size range to 00-40, they didn't change their naming convention for sizing. IMO I love this because the whole XS/M/XL/etc. concept is arbritary. If 67% of the women in the United States wear plus sizes, an 18/20 being a size Medium sounds pretty sensible to me!
I recommend if you are new to the brand, check out their Find My Size page and don't make assumptions based on what you wear in other brands. For example, I am usually a size 14 in clothing yet with Universal Standard I am usually a size XS (10/12) unless it's a structured non-stretchy piece when I choose S (14/16). For this Mystery Box, I went with size S.
Can I choose one size for tops and one for bottoms?
The Mystery Boxes are available to order in just one size. There are a few of the boxes (for example the Major Style, NIghts in Aspen, Best Sellers, and Very US boxes) will ask you for your top and bottom sizes when ordering. There is a box specifically sized for Petites.
If you are between sizes and sometimes need a bit larger on one half of the body, I recommend going with your larger size. Consider the savings of the promo code and the Mystery Box promotion as a way to pay on tailoring if something is a bit big. For example, with my Mystery Box, the cigarette pants I received were a bit big, but nothing my tailor can't alter for a custom fit.
How long will it take to get my Mystery Box?
In 2021, it was taking up to four weeks. Last year it took less time, but it still took about two weeks. I do not know, but expect it to take longer than ordering a standard purchase from Universal Standard.
If I don't like my Mystery Box items, can I exchange or return them?
All Mystery Box sales are final. However, you will not have a hard time selling or trading your items if they aren't right for you. There are many buy/sell/trade groups on Facebook where such items will move fast (even Wardrobe Oxygen has a B/S/T group!). Look for ones that are focused on your size, on this brand, as well as ones focused on workwear or sustainable/minimalist fashion. I have had great success selling Universal Standard on Poshmark and know others have had success on other resale sites.
Previously I was able to fill out a survey/create a wish list to customize my mystery box. Can I still do that?
Over 100,000 Mystery Boxes have been sold over the years and the Universal Standard Mystery Box promotion has only gained in popularity. Due to this, boxes cannot be customized and Universal Standard will not be checking your past purchases to prevent duplicates.
Alison, do you know what the heck are in those creatively named boxes?
Nope, no idea what Autumn in Paris or Nights in Aspen is. I have my guesses, but you probably do too and we will just have to see. I gotta say I too am hella intrigued by the titles of these boxes!
Can promo codes be used on the Universal Standard Mystery Boxes?
Yes, and I have an exclusive code for the Wardrobe Oxygen Community to save an additional 10% on Mystery Boxes (and any other purchase at US!).
Universal Standard Promo Code
Universal Standard has offered Wardrobe Oxygen readers 10% off sitewide through October 1, 2023 with promo code INFS-MBALISON10 . This additional 10% off discount code will work on Mystery Boxes as well as any other purchase at Universal Standard through 10/1/23 and the code can be used on more than one order. This is a fantastic way to save even more on the Mystery Boxes and I am so glad to offer this promo code to you!
Are you going to get a Mystery Box this year? What do you think of the Mystery Box offerings from Universal Standard?
Please note, that instead of creating yet another blog post about the Mystery Boxes, I updated the post I wrote in February with the latest information on the promotion. Most of the text is new, but this is why you will see older comments below!