This article may contain affiliate links; if you click on a shopping link and make a purchase I may receive a commission. As an Amazon Associate, I earn from qualifying purchases.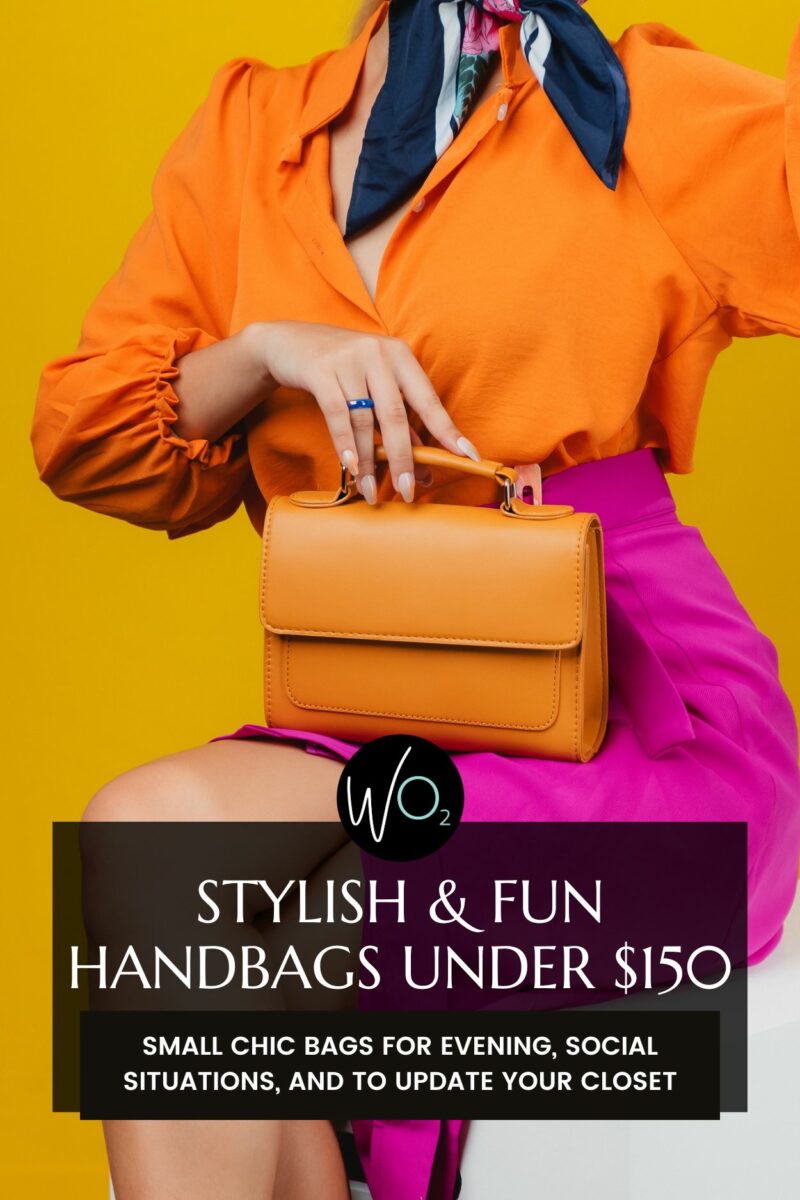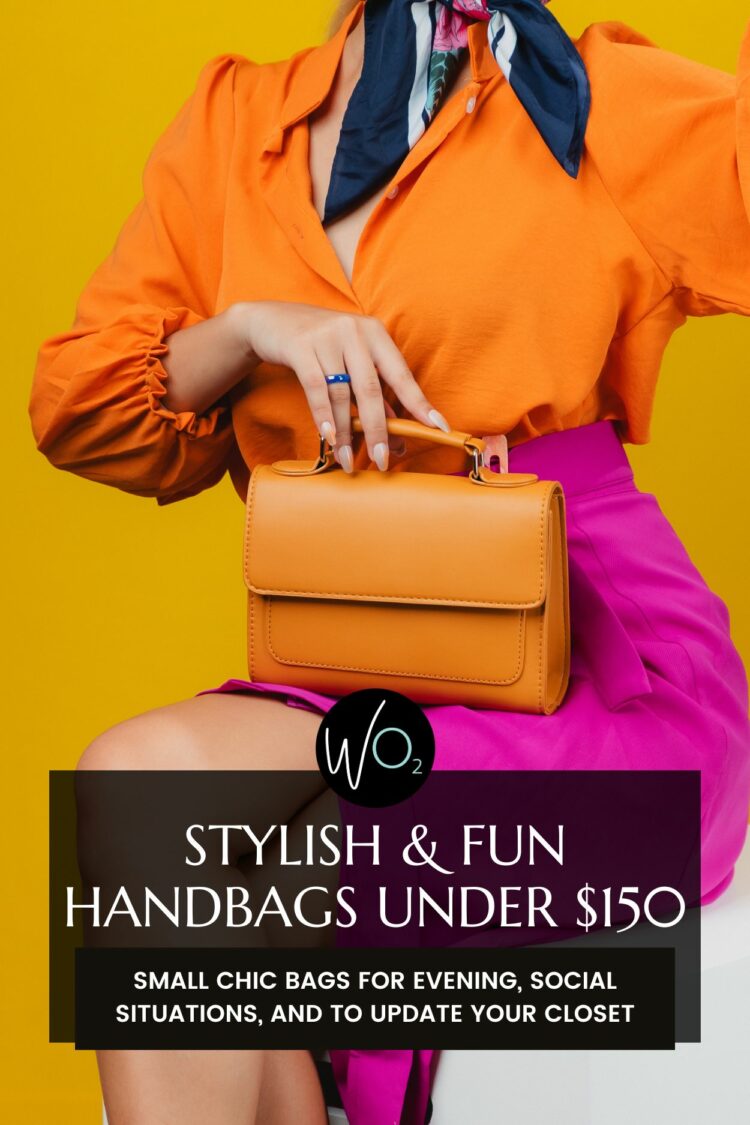 You have your everyday bag, you have your work bag. You likely have a bag for the beach or pool, another for the farmers market, and one for a weekend getaway. We're not discussing those kinds of bags today. Today it's about the cute little bag. The one that elevates pieces from everyday to exceptional, that glams up that not-so little black dress, that feels festive and fun and carries just the essentials but is essential to your look. And all these cute little bags are under $150 and most are under $75.
Please note, prices and availability are as marked at the time of crafting this post. I cannot guarantee they will still be in stock or still the same price. Scroll to the bottom where I share tips on purchasing cheaper bags when searching for cute little bags like the ones featured here.
You Need a Cute Little Bag: 30+ Under $150 + Tips for Shopping Cheaper Bags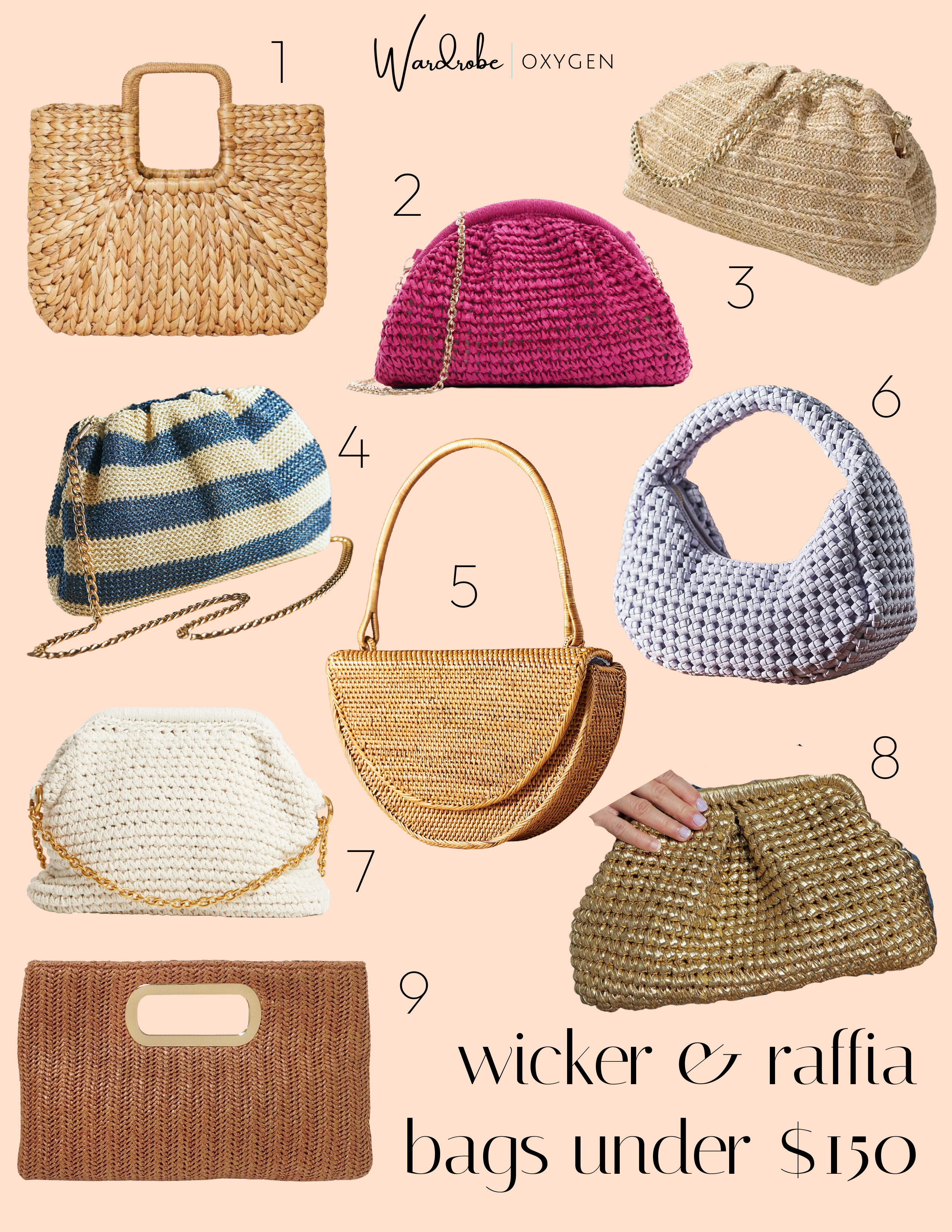 one ($45) | two ($59.99) | three ($49.99) | four ($80) | five ($78) | six ($98) | seven ($90) | eight ($129.99) | nine ($45.95)

Wicker & Raffia Bags
A quick way to elevate your sundresses and linen pieces, or to summarize your darker garments is with a raffia, wicker, or woven bag. These bags are on trend but subtle enough of design that they will remain stylish for years to come. I personally own a raffia clutch I bought over a decade ago for less than $50. Each spring I am reminded of what a great purchase it was as it goes with every color outfit and every textile of footwear.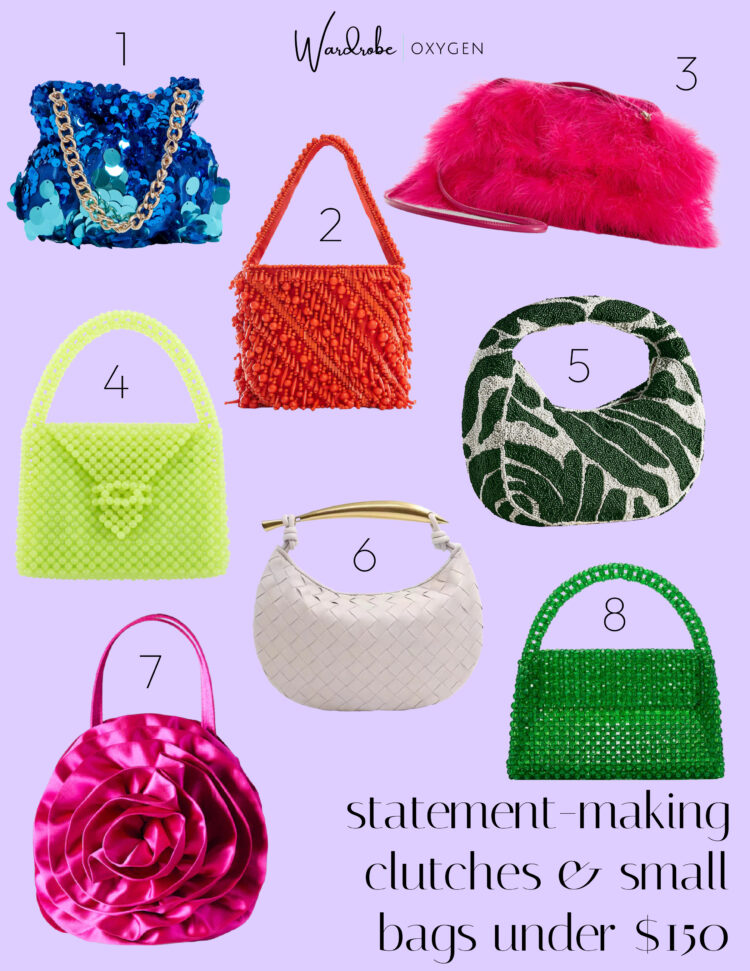 one ($90) | two ($79.99) | three ($99.99) | four ($68.60) | five ($98) | six ($149) | seven ($99.99) | eight ($150)

Statement Bags
While you may wish to pay more for high-quality materials and well-known brands when it comes to your day bag, for night there's no need. Especially in the warmer months, a quirky statement-making bag in a fabric that catches the light can be quite festive, stylish, and a budget-friendly way to transform wardrobe staples.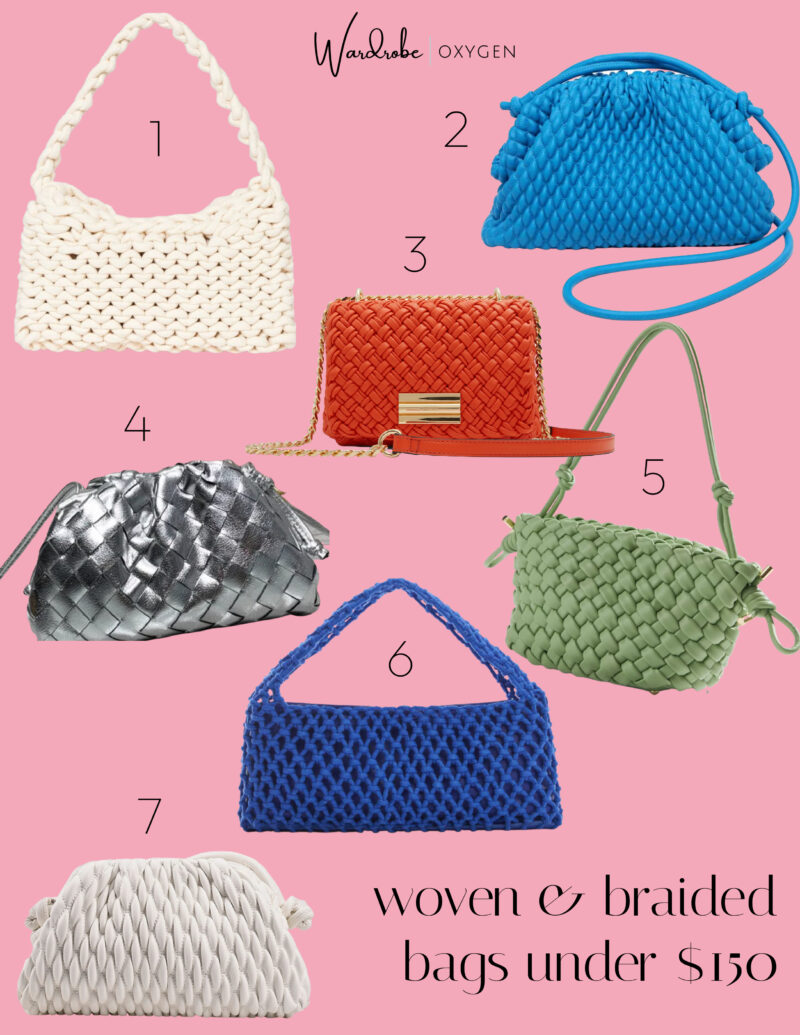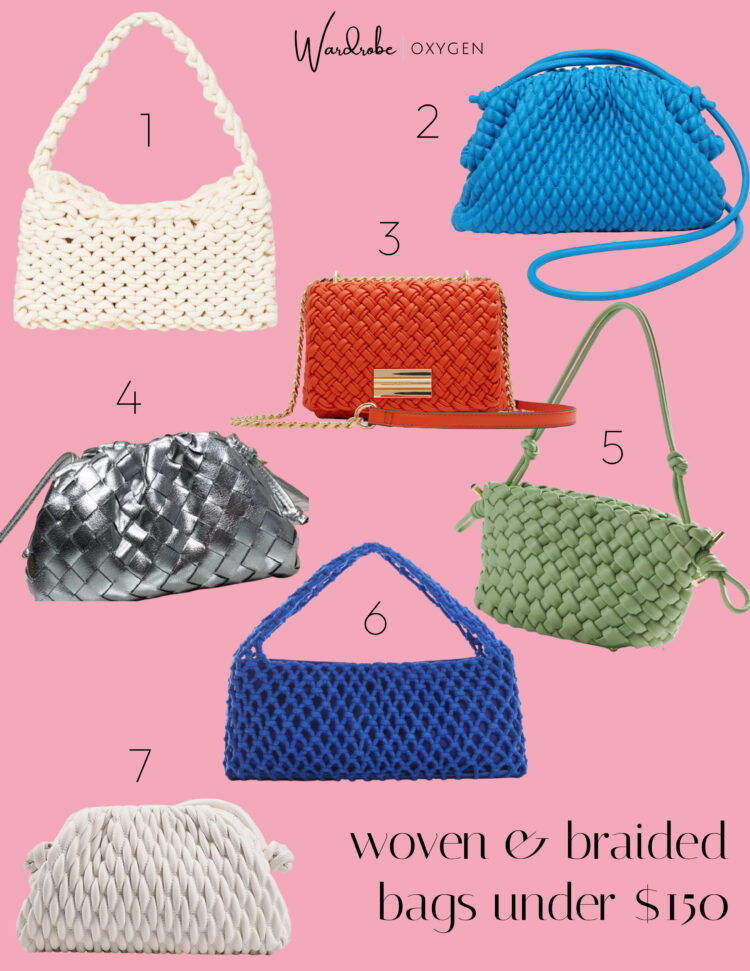 one ($25) | two ($70) | three ($70) | four ($140) | five ($148) | six ($59.99) | seven ($40)

Woven & Braided Bags
The braided bag trend resurfaced thanks to Bottega Veneta, but now there are so many variations it's become a universal trend in 2023. From rope, nylon, leather, raffia, and most any textile, a quilted, woven, or braided bag will add texture and a current trend to your wardrobe without dropping Bottega prices. These are great bags to jazz up a dress for a casual outdoor wedding, a girls' night out, or a day event.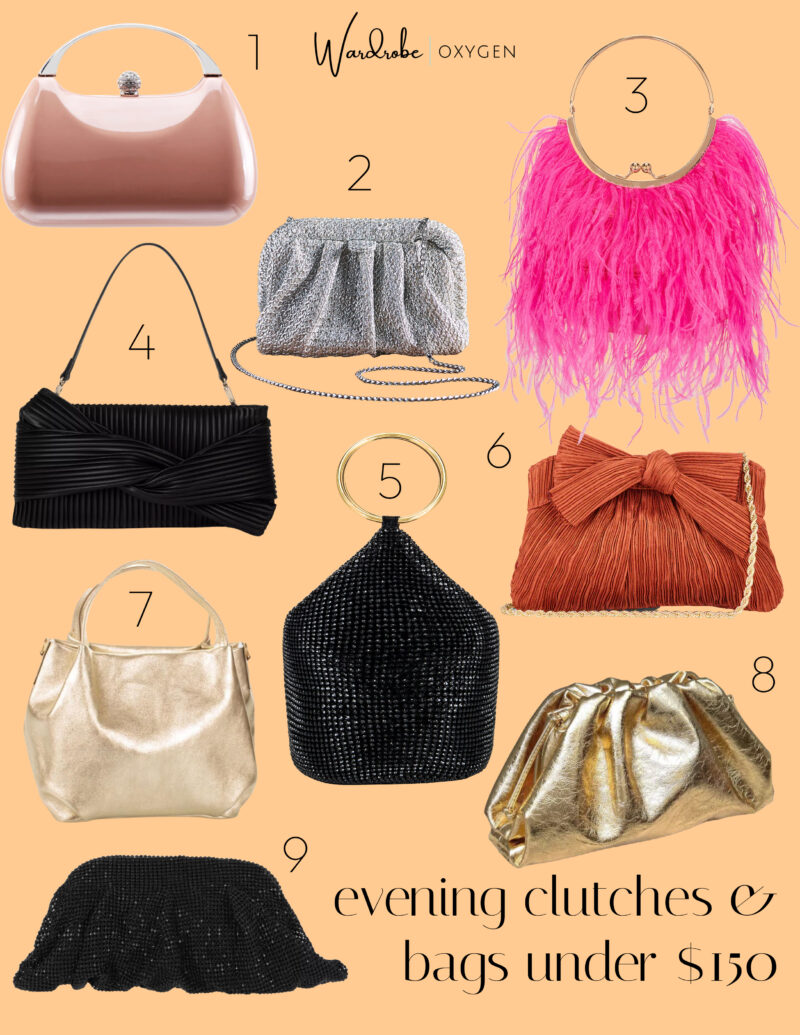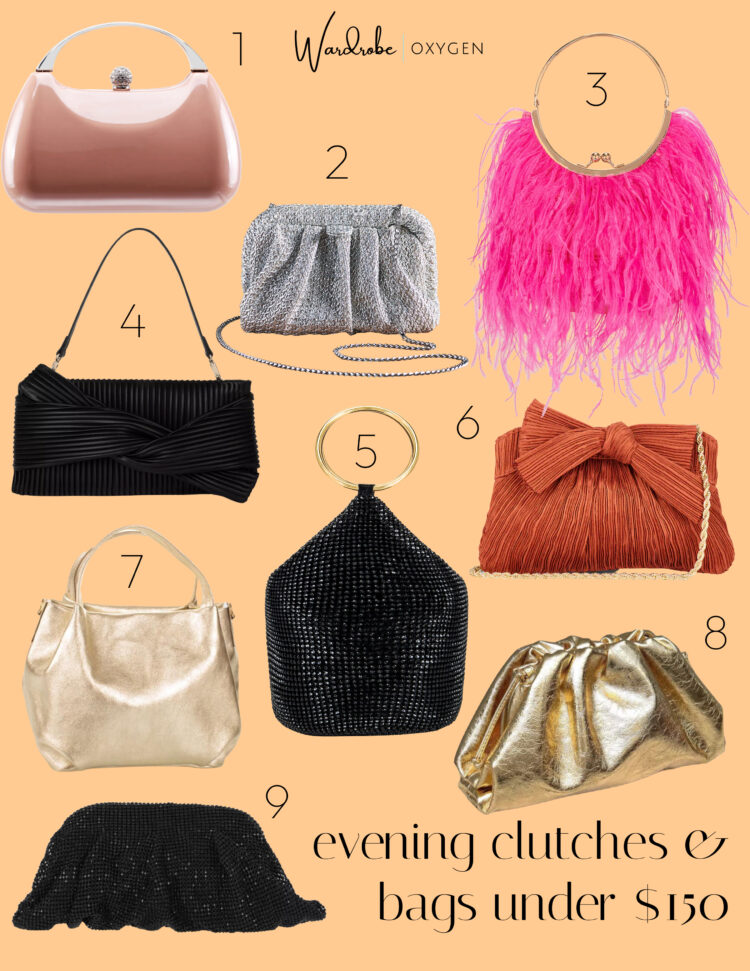 one ($54.60) | two ($80) | three ($115) | four ($98) | five ($110) | six ($137) | seven ($113.27) | eight ($97.73) | nine ($48.65)

Evening Bags
Formal clutches are more slowly affected by trends than other types of bags, but that doesn't mean that beaded envelope on a satin rope strap or that satin-covered cardboard clutch with the bow detail that was dyed to match that gown is still cool. With cute little formal bags being so budget-friendly, it's worth it to invest in a new one to update those classic pantsuits and dresses already in your closet.
Right now, "dumpling" style clutches which are gathered leather, satin, or another textile are stylish. Also look for vintage-inspired or truly vintage bags. Beading, feathers, and fringe are en vogue and a way to add texture and detail to simple ensembles.
Tips for Shopping Cheaper Bags
I believe in the power of a cute little bag, and I don't believe you have to spend a lot of money to find one that is stylish, functional, and fun. And we grown-ass women deserve to have a little fun with our fashion. Throughout this post I have plenty of great bags under $150, but I want to empower you to shop for such bags beyond my recommendations.
Choose the best quality for your apparel, as it will get the most wear and scruitiny. Have it tailored to fit your current you, treat it well, wear it for years. And then use the occasional wardrobe addition and budget-friendly accessories like cute little bags to build upon your wardrobe and add your signature.
In the late '90s I worked for the apparel brand Express. I had a fantastic employee discount and first dibs when items went on sale and clearance, and ended up building quite the collection of cute little bags. In fact, in one bachelorette apartment, the hallway "art" was little hooks displaying my bag collection.
That job taught me the power of accessories. Clothing makes an outfit, accessories make a look. And when clothing can be complicated, accessories are a way to better express yourself. But as grown-ass women, we want accessories that represent us well. And that doesn't have a pricetag, but some tips can help you find the best options.
Shop Unexpected Places
Look for bags when on vacation. I have found some amazing bags at tourist shops, boutiques I'd not normally visit, and unexpected stores like book shops and antique malls. Look through the bag section at thrift stores, and then also go check the children's department because sometimes cute little bags are mistaken for child-size bags.
Check clearance departments and last-chance stores. Bags go on sale at the end of the season, but that doesn't mean they are out of style. And cute little bags don't sell as quickly as everyday bags, so there's usually a decent selection left in the sale.
Minimal Embellishment
A lot of cheap fashion falls into the trap of trying to look fancy by over-embellishing. You'll see evening bags that are of a dressy fabric, but also have a rhinestone-encrusted clasp, and a gold handle, and a gold chain strap, and a strip of feathers, and some crystal studs. Even simple raffia bags will be over-embellished with mixed colors of raffia, contrast stitching, embroidered flowers or saings, contrast straps, and more.
It's like a yellow Lamborghini, it's screaming out that it's overcompensating for something. All those extras scream the piece was a bargain price. Look for bags that have only one fancy detail at most. In fact, bags without visible hardware and no identifying embellishments are the kind that folks will stop and ask where you got it and be shocked when you say Target, or Amazon, or ASOS because they're more likely to look designer.
Don't think I'm making a "wealth whispers" statement. What I am saying is trend salads are never stylish. If you can afford designer, feel free to shout logos from head to toe, it's your perogative. But if you can't, your best money is spent on pieces that aren't trying to be something they're not.
All or Nothing Overlay
Right now, you'll find a lot of cute little bags covered in fringe, or feathers, or beading, or sequins. This kind of overlay is what makes an otherwise simple bag look stylish and fun. But if the bag is like a paper doll with the fashion only happening on one side, it can read cheap.
The exception to this is the kind of embellishment that tells a story. 3D rosettes on a satin clutch, a single pattern in the middle of the front of the tote, a design element out of a different textile. But when it comes to an embellishment that covers the entire front from handle to feet, zero embellishment will look more luxe than only half.
Beware of Trim
A lot of cheaper bags will have a cool fabric or a coool silhouette, and then ruin the whole thing with contrast trim. A sequin pouch can look black tie ready with subtle hardware and minimal trim. A sequin pouch can look like a 3rd grader's pencil case if it has black satin trim around the edges.
Satin or faux leather binding around the edges of a bag will instantly make it look more casual and cheaper. Some styles, such trim will work but only when it is the same exact color and textile as the rest of the bag. In general, bags will look more luxe when the body is all out of the same textile in the same color.
Measure Your Phone (and wallet, and lipstick and…)
That bag you found online or at the thrift store or at TJ Maxx is cute cute cute… but will it fit everything? A cute little purse is not meant to carry everything you have in your day bag, but it does need to hold the essentials. Phone, your cash/cards, lip product (if applicable), keys, medications, etc.
Put all the stuff you would need into a Ziploc bag and fold it until it comfortably holds all the things you need to carry. Then measure the minimum length, height, and depth to hold it all in a bag. And add an inch to it to factor in hinges and seams. That's your minimum size needed.
Especially when shopping vintage and thrift, bags used to be smaller. Phones were smaller, and before that, phones weren't a factor. And as grown-ass women we may find life is more enjoyable when we carry a few additional items that provide comfort and ease.
Don't Buy Dupes
It's never cool to pretend to be something you are not. Cool comes from being authentic. And that includes dupes, counterfeits, and copies of trademark designer elements. And when it comes to buying cute little bags like these, who needs designer to look chic?
This job has introduced me to some incredibly stylish people, many who have a lot more money than I do. And one thing I have noticed with my wealthier friends who masterfully mix designer with High Street often do it with their cute little bags. They'll wear Dior with a clutch from Target or pair an Ulla Johnson dress with a Topshop bag.
I personally love a simple bag in an of-the-moment color to make my years-old apparel look new again. This season I am seriously gravitating towards highlighter yellow, which will go with black, with ivory, with soft pastels, soft neutrals, olive, navy, and gray. Bright Kelly green, neon pink, Valentino pink, bright cerulean, and red-orange are all colors trending this year that are a fun change from black, neutrals, or the classic pop of red.
In general, my biggest tip for buying cheaper bags is choose styles with minimal detail but on-trend shapes or textiles. This way it is trendy and modern, purposeful yet not try-hard. And it is more likely to be a bag you still enjoy carrying years from now.