This article may contain affiliate links; if you click on a shopping link and make a purchase I may receive a commission. As an Amazon Associate, I earn from qualifying purchases. 
Reader (and friend after all these years) Linda made me aware of the blog, Project 333. Project 333 is a minimalist fashion challenge that invites you to dress with 33 items or less for three months. Linda has been really interested in minimalism, and recently I have been as well. Linda asked me to think about what 33 pieces from my wardrobe I would save from a fire.
As the next three months are spring/summer, I had to get into the warmer weather state of mind. I went through my outfit posts from last summer and thought about what was currently in my wardrobe. I wanted to consider work of course, but also casual weekends and the occasional date night, concert, wedding, or other social occasion. What I came up with: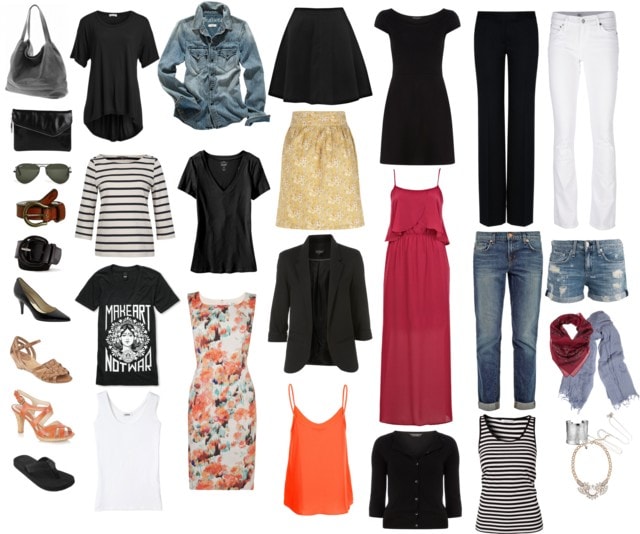 Trying to use images available in Polyvore, this is only a representation of my actual items (for example the floral dress represents my orange Ikat-print dress). I have linked to the actual pieces when they have been featured on my blog or Instagram (the zebra scarf to the site, the pink dress to an image I found online). However I think this collage gives the right effect.
When thinking what to keep, the most important thing was to have appropriate attire for work. I am lucky to work in a relaxed business casual office, where jeans are acceptable on Fridays and colored denim can make a pass during the week if it's crisp, saturated color, and dressed up like pants. With this collection, I was able to create 40 different work ensembles for a possible 60 days in the office during a Project 333 period of time.  (I know the actual project suggests swapping only three items at the end of the period of time, I am just trying it in this manner for now.)
What this exercise really did was make me realize how woefully inadequate my current wardrobe is. My body has changed, but I have also had a transition in my personal style. With the warming temperatures, I am finding my closet more and more frustrating, the pieces I currently own so mismatched. I'm trying to buy less, and just filling holes, but it feels as though there's more holes than current wardrobe. This made me realize that instead of filling holes, I maybe need to start from scratch in some ways. Not buy what works, but what is right. Knowing that the whole season will only be 33 pieces (including shoes and accessories – even sunglasses!) is a relief. When you see it's only 33 pieces, you don't feel as much as though you're going to go bankrupt to dress for a season. I looked at this collection above and felt I could really live with these pieces, and only needed a few minor changes to make it perfect.
Will I be taking part in Project 333? No, at least not now. My blog is my part-time career. I have made my outfit posts a way to offer inspiration and creative ideas for fellow women who may have similar figures or lifestyles. I also use the posts as a way to feature brands I like or have just learned about. However, Project 333 really forced me to look at what I buy and why I buy it; it has also transformed how I plan to shop and dress myself this year. You can expect to see a change in future purchases (as well as more items I will likely be selling on eBay – follow me on Facebook for updates when I am having sales).
The horrible tragedy in Bangladesh really got me thinking about what I buy. One can't just blame H&M or Forever 21 for such situations, bargain basement to high end designer lines ship their manufacturing and/or fabric weaving to other countries where it can be done for far less. We expect to get more for less and to accommodate, retailers sometimes do shifty things to still make a good profit. Be it purchasing used, or purchasing darn near perfection to reduce how often I spend, I'm trying to make a difference. Project333 really forces one to shop with thought, with a plan, with intention. Imagine if we all shopped with intention instead of in desperation, purchasing good enough, using shopping as therapy or entertainment.  Imagine our wardrobes, they would be full of quality, well-fitting pieces, signature items, pieces that both flatter and inspire.
This won't be my only post on this topic, I plan to think about what I wish was in my closet for the 333 Project, and how I plan on taking the lessons learned from this with me as I do shop, and how it will affect my fall/winter wardrobe.
What do you think of Project 333? How does it make it look at your current wardrobe and your shopping habits?
Follow Me | Twitter | Facebook | Instagram