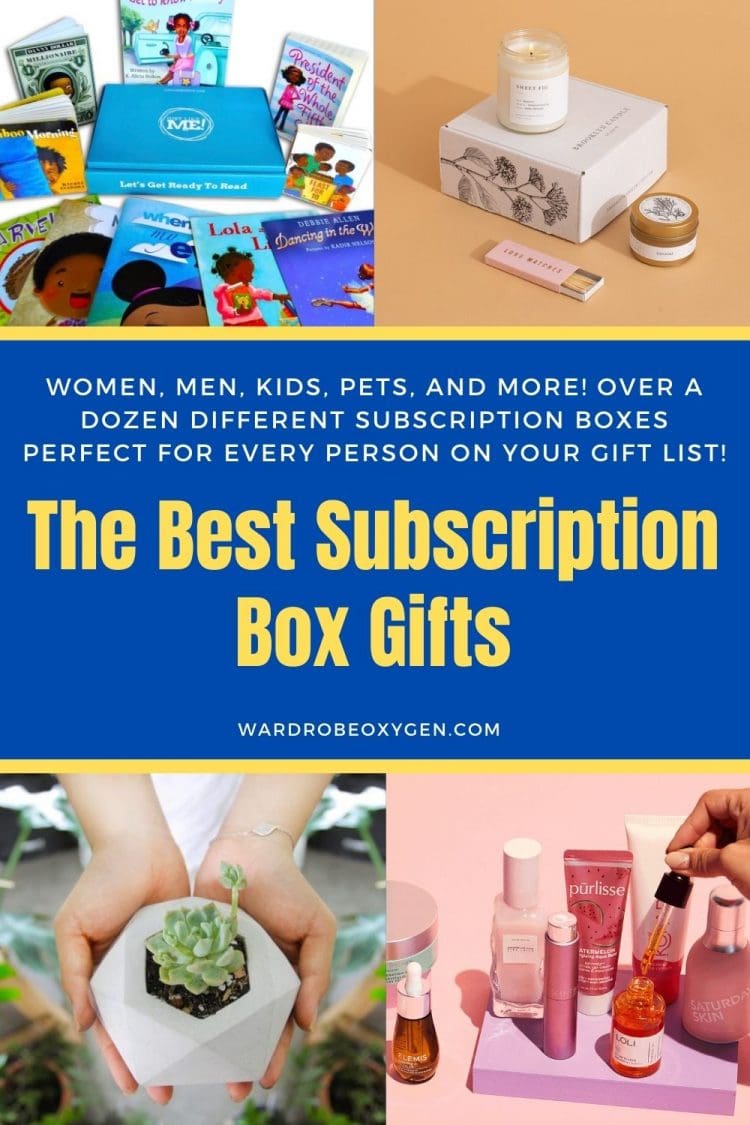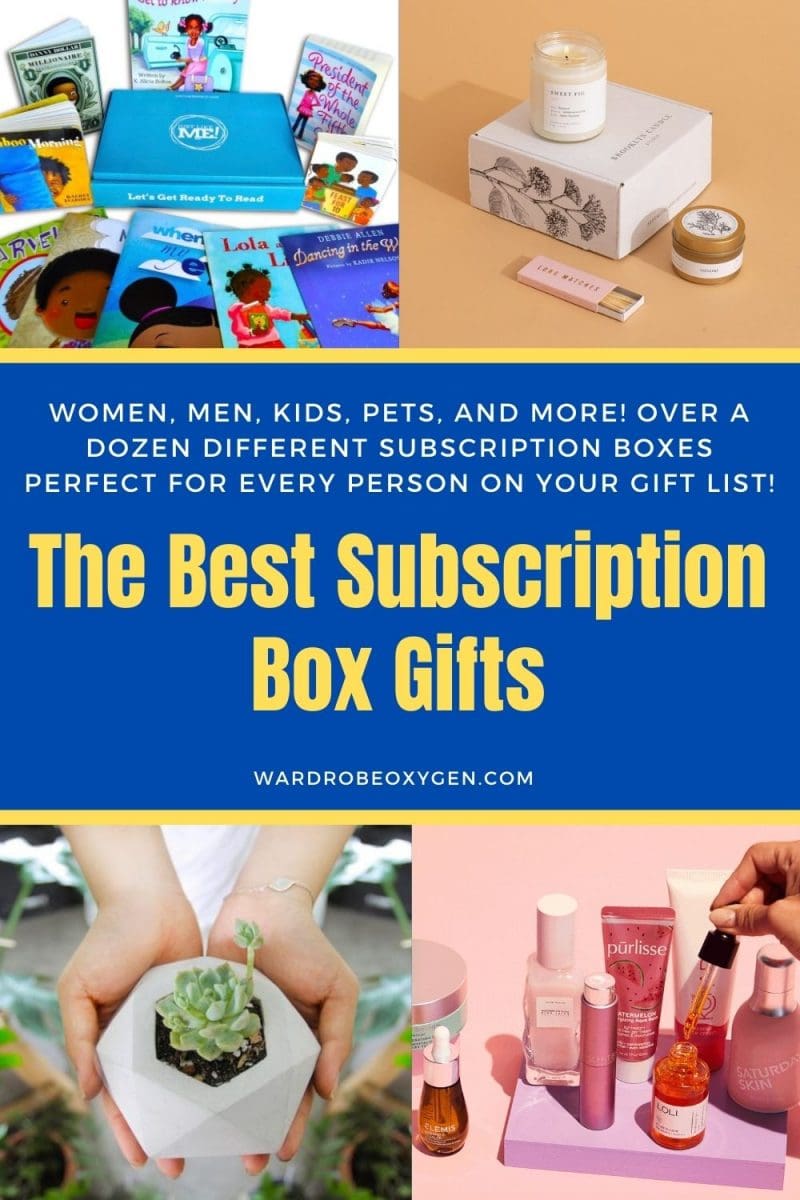 Need a gift for a hard-to-shop-for person? Need to find a present for the person that seems to have everything? Shopping last minute? Don't want to pay to ship a gift across the country (or go to the post office)? Sounds like a subscription box is the perfect gift! While there are many different subscription boxes out there, below I have curated the best subscription box gifts. These are ones that are sure to please when received!
The Best Subscription Box Gifts: Over 12 Different Boxes for Everyone on your Gift List!
Photo Credit: Cinemationship
Cinemationship is about introducing great movies with great concessions to create great memories. Whether it's with bae, your co-workers, your friends, or with some of your new-found movie cousins in our RIB Movie Club, Cinemationship wants you to enjoy coming together time and time again over great stories. 
Cinemationship offers a new movie of the month, from nostalgic throwbacks to blockbusters. Along with the movie, you receive 4-5 full-size concessions themed around the movie of the month, enough for two to share. It's a mix of sweet, savory, artisan, and at least one Black-owned business in the snack/beverage industry.
The box will arrive before the third Friday of the month. You can munch on your snacks whenever you please, or you can join Cinemationship RIB Movie Club for monthly watch parties of the movie of the month. Cinemationship offers monthly and quarterly plans as well as gift cards for your recipient to choose which month or months to enjoy!
Photo Credit: Universal Yums
My best friend has been raving about this subscription box, she'd be angry if I didn't include it! It's a great gift for the person who has everything. A variety of sweet and salty snacks are specially brought in from a different country every month. A 12+ page booklet guides your adventure with trivia, recipes, and other surprises.
No matter the country, you'll always find a variety of sweet and savory snacks with unique flavors and spices. If Universal Yums is featuring a chocolate-loving country like Belgium, you'll find creamy hazelnut truffles and chocolate-covered waffles in your box. However, a box from Thailand might be filled with zesty fried seaweed and salty pineapple candy.
You can give Universal Yums as a gift for either 1, 3, 6, or 12 months. The ship date of your first box can be seen during the signup process. Future boxes will ship on the 15th of the month, and you'll receive an email with tracking information every time your box ships.
Photo Credit: Succulents Box
Succulents Box is the plant subscription box that delivers low-maintenance, organically grown succulents, directly to your door. Established in 2017, Succulents Box offers 5 monthly subscription plans + more than 300 gorgeous succulent varieties, organically grown in Southern California.
Starting at just $5 a month for subscriptions or individual gift boxes starting at less than $25 for all types of individuals (even kids), Succulents Box is a great choice for those who don't want more stuff, teens who are into decorating their rooms, college students, new homeowners, andn anyone who wants to brighten their space and improve their home's air quality with beautiful and easy to care for plants.
A portion of Succulents Box's proceeds is donated to a cause. Currently, 2% of their website orders go to support the fight against COVID-19 by the CDC Foundation.
Photo Credit: Trade Coffee
Give the gift of coffee discovery with a personalized coffee gift subscription with Trade Coffee. They'll try coffees from the nation's top roasters chosen just for them, delivered at a frequency of their choosing.
Starting at $60 for three bags, your gift recipient will receive a personalized assortment from top roasters with coffee matches based on their preferences in an online quiz, roasted & delivered at peak freshness.
Photo Credit: Brooklyn Candle
Receive Brooklyn Candle's recommended candles of the month in a large candle as well as a gold travel tin. Peonies and lavender in the Spring, warm pumpkin and apple in the Fall, the aroma of woodland pines and tobacco in the Winter. 
Every month, receive a full-sized seasonal candle, a travel candle, plus a matchbox to light your new flames. The subscription will cycle through an assortment of scents based on the season.
Brooklyn Candle
uses 100% soy wax derived from American-grown soy beans for an eco-friendly, clean burn and lead-free cotton wicks. They produce their candles out of a 2000 square foot workshop in Industry City in Sunset Park, Brooklyn, a hub of makers, designers, artists, and small businesses. Brooklyn Candle is a woman-founded company and all their employees earn fair wages and benefits: paid time off and subsidized healthcare, dental, and vision.
Have a baby to teen on your list have no idea what to get them? KiwiCo is a subscription box company for kids. With crates from 0-24 months to ages 14+, KiwiCo delivers monthly science and art projects starting at $13.50 that inspire kids to become creative problem solvers.
KiwiCo was created to celebrate kids' natural creativity and curiosity, while helping parents who want to bring enriching experiences to their children. We want to make it fun, easy, and delightful for families to spend time building, exploring and creating together.
KiwiCo is a team of educators, makers, engineers, and rocket scientists (yes, for real) that are constantly brainstorming ideas for the coolest things kids can build and learn about. They spend over 1,000 hours designing and testing each crate. Every project goes through multiple rounds of gathering frank feedback from lots of kids. No crate leaves The Innovation Factory without a wide-eyed, "WHOA, AWESOME!"
Photo Credit: Just like Me!
Spark a lifelong love of reading and self-discovery! Get a monthly subscription box from Just Like Me! with 2-3 children's books featuring characters of color plus fun book swag!
Just Like Me! has access to thousands African American-themed books. From classic children's books, board books, award-winning literature to books written by new authors sharing exciting new adventures, Just Like Me! handpicks items for your child each month.
Every month, Just Like Me! curates a different themed box full books and selected top-quality items to be delivered right to your front door. As the child gets older, the books become more advanced.
Born out of frustration with the "perfume graveyard" — expensive bottles of designer perfume collecting dust on your dresser or cabinet — Scentbird was created to provide an alternative that is both practical and exciting.
Each month your gift recipient will get a 30-day supply of the fragrance they want. Choose a 3, 6, or 12-month subscription. Gift subscriptions start at $44.
Scentbird also offers gift boxes 3 pre-selected luxury scents in limited-edition case colors as well as gift certificates.
Photo Credit: Clean Beauty Box
Every other month The Clean Beauty Box will deliver a themed collection of full-size products to fit the season and introduce you to the best brands without the product overload. The Clean Beauty Box ships you clean beauty that's cruelty-free and always vetted.
Clean Beauty Box offers gift subscriptions of one box, two boxes, or six boxes starting at $68. The recipient's first box will ship immediately if available or between the 1st-5th of the following month if they are currently sold out.
For the person who loves skincare, you can't do better than the BeautyFIX box from Dermstore! A $100+ value for only $24.95 per month (or $39.95 for a one-time box), Dermstore experts curate the best professional & prestige products, guaranteed 100% authentic.
Each month, receive 6+ products with over $100 total retail value. Enjoy subscriber savings & offers on full-size version of your favorites. You can make a one-time purchase of a box or sign up for a membership.
Photo Credit: Murray's Cheese
Whether you're just diving into the delicious world of fromage or you're looking to get your hands on some timeless favorites, this rotating collection 3-4 of approachable and iconic cheeses is one snackable selection that's guaranteed to please any palate. Serve them up at your next party, send them to a friend, or pair with some sweet accompaniments for a true taste of Murray's best.
Murray's is known for choosing the highest quality selections from the best international and domestic producers, and hand-picked at peak ripeness. From the most delectable cheddars and triple creams to the brightest goat cheeses and most savory washed rind wheels, we're at the top of the cheese delivery game.
Photo Credit: The Bouqs Co.
Sustainably grown, farm-fresh flowers delivered on your schedule. Pick from four different curated collections from The Bouqs Co., and choose how often you would like the deliveries to arrive.
Customize your plan: cover gifts for family, friends, and yourself with one subscription. Edit, skip, or cancel anytime. The Bouqs Co. provides freshly cut flowers sourced directly from sustainable farms so they stay fresher, longer.
As someone who has received flowers from The Bouqs Co. I can attest to the fact that the flowers are really fresh, come beautifully packaged, and seem to last longer than most other flowers I've received as a gift.
For that special dog or dog owner, BarkBox will be a well-received gift. Every BarkBox has 2 innovative toys, 2 all-natural bags of treats, and a chew, curated from each month's unique themed collection.
Boxes start at just $35 a month with free shipping and can choose whether to gift one month, three, six, or an entire year. You can also purchase gift certificate to BarkBox.
If none of these subscription boxes look like the right fit, have no fear, Cratejoy is here!
No matter your interests, experts and enthusiasts will create and curate the absolute best products for your subscription box – and then send it right to your door, on the regular. Explore what you already love or expand your horizons with something new each month! The choices are yours – and they're endless.
For women, men, kids; food, entertainment, beauty and more. You can search by their categories or enter a keyword in their search field.
Have you received any of these subscription boxes as a gift? Have you given any of them as a present? Do share your experience in the comments, or if you know of a great subscription box gift not listed here let us know all about it!