This article may contain affiliate links; if you click on a shopping link and make a purchase I may receive a commission. As an Amazon Associate, I earn from qualifying purchases.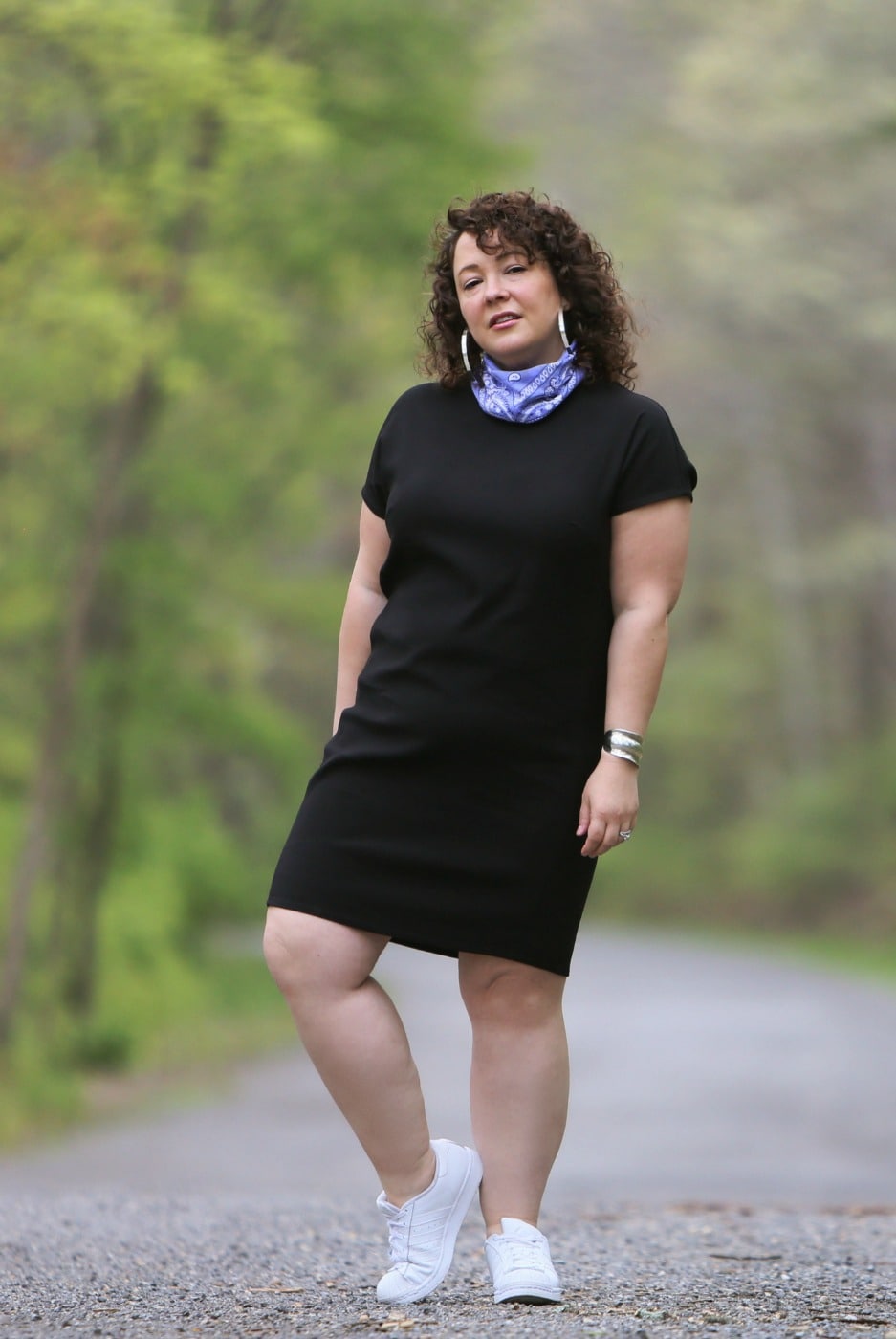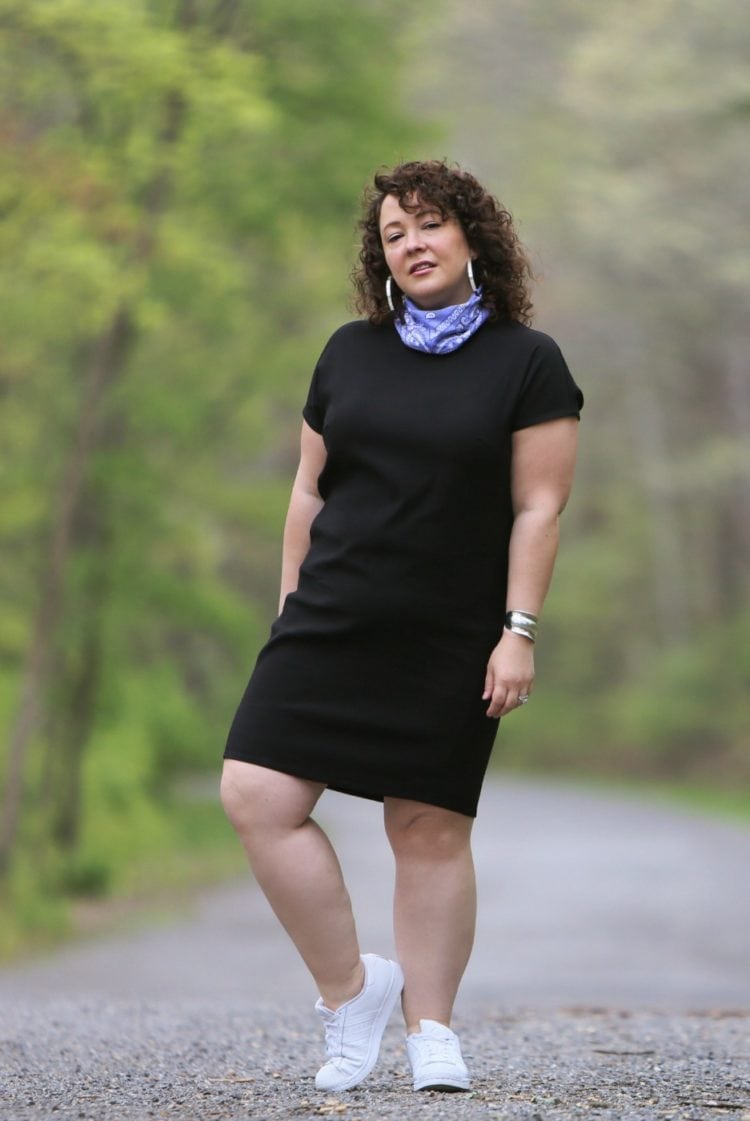 Universal Standard has a new promotion called Geo Trios.  The size-inclusive fashion brand pooled their bestsellers from each region of the United States to create three-piece trios you can purchase.  You won't know what the items are, but you know you are in good company as they are already deemed favorites from others across the country.  Universal Standard invited me to try out the Geo Trios collection for Instagram and sent me the Luxe Northeast Essentials Trio.  I decided to do a blog post about this campaign so I can answer any questions and also provide a review of the Universal Standard Geo Trios Collection and the items I received, all which I never before owned.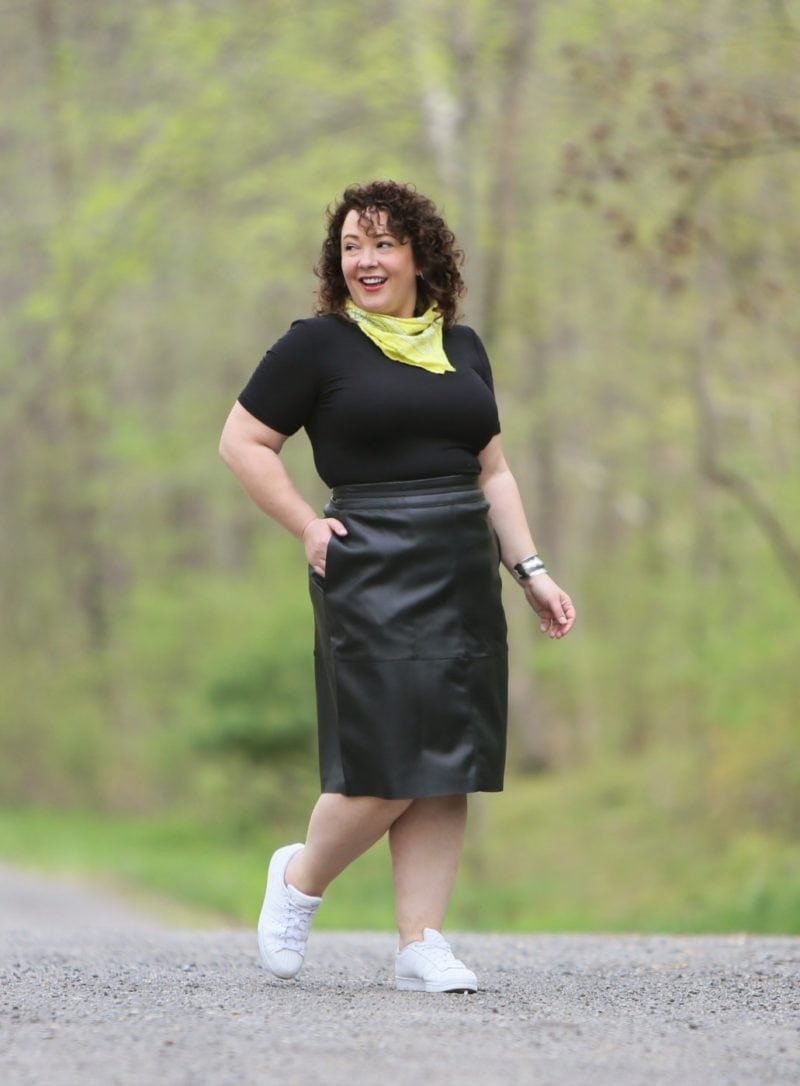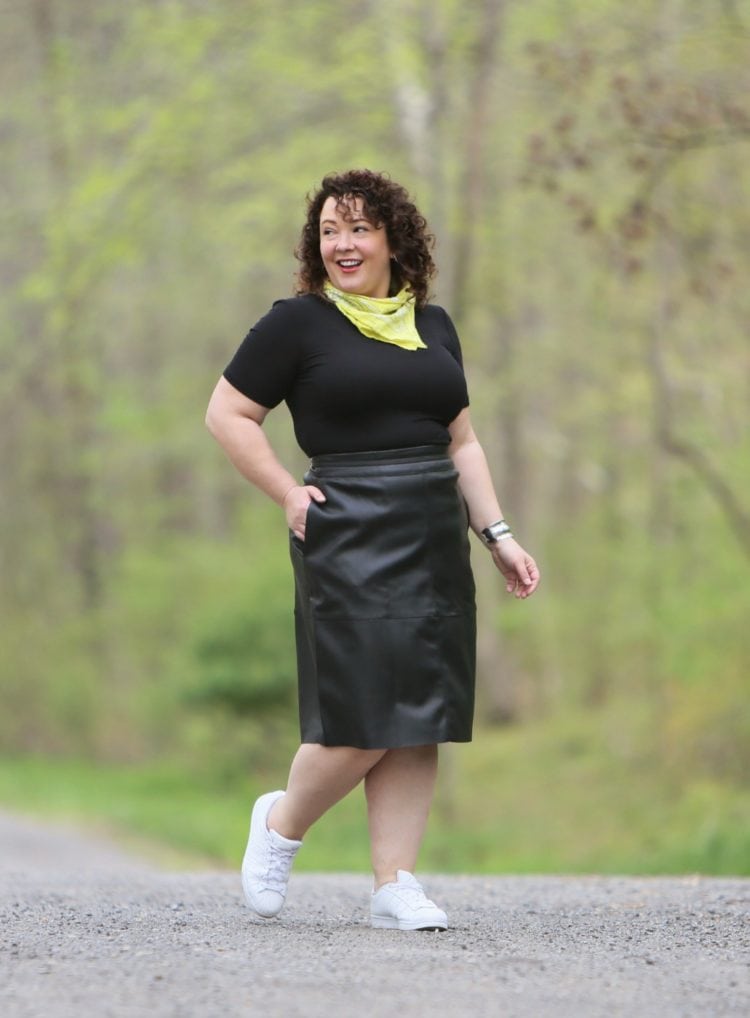 The Luxe Essentials Northeast Box which I received costs $145 yet it is valued up to $340 for the three items combined. Pick this Geo Trio and Universal Standard will pack your box with 3 staples that will work for literally any season (but especially for now). They choose from 15 very versatile, instantly elevated, and completely classic options that are the bestsellers for the Northeast region of the United States. This is just one of several boxes that are available for purchase, all boxes are available for purchase, you do not have to buy the box for where you live.  These box purchases are final sale, no returns.  US will try not to send you a duplicate of what you already own, but since it's picked from a limited selection of top sellers for the region, they cannot guarantee no repeats.  These are not outfit boxes; you may receive all dresses or all tops but will receive pieces that should incorporate nicely into your existing wardrobe.
My Luxe Essentials Northeast Box came with the Isabele Luxe Twill Sheath Dress ($150), the Taylor Vegan Leather Skirt ($100), and the Hannah Denim Shirt Dress in Black ($95) so my $145 box valued at $345. All pieces are size XS in Universal Standard which is a 10/12 (I usually wear a 12/14 in most mall brands), there were no alterations or pinning of clothing.  For all looks, I styled the pieces with my Adidas Superstar sneakers, silver earrings from Jenny Bird (all styles discontinued), and cotton bandanas that we've owned and have been getting a lot more use these days, being folded into no-sew masks.  The black top with the skirt is the Foundation Short Sleeved Crew from Universal Standard, also size XS.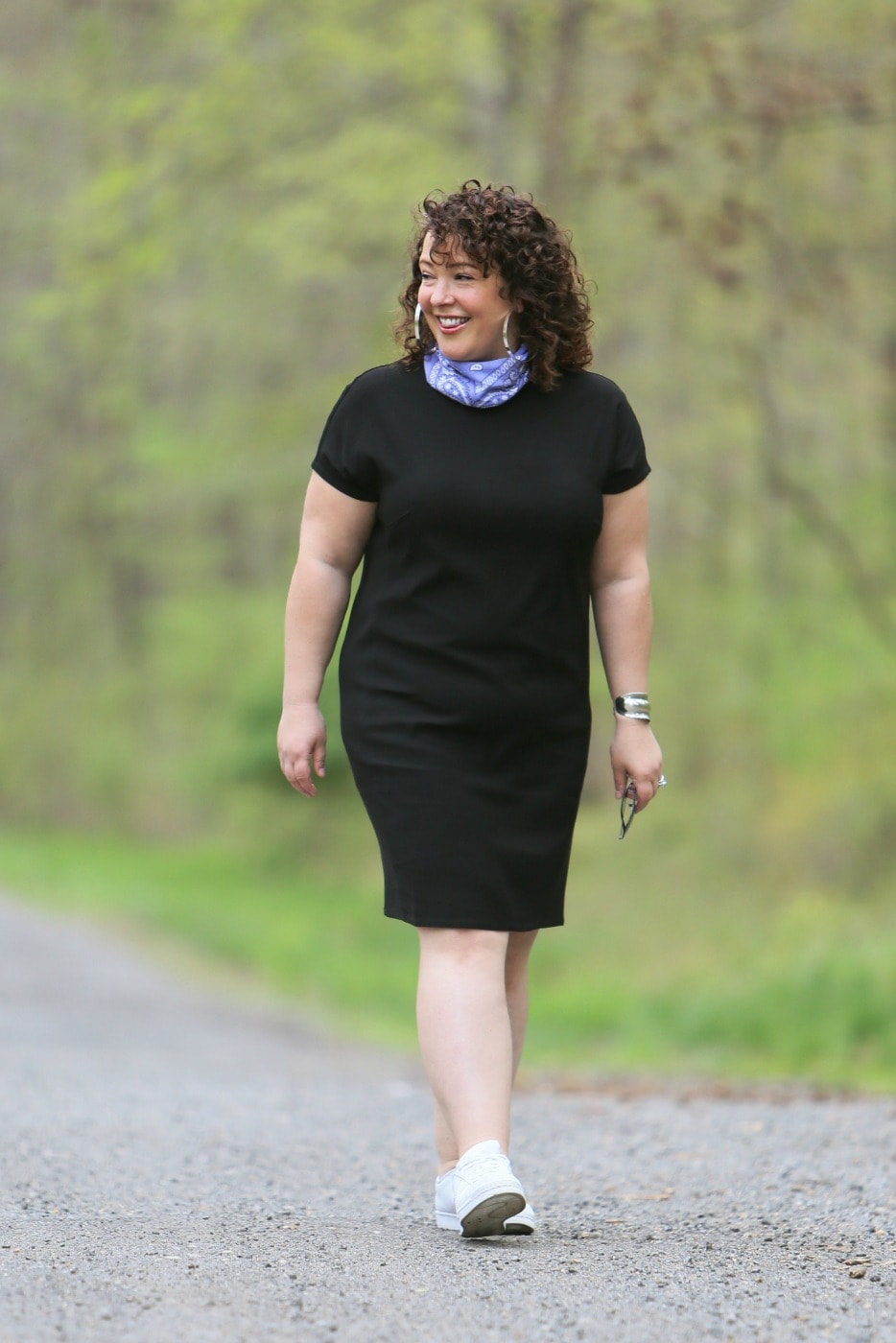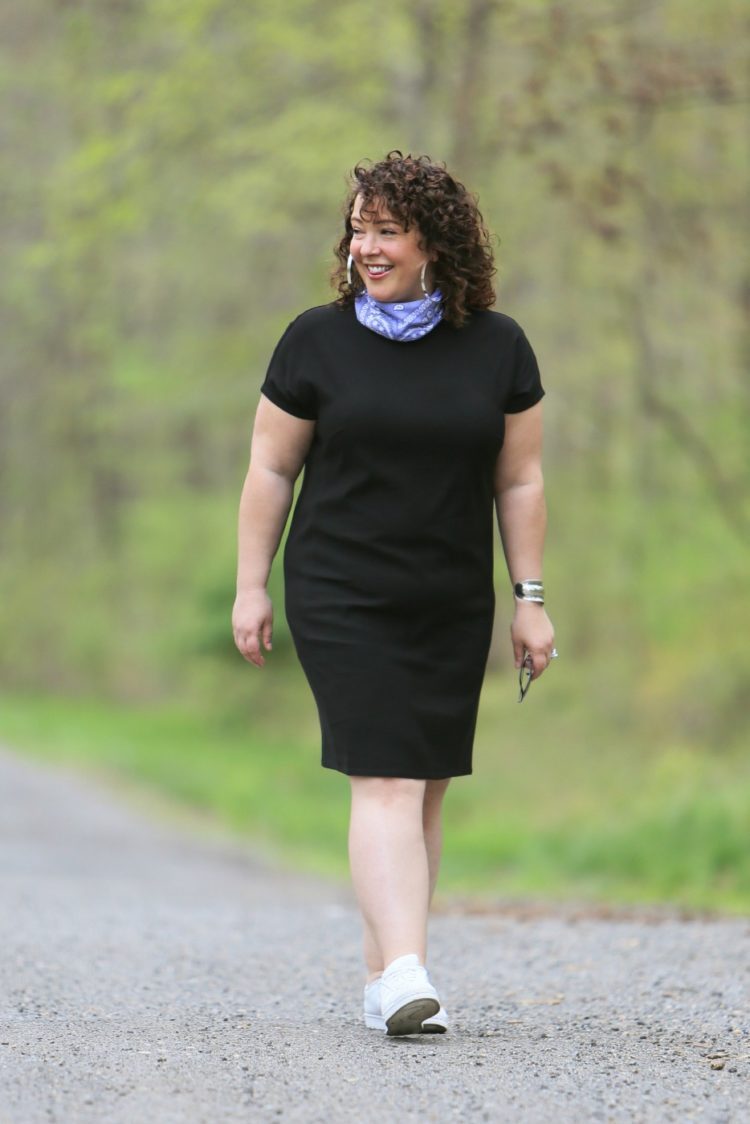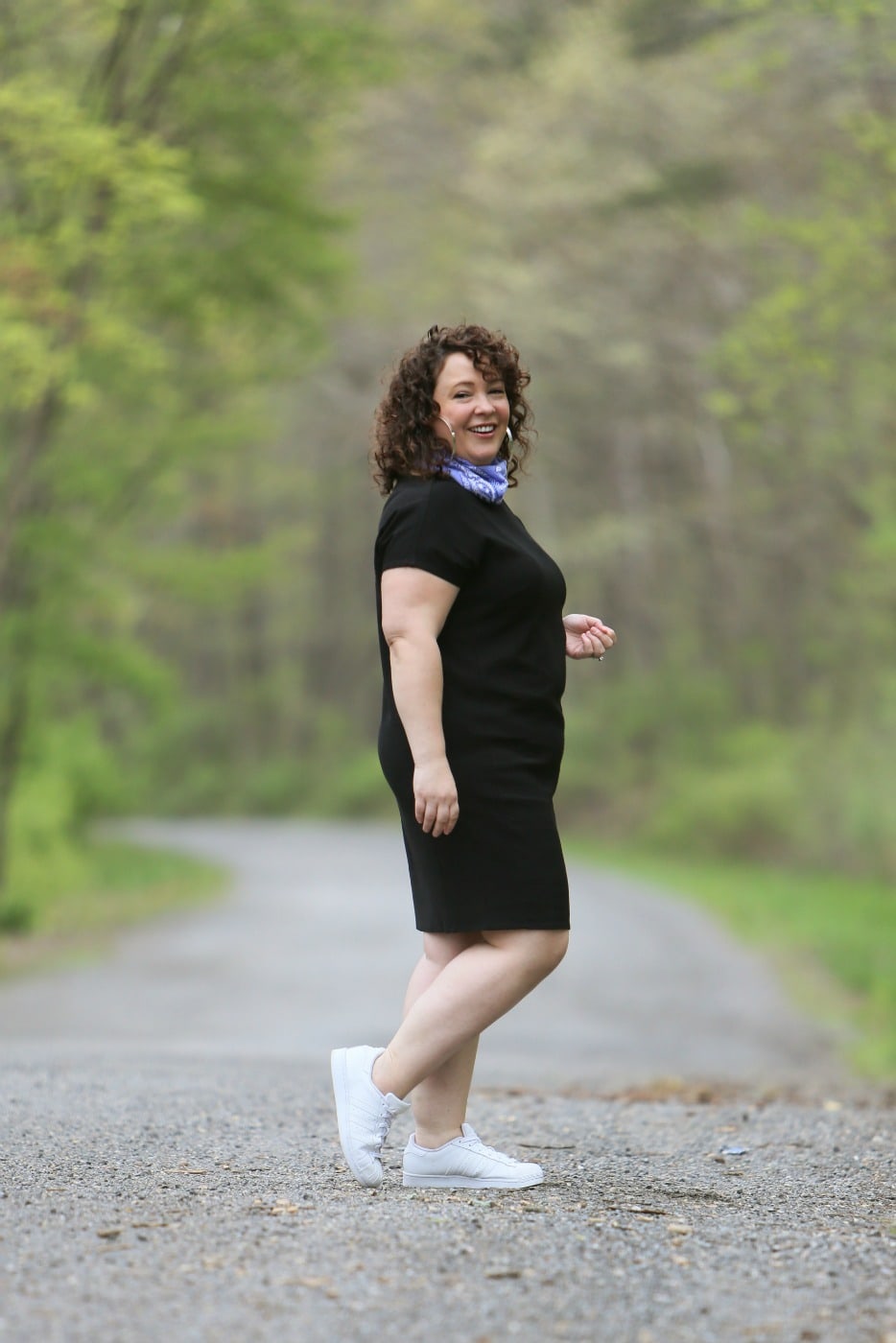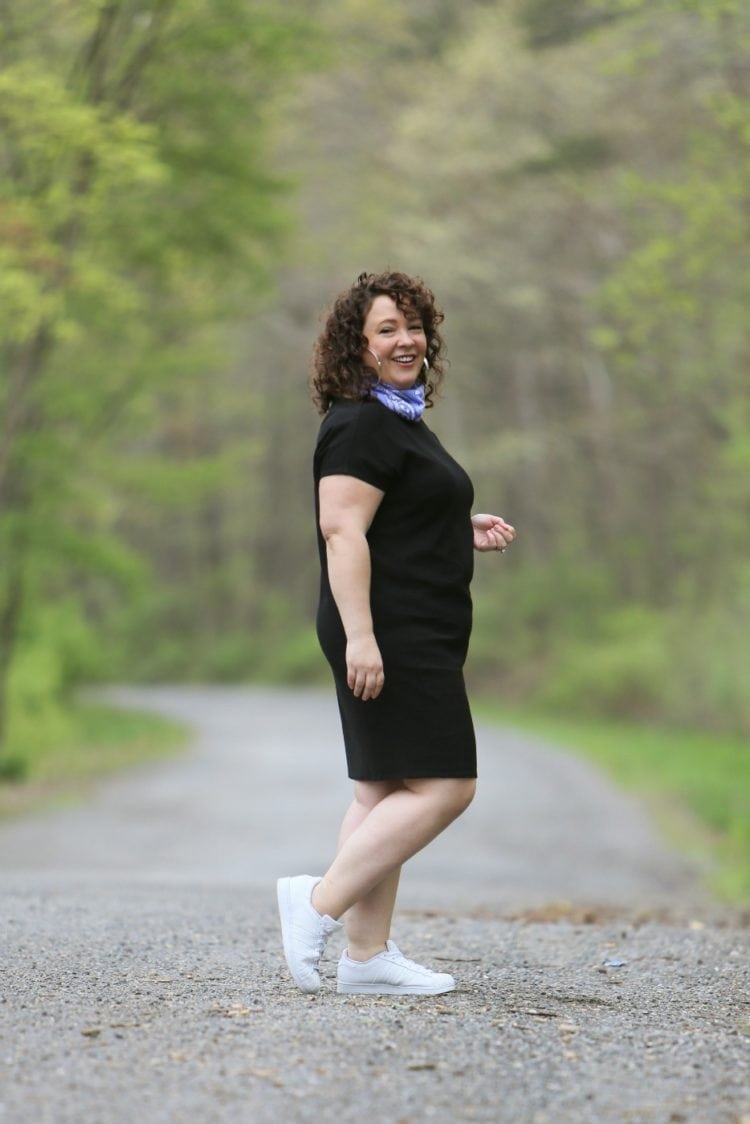 The Isabele Luxe Twill Sheath Dress never caught my eye.  I already have the Avenir dress (see it on me in this blog post) so I didn't see the need for it in black, and the pale gray it used to be available in was not my style.  I have to say I like this dress better than the Avenir.  The term twill is what dissuaded me, thinking this would be a stiff casual dress.  In fact, this fabric looks more like a suiting fabric and is backed with the softest silky fabric.  The term luxe is truly appropriate.  There is a small fabric-covered button at the neck, and this piece doesn't skim the figure yet also doesn't look like a potato sack while accommodating my curves. I recently did a closet cleanout and the Avenir made the cut, but after receiving the Isabele, I plan on getting rid of the Avenir and replacing it with this new dress.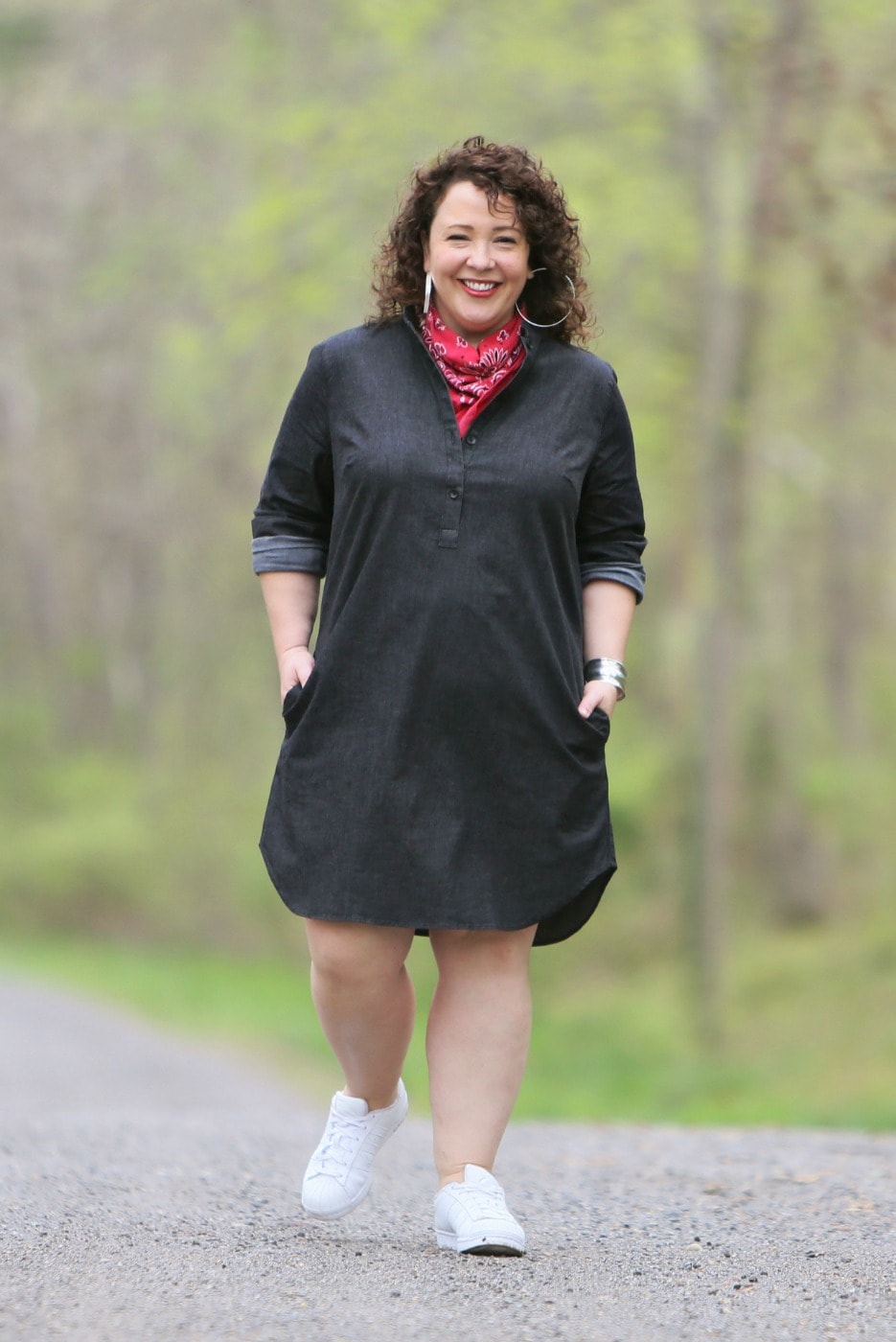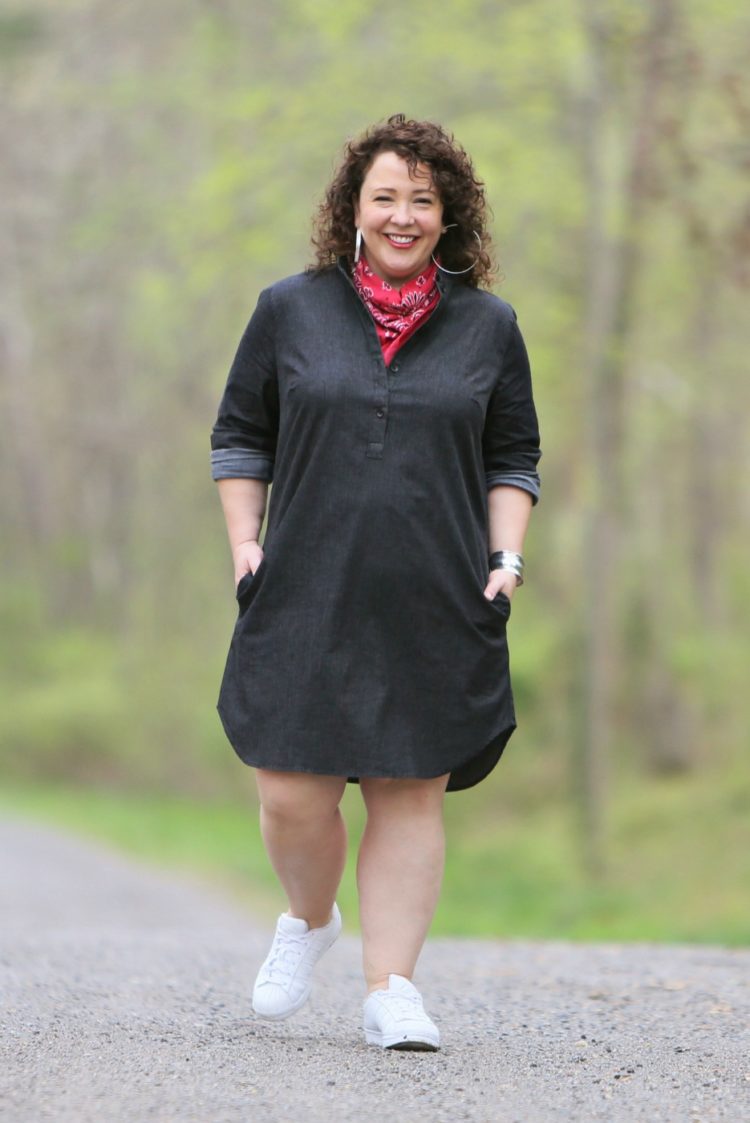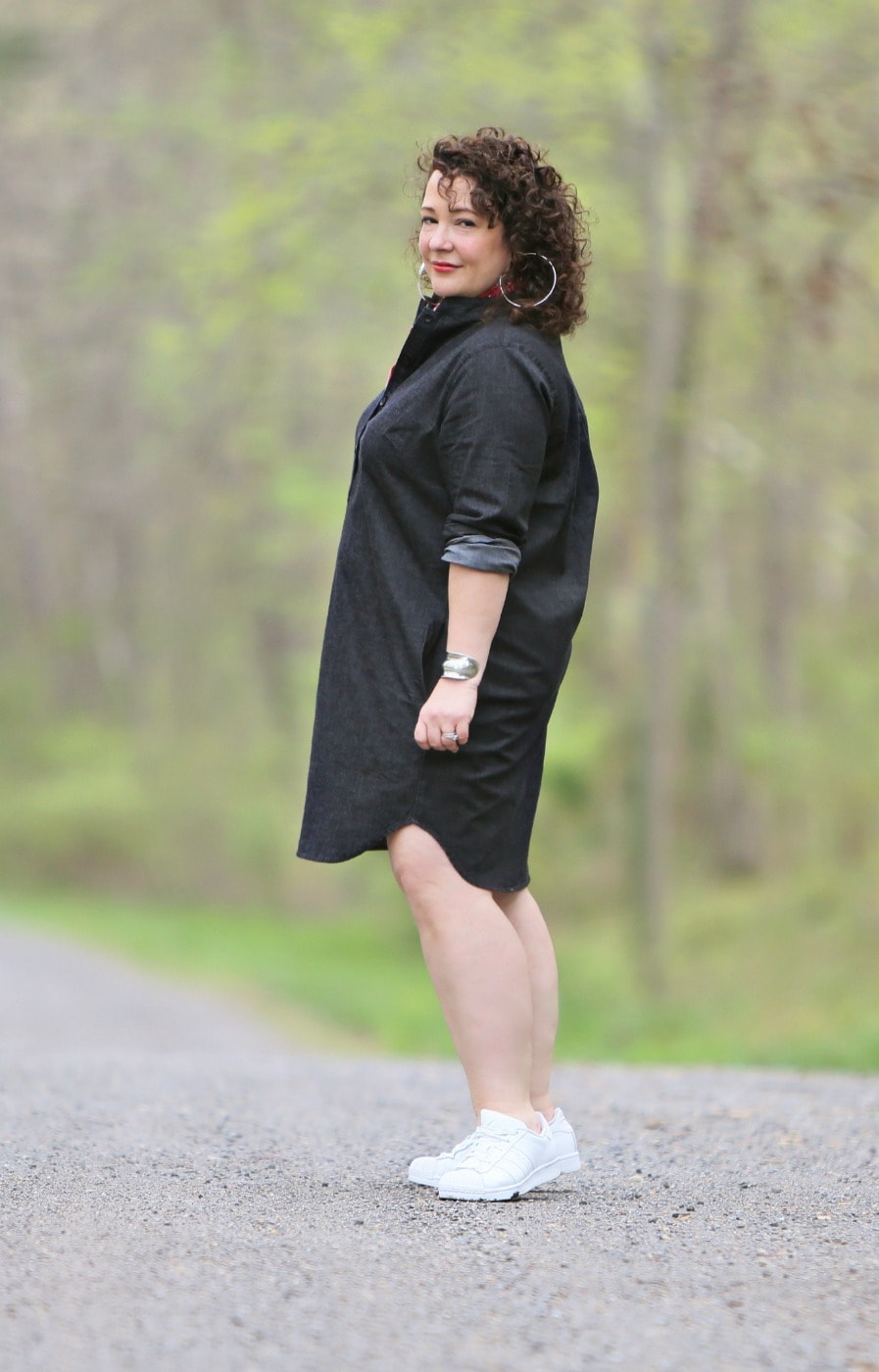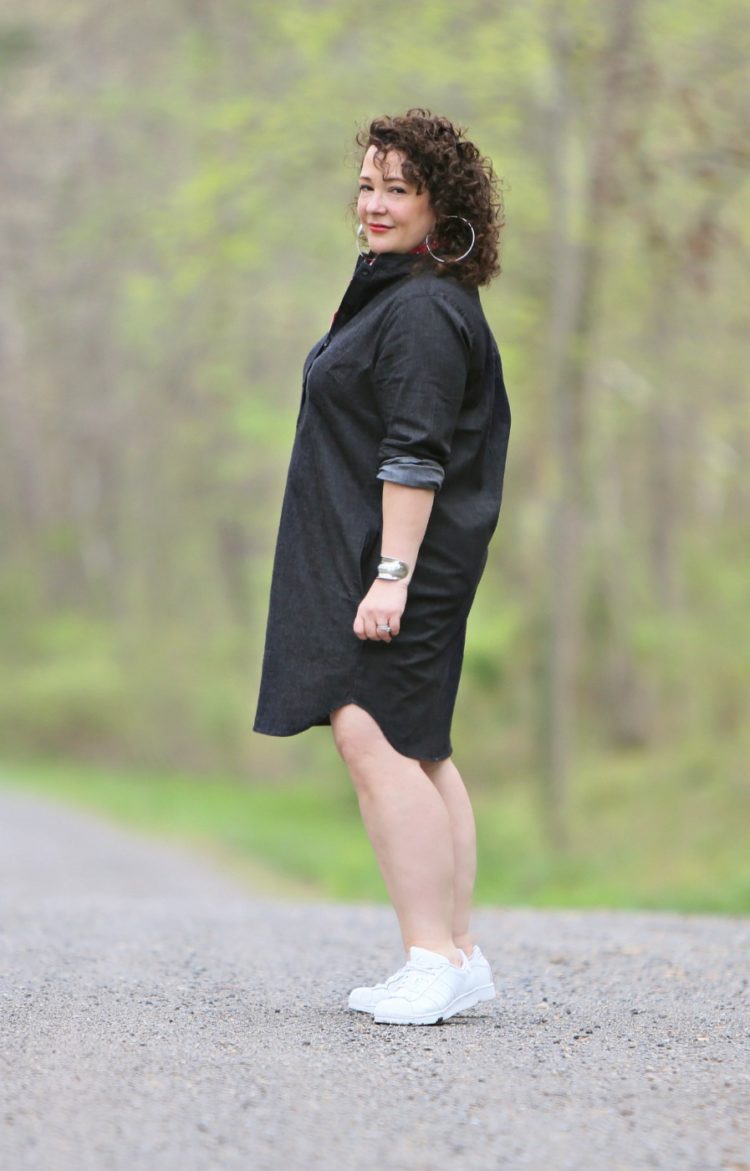 I am 5'3″ and when I saw the Hannah Denim Shirt Dress months ago on the US site I immediately dismissed it.  I'd look like a shrunken wacky art teacher in this, envisioning stiff denim and a tent-like effect with too-long sleeves.  The only thing I was right about was the length of the sleeves, but I like cuffing my sleeves on everything, even pieces that fit my petite arms.  This fabric isn't as soft as chambray, but it's still soft enough that doesn't make the dress tent from my breasts. The banded collar keeps the neck from grazing my ears like many shirtdresses, and I love the deep pockets.  The popover style with buttons only to the bust allows customization without worrying about flashing everyone when you sit down.  The length may feel a bit short to some, after this shoot I put this dress back on with the Soma Essential Leggings and thought the Hannah Shirt Dress was a really cute look while also being comfortable enough to work at my desk, for a while at my desk, and now on the living room couch.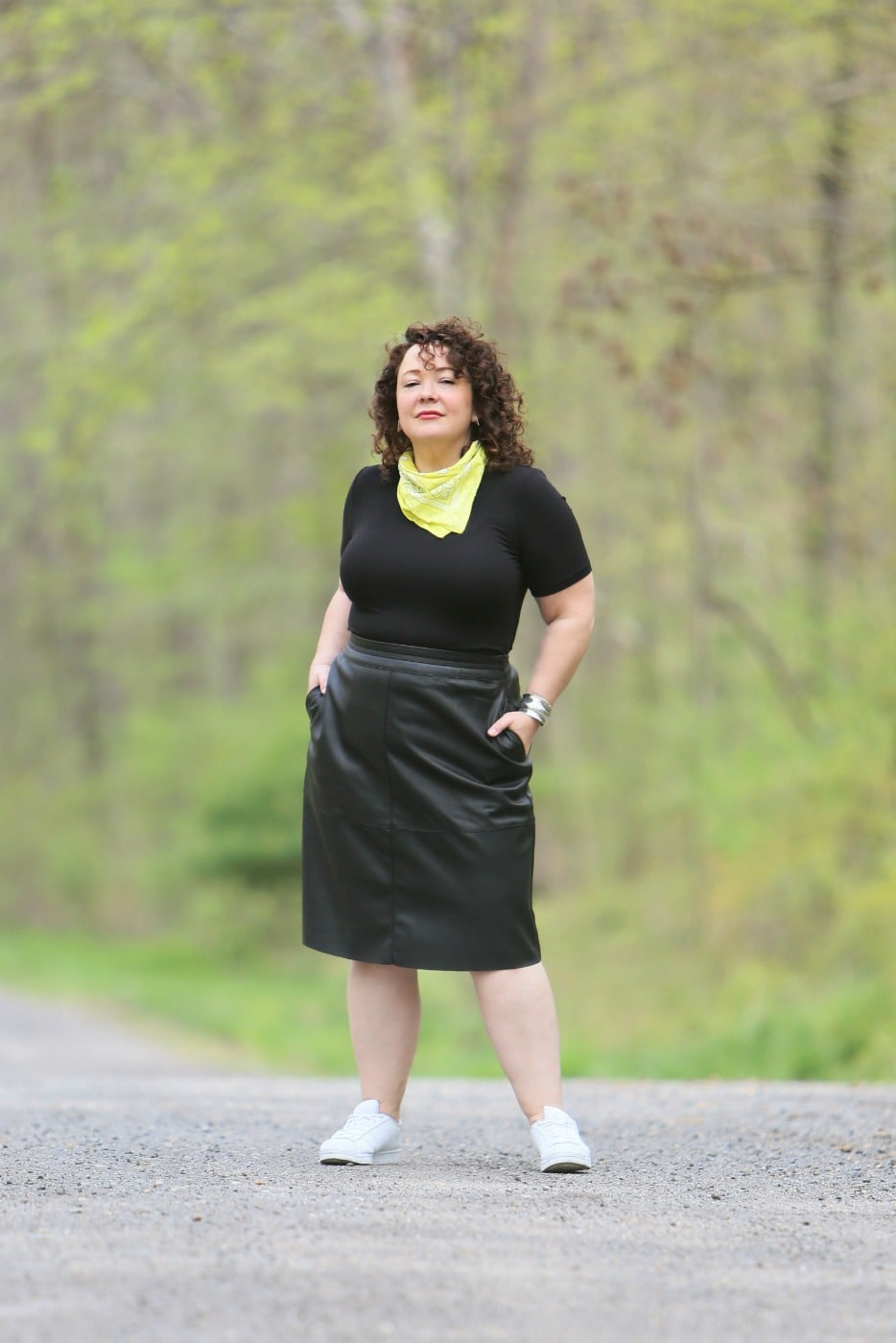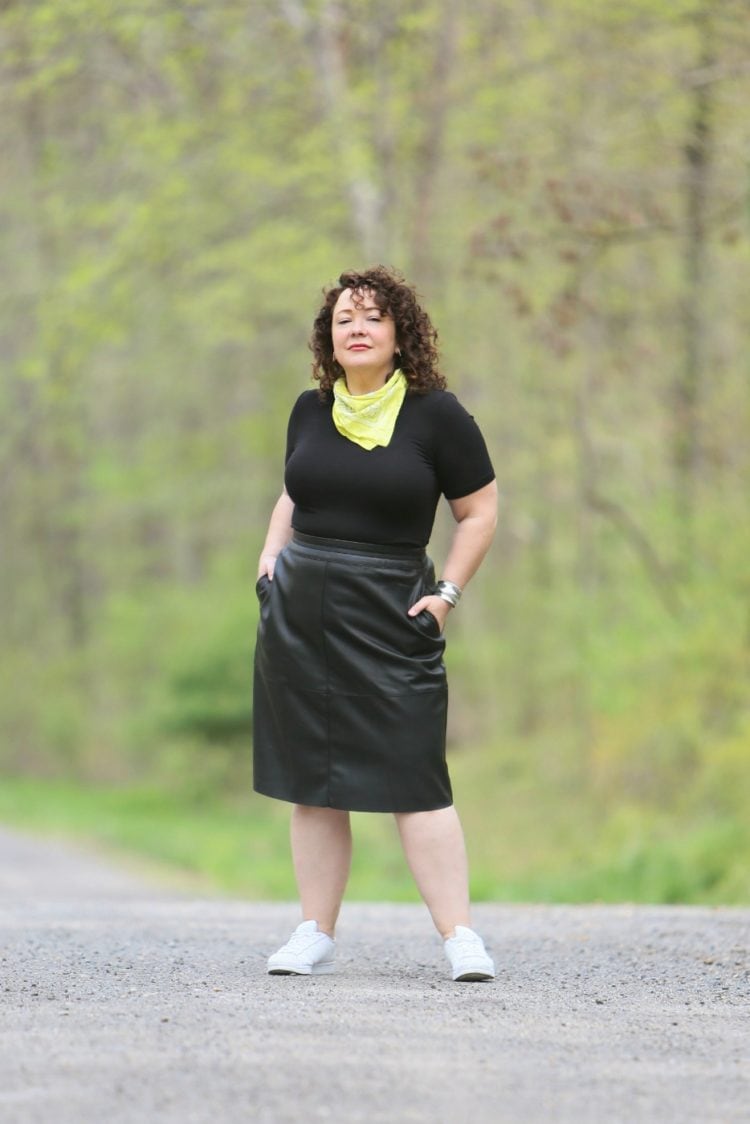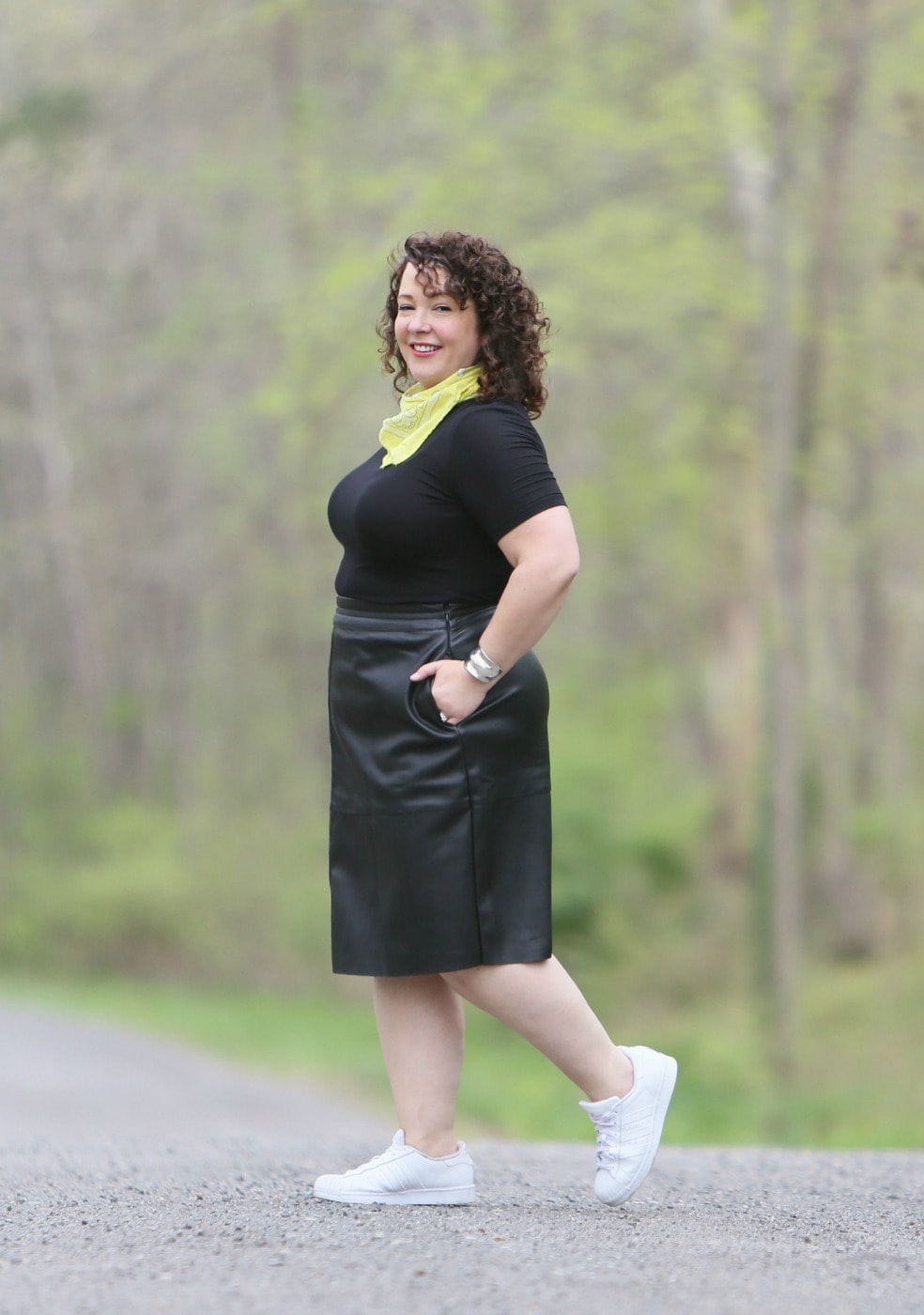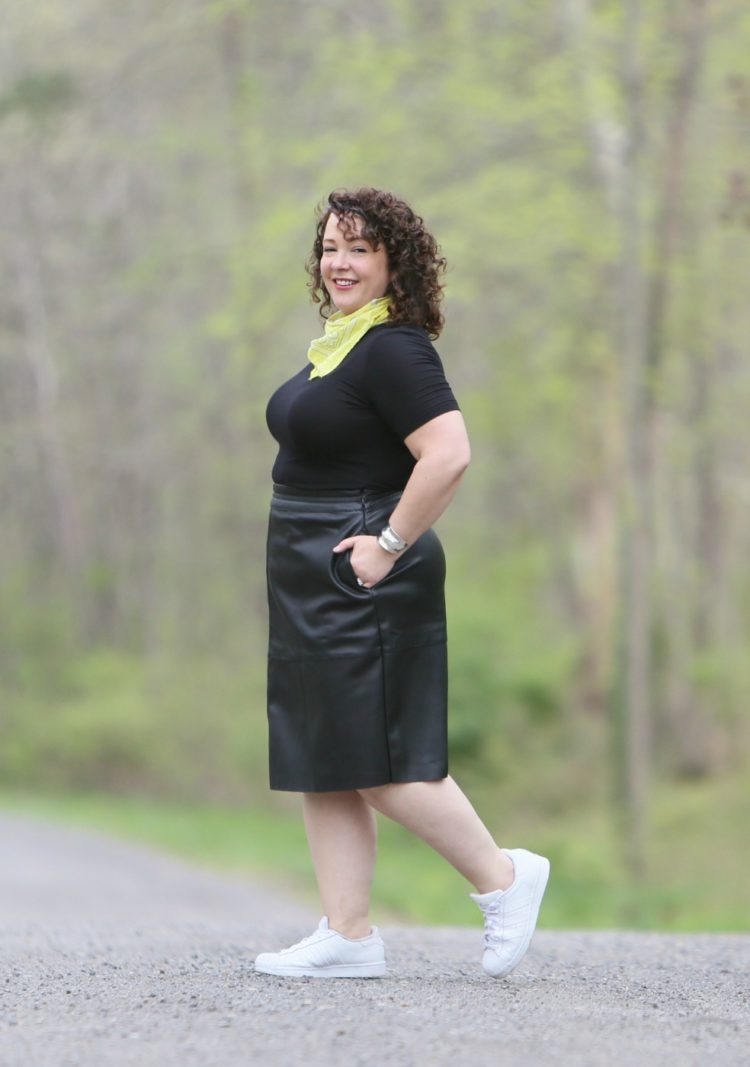 I've been admiring the vegan leather skirts from Universal Standard, especially the Taylor Skirt, always loving the look of a leather skirt but finding them to never work with my soft belly and round rear. After my closet cleanout, I decided to stop thinking about one of these skirts, finding I don't wear the skirts I already own.  So it made me chuckle to find this skirt in my Geo Trios box. This is a really nice skirt; if you're a leather snob like me and think $100 is a lot for a faux leather skirt, you must try this. It's such high quality, so soft, not too shiny and not too rubbery, lots of attention to detail.  While most skirts looks like lampshades on me from the side because they tent out from my belly and bum, the Taylor Vegan Leather Skirt looks really good.  I am too short for this skirt, but it has an unfinished hem and would be easy for someone with sewing skills or a tailor to shorten. I appreciate the multiple seams on the waistband to keep it from folding over, the pockets, and the zipper setup.  I won't be keeping this skirt as I don't think it will get enough wear from me personally, but I like this skirt very much and recommend it.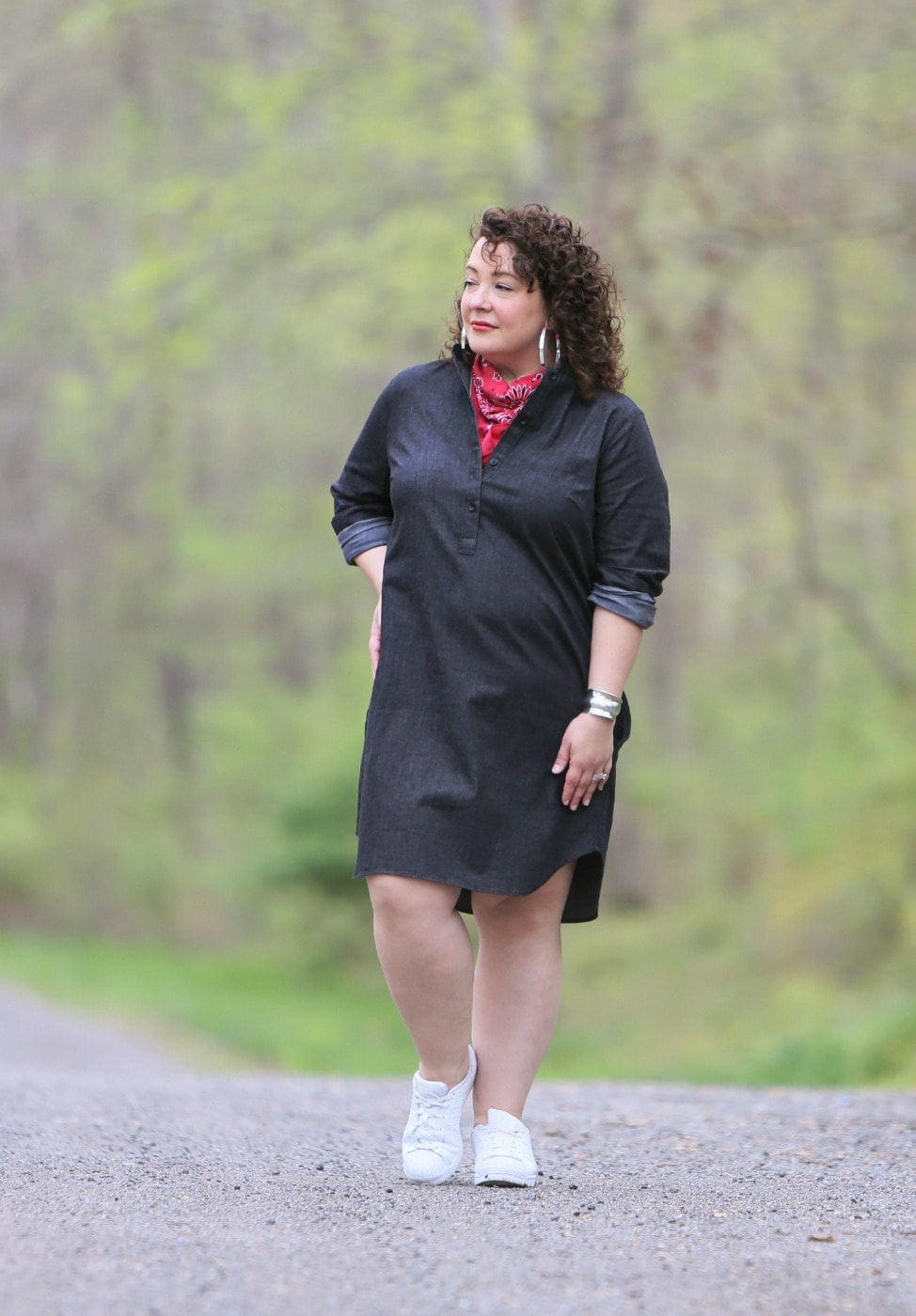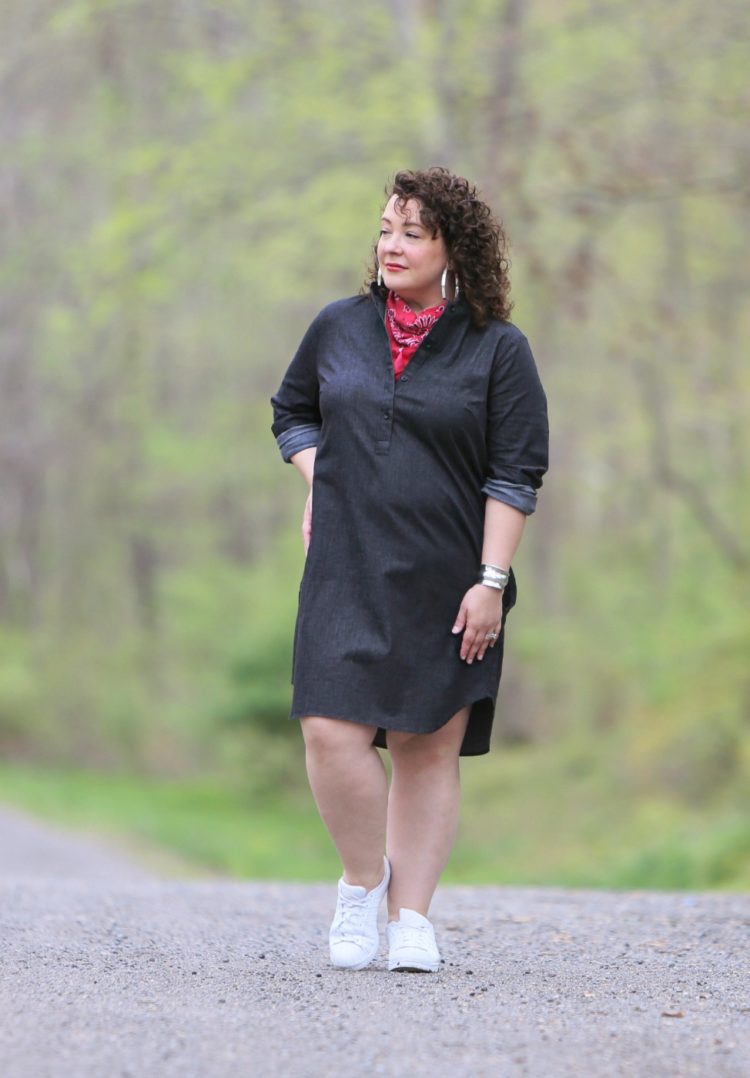 Let me know if you have any questions regarding these pieces, this promotion, or the brand in general.  As always, I am happy to answer any question honestly.  While I received my Geo Trios box for free and Universal Standard sponsored me to share this promo on Instagram, I chose to write this blog post and all thoughts are honest and my own.
Shop the Post: