This article may contain affiliate links; if you click on a shopping link and make a purchase I may receive a commission. As an Amazon Associate, I earn from qualifying purchases.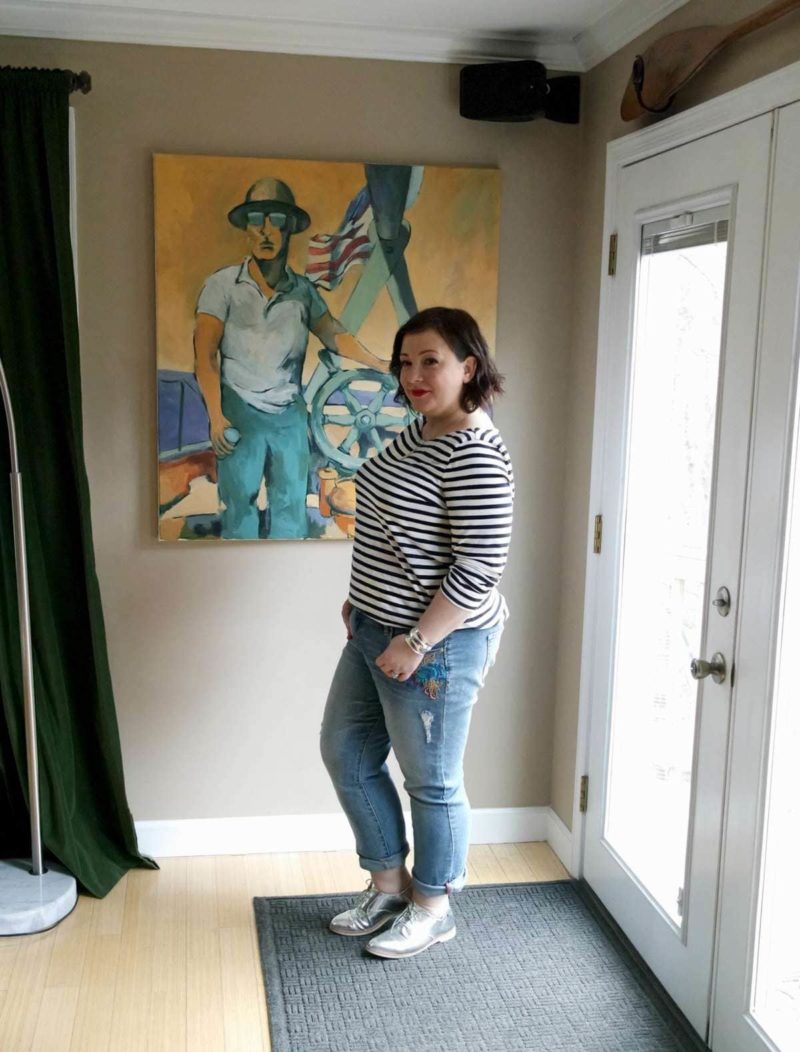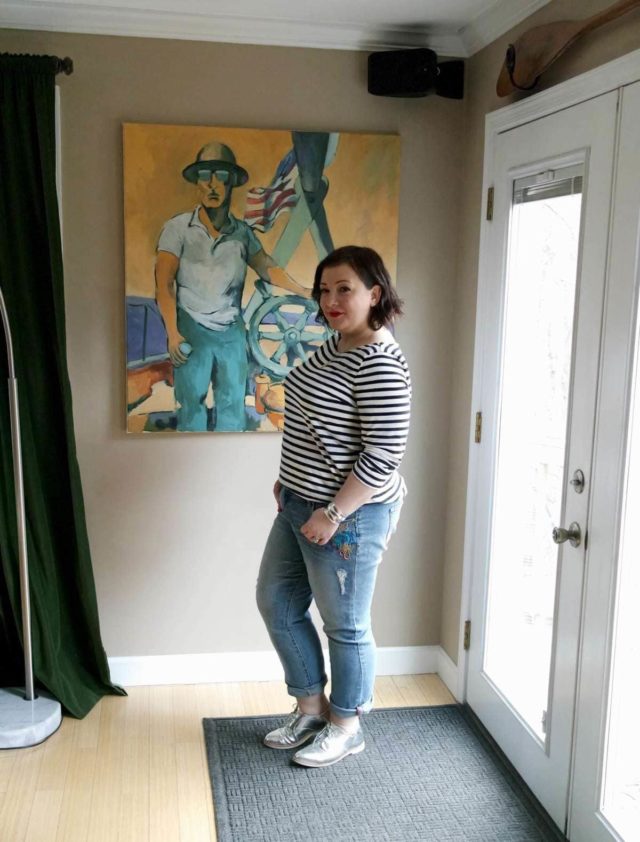 tee | jeans | bracelet | shoes | lipstick | necklace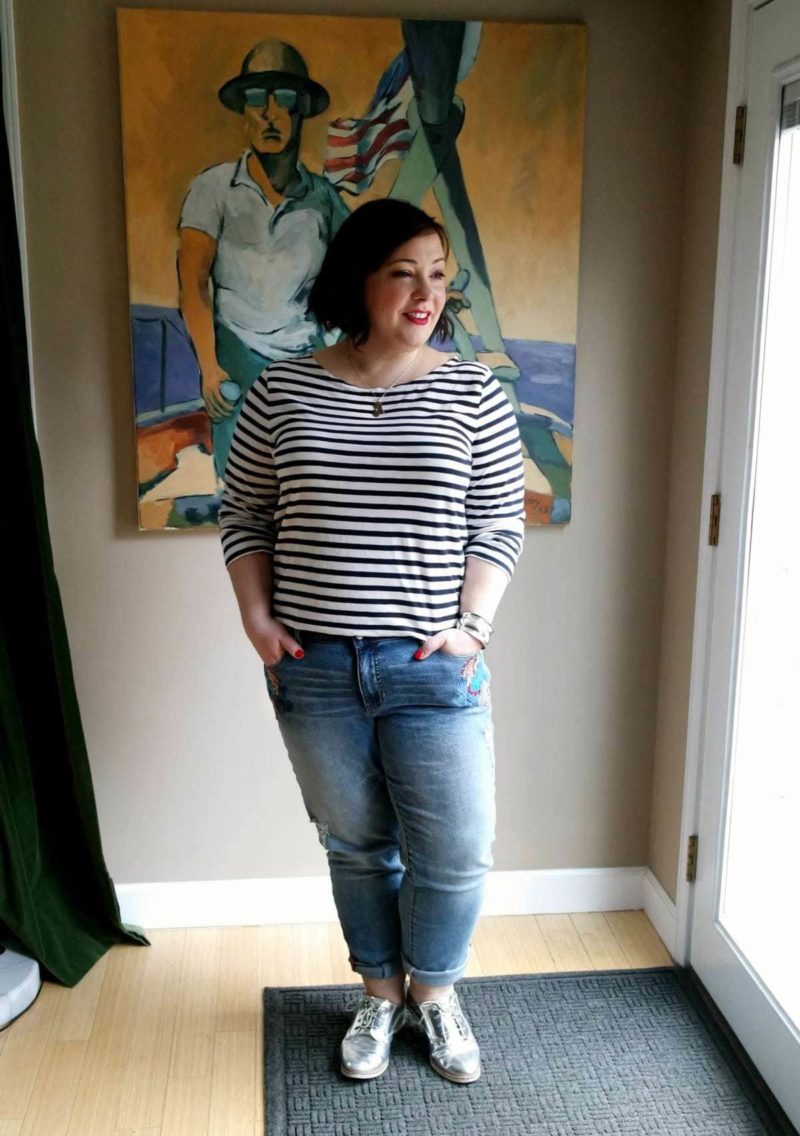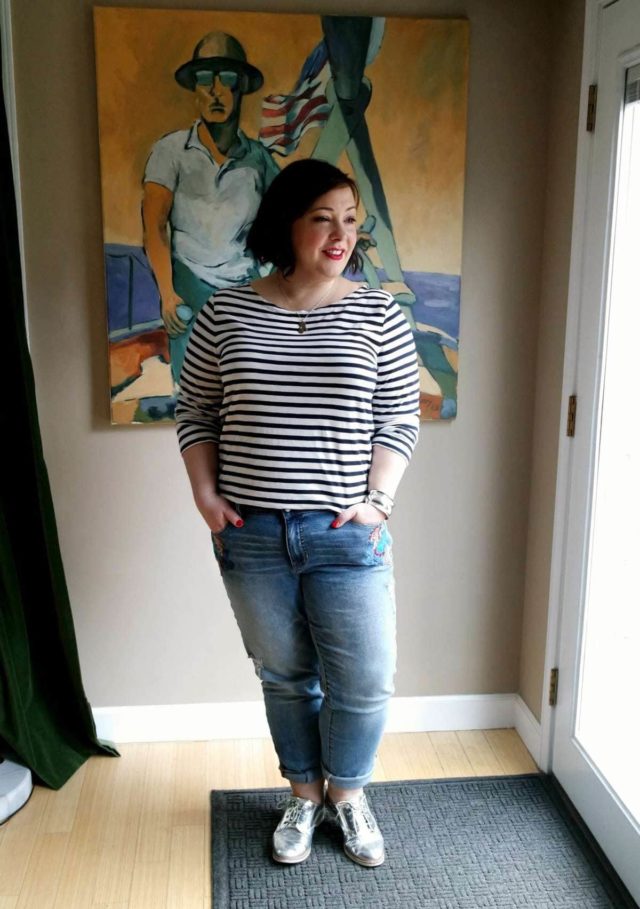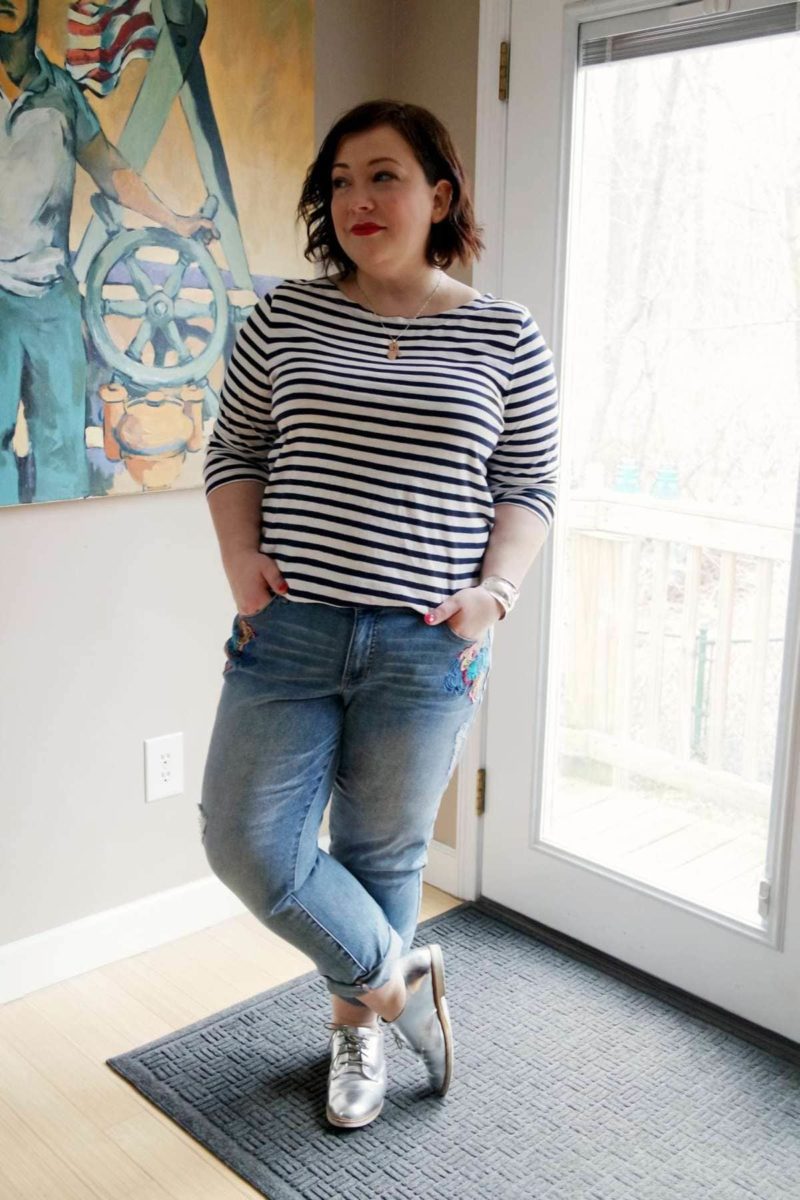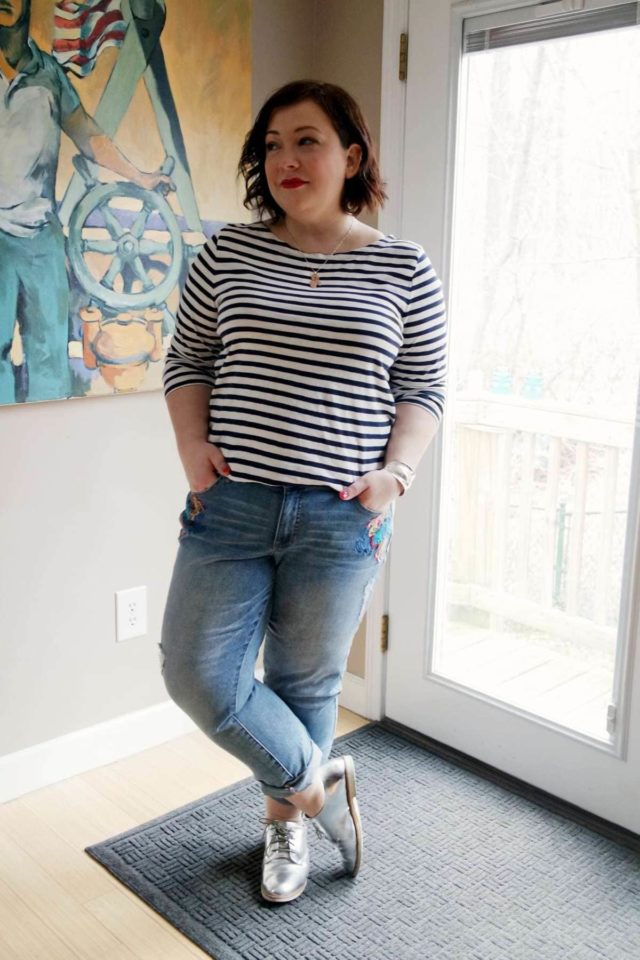 Tee: J. Crew (XL) | Jeans: c/o JAG Jeans (12) | Bracelet: Had forever (similar) | Shoes: Bass (similar) | Necklace: Etsy | Lipstick: Le Carmin c/o Lancome
On the weekends you'll be likely to find me in one of my favorite striped tees and slouchy or stretchy jeans.  Add some shiny shoes and red lips and I feel put together though honestly I'm only a couple steps from being in my pajamas.  JAG Jeans sent me these embroidered boyfriend jeans after I saw them on their Instagram account and swooned.  These jeans run big and long; I recommend going down a size because they are uber stretchy, will stretch with wear, and don't shrink in the dryer.  They also were too long for my 5'3″ self so I did what I do with many jeans that are supposed to be cuffed and ankle length – I cut them off.  I snipped off a few inches and then I sort of tight rolled them by folding over before cuffing to make them tapered and not really focusing on the cuffs being perfect.  A regular roll makes many jeans look too wide and dumpy on me, especially with my sturdy legs and solid ankles.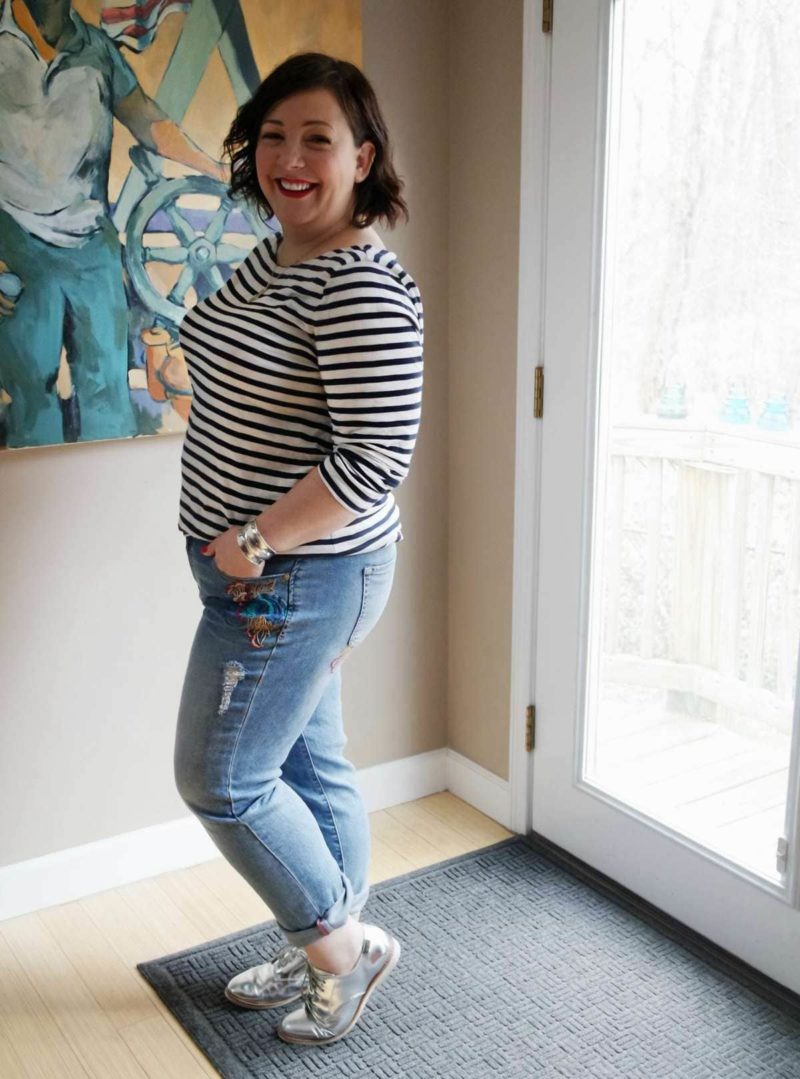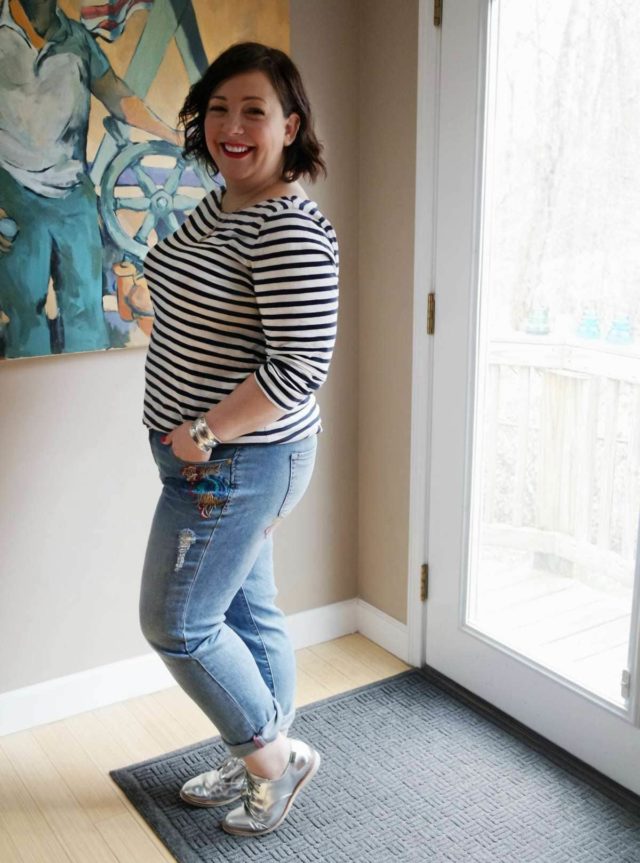 If you find boyfriend, girlfriend, or cuffed ankle jeans look wonky, frumpy, or stumpy on you play around with the cuffs.  There is no one specific trendy way jeans need to be cuffed these days.  You can have a skinny cuff, crisp even cuffs, a single cuff, a really wide cuff, or even tight roll the ends very similar to how I and I bet many of you wore your jeans back in the late '80s and early '90s.  Ankle and cropped pant flattery is a matter of proportions – the height of the pant, the width of the cuff, the style of the shoe.  Have fun with it, play with it, and if it seems like too much trouble, don't adopt this trend.  That's another great thing about fashion right now – there's no trends that you have to adopt to be stylish.  Wear what makes you feel good!