This article may contain affiliate links; if you click on a shopping link and make a purchase I may receive a commission. As an Amazon Associate, I earn from qualifying purchases.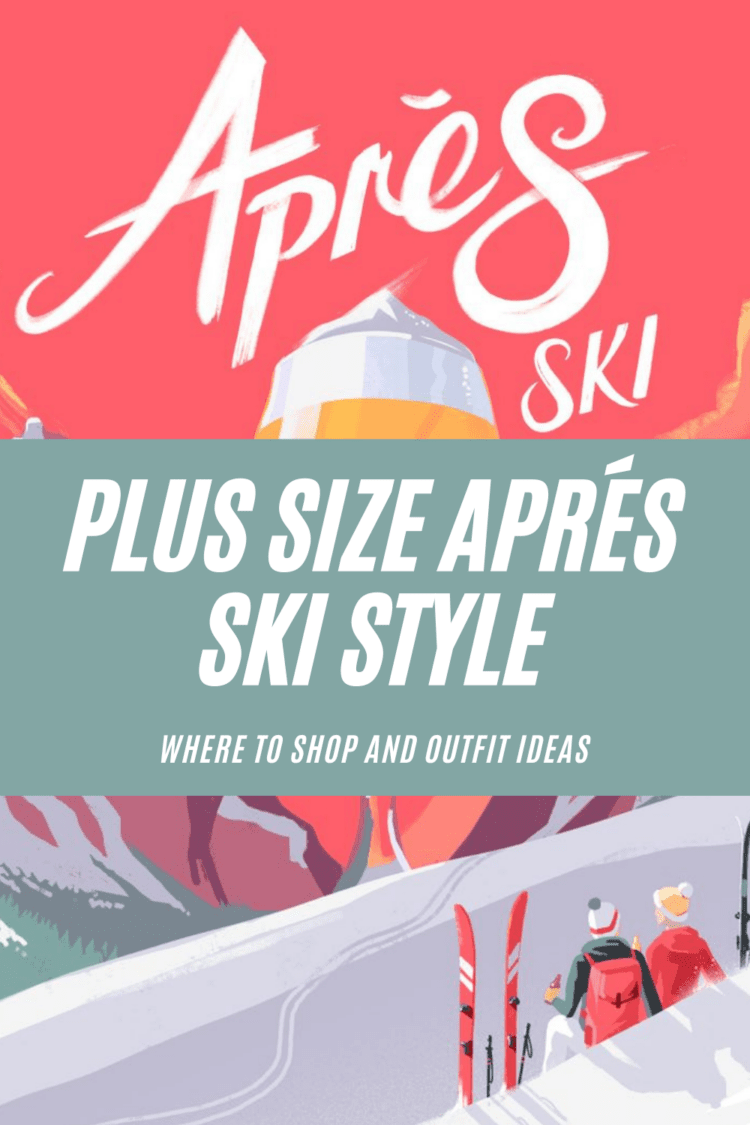 Recently, I was invited to an event by a friend and the dress code was après ski. How to dress après ski especially when you haven't skied since elementary school? How to dress après ski when you are plus sized or need extended sizes and a lot of the trendy après ski looks don't come in your size? Here, I share what I wore to this event, and other looks that I considered or pulled together that would be perfect for aprés ski and all are available in extended and/or plus sizes.
Why is Après Ski Fashion Popular Right Now?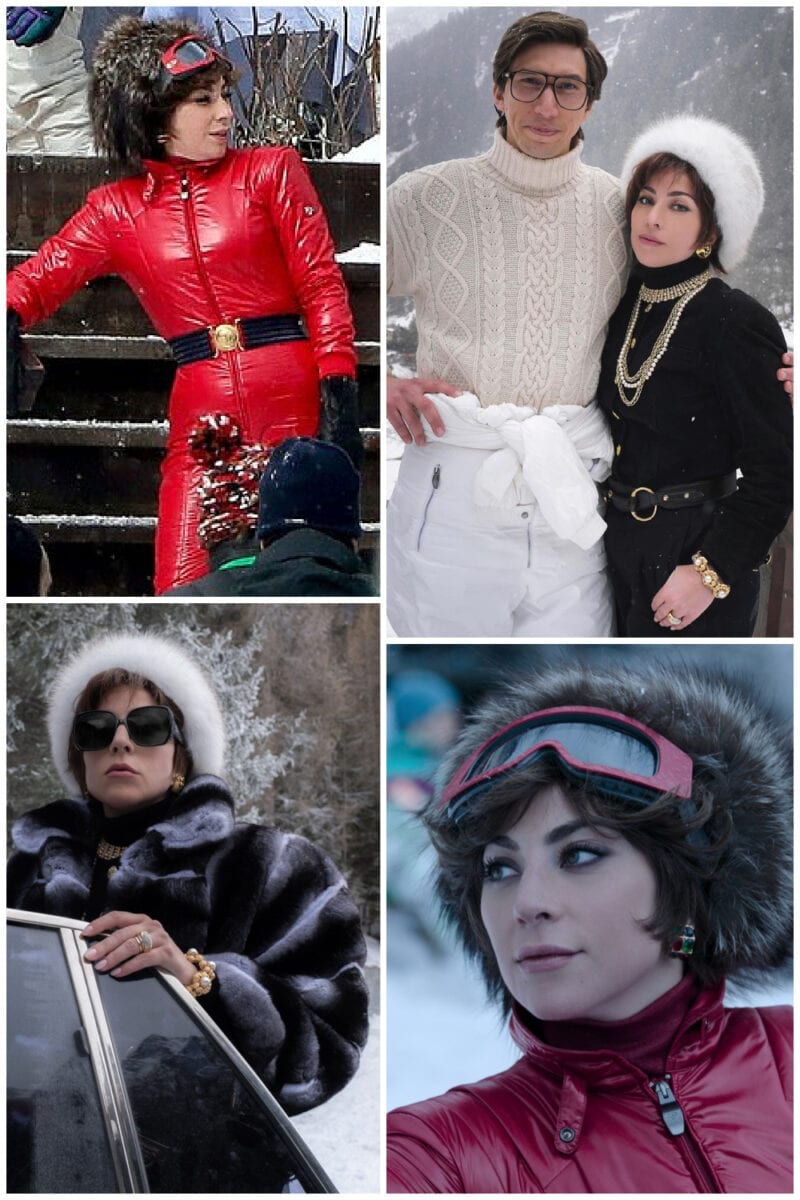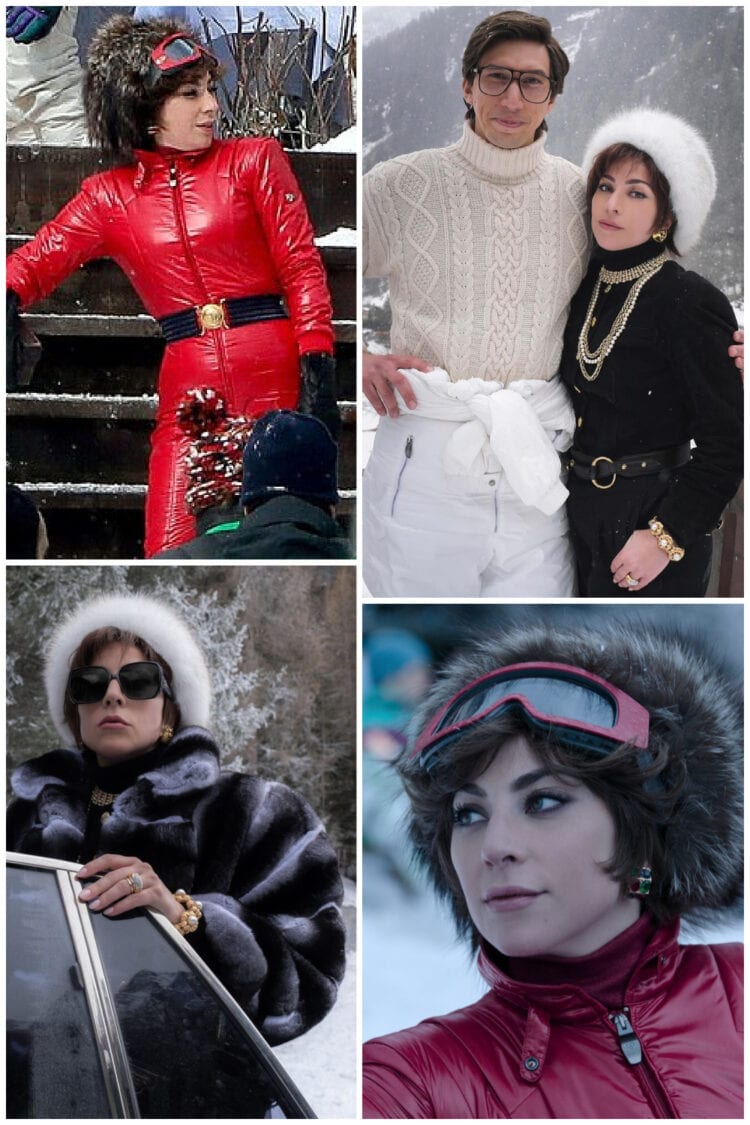 If you haven't noticed, the après ski fashion trend is hot this season. Possibly inspired by Lady Gaga's outfits in House of Gucci, maybe because skiing is an outdoor COVID-safe activity, and possibly with a dash of how the '90s and '00s are back.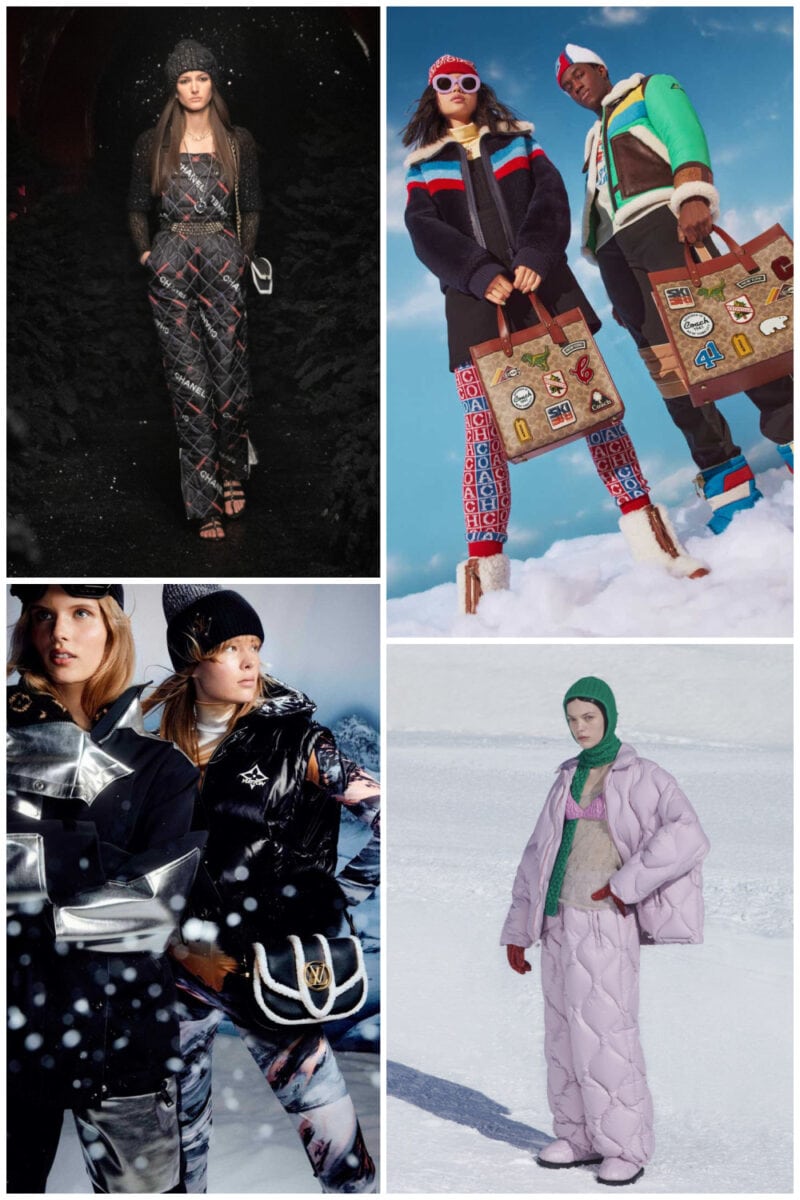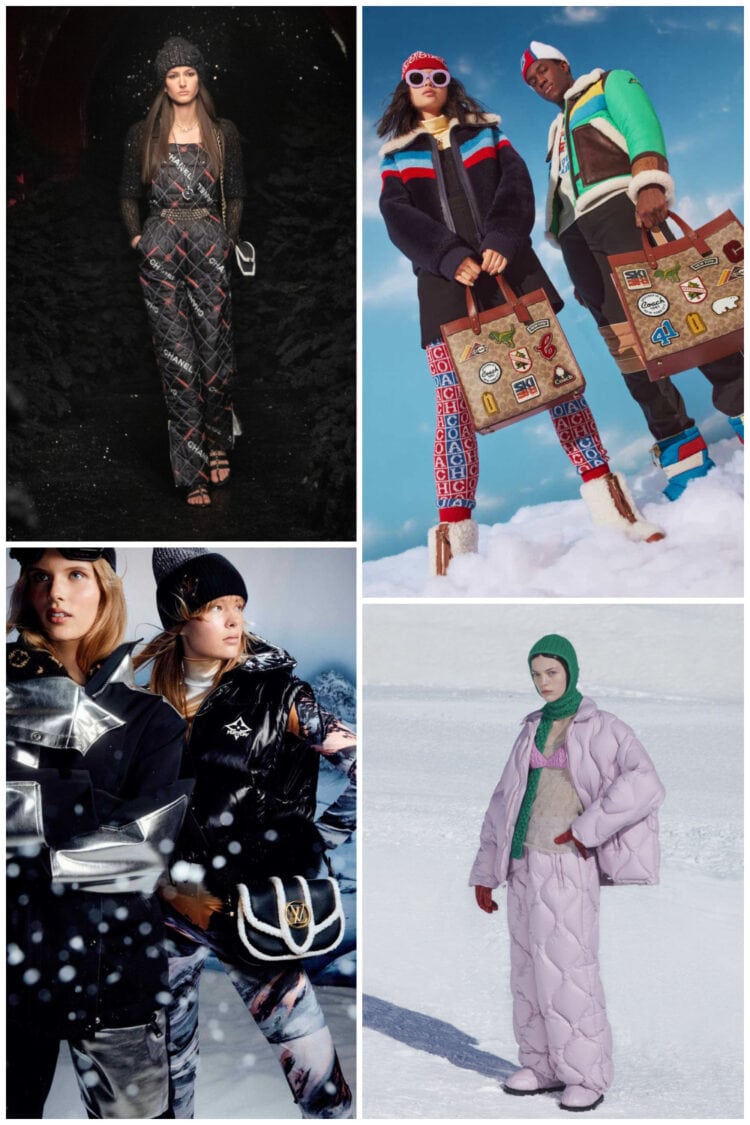 But a quick glance at the current looks from designers like Chanel, Louis Vuitton, and Coach and you'll see plenty of après ski inspiration. Not only that, there have been many designer/outdoor apparel collaborations as of recent, focusing on cold-weather fashion. For example, Eddie Bauer collaborated with Baja East and Gucci collaborated with North Face.
What is Après Ski Attire?
Après ski translates to after ski; this is what is worn after a day on the slopes and it can truly run the gamut with warmth and coziness as the underlying theme. It's what is worn in the lodge when relaxing, socializing, dining, or having a cocktail or warm mug of cocoa. Very often this look is a hybrid of what was worn skiing with cozy luxe streetwear or athleisure.
An après ski look can be anything from what was worn on the slopes, replacing ski boots with something more appropriate indoors, to a full-on glam look that is still comfortable and appropriate for lounging by the fireside. Some folks will keep on their ski looks and just add some comfy furry boots, while others will put on a sweater with jeans. Many, especially now that après ski fashion is a trend, will combine that coziness with sparkle and luxury. Accessories like beanie hats are often worn indoors to keep cozy, but to also hide a mussed hair style from a day out on the slopes.
With après ski being a hot fashion trend, there are many different ways that folks translate this trend. Some stay classic with Fair Isle sweaters and furry boots, others go retro with belted ski suits and moon boots. Others enjoy the glam aspect of après ski and mix in fur vests, sequin-embellished pieces, leather, and cashmere.
Accessories truly help you achieve après ski fashion. Beanies are a classic, and are paired with either a pair of goggles over the brim, or oversized sunglasses for when outdoors. Cozy boots complete a look – moon boots are back, furry or fur-trimmed boots evoke a ski lodge vibe, and even a classic pair of UGGs can give après ski vibes. If you need a purse, consider one that has a more utilitarian and activity vibe; a belt bag is a perfect choice for an après ski ensemble.
If you are looking to get the après ski look skiing ahead of time, read on for some wearable après ski fashion from brands that offer extended sizing or else a range of straight and plus sizes.
What I Wore for an Après Ski Dress Code Event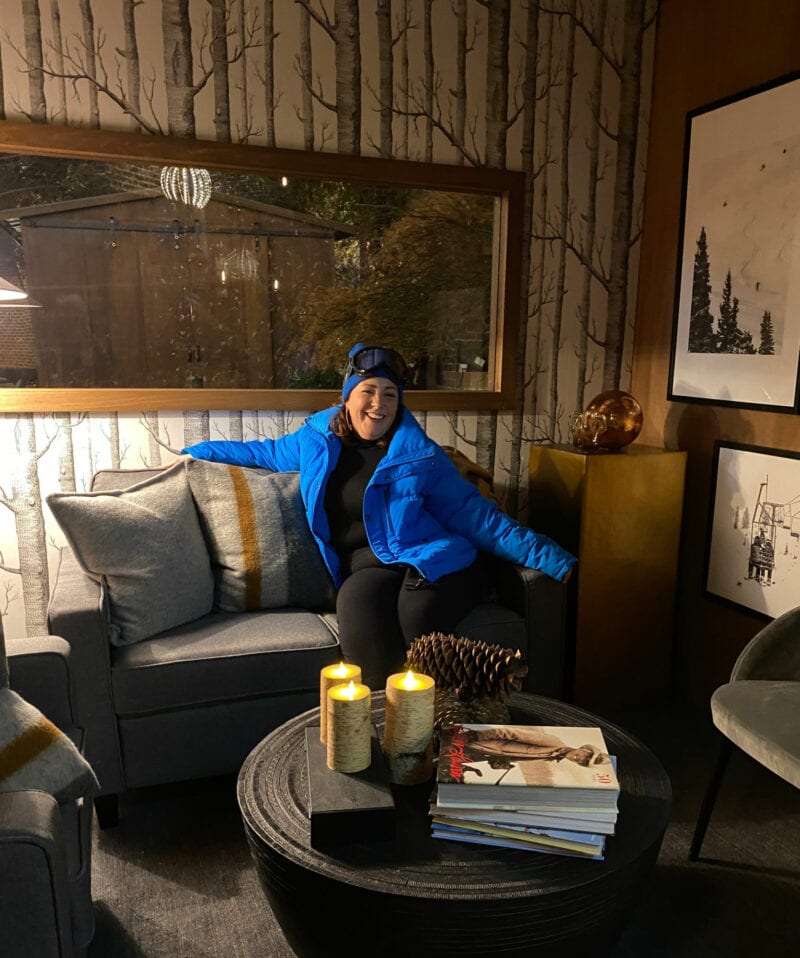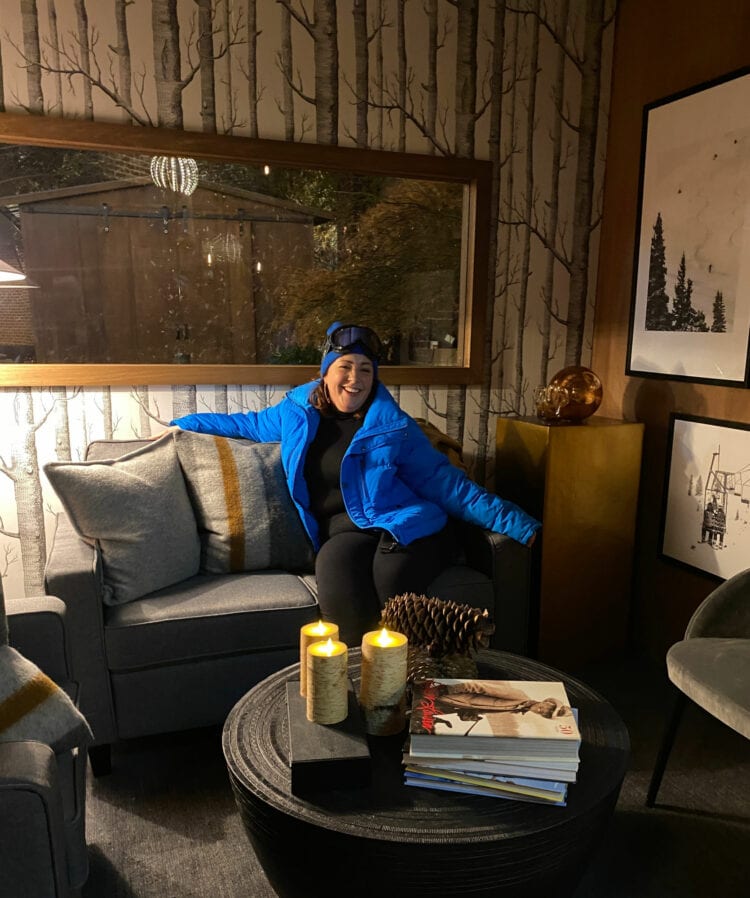 The last time I went skiing was for a 6th grade field trip. I had gone skiing only one time before and loved it, but this time I did not. I struggled so much, and finally left the slopes and spent the rest of the day in the lodge reading magazines and drinking hot cocoa.
I have never been one who has been into winter sports. While I'll go sledding with my child and for a snowy hike in the woods, that's the extent of my outdoor activities this season and my wardrobe shows it. I refused to buy anything new and chose to create a stylish size-inclusive après ski look with what was already in my closet. I ended up with a great look, and a lot of great ideas for future events that may have a similar dress code (or a grown-ass version of my 6th grade afternoon lounging in a ski lodge).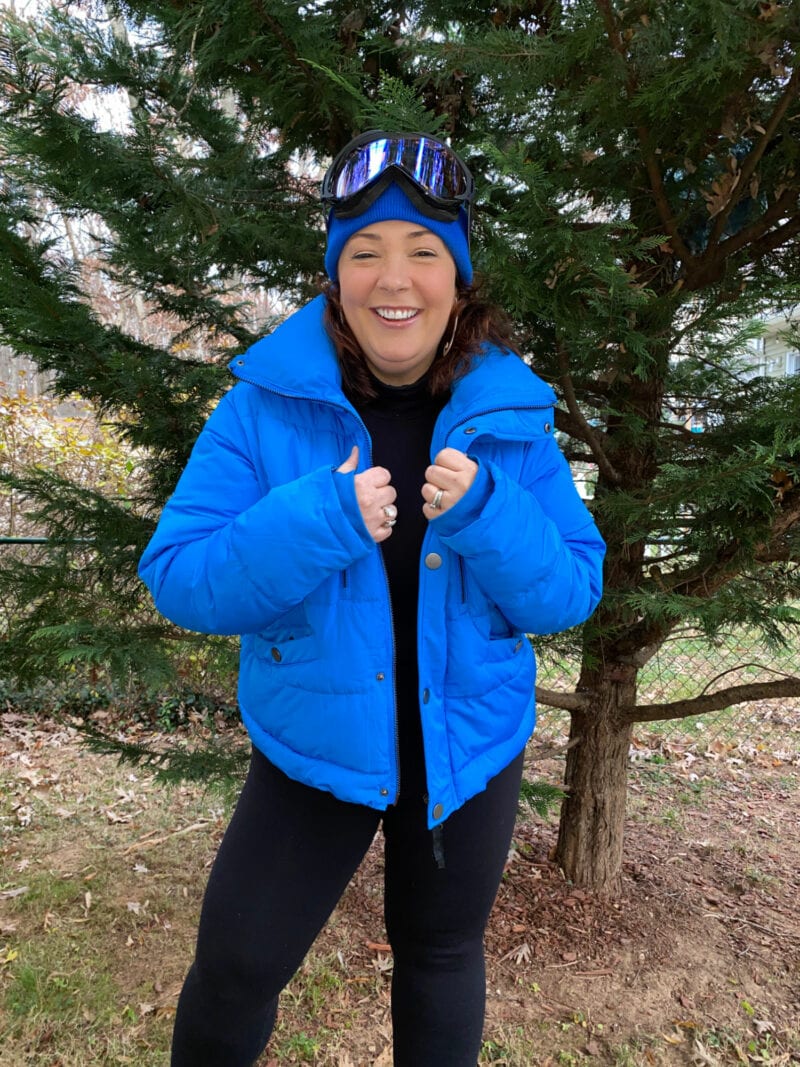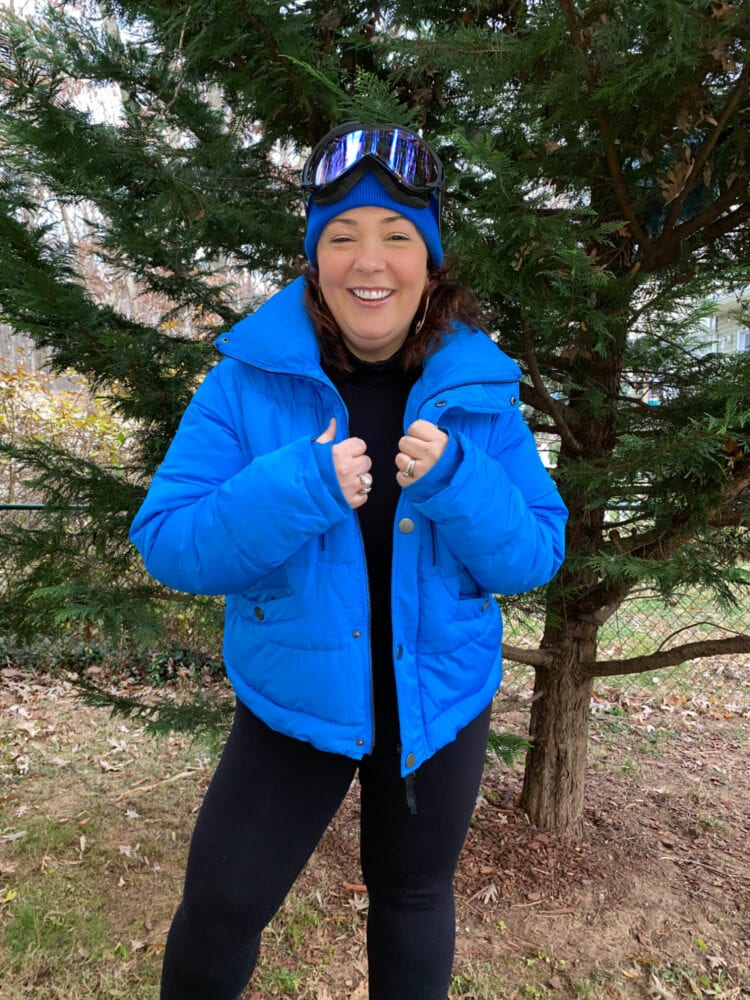 I previously reviewed the Universal Standard Hybrid 4-in-1 puffer and thought the top portion of the coat would make a great choice. It's tempting to hide in black, but color steals the spotlight so the focus is on the entire look, not just the body wearing it. The electric blue color is so pretty, and would be great against snow.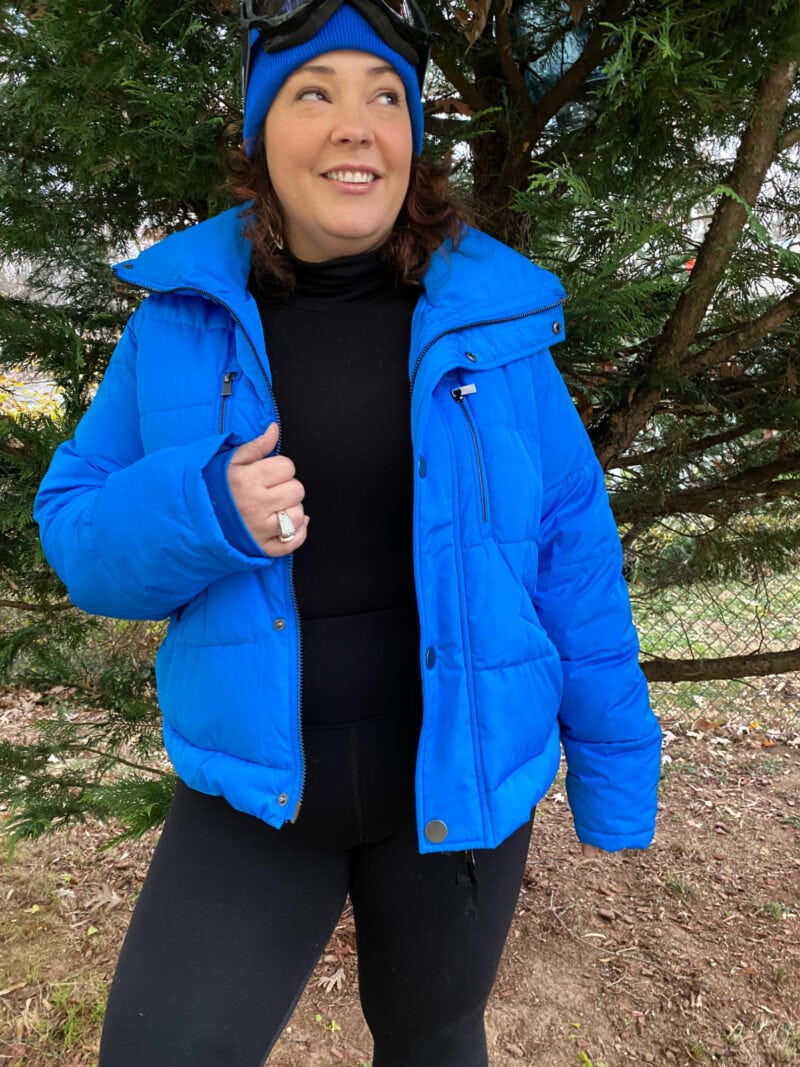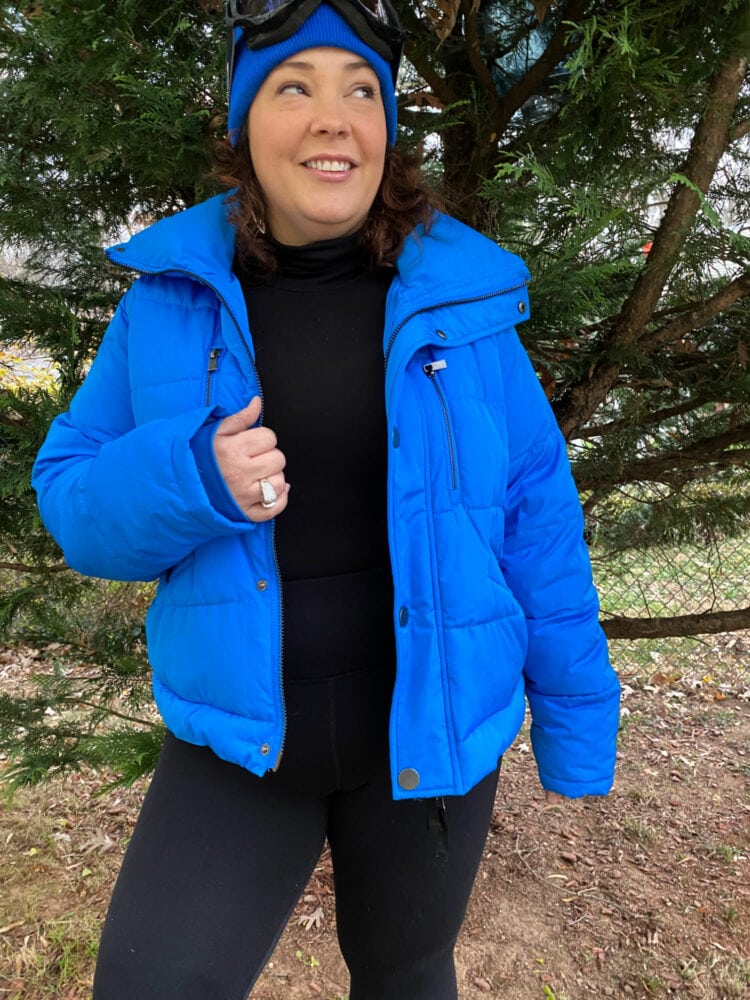 To keep the look sleek and sophisticated, I chose a single color base layer. I went with black because it was what I had in my closet. I chose a fitted black turtleneck (no longer available, but this one is similar) and my Athleta Polartec leggings, which are a winter staple for me and are richly saturated while thick enough to not make me feel exposed. I tucked in the turtleneck to have a consistent line and achieve an effect that looks a bit more like ski suit/catsuit/base layer.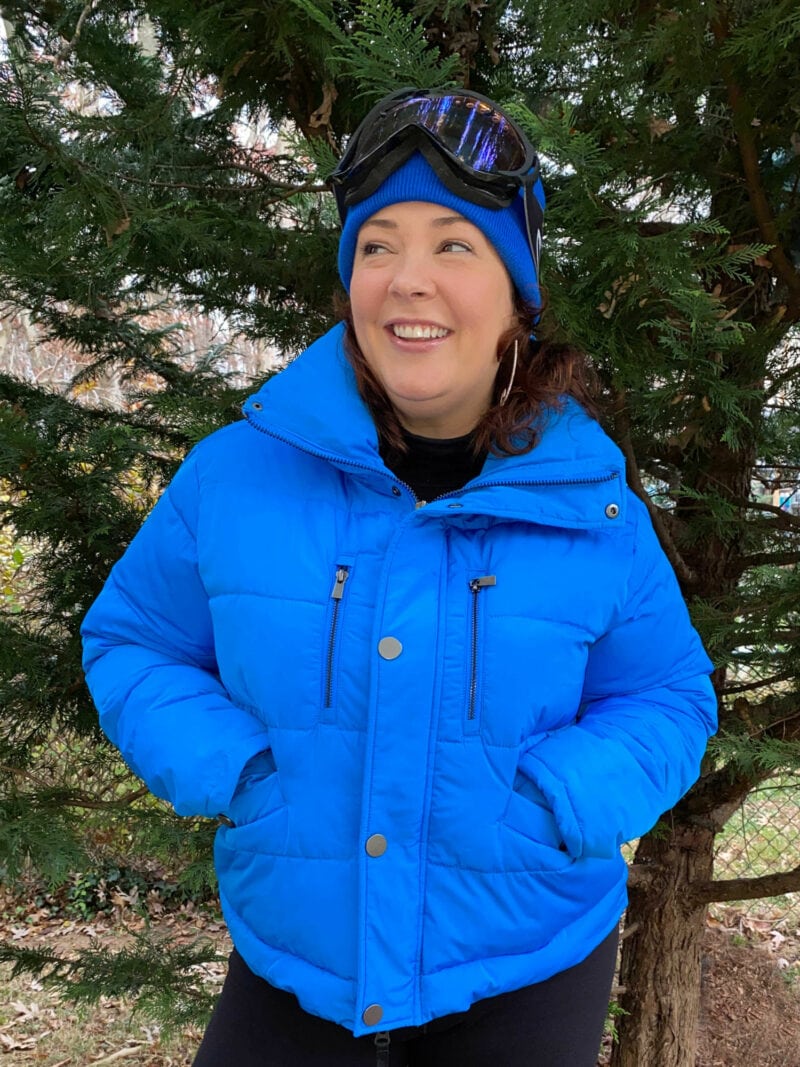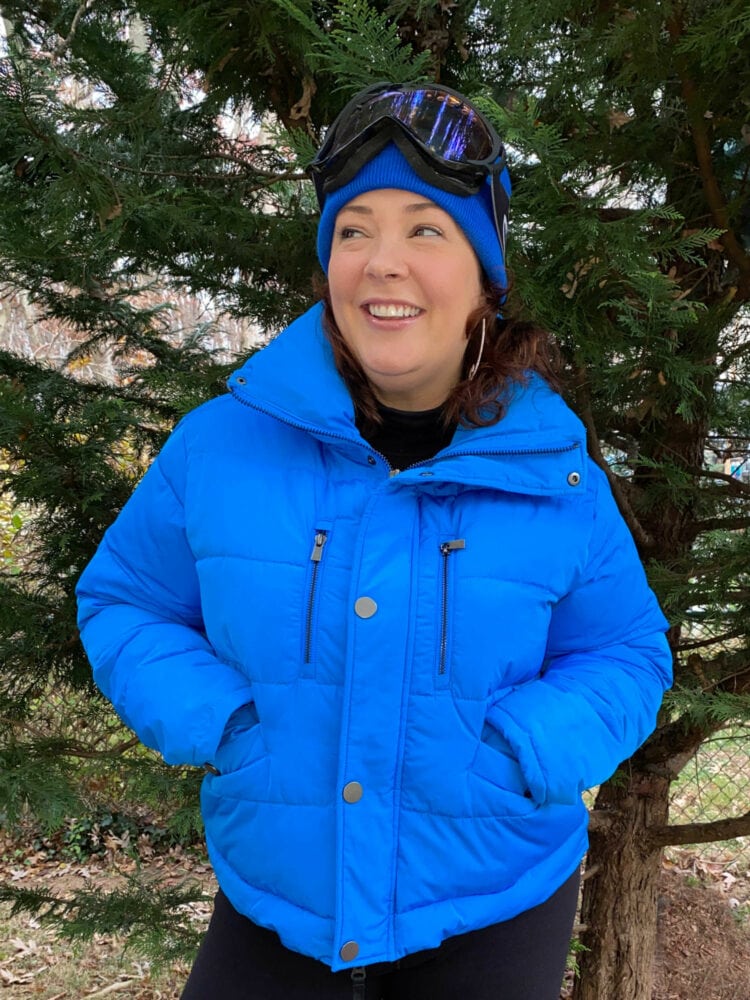 Keeping with the blue theme, I wore this blue beanie, also from Universal Standard. As for the goggles, I won them in a giveaway a few years back and the color was perfect and adding them truly gave me an après ski vibe. If you are looking to achieve a look with goggles, I found these which are a budget-friendly option and come in a fantastic range of colors.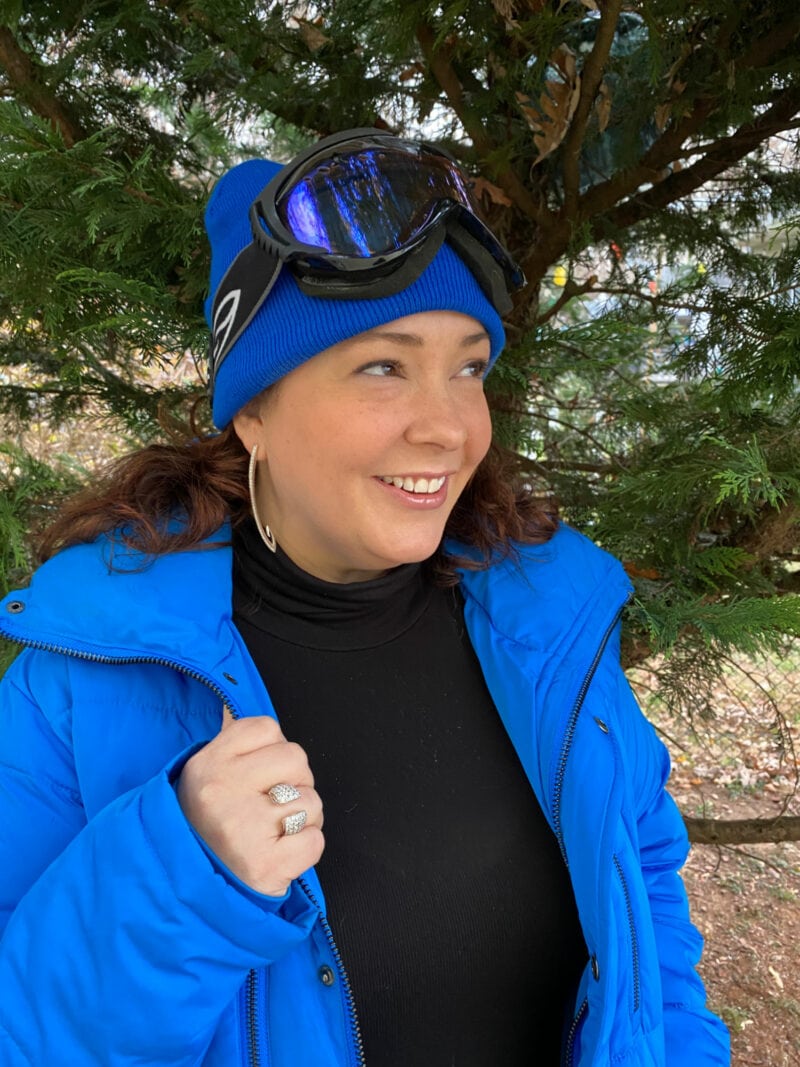 Since après ski is often luxe, I glammed up the look with my higher-end CZ jewelry – these earrings and this ring from small woman-owned jewelry company REALM. For shoes, I wore my "Cate" boots from SOREL which have an outdoorsy vibe while still being glam with the chunky heel. If I was shopping, I think a pair of furry boots like these would have better completed the look.
Shop the Look: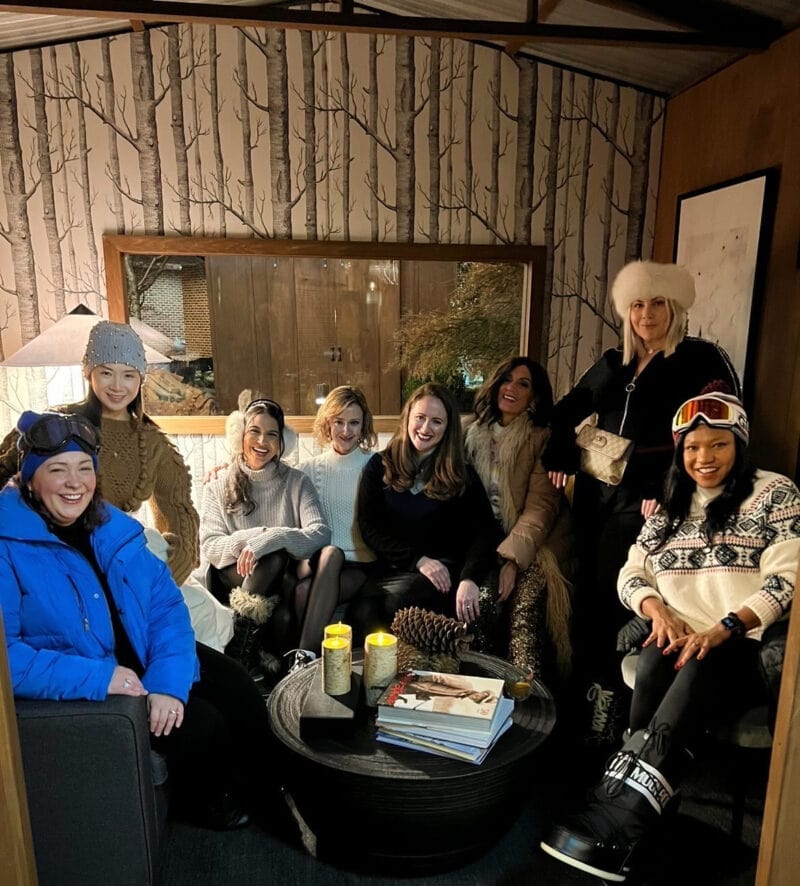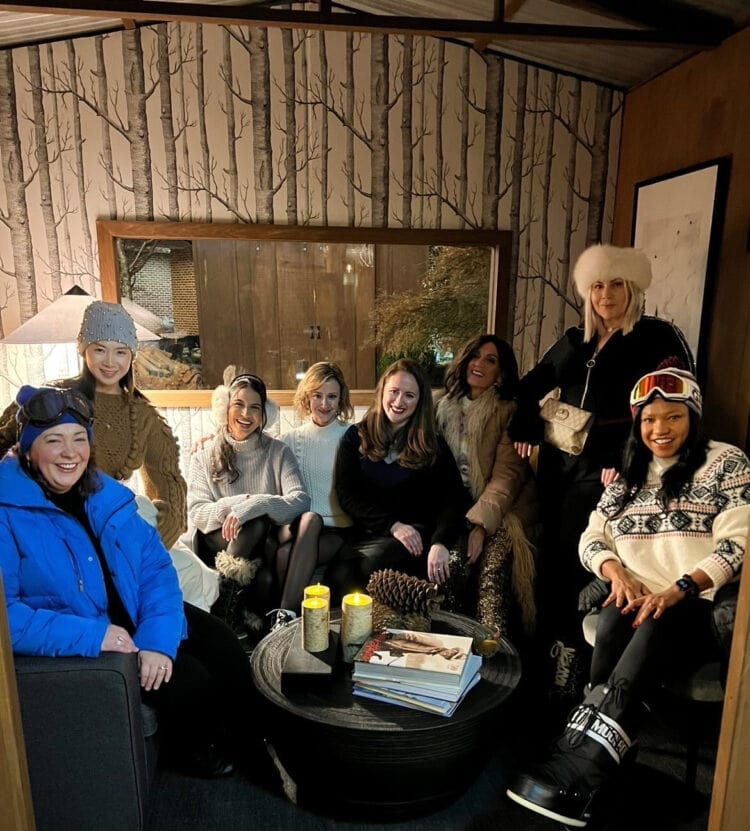 As you can see from the group photo from the event, my outfit fit in and there was a range of ideas on how to translate an après ski dress code. While this was what I chose to wear, I had thought of a few other looks in my head that I think would have been perfect for an après ski themed event and I want to share them below:
How to Dress Après Ski: Outfit Ideas
When I was researching how to dress après ski, I saw a lot of looks that were only available in smaller clothing sizes. I wanted to share some après ski looks that can be worn by a range of bodies and also be at more accessible prices. I hope these collages of après ski looks will inspire you to find similar looks already residing in your closet!
Après Ski: Ivory is Always Elegant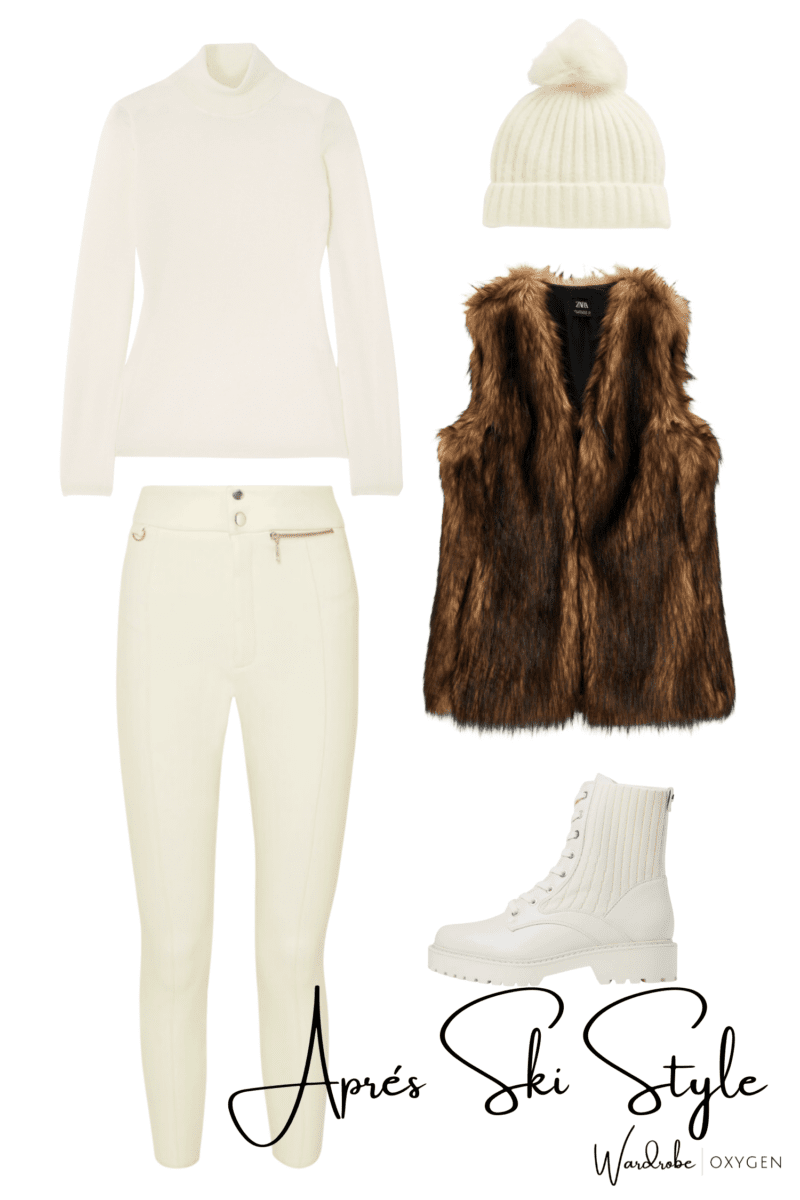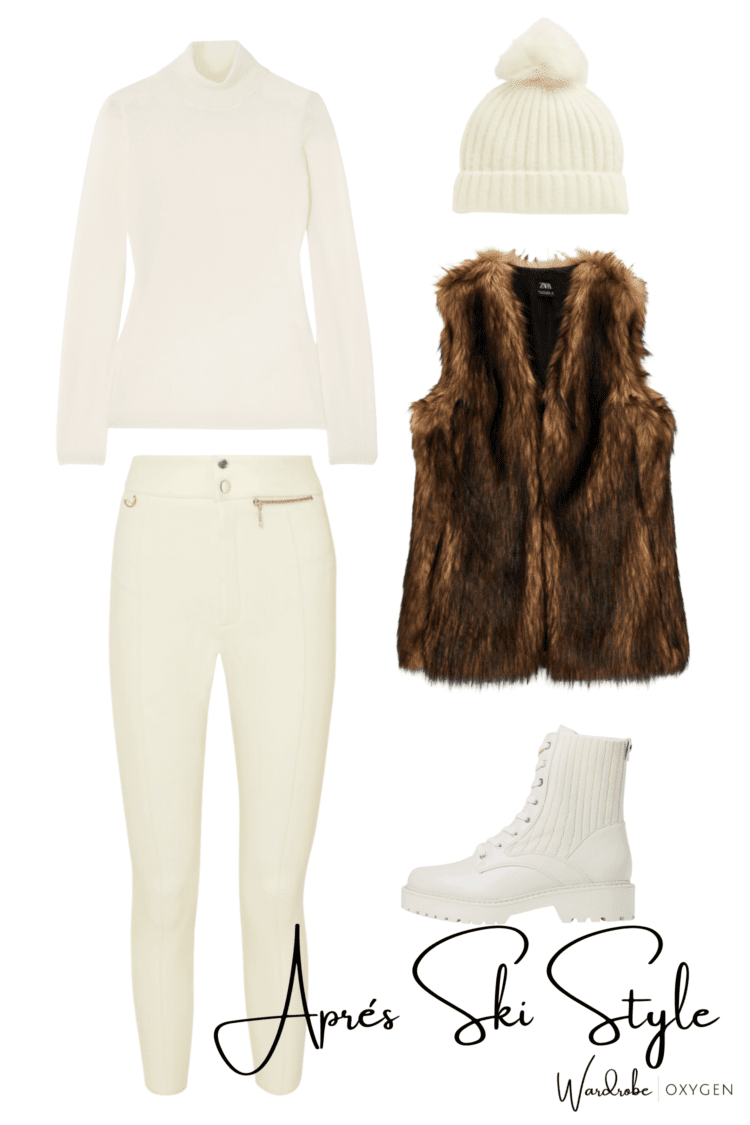 Shop this Look:
sweater (misses, petite, and plus to 3X) | pants (misses, petite, and plus to 24) | hat | vest (up to 20/22) | boots
Ivory is a color that is easily found at any pricepoint and every size. It is also a color that reads luxe. Choosing a matching top and bottom creates a column of color that lets accessories shine and has the outfit, not the body, take the spotlight. I own these pants from Talbots and they are fantastic for cold weather activities. With an athletic yet elegant vibe and lining, they are warm and practical while also being chic. To elevate the look, I paired it with a cashmere turtleneck. You can choose to tuck in the sweater or leave it out.
Ivory boots will continue the unbroken column of color, and an ivory knit cap with a fuzzy pom pom is elegant and cozy. This look is all about the vest, which is a luxe faux fur. You can increase the luxe quotient by adding sparkly jewelry and a pair of oversized sunglasses.
While this look is ivory and brown, this is a concept that can be created with a range of colors and types of vests. Switch out the fur for a metallic or fur-trimmed puffer vest, replace ivory with gray or navy or even a bright color like red. The concept is having a column of color with a statement layering piece and choosing luxe textiles.

Loungewear Made Luxe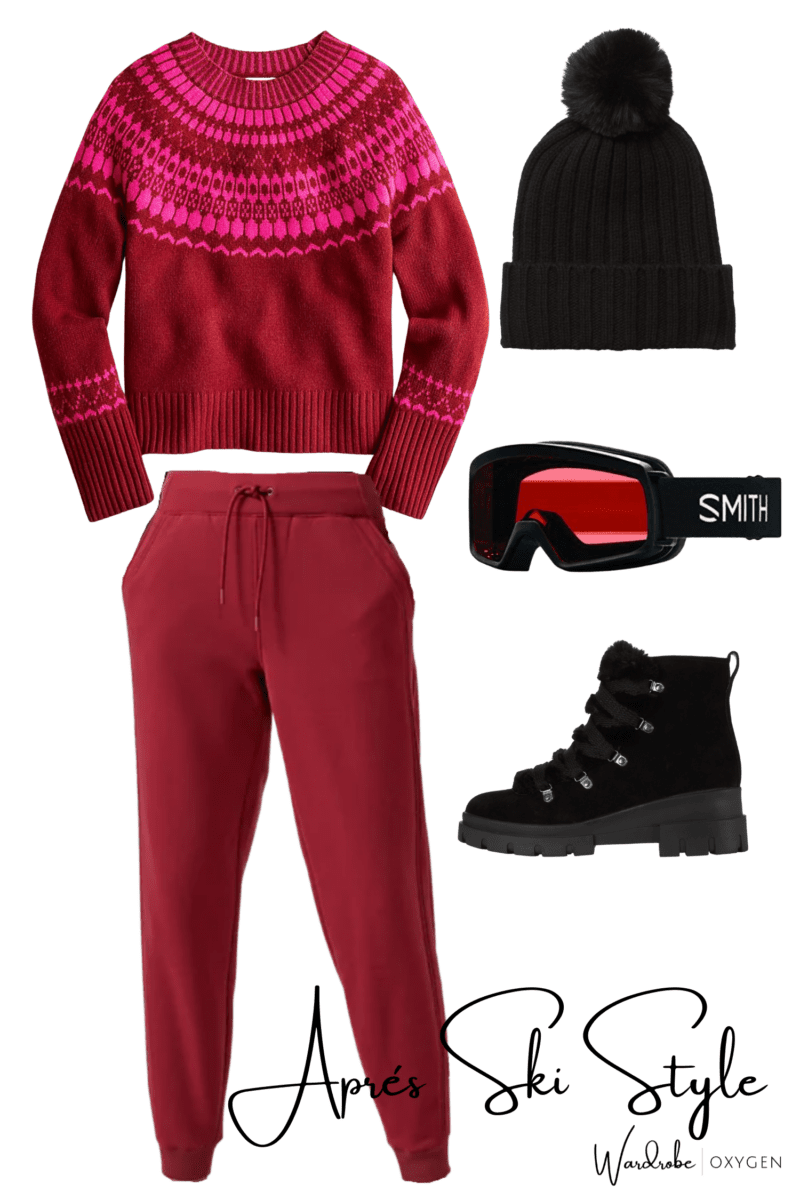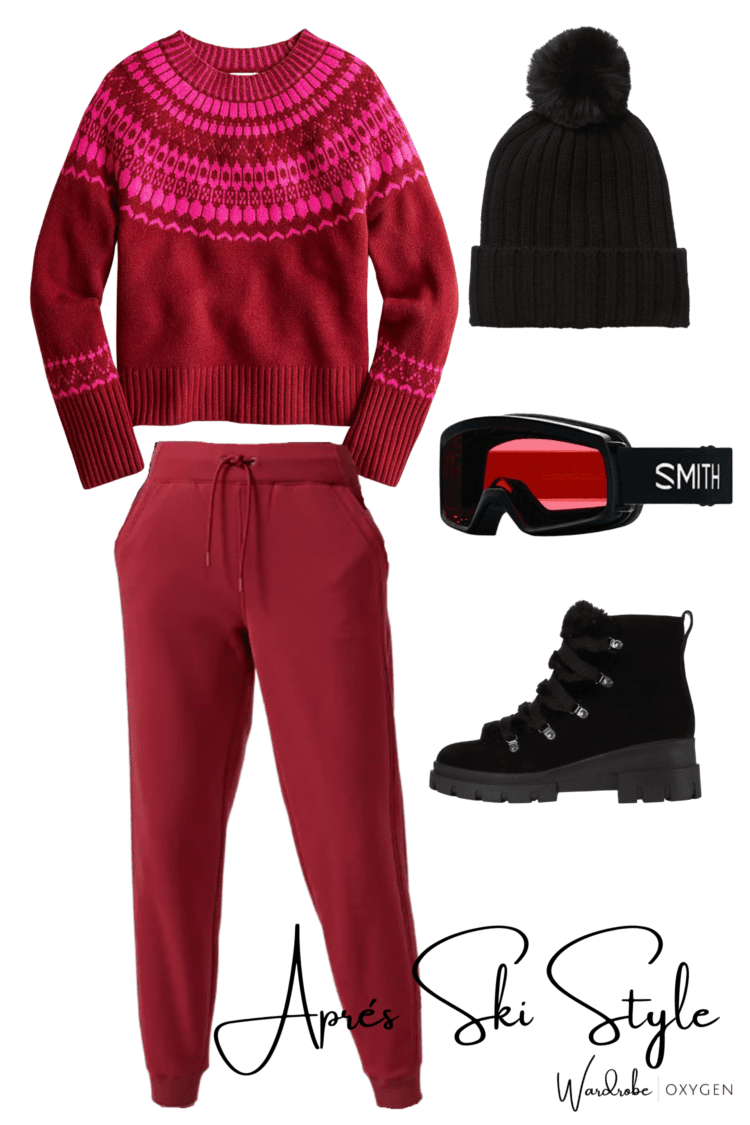 Shop This Look:
sweater (XXS-3X) | Polartec joggers (regular, tall, and petite to 3X) | hat | goggles | boots
One thing great about après ski is that it's essentially loungewear with a luxe edge. For this look, I embraced the loungewear vibe but made it cozy with a classic Fair Isle sweater made of cashmere and Polartec joggers. I felt the addition of black boots and beanie tempered the colors to give a more elegant effect. And why not keep your ski goggles on; they add interest and a pop of that red!
To keep this kind of après ski look feeling elegant is again, having a continuous color. While black bottoms would also go with the sweater, by choosing red it feels more like an ensemble and purposeful. Bringing fur-trimmed details like the pom on the hat and the edges of the boots, it also makes the look feel purposefully luxe.

Pop of Color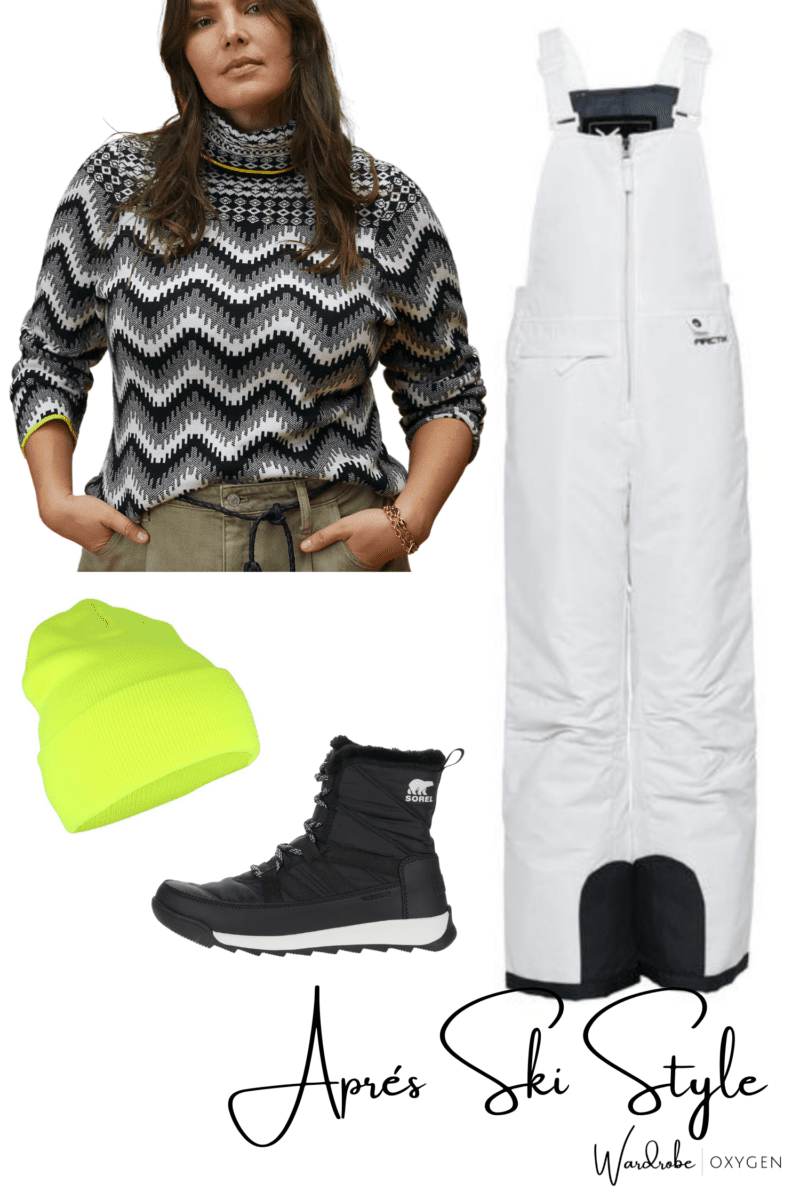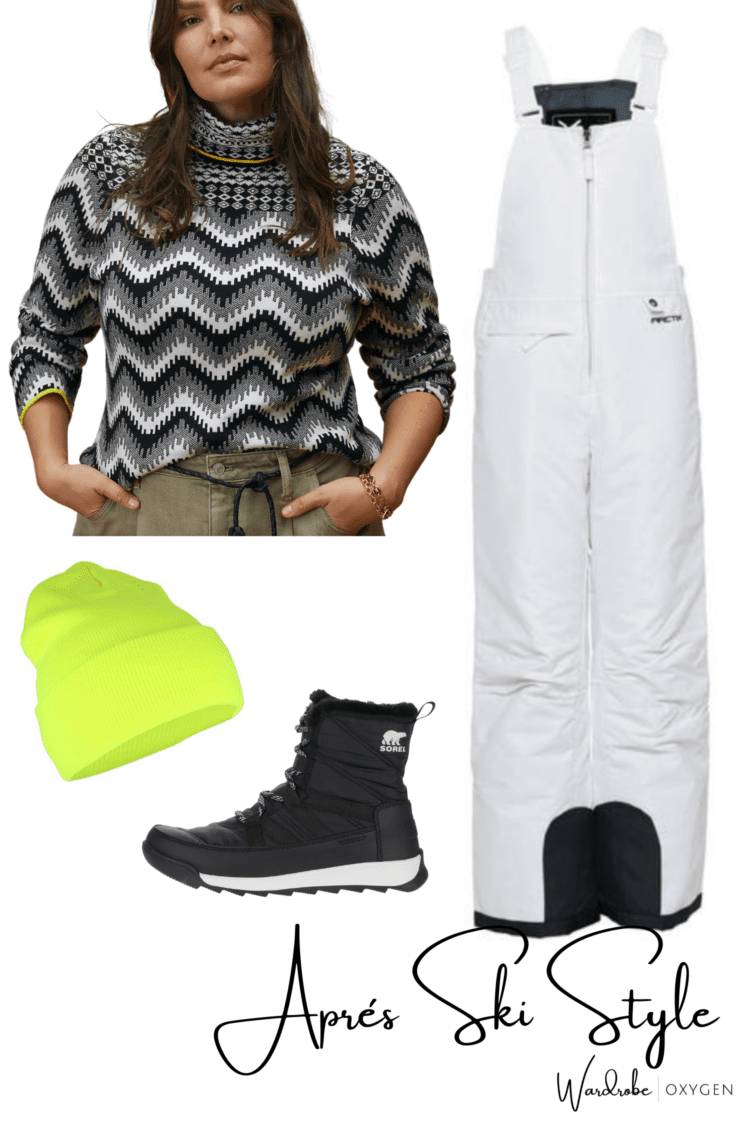 Shop This Look:
ski bibs (XS-4X with short and tall options) | sweater (misses, petite, and plus to 3X) | hat | boots
If you truly are heading out on the slopes, these bibs come in lengths up to 4X and in a fabulous range of colors. I chose white for this look after finding this very cool graphic turtleneck that is available in misses, petite, and plus up to 3X (it also has a matching scarf!). Pulling from the thin line of highlighter yellow on the trim of the turtleneck, I added a beanie in the same color, and then a pair of black snow boots to finish the look.
This is a classic look that you can change depending on the colors you like and your personal style. Switch out the beanie for some furry earmuffs or a fur ear warmer, the graphic turtleneck for a solid or a shorter neck style sweater.

I hope these ideas give you some inspiration on how to dress après ski. It likely doesn't require you buying a whole new outfit; you may have some pieces already in your closet! Think relaxed, luxe, and cozy and you'll look great and have fun at your next après ski themed event!
Shop après Ski Style:

Where to Find Plus Size Ski Gear
No surprise, it's not easy to find ski gear like bibs, pants, and jackets in plus sizes. While researching this article, I found a few companies that do offer ski and winter activity apparel in sizes larger than US women size 14: