This article may contain affiliate links; if you click on a shopping link and make a purchase I may receive a commission. As an Amazon Associate, I earn from qualifying purchases.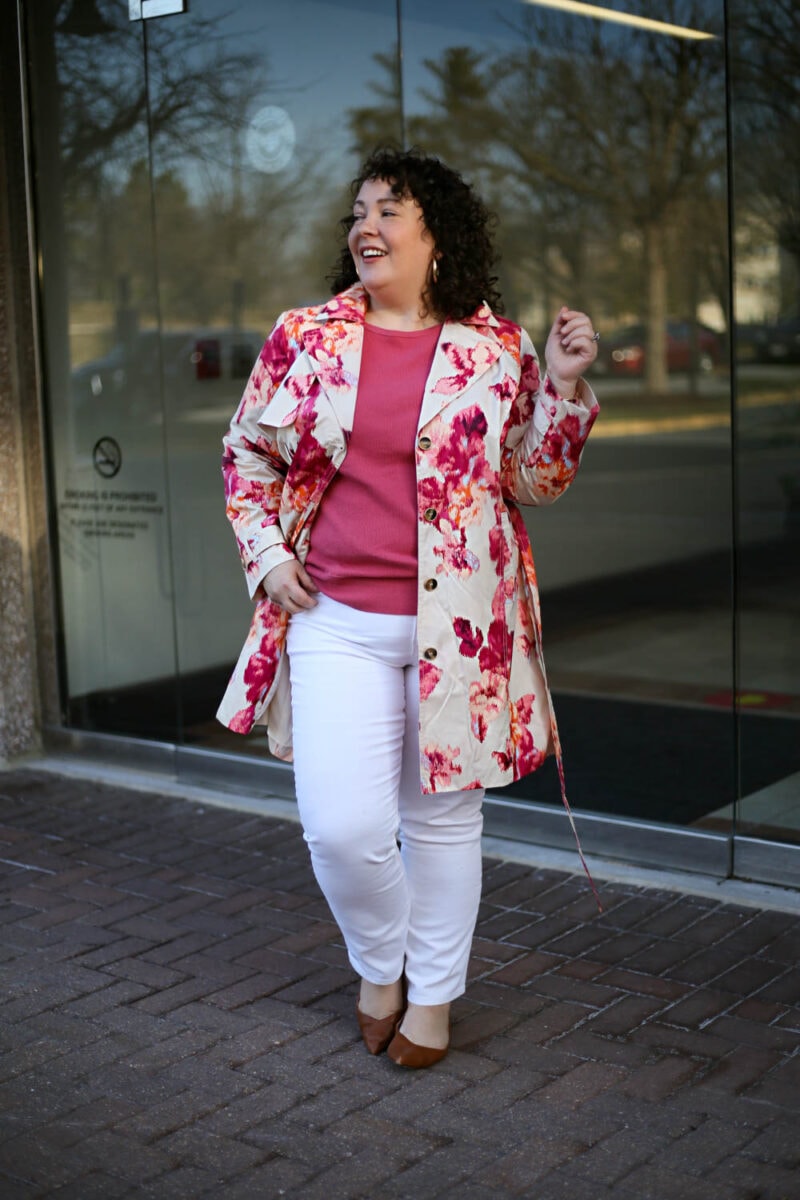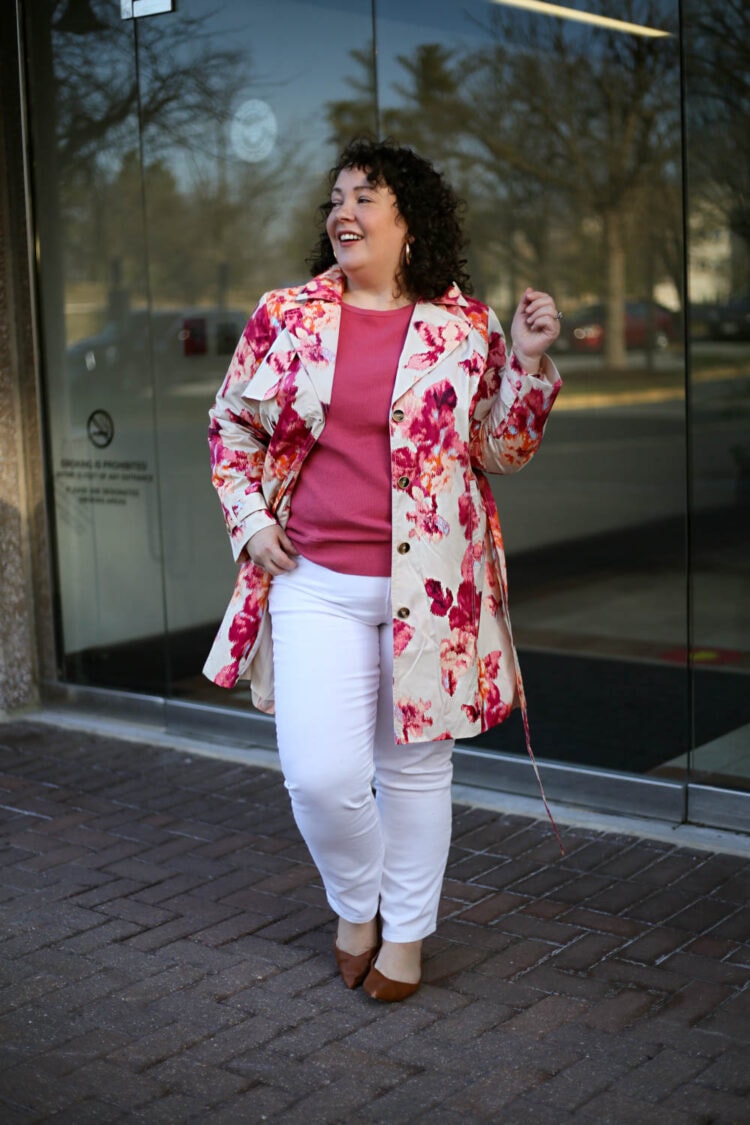 Why are so many trenches and raincoats not water-resistant? It's so hard to find a stylish and functional raincoat, especially if you're petite. When I checked out Chico's New Arrivals and saw this floral print petite raincoat (it also comes in regular), I knew I had to try it!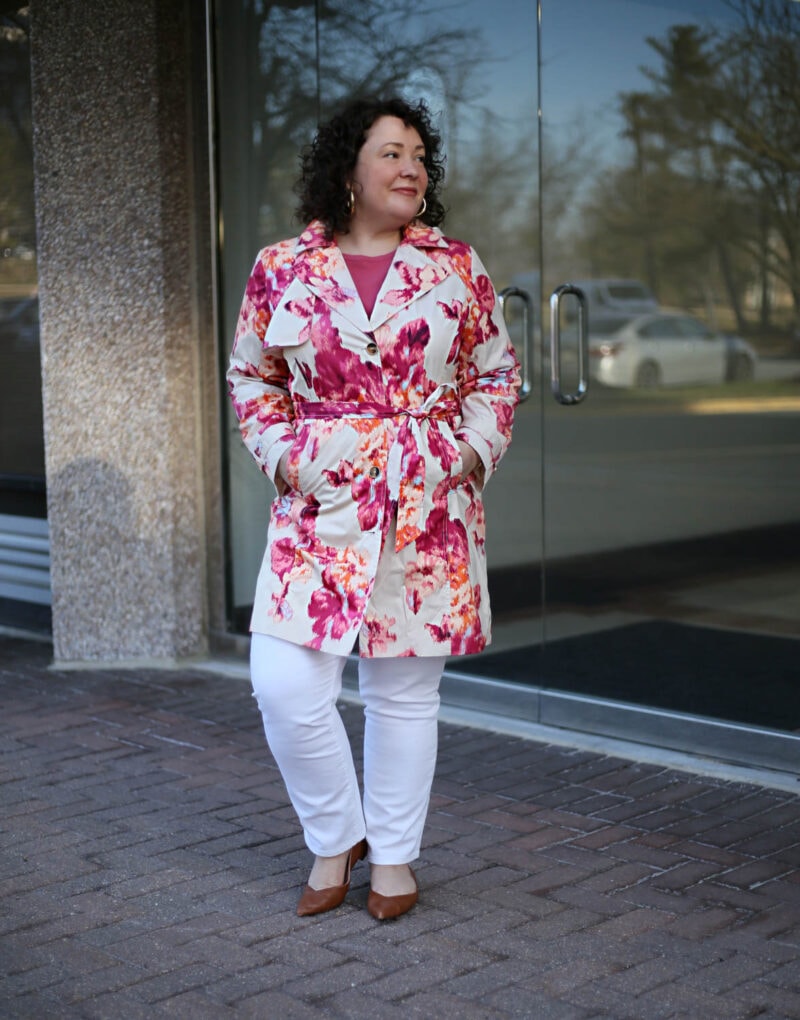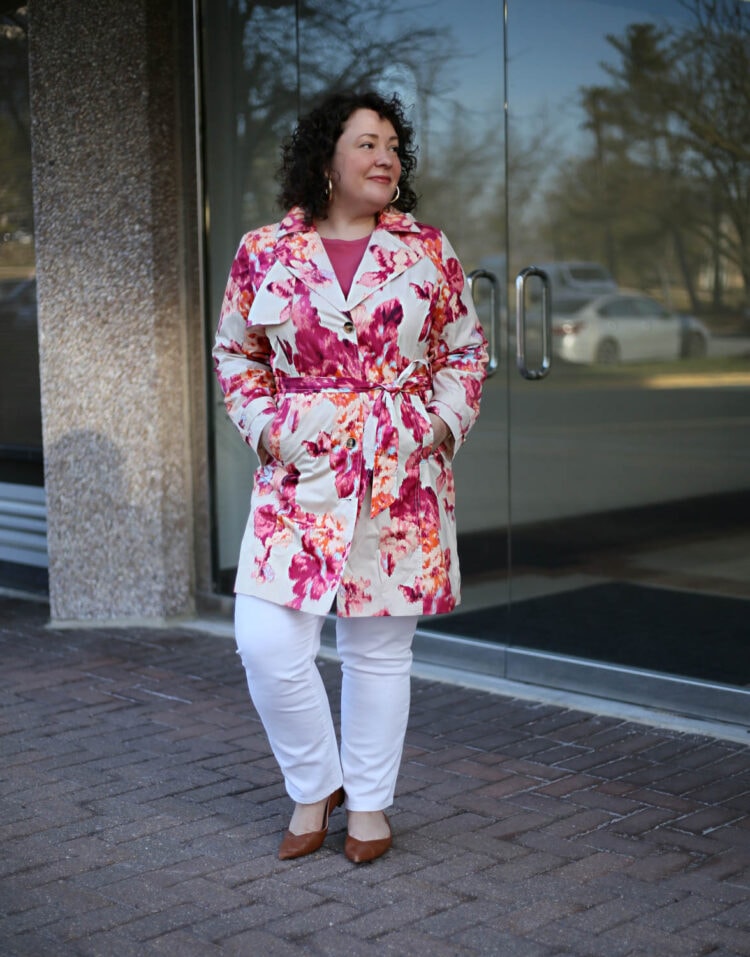 This trench-style raincoat from Chico's isn't waterproof, but it is made of a fabric that repels water without being heavy, stiff, or hot. It comes with a functional (and removable!) hood, a self-belt that is long enough to tie however you want, pockets, and traditional trench details.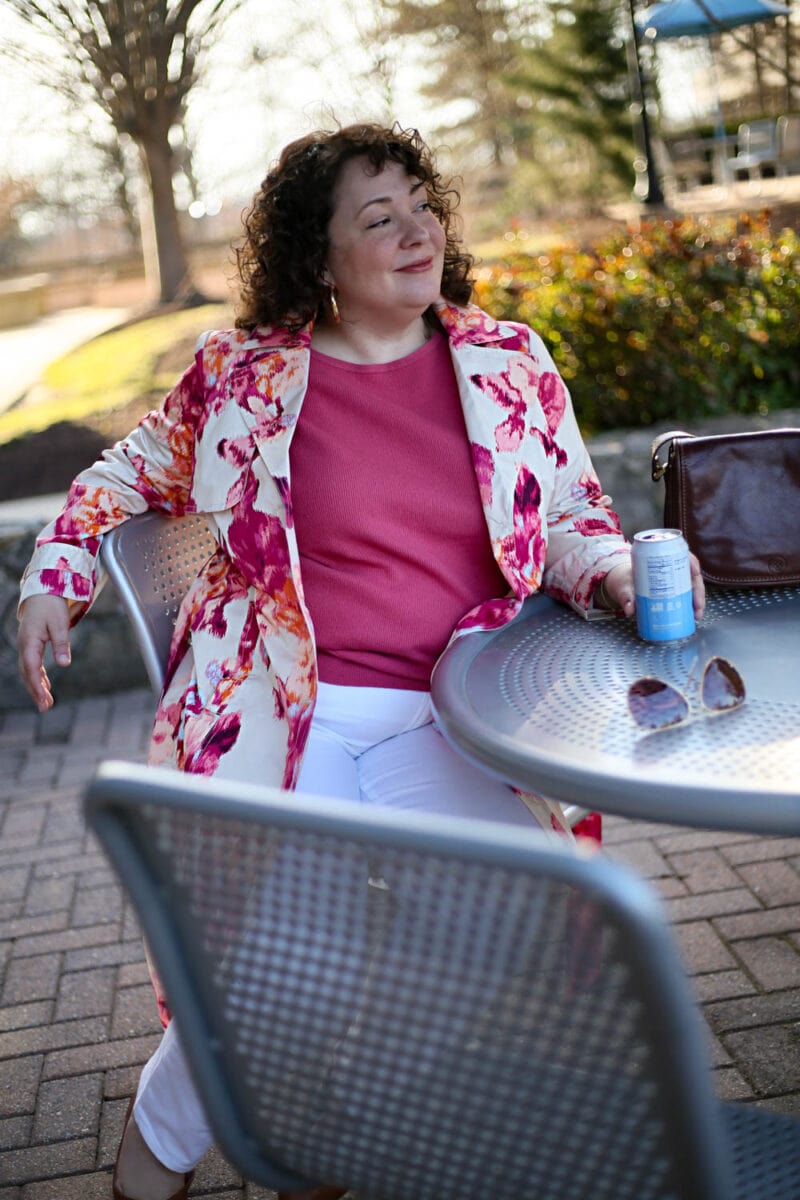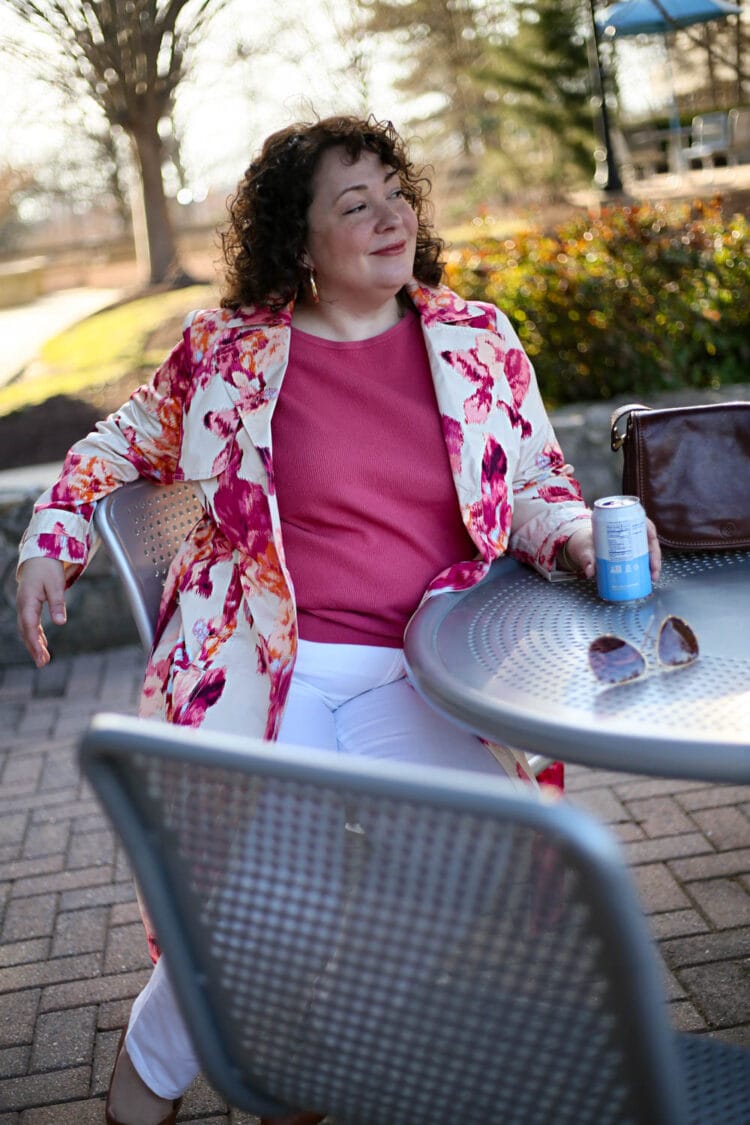 Even with my bust and rear, I found the size 2 petite raincoat to button comfortably, even when sitting. And it's nice to find a coat that has the belt at the right part of my frame and not have to tailor off the sleeve straps so I am not swimming in it.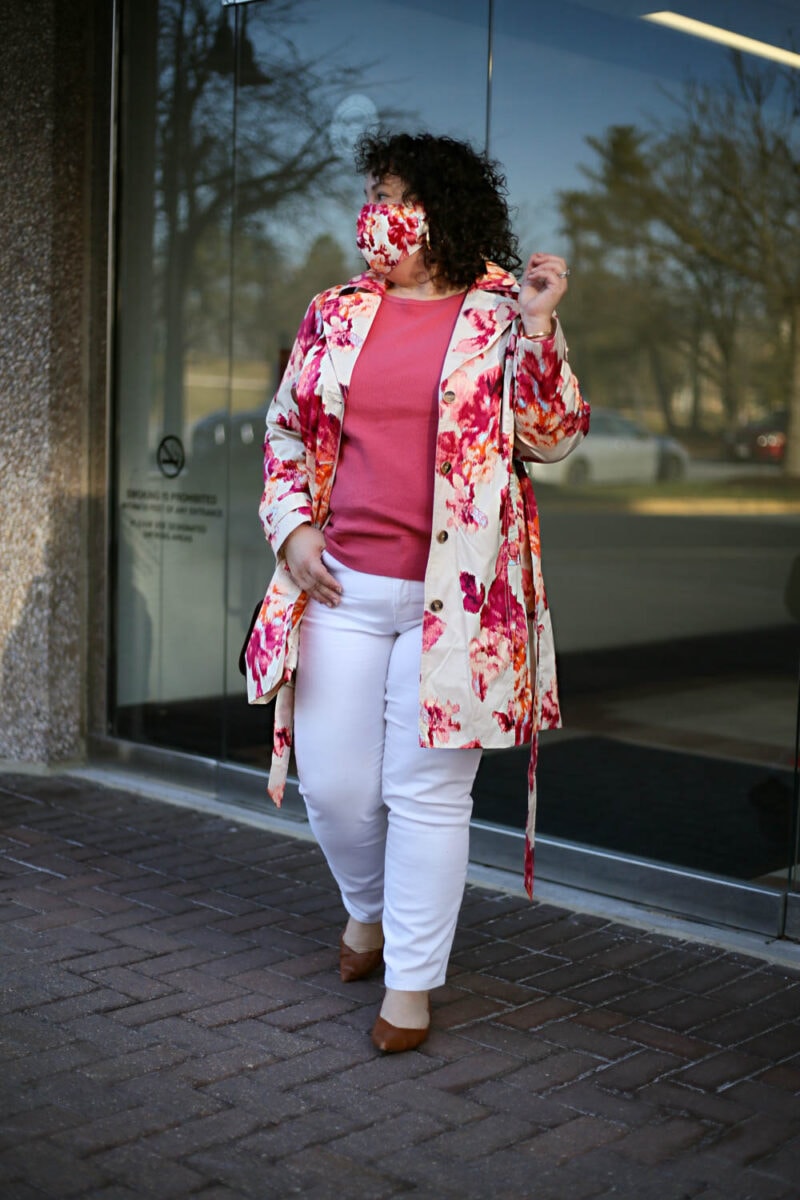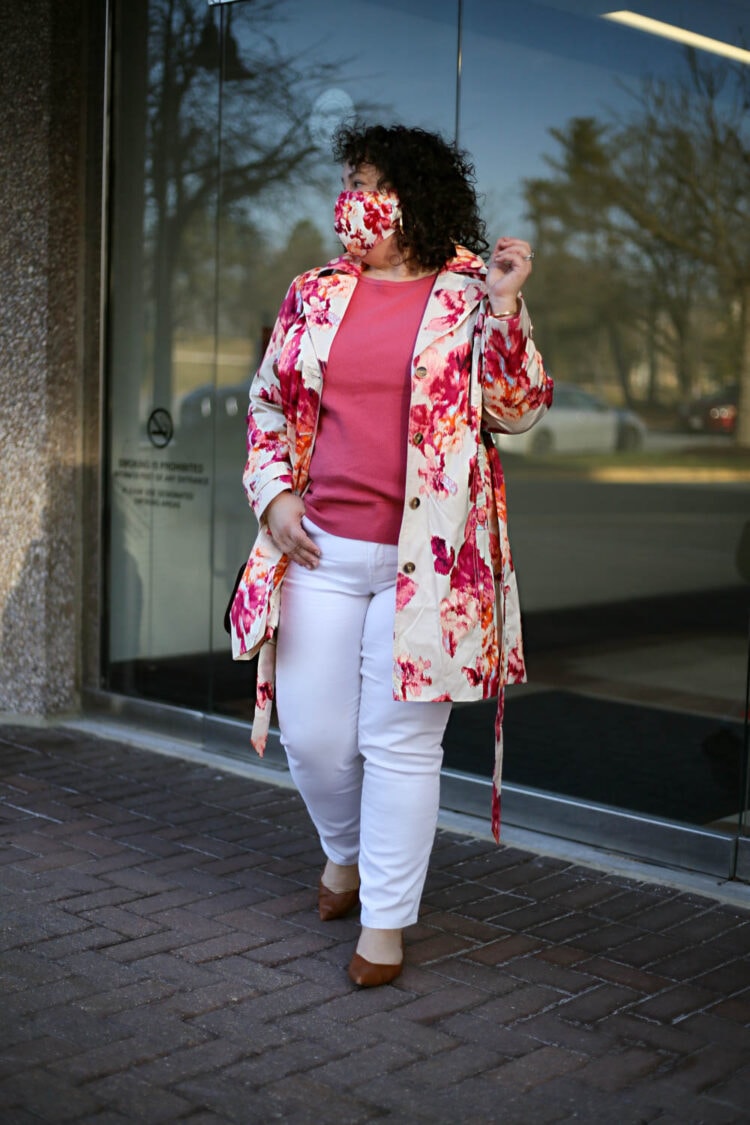 And how could I resist getting the matching face mask? These are breathable but light; you may wish to put in a filter (they have pockets). The ear straps are adjustable. I find them to run a bit big in height and width for my face but I have other friends who have these masks and love the fit. They also fit well over a disposable mask.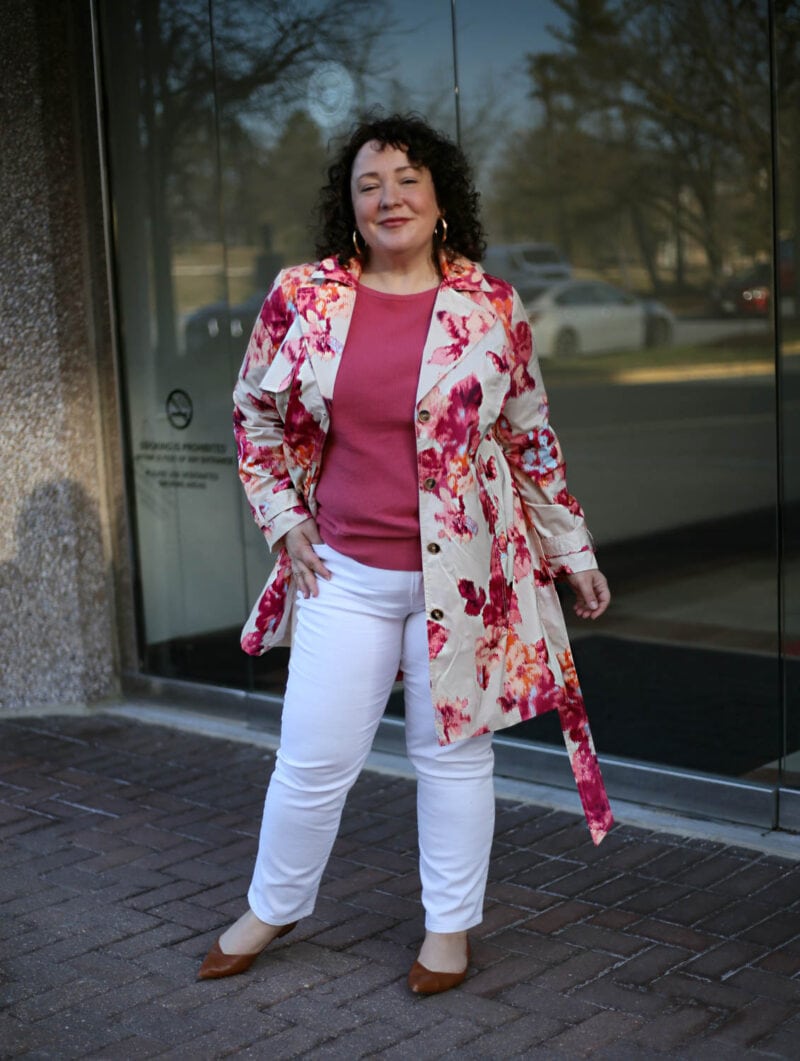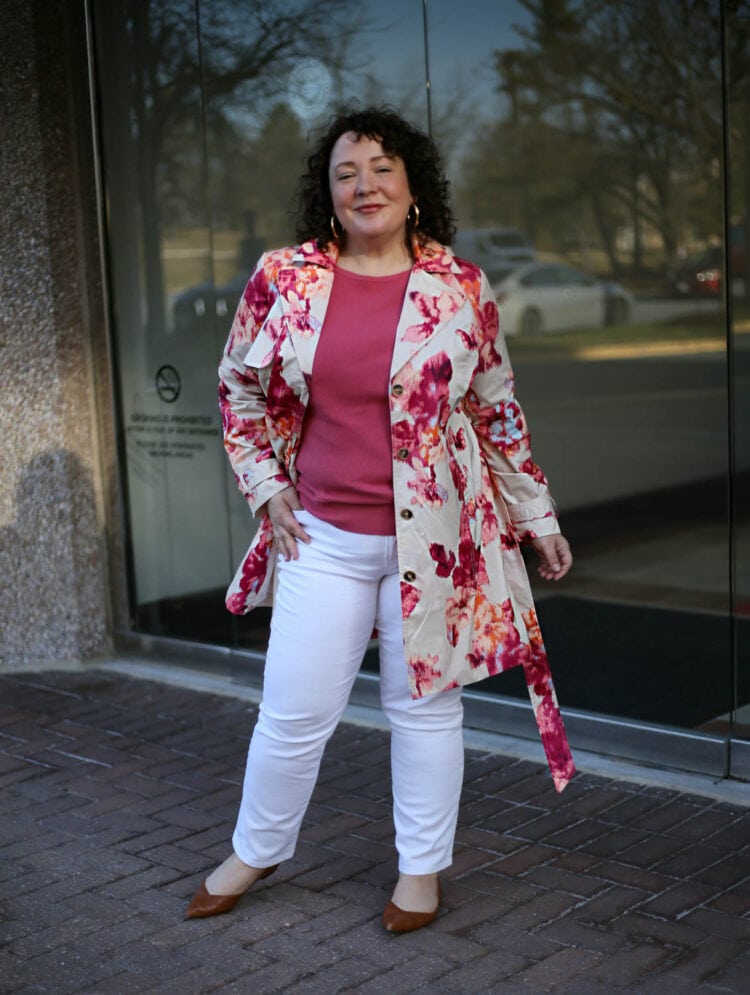 In my Madewell denim haul post, I mentioned I really like Chico's Girlfriend Jeans and this is one of the pairs I own in this style. I like Chico's for white jeans; they fit the same as other washes in the same styles, are pretty opaque, and they have several no-stain styles which truly work where dirt and stains just bead right off without feeling like you're wearing plastic or some weird performance fabric.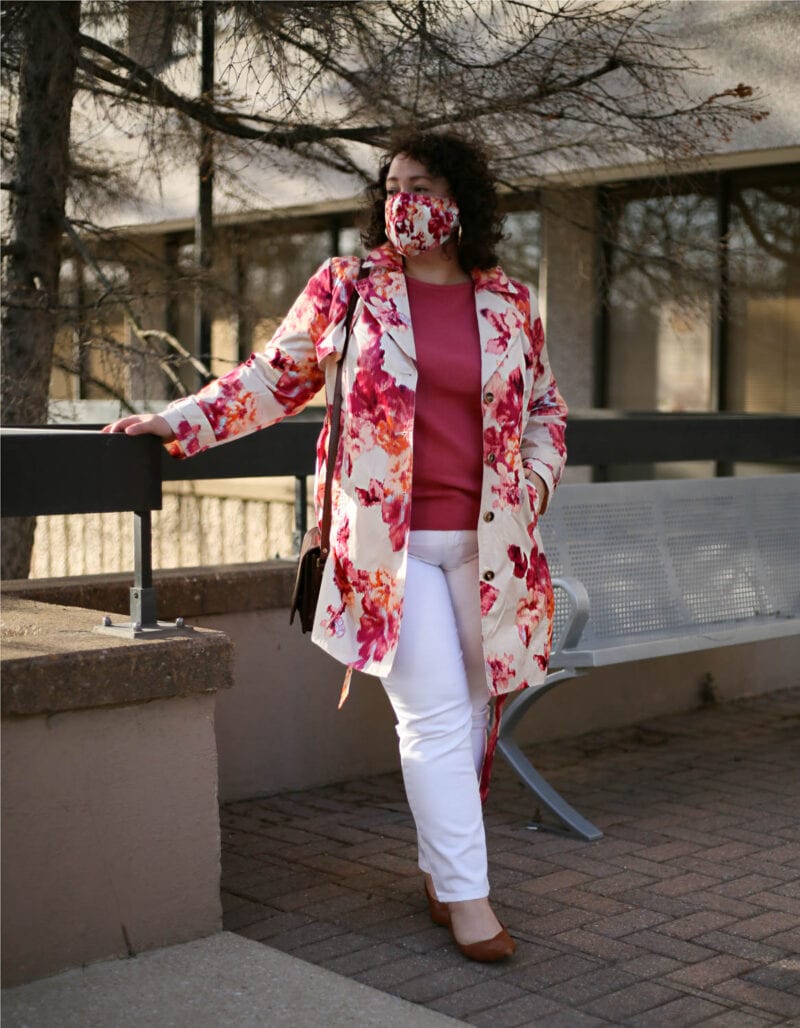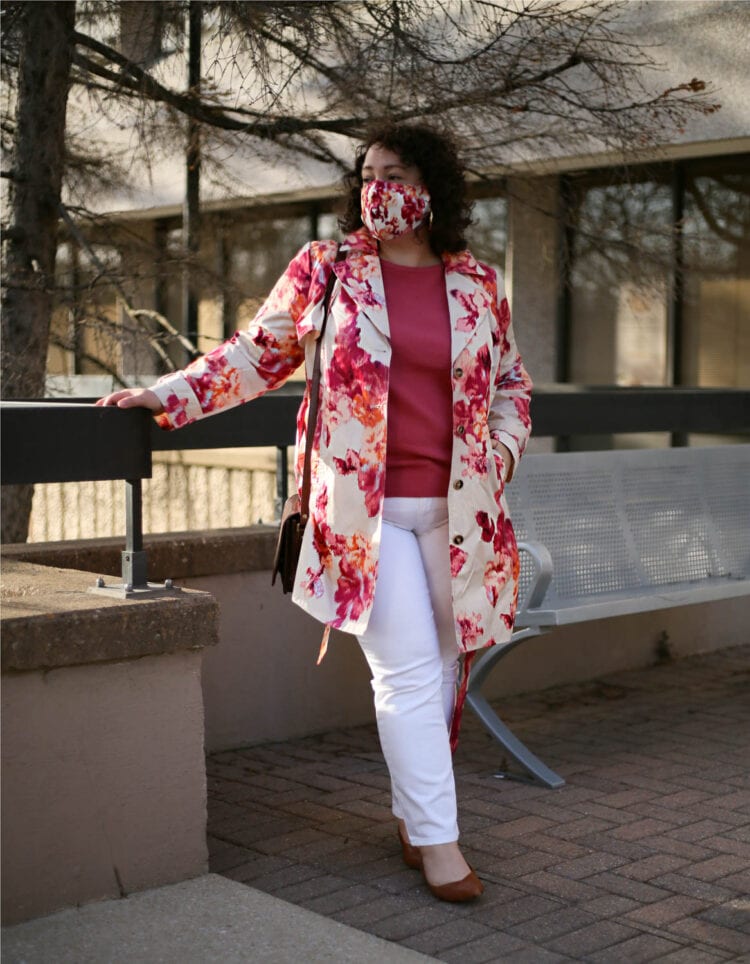 The only thing I don't like about these jeans is the "so slimming" panel in front. You can see it in some photos; it's the seam that is across my belly. It doesn't seem so slim me, it just ends up being a seam. I've only noticed it in the white jeans; I wish it was either longer to offer opacity or gone altogether. But clearly, it's not a dealbreaker.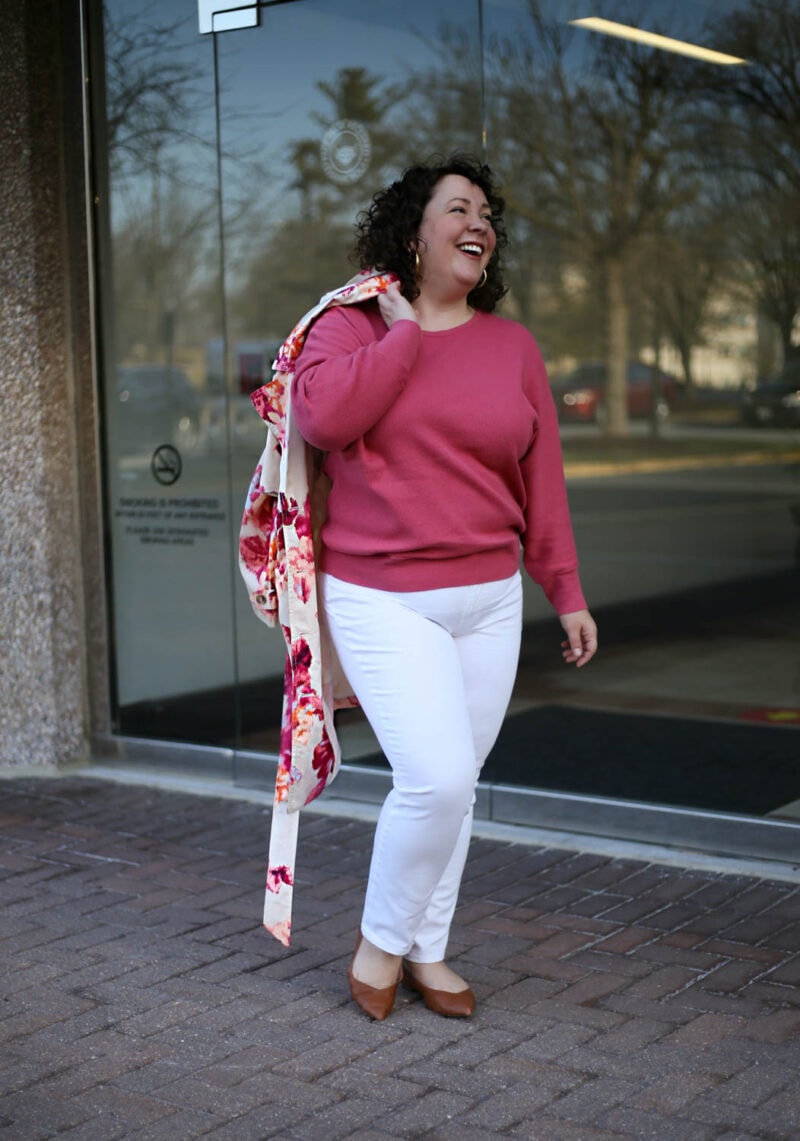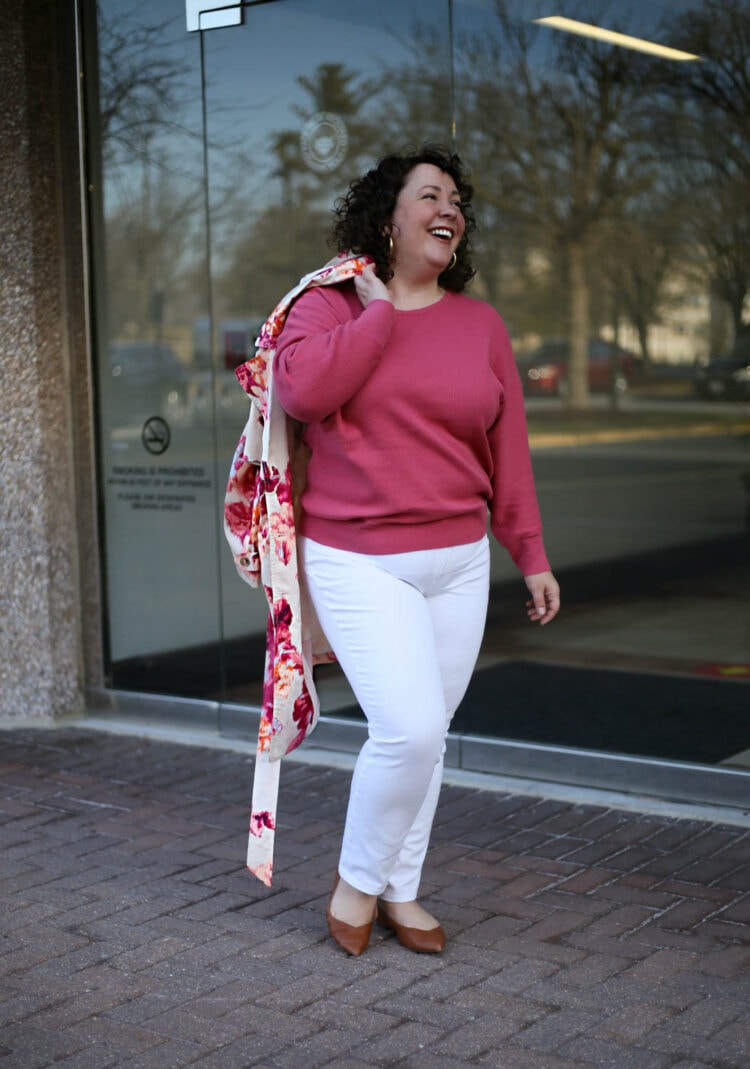 This sweater… I got it just to have it match the trench but I found I wear it all the time. It's a nice weight for spring, I love the comfort and architecture of a dolman sleeve, and I am surprised that I like the color. It looks springy with white and faded denim and so pretty with gold jewelry.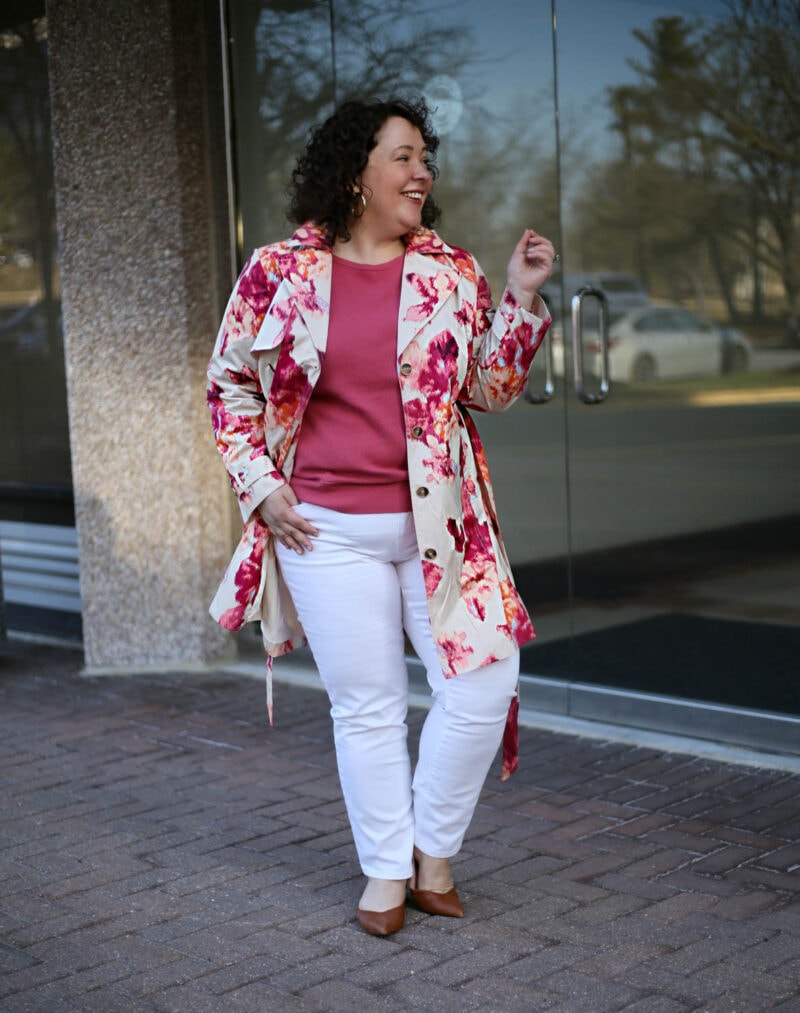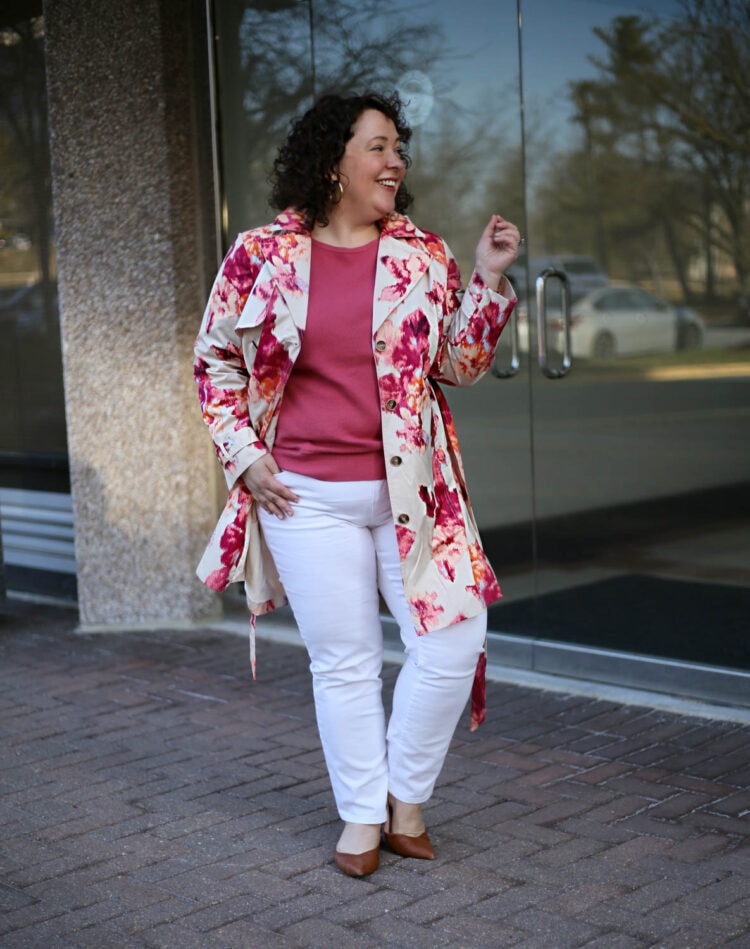 And you have seen these flats before; I wore them on repeat before it became Hide In The House and If You Leave Wear Boots season. I've shared my thoughts on Ally NYC's flats and heels before; they're really beautifully made and these flats offer a lot of support and structure while looking gorgeous. If you're thinking of trying a pair of Ally NYC flats, use WO2FLATS at checkout to get 10% off!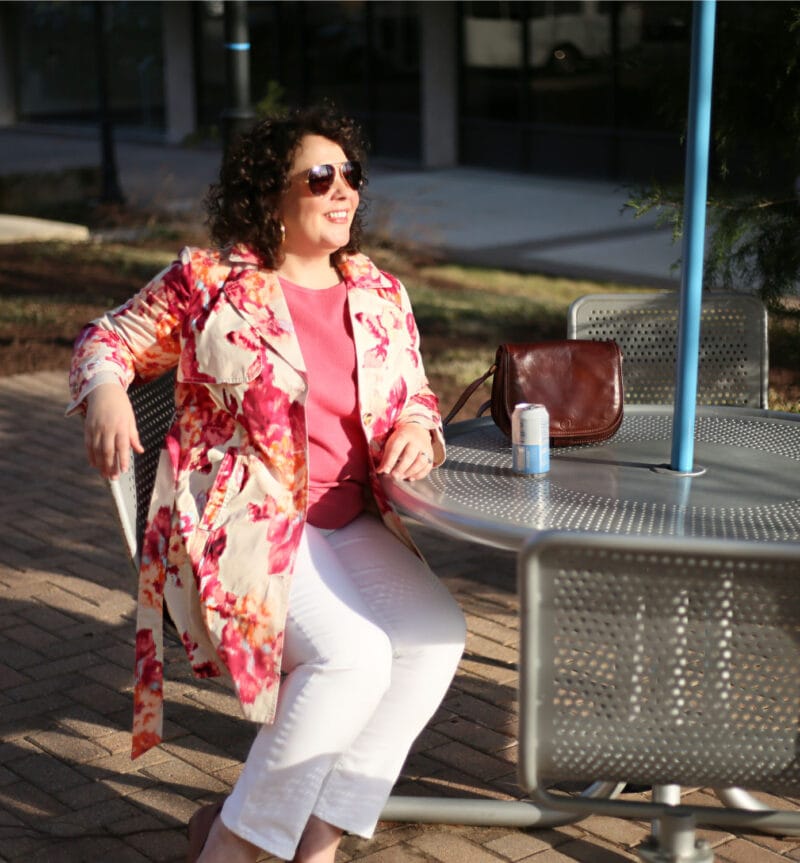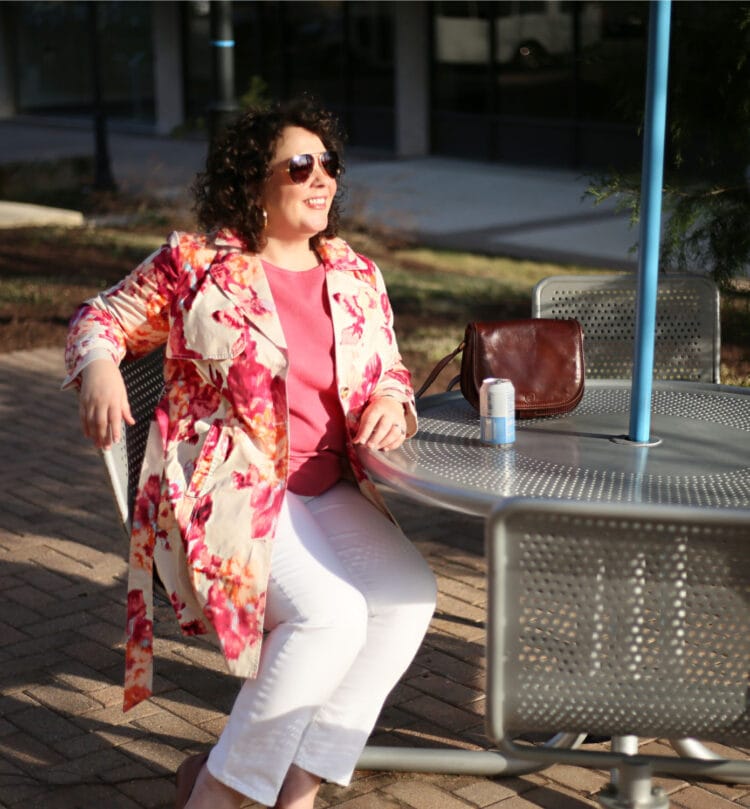 The bag is several years old; and gosh I love this bag. I am not one to usually wear black, I don't gravitate towards classic styles like this saddlebag, but this bag IMO is perfection. It is not cheap, but as someone who has bought herself her share of Coach/Marc Jacobs/Kate Spade/ALLSAINTS/Rebecca Minkoff bags around the same pricepoint… this one is better quality leather and more timeless construction.
Maxwell Scott is offering Wardrobe Oxygen readers an exclusive discount! Save 10% at checkout on your entire purchase at Maxwell Scott with promo code ALISON10.
Shop the Look:
Coat: Floral Rain Trench Coat c/o Chico's (2 petite) | Sweater: Dolman-Sleeve Sweater c/o Chico's (2) | Jeans: No Stain White Girlfriend Ankle Jeans c/o Chico's (2 Petite) | Shoes: Courageous Caramel Leather Flat c/o ALLY NYC (read my ALLY NYC flats review) | Bag: c/o Maxwell Scott | Earrings: Baublebar | Face Mask: This 3-pack c/o Chico's | Sunglasses: Ray-Ban