This article may contain affiliate links; if you click on a shopping link and make a purchase I may receive a commission. As an Amazon Associate, I earn from qualifying purchases.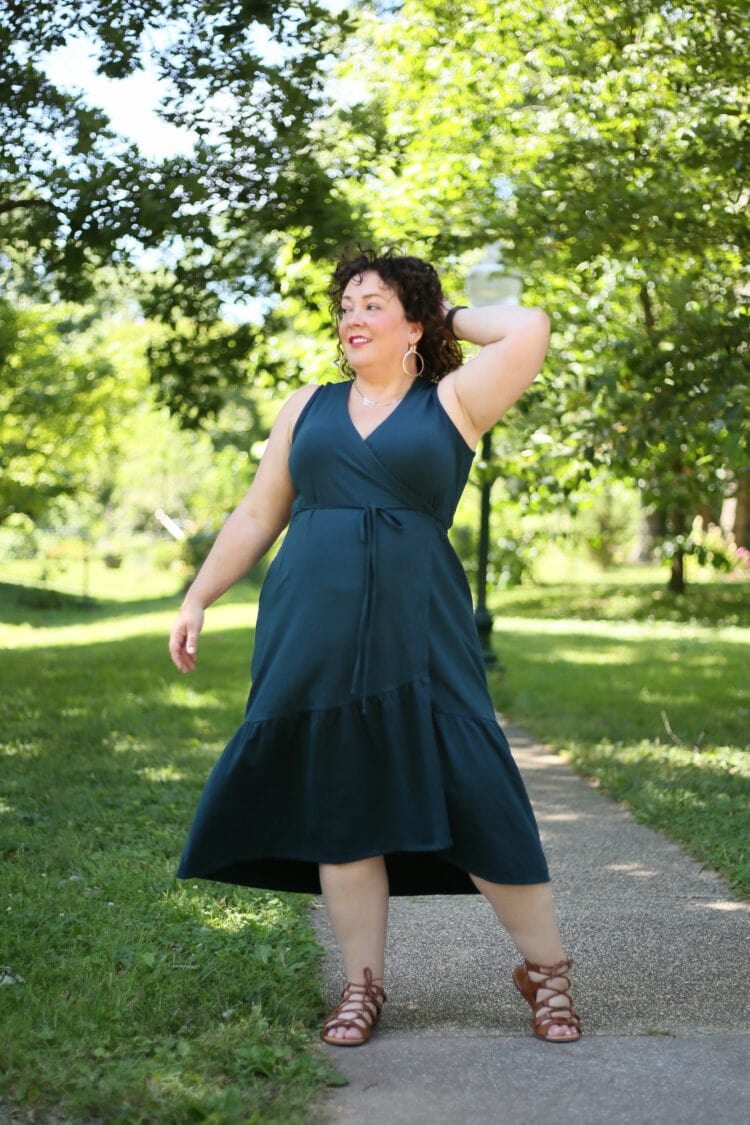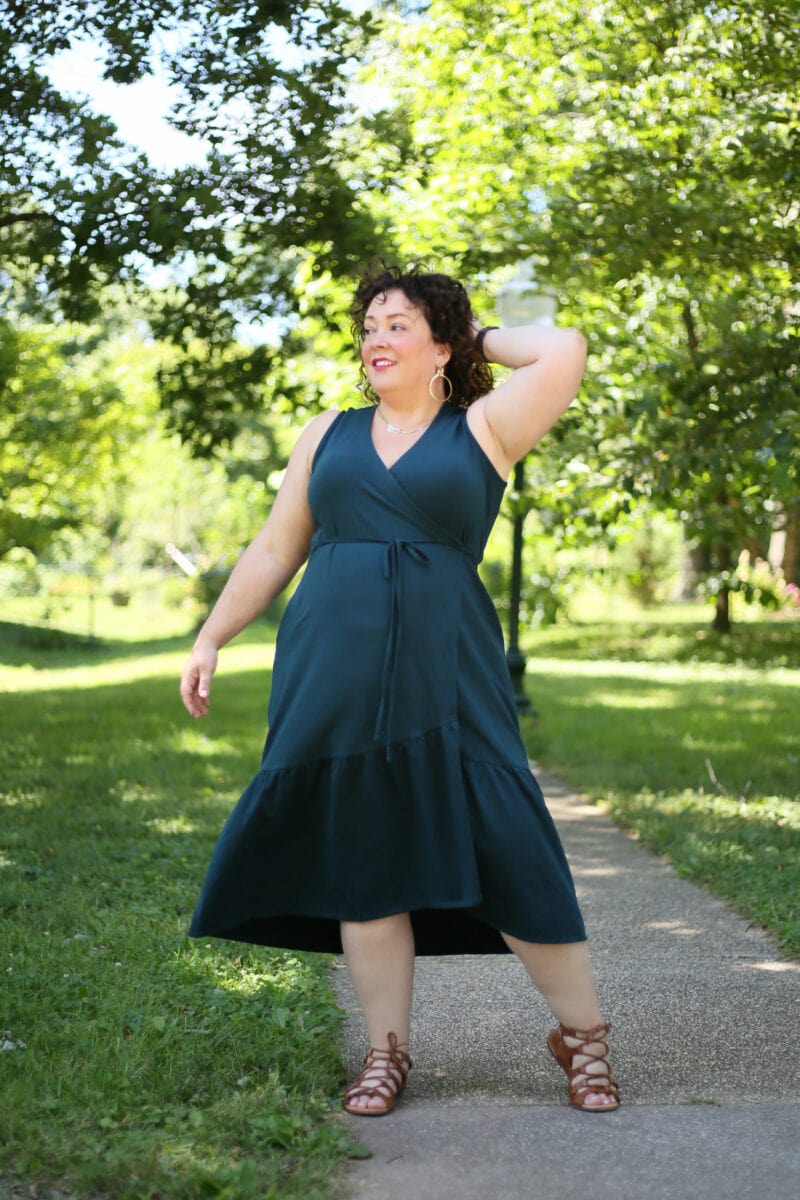 Universal Standard reached out and asked if I would like one of their new dresses to try out. While I am a fan of Universal Standard, I often find their dresses made for a person far taller than I (I am 5'3″). I asked for their Afternoon Tea dress, assuming it would work regardless of height. It was sold out in my size so they sent me their Tiered Twirl Wrap dress. I had no hopes that this would be a short and busty-friendly wrap dress and figured I'd be returning it. I was pleasantly surprised.
A Busty-Friendly Wrap Dress from Universal Standard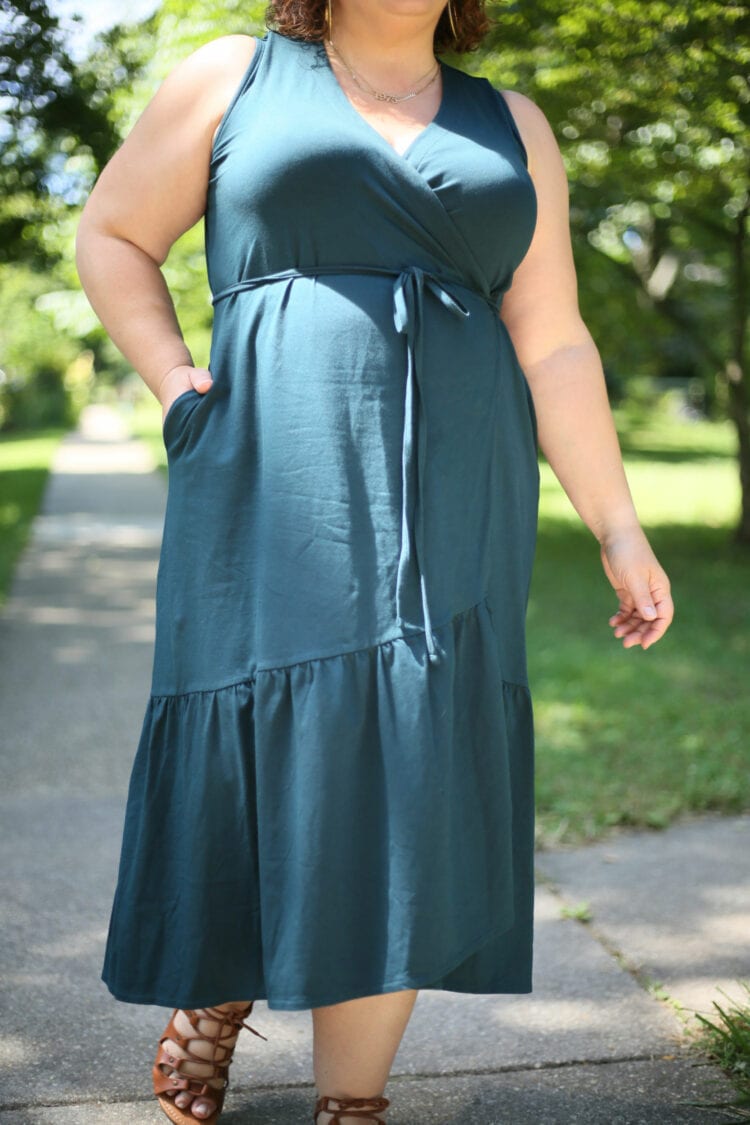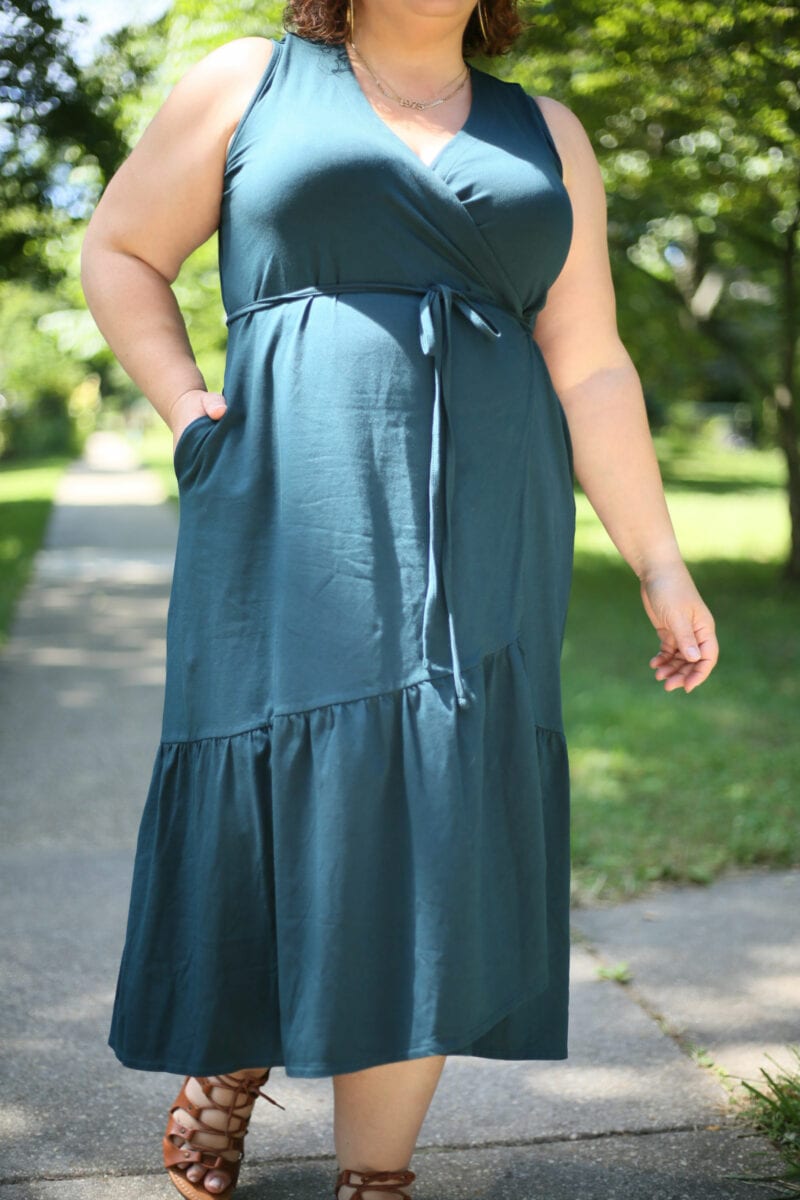 Made from a really nice knit jersey that has a weave that isn't clingy and looks luxe (composition isn't on the website at this time but reader Karis shared that US Customer Service stated it's 94% Cotton, 6% Spandex) I liked how the dress looked when it arrived (they sent me the color Deep Sea) and I liked that it had pockets, but with a skinny wrap belt and no closure at the bust I feared I'd be showcasing my bra more than actually covering it.
Universal Standard Promo Code
Universal Standard heard I was going to write a review of this dress and has provided Wardrobe Oxygen readers with a discount code! Use INFS-ALISON at checkout and get 10% off Universal Standard dresses! This code is valid through the end of the day July 18, 2022.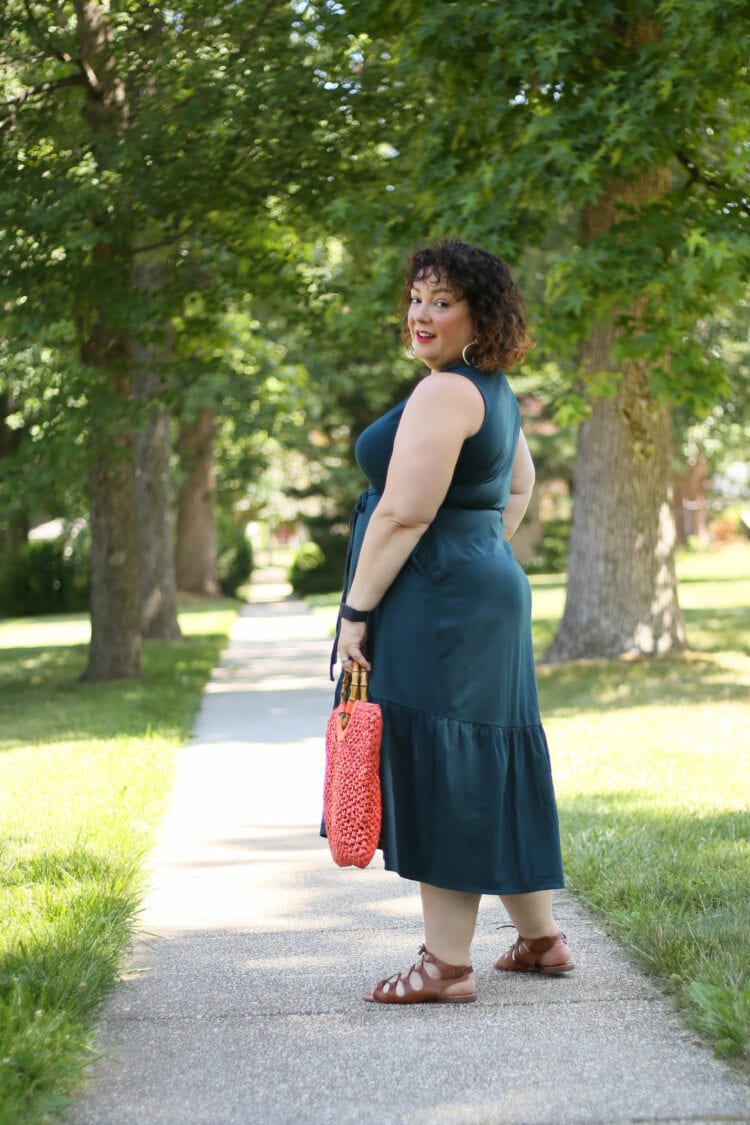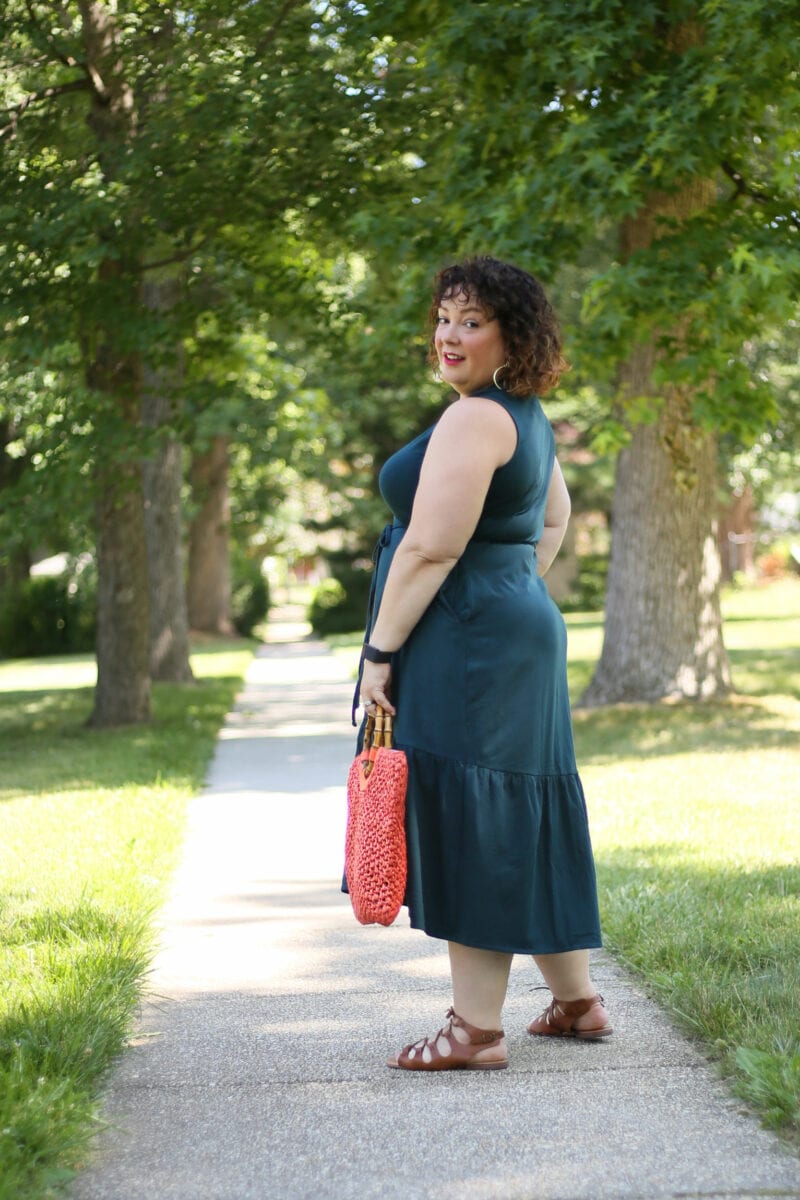 Here I am wearing a size XS in the US Tiered Twirl Wrap Dress without a safety pin hidden to keep it closed, without any fashion tape holding the dress to my bra, and no alterations from my tailor. It fit great right out of the bag! Underneath I am wearing my favorite t-shirt bra and a pair of Thigh Society Cooling Shorts.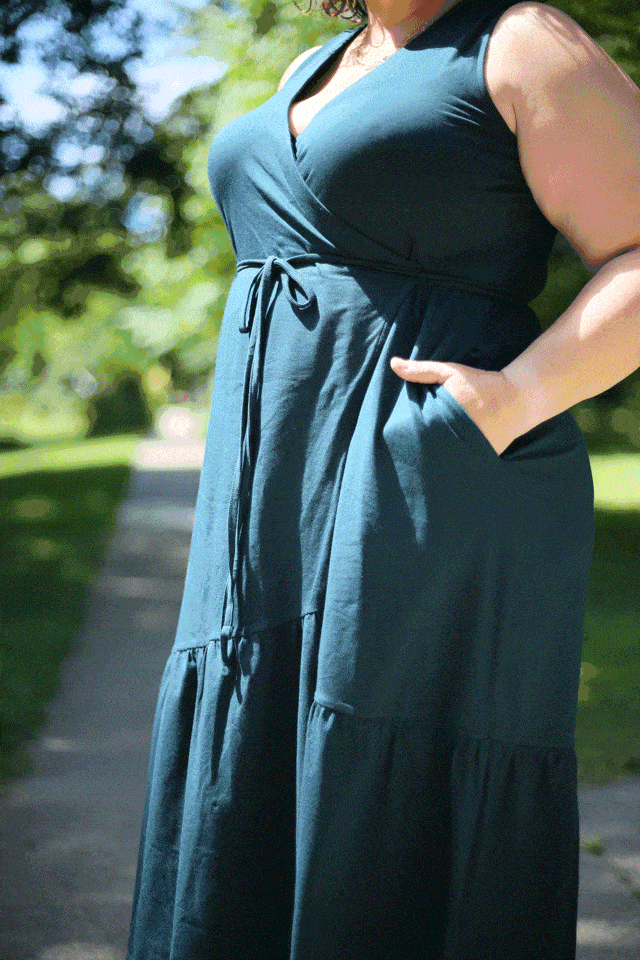 This dark green/almost teal color is so rich and pretty. I've vented before about Universal Standard's color choices, but I dig this Deep Sea color for all four seasons of the year. I like how brown leather and gold makes it feel summery.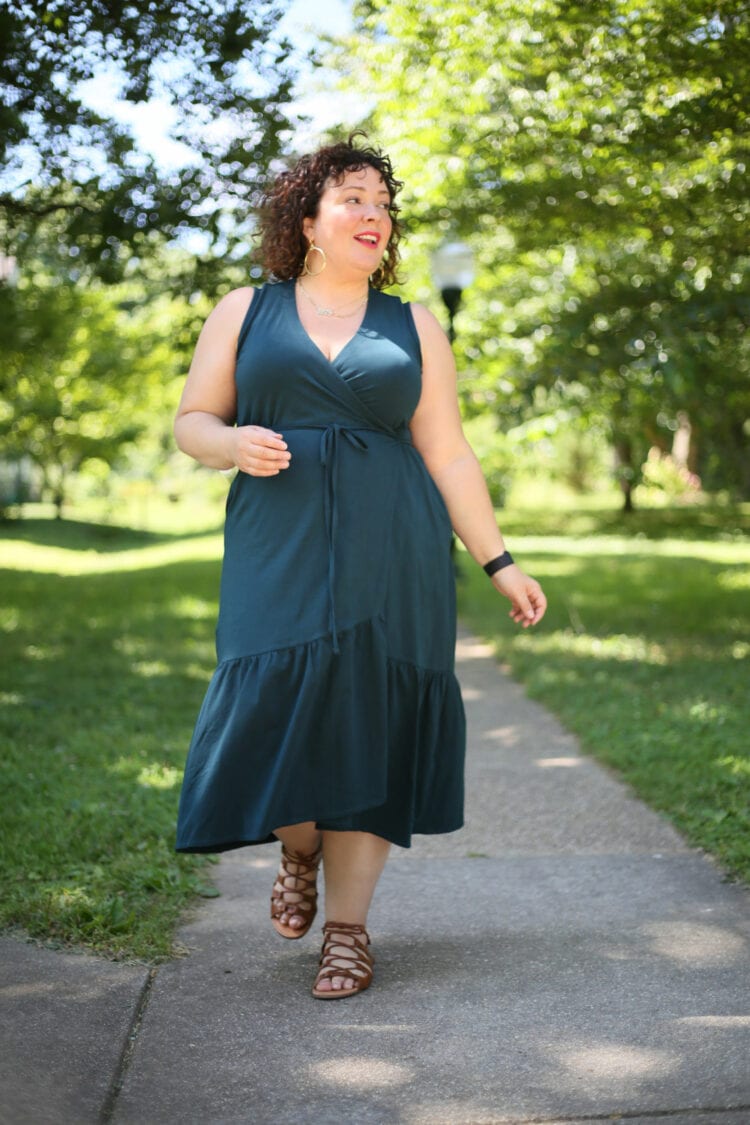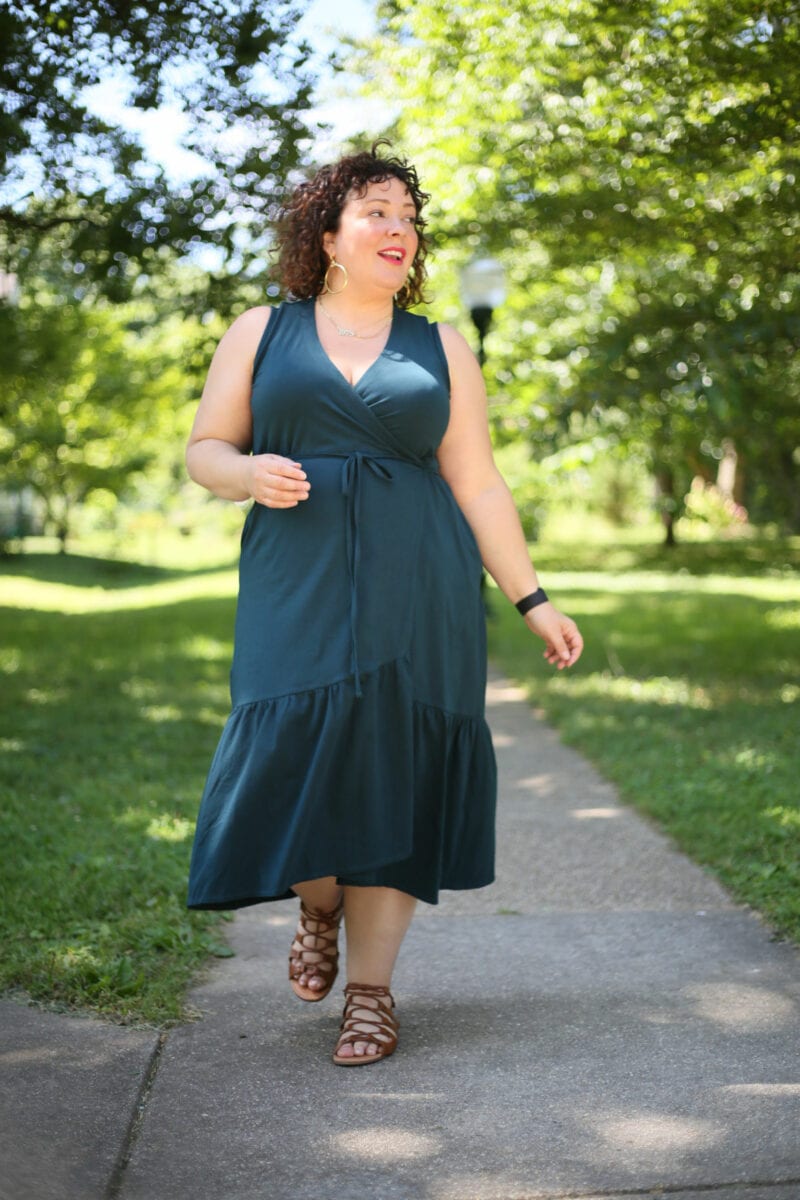 I got these sandals from the brand Bella Vita several years ago. I also have these in gold. I have a hard time finding wide width sandals that don't look fitness or frumpy. When I found these in gold, I bought a second pair on backup and then found them om sale in brown on Amazon. I'll totally cry when they fall apart. These from Vince are on sale and a similar concept, available in three colors.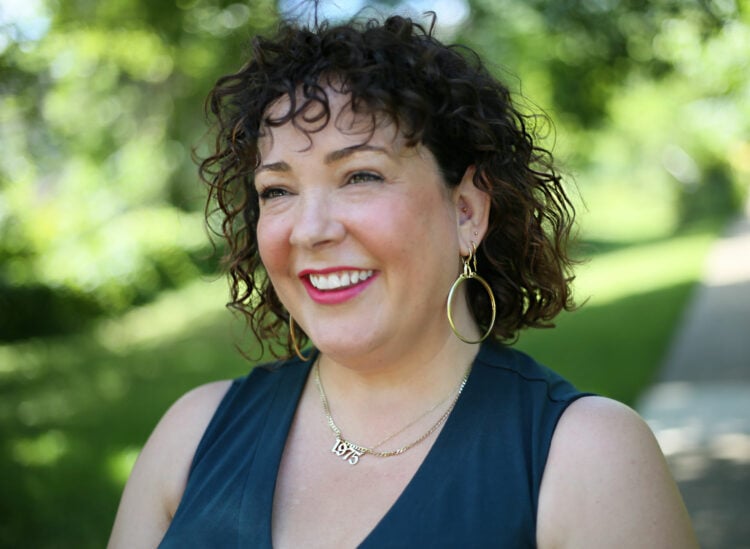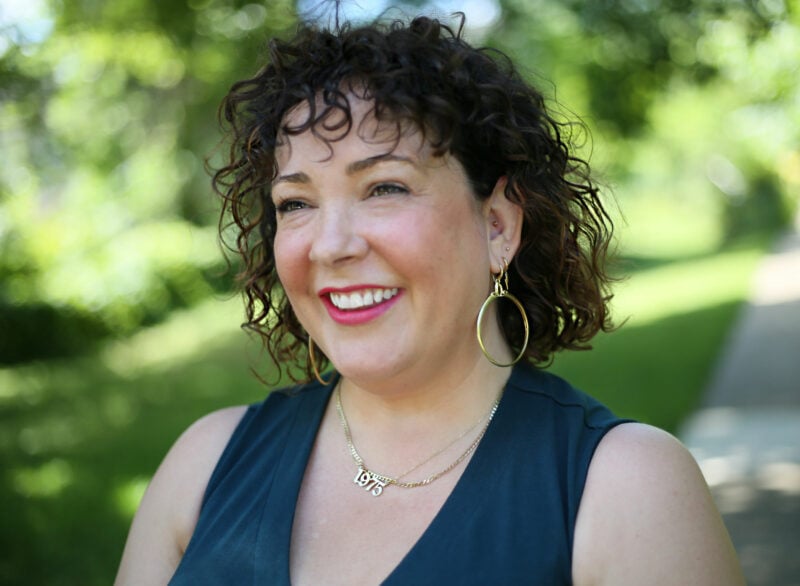 The earrings are from REALM, a small woman-owned jewelry line based in Philadelphia. I love REALM jewelry, it's such high quality without having the 14K pricetag. The date necklace is this one from Etsy. The lipcolor is this Laura Mercier lipstick pencil in the color Clique.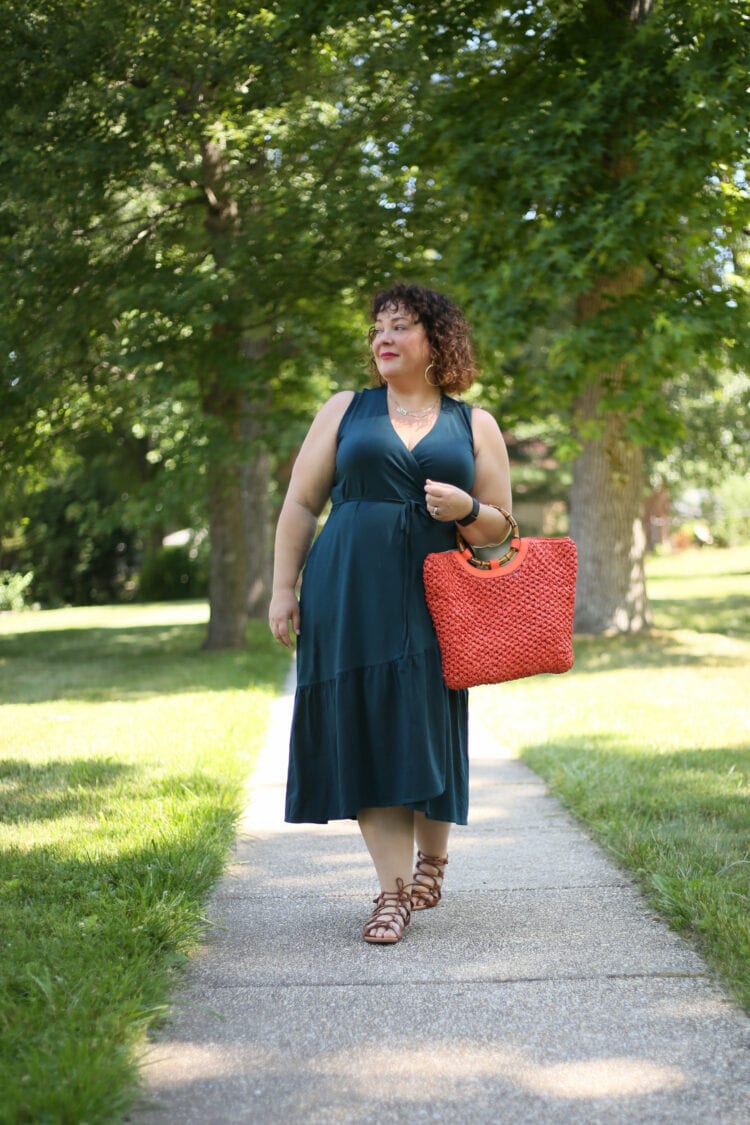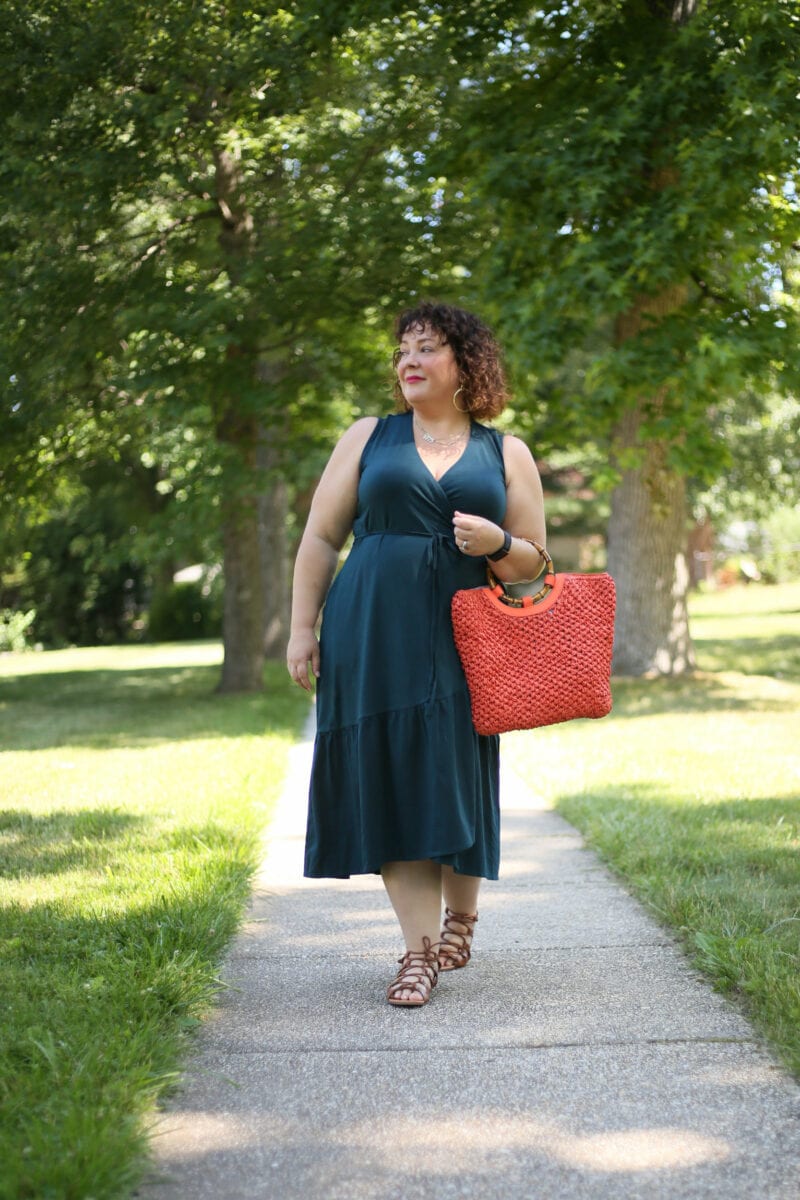 The bag is from Talbots; this orange is a neutral, especially in summer. It looks great with denim and chambray, white, brown, turquoise, mustard, navy, and so much more. And this bag holds a LOT! The other day I went to Target and didn't get a bag because I could fit everything in here along with my purse essentials!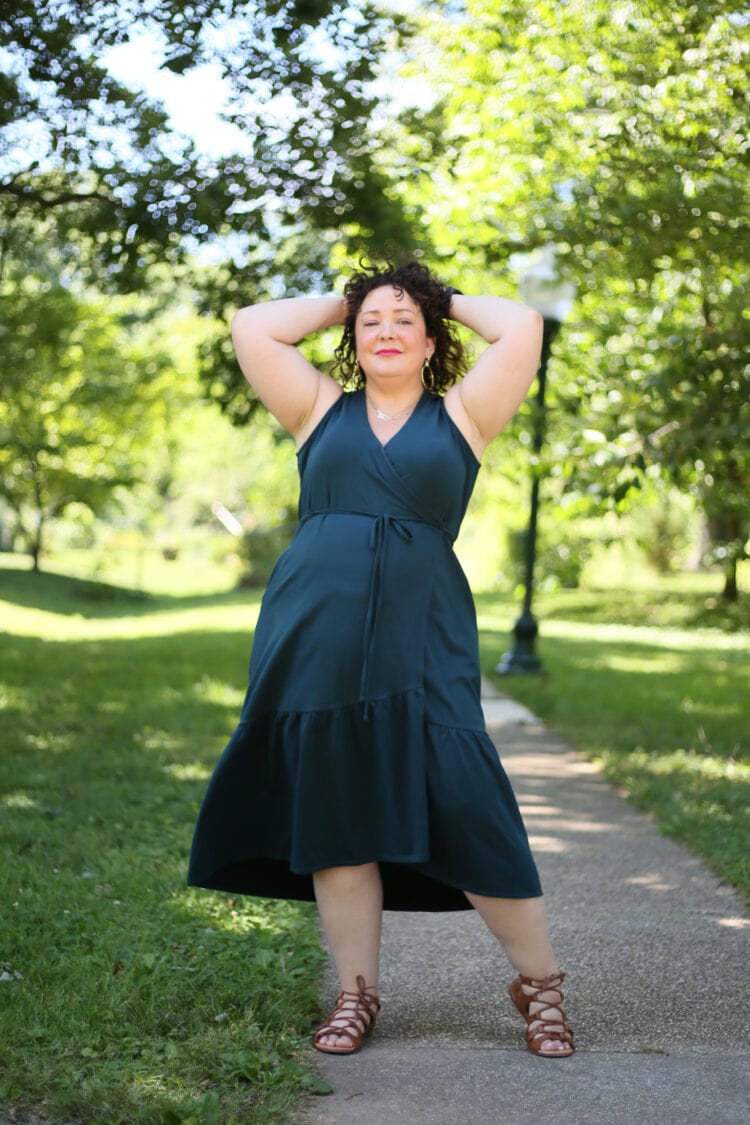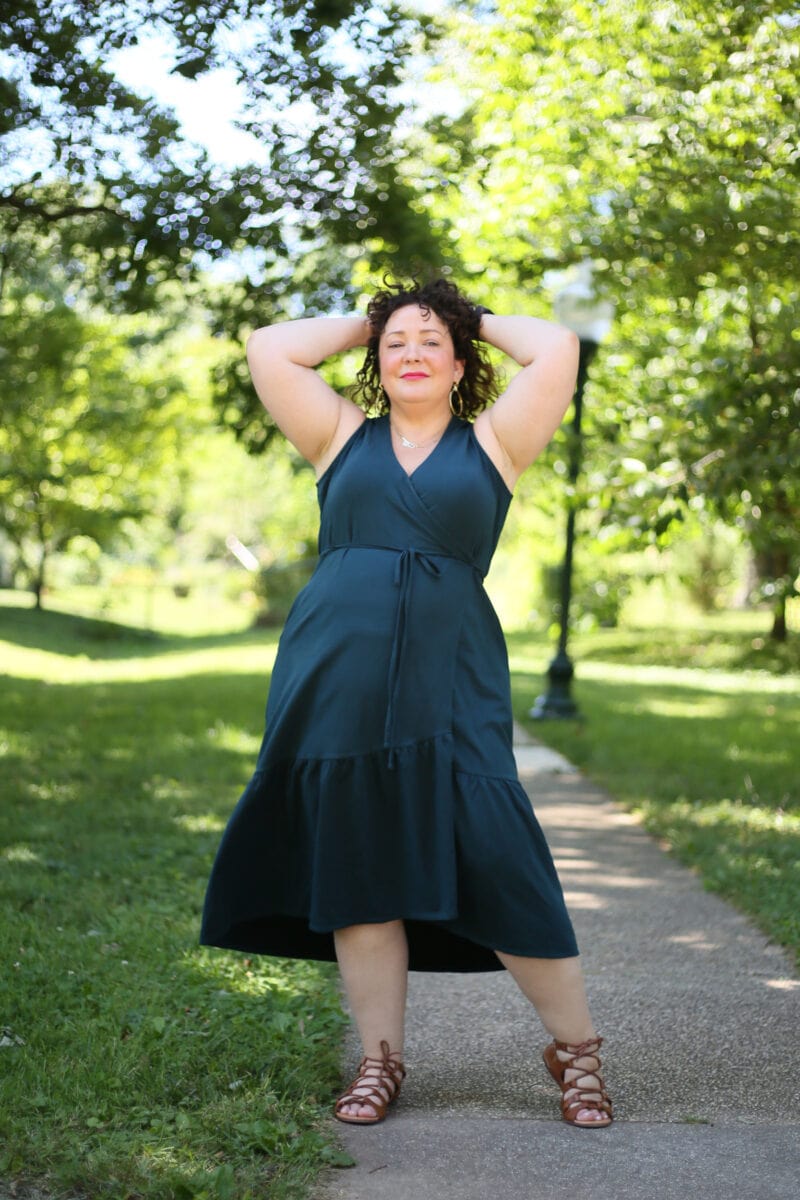 Anyway, back to the dress. It is longer on me than the model, but I don't think it looks awkward. I think this style is also super versatile. While I'm wearing flat leather sandals, this dress would also look great with a pair of white sneakers or dressed up with some heels (I wore it to dinner with my Margaux heels).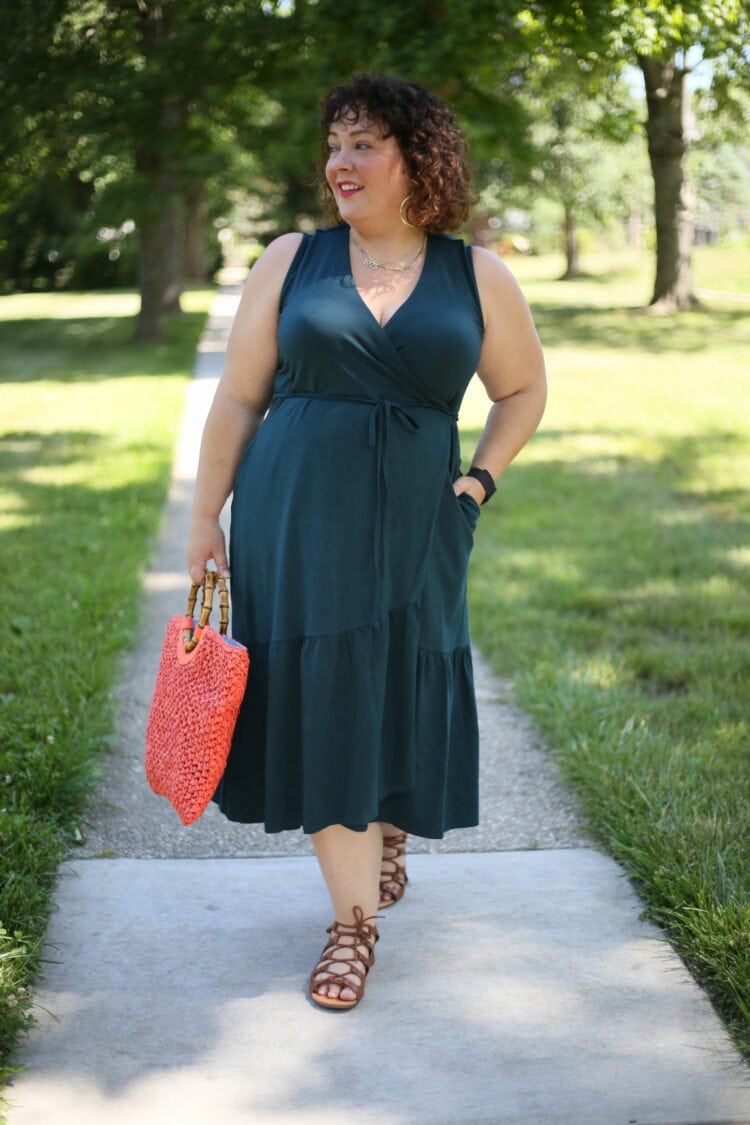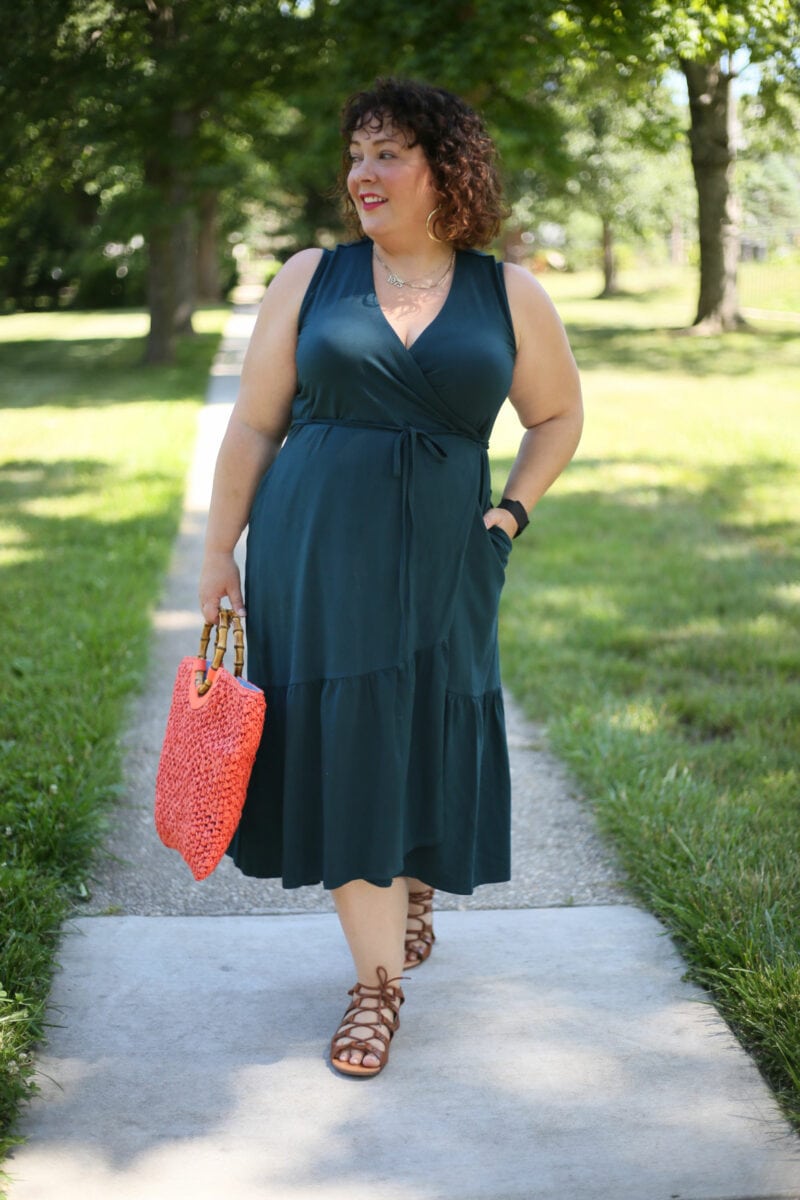 This is a true wrap dress, and the only closure is the thin belt you see. However, I feel secure. Universal Standard does a good job of designing clothing to work with curves and real life, and I've always been impressed by their wrap dresses and the coverage offered, even on a breezy day.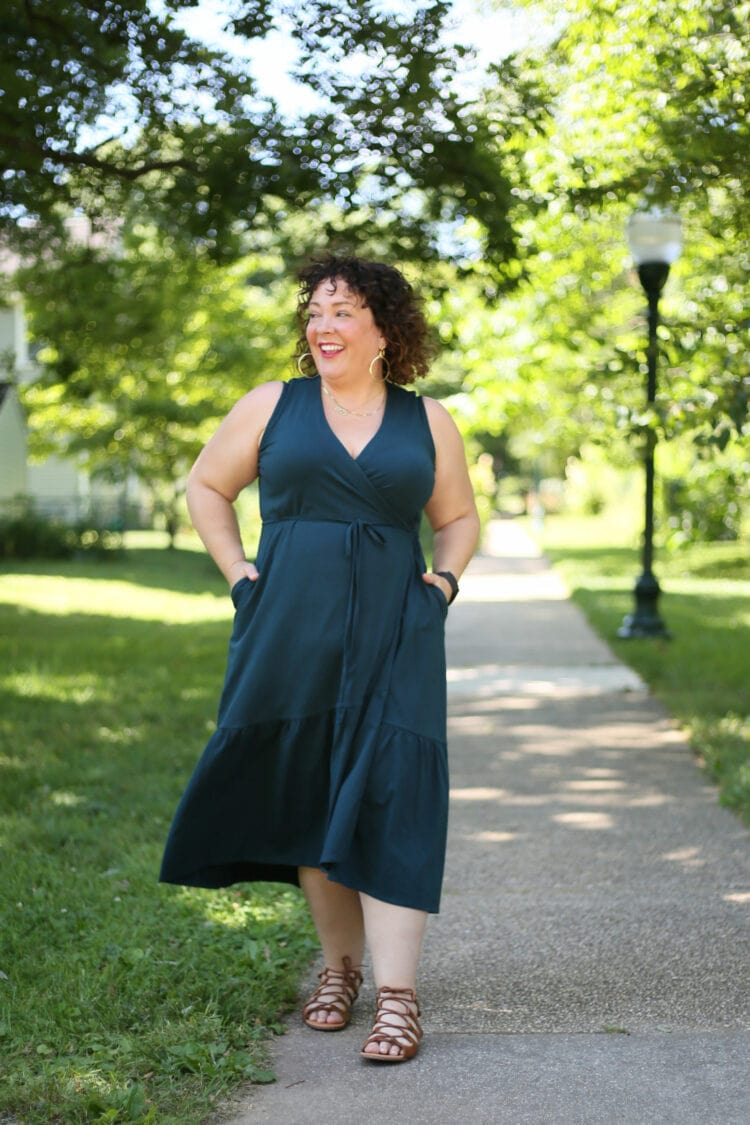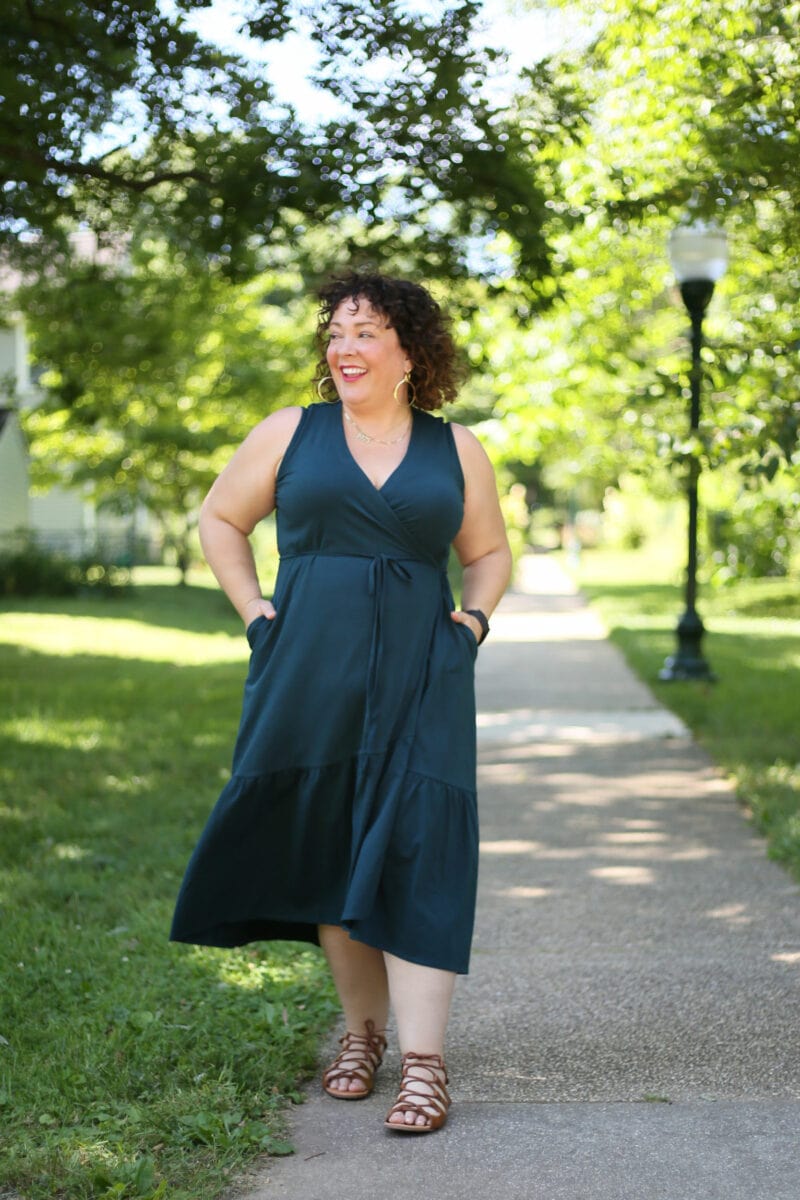 I am pleasantly surprised by this short and busty-friendly wrap dress from Universal Standard and know I'll be wearing it a lot this summer, and come fall with a denim jacket!
Shop The Look: