This article may contain affiliate links; if you click on a shopping link and make a purchase I may receive a commission. As an Amazon Associate, I earn from qualifying purchases.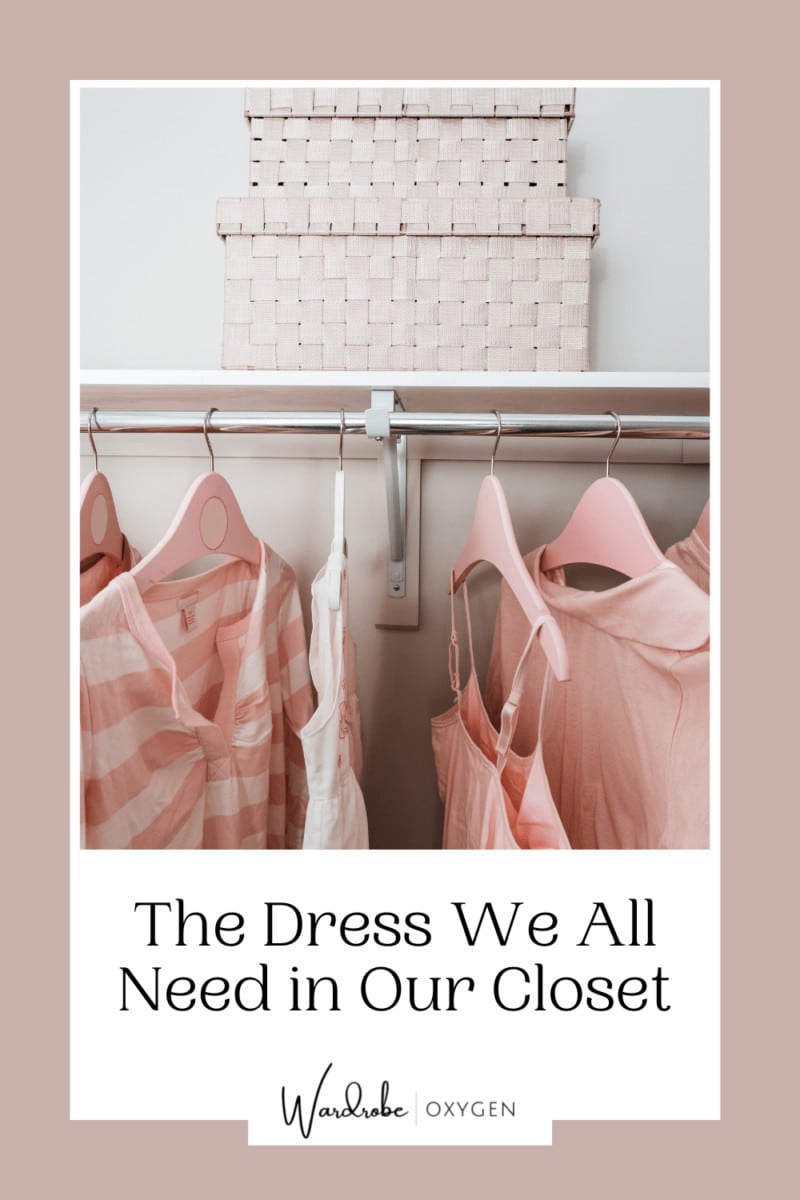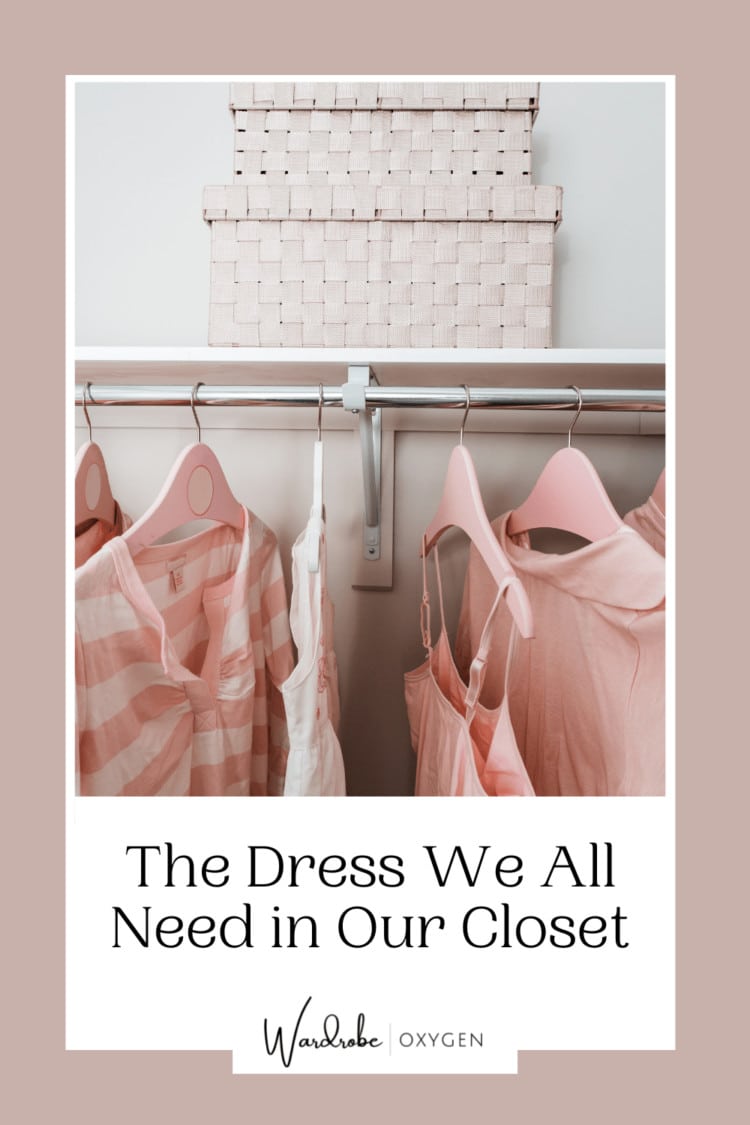 This past weekend when packing for my trip, I was going through my closet, thinking what would be dressy but not too dressy, travel friendly, easy to walk in, versatile. And I took one of two of my "glad it's in my closet" dresses. These are dresses I have owned for years that work regardless of the time of the month, if I've spent more time on the couch than the Peloton bike. They have been worn to weddings, to cocktail parties, fancy dinners, date nights, networking events, and packed in many suitcases for many a vacation.
We often think of such a dress as a black or navy sheath dress. Style experts have said for years we need such a dress which can go from desk to drinks, dressing up and down with a switch of shoes and jewelry. I love the concept of such a dress, but such a dress isn't the most comfortable to wear for many body types and it's not forgiving to a fluctuating figure.
Not only that, a sheath dress may be considered a classic but in the wrong fabric, fit, or length can look dated, especially next to modern dresses. The "glad it's in my closet" dress is just as versatile as a sheath, but more forgiving for a grown woman's figure, and doesn't require a lot of thought and an extensive accessory collection to style it well.
What Makes a "Glad It's in My Closet" Dress?
Thinking about the "glad it's in my closet" dresses they all look different but all have some similar characteristics:
Below Knee to Midi Length: A dress of this length is most versatile. With sandals it can look beachy, with heels it can be cocktail party appropriate. It can work with flats, with boots, and even with sneakers. It's also long enough that you don't have to worry about hosiery.
Elasticized or Smocked Waist: For years I hated elasticized waists because I felt they needed to be covered. But trends have changed and a visible elasticized waist is a trendy detail and a comfortable one too. An elasticized waist creates waist definition while being flexible with a fluctuating and moving body. And an elasticized waist can always be covered with a belt, offering additional versatility.

I'd say a good alternative is any dress that has a line somewhere between bottom of ribcage to an inch below the belly button and is of a stretchy fabric.

Solid Color: I love prints, but I find my "glad it's in my closet" dresses are solid colors in dark neutrals or rich jewel tones making them easier to transition from season to season and from beach to ballroom.
Versatile Fabric: No sequins or cotton poplin, but something in between. Silk or silk-like, stretch crepe, matte jersey, silk jersey… something that looks good with sparkles as well as sneakers.
Low Maintenance: I don't need special underpinnings to make it work (this will vary depending on your personal needs and existing intimates drawer), it won't wrinkle super easily, I can bend down to pick up something I dropped without flashing the world, if I spill salad dressing on it I can get it out and wear it to another event the following week.
Examples of My "Glad It's In My Closet" Dress:
The list above doesn't equal a boring dress. In fact, I encourage you to find one that has a cool detail you enjoy. Below I share two of the "glad it's in my closet" dresses I own, why they are great, and where I have worn them: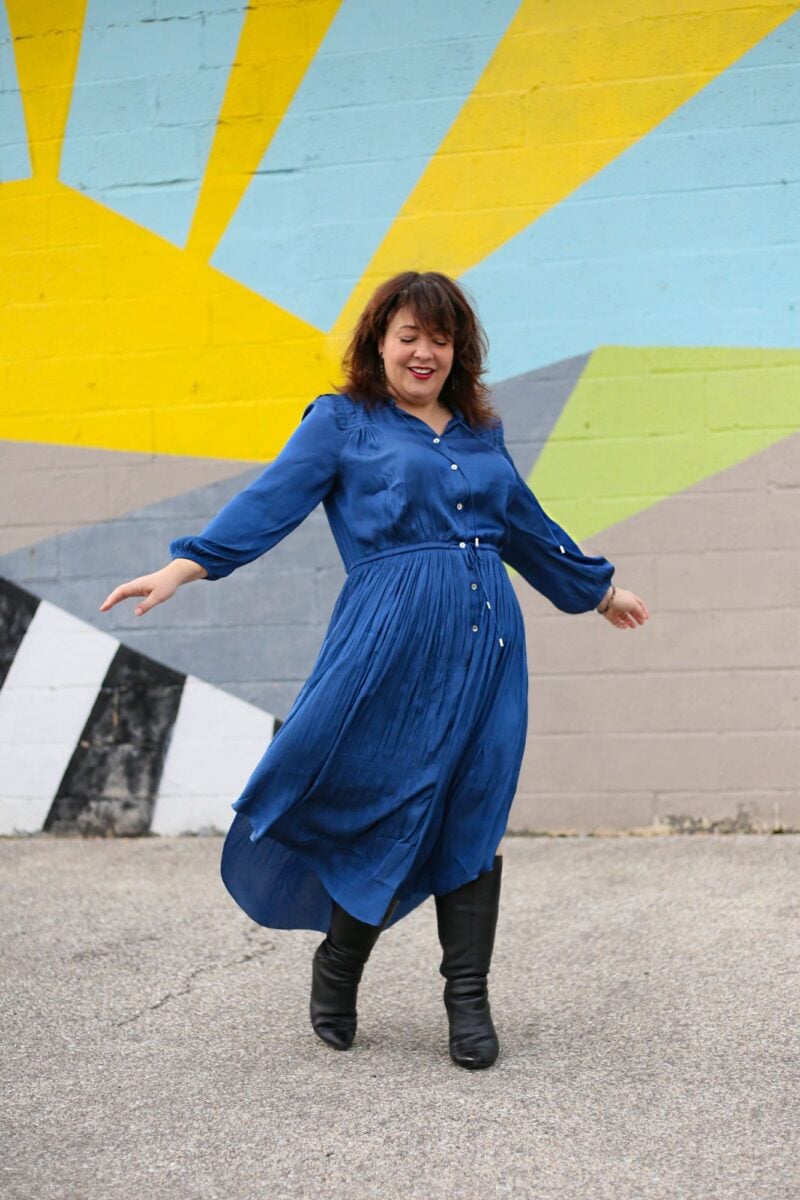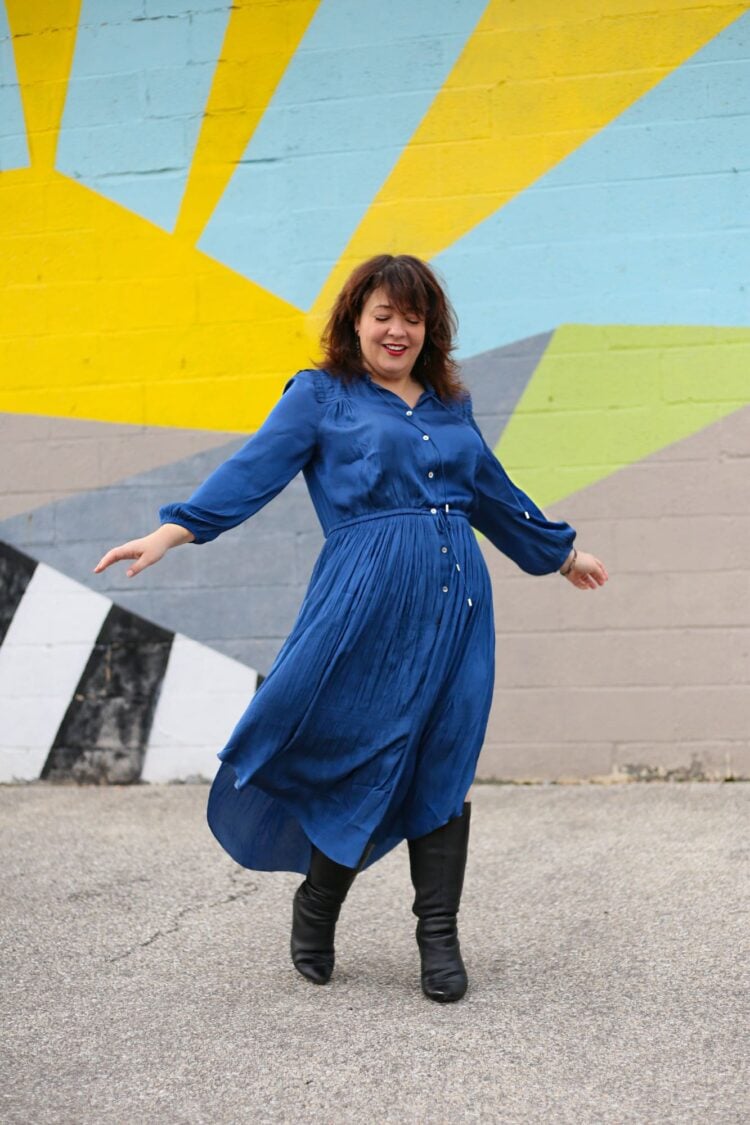 I got this dress from Chico's this past winter. It is a synthetic fabric that looks and feels like silk. Shirring on the shoulders, a tie neckline, and a handkerchief hem keep this dress from being too basic. The blue color is one that can be worn in winter with boots and seen here, or in spring with more delicate of footwear. I've yet to style it with a belt, but I've seen others wear a wide black belt with it to create a different effect.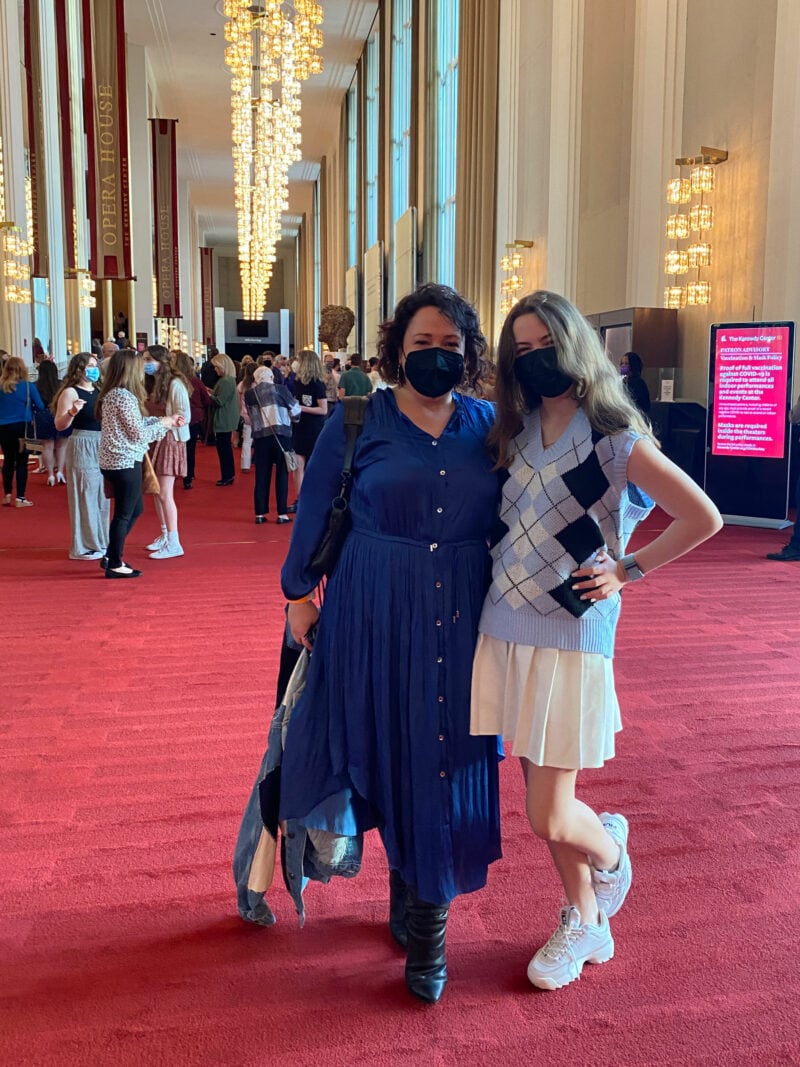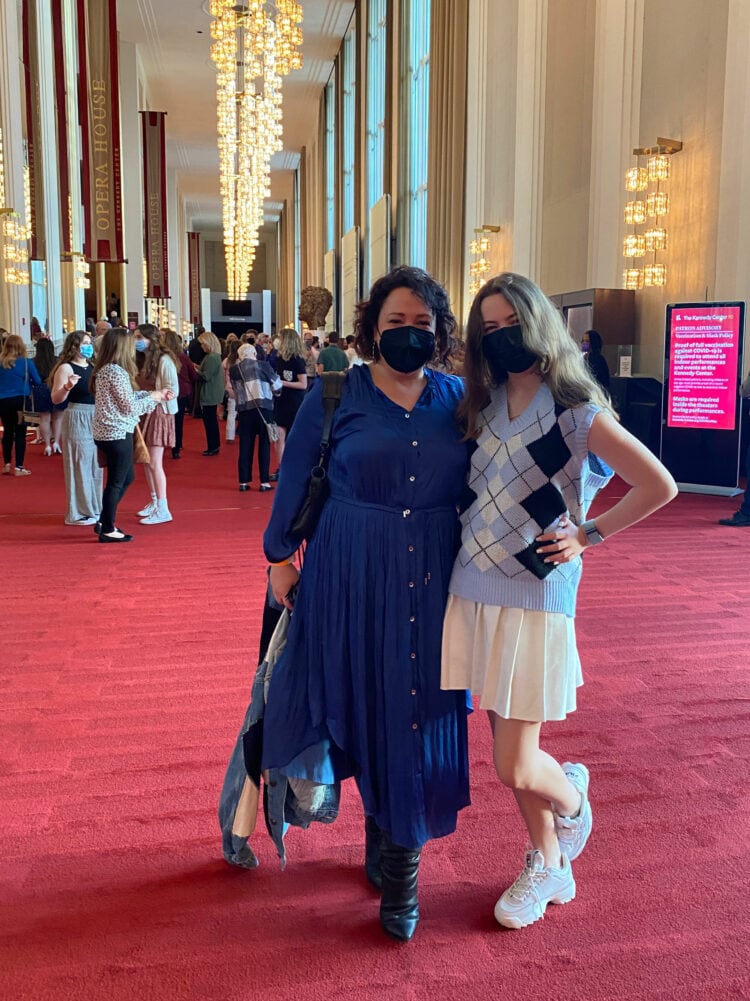 Here I am wearing the same dress to go to the theater with my family. It was the perfect mix of dressy and casual for a weeknight at the Kennedy Center, and comfortable to sit in for a long period of time. I have also worn this dress to a funeral, a religious service, a client meeting, and a nice dinner with my husband.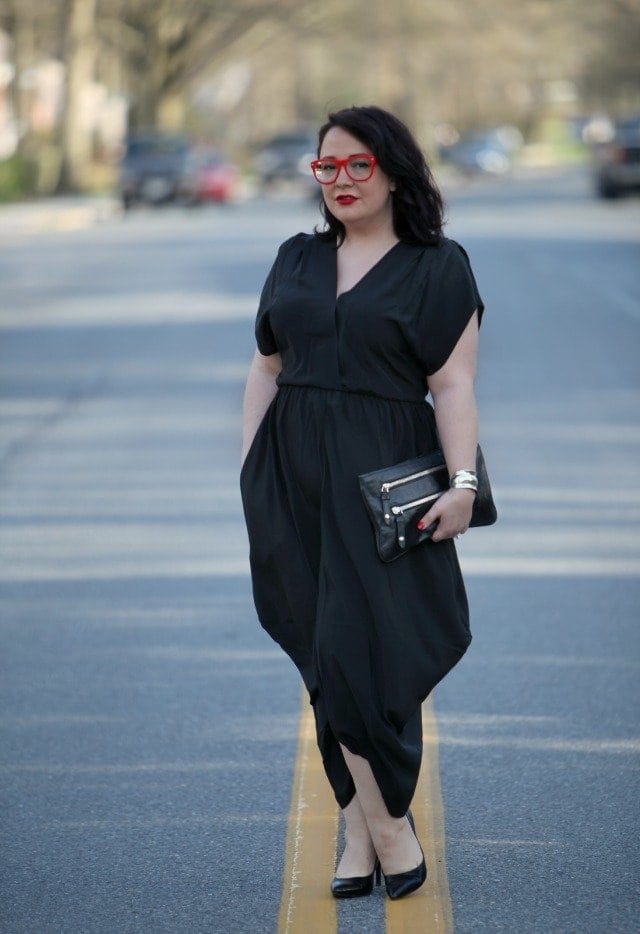 I got this dress from now-defunct fashion brand Myne LA back in 2015. It is an unlined silk dress that is relatively unremarkable except for the draping of the skirt, which creates a harem pant effect. I've worn this dress with a variety of belts, and styled it with pumps, sandals, strappy heels, heeled ankle booties, and ballet flats.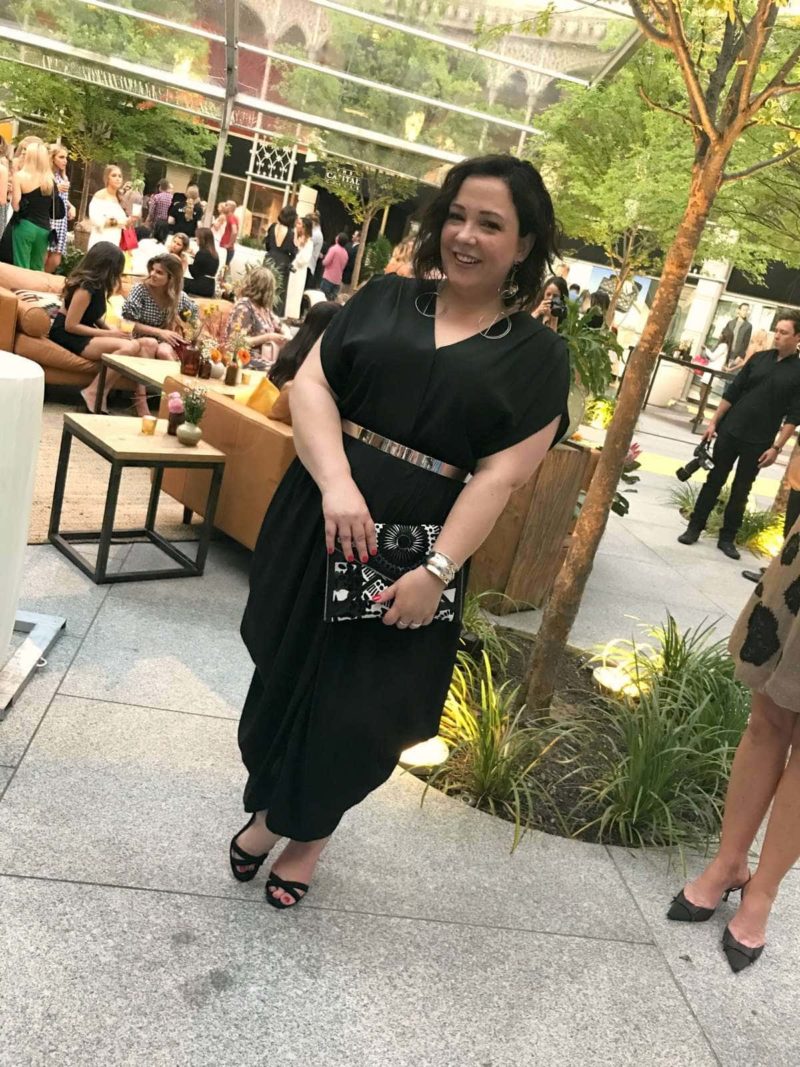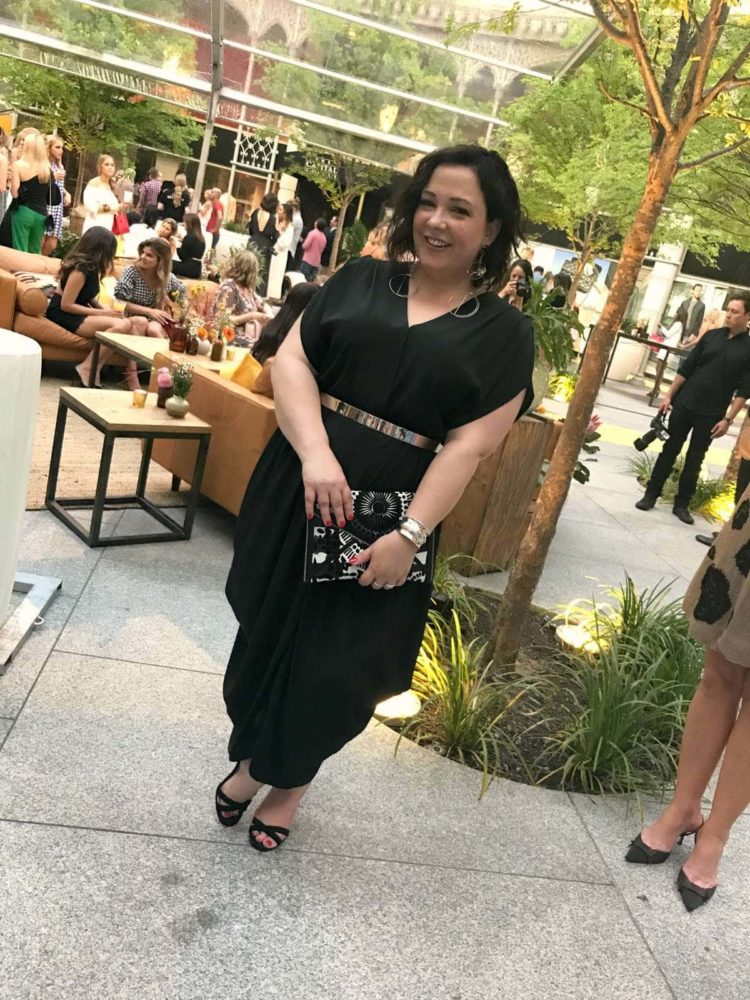 Here I am wearing the same dress with strappy heels, a metal belt, and a clutch purse to one of the most intimidating events in my blogging career – an influencer conference in Dallas, TX with the most successful bloggers in the network. I've worn this same combination to a wedding and to another influencer event.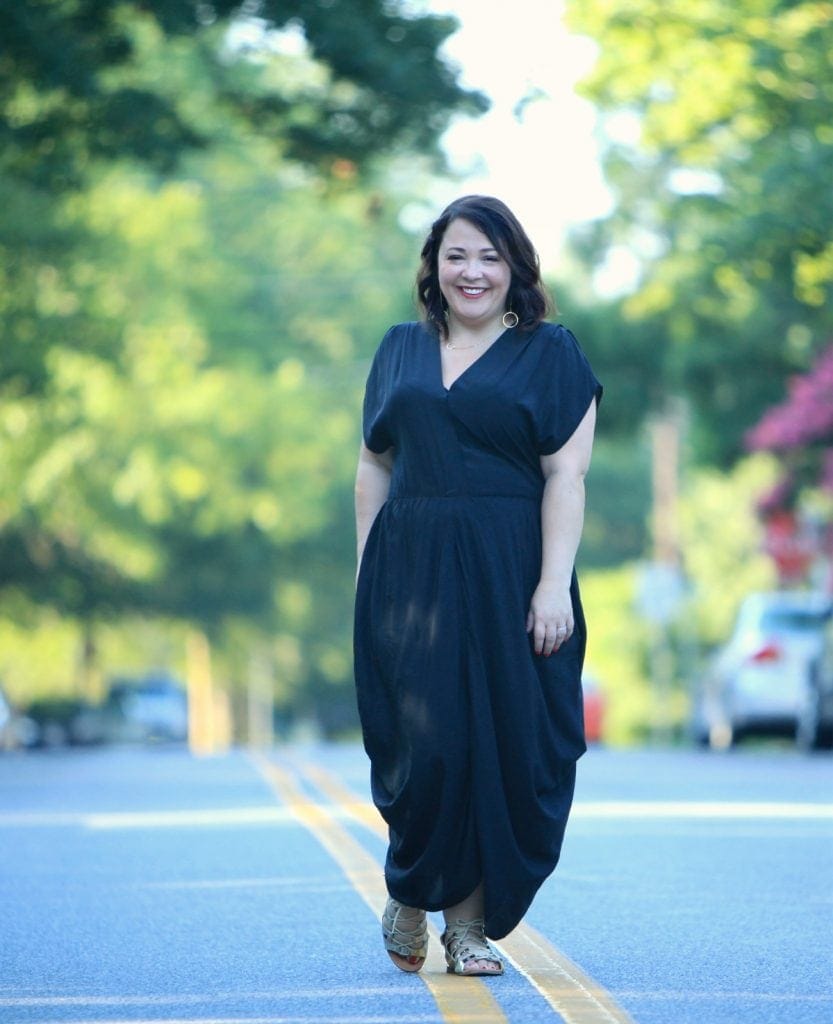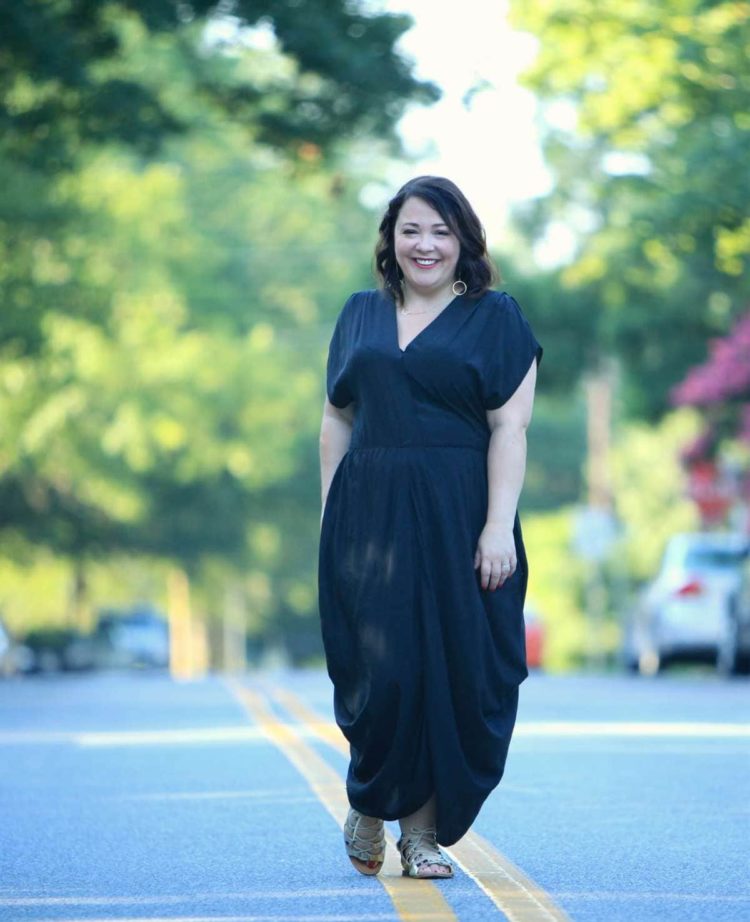 Here I am wearing the same dress with a pair of flat gladiator-inspired sandals. I've worn this combination for a garden wedding, a cocktail event on the beach, and out to nice dinners several times (including on my Washington DC weekend getaway not too long ago).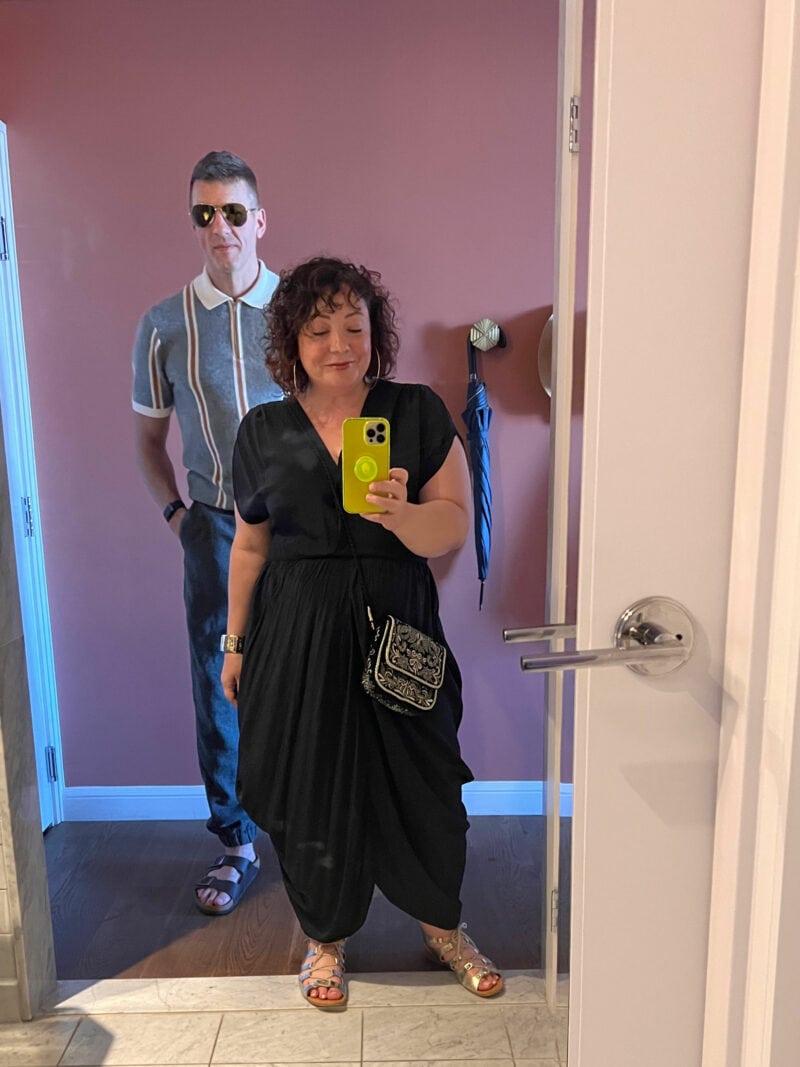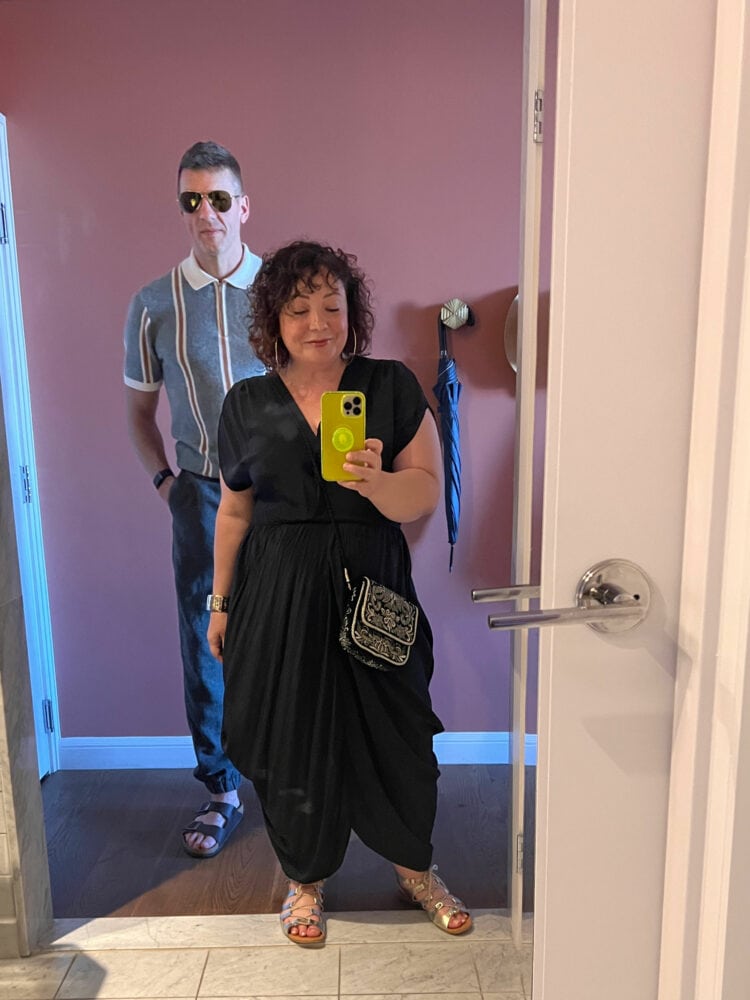 As you see, these two dresses are versatile, but not boring. They both have a defined waist, are shorter than a maxi but long enough for comfortable movement and appropriate for a range of situations, and are of fabrics that can read dressy but can also dress down with a switch of shoes.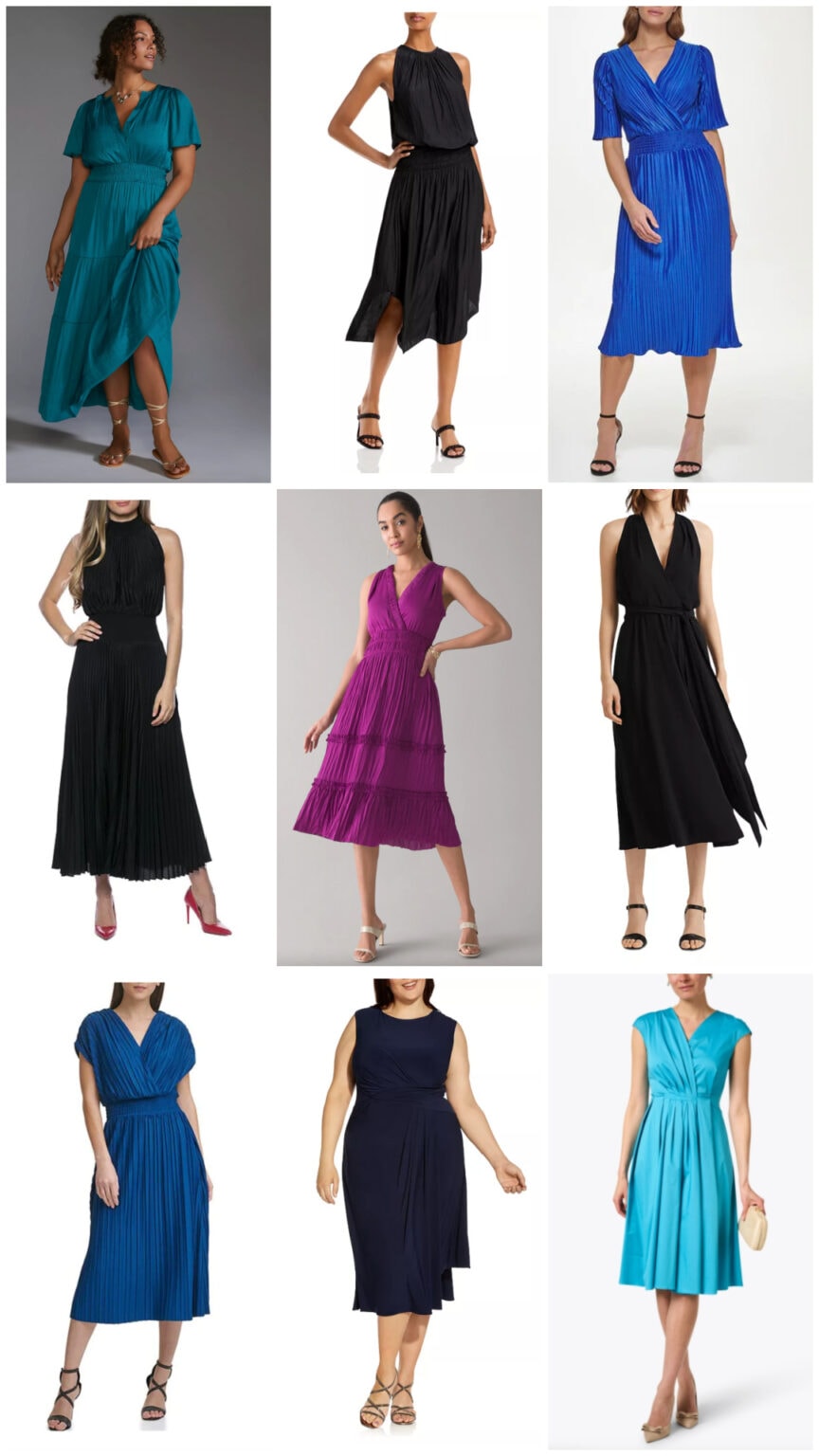 "Glad It's In My Closet" Dresses I found Online:
Top Row: teal (XXS-3X with petite; other colors available) | black (XXS-XL; other colors available) | blue (0-18)
Middle Row: black (4-16; other colors available) | berry (XXS-XL) | black (00-18)
Bottom Row: blue (2-18) | navy (14-26) | turquoise (4-16)
Why You Need a "Glad It's In My Closet" Dress
You need a "glad it's in my closet" dress because life happens, and you deserve to enjoy the experiences that happen in life without stressing over what the heck you're going to wear. Men have this freedom, we deserve to have it as well.
Men can throw on a collared shirt and a pair of chinos and are ready for half of life's events; switch to a dark suit and they're ready for the other half. They can wear the same gray suit to every single wedding, funeral, bris, and retirement party and look smashing. However, as women, we feel obligated to have a different yet still appropriate outfit for every single occasion.
Eff that noise. Let's embrace rewearing outfits and having signature looks. Let's make going places fun because there is less stress preparing what to wear. Let's take the time when we're not rushed for an event to seek out a "glad it's in my closet" dress so when such an occasion arises, we can more easily go with the flow.
As grown-ass women, we have fewer f*cks to give but we still give a sh*t. Investing in a dress like this means no matter the time of the month or what you had for dinner last night, you can get dressed and go. Choosing slowly means you will like it the first time you wear it and hopefully still like it the 10th time too.
Weddings. Funerals. Retirement parties. Engagement parties. Rehearsal dinners. Graduations. Networking cocktail party after the business conference. Company holiday party at the restaurant down the street. Milestone birthday dinners. A Christening or a Bris or a Confirmation or a Bat Mitzvah. Theater tickets. These are just a few occasions where it would be a heck of a lot nicer to pull something already in your closet than to frantically search for something, anything that would work and be available in time.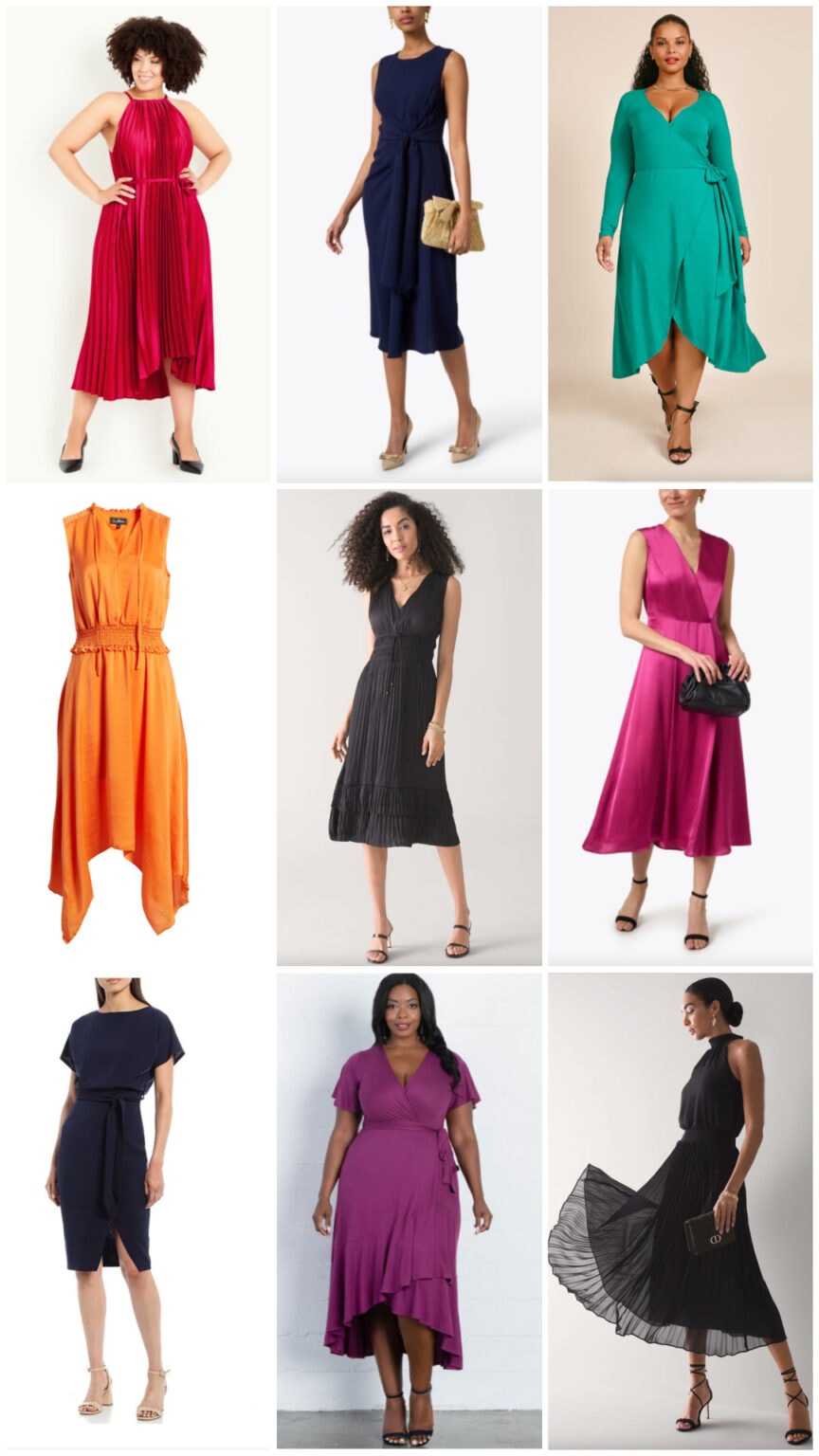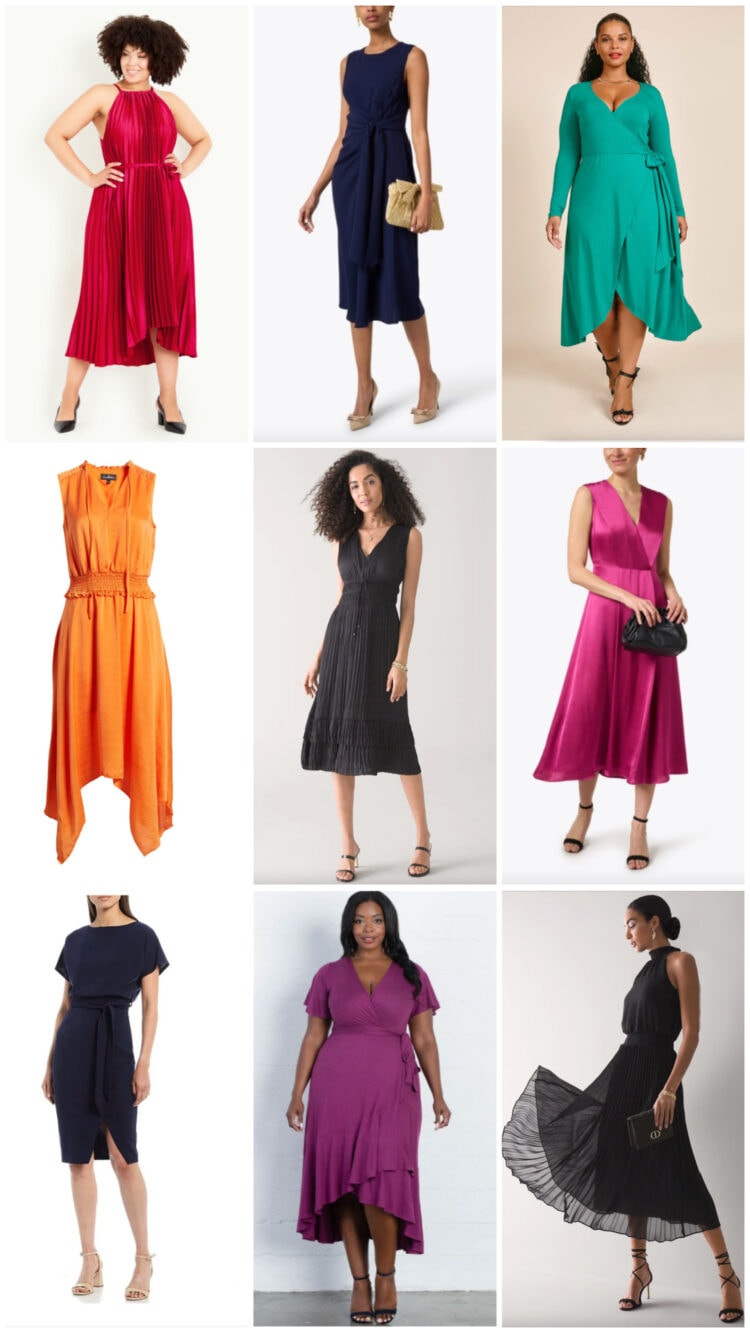 More "Glad It's In My Closet" Dresses I Found Online:
Top Row: red (14-30/32) | navy (4-10) | green (10/12-22/24)
Middle Row: orange (XS-XL) | black (XXS-XL; petite options) | pink (8-16)
Bottom Row: navy (0-16; other colors available) | purple (1X-3X; other colors available) | black (00-18)
What Makes a Dress a Quality Purchase?
If you have the dress, the rest doesn't matter as much. If the dress is comfortable, appropriate, and makes you feel good, you can get away with your comfy black ballet flats and that handbag you've owned for years. This is why for a glad it's in my closet" you may end up spending a bit more than usual, and take the time to get it tailored for a custom fit.
My black silk dress from Myne was over $300 when I bought it in 2015. That's a lot of money, and felt like a scary amount of money at that point in my life. I bought it from Nordstrom and thought, if I don't wear this in the next six months I'm mailing it back. I ended up wearing it so many times that it would have been a value if I only wore it for one year.
I almost returned it purely for the fact that it seemed utterly ridiculous to pay that much for a thin unlined silk dress. It couldn't be that hard to replicate; while I am not a skilled sewist for that price I could contract someone to make it for me. But let's be honest, am I really going to go to such lengths? And who cares the layers of fabric or complexity of design when it comes to usefulness, versatilty, and joy of wearing?
By being so incredibly lightweight, it has been great for travel and fantastic for the hot and humid DC-area summers. By having such a simple design, I have been able to jazz it up easily with a range of necklaces, scarves, and belts. I've even layered it over other pieces and being so lightweight, it fits nicely under fitted jackets.
That dress has been across the country with me. It has been worn to fancy influencer events where I am surrounded by women half my size and half my age with three times my income and I've felt confident. I've worn it when I fit into a size 10, and worn it when I was more comfortable in a size 16.
Shop "Glad It's In My Closet" Dresses:

Breaking the Bargain Mindset
Stop equaling quality with details like linings and trimmings. Clothing manufacturing has changed dramatically over the past decade and such details do not equal a well-made dress. And a well-made dress does not equal a well-worn dress.
When you shop for the kind of quality that offers you "glad it's in my closet" dresses that work year after year, even as you change and grow and evolve, you need less. You organically curate your wardrobe and find that you achieve more style with fewer items.
It's a tough mindset to adopt. If you're around my age, you've been a bargain hunter. You've scoured the clearance racks, hit up the local TJ Maxx or Marshall's to find that gem, you've trolled the thrift stores and consignment shops and if asked, can tell a story about your best score (mine was a Barney's trench on the clearance rack at TJ Maxx for $99, originally $750).
It's also a tough mindset to adopt when you're surrounded by examples of excess. Influencers showcasing a new dress every day, websites showcasing the packed walk-in closets of fashionistas, and every event being photographed and shared on social media. Remember, you are a grown-ass woman. These are the games for those who still have a helluva lot of f*cks left to give. The most stylish thing a grown-ass woman can wear is confidence and if the dress fits, wear it. And wear it again. And again.
But I Don't Wear Dresses
Sounds like you know yourself pretty well, which is the most chic thing anyone can possess. Likely you already have a go-to look for such occasions. Maybe it's a matte jersey top and matching pants, maybe it's a crepe jumpsuit, maybe it's a suit. Whatever it is, by this age you have likely found a good alternative and I fully support wearing whatever makes you feel good.
But I Never Draw Attention To My Waist
I get it, my midsection is a part of my body I don't love putting on display. But I hate to break it to you, your midsection is there whether you have a piece of elastic against it or it's under a loose shift. I encourage you to read this piece about tucking in tops and this piece about breaking style rules if you're concerned that drawing attention to your midsection will make it appear larger. You may be surprised by how much you are holding yourself back by subscribing to this style rule.
Now if you don't wear clothing that touches your midsection for health or comfort, I fully support you and encourage you to take the ideas laid out in this article and find similar, just without the defined waist. Look for similar fabrics, lengths, and some sort of architectural detail that elevates it beyond a shift or t-shirt dress.
I Don't Have Situations In My Life For Such a Dress
If you truly cannot see a reason in the future and haven't had such a reason in the past decade, then keep scrolling. We all live different, fantastic lives and this is why you will never find me preaching that everyone woman needs X items in her closet.
This country is vast, with so many different cultures and subcultures, religions, and styles. The past couple of years have magnified the variety of our people and with it, there is variety in how we dress. All of the content I create is guidance, not gospel. No one knows you and your life better than yourself, and that's incredibly stylish.