This article may contain affiliate links; if you click on a shopping link and make a purchase I may receive a commission. As an Amazon Associate, I earn from qualifying purchases.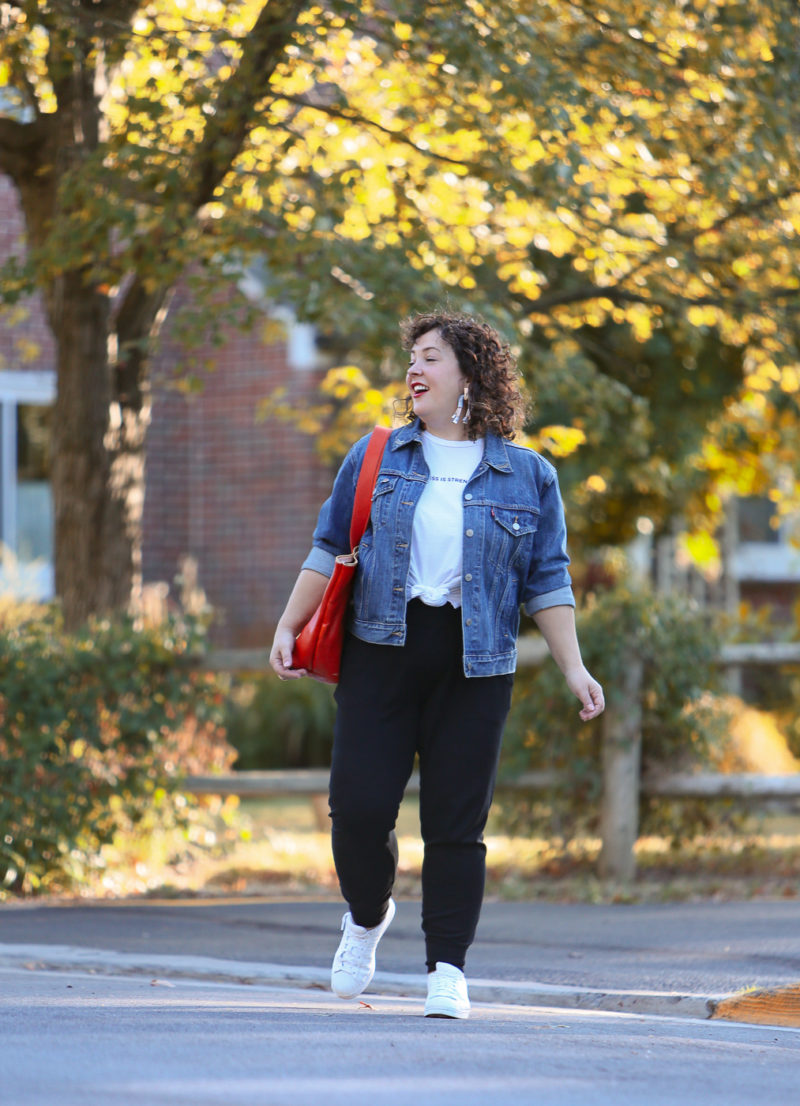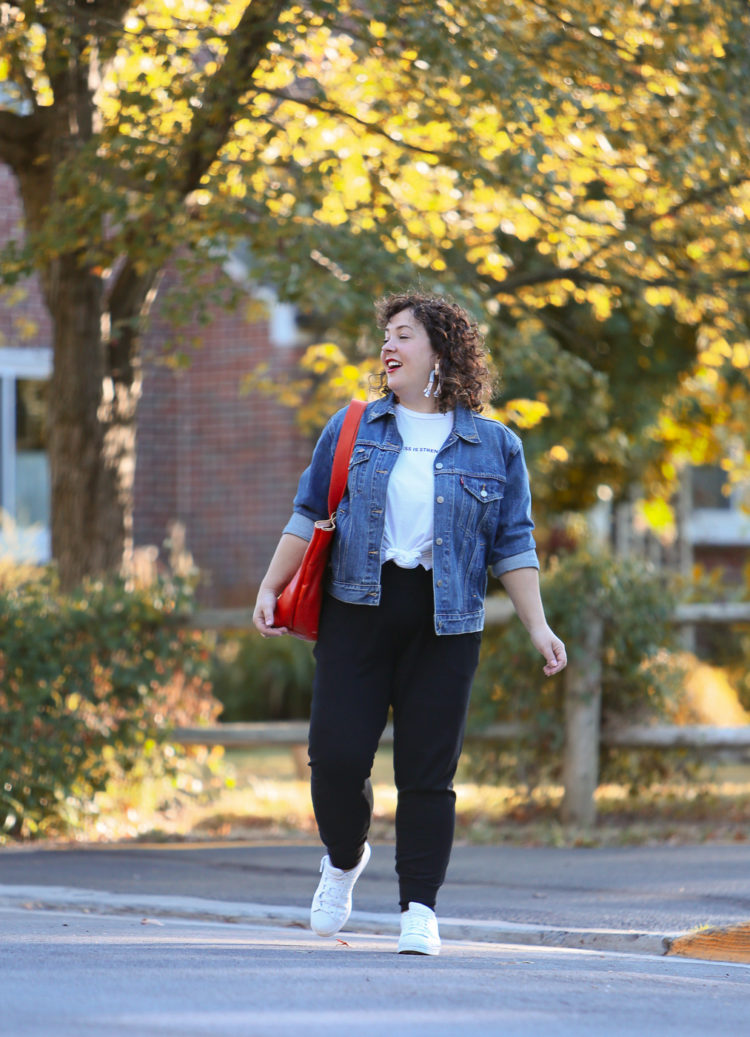 I know I don't work in an office, but I do believe in getting dressed every day.  I've had days where I've sat in sweaty gym clothes for too long, or showered and threw on the equivalent of pajamas and the days are never as productive and seem to drag on longer.  When I worked outside the home I had a capsule of pieces I could grab literally in the dark (even now I wake hours before my husband) and get dressed without much thought.  I've built a work from home capsule in the same manner and these are some of the pieces.  In fact, this is what I wore last Friday!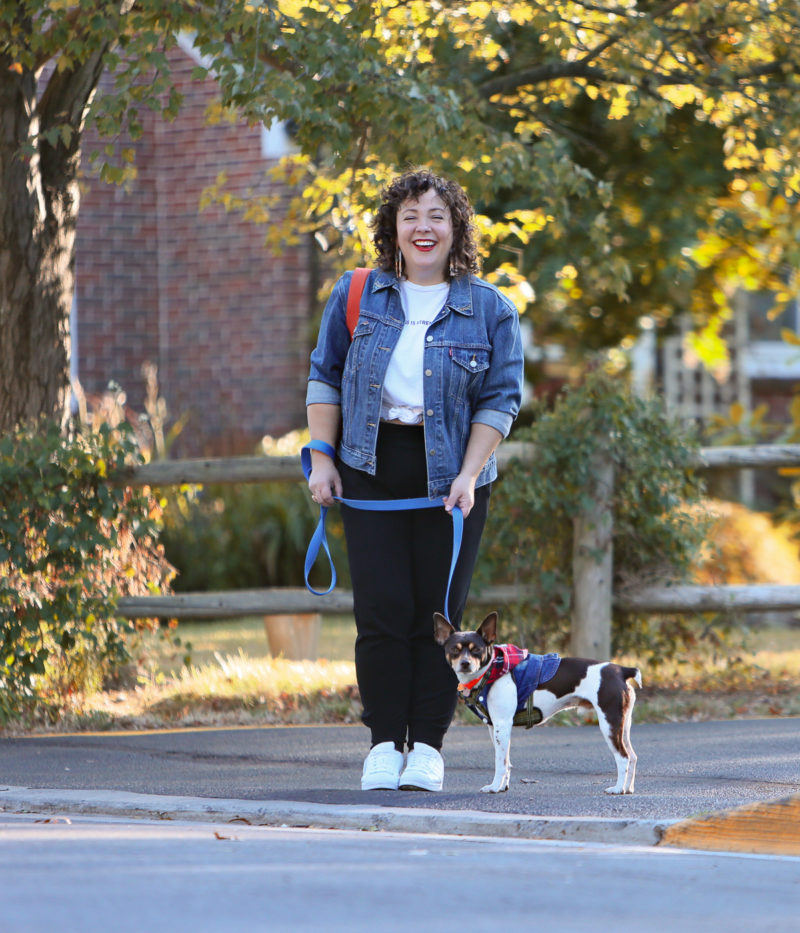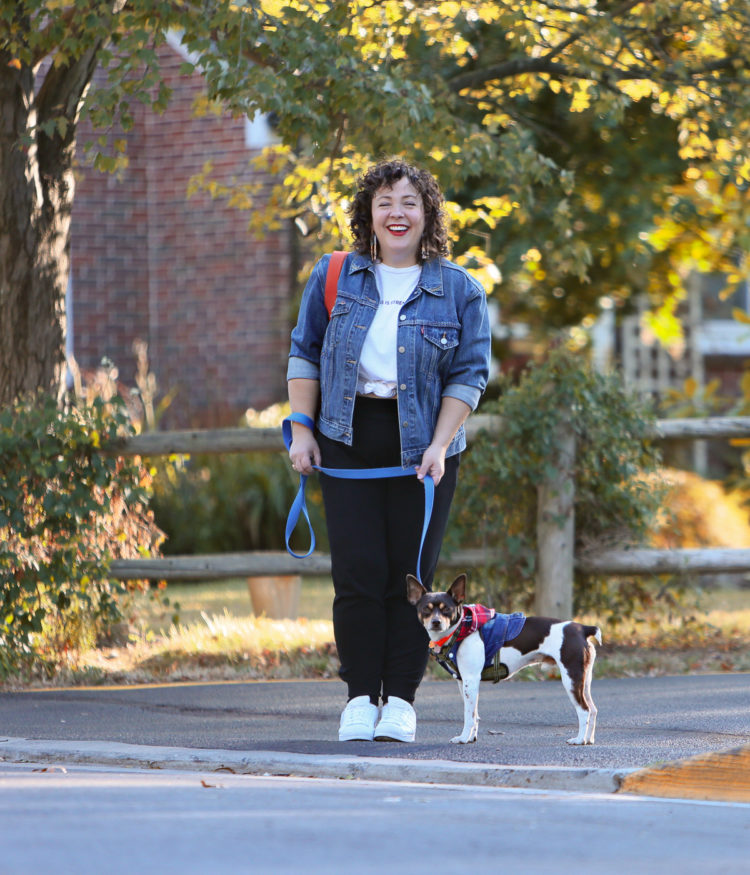 jacket | t-shirt | pants | sneakers | bag | earrings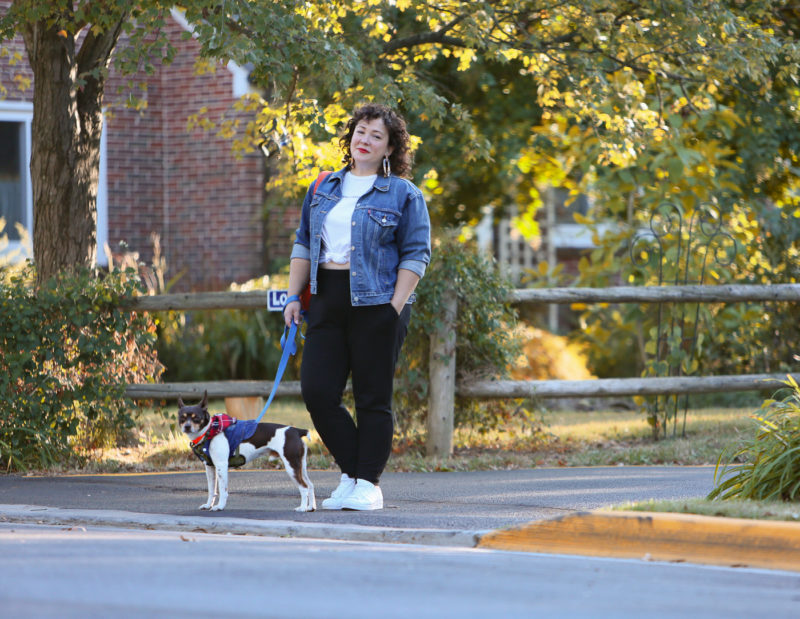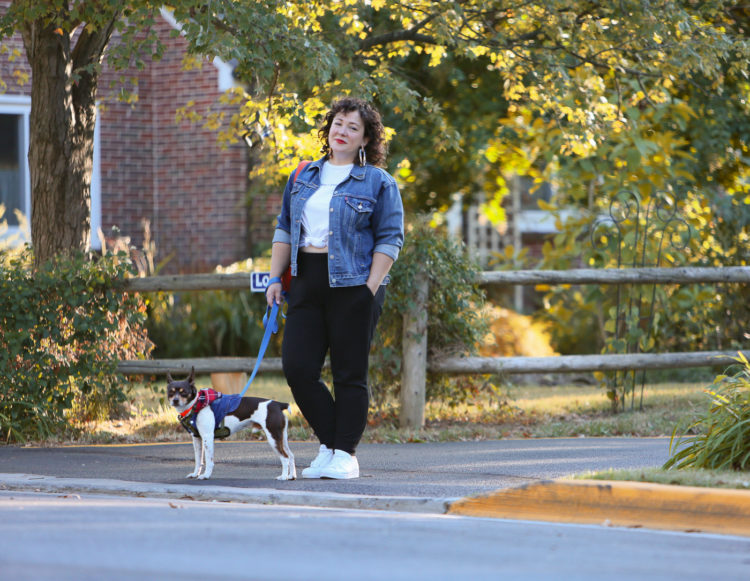 Jacket: Levi's (XL; thrifted; similar at the lowest price I found online; same jacket in plus sizes) | T-Shirt: Christian Siriano for J.Jill Compassion tee c/o J.Jill (L) | Pants: Pivot Jogger c/o cabi (L) | Shoes: Adidas | Bag: Clare V. (color sold out; same bag in other colors) | Earrings: Kendra Scott via Rent the Runway Unlimited (use RTRDC22F051 at signup to get $100 off new subscribers first month)

Leggings seem to be the most popular choice for those who work from home, but I actually find many leggings either too thin to look polished or restrictive.  I love a pant of a heavyweight knit or ponte knit that has some volume so I am comfortable sitting or standing at my desk but still look pulled together if I run to the post office or meet a friend for coffee.  I got these pants from cabi to do this capsule wardrobe for their blog.  I liked them so much I now have two pairs. I am not sure the laundry instructions but I wash them inside out with other dark knits and throw them in the dryer and they still look new.  I like that they are higher waisted, they stay in place when I sit, my lower back isn't exposed.  They also have pockets deep enough to hold my large iPhone.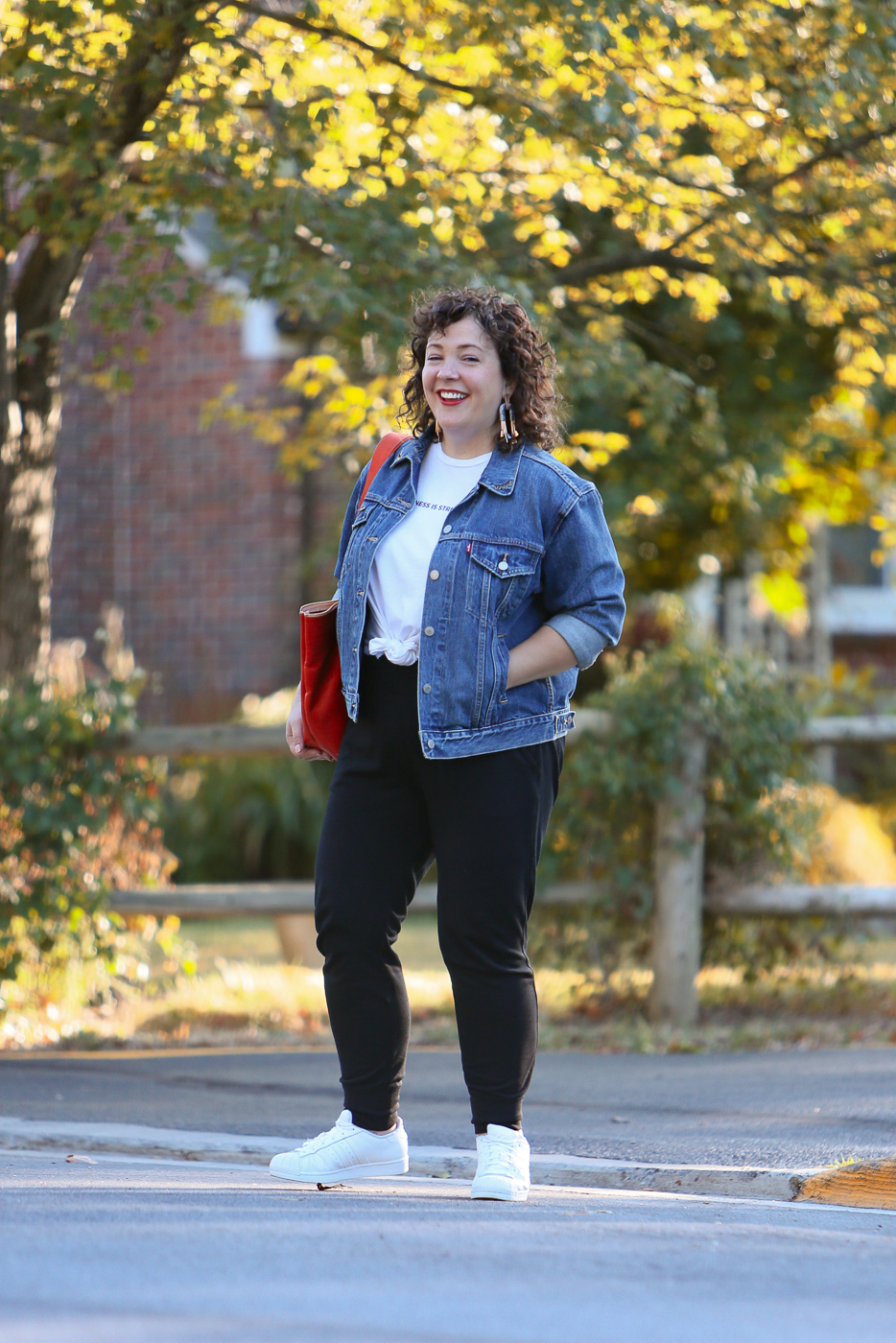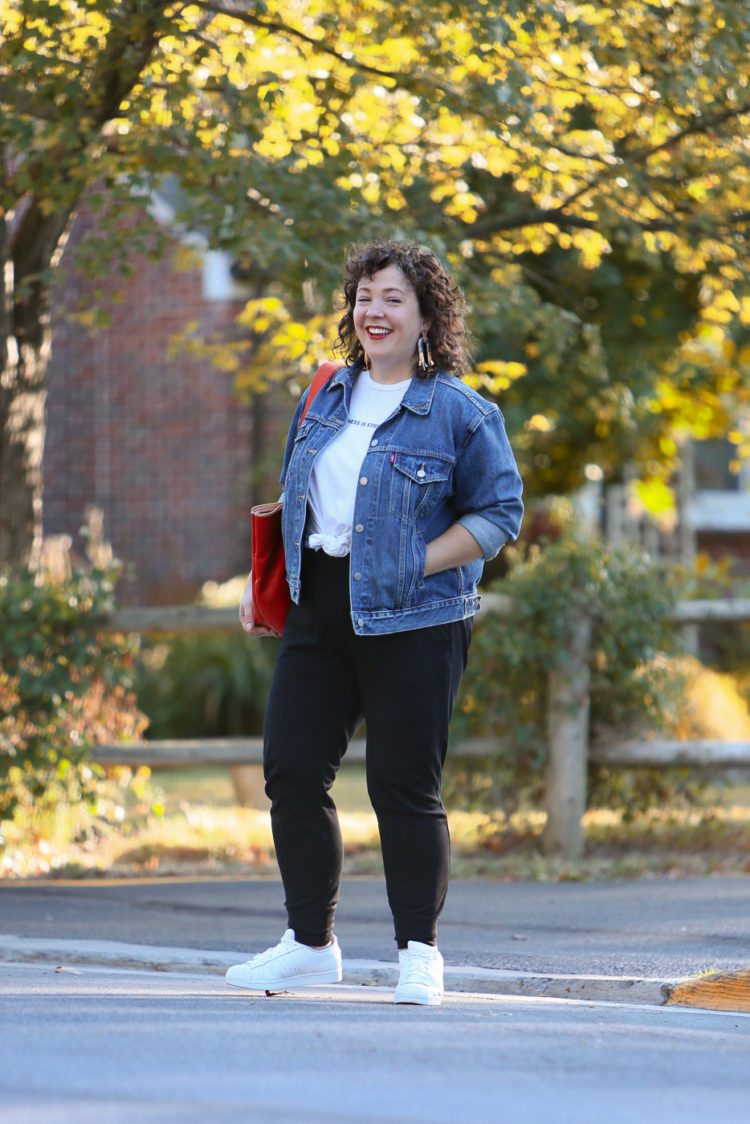 I like a looser t-shirt so it's not clingy, but left untucked it can look sloppy.  My latest favorite way to style them is by knotting them at the waist, which you saw last week.  If the shirt is looser and longer, you can knot it without worrying about any tummy showing.  This tee is from J.Jill; it's super silky nice fabric (cotton/modal blend) and has vents at the hem.  It ties really easily and once it's out of the washer and dryer looks crisp and new again.  It comes in Misses, Petite, Tall, and Women sizes. I have on a Large Regular. On top of this 100% of the proceeds from this shirt go to the J.Jill Compassion Fund to support women in need.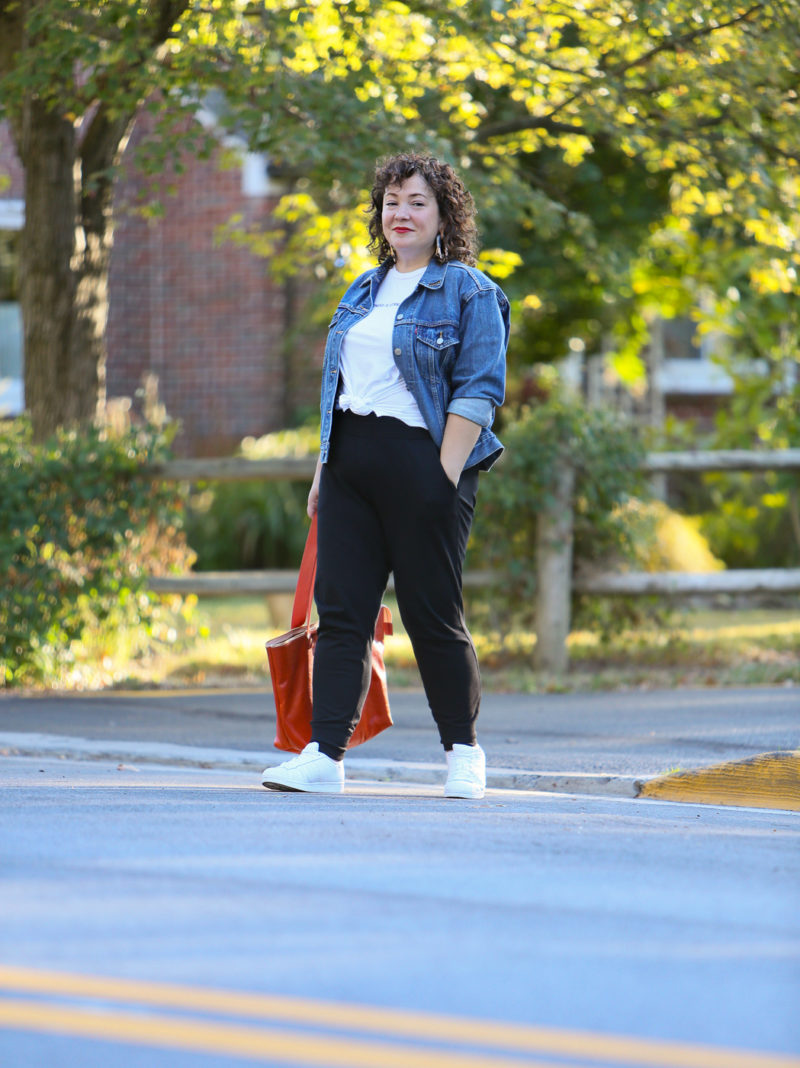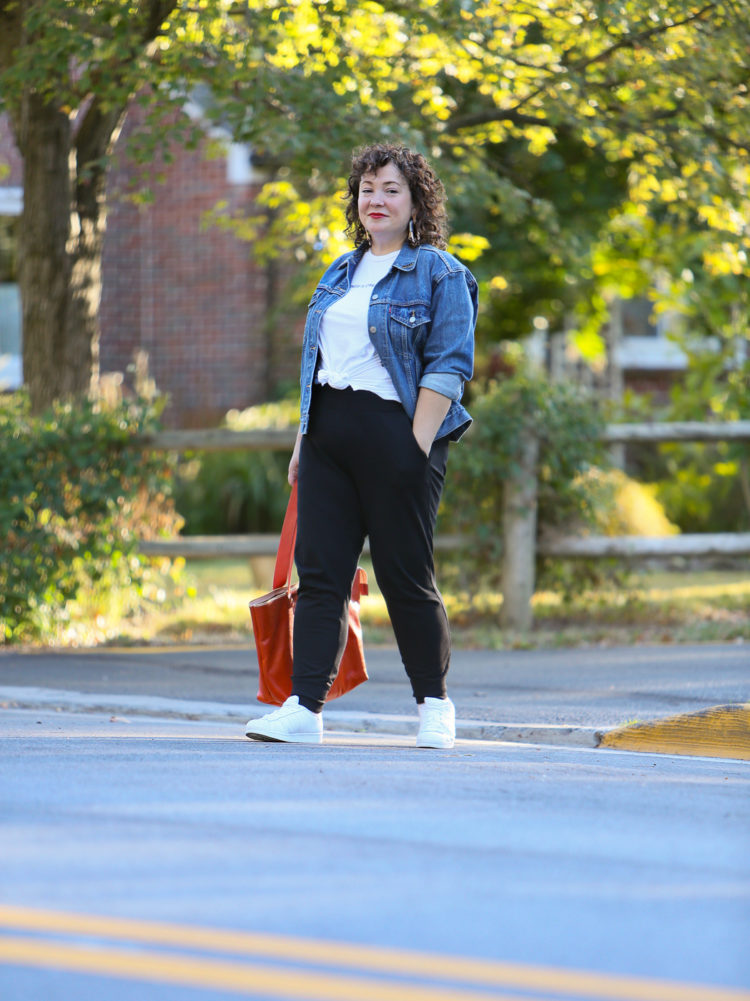 In the house, I don't wear a denim jacket.  I had on a knit soft jacket/cardigan I've owned for years but the switch to a denim jacket elevates the look from loungewear to streetwear. I found this Levi's denim jacket at a thrift store years ago, it was like new and a men's XL. I got it for my husband but the sleeves were too short. I meant to Poshmark it but never got around to it.  This year the look for denim jackets is more oversized and relaxed, and the classic blue stonewashed color has returned.  I pulled out this jacket from the closet, rolled the sleeves and loved the effect.  I've worn it several times this season; it's nice to have a denim jacket so roomy I can throw it over a sweatshirt or sweater! I've linked above and below to what looks like a darn similar shape currently available from Levi's.  It's good to have a more polished jacket, whether it's a blazer or a denim jacket, at the ready when you have to leave the house.  It's an instant way to make your look street-ready.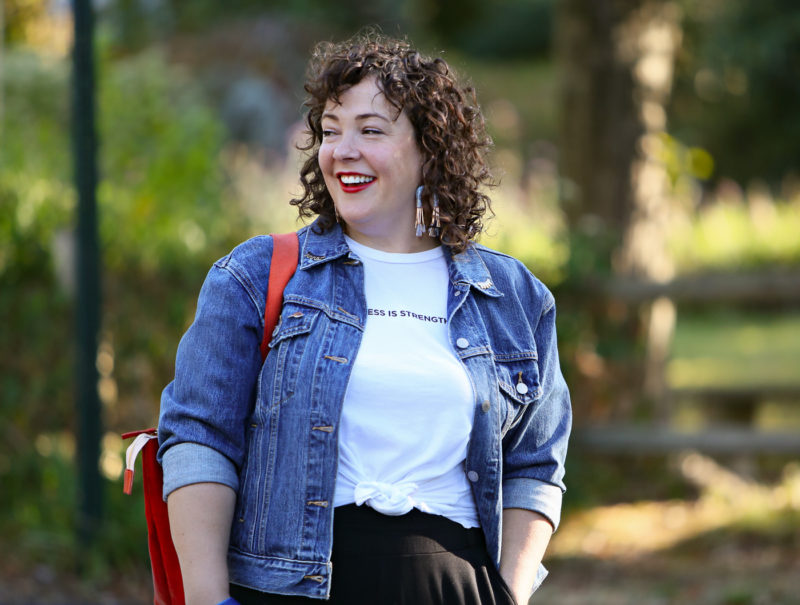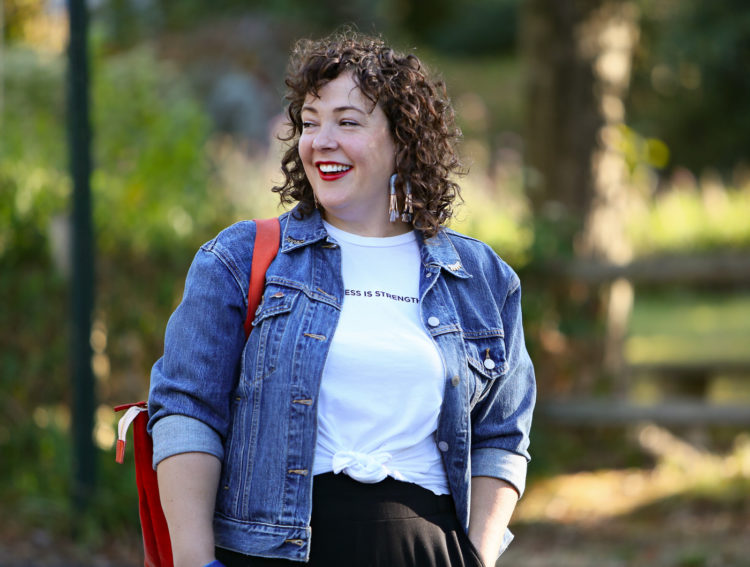 And finally, a finishing touch.  This may not go on unless you have a video call or are leaving the house, but it's the cherry on top that completes your look.  For some, it's a scarf.  For others, it's red lipstick.  For me, it's a badass pair of earrings.  I saw these at Nordstrom and loved them but didn't love the price.  I was excited to see them available through Rent the Runway Unlimited and added them to my delivery. Don't forget, you can use code RTRDC22F051 to get $100 off your first month at Rent the Runway Unlimited. I've had them for over a month and they are just so cool and make such a statement. The perfect thing to throw on before heading out the door!  They're sold out at Nordstrom, but I've linked directly to Kendra Scott which still has them in stock and on sale.
Shop the Look: