This article may contain affiliate links; if you click on a shopping link and make a purchase I may receive a commission. As an Amazon Associate, I earn from qualifying purchases.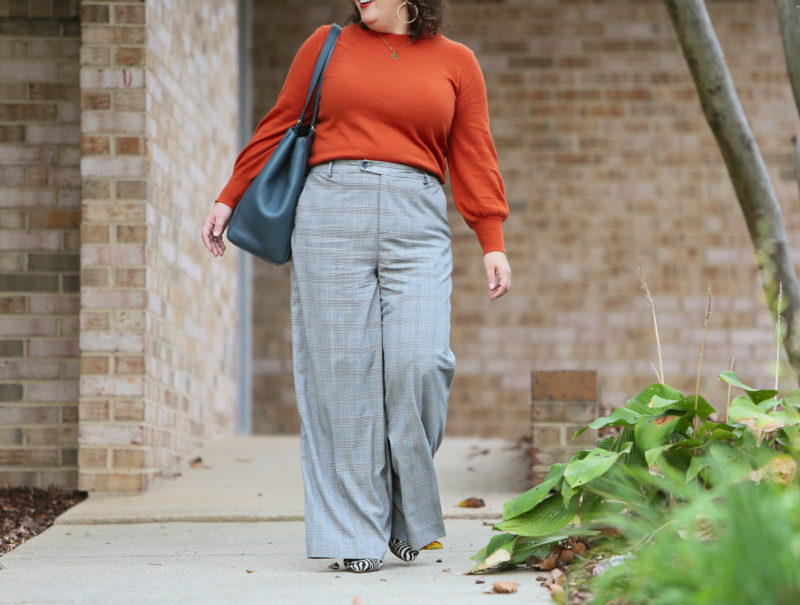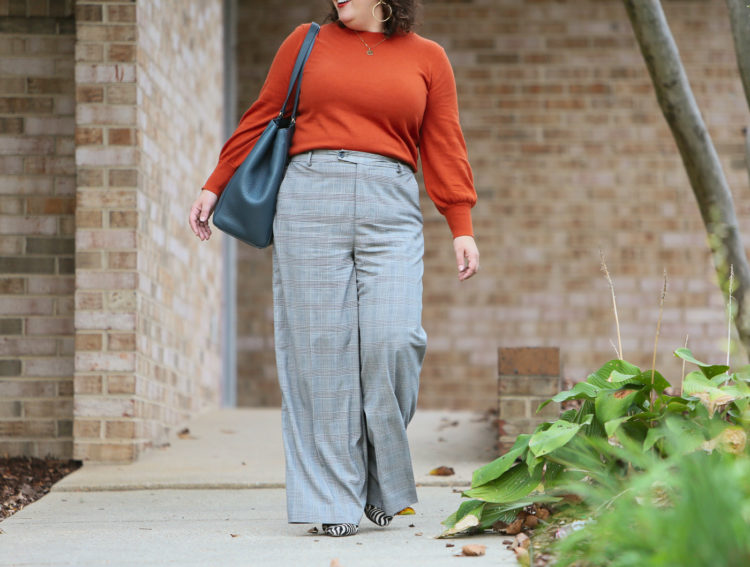 My mantra for fashion is quality, not quantity.  Quality can be found at every pricepoint, it's not about how much it costs or what brand makes it.  Quality goes beyond the kind of fabric and how its sewed.  Is it quality for your style?  Do you tire of it or look forward to wearing it again?  Does it have the ability to transform to extend your wardrobe without having to purchase more pieces? Will it work with at least three different things already in your closet? Does it have laundry and care instructions that work with your lifestyle? Heck, does the garment itself work with your lifestyle?  Asking these questions when you shop can help you stick to buying quality not quantity.  I didn't think when I got these plaid pants from Universal Standard that they'd be as versatile as they are.  I keep finding ways to style them.  Last week, I showed them with a t-shirt and sneakers.  Today I share the look I wore to a blogging-related workshop I attended Saturday. Same pants, different day and drastically different style.  FYI, use WARDROBEOXYGEN20 at checkout and get 20% off your Universal Standard order!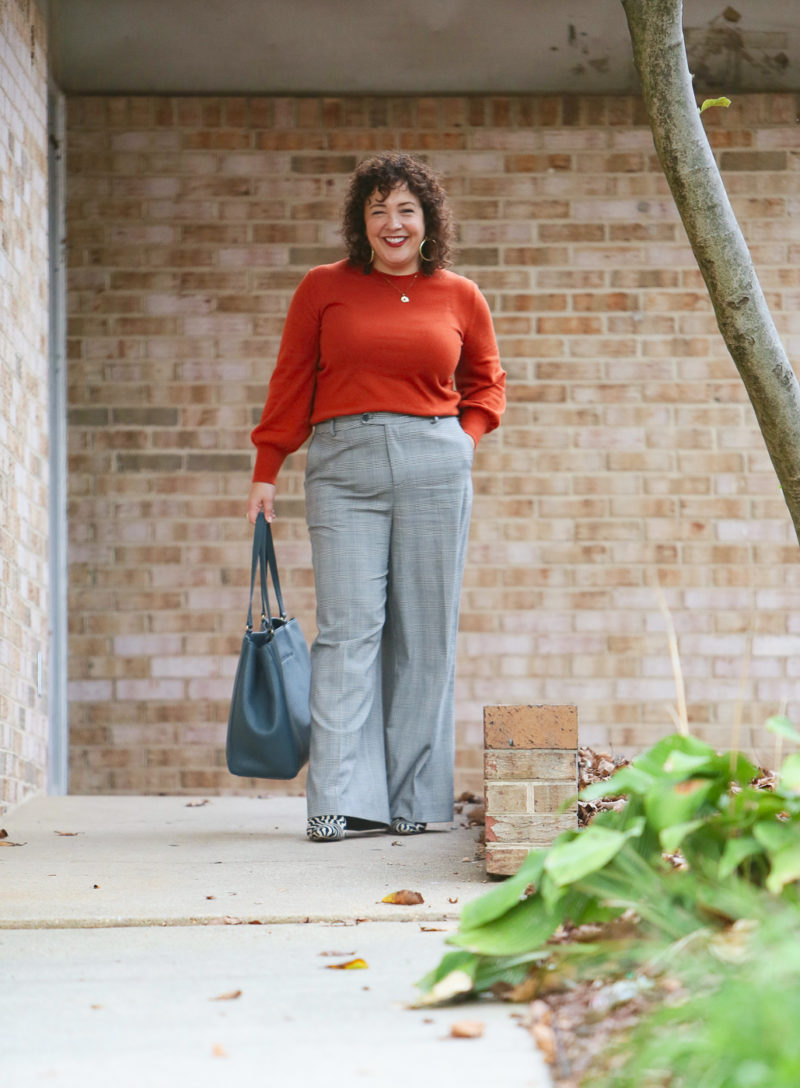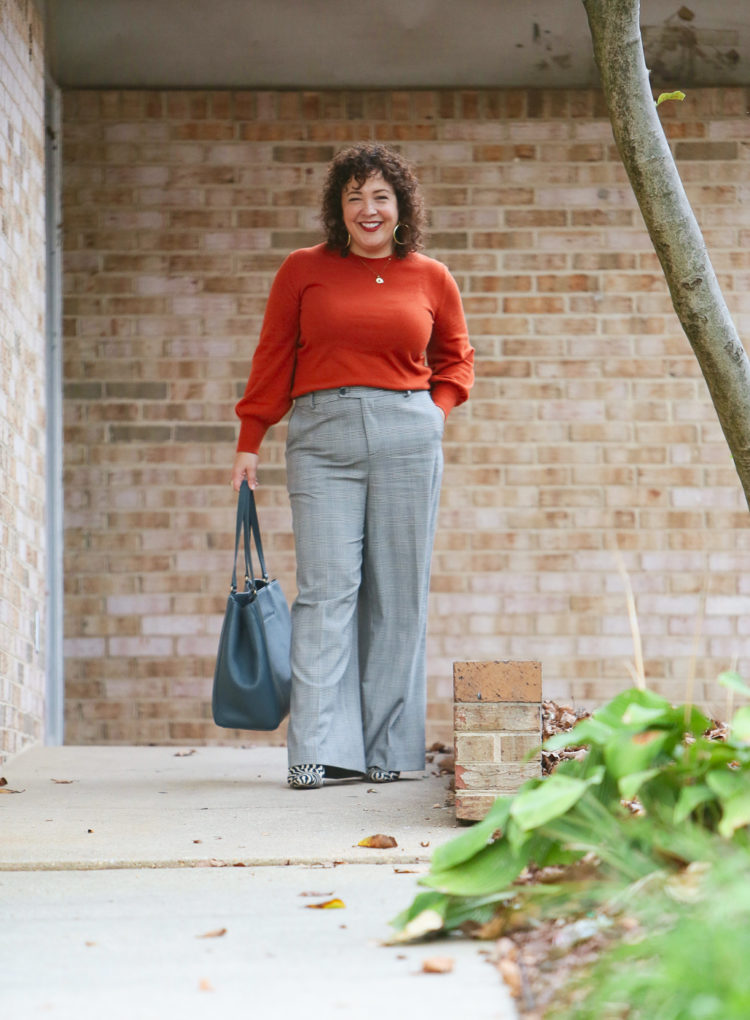 sweater | pants | shoes | bag | earrings | ring | necklace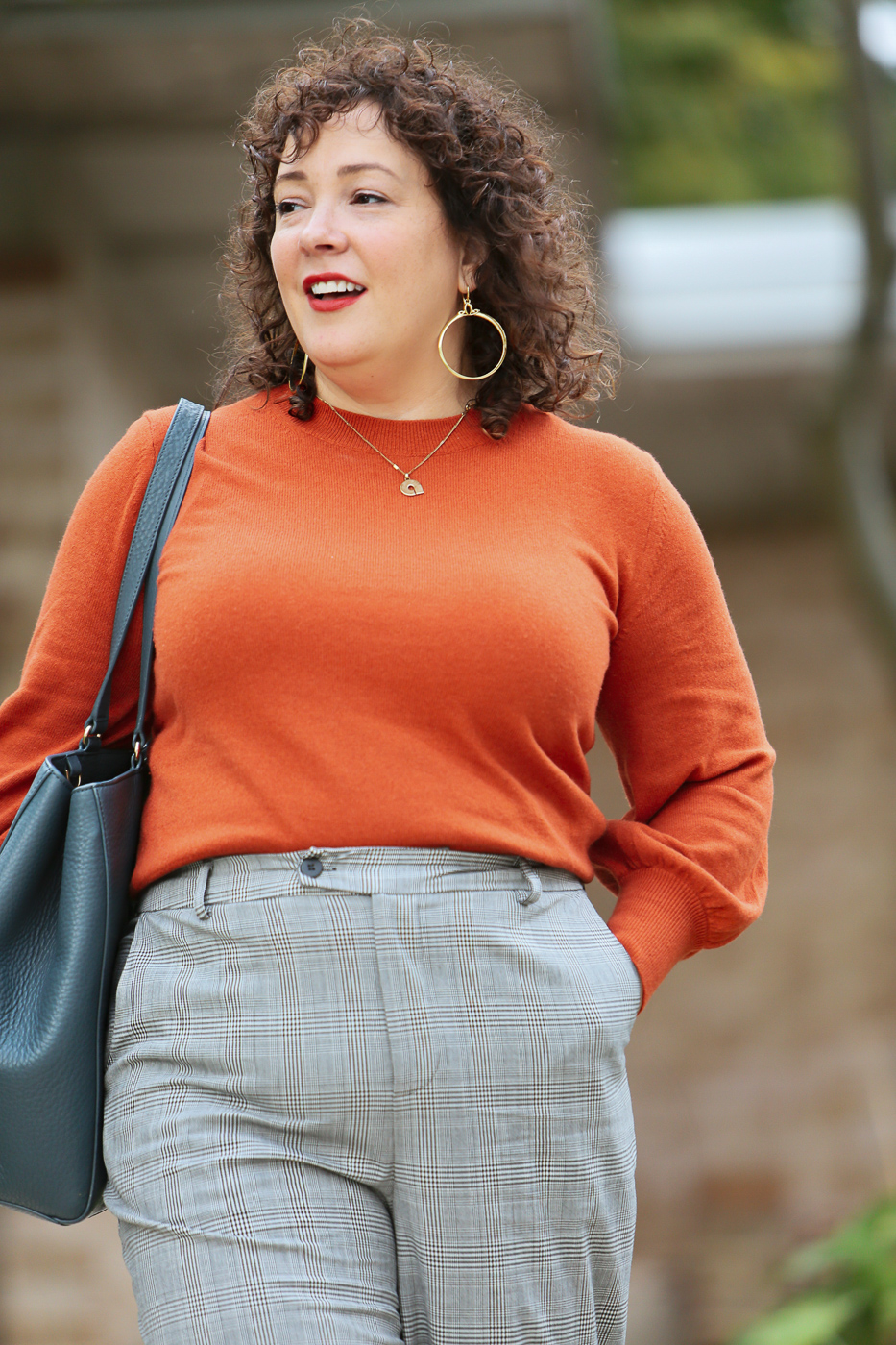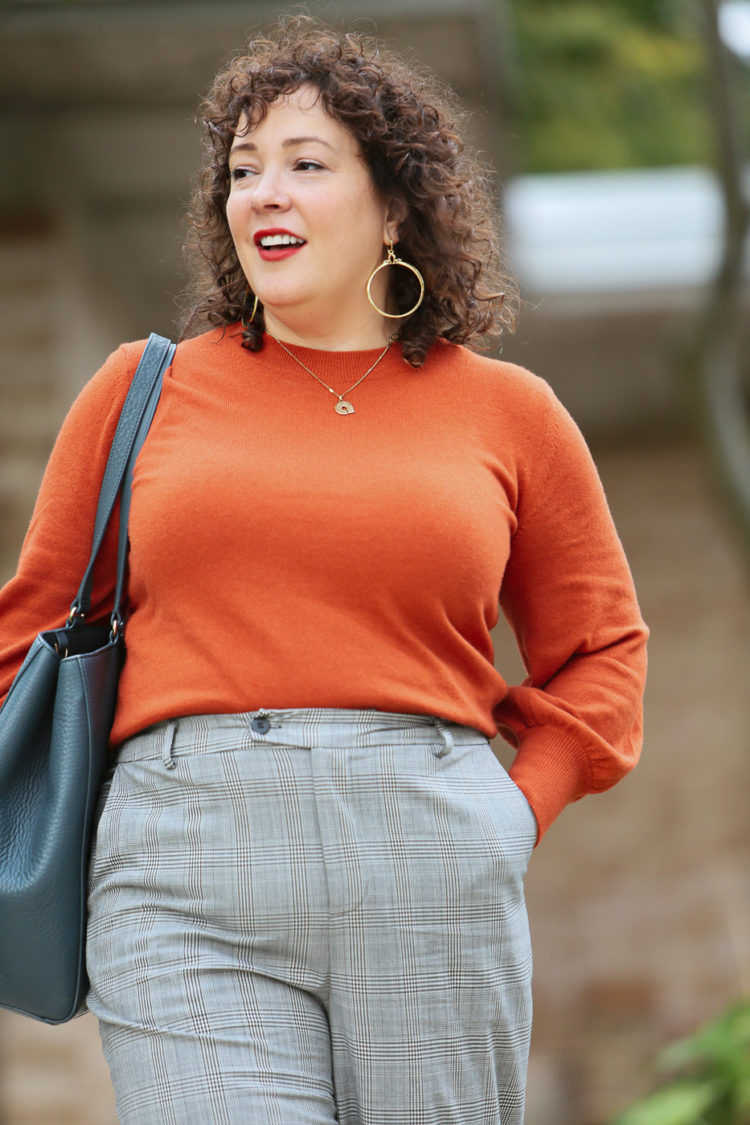 Pants: Emma Pants c/o Universal Standard (XS, hemmed by a tailor) – use WARDROBEOXYGEN20 at checkout to get 20% off your entire order! | Sweater: Everlane (L) | Shoes: MIA | Bag: Large Allyn Tote c/o Dagne Dover (read my Dagne Dover Allyn Tote review) | Necklace: Modern Monogram Pendant c/o Jenny Bird | Earrings: Domain Portrait Hoops c/o REALM | Ring: Empress Insignia Luxe Ring c/o REALM (get 20% off your first REALM purchase with code WO2)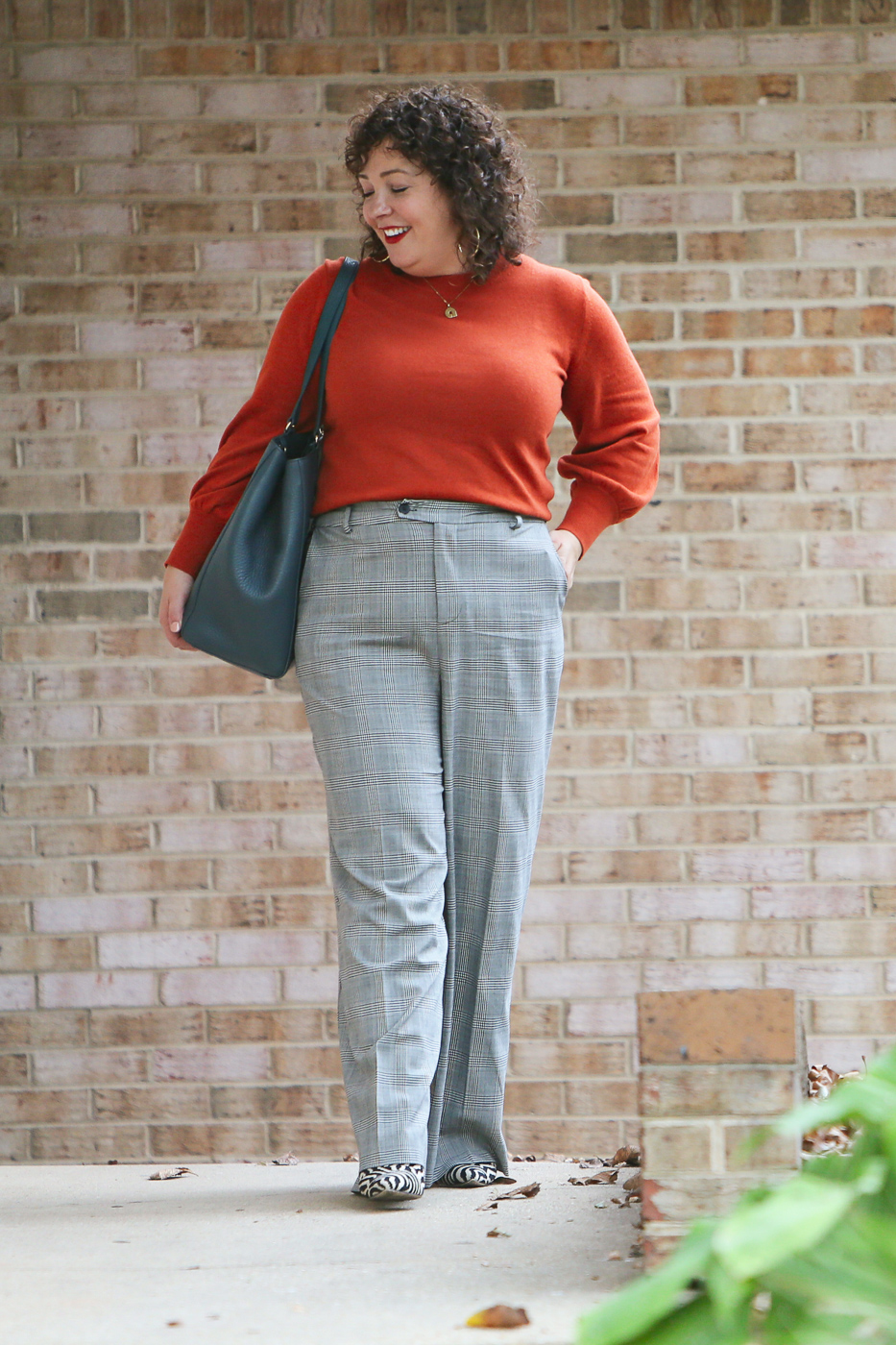 Did you know Everlane is now sold at Nordstrom?  I know many are uncomfortable buying from new to them online retailers, especially if they worry they will need to do returns.  Select pieces from Everlane are now available at Nordstrom, offering free shipping and free returns at any pricepoint.  I didn't know if I would love this color (I chose Rust) so I ordered this cashmere sweater from Nordstrom.  Same price, and no need to return because I love it! I wore it with my cream cropped wide-leg jeans and leopard flats, wore it with regular jeans and black ankle boots, I think this color works with so many shades and every single neutral. I love mixing contrast colors, so I decided to style the warm pumpkin-colored sweater with my cool gray plaid pants and loved the result.  As an FYI, there are more sizes and selection at Everlane so I am linking to the sweater at Everlane's site here.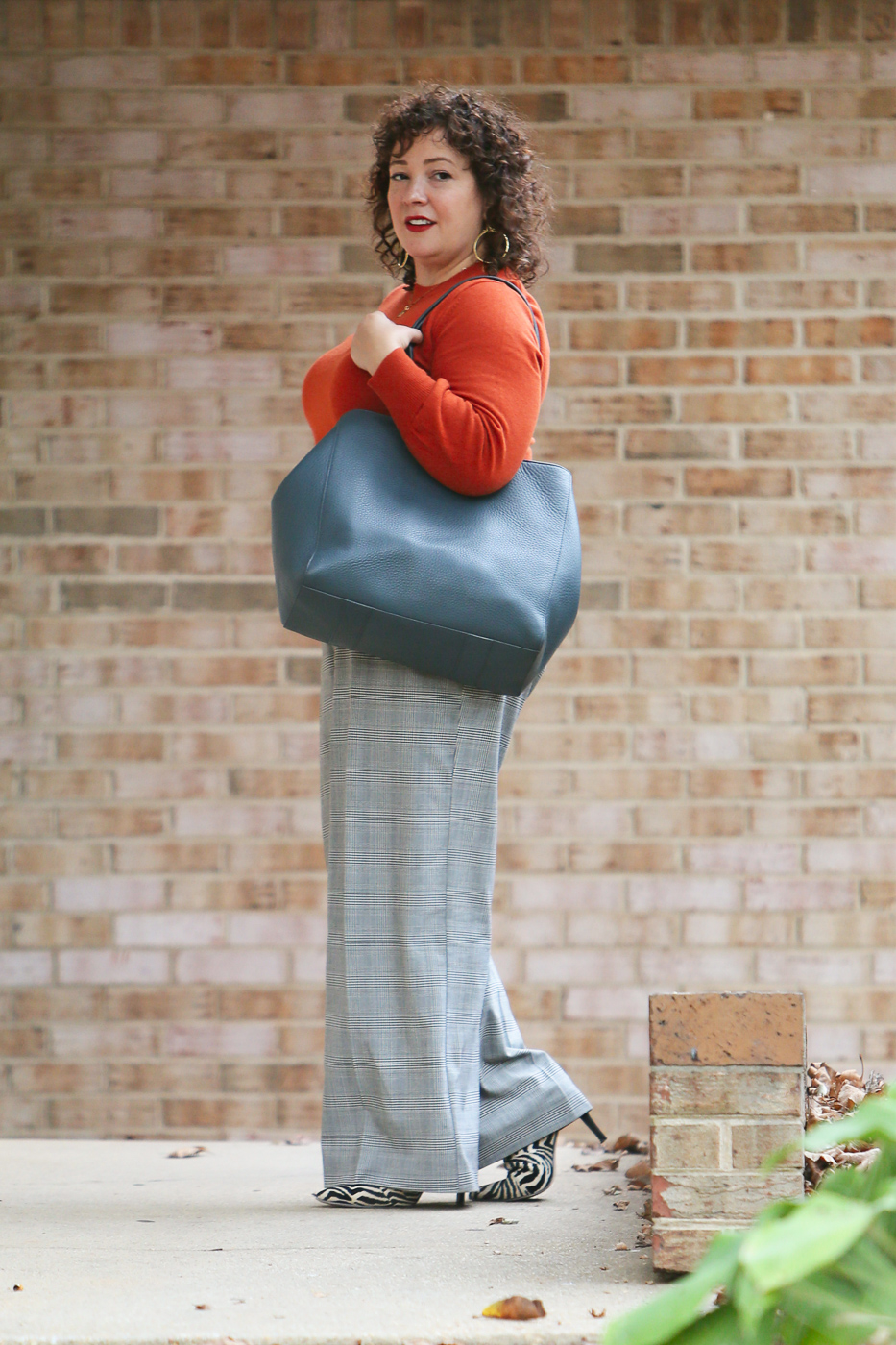 Shoes were tougher.  First choice for me was leopard, but none of my shoe shapes looked right.  I texted my friend Rosana about this look, she saw my MIA zebra booties in the background of the photo and suggested them.  I didn't even think to pair them as they are a bit warmer than the gray plaid.  Rosana was right, it was such a fun look and the shoe had the elongated toe necessary to balance the width of the trousers.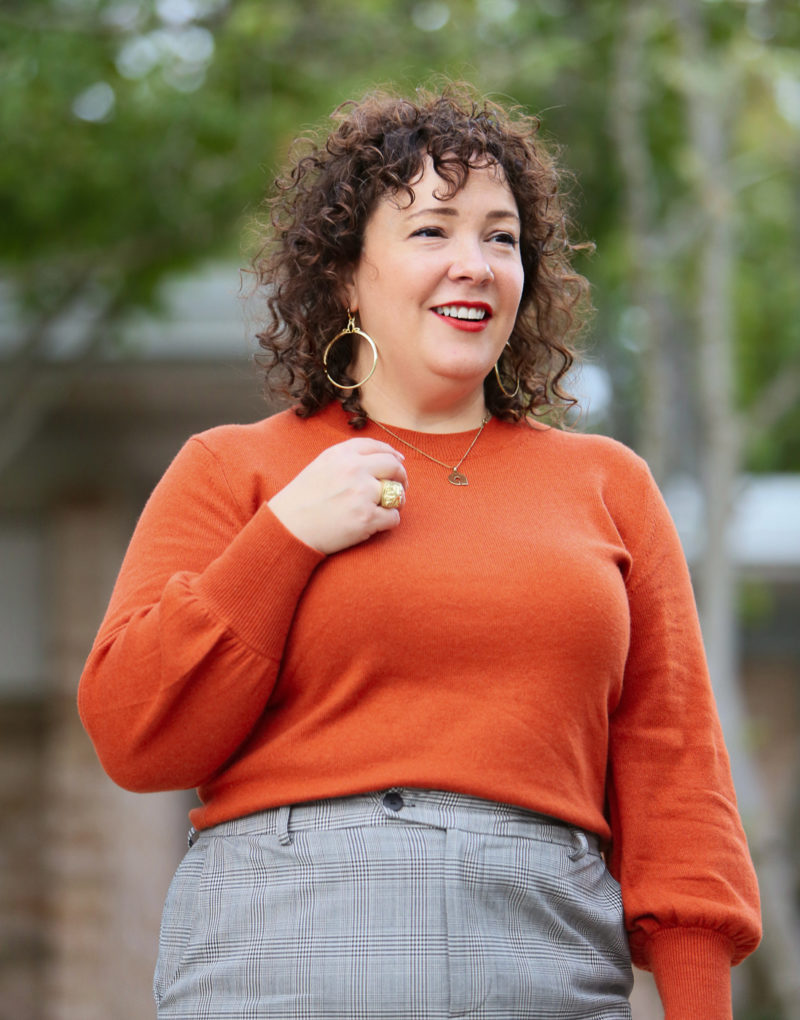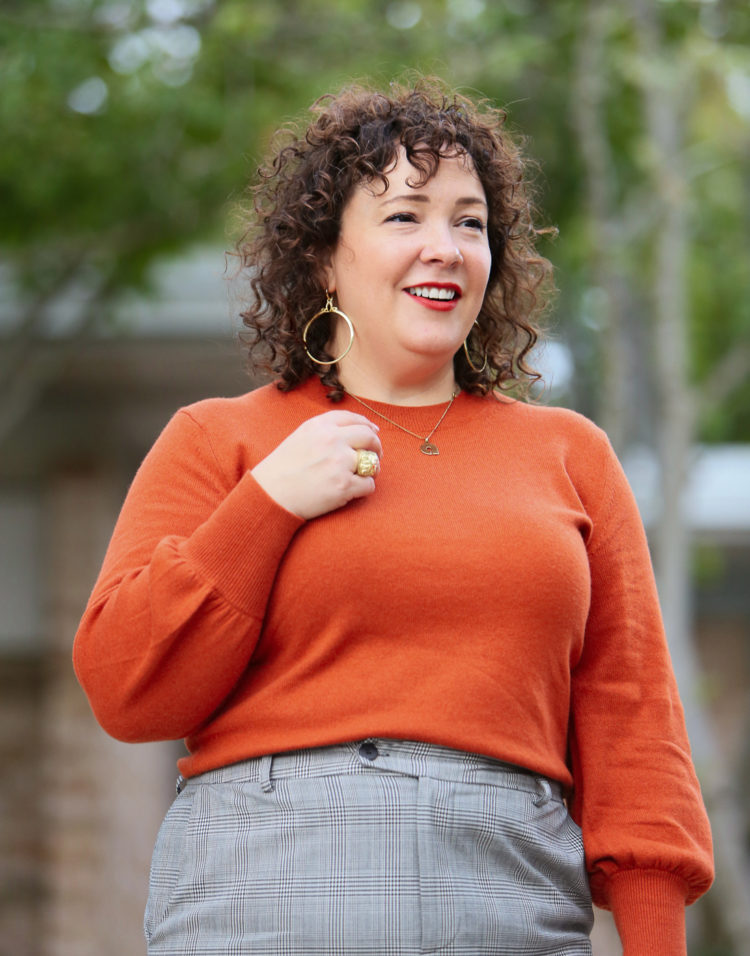 For the conference, I wanted to take this bag but it was in the car with my husband who was not at home.  So I took my large Dagne Dover Dakota backpack to carry my laptop, charging cords, notebook, and such for the workshop.  After I got home, we took these photos and I just did a quick switch to the bag I originally wanted.  I love the pop of color; this bag was last seen with a monochromatic blue look and it shows how color can be versatile, sometimes more so than a neutral.  Again, it's picking items that have specific quality to your personal style and your wardrobe.  For some, a black tote would be a quality choice, for me, I'm all about color popping against neutrals!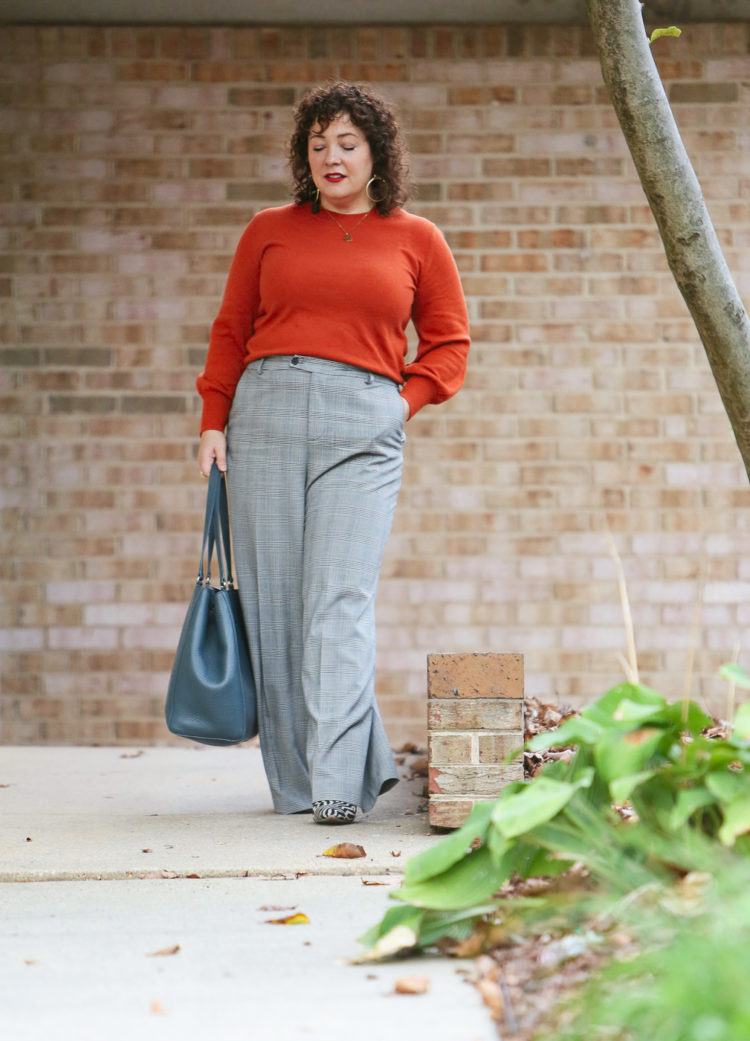 As you pull out your winter clothes or as you make purchases to update your wardrobe for the season, think about quality beyond the fabrication and how it adds quality to your style, your closet, and your everyday.  Your quality may be different from your friend, your neighbor, or me.  But asking yourself questions about versatility and longevity will help you find your quality and help you purchase less but have more style!
Shop the Look: