This article may contain affiliate links; if you click on a shopping link and make a purchase I may receive a commission. As an Amazon Associate, I earn from qualifying purchases.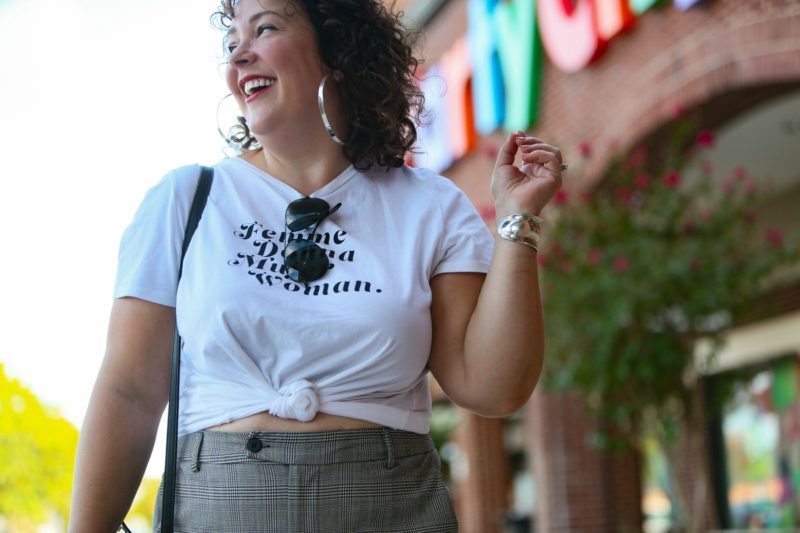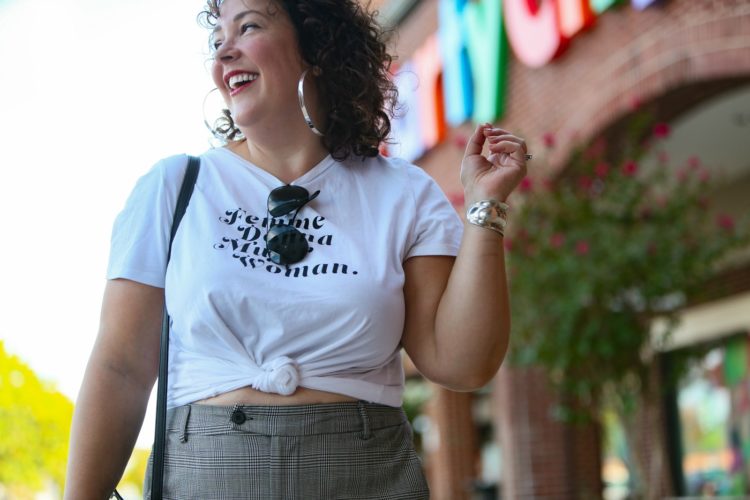 I love the wide-leg pant trend of the past few seasons.  At first, I felt I couldn't wear it because I am short and curvy.  Then I thought… who cares?  I deserve to have fun with my clothes and be comfortable.  So I bought one pair… and then another and another.  I'd dress them up with heels or even with dressy sandals, but loved the look of wide-leg pants with sneakers.  But gosh that would make me look shorter and wider than I already am, right?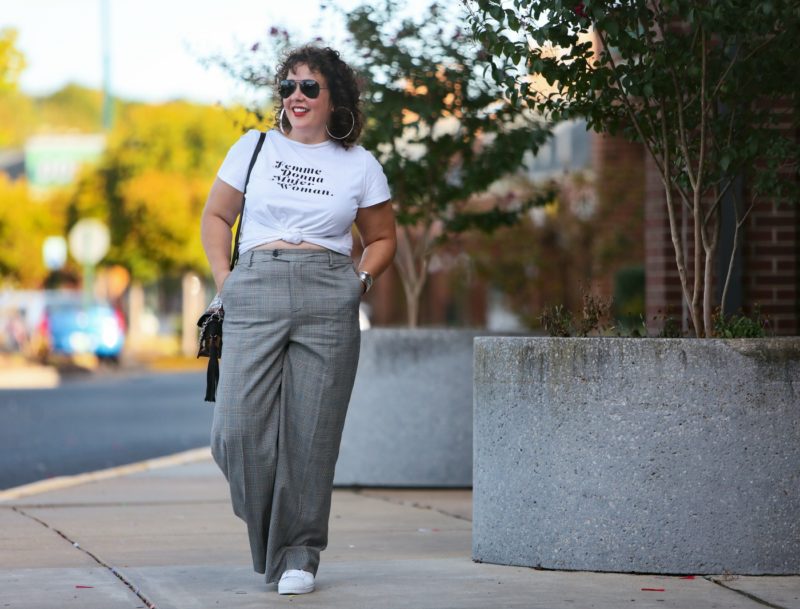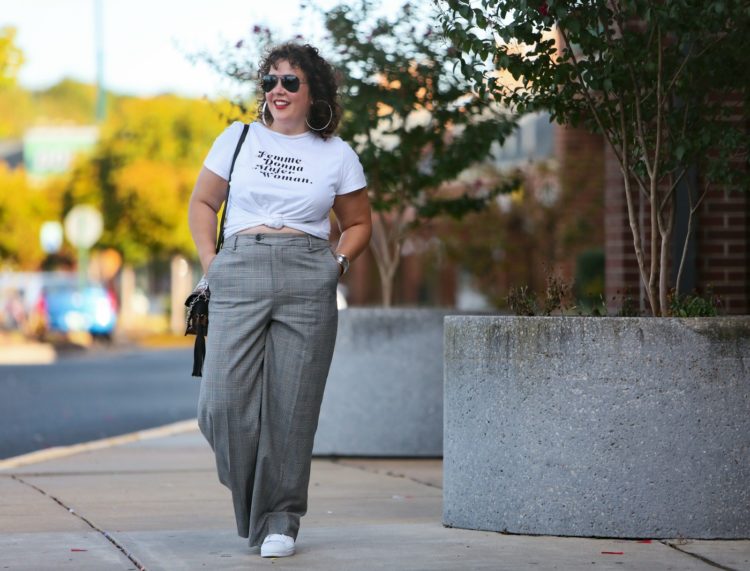 I wore wide-leg pants with sneakers to see Lizzo mainly out of necessity (gotta be comfortable standing all night) but I didn't think it looked as bad as I thought it would.  And the comfort factor made the look rank even higher.  I wore a wide-leg pantsuit with sneakers on The Today Show and seeing the video and stills from it made me realize that old fashion rule in my head of needing a shoe that is heeled or elongating in some way needed to be retired.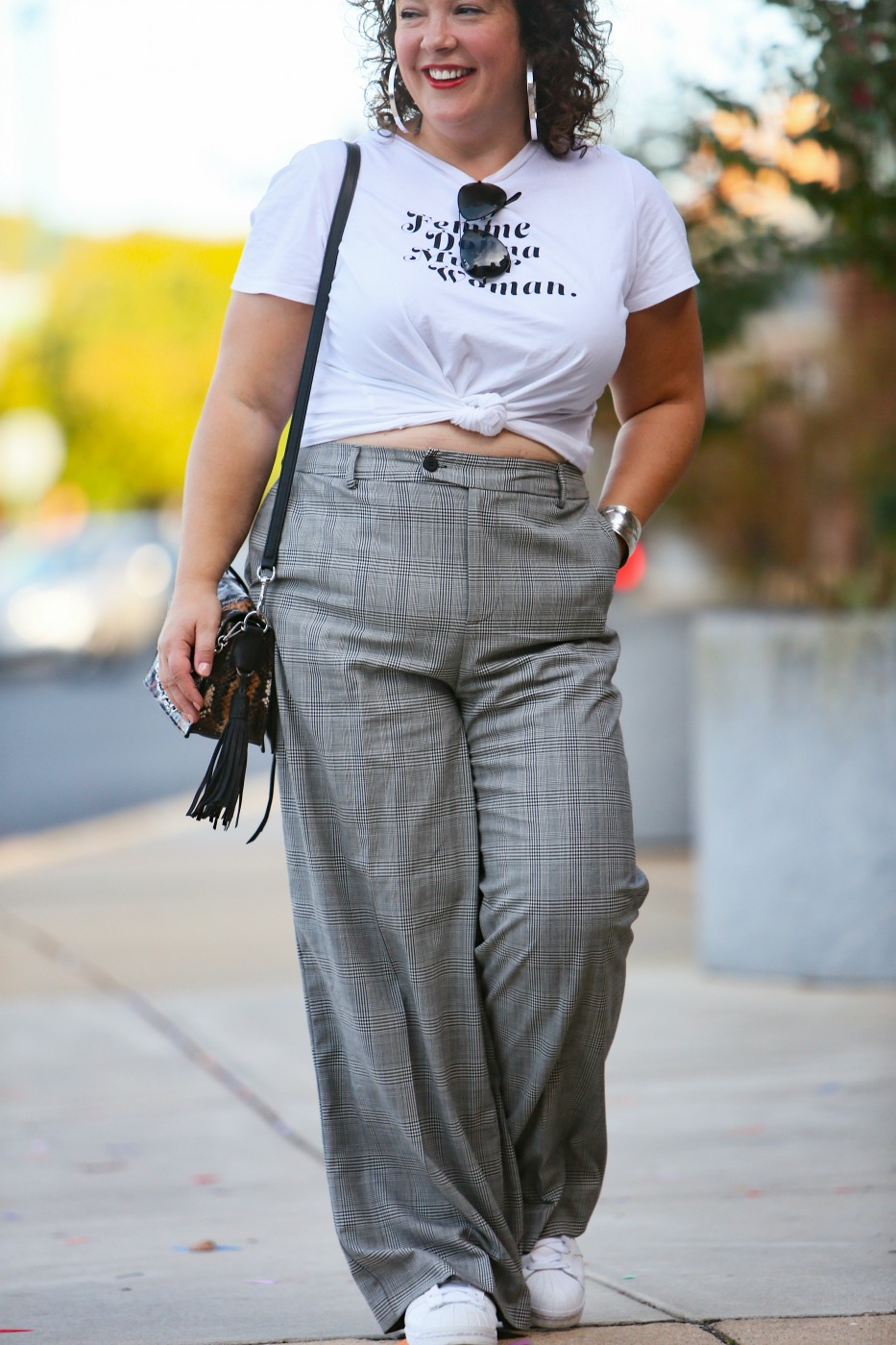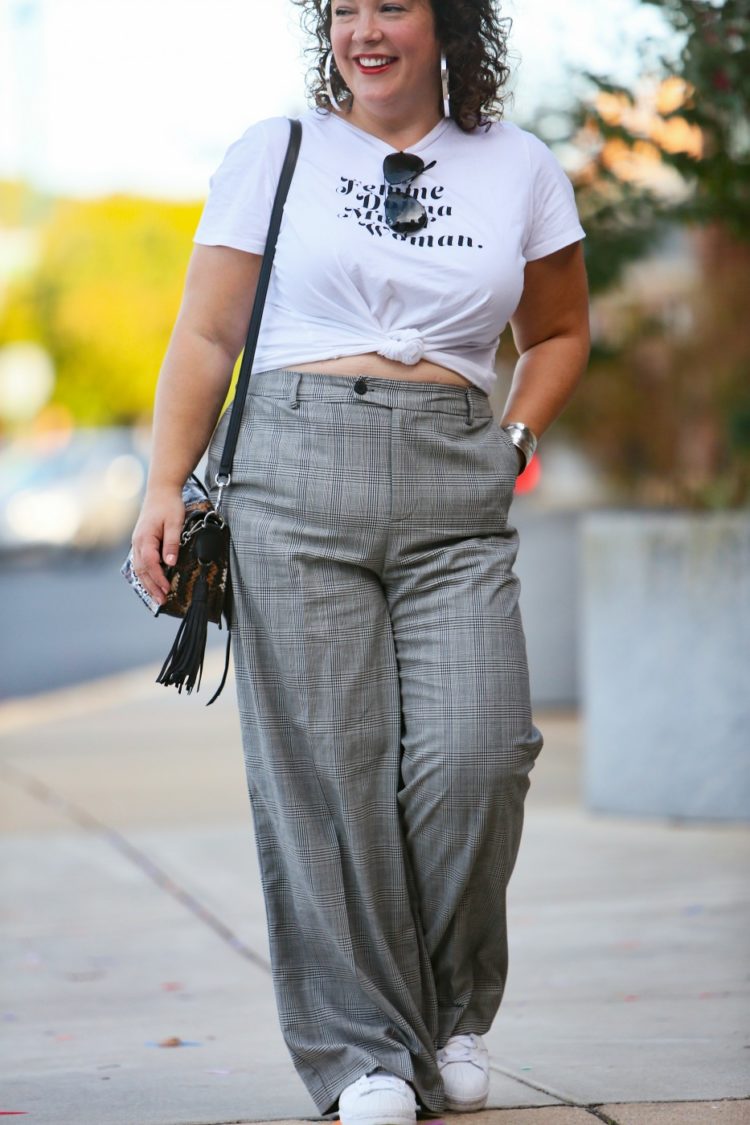 Life is too short to sacrifice comfort for style, and a lot of times the things we find "unflattering" are because of something we read or heard even decades ago versus what we really think.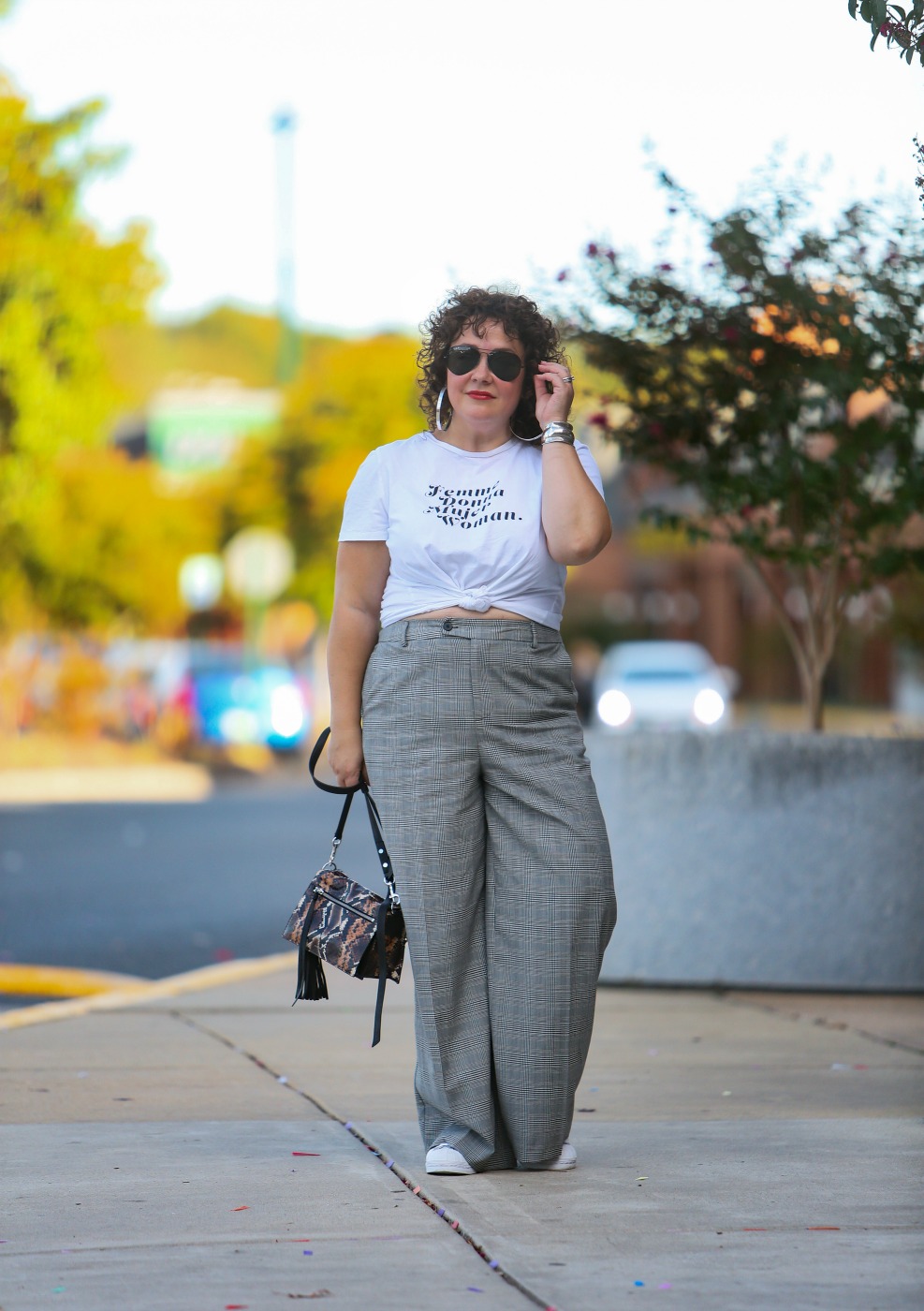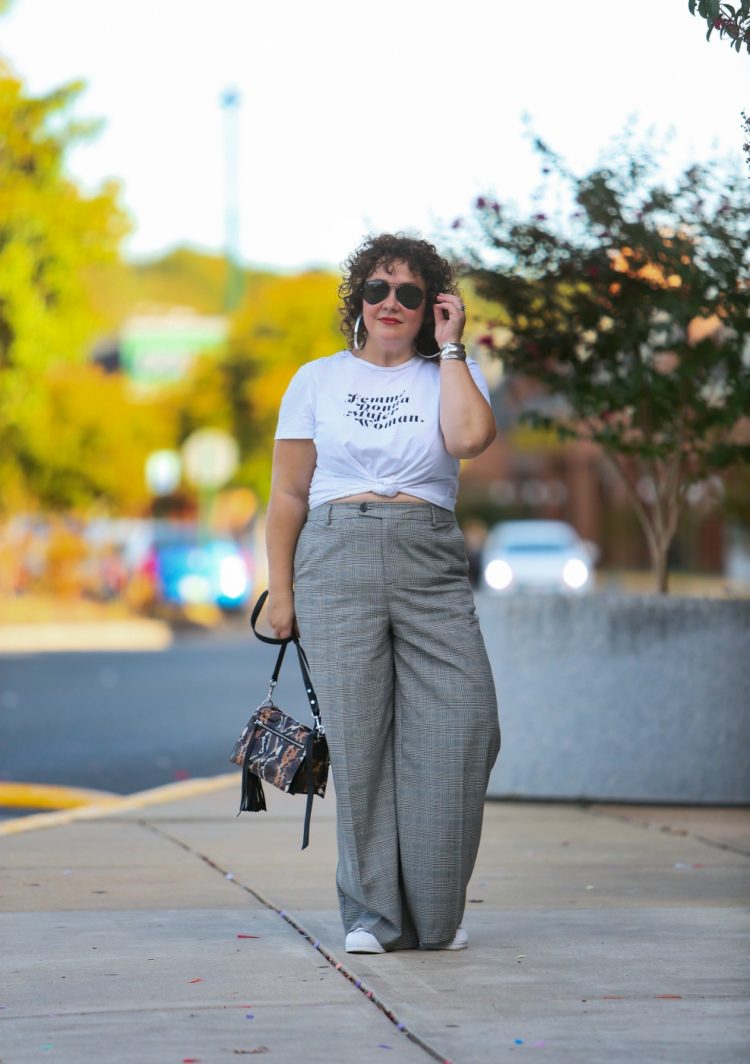 I wore this look for running errands. Petsmart, the grocery store, even went to get my flu shot. Stomach all out, wide-leg pants with sneakers, breaking all kinds of rules. Not a single person gritted on me (am I showing my age with that phrase? It seems more appropriate than "side-eye"), and in fact, I received compliments from three women on my look. I know a cropped t-shirt isn't everyone's cup of tea; the shirt could be knotted below the waistband or tucked in to achieve the same effect. This shirt from Banana Republic is no longer available, but below I have gathered a lot of similar t-shirts in a variety of sizes.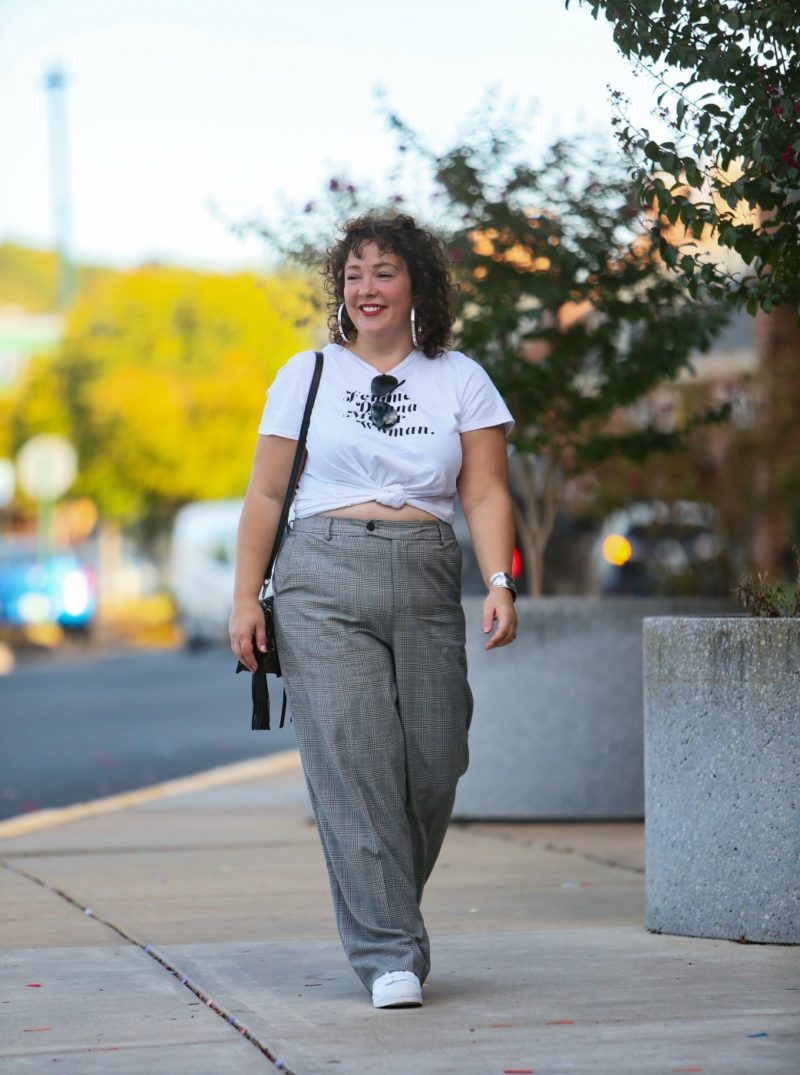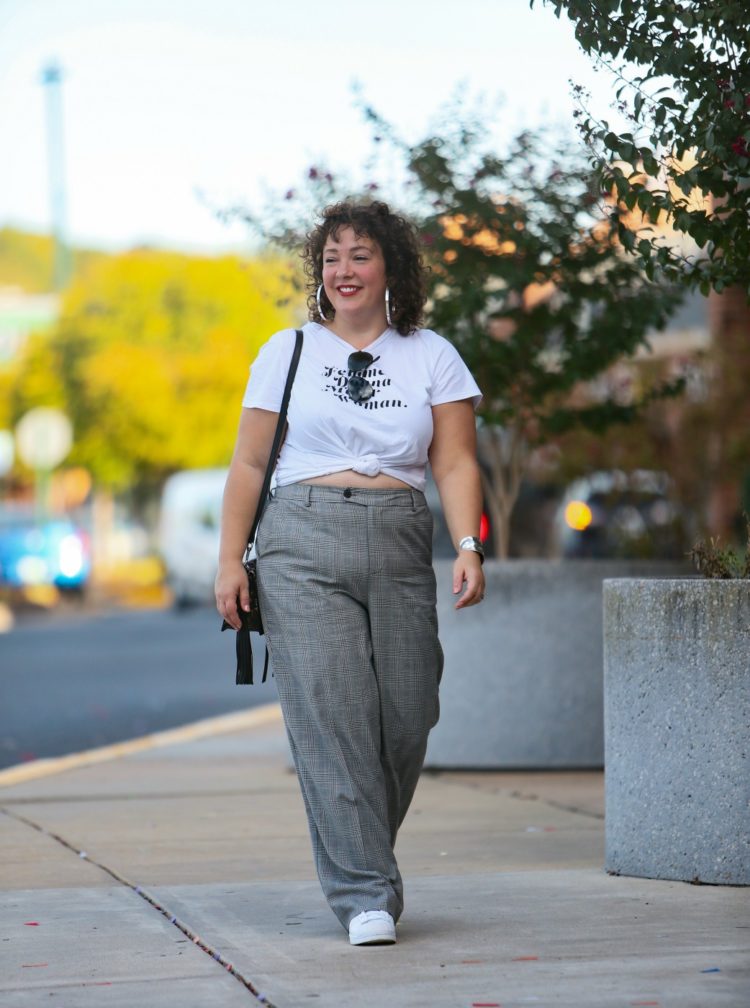 When I wore this shirt before knotted in this manner many asked how I did it.  Often, we knot a t-shirt by pulling out a piece and tying it around itself.  That works, but especially when you're heavier or your shirt is more fitted that knot can look a bit… odd.  Dare I say phallic?  I don't want an appendage at my belly button.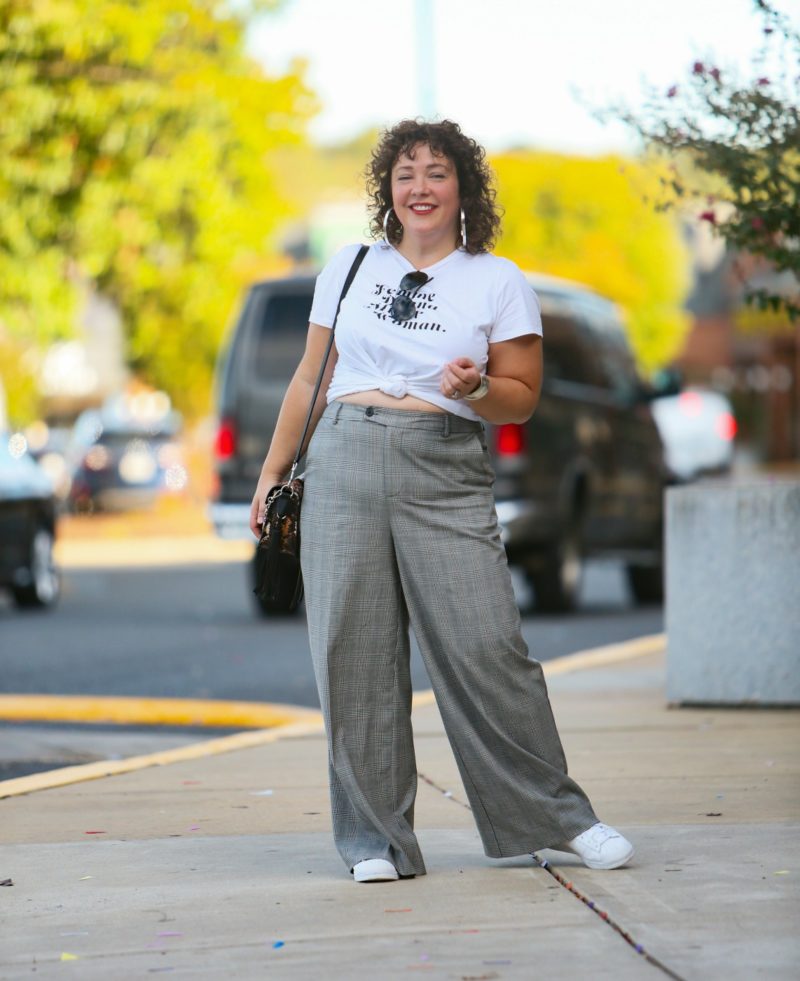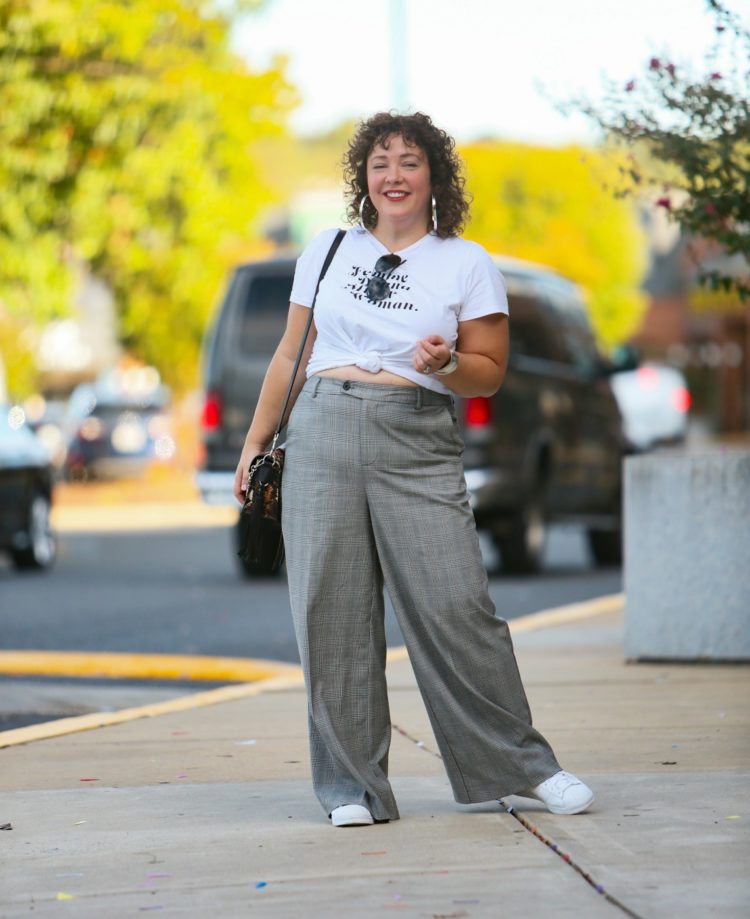 Sometimes I do it when I knot to the side, but when I want to knot in the middle without the bulk of a traditional knot, I grab two pieces of the shirt parallel to my breasts.  I pull them out and then tie them together in a square knot.  This may take some stretching of the t-shirt and won't work with all shirts, but it's an alternative that creates an hourglass shape and doesn't have that… appendage.   
An alternative I also do is instead of traditionally tucking in a t-shirt all the way around, I twist the front of the shirt like I'm going to do a knot, and then tuck that into my pants.  The rest of the shirt will cinch in and not need to be tucked in, and you still get that hourglass effect in front.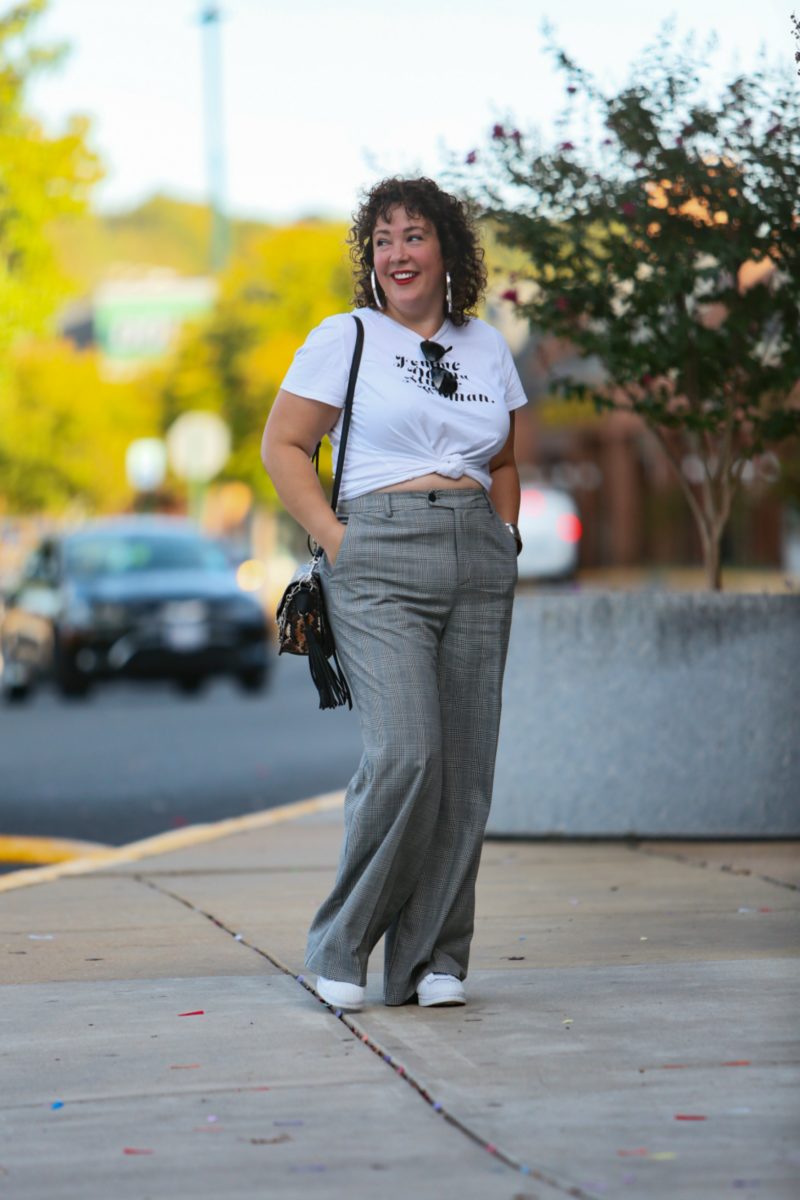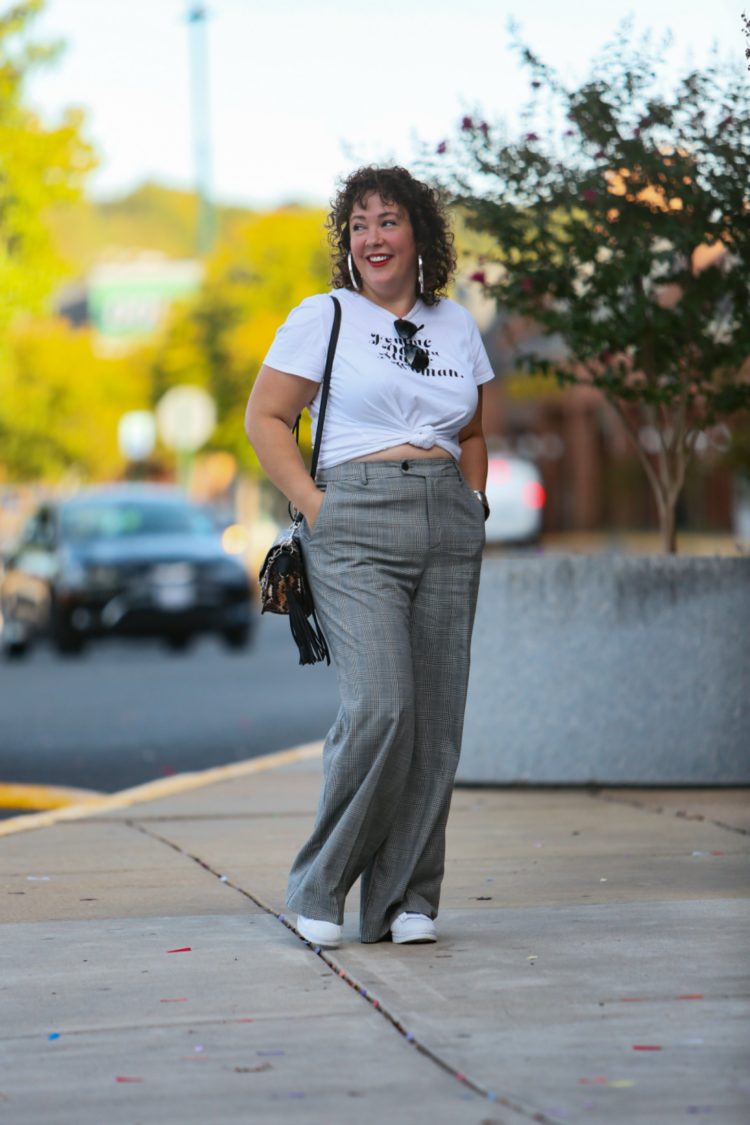 It's funny, these pants collected dust in my closet when I first got them almost a year ago, and now I wear them all the time.  I wore them with a black cropped wide-sleeve wrap blouse and heels to a blogger luncheon, I wore them with a snakeskin blouse for a workwear look, the other day I wore them with a black crew fitted t-shirt and my black leather moto jacket.  Come winter, I plan to wear them with crew and turtleneck sweaters.