This article may contain affiliate links; if you click on a shopping link and make a purchase I may receive a commission. As an Amazon Associate, I earn from qualifying purchases.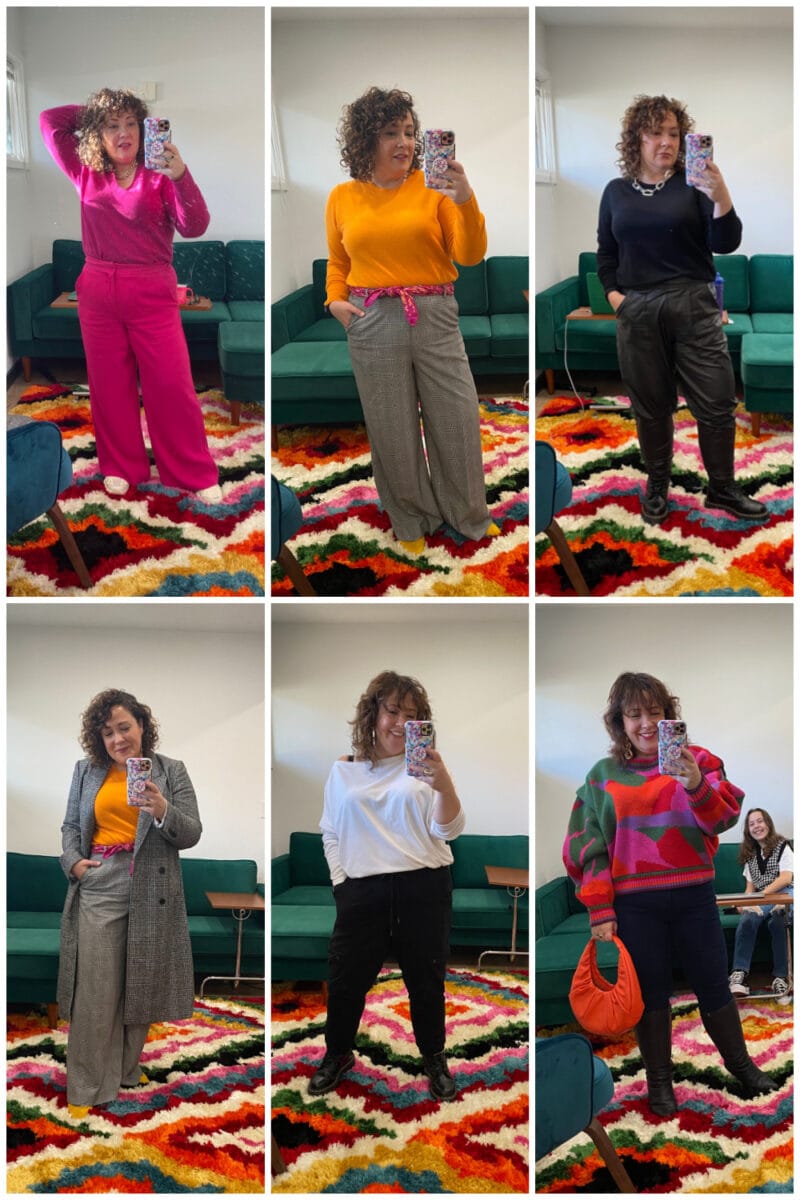 Since I now have somewhere to go and a mirror to photograph it in, I'll start sharing what I wore the previous week. For those unaware, I rented office space in my town center. While I can wear whatever the heck I want there, I have been using it as an excuse to look nice and wear the things in my closet that have been collecting dust. It's a pick-me-up right now, getting pulled together, having a schedule, a place I need to be, and a place where I have total quiet.
I mentioned in Weekend Reads on Saturday that I found a desk for my office and it needed some repair before being used. You will see in the photos for Monday and Tuesday that the desk is in pieces around me. My husband and I brought the desk to the office Friday and the first half of the week it was oiled and glued and clamped. By Wednesday, it was working and set up ready for me to be productive; I'm typing this at it! I'll have more details later, but wanted to explain the weirdness around me in Monday and Tuesday's photos!
Monday: First day of the office!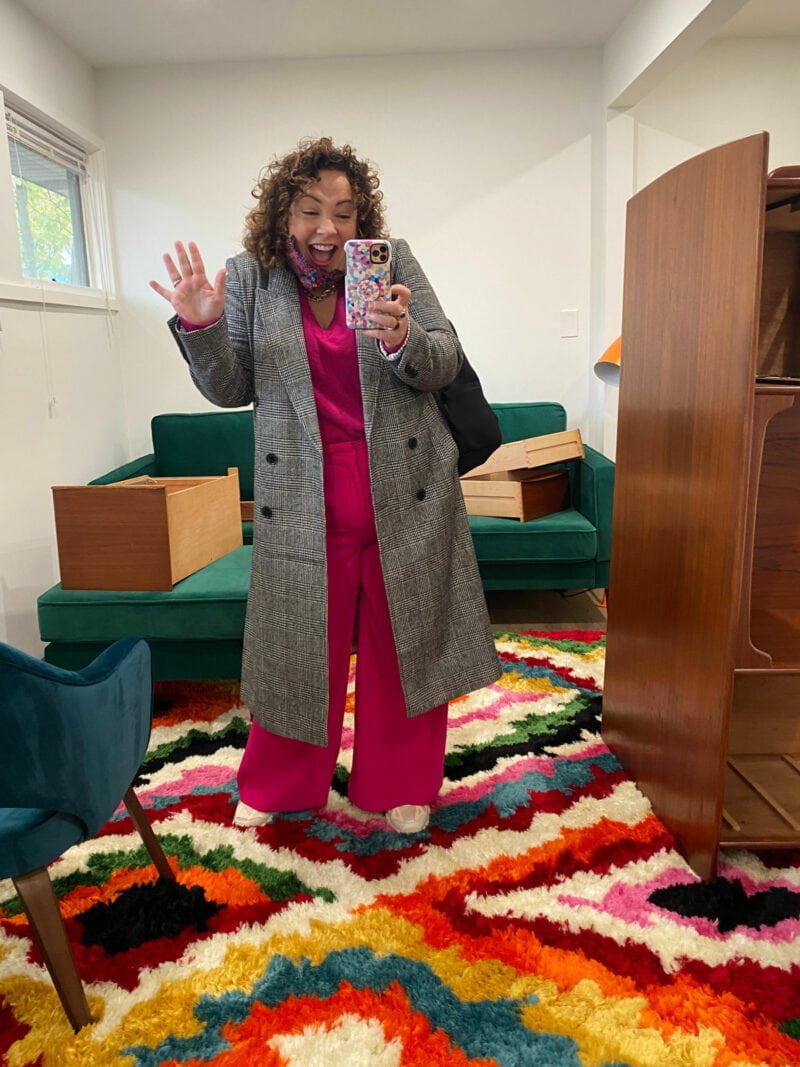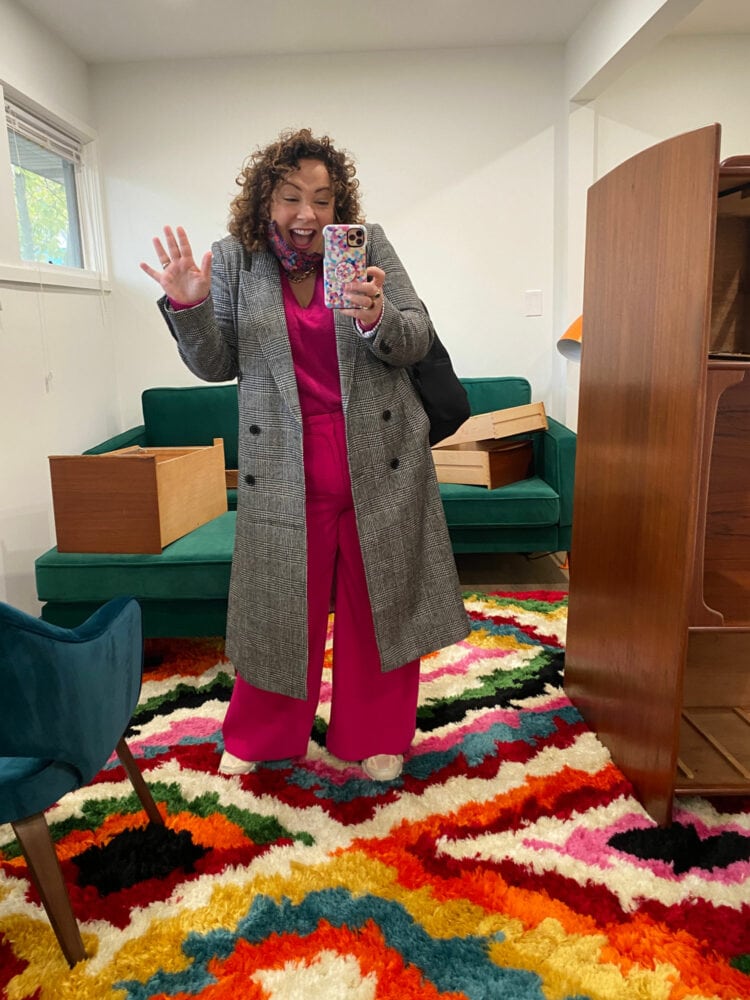 For my first day at the office, I wanted to be comfortable, but cheerful. I got these pants from Banana Republic a few years ago and wish I bought them in every color. They're stretchy but polished and a great fit. You can see them in this post, and in this post with the matching jacket.
With it is a Universal Standard cashmere v-neck. After getting a Universal Standard cashmere crewneck sweater to review, I went and purchased the v-neck in this berry color. I really like these sweaters; don't be surprised to see me having more as the winter progresses. My winter uniform is a colorful cashmere sweater with pants or jeans and depending on how cold it is, a layering piece over it.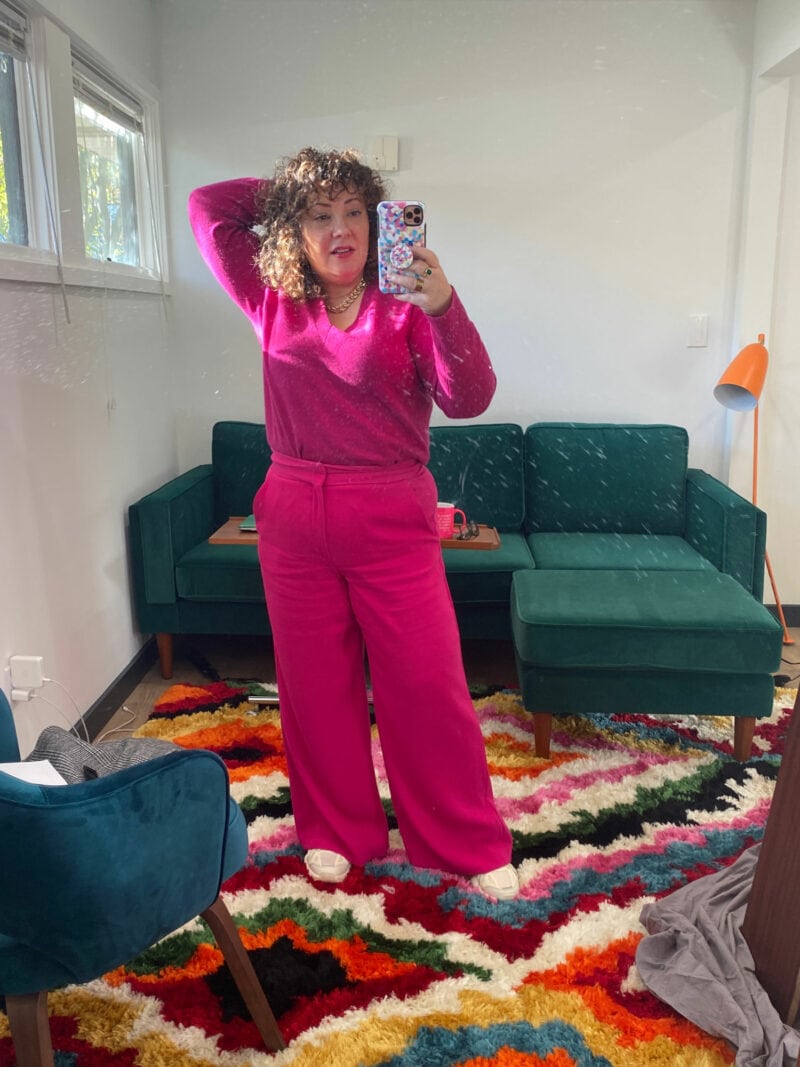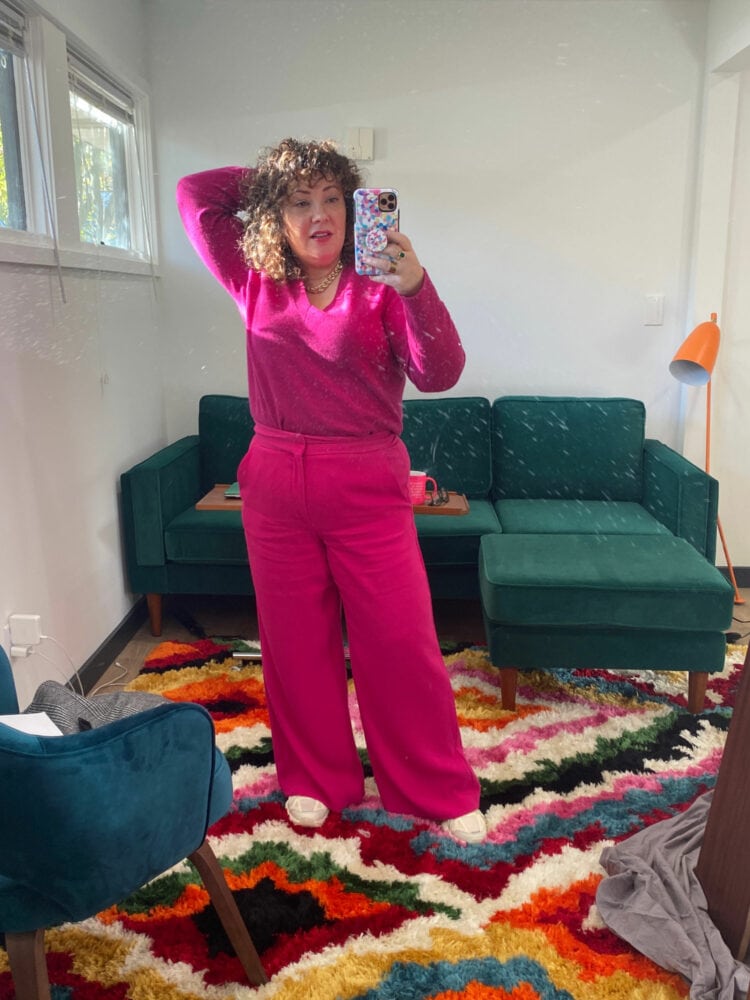 The shoes are FILA, the Electrove 2. When I got them, they were sold out everywhere but they're now in stock in this color at FILA, Amazon, and Revolve. The Whisper White color is my jam; even with the chunky profile they look less like fitness and more like fashion. I am all about sneakers with wide leg trousers! Earrings are these from Baublebar, the necklace is also from Baublebar.

And the coat is the one I featured in this Nili Lotan x Target coat post. I really love this coat, it looks and fits more expensive than its price and I am surprised some sizes are still in stock. It isn't insulated, so I'll have to retire it in a few weeks so I'm getting as much wear out of it as I can until then!
Tuesday: Black is the color of my soul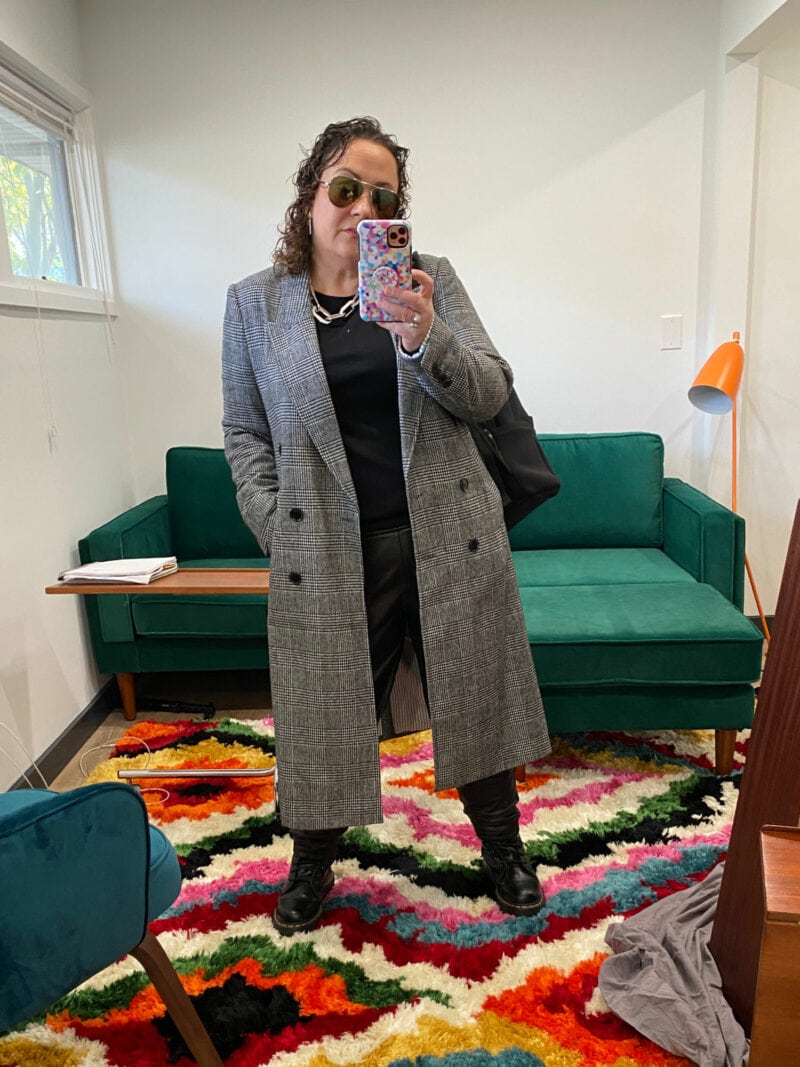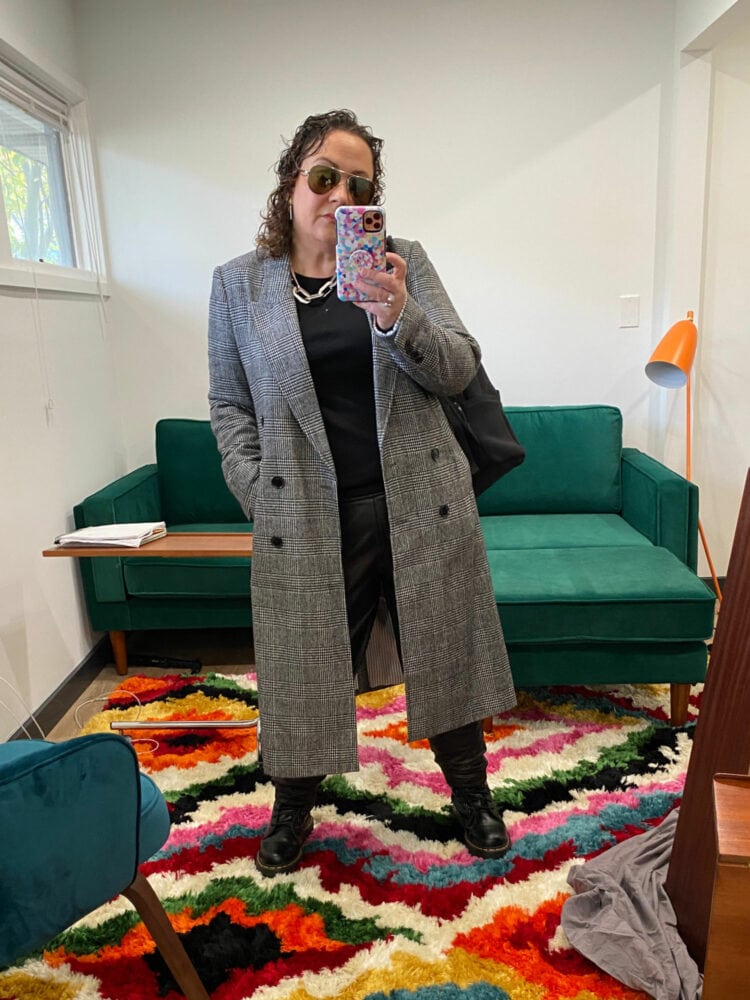 Just kidding, but really I woke up Tuesday on the wrong side of the bed and decided to just lean in with an all-black outfit. The sweater is the "Shauna" merino crewneck from Universal Standard. Unfortunately, it is no longer available in black, but the cashmere crew is the same fit IMO.
The pants are my Spanx faux leather joggers that I have had for a year now. Here is my Spanx faux leather joggers review. I like them because they look interesting, but are super comfy and stretchy. Also with the brushed lining, they are soft and cozy on a cold day.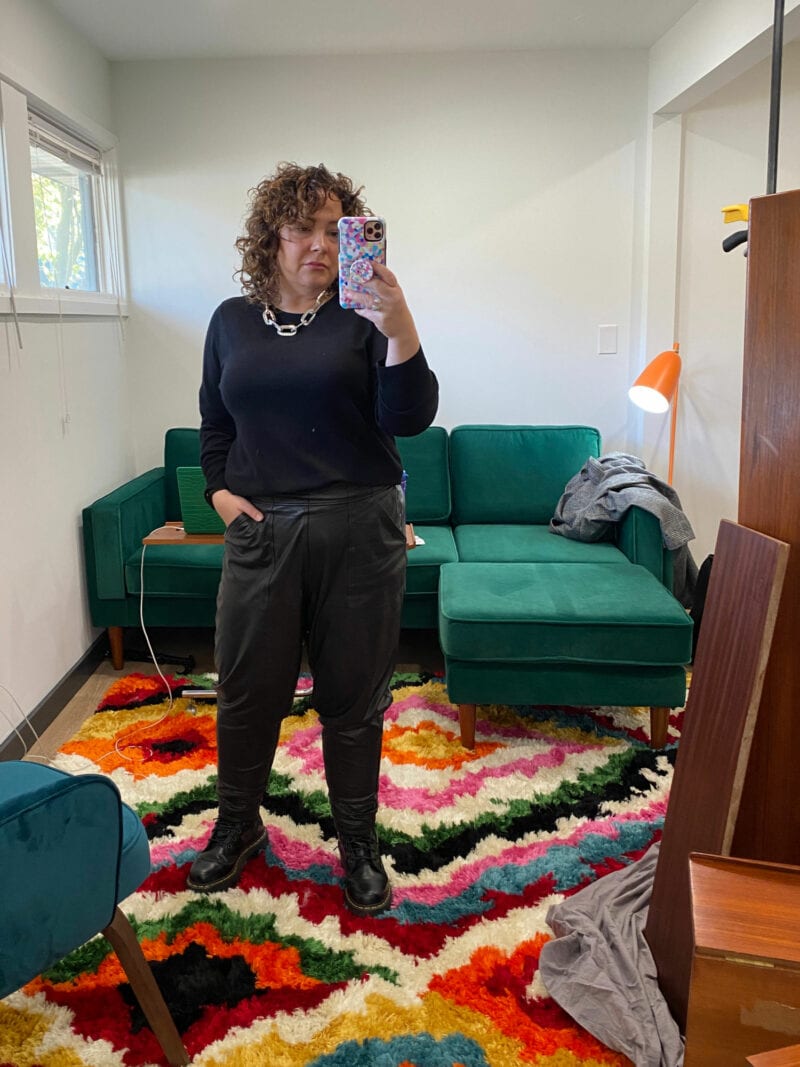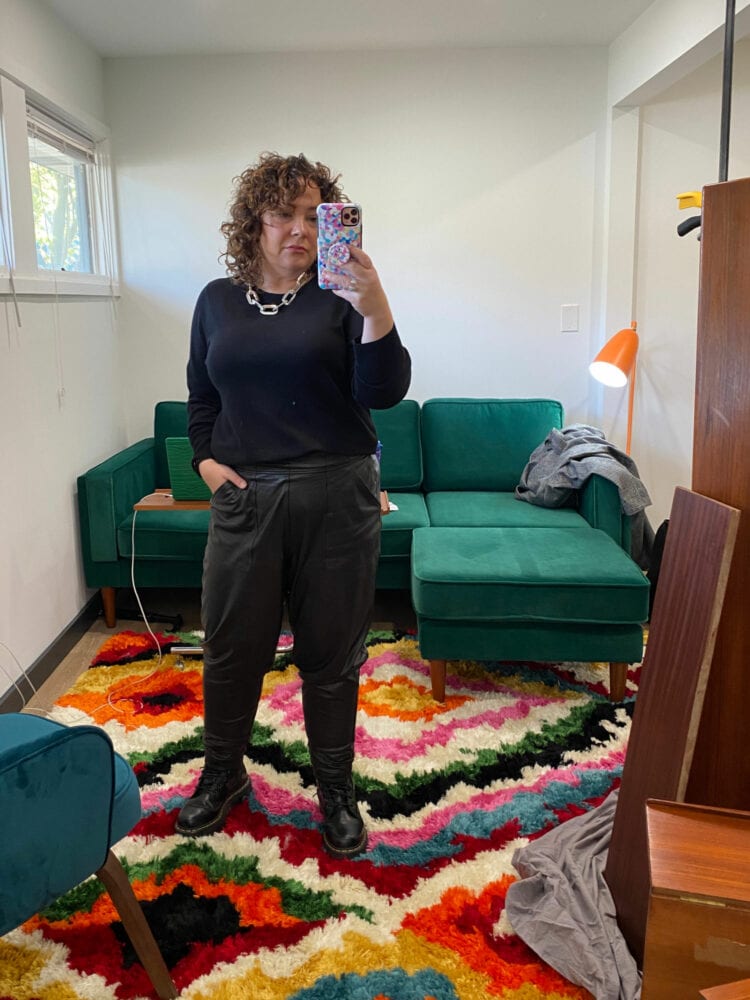 The boots are Dr. Marten's 'Jadon.' I know, I have the Leona Docs, but they're brown. And I have these boots from La Canadienne but they're really low profile. And I have these boots from Sorel, but they're really… I don't know, they're weird looking when not with a skinny jean or legging. They're tall but narrow and with my not tall and not narrow body the proportions feel off to me. And. I saw how often I wear the Leonas so I decided to get a pair that isn't exactly the same in black.

These are nice. They aren't as comfy right out of the box at the Leona, but no blisters. I like that they zip on the side so I don't have to mess with the laces to get them on and off. They are stiffer, more traditional Doc leather so they do make a bit of a squeaking sound when I walk and the shaft bends, but I know from past experience back in the '90s that goes away (and a bit of leather conditioner or even shoe polish can reduce it).
The necklace is Jenny Bird and I LOVE it… but it's made for a smaller body. Most of Jenny Bird's products are, which is why I mainly own earrings from the brand. This necklace clasps shut with one of the links that has a hinge; I asked Jenny Bird if they would consider seeing separate links that we could buy to extend the length of the necklace. They instead came out with chain extenders… but the extenders don't fit the thick links of this necklace. I have two extenders in back looped to make links to extend, but it's not cute. Really, I don't get why they can't sell separate links; it's something even skinny-necked folks may desire.
Wednesday: Not My Color, Don't Care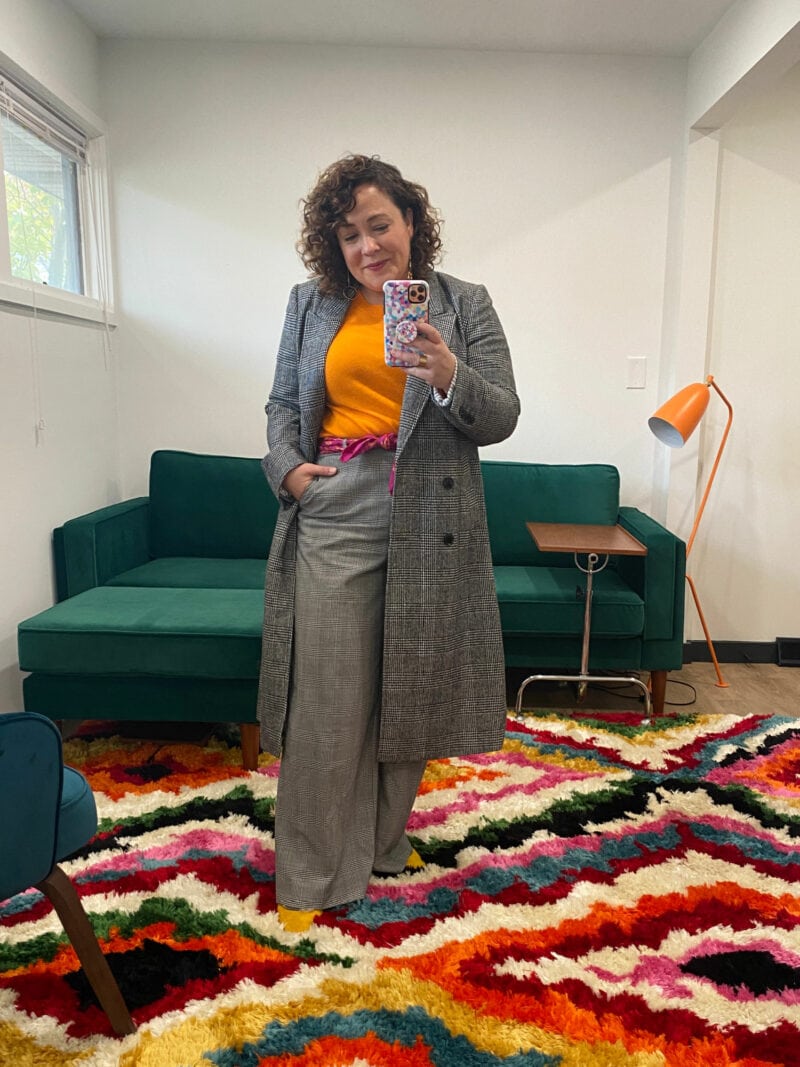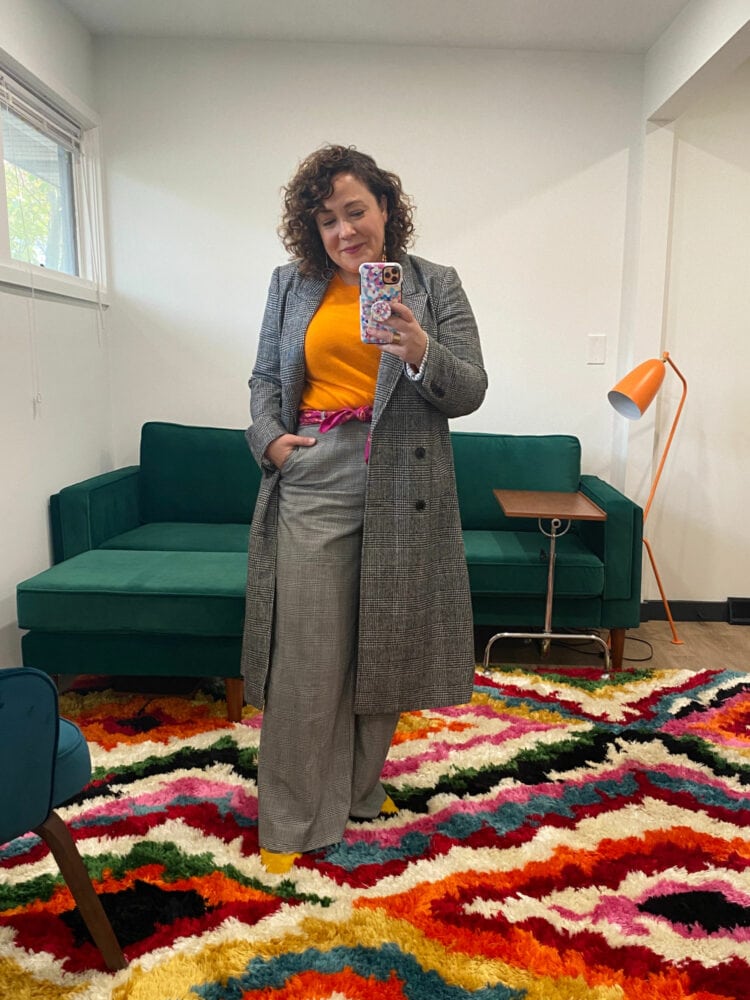 I know a lot of folks are very into having their colors done, and choosing only colors for their season or skintone. Growing up, I subscribed to that notion. For most of my life I swore I was a Winter and wore only those kinds of colors. And then in college, someone "did my colors" and said I was an Autumn. I then started wearing those kinds of colors. I found that both seemed to work, and it made me change my feelings about what colors I wore.
I began wearing whatever made me happy. I wore taupe, and pastel pink, plum, and cobalt blue. I'd wear fire engine red one day, brick red the neck, cherry the following evening, and then flame on the weekend. I'd play with lipstick and blush colors, accessories, and realized what made me look good wasn't the color I was wearing but the confidence I had wearing it.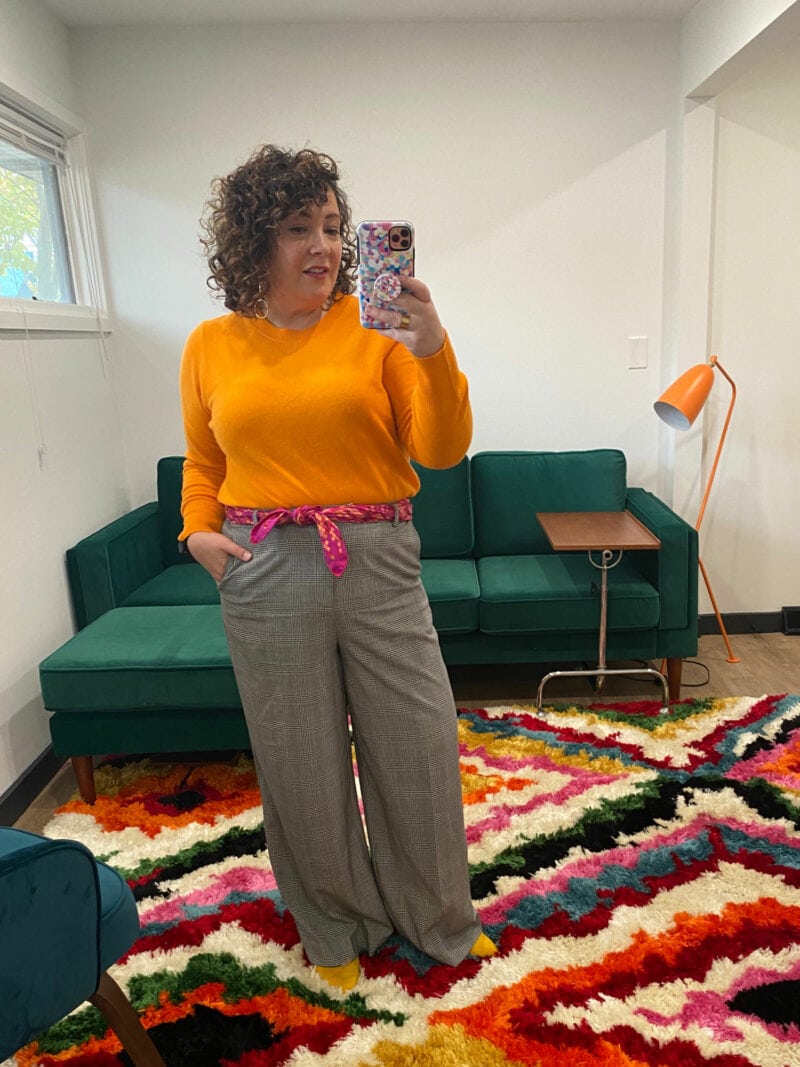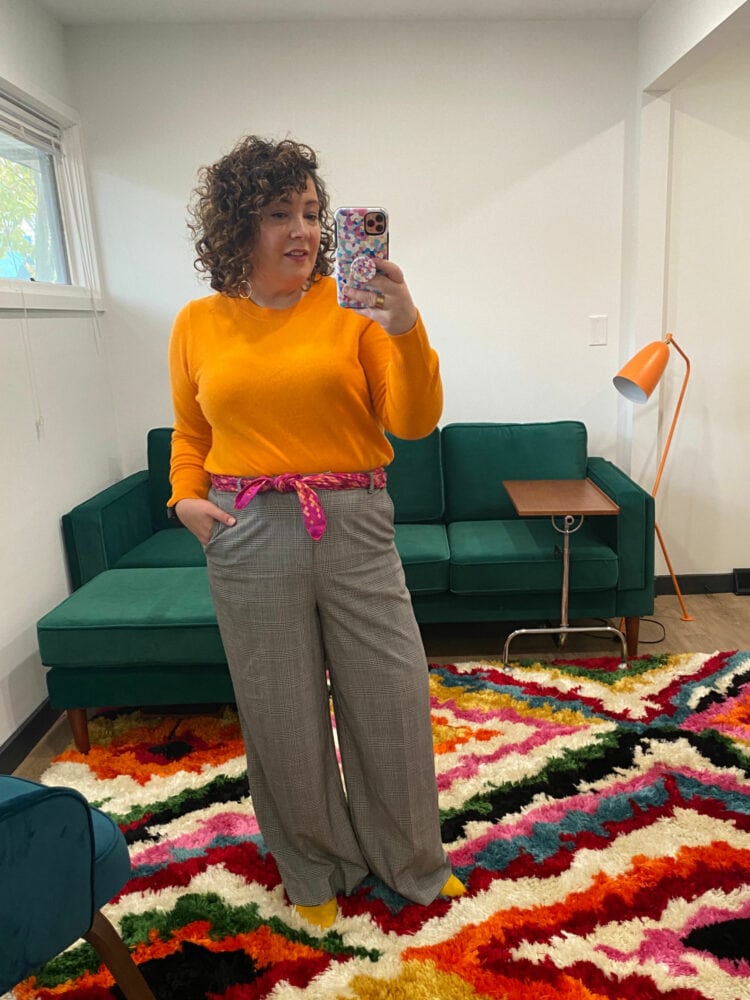 This orange of my J. Crew cashmere crewneck is not "my color" but it makes me happy. It makes me extra happy when paired with pink, so I used an Hermes scarf (read about the scarf here and then the update here) as a belt. The pants are from Universal Standard and old (previously seen here) and the shoes are new from ALLY in a gorgeous saffron suede.

Adding a deep berry lipstick I felt pulled the pink into the look without being too literal. And funky gold earrings finish the look (they're Jenny Bird and no longer available; if you search resale sites they're the Medium Edie hoop).
Thursday: Too Warm for November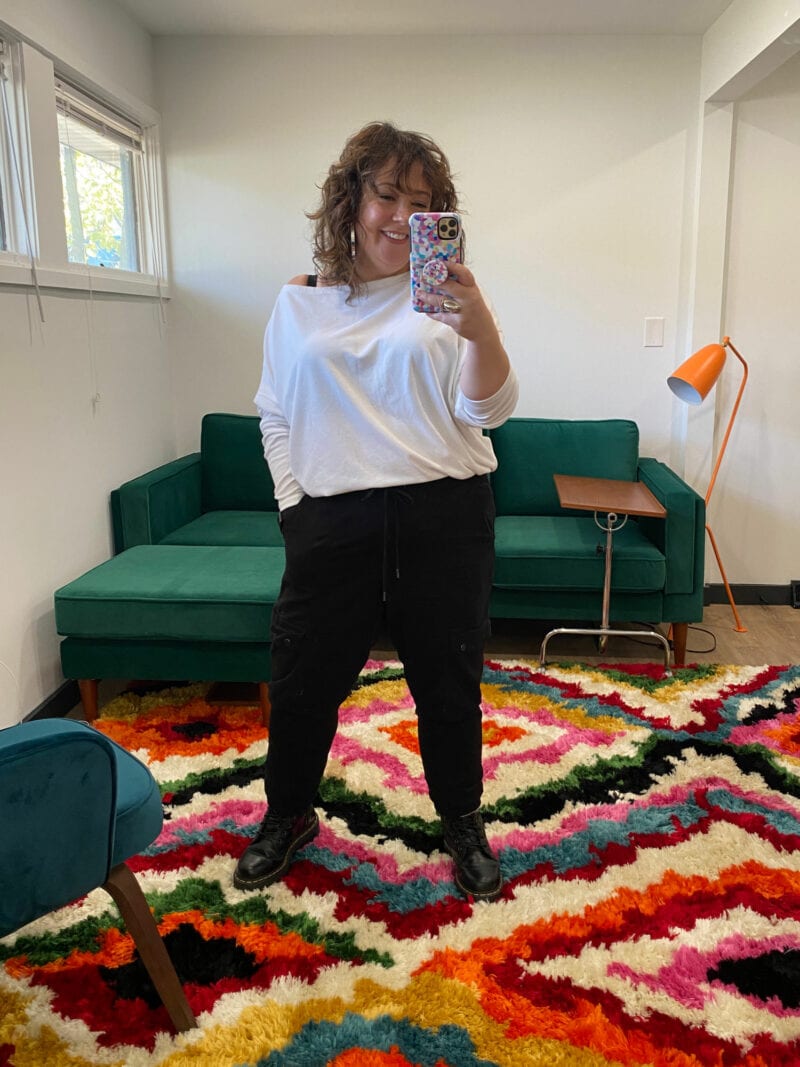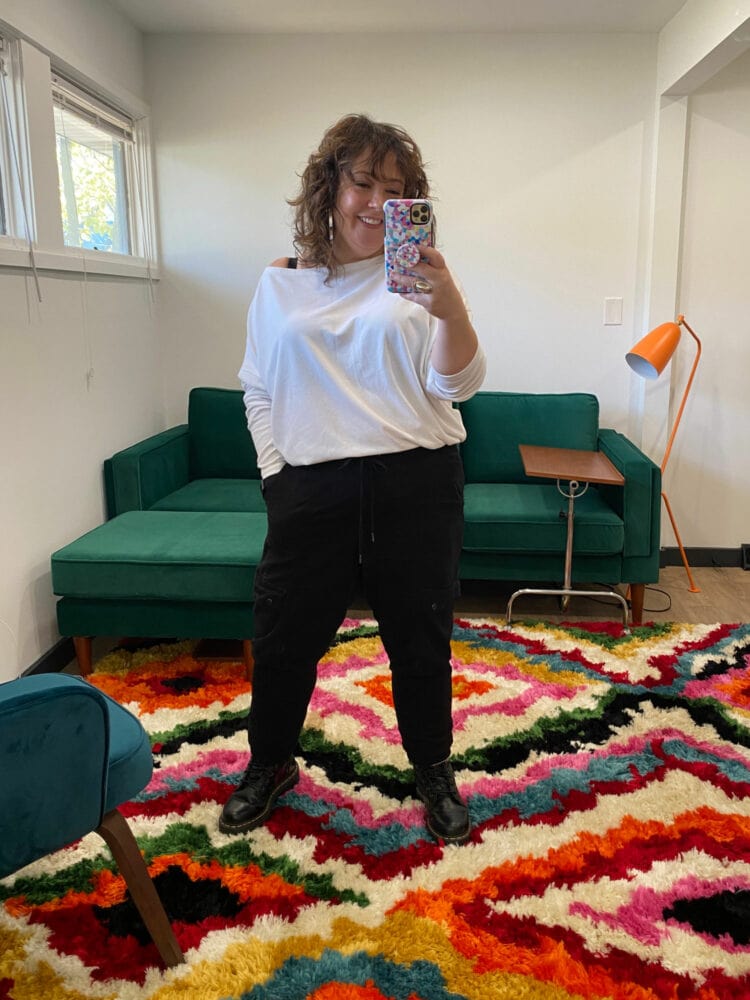 Thursday it was in the 70's here in the DC area. While it was a gorgeous day, it made getting dressed difficult. I decided to recreate this look with my ALLSAINTS off the shoulder top, just switching out gold jewelry for silver and my brown Docs for my black ones. Know this top runs large; I have a Medium and usually I'd be buying L or XL. It doesn't shrink, even if you put it in the dryer and it's a heavier weight better for this time of year.

The pants are these from Banana Republic. I really like them but do know they shrink when you put them in the dryer. A couple of you have bought this alternative from Banana Republic Factory and find them to be great quality and a good fit.
Friday: I Saw It in a Dream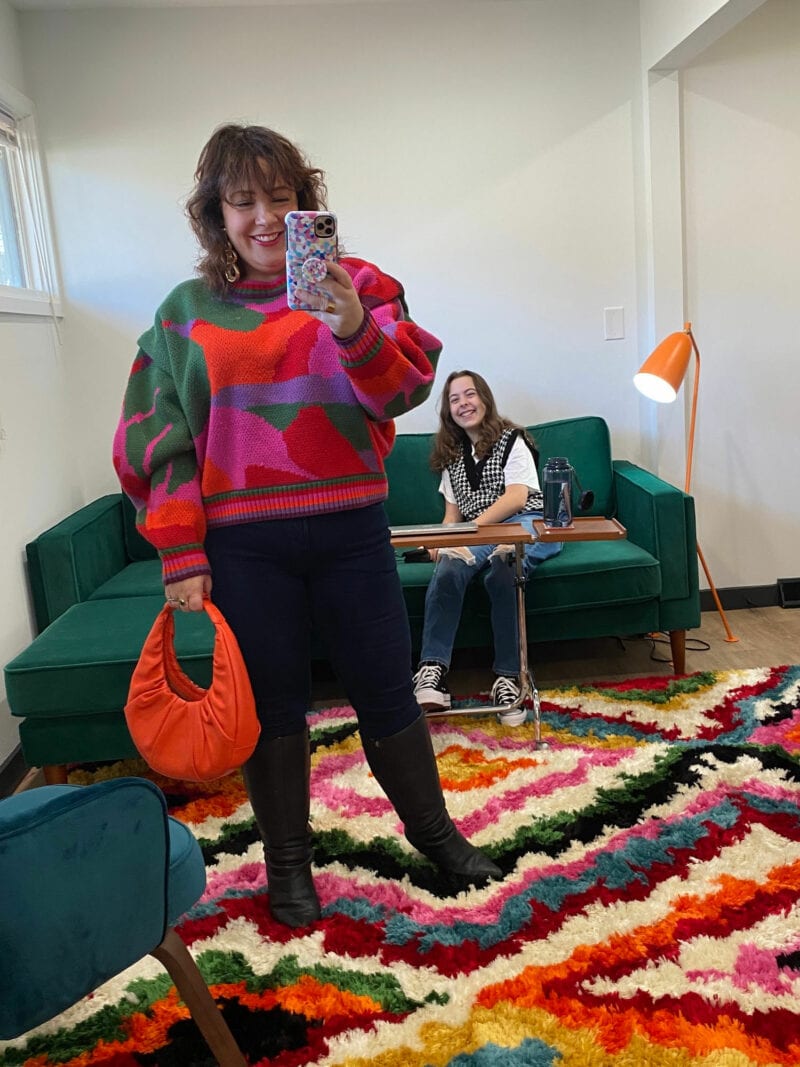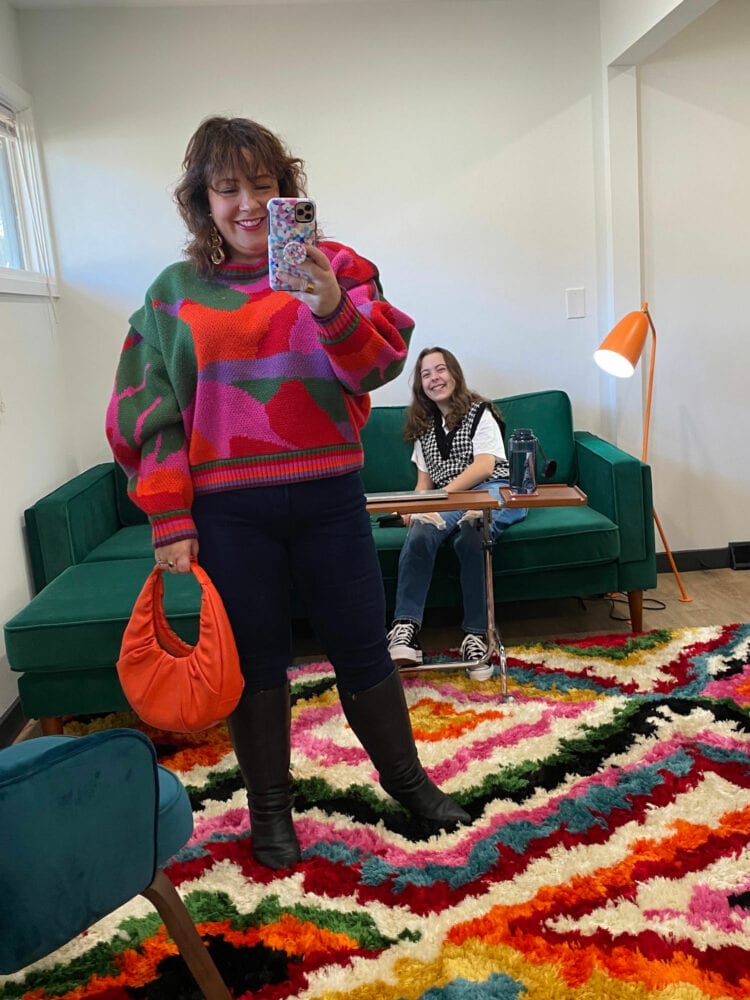 Rent the Runway offered me two months free to try their program again. I saw they had this sweater from Farm Rio that I have been lusting over but felt was outside my pricerange. I immediately rented it (this is a size Large, it runs big). I also saw this bag from STAUD that I thought was cute and decided to rent it as well. If you like the bag, I wasn't able to find it in red anywhere and the brown and black versions were close to $400. But I found this bag from the brand JW Pei that is a similar concept, comes in a range of pretty colors, and is under $80.
Thursday night I was falling asleep and I envisioned this outfit. I felt it was very '80s, something a friend of Denise Huxtable would wear. The lipstick is this Laura Mercier pencil in "Clique" with this Fenty Beauty lip gloss in "Ruby Milk" over it.

The jeans are the Siene from Universal Standard, size 10 (they run big). The boots you've seen before, they're very old and I can't link to anything similar and wish I could. The earrings are vintage; I previously wore them here.
And having my own office and a kid that homeschools mean kiddo can come to work with me! We're going to have Fridays be Bring Your Kid to Work Day; it is nice to spend the day together and it also motivates us to get our work done early so we can start the weekend sooner!
---
Let me know your thoughts, do you like this sort of outfit recap? If so this week I can take some better photos of my outfits and capture some shots of details like jewelry, shoes, and lipstick!