This article may contain affiliate links; if you click on a shopping link and make a purchase I may receive a commission. As an Amazon Associate, I earn from qualifying purchases. 
So I forgot to write about this but the other week I checked out the new Alice Temperly for Target collection. After the previous guest collections (Libertine, Patrick Robinson) I wasn't expecting anything fantastic. yes I have found a few cute items from the Proenza Schouler and Paul and Joe lines, but in general I find these collections to be cheap, poorly made and geared toward a 14-year old, not an 18+ woman who appreciates designer names but can't handle the designer tag.
Well Alice Temperly created a line that would please the high schoolers, and have a few pieces for the rest of us as well. Plenty of mixes of navy with black (which I personally love), lots of Edwarian ruffles, but some simple elegant pieces as well. I picked up so many pieces, i had to do two visits to the fitting room.
But I left with nothing.
As usual, my local Target's size selection was lacking. Some garments only had one piece available, some had dozens left… all in XS. Then those that I did grab… unfortunately the sizing was all over the place. In one top I was swimming in a size 12, in another, I couldn't close the buttons. I was willing to go up a size for some of these styles, but unfortunately they weren't available and I fear purchasing online because the wacky sizing may leave me with just a heck of a lot of returns.
I do feel this line is worth a gander if there is still selection in your local Target. A few pieces I tried on: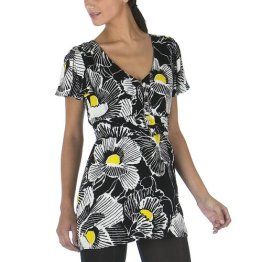 The Target website states this is a dress, but unless you are under 4'11" you'll be showing a bit too much bum in this frock. As a top, it's too long unless you are very tall or like the dress over pants look. Very confusing.
This is one of the pieces that runs large – VERY large. I only had choice of a 14 or a 6; the 14 was ginormous, my bra was showing in the neckline and the self-belt (it ties in back) had to be cinched to give me a bit of definition and not look as though I was sporting maternity.
The fabric is sort of chintzy – that rough itchy synthetic fabric that seemed to be everywhere in the 80s. However the print was very cute and would have looked tres cute this past summer with crisp white trousers and sandals. For this fall, it seems a bit out of place not just with the rest of the Alice Temperly collection, but with the trends as a whole.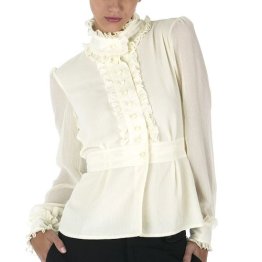 So I wanted this top desperately. I believe it is even cuter in person than in this photograph. It reminded me of French vanilla ice cream, and of Brooke Shields – I wanted to pair it with dark tight Calvins and rock that dressy/denim look of the 80s.
Unfortunately this piece was sized XS-XL. No XL was in stock, the L fit everywhere except the neck button and the button at the waistband. I fear an XL will be too big everywhere else, but it's tempting to try it just because this top is so frilly and fun. Imagine it with the dark denim, with a black pencil skirt, or switch it up having the top several buttons undone, showing underneath a white ribbed tank and some tweed slouchy menswear-inspired trousers.
This blouse also comes in gray, but the gray didn't call out to me as much. It looked too Marilla Cuthbert for my tastes.
So pretty! I loved this black Swiss-dot dress and wanted it to work. The fabric was nice, the style was cute but wearable for an adult… the whole dress was just so darling yet classic.
The 13 was way too small. Now I am no Skinny Mini but I usually fit into a 13, only ever having issues in the bust area. This dress was so tight I couldn't even start zipping the size. A 15 was of course not in stock, but after getting this dress over my head, I fear a 15 would be far too large in the shoulders and the hem probably grazing my calves, leaving the dress looking more matronly and less girly-sweet.
If I were a smaller size, I would try this dress. I am betting a size 6 fits more true to size than a 13 (it received rave reviews on the Target website).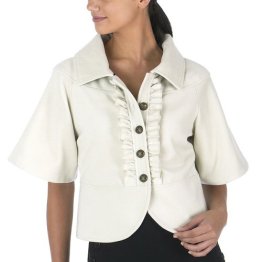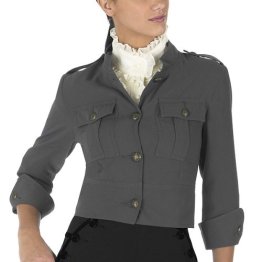 So I tried these two jackets in the same size with completely different experiences.
The ivory melton wool jacket on the left… I knew it wouldn't look good on me. It was puffy, thick, stiff and a light color. On my figure I would look like the Michelin Man. It also came in cobalt blue, but only had S and XL in stock. Just by looking at this jacket, I knew an XL would be too big. Again, if I was tall and slim, I may actually like this jacket and the stiffness would be cute and quirky, not marshmallow.
An L was too big. I was swimming in this jacket. The stiffness of the fabric had it sit on my bust and flare straight out. The collar was up near my ears and the sleeves stuck out like wings. The lining is very soft and silky, which makes this fabric wearable, but the cut was strange. Gosh it looks goofy on the model in this picture!
Now the military jacket. Like the melton wool jacket, the buttons say Alice Temperly on them and are heavy brass. I was thinking how cute this would be with a white ribbed tank and jeans for a weekend, or even with a black top and trousers for work. It is very cropped – on my petite frame I knew it would hit around my belly button (or higher) but was thinking about the short jacket/long shirt look and thought it could work.
It couldn't. The L wouldn't fit over my arms, the XL wouldn't button. The fabric is a cheap nubby polyester crepe (again with the itchy synthetic fabrics from the 80s) and the lovely detailed brass buttons dragged down the floppy unlined fabric. This was exactly what I had seen in recent GO lines at Target – crappy fabric, crappy cut, crappy crap created because designers don't realize that those of us who can't afford their regular line still have style and taste.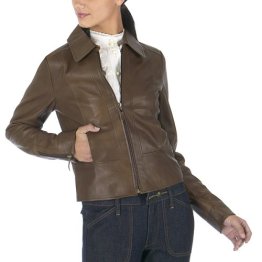 Many of the pieces seemed cute, but were not my style or not available in my size.
The brown leather zip-up jacket was surprisingly sleek and elegant looking and a nice feeling fabric. It came in every size, but I chose not to try it on for fear of actually liking it. I don't need something like this in my wardrobe, but it had sleek enough of lines that it could double as a suit jacket for a casual look at work.
The sleeveless jerseys with the black lace detail were very cute and I could see myself purchasing the navy one if I were still in school. Paired with a little black flippy skirt or even dark skinny jeans, it would be very cute. Just not my current style.
I hope this is a sign of things to come – a return to halfway-wearable clothing from guest designers. It's fun to have the variety at the local big-box retailer – variety for a larger range of ages and tastes!