This article may contain affiliate links; if you click on a shopping link and make a purchase I may receive a commission. As an Amazon Associate, I earn from qualifying purchases.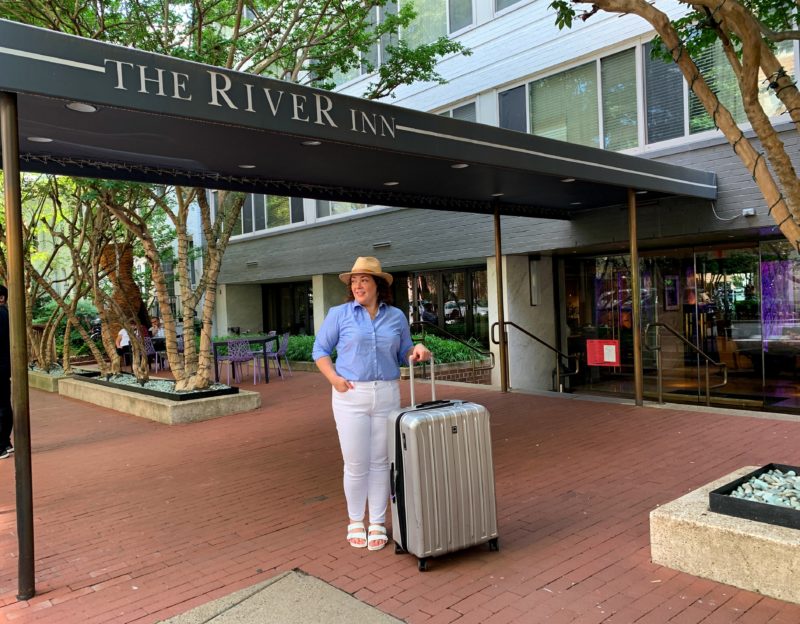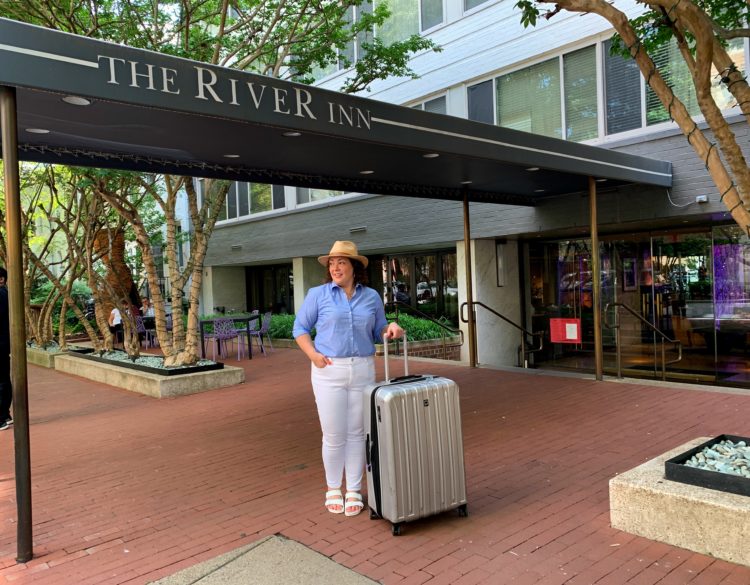 One of Karl and my favorite things to do as a couple is a quick weekend getaway. There's something about new surroundings that helps you unwind but also recharge. We love staying local – you get all the enjoyment from a getaway without the long drive or flight home. At the beginning of the month, we celebrated our 15th wedding anniversary and decided to celebrate it with a weekend getaway right at the River Inn in DC.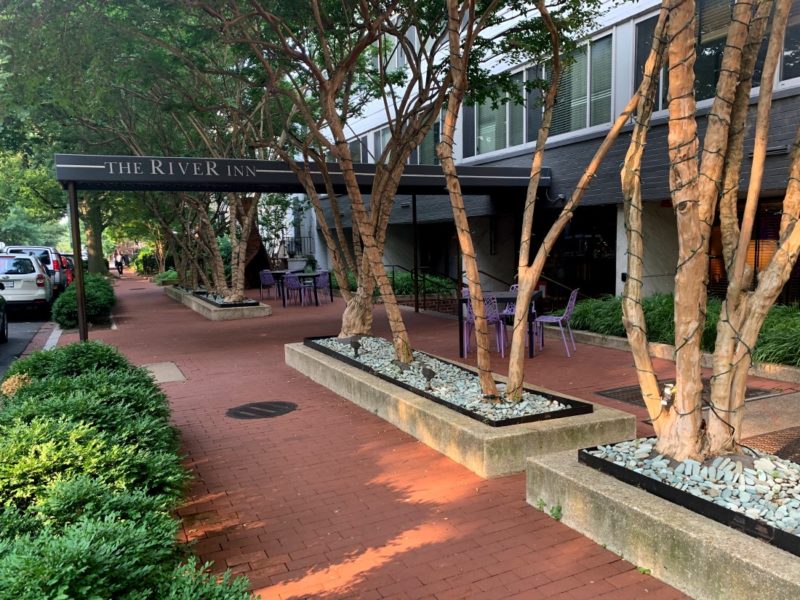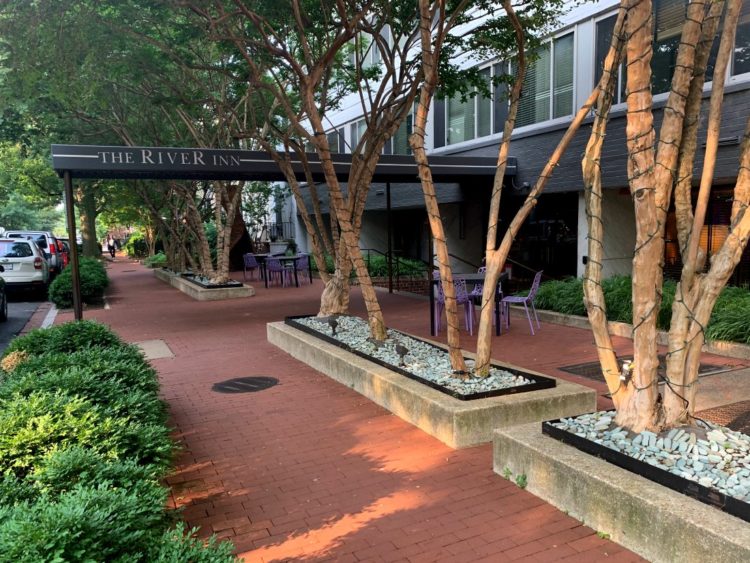 Life has been so busy, we knew we wanted to get away but had not made any reservations or plans. The River Inn reached out asking if I'd like to check out their recent updates. I checked out The River Inn… it's located in Foggy Bottom which is a quiet tree-lined community but walking distance to Georgetown, The Kennedy Center, George Washington University, and a DC must, the Metro. This sounded perfect for a weekend of R&R&R (rest, relaxation, and romance).
We headed to The River Inn on Friday afternoon. The hotel offers onsite valet parking and checking in friendly and swift. We enjoyed the fruit-infused ice water available in the lobby.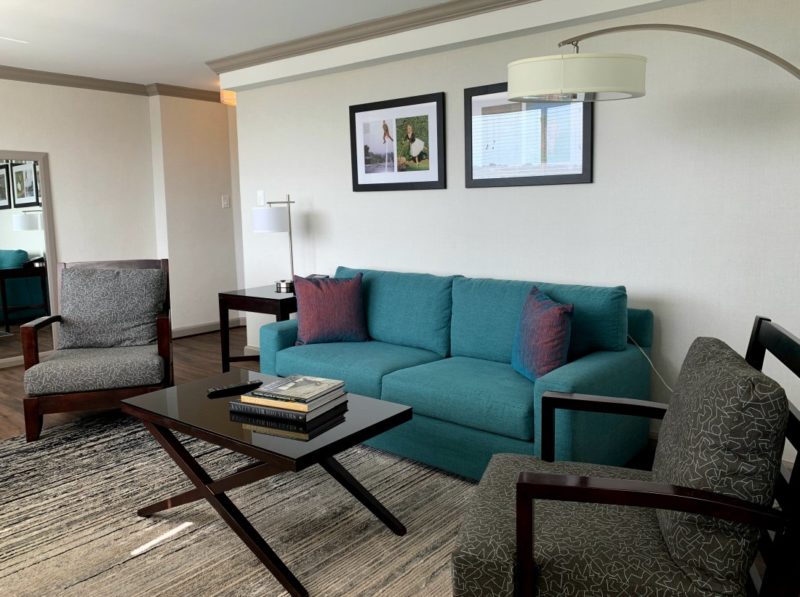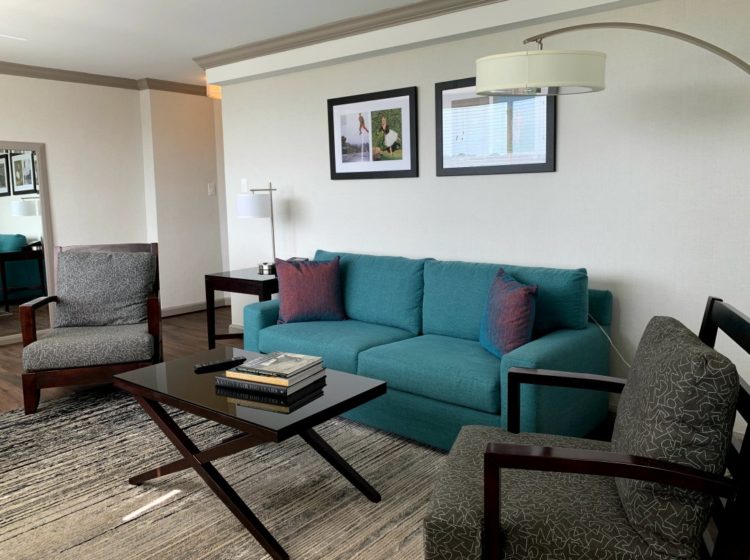 All of the rooms at The River Inn offer a full kitchen with a refrigerator, a six-foot desk with office space, and a living room with a sofa bed. The rooms were recently updated with new wood flooring, new wallpaper, and new furniture including sofa beds in the living room that has memory foam mattresses. Many hotel suites are a single room, or two rooms separated by a door. This suite was designed like an apartment with the bathroom and bedroom separate from the living/dining room and the kitchen a separate entity. I was amazed by the space and the views – we stayed in a king suite on the 8th floor and had gorgeous views of Georgetown and the Potomac River from the living room and could see the Washington Monument from the bedroom. In fact the whole weekend at The River Inn I felt more like a DC resident living in a fabulous apartment than a tourist in a hotel.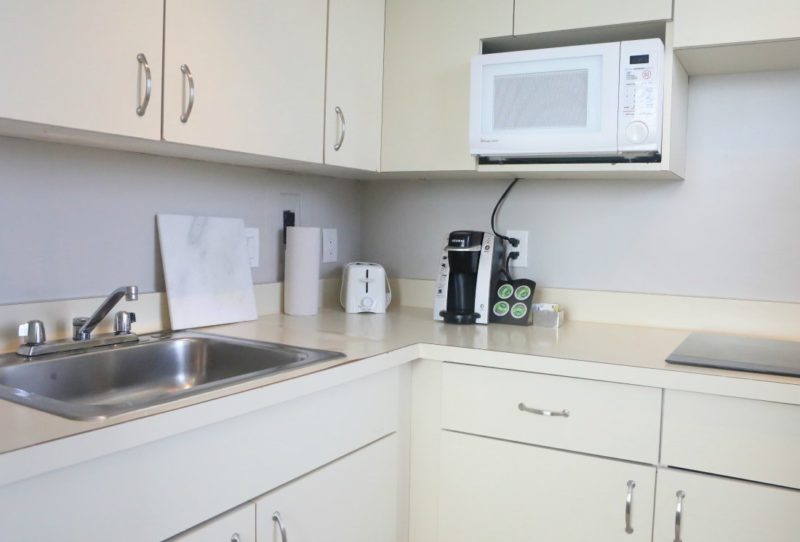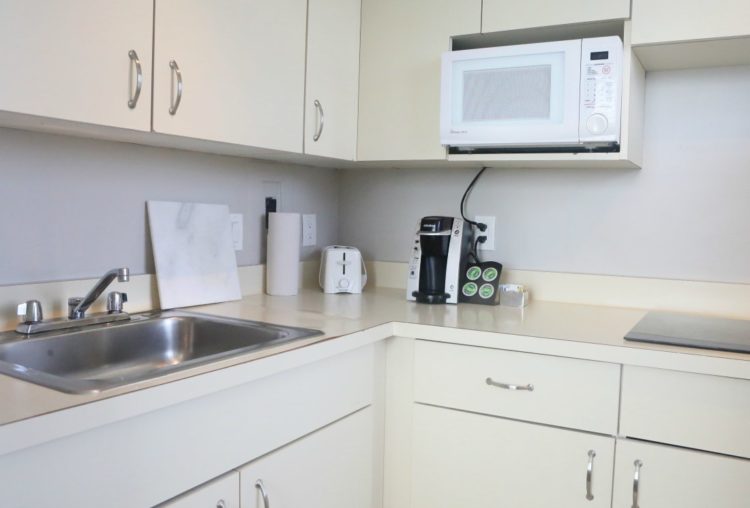 Speaking of the kitchen… I swear The River Inn spoiled me because now I want this in EVERY hotel room! They even have a program called Stock The Fridge where you can choose your favorite items from Trader Joe's and they will have them arrive in your fridge the same day. We didn't take advantage of this program, but we did bring our own food and cooked and enjoyed meals thanks to the full-size fridge, stove, and microwave as well as serving and cooking necessities.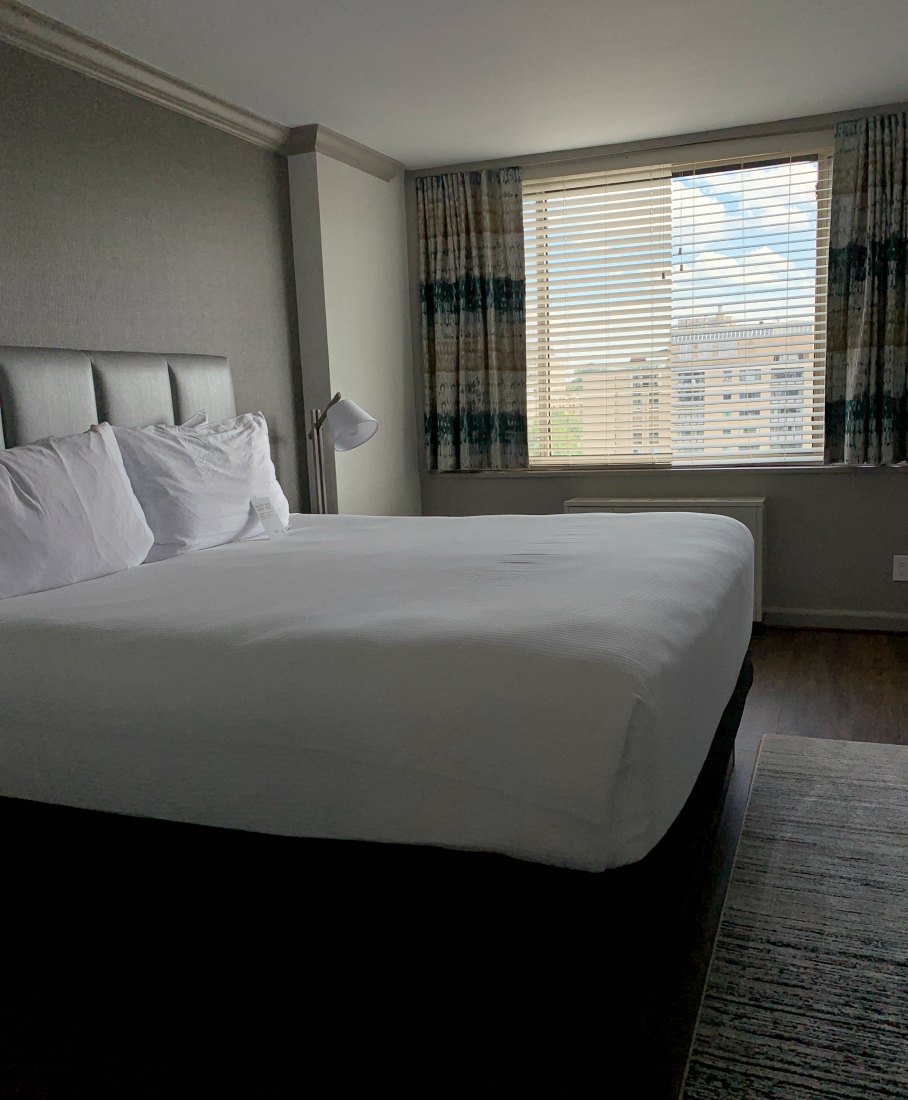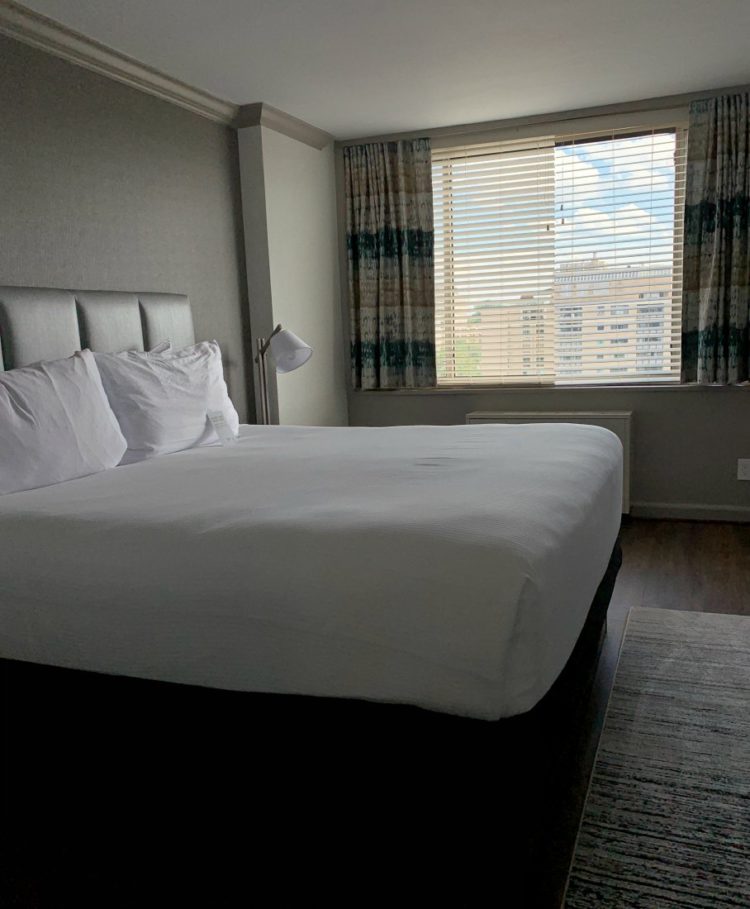 Once we got settled into our room, we decided to explore the area. If you walk out of The River Inn and turn right, go two blocks and you'll see the famous Watergate. I hadn't been to The Watergate in years, Karl had never been so we went in to explore its gorgeous architecture and décor. We wandered down to Kingbird, it's a beautiful and highly-rated restaurant with a unique and delicious menu. Showing up around 4:30 on a Friday, we were able to get a table without a reservation and feel perfectly comfortable in jeans and Birkenstocks. We sat next to a window with views of the Potomac, shared a bottle of Pelligrino and had a few appetizers and relaxed. After we took a leisurely walk around the area. The River Inn is on a quiet residential street, but just a block from K Street and Washington Circle. The weather was spectacular and we enjoyed being outside with no place to be or nothing to do.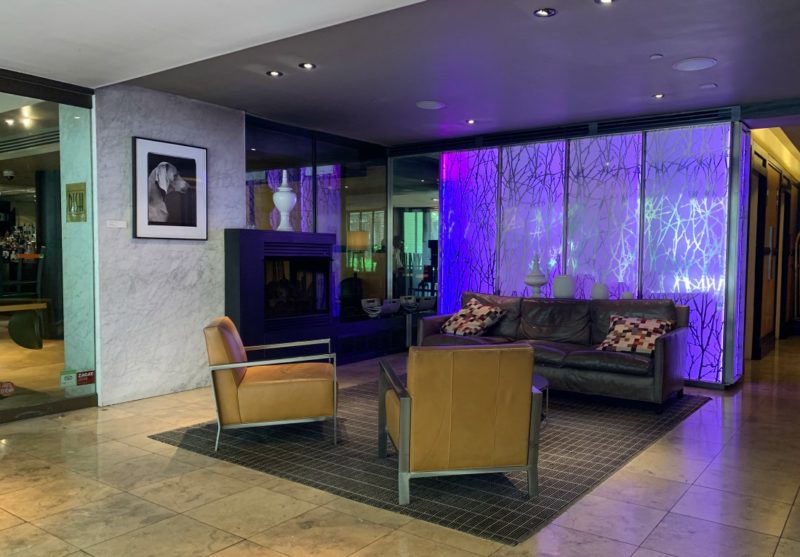 For dinner, we decided to try DISH + Drinks, the restaurant location in the lobby of The River Inn. It's a cozy restaurant with traditional American fare with a twist. Our server was so funny and knowledgeable about the menu, suggested we try the duck confit spring rolls as an appetizer which were phenomenal. Everything from the appetizer to post-entrée coffee was delish.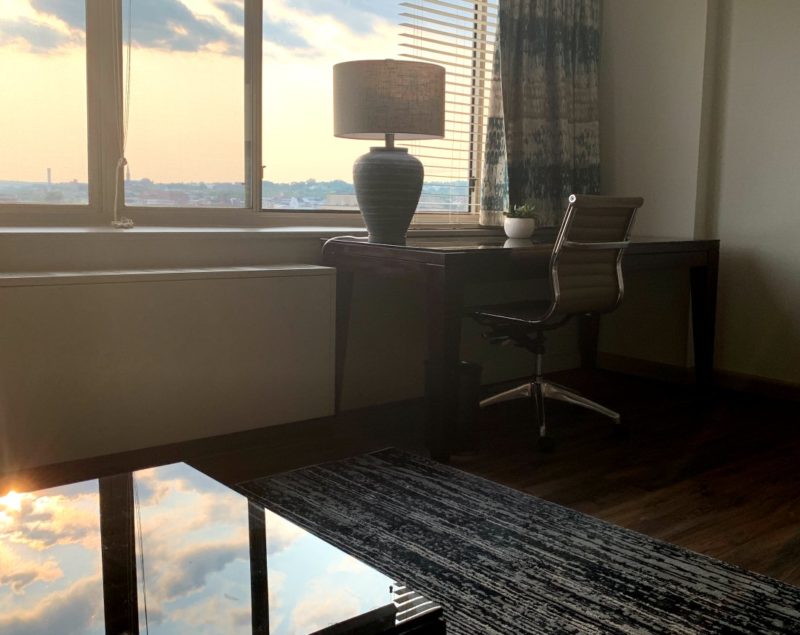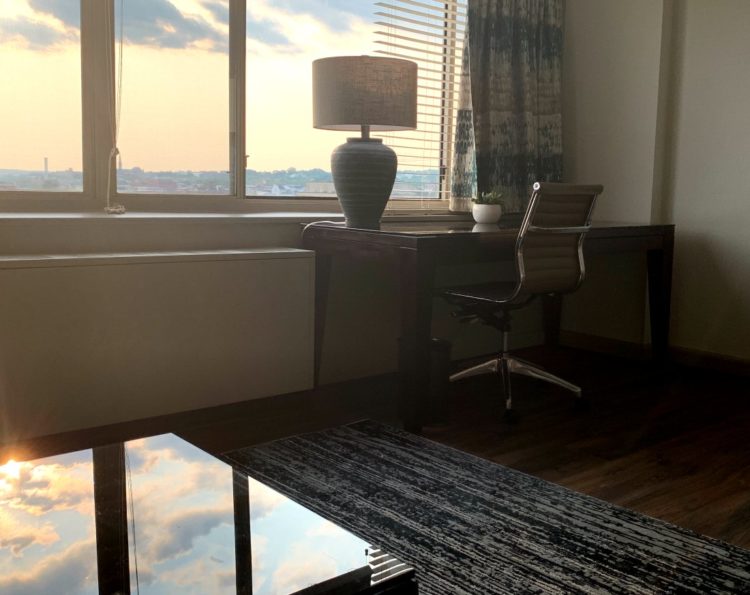 Since we were on vacation and the goal was R&R&R after dinner, we headed back to our room. We were in awe over the view from the wall of windows in the living room and were happy to end the day in the incredibly comfortable bed (by the way there's a huge TV both in the living room and the bedroom!).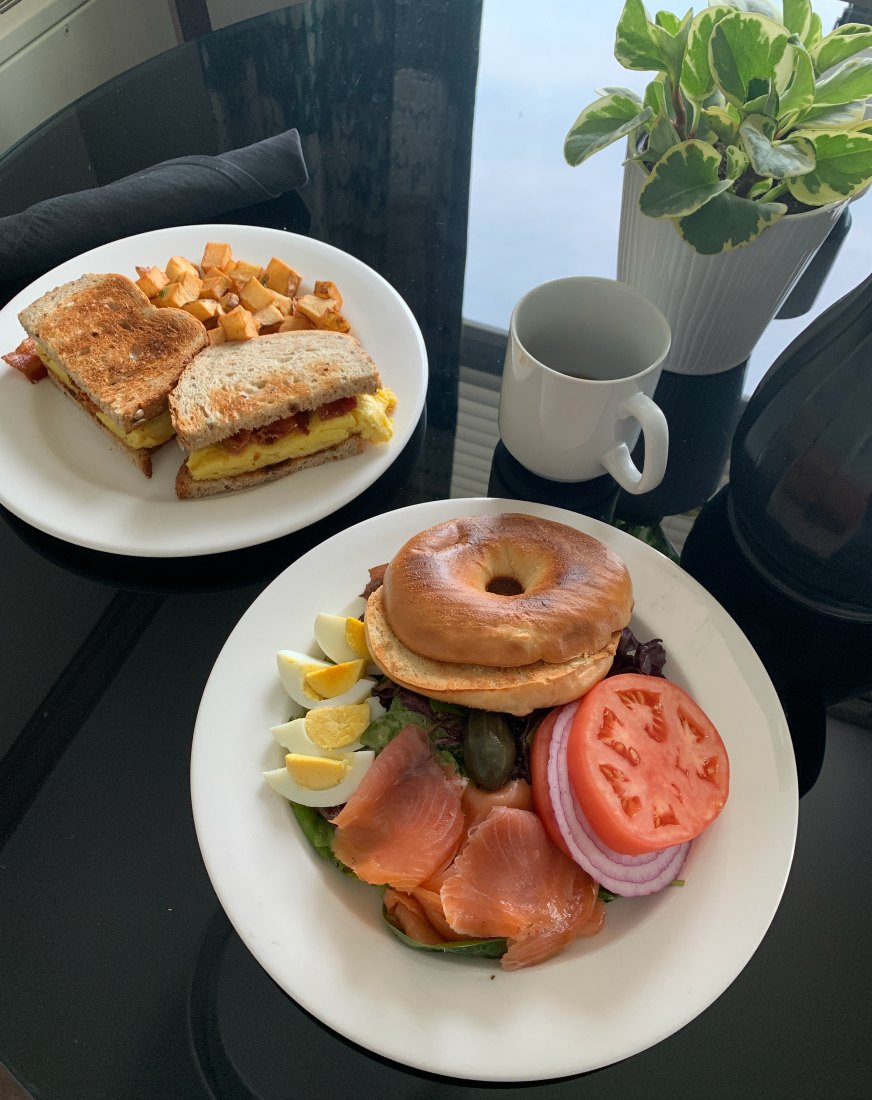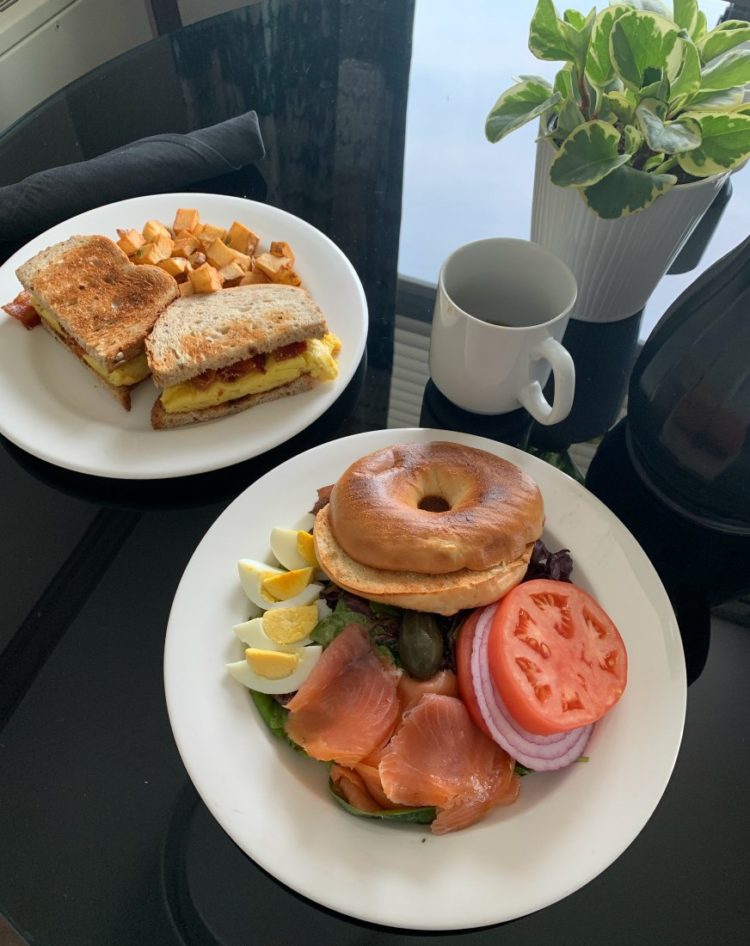 The next morning, we wanted to sleep in so we ordered room service. The River Inn offers room service from 7 am – 10 pm and we both found delicious things we wanted to eat. Our meals arrived in about 20 minutes and we enjoyed them with a carafe of coffee (though there is also a Keurig machine in every room) at the dining table.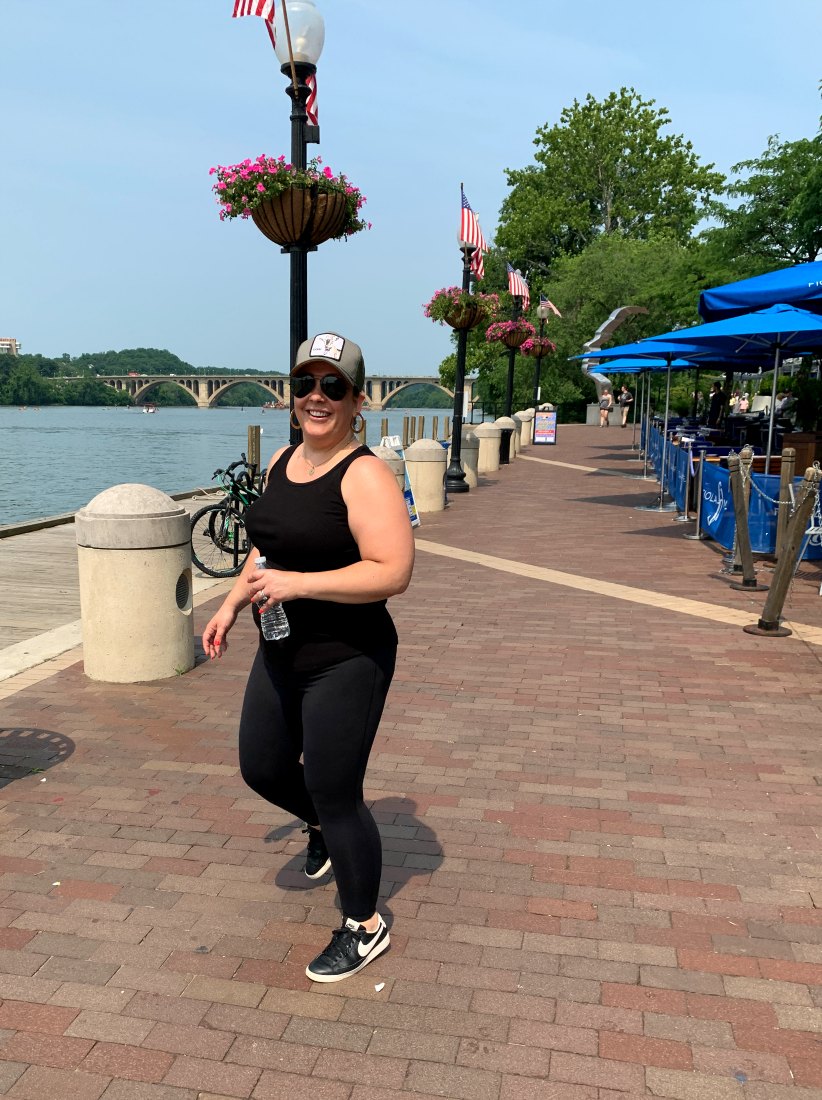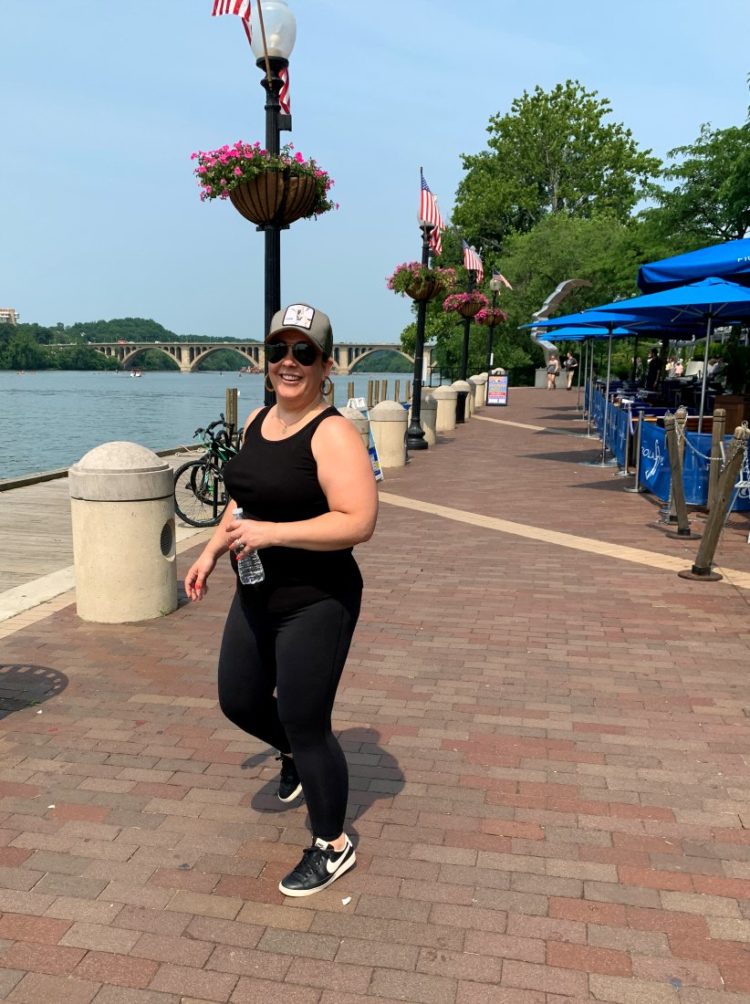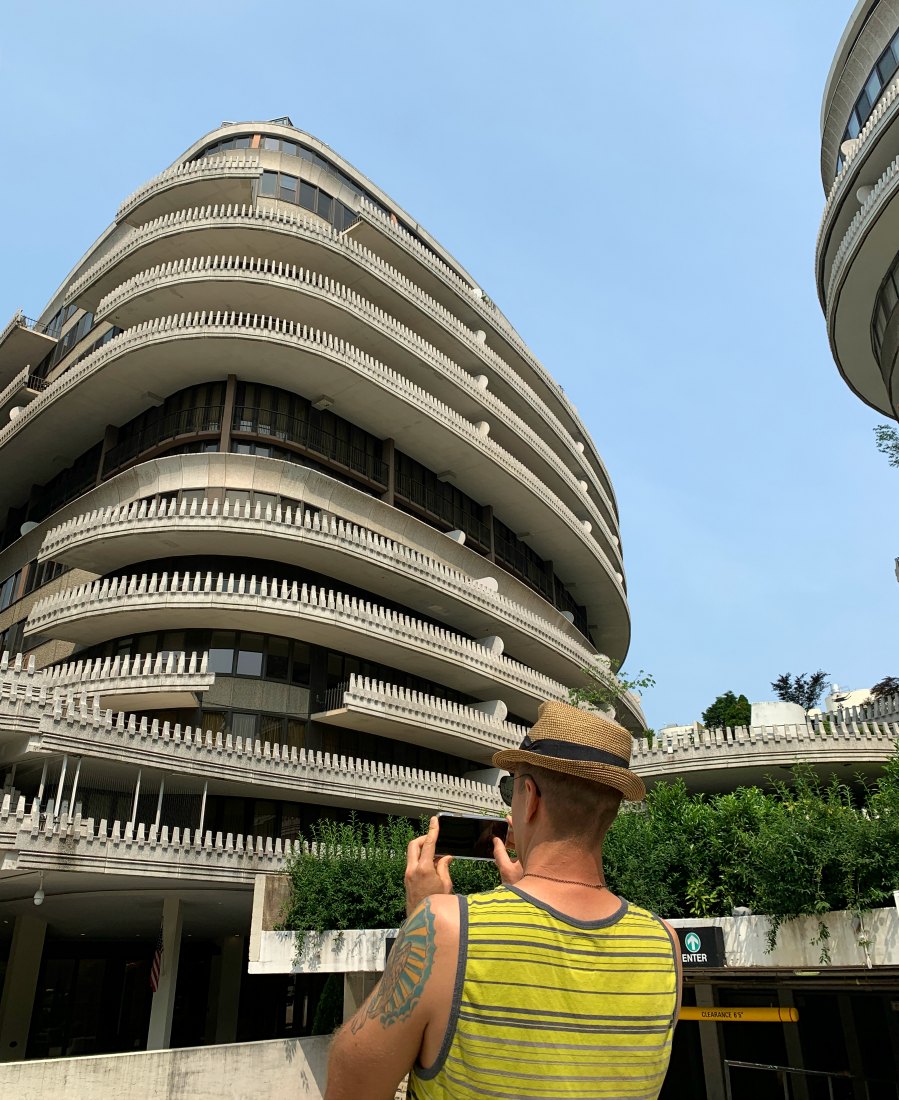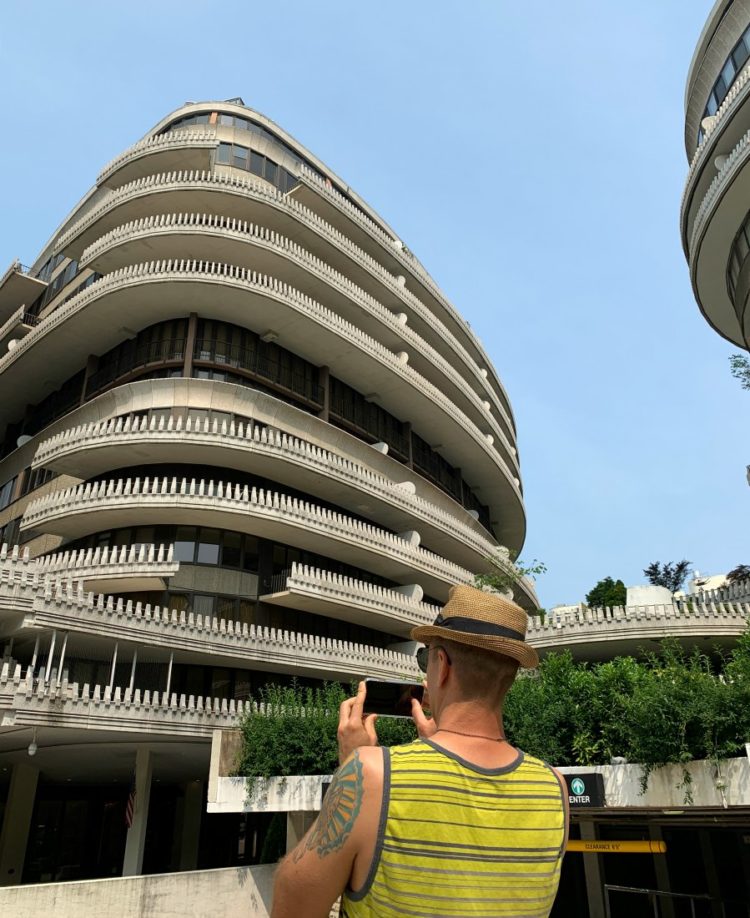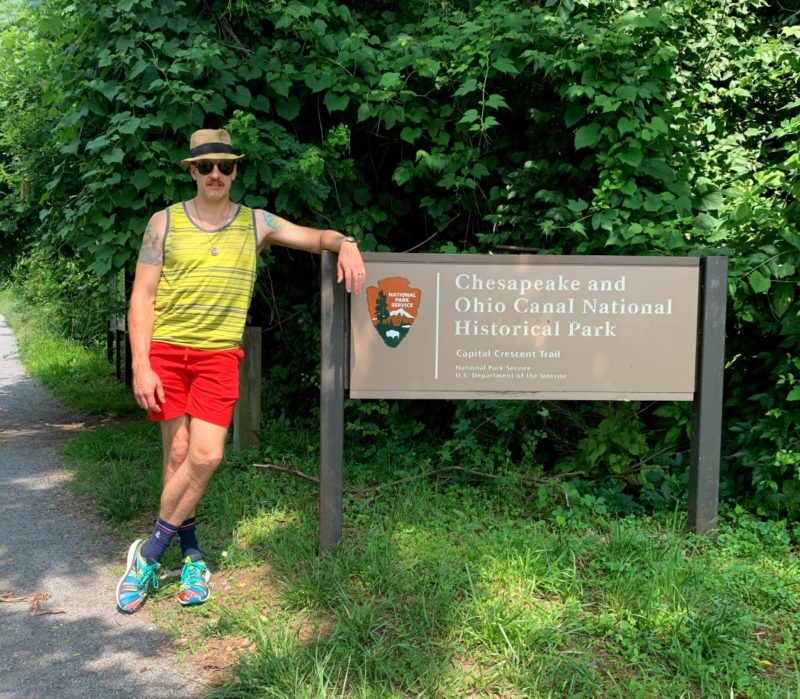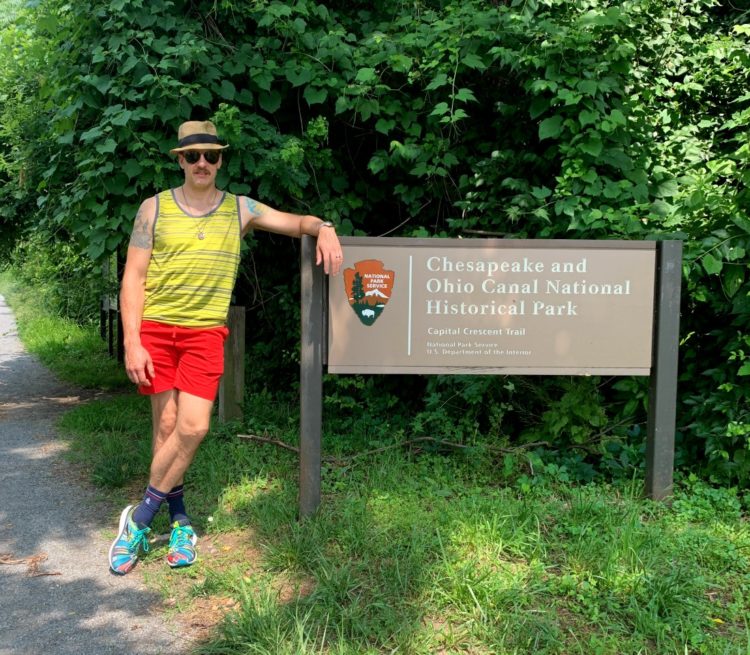 We planned the day heading into the city, maybe seeing an art exhibit but the weather was so beautiful we decided to be a bit more active as I mentioned in this post. We tied on our sneakers and walked past the Watergate and the Kennedy Center and picked up the path along the Potomac River. We walked along the Georgetown waterfront where Sequoia, Fiola Mare, and other fabulous restaurants reside, under the Whitehurst Freeway and caught the Capital Crescent Trail and the C&O Canal Towpath. Taking this route feels nothing like the bustling Nation's Capital; green and overgrown with views of the river, it's quiet and peaceful but nice and flat perfect for leisurely walking, biking, or a good jog. This article from The Washingtonian shares more details about this route.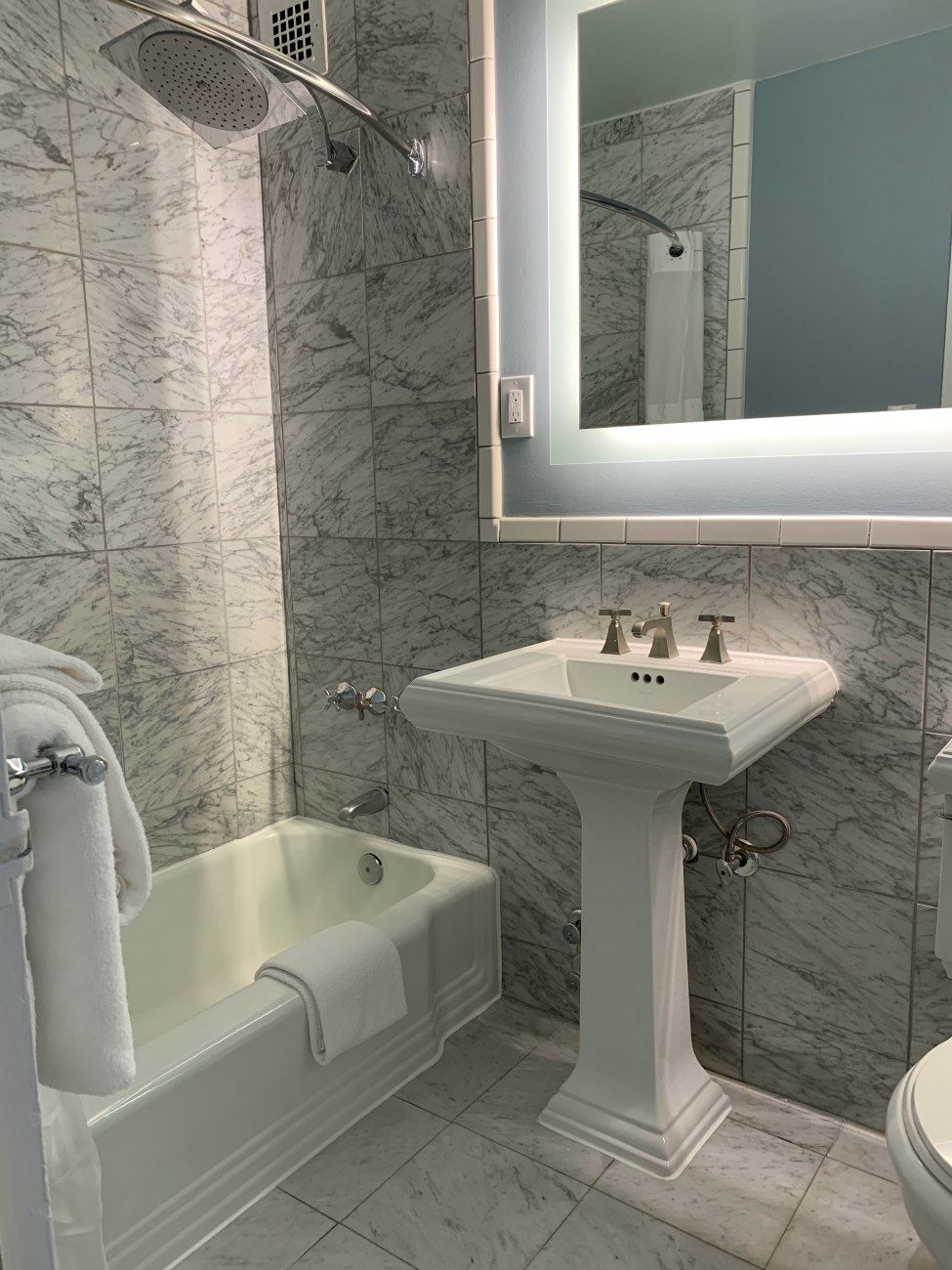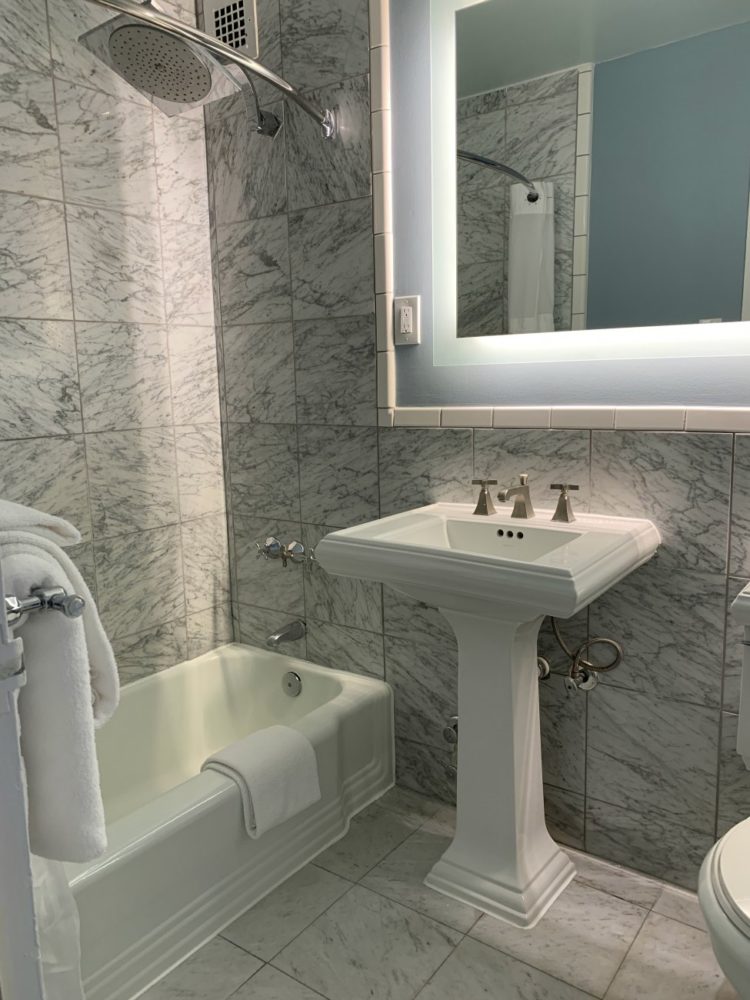 We came back to the room after our excursion for showers (hello fabulous water pressure and plenty of thick fluffy towels) and lunch from the provisions we brought with us. That evening we again took advantage of room service and from the comfy living room couch, enjoyed a movie along with the sunset from the wall of windows.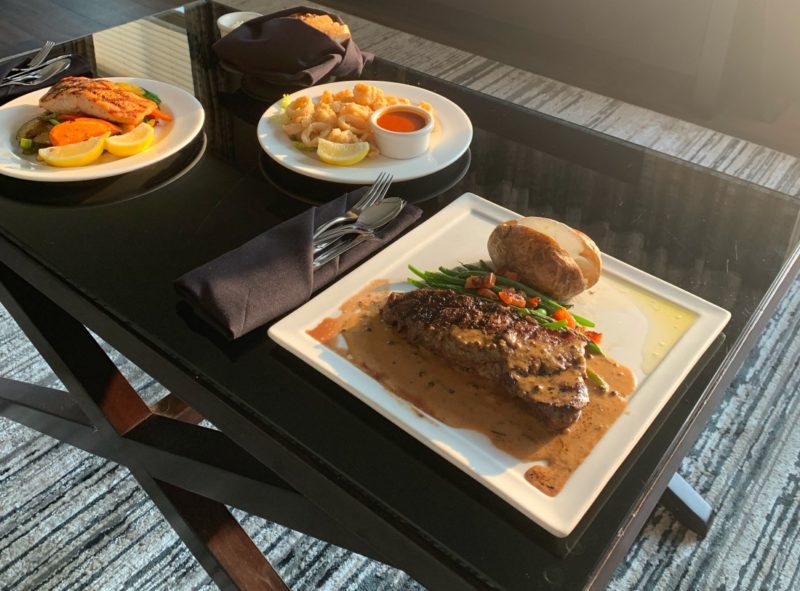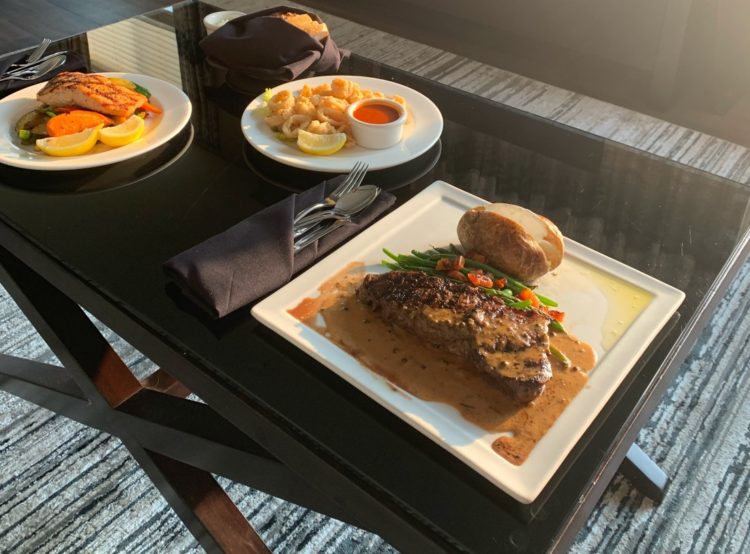 We were so impressed with The River Inn. I'll be honest, I didn't even know the hotel existed before they reached out but now I will be recommending it to many who visit the area. If you're looking for a hotel that doesn't feel cookie cutter, if you're having an extended stay, if you desire more room for a family or a more luxurious visit, the River Inn in DC is an excellent choice. I also recommend staying at The River Inn if you have tickets to The Kennedy Center; it would make for a lovely date night or weekend in the city!
The River Inn is one of many hotels part of the Modus Signature collection of hotels in DC, Baltimore, and Philadephia. The River Inn offers additional features we did not take advantage of this visit but may in the future:
A Modus "running concierge" takes guests on guided runs offered weekly. Guests also have access to curated route maps in each neighborhood.
The River Inn partners with local yoga studios for pre-arranged free classes for guests. Inquire at Avenue Suites in Georgetown also hosts an onsite class on Saturday mornings for River Inn guests.
The River Inn, along with all Modus hotels, is pet-friendly.
Their Stock the Fridge program will have your kitchen ready with your favorites from Trader Joe's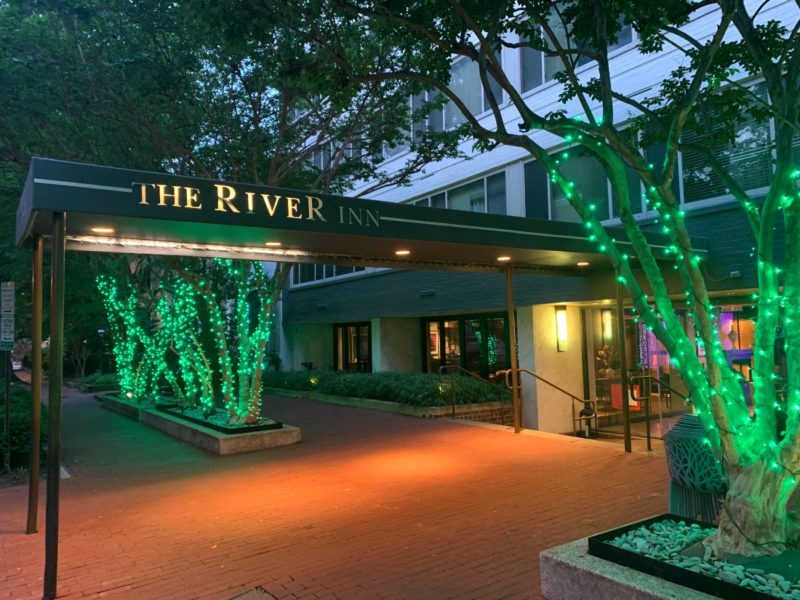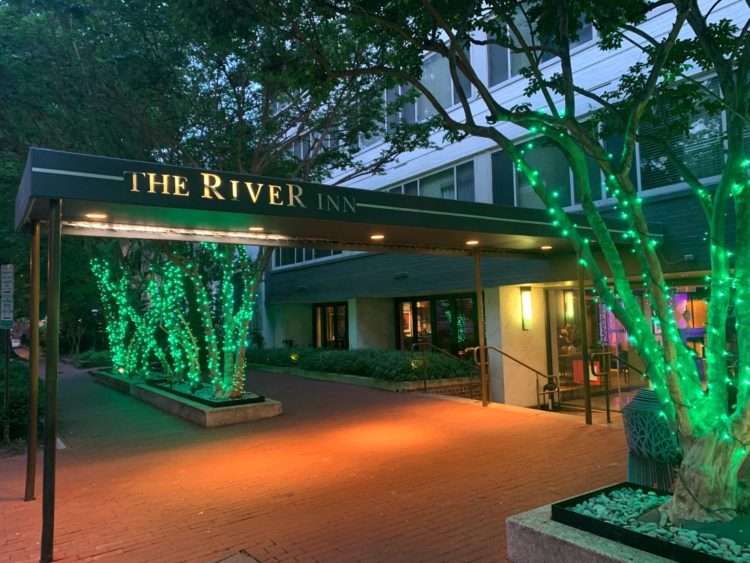 The River Inn FAQ
Outlets: The River Inn is not a new building, but it has been beautifully updated and modernized and one thing I noticed was the plentiful outlets. On lamps, in the wall, everywhere I found enough outlets for my hairdryer, USB cords, and more.
Speaker: Our room had a Bluetooth speaker so we could play music from our phone
Coffee: Each room has a Keurig coffee machine with several pods to choose from
Room Service: The River Inn has room service for all three meals
Fitness: The River Inn has a fitness center with elliptical, treadmill, stair climber, bike, bench, and free weights. It also has free water, apples, towels, and plenty of light and mirrors. Also as mentioned above, The River Inn partners with local yoga studios offer a running guide once a week, and also has bikes to rent right in the lobby. Also, Saturday mornings there is free yoga at fellow Modus Signature hotel Avenue Suites, two blocks away.
Parking: You can find on-street parking or choose valet parking (for a fee). Valet parked cars are kept on-site so it's easy to grab something from your car during your stay and not wait long to get the car for a day trip or to head home.
Metro: The Foggy Bottom Metro station is only a four-minute walk away.
Cheapest Price: If you book directly through this link , you will save 15%, have flexible check in and out times, get a free drink at DISH + Drinks and more. Details at the link.
While The River Inn provided my stay for free along with a meal credit, all thoughts are my own. We seriously had a lovely time and found it the perfect getaway for our anniversary! If you have any questions do ask them in the comments and I will answer honestly!