This article may contain affiliate links; if you click on a shopping link and make a purchase I may receive a commission. As an Amazon Associate, I earn from qualifying purchases. 
I can't wait to start this process with you! I'd like to apologize for this being later in the day, I had a bit of a stomach bug yesterday and didn't feel up to writing. But I hope to have these posts up by 9am ET Sunday so we can all start the week off early. If you'd like to participate in the discussion, I encourage comments here on the post. I know many of you read by email or RSS reader, so here's a quick refresher on my commenting tool, Disqus:
I use Disqus for comments, but have it set that you do NOT have to register to leave a comment. It asks for a name and email, you can put any name (even Guest or Anonymous or Screw You) and any email (yes even screwyou@youcanthavemyemail.com) so you can maintain your anonyminity
I use Disqus because when someone comments on your comment, you get an email. The commenter doesn't see the email, Disqus does the work for you, keeping your email private. But this means if you want to be part of the discussion, you have to use a valid email to get responses (or else come back to look for a reply).
Again, your email is private. Disqus does get it, and I can see if I go into the administrative backend of my Disqus dashboard, but I NEVER use email addresses except to contact giveaway winners. I will not even email you unless you email me or ask me to email you. So your emails are secure.
True discussions can be had, more than one person can reply to a comments, replies can be replied to, and the comments will be threaded so you can see the discussion. They are set so the oldest comment will be on top so the conversation is in chronological order.
You can upvote or downvote comments but it doesn't really affect the conversation, just a Facebook-esque feature to be able to participate without leaving a comment.
Please leave links to articles, books you like, blog posts you have written, anything on the web. Put at least two spaces (three is even better) after the URL so it will be active (others can just click to go there, won't have to cut and paste). Disqus will hide the whole URL but won't break or redirect it.
Any true spam will be deleted. If I get a comment that says, "so cool! sassy-pants-fashion-blogger.com" it will be deleted. Go ahead and link to your blog, only if you have something relevant to say, but all spamming and ads will be deleted.
Some comments may accidentally go to spam, I will try to approve them as quickly as possible and try to make it that your comments won't be filtered like that in the future. I will NOT delete any comments that are relevant to the topic, even if controversial.
If Disqus doesn't load for you, try a different browser. I think I have fixed all the kinks and have checked my blog on my iPhone, IE, Firefox, and Chrome and can comment on all, but you may have a different version or Internet settings. Also feel free to email me your comment and I'd be happy to post it here on your behalf (though you won't get email notifications).
Okay, chores completed, on to The Artist's Way!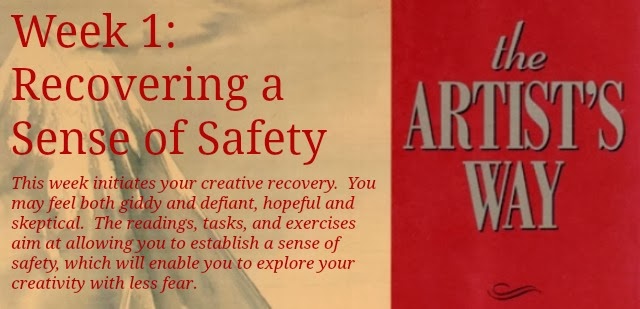 Week 1: Recovering a Sense of Safety
As the quote above from the beginning of the chapter states, this week is to establish yourself in the process so you can explore your creativity without fear. A few things I thought about when reading this chapter, I look forward to your thoughts on it.
"Progress, not perfection is what we should be asking of ourselves."
I'll be honest, in 2006 and now a bunch of this chapter had me rolling my eyes. I don't want to be some wacky artist, I never thought I had to be a drunk or crazy to be creative, this is soooo not about me. But remember not everything in this book will resonate completely with you, but hopefully much will. The goal with this isn't to be the best artist in the world, it's to help unlock your creative side and get more connected to your self.
"Affirmations help achieve a sense of safety and hope"
As soon as I read this quote I thought of Pinterest. Quotes are repined more than Crock Pot recipes. Why? Because reading them gives people a jolt of inspiration, of safety, of hope, of not feeling alone in their feelings. If you use Twitter, check out #theartistsway and see how many people across the globe are in the same mindset as you, looking to start 2014 in a creative and inspiring manner using a book that's decades old.
"Who do you think you are?"
My Censor says this to me ALL THE TIME. What's hard is my Censor isn't the only one. I hear it in comments, in emails, on message boards, overheard at a blogger event. It's hard to ignore it when you hear it so much. Am I one of those sad fools auditioning for American Idol who is tone deaf? But then, it's not just my mom who is giving me encouragement and compliments. It's so much easier to listen to the Censor than actually DO something and open myself up to criticism from real people. But the thing is, creativity is for yourself, not to impress others. Being true to yourself opens yourself up not to criticism but living fully. Writing down my blurts and then converting them to affirmations felt hokey but was actually quite freeing. I will continue this exercise this week in my Morning Pages.
This Week's Tasks:
Morning Pages. I started this Thursday, I just couldn't wait. I had a lot on my mind, I was back to work and feeling as though I was falling back into my pit of stress and drama and frustration. Day 1 didn't do much, Day 2 was better, Day 3 felt as though something unlocked. Be you sick, hungover, sleep deprived, being attacked by multiple children, whatever, do your pages. Lock yourself in the bathroom or go sit in your car in your bathrobe but do them. Last time I did The Artist's Way it was the task by far with the most transformative powers. Don't be Hemingway, don't be talented, don't think just write. And if you're like me, you may feel you're rebuilding dormant hand muscles with the process.
Artist Date. I remember this being tough before, and before I didn't have a kid. I've already looked at my work calendar and see a day where I can actually leave the office, take a walk, go to a bookstore and not mess with my iPhone or do anything but let my mind enjoy itself.
Time Travel. As soon as I read this, I thought of an ex-friend who almost made me stop blogging all together. She took something I wrote on my blog and used it against me big time. While I didn't get Dooced, it is a big reason why I changed jobs, shut down my original blog and often sterilize my blog posts out of fear.
More Time Travel. It has been almost a decade, but it still feels good to take a picture of her and draw a mustache and devil horns on it. Yeah, may have to do it again this week.
Letter to the Editor. This one felt hokey in 2006 and feels hokey now but I'll do it. Eh, it does get you thinking…
Time Travel. Three old champions of your creative self-worth. If you're like me you feel stumped, but then you start thinking about crazy things you forgot from college, your first job, 6th grade, summer camp. And that thinking makes you realize you actually have had quite a few champions throughout life.
Time Travel Thank You. Again, feels hokey to me but actually will help reinforce the fact that I have been supported, and have great people who have been or are currently in my life.
Imaginary Lives. I love this task. Quickly without thought write these down, and then think about what you wrote and imagine if you WERE one of those things. Very fun.
Injuries and Monsters. If you write it down, you own it, it doesn't own you.
Artist Walk. I just finished another book last night that suggested the same thing. The world is telling me something, it's telling me to get outside and think. I like it.
So let's check in next Sunday the 12th, talk about what we did what we didn't do, what we liked, what we felt, how it's going. I'll be occasionally sharing my thoughts or activities on Twitter or Instagram, and will come back every so often during the week to comment on this post. I can't wait to hear how you all are doing with Week 1 of The Artist's Way!
Follow Me | Twitter | Facebook | Instagram