This article may contain affiliate links; if you click on a shopping link and make a purchase I may receive a commission. As an Amazon Associate, I earn from qualifying purchases.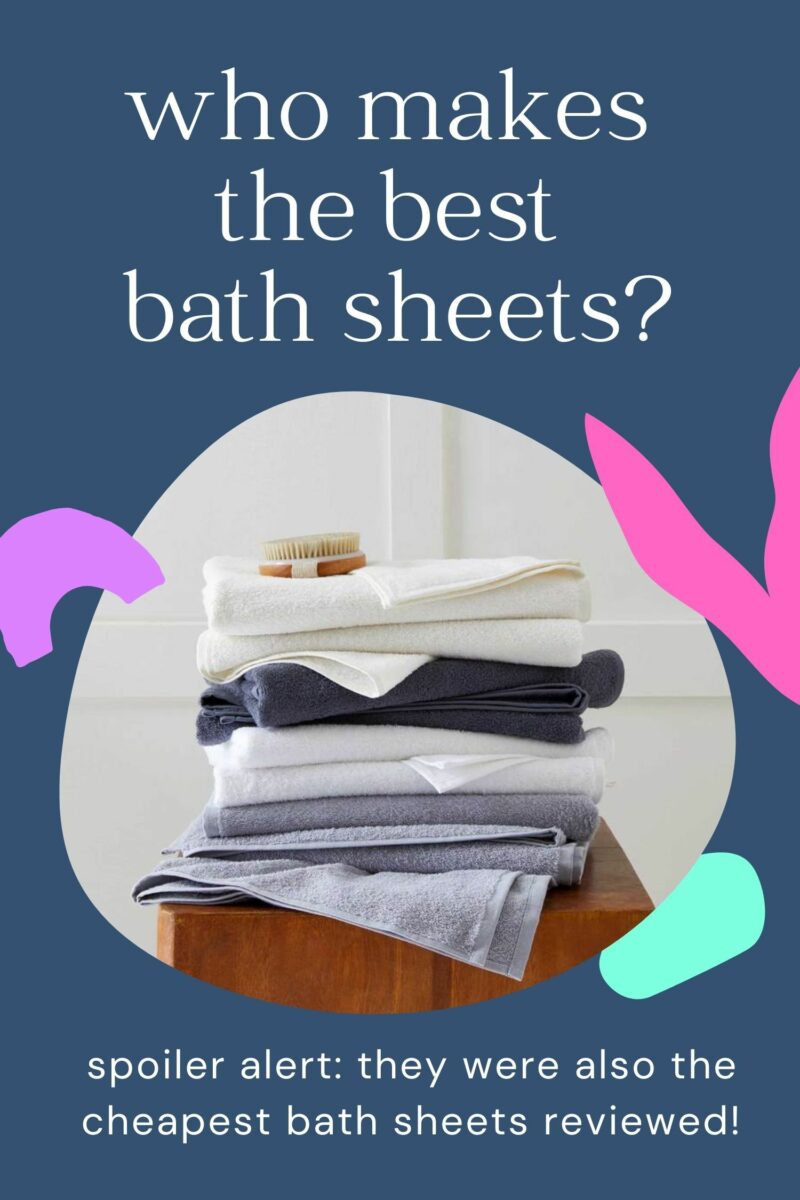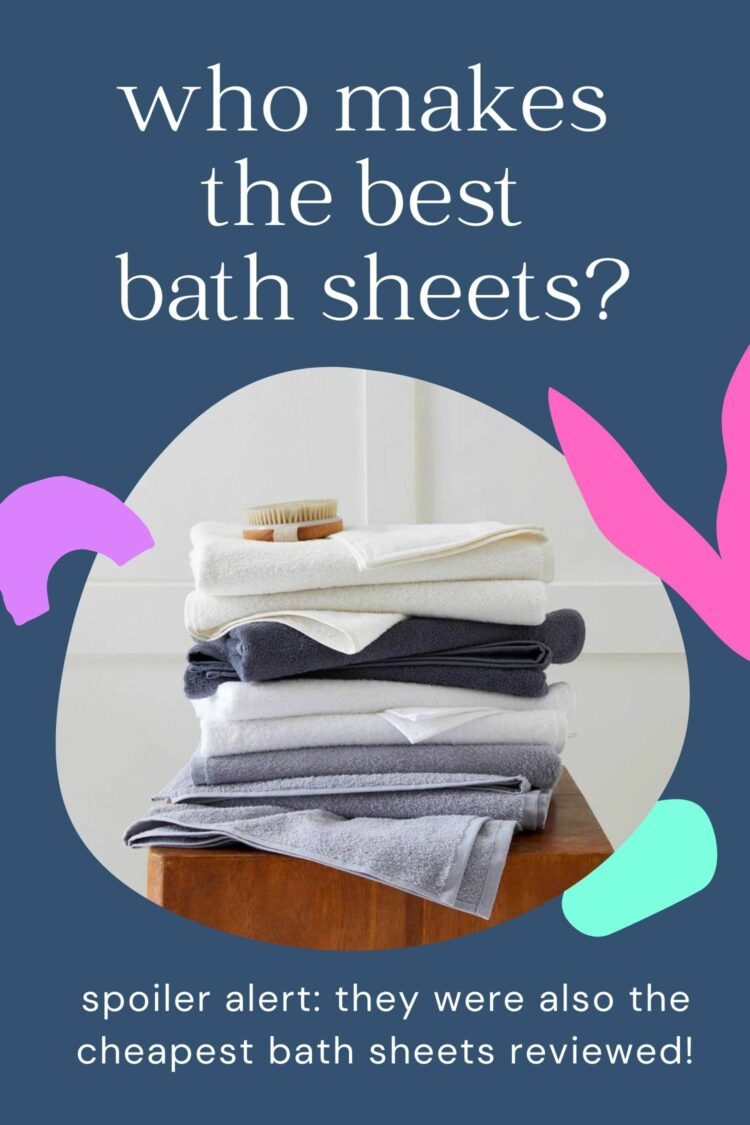 You know how things around the house all seem to fall apart at the same time? I think it's due to the time since you moved in, got housewarming/wedding/shower presents, had milestones that caused purchases, but it is annoying how suddenly one weekend you need to replace all the things. Both my husband and I realized when drying off with different torn and threadbare towels that it was time to upgrade the contents of our linen closet, starting with towels. It had been a while since we had bought towels and bath sheets, let alone any we liked. I was on the hunt for the best bath sheet and who makes the best bath sheet.
This post was originally published in 2021, but I updated in 2022 as I had to get more bath sheets and bought more of the same one I recommend below!
A good towel is a form of self-care. You live that life, it gets you dirty, you wash yourself clean. You deserve a good towel to celebrate the accomplishment. The thing is, if you're buying a towel for quality as well as a form of self-care, your needs may not be the same as my needs.
What Kind of Bath Sheet I Like
I've used a lot of different towels and bath sheets over the years, many of which have been recommended to me by people I trust and respect. But that doesn't mean they want the same thing out of a towel. This is what I am looking for:
Bath Sheet, not Bath Towel. I am short and round, my husband is tall and lean, and so between the both of us, we desire a bath sheet. A bath sheet is 40″ x 70″ long while a bath towel measures 30" x 56". I have used the terms interchangeably in this article but really what I am looking for is the best bath sheet which is the larger option.
Made from 100% Cotton. We've done bamboo and microfiber and whatever and we desire 100% cotton.
I Can't See Light Through It. If I can put the towel up to the window and see sunlight through it, it won't last and it won't feel cozy on a cold winter morning.
Classic Style. No fringe, no fabric trim, no ribbing or waffle weave or… I don't want anything. I want a solid color, maybe with that smooth band near the bottom but that's it.
Great Color. I don't desire a matched set, and I do desire color. There's nothing better than opening up the linen closet and seeing a rainbow of terrycloth.
Who Makes the Best Bath Sheets?
Asking about the best bath sheets or towels is one of the most popular questions in most of the Facebook groups I'm in and subreddits I read. And the bath sheets most recommended are from Costco. Yay, Costco has great prices. Boo, I don't have a Costco membership.
I'm Not Going to Buy a Costco Membership Just to Buy Some Towels!
I live in a not-big home with not a lot of storage, not a lot of people, not a lot of specific needs, so I've never had Costco membership. I know, sacrilege! But I have done just fine for two decades in this not-big home with not a lot of storage without a Costco membership.
I remember when my mom got a Costco membership; she still lived in my childhood home which was a split-level with a full basement and then a finished cellar underneath offering plenty of space to stock up on things. When she got the membership, she could add a second person and added me.
When my then boyfriend, now husband moved in together 20 years ago, Costco was my JAM. There was a Costco just down the street from my job and I'd drive over after work to grab groceries and maybe a bunch of hydrangeas to brighten the living room. It was so close, my coworkers and I would sometimes go at lunch to grab a hot dog and Coke and do a bit of our weekly shopping (and snacking on samples). When I changed jobs, I stopped going to Costco. It just wasn't convenient anymore, no matter how good the deals were. I sort of forgot about Costco.
That was until I decided I wanted some awesome highly rated Costco towels but wasn't going to buy a Costco membership just to get them. So I asked my mom if she still had a membership. Not only did she, she never removed my name from it. I had a Costco membership all that time!
That being said, a Costco membership is $60/year and Costco has free delivery on a bunch of things and has also partnered with InstaCart for grocery delivery. And in case you want to know about Costco's political donations you can check them out here and here.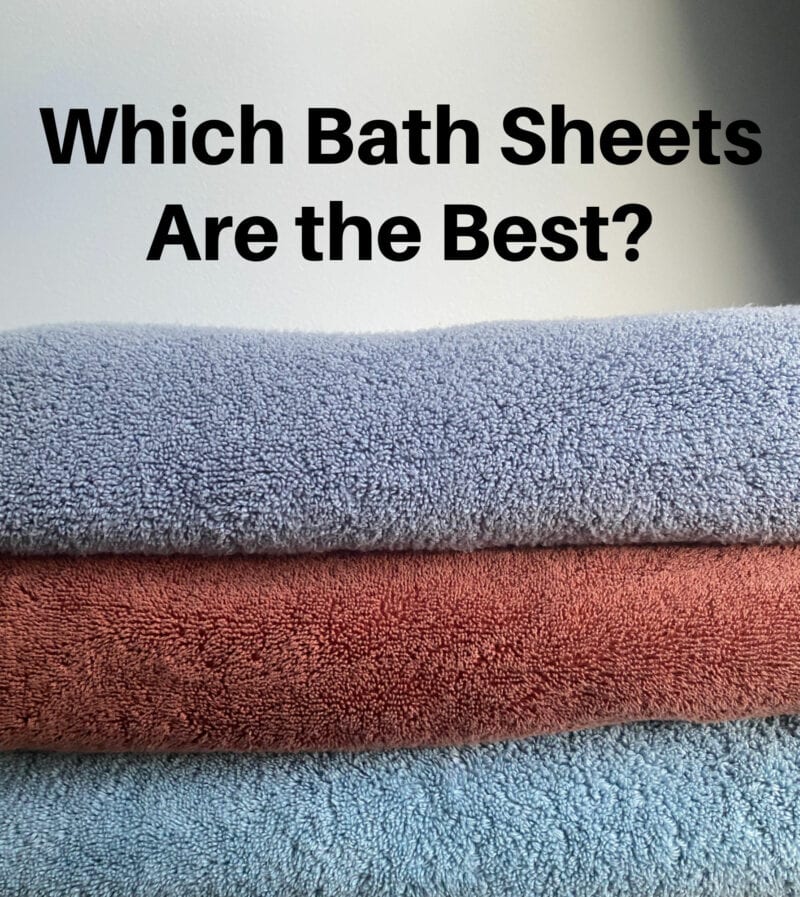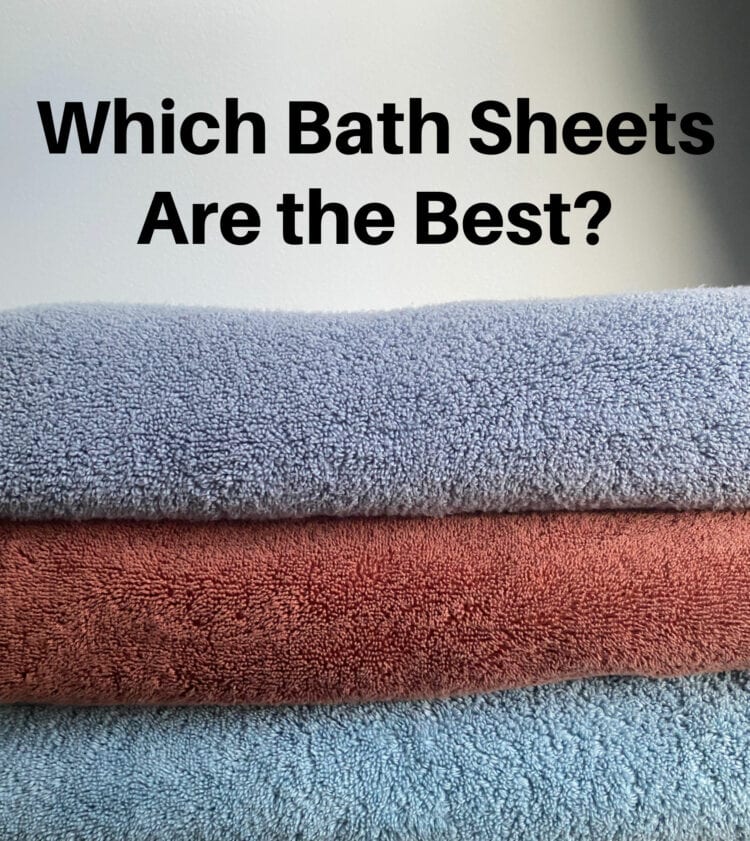 What Costco Towels are the Best?
While I found plenty of recommendations saying Costco made the best bath towels, few of those recommendations said WHICH Costco towels are the best. That's the problem with social media; lots of voices but they're not always providing the depth or detail you desire. Was it Turkish Towels? Purely Indulgent? Charisma? Hanae? Zoey?
So I did a bit of Googling to find out WHICH Costco towels were the ones everyone vaguely raved about. Because while social media offers instant gratification, websites offer a hell of a lot more detail and there are some you just know to trust more than others. Wirecutter changed its original towel review; it used to have Charisma from Costco prior to September 2021. Apartment Therapy is still a fan of the Charisma towels.
Being in this business, I always wonder if online reviews are altered not based on better products found but better affiliate revenue. Costco does NOT offer commissions on sales from their site. There is no financial benefit to stating Costco towels are the best, while there is a benefit to say, recommending Frontgate which offers around a 10% commission on each sale or anything on Amazon since one doesn't just buy towels and the site gets a commission on all bought. For more info on this check out this post on how blogs make money.
Charisma is not a Costco brand, it's just a brand that is regularly available at Costco, like Venus razors and Oral-B toothbrush heads. Back in 2011, Good Housekeeping reviewed Charisma towels and stated they were available at Bloomingdale's. Charisma has a whole storefront on Amazon. Charisma is also available at Macy's and Bed, Bath & Beyond. If Charisma was such an accessible brand, why was it so special from Costco? I wasn't going to question it, I was just going to get the Costco version. I figured at least I'd be getting a good price.
Armed with my Costco membership number and brand name, I headed to the Costco site and used their search tool to find "Charisma towels." When I did this in 2021, there were two styles. Now in 2022, there is only one style, the exact one I bought last year and repurchased this year. It is the Charisma HygroCotton set.
What is HygroCotton?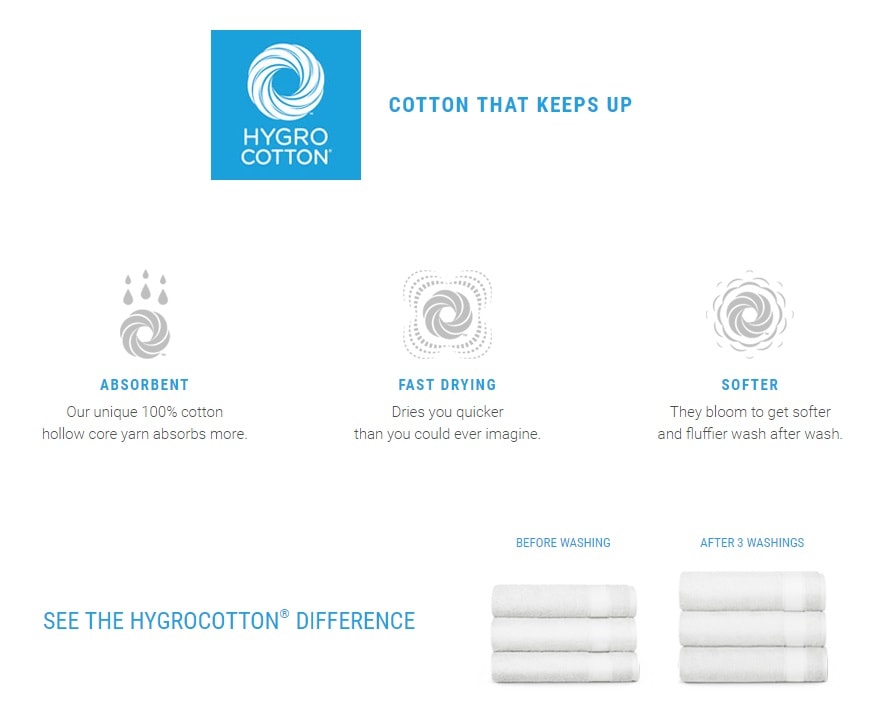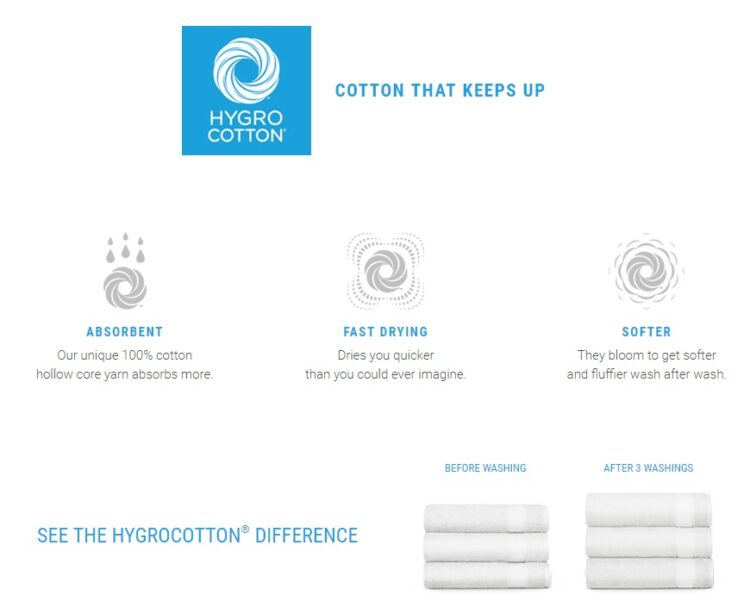 HygroCotton is a term patented by the company Welspun. Per the HygroCotton website, "HygroCotton® is crafted with our proprietary spinning technology, producing yarn with a revolutionary hollow core. That means our sheets wick away moisture, keep you cooler in summer and warmer in winter, and actually get softer and more comfortable over time." Below that quote is a photo of towels more fluffy after three washings. There is a call to action to watch the video of how it works and the link is broken. I found the video on YouTube; here is the link but it provides no additional information.
However, I found this article on the Mayfair Hotel Supply website that compares Egyptian cotton to HygroCotton and it made me feel that HygroCotton is quite a superior yarn for towels if you like them fluffy as well as absorbent. I decided to order a set of two of the Supima HygroCotton bath sheets from Costco. The price for the duo was $32.99 which was cheaper than buying two Threshold brand bath sheets at Target.
Costco Charisma HygroCotton Bath Sheet Review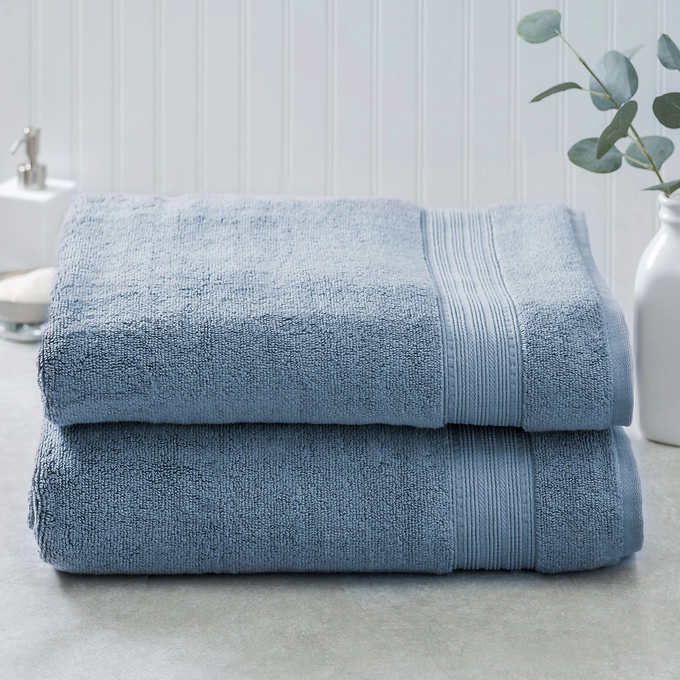 The color selection for the Charisma HygroCotton bath sheets is pretty meh. Pale blue, pale gray, sage green, ivory, and white. While I am more a fan of orange, fuschia, and cobalt, I went with the set of two bath sheets in pale blue.
The towel duo cost $22.99 and shipping was free. I received my order within a week. The towels look exactly like they do online: same color, same thickness, same weave. They felt very silky and were quite plush. The silky finish concerned me, thinking it wouldn't be absorbent. I put them in the wash and hoped that would wash off any silky finish so the towels would be super absorbent.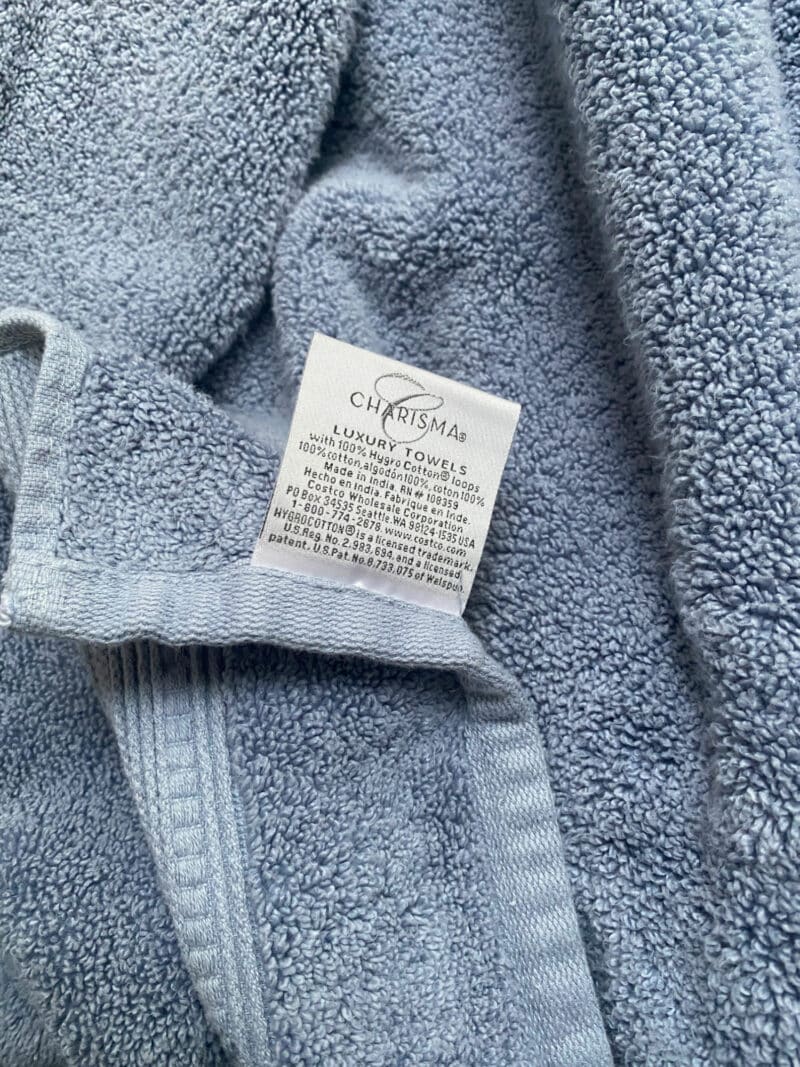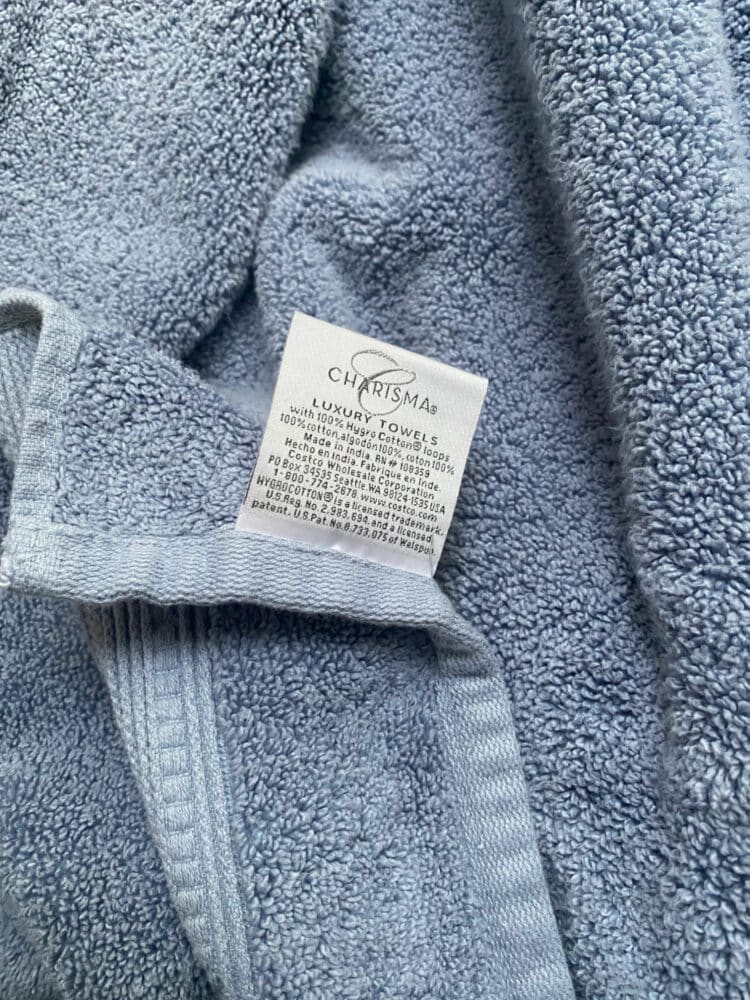 Our towels are washed with Tide detergent, no fabric softener, no dryer sheets. The Charisma towels came out of the dryer and appeared to be thicker than before, still soft but not with that silky finish. I had just finished a Peloton ride so I grabbed one and headed to the shower.
After my shower, I used the bath sheet to squeeze my hair before drying my body and was shocked. That single squeeze pulled out more water than my microfiber hair towels; my hair was only damp, no longer wet! And even better, that part of the towel wasn't saturated.
I barely had to brush my skin with the towel; this bath sheet was soaking up water like it was auditioning for a Bounty paper towels ad. I was floored. I had bought fancy towels before but never experienced such absorption. And it seemed with the first few washes, each time the towels got loftier and more absorbent without losing their softness. We have now washed and dried these towels a dozen times and believe that they are the best bath sheets on the market. And it's nice that they are also cheaper than many other brands that claim they make the best bath sheets.
One Year Later… My Review of the Best Bath Sheet from Costco
I originally published this review in October 2021; almost an exact year later I am updating it since I just ordered some more Costco bath sheets after LOVING these for all these months.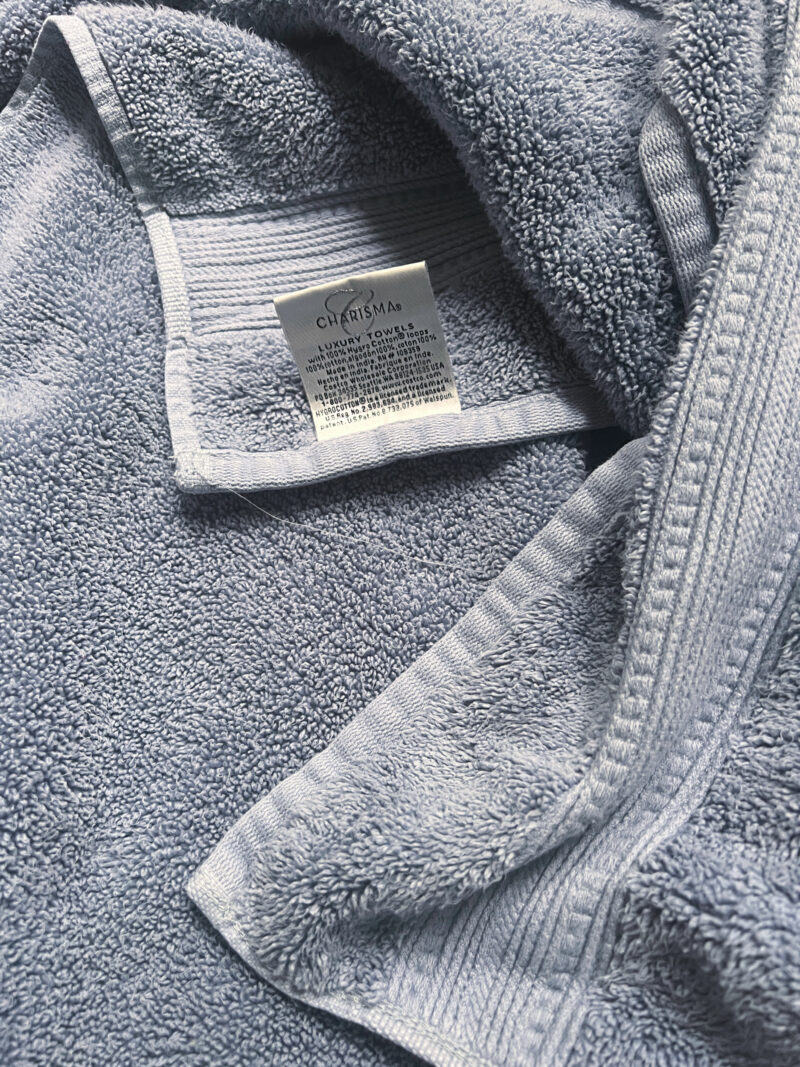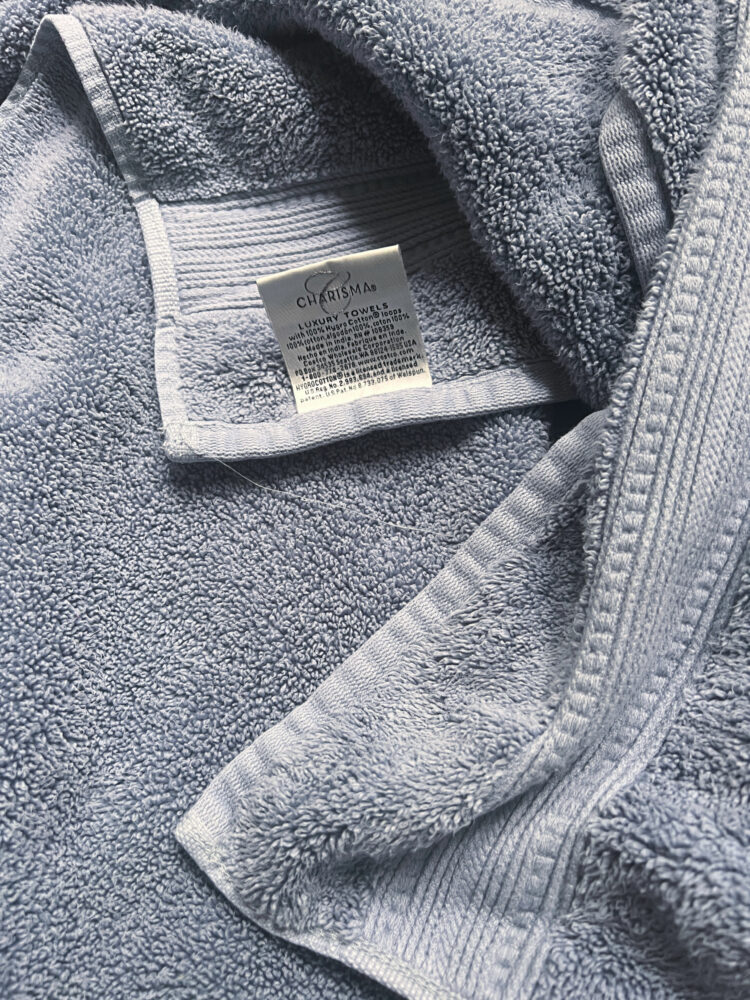 Here is one of my year-old Charisma bath sheets from Costco. We don't baby our towels; we wash with Tide, throw in the dryer sometimes, line dry sometimes (with a quick tumble after to get rid of pollen). You can see the binding and hems are still intact, the terry loops still looking great. There is one thread hanging off a hem, but nothing that dramatic. Our Charisma bath sheets look like the newest towels in our linen closet, even though they are the most used and not the newest.
Honorable Mention for The Best Bath Sheets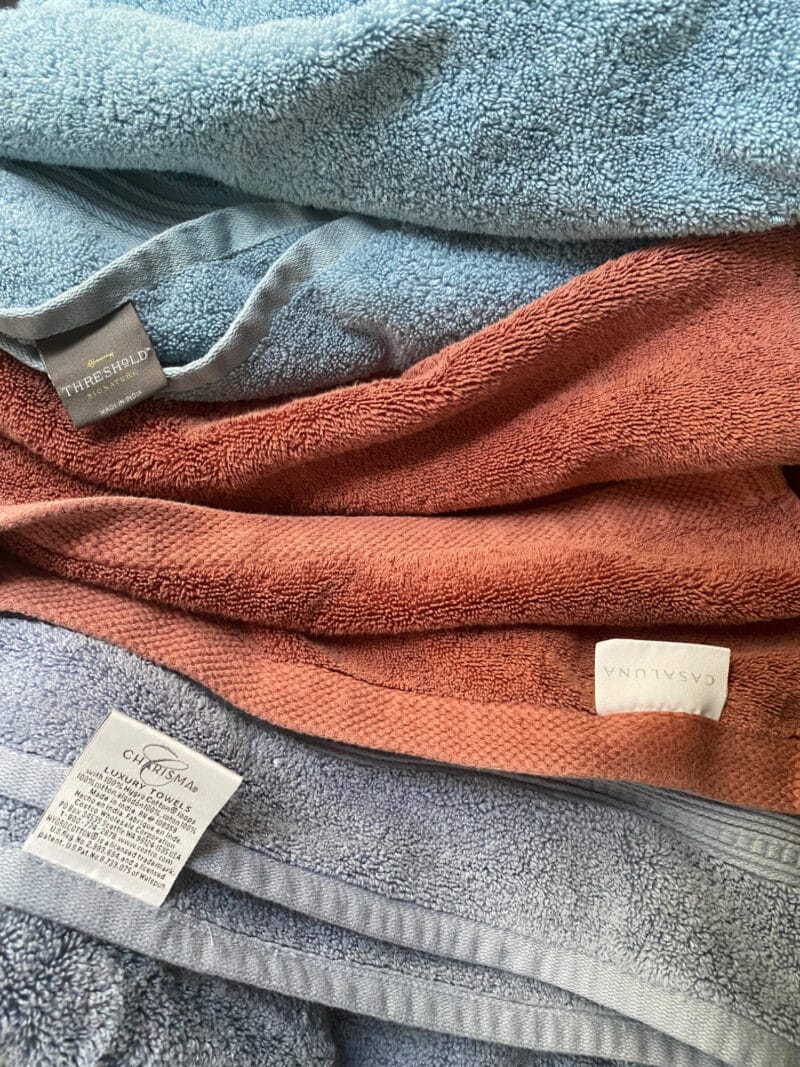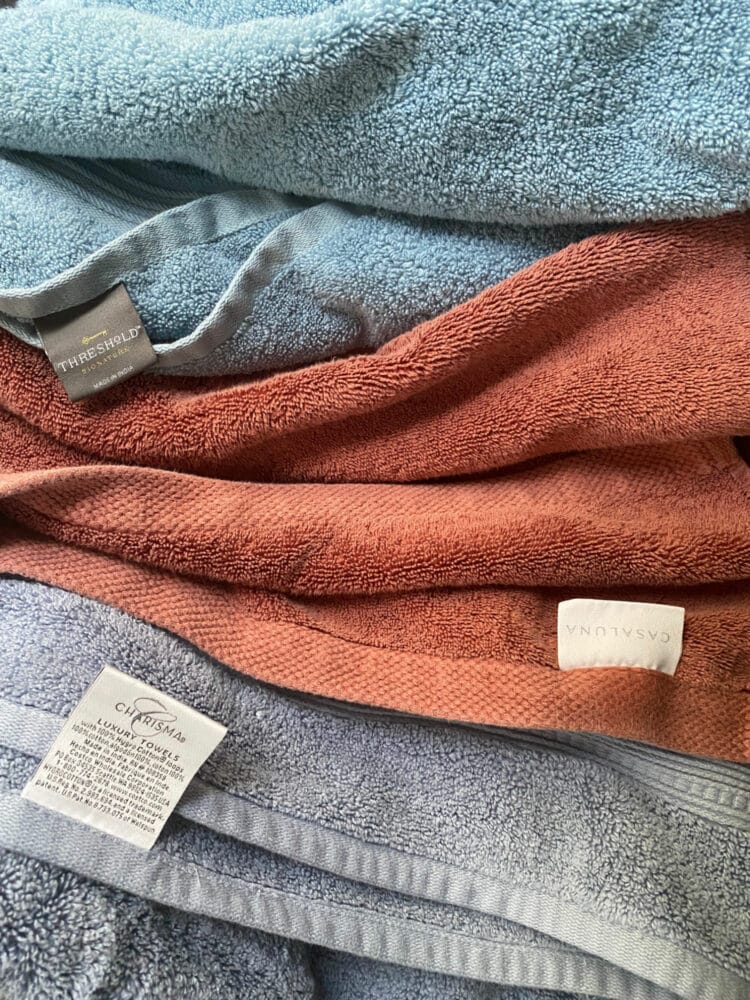 As I mentioned, I have tried several brands of bath sheets before finding the Charisma HygroCotton at Costco. Here are some of them and my honest thoughts:

Do you have a favorite bath sheet that isn't mentioned? Disagree with my reviews? Let me know in the comments below!