This article may contain affiliate links; if you click on a shopping link and make a purchase I may receive a commission. As an Amazon Associate, I earn from qualifying purchases. 
Over the past couple of years, camis (camisoles, tanks, shells) have become a staple in most women's wardrobes. Balancing sheer, low-cut or flowing styles with female curves and the desire for modesty/looking appropriate at work has caused these to be a must-have in a multitude of colors. A nude colored second-skin camisole is a lifesaver under a sheer blouse; a black camisole is an easy way to cover up too much cleavage in a low-cut wrap dress; a white tank is a great way to make those too low of v-neck sweaters appropriate for the office (or even just getting out of the house!).
Camisoles traditionally are lingerie – the top half of a slip used for modesty, to prevent fabric clinging and to have a more polished appearance under blouses and dresses. The point of a cami is to be invisible, not be the focus of an outfit. However over the years as camisoles have been available in a variety of colors, prints, fabrics and price ranges they have moved from the lingerie department to the front tables of boutiques all across the country. Not just for wearing underneath other garments, camis are now seen as the one and only layer for hot summer days or evenings out on the town.
Problem is that we women have gotten a bit too addicted to camis. A dress or blouse doesn't fit quite right, is of cheap material, is a size too large or small – no worries, just throw on a camisole and it's fine.
Well it's not fine. Blouses and dresses not made to wear in conjunction with camisoles do not always look flattering when layered over a stretch of poly knit or lycra. To attempt to wear something not made for your frame or lifestyle by donning an extra layer is the equivalent of duct-taping your evening bag closed so it can hold all you need for a day at work. It is messy, it ruins the line of your garments, the concept, and any chance at having personal style.
So when is a camisole a style Do and when is it a style Don't?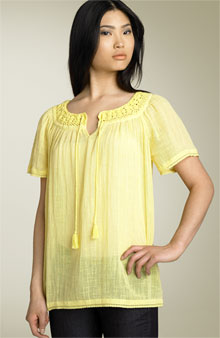 DO: Add a nude camisole from a second-skin synthetic or a flowing silk when wearing gauzy or semi-sheer fabrics. As with bras, find a color that most closely matches your skintone, not the blouse so that you are secretly well-covered.
DON'T: Think that because a camisole is nude in color that it is invisible. Just as with a bra or underwear, it still exists and should be hidden. Make sure your cami and bra straps aren't on full display – it will ruin the concept of the blouse or dress. Also do not wear a short blouse with a camisole – raising your arms and seeing skin-colored spandex is quite disconcerting.
DO: Use a thin-knit tank or cami under low v-necks of casual knits and sweaters to add some modesty. An inch or so of white, black, or a complimenting hue (with a touch of lace or embroidery if that is your style) can actually add to the look of a simple top by adding interest.
DON'T: Use a tank or cami to compensate for a neckline that just doesn't work with your body shape. If half your bra cup would be on display if it weren't for this under layer, leave the top on the sales rack. The Madonna look may be back in for the young and the True Fashionistas, but most women do NOT look stylish with a white tank to cover their bra under a top that gapes at the neck, under the arms, at the back and bust. A tank or cami cannot perform miracles – if the top doesn't fit without one, it doesn't fit in your wardrobe.
The other day I passed a woman on the street in a gauzy black and white Grecian-inspired blouse. It had a cutaway back, a sexy neckline that connected to the bodice with a silver brooch. Under it however she had a black stretchy tube top that gathered at the bustline. Without it, her entire chest and bra would be on display, but with it she made a gorgeous blouse look positively cheap and unflattering. The blouse was lovely, but for her curvy frame it should have been left on the hanger – or kept only for very spicy nights out at a club with the proper undergarments.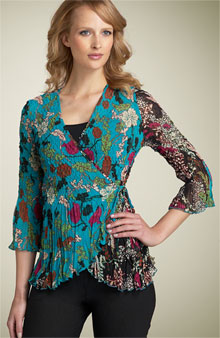 DO: Choose complimentary fabrics. Synthetic camisoles look great with matte jersey and silkier fabrics, cotton tanks look good with cotton, knits and sweater garments.
DON'T: Think just because it's the same color it works. Just because your silk wrap dress with ruffles and puffed sleeves has pink in the print doesn't mean you can throw a pink ribbed cotton tank underneath.
DO: Love your arms and dress for the heat with sleeveless blouses and tanks in feminine silhouettes.
DON'T: Think most camis are tops. If it is made out of a fabric used traditionally for lingerie or swimwear, it is not made to be the sole attire for the top half of your body. Second-skin synthetics, sheer lace and skin-colored knits are made to enhance other garments and not work on their own. Alone, you look half-dressed and inappropriate.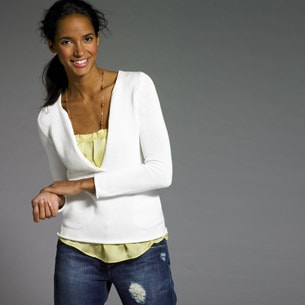 DO: Use camisoles to enhance your style. Get creative with color combinations, use lacy trimmed camisoles under a conservative blazer for contrast, use embroidery and unique fabrics under standard-issue knits to make them one-of-a-kind. Feel free to use your creativity, as long as you are getting a good, honest look in the full-length mirror!