This article may contain affiliate links; if you click on a shopping link and make a purchase I may receive a commission. As an Amazon Associate, I earn from qualifying purchases.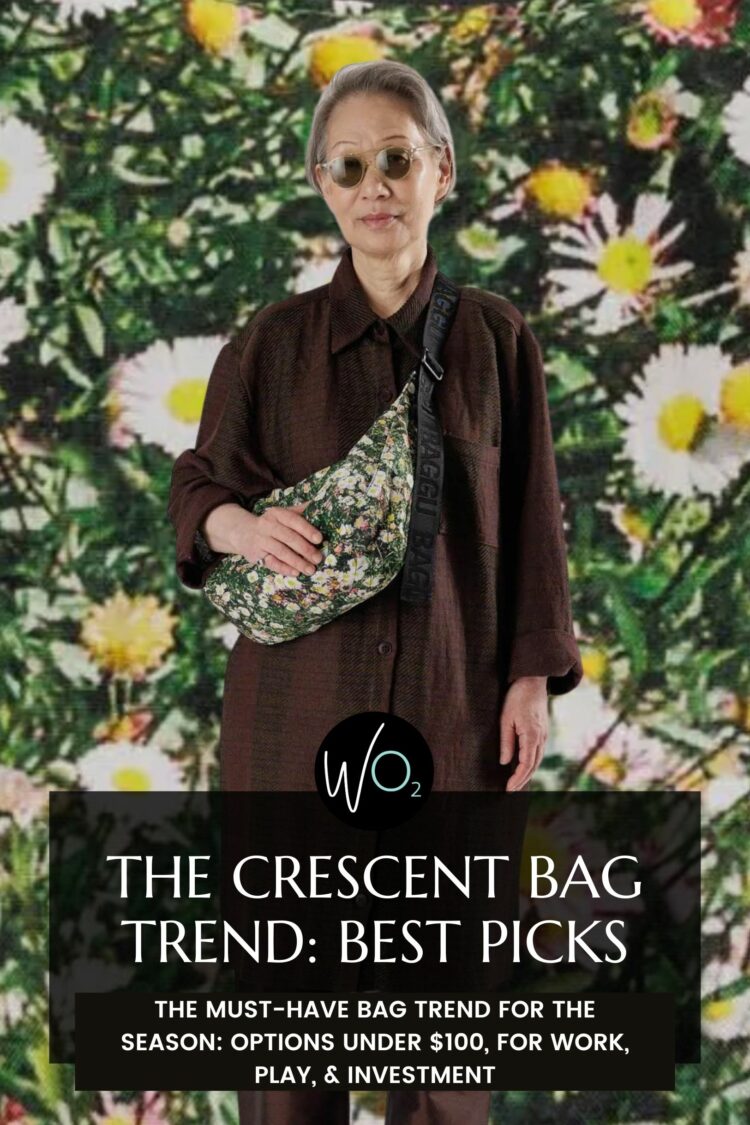 This week I visited two different malls and did a lot of big box back to school shopping and one of the fall trends that was loud and clear in stores from Bloomingdale's to Target, Khaite to Zara was the crescent bag. Also known as the half-moon bag, the banana bag, and in the past was known as a hobo bag (but we've evolved and can use the other terms from now on). I love it when a trend is practical, accessible, and not so trendy that it won't remain chic for seasons to come. Below I'm sharing my favorite picks for the must-have bag style for fall: the crescent bag.
I previously discussed the crossbody crescent bag/sling trend when I researched alternatives to Jennifer Lawrence's black leather crossbody bag. I knew she was rocking The Row and that eventually others would be following suit with this bag silhouette, but I didn't know it would catch on so quickly and be so prevalent across multiple retailers. From outdoors brands to high-end designer, the crescent bag is virtually everywhere and because of that, it's available at a gorgeous range of prices, sizes, fabrics, and colors.
The Best Crescent Bags This Season
This post won't just focus on black bags in a similar style and shape to the pricey one from The Row that Lawrence carried all summer. Below I have a fun range to show the versatility and functionality of the crescent bag, and why it may be the kind of bag you want to add to your wardrobe this fall.
I know that in the past, trends were very specific. It had to be a certain size, certain shape, certain color, certain textile, certain brand. In 2023, fashion is fluid so the concept of the crescent bag is what matters, versus being a very specific one. This means if you have one already in your wardrobe, dust it off and take it for a spin. Consider checking out thrift, vintage, and consignment stores for gently used styles that will look great now. It also means you can look chic AF without adding a crescent bag to your collection and just going with what you already own and love.
My guides to current trends are exactly that – a guide, not gospel. Because fashion is so fluid right now, there's no need to adopt a single trend to look stylish. However, if you are thinking about adding a new bag to your wardrobe this season, I encourage you to check out a crescent bag for fall!
I want a leather crescent bag I'll enjoy this season and seasons to come
If you are looking for a crescent bag that is of good quality and a style that will look fashionable now and years from now, this selection of high quality leather bags from reputable brands may be right up your alley.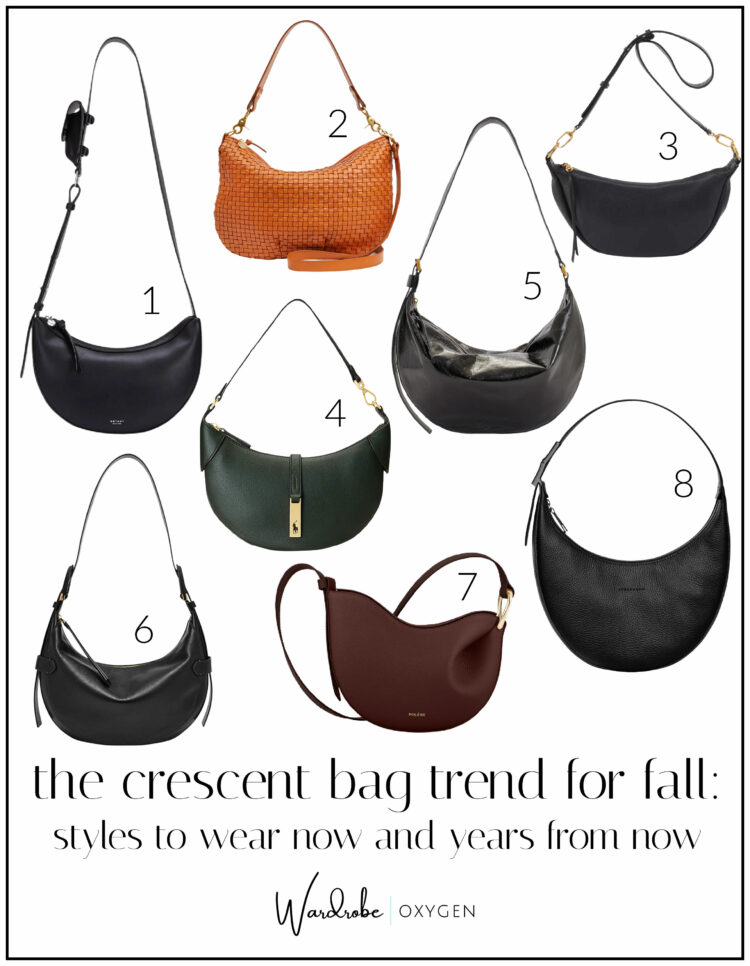 one | two (four colors available) | three (2 colors available) | four | five | six (4 colors available) | seven (12 colors available) | eight (2 colors available)

I like to make a statement, and know I'll still love this statement seasons from now.
I've pulled together a selection of quality crescent bags, sling bags, and half moon bags that may not be classic or subtle, but will still look hella cool on your shoulder years from now. Accessories are a great way to show personality and find signature pieces that add flair to wardrobe basics.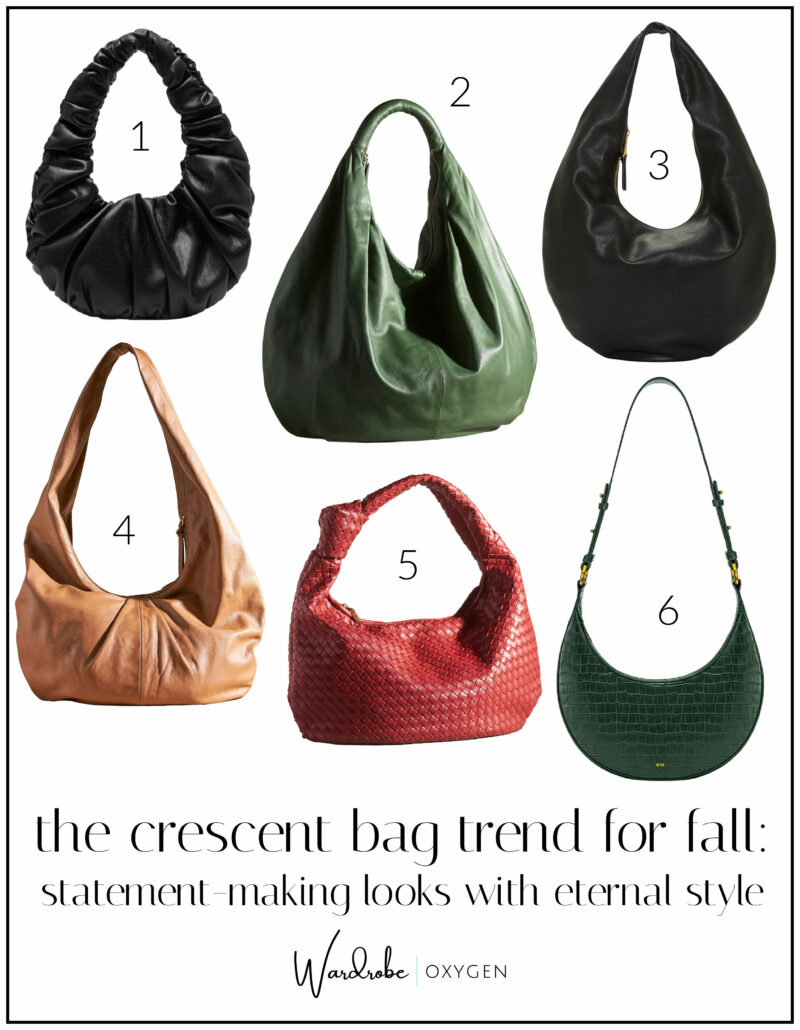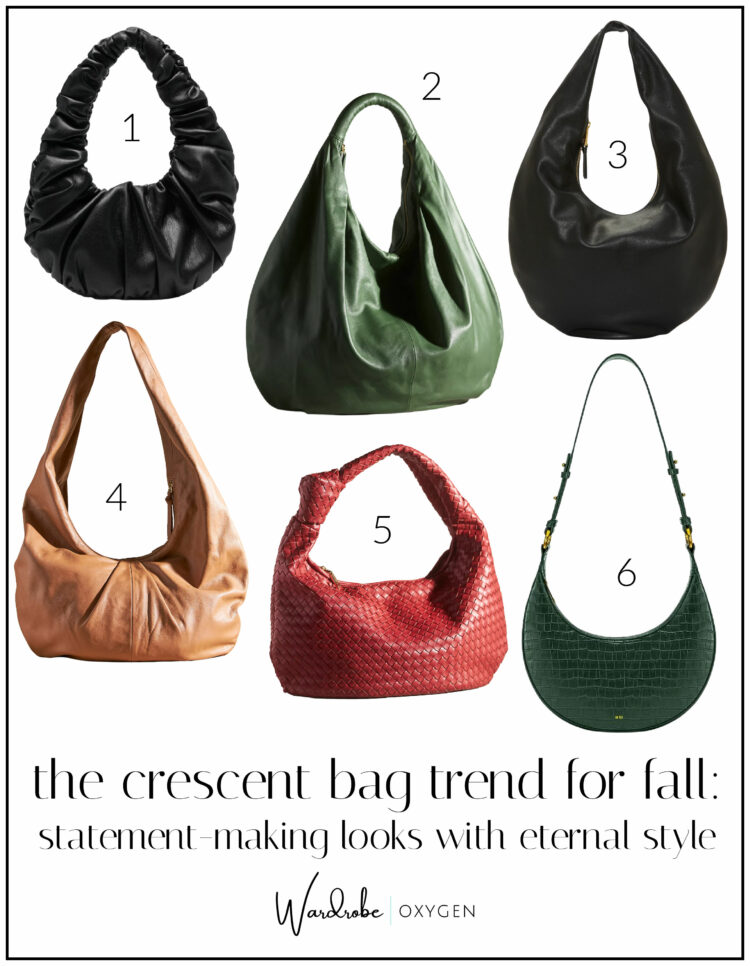 one | two (2 colors available) | three (3 colors available) | four | five (8 colors available) | six (4 colors available)

I'd like a budget-friendly crescent bag to enjoy this trend… keep it under $100 please
I got you, my friend. There are plenty of very chic crescent bags this fall that are reasonably priced without looking as though you borrowed it from your niece or bought it at Forever 21. Below are my picks: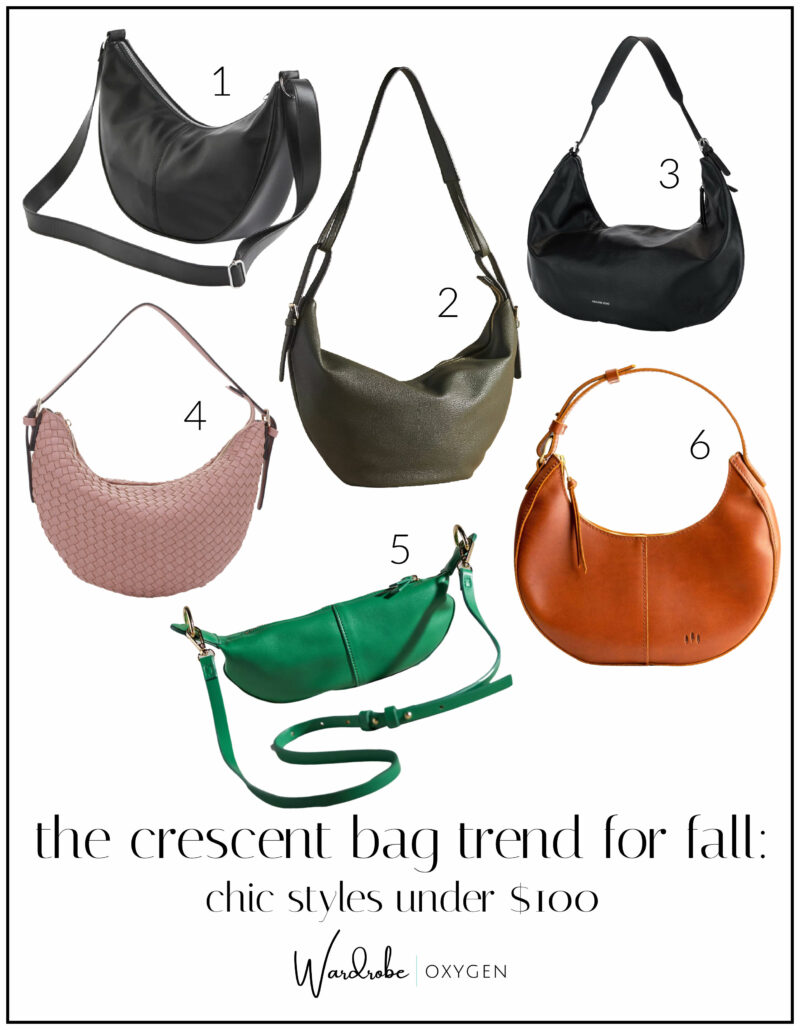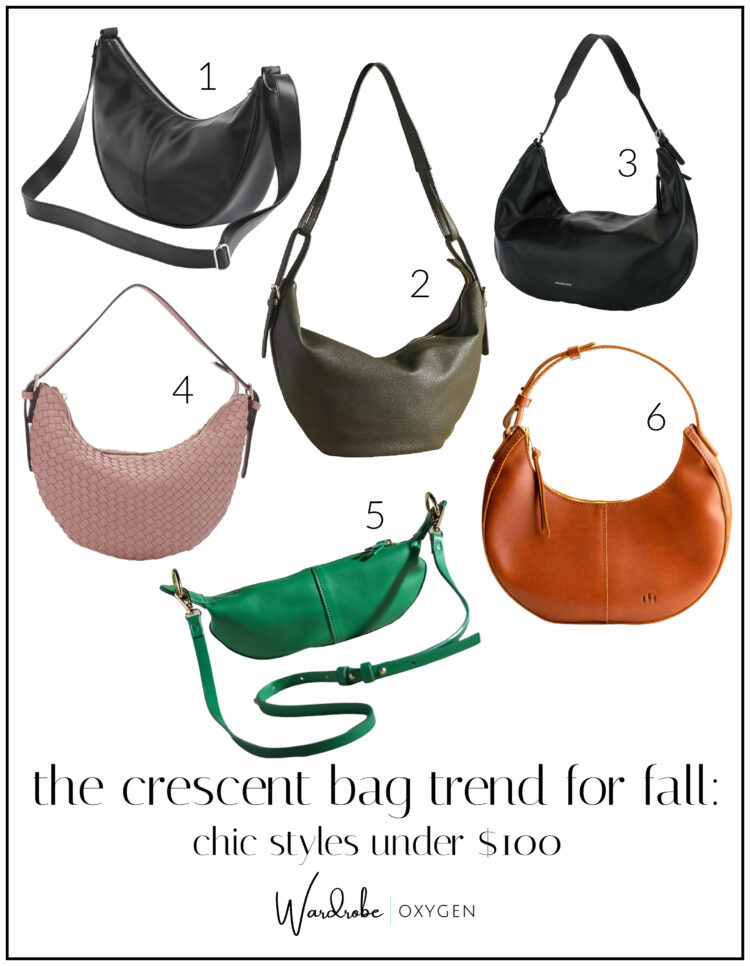 one (2 colors available) | two (3 colors available) | three (4 options available) | four (2 colors available) | five (4 colors available) | six (5 colors available)

I want a crescent bag for travel, or an alternative to belt bags (aka give me a practical fabric, please!)
The crescent bag is a roomy alternative to a belt bag, and dresses up better than a sling or backpack. This makes it a great travel bag, weekend bag, and bag that goes from activity to cafe. In fun colors and great shapes, one of these crescent bags may end up being your daily purse now into winter! Please note, while I have some fun colors and prints below, all these bags come in black as well as other neutrals.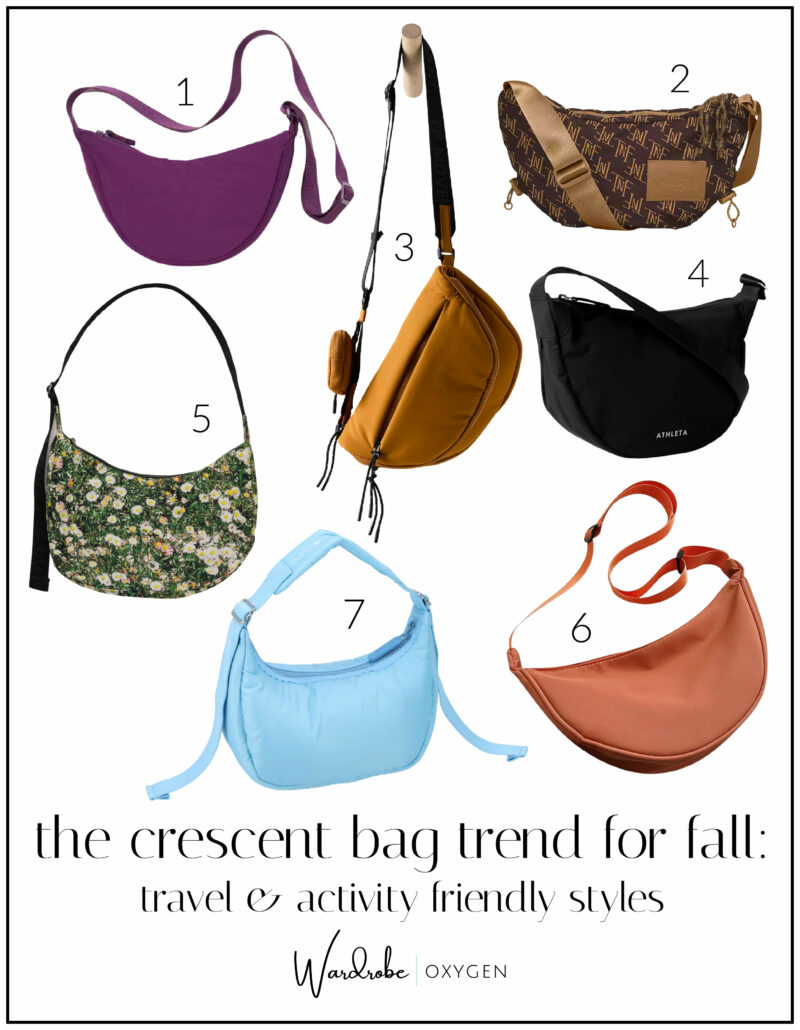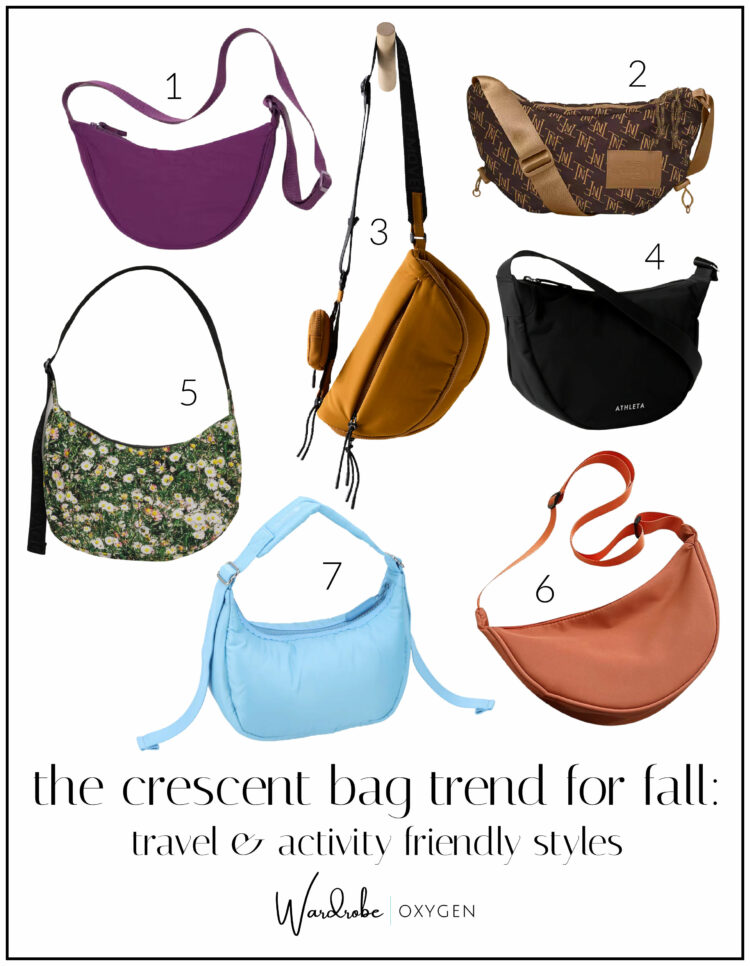 one (7 colors available) | two (5 colors available) | three (7 colors available) | four (2 colors available) | five (11 colors and prints) | six (4 colors available) | seven (5 colors available)