It is becoming easier to find stylish clothes in tall sizes and in plus sizes but hard to find garments that are both. Don't the manufacturers realize a person can be both tall and fat? I find the perfect office trousers in a plus size but then they aren't long enough. Or I find the perfect office trousers that are long enough but they aren't big enough. Over a certain waist size, it is impossible to get a 34″ inseam.
The reason is supply and demand. While it seems simple to just have the same pieces with a couple more inches at the hem, a retailer needs to invest in stock in that size. If they don't have a proven customer, they can see extra lengths and sizes as a financial risk. The reason plus size fashion has improved lately is because plus sized women have begun to speak up, and LOUD. Opinion pieces in reputable publications, more and more plus size bloggers, and social media have given plus sized fashionistas the platform to let the retailers know they DESERVE style and if it exists, will purchase it.
It's time for those who need not just plus size, but petite and tall lengths to speak up! The squeaky wheel gets the grease, and it's clear that not all plus sized women are comfortable with a 32" inseam. Let your voices be heard, and make change happen in the apparel industry!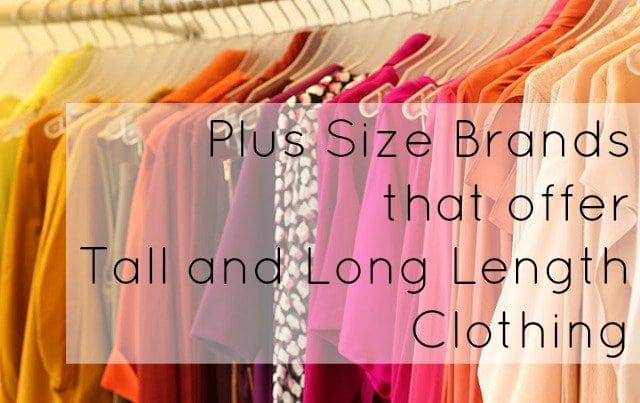 Luckily some retailers understand that many plus sized women are also tall, and have added long lengths to their collections. A few retailers who offer plus sized tall or plus sized long lengths:
Lands' End realizes that a tall woman doesn't just need a longer inseam for her jeans, but more length everywhere. Offering everything from sweaters to swimsuits, Lands' End has a pretty varied plus size tall collection. Lands' End often has great promotions, I recommend signing up for their emails to get the scoop when they take place. Lands' End also has a generous return policy making online shopping a breeze.
Eloquii just released long and short lengths in their popular Kady Fit ankle pant. Ankle pants are so hard for tall women to find, and this one comes in a 31″ length. I hope this is just the beginning of lengths being offered at this stylish fashion resource for plus sized women!
Talbots is one of the few retailers who offers both Womens Plus Tall and Womens Plus Petite pieces. Their plus size tall selection is only pants, but each season they offer at least a dozen styles up to a 24W with a 35" inseam. Talbots is another retailer who has amazing sales and great emails to notify you of them and you can return and exchange online purchases in their storefronts.
Long Tall Sally specializes in clothing and accessories for tall women. They offer up to a 38" inseam, size 20, and even up to size 15 shoe. Long Tall Sally is not just a great resource for clothing, but also activewear, providing athletic gear and swimwear for those with long legs and torsos. While shipping isn't cheap with Long Tall Sally, they do now have Click & Collect in their shops.
Torrid is known for trendy, youthful fashion in plus sizes, but they also have great wardrobe staples. Their tall collection (34" inseam) has trendy denim as well as classic styles of jeans, work trousers, and ponte pants; their extra tall selection (36" inseam) is limited but still provides some great styles of denim.
NYDJ offers a 35" inseam on many of their popular styles up to size 16. While you can find classic denim looks in long lengths, they also have trendy looks like coated denim and faux leather leggings. NYDJ runs big and stretchy; I recommend purchasing a size smaller than you're accustomed to. NYDJ also has free shipping and returns, making them a great online shopping resource.
While their selection of plus size tall bottoms are limited, there's some good office staples in there and Lane Bryant always has some prints and variation from basic black pants and the occasional trendy piece.
Old Navy has tall and long lengths; their long inseam is 34" and their tall inseam 36". Not only that, they are another retailer to realize tall women need more than black pants and offer tops, activewear, and shorts in tall sizes.
Alloy has quite an extensive tall collection and go up to a size 25 and 3XL. Alloy is a great resource for on-trend plus size tall pieces like jumpsuits, waterfall cardigans, maxi skirts, and dresses which are often unavailable in longer lengths.
Founded by a tall woman, Long Elegant Legs has a great selection of everything from jeans and pants to activewear and sleepwear. They have styles up to a 39" inseam and offer up to size 24 making this a great resource for plus size tall women.
Have you found plus size tall clothing at any other retailers? Do share in the comments!