This article may contain affiliate links; if you click on a shopping link and make a purchase I may receive a commission. As an Amazon Associate, I earn from qualifying purchases. 
Often we hate to spend when it comes to our looks. We are told even in beauty magazines that there are "steal" items that are equivalents to "splurge" pieces. Have you ever looked closely at those "Splurge vs. Steal" pages? More often than not, the cheaper item LOOKS cheaper.
This is not to say that you must pay top dollar to get quality. The point is that there is no reason to buy a cheap version of an expensive item; just buy a different item. Imitation may be the sincerest form of flattering, but really imitation style is just that… an imitation and not the real thing. If you can only afford $30 for jeans, then buy the nicest, best-fitting and most flattering $30 jeans you can find. Embroidery, bedazzlement and appliqué will not make those $30 jeans look as though they are worth $230; they will just make your $30 jeans look cheap. Simplicity is key in one seeing style and not price tags.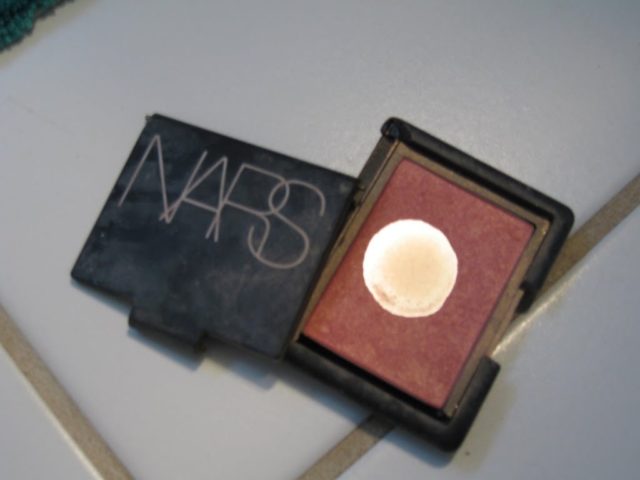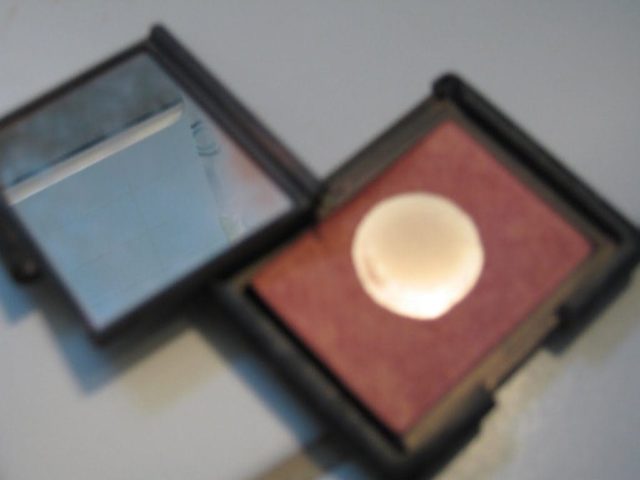 That being said, there is something for saving up to buy good quality. Shown here are photographs of my beloved Nars blush in the shade of Orgasm. This is a blush that is raved about in every beauty magazine, and is always mentioned as being in the makeup bags of celebrities and fashionistas. I found it ridiculous to pay $25 for a BLUSH! I had perfectly lovely blushes I had bought from drugstores that gave me enough color to not resemble a corpse. Why in the world would I pay that much for such an unimportant makeup piece?
My 30th birthday rolled around. I felt the need to treat myself. I went on a mini-shopping spree at Sephora and bought this blush, a Shu Uemura lash curler (also often raved about in mags) and an expensive mascara. Why not use a new decade to see what the hype is all about.
Over two years later, here is the very same Nars Orgasm blush. No point in taking a picture of the lash curler, because it looks the same after two years of rigorous use (it too was worth the $ and the mascara was nice too). My point in showing this battered and beaten blush is that quality is really worth it. How many people can admit that after two years of almost daily wear, travel across the country and overseas, their blush is still in one piece and still has product left to use? My discount blushes often are crumbled or used up after six months, but this one has probably another year of life left in it. The lid may have broken off, but the mirror is still intact. The metal may be showing, but there is still plenty of great product left. And the color? The peachy-pink with just a hint of sparkle makes me look healthy without flushed, glowing without looking disco, and on the first day of wear was asked twice if I had lost weight.
$25. For you this may be dinner out with a friend, a new little top for Friday night, a couple drinks at happy hour, fresh flowers for your home. Excluding necessities in your life, think about the times that $25 has been spent… and then forgotten. Think of how you picked up a magazine, a candy bar and a new foundation that you really don't need but saw in an ad and it's on sale all within one grocery trip. Think of how you again forgot to pack your lunch and this is Day 3 that you are hitting up Subway instead of eating the food in your pantry. Think of how you don't really need a new pair of shoes but your boss was a jerk today and Payless is right next to the bank and well they are only $22.99 so what's the harm. Then think about how you don't have the money for a haircut, a well-fitting pair of trousers or a blush that may make you look fresh, rested and really YOU.
Think about HOW you spend your money. Add up those Starbucks drinks, those snacks with your gas fill-up, your lunches on the run, your $9.99 tees from Target that are really pretty colors but just stacked up with your many other tees. Think of how many blushes you have bought below $10 and then have tossed because they weren't right. You may be surprised at how much money you are spending on nothing.
This is not an advertisement for Nars, and really this color may be dreadful on your complexion. The point of this article is to really examine your life, your spending habits and your priorities. We often buy cheap in hopes that it looks expensive, we often buy disposable to fulfill a craving and not a need. We often complain about no money, forgetting about our eBay obsession or daily stop at Starbucks.
Try spending at least a week journaling all that you spend. When you go to the grocery store, go with a list and stick to it. Try shopping from your pantry and closet before heading to the mall or market. Consider dinner in – use the good china and light a few candles in place of a restaurant; it's amazing how candles can make even spaghetti seem elegant. Take your lunch to work and if you are prone to hitting the vending machine at 3:30, prepare with a few snacks at your desk. The next time you are at Target and Wal-Mart buy what brought you there, and nothing more. Do not enter a store unless you have an agenda – stop using retail therapy as a social activity. You will be amazed at how much you buy that you didn't even realize you picked up. You'll soon see a little more money in your bank account, and after a month or so, the cravings for consumerism will diminish. Meals out will be treats, clothing bought will be necessary and perfect for your style, figure and needs and you just may have the money to invest in a great blush that will give you three years of happiness.