This article may contain affiliate links; if you click on a shopping link and make a purchase I may receive a commission. As an Amazon Associate, I earn from qualifying purchases. 
I'm looking at feedback from my reader survey and many of you have wanted to know what I really use each day, not sponsored, not promoted, but legit what I use for my face, body, hair, and makeup. My beauty routine is often changing; I get bored and well, I get paid by a brand to try something new. These are my favorite beauty products right now, and nope, this best beauty products post is not sponsored. If you have any questions do ask in the comments and I'll answer honestly!
The Best Beauty Products for your Morning Beauty Routine
When I wake up I wipe my face with Pixi's Glow Tonic. It has glycolic acid in it which reduces fine lines, acne, blackheads, dullness, oiliness and uneven texture, but it's not super harsh. Then I put on Colleen Rothschild's Sheer Renewal Cream and head to the gym.
When I get back from the gym, I take a shower. Usually I just rinse my face with water, sometimes if I was extra sweaty I'll wash with CeraVe and my Clarisonic.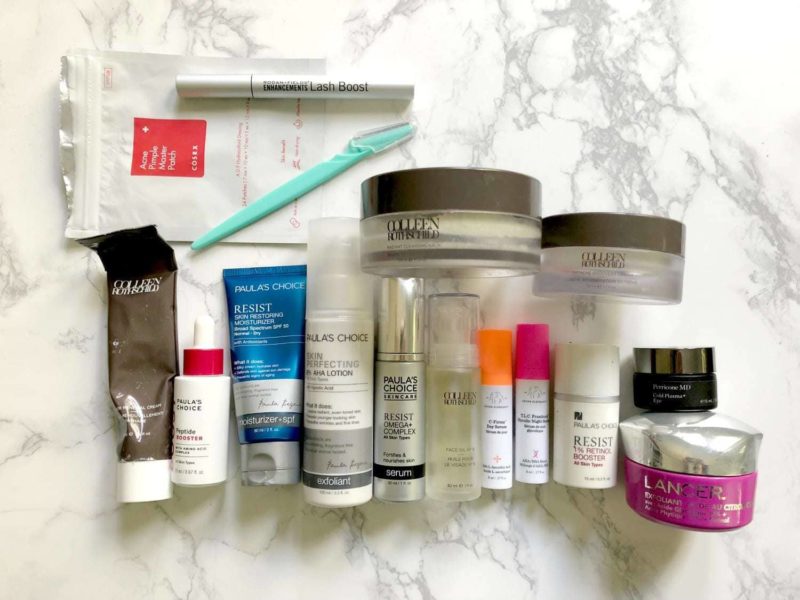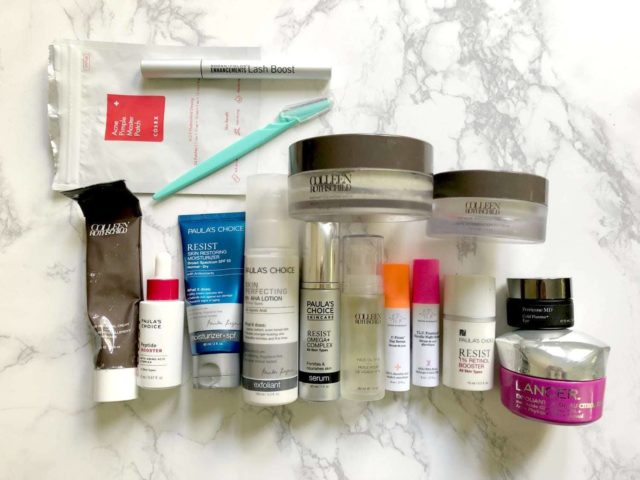 After I do my many-layered moisture: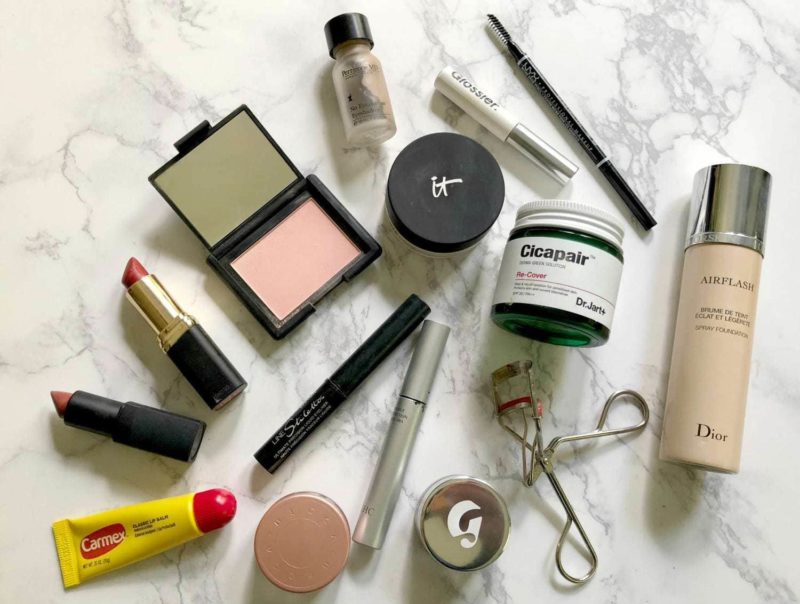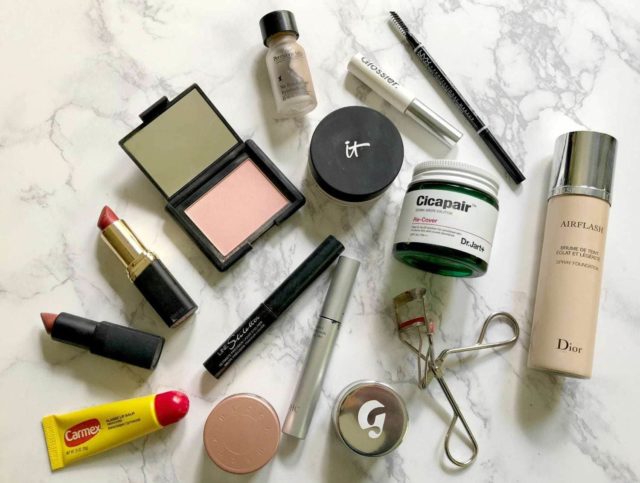 What Makeup I Use:
The Best Beauty Products for your Evening Beauty Routine:
Masks, Treatments, and Tools:
I do a mask maybe once a week, sometimes more sometimes less. When I use Lancer's Caviar Peel my skin looks uh-may-zing. It smells like lime Skittles and really is effective, but not cheap. I have a bunch of masks I get free from brands or as samples with Sephora orders and will use them, and I also dig sheet masks for a boost of moisture. I should be more consistent but I'm not. When I have an event or a long flight I love these under eye patches. I'll put them on right after my shower and keep them on until I'm to the point of putting on my makeup. I got these acne patches and they're great for a zit that has popped and now needs to disappear overnight.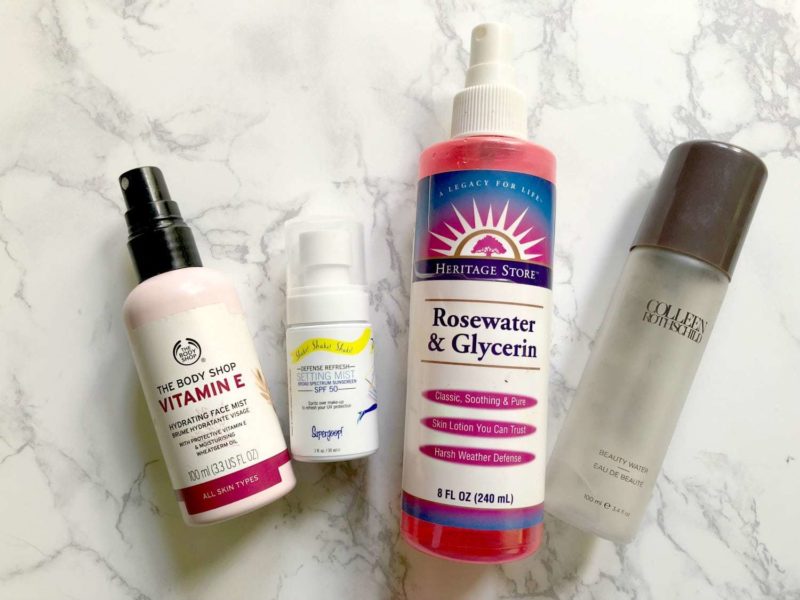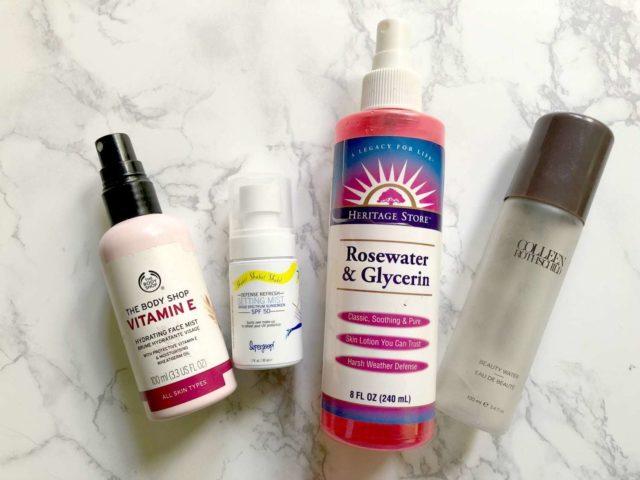 I mist my face all the time. I have a bottle of Colleen Rothschild's Beauty Water in my commuting backpack and one on my dressing table. I have a bottle of Supergoop in my purse's cosmetic bag. I have Body Shop Vitamin E mist and traditional rosewater with glycerin sitting on my dressing table, and usually one or two at my desk.
I have a Clarisonic. I don't use it more than once a week or else my skin gets mad at me.
I tried a NuFACE and yeah, that thing was possessed. I never got around to buying another but I did find it effective. I now have a jade roller and that doesn't have a mind of its own and its easy to use while reading a book or scrolling through Instagram.
I wrote about dry brushing years ago, and I still do it. It's the best way to wake myself up in the morning before working out and meditating, without drinking coffee. It gives enough of a perk to get functioning plus it makes my skin look amazing. Seriously, buy a $12 dry brush (this looks like the one I own) and you can get away with cheaper body washes and moisturizers and you don't need as many scrubs and such.
What Best Beauty Products do I use in the Shower:
Shampoo: Most days I use HairFood because it's cheap and effective. If I was a millionaire I'd use Oribe every day but I'm not so I only whip out my bottle for my first post-coloring wash and special occasions. I only shampoo 2-3 times a week, usually I just rinse or wash with conditioner.
Conditioner: When I "wash" my hair with conditioner, I use HairFood. When I'm feeling fancy, I use Oribe. When I use real shampoo I follow up with Pantene's Three Minute Miracle. FYI, this stuff is also amazing if your kid has easy to tangle hair.
Body Wash: If I was a millionaire I'd use Molton Brown's Ylang Ylang every day. But I'm not so I use Everyone Soap 3-in-1 in Coconut Lemon (my whole family uses it). I use a scrubbing towel with it so I can exfoliate while washing. I also use Ivory bar soap to wash pits, feet, and privates; I just feel it cleans more deeply than just body wash and it doesn't irritate.
Face Wash: CeraVe. My whole family uses it.
Razor: Honestly, it's whatever is on sale and I don't use a shave gel. I think being on swim team my teen years and a lifeguard all through college made me a shaving pro. I can get it done lickedy split without razor burn, cuts, or any special products. I've never been waxed and though I'd likely love it, never got laser hair removal.
Body Care Products:
Moisturizer: I take a lotion a brand sends me for free and use it on my elbows, knees, and ankles. This winter it's been Curel Ultra Healing which is pretty fantastic. Then I slather my body in Neutrogena Body Oil and wrap up in a bathrobe to let it all soak in. I love the idea of Jergens Natural Glow and buy a tube every few months and then never use it because I don't know how to fit it into my routine and not give up my Neutrogena Body Oil. Do you have a suggestion? Seriously, if I could have my perfume and hair products smell like Neutrogena Body oil I'd do it. I wish I could find a candle that smells like it.
Deodorant: I hate to admit it, but I gave up on natural deodorants. I started smelling like cat pee, which is worse than B.O. I tried several and none worked out. So I am back to Degree, which seems to work the best for me. When I remember and when I haven't showered and shaved before bed, I'll apply Certain-Dri.
Menstrual Products: For years I used a Diva Cup; after having Emerson it didn't fit as well as it did and I tried several other cups finally settling on the Lunette cup. After I got an IUD cups stopped being reliable or comfortable. I now use Lola tampons, which are organic, are shipped to my house monthly, and the company donates hundreds of thousands of tampons to shelters.
Hair Products and Styling Routine:
I add a pump of VERB Ghost Oil to wet hair and with an Aveda paddle brush, sweep my bangs side to side under the dryer (this one with the nozzle on, which I got as a gift from Dermstore) until they're dry and usually let everything else air dry. Then if I'm going anywhere, I'll fix frizz and scraggly ends with a curling iron, blast the bangs with Living Proof dry shampoo, and maybe a few hits of Oribe Dry Texturizing Spray for volume and to hold things in place.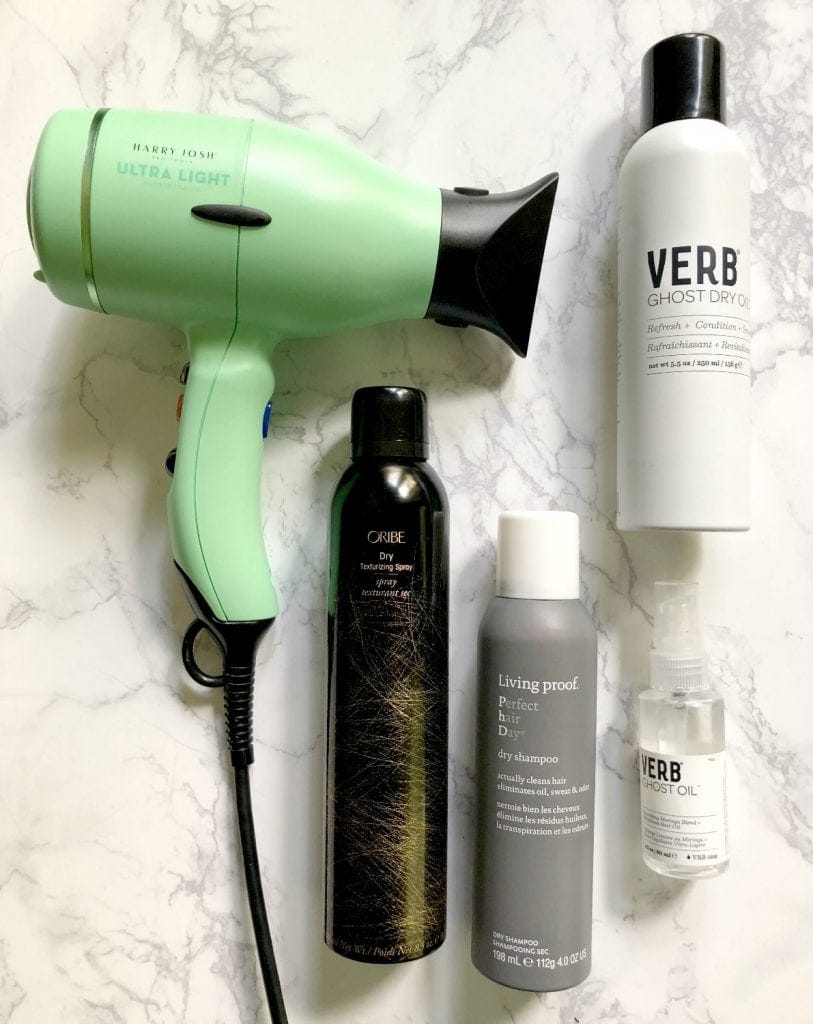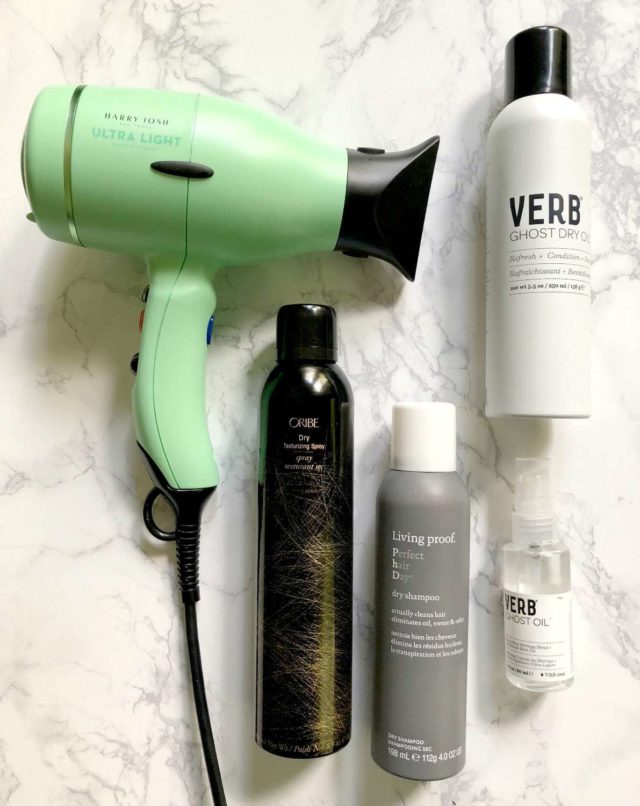 If I wash my hair at night, I'll mist my bangs with water in the morning and re-dry them so they're not sticking up. Depending on how much time I have, I'll either mist the whole head to let it re-set, or I'll gently brush it and then put big sections in the curling iron and separate the curls with my fingers that are lightly covered with VERB Ghost Oil. Sometimes I'll use VERB Ghost Dry Oil spray. As the temps rise, I add conditioner into my spray bottle; it's the best way to revive curls and keep them from being frizzy. No need for a fancy conditioner, I usually use the little hotel bottles of conditioner for this, about a tablespoon in the bottle and don't spray it close to the roots or bangs or it can look greasy. Do note I often get VERB products for free from the brand but the relationship started when I tagged them on Instagram because I had bought the Ghost Oil with my own money and became a fan.
One of the best things I got for my hair and my skin is a shower filter. It will keep your hair and skin soft and your hair color won't fade as quickly. Years ago I had the Jonathan shower filter but when we got a new shower head it didn't fit. A year ago I got this one which is cheaper and has far cheaper replacement filters and it really does help if you live somewhere with hard water.
I've decided to embrace imperfect hair, so this result is a bit '70s, a bit frizzy, a bit messy, and a bit IDGAF. Seriously, the older you get the fewer effs you have; life's too short to spend so much time on hair that doesn't want to cooperate.
My hair is thin, and I don't care as much that it affects volume as much as you can see so much of my scalp. I really like the Toppik powder for hiding thin spots on my scalp. I use the nozzle and it stays in place all day and night, even if I sweat or get caught in the rain. I got the aerosol version and it's messy. Run your fingers through your hair or comb your bangs and you'll have brown stuff on your forehead and under your fingernails. But the Toppik powder is money and I swear by it.
I get my hair cut and colored every 6-9 weeks by Billy at Scissor and Comb salon in Takoma Park. I think he does a fantastic job and it's gotten to where I just let him suggest things and I do it (he suggested the bangs and the lighter color I'm sporting for spring). I used to color my own hair, but it never looked perfect and the ends would often get too dark and straw-like. Considering my job is to look cute in photos, I find it a smart investment to leave my grays to a professional.
Teeth Care:
I have sensitive teeth so I use Sensodyne, the whitening formula and have a Sonicare toothbrush. I use the Listerine without alcohol, and I love to floss. Seriously, I floss a minimum of once a day, often twice and I carry flossers in my purse. I grind my teeth so I wear a mouthguard at night.
I shared my tooth whitening experience; since then I lost my top teeth bleaching tray so I ordered a kit from Sporting Smiles to replace it for less than my dentist. I'm awaiting the replacement tray. This is the exact bleach I got from my dentist.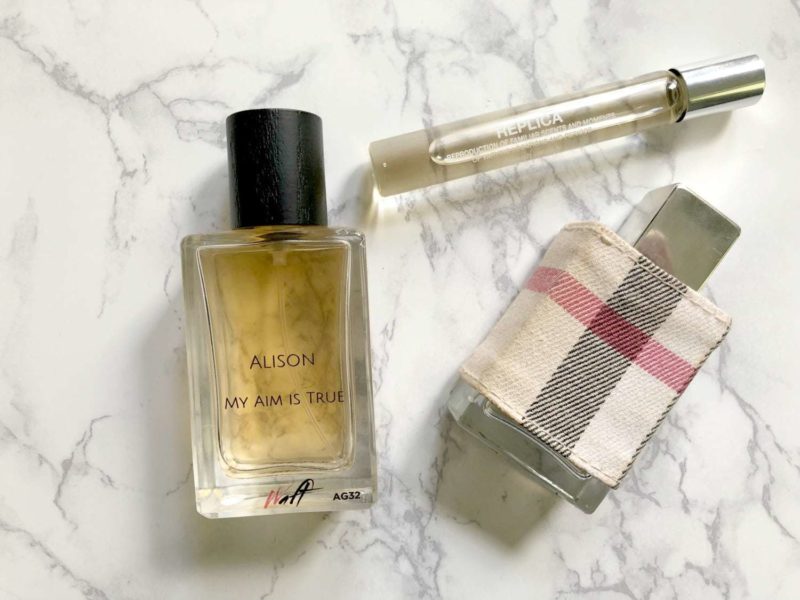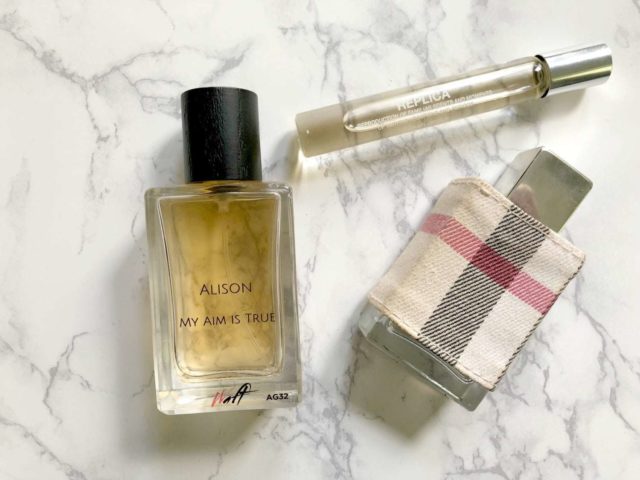 Fragrance:
I've been wearing Burberry London for Women for over a decade and am getting a bit tired of it so I'm trying new scents. I love Le Labo Santal 33 but Karl thinks it smells like hay so I only wear it when going out without him or when I am on business travel. I have Maison Margiela Replica Beach Walk roller ball and I like it when it's on the parts of me that heat up and change the fragrance, but when not heated it up it's a bit too sweet for me. I got a custom fragrance from Waft Fragrances and I like it, but don't love it. It's not… complex enough and it doesn't last as long as more expensive fragrances. So, I am still on the hunt and am open to suggestions!
Nails, Facials, and Esthetic Treatments:
Nails: I get my nails done at the salon every two weeks. I get powder dip acrylic nails from Billy at V Nails in Beltsville (yes, another Billy!). My go-to is OPI's Big Apple Red but especially in the summer I get creative and try different colors and looks. In the winter I rarely get pedicures unless I have an event or sponsored shoot with open toed shoes. In spring and summer, I get one every 4-6 weeks in OPI's Big Apple Red and do touch-ups at home with my own bottle.
Facials: I've had four facials in my life. I'd love more but I just can't justify the cost.
Lasers, Injectables, etc.: I got Botox in February. That's all I have done thus far. I know I owe you a post about it; it's on hold because I got it free and want to be sure my review is cool with the office that gave it to me (my experience was mixed, you can see details on my Instagram highlights). I don't know if I'll do more Botox in the future, but I'm not ruling it out. I'd love to do something about the sun spot on my cheek and another spot that is growing under one eye but I don't have any plans right now.
Vitamins and Supplements:
I got Vital Proteins collagen peptides in the past and took them when I wasn't eating much red meat and they made me sick. But now that I am working out regularly I eat a lot more meat so I tried these again. I usually mix them in my morning shake, and when I do my knees are less crunchy and my hair seems happier.
Each morning I take loratadine, Quercetin, a B complex, Borage Oil, Stamets 7, D3, fish oil, and MegaFood Skin, Nails & Hair. Seems like a lot, but it's become routine and when I don't take them I feel achier and my allergies are worse. A couple times a week I have a spoonful of Hanah One with my morning coffee. Karl makes us an afternoon green smoothie/juice and puts trace mineral drops in it.
So yeah, that's it! It may seem like a lot, but my appearance is my job. I've spent over a decade in this field and had the opportunity to try a lot of products for free, which helped me find great products from a variety of price points and see the benefits of a through beauty routine. Also, as I get older I see the value of spending less on clothes and makeup and more on skincare and health.
A lot of the best beauty products I use are from your recommendations. If you have any products you swear by, do share in the comments to help me and fellow readers out!