This article may contain affiliate links; if you click on a shopping link and make a purchase I may receive a commission. As an Amazon Associate, I earn from qualifying purchases. 
Dressing in the dark – I got to work at 6:45am this morning. Blech. Pictures taken at the bathroom at work.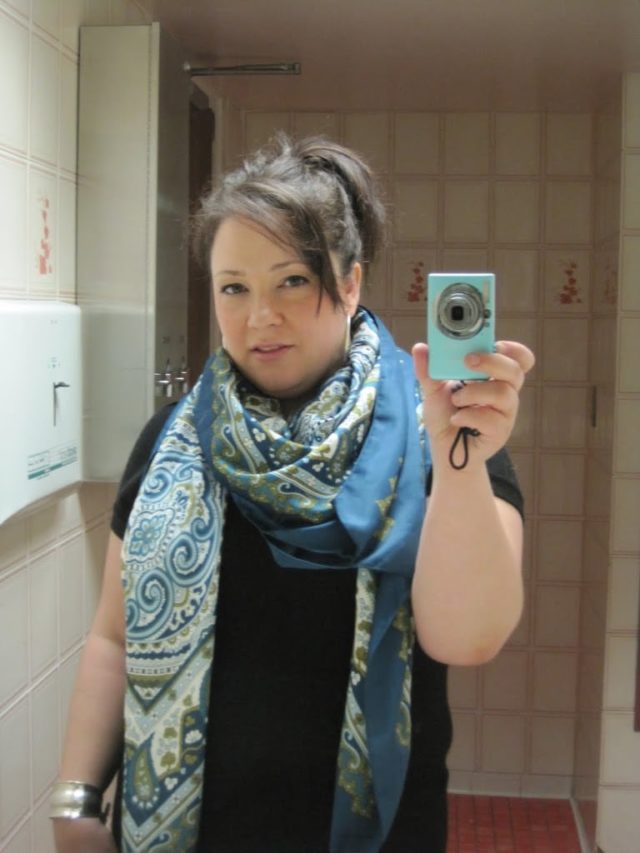 Super big scarf from H&M, black merino short-sleeved dress from Banana Republic over dark straight jeans from NYDJ, gray shoes from Miz Mooz, silver hoops and cuff, hair in messy updo, makeup basic, with Bare Escentual Buxom Eyeliner in Leatherette (love it!).
The shoes: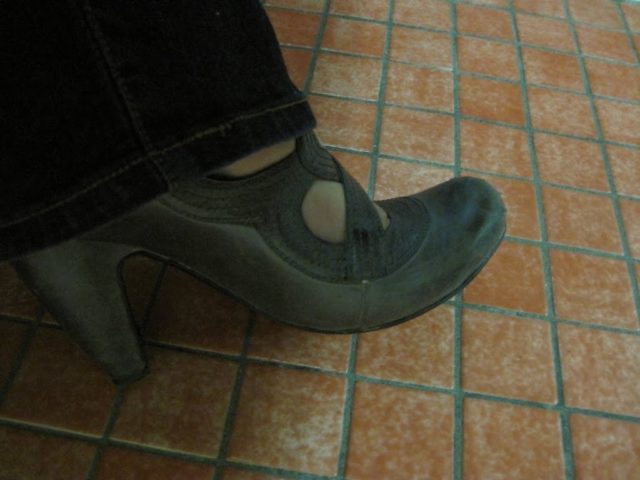 I have worn them before, totally adore them. Surprisingly comfortable too!
Will be another early day tomorrow, think I will be wearing my white gauzy peasant top from Old Navy with my Seven jeans. If it's warmer than today, I will wear with my brown croco Carlina heels from Sofft. If not, might wear these shoes again!
I am considering upgrading my cell phone. I currently have an "old school" cell phone – it does everything that I need – takes pictures, I can text, get calls. My plan is a reasonable price – I never go over minutes, have unlimited texts. I don't have picture texts (have to pay for each) and don't have Web features (canceled that to keep the price low). Well the phone is starting to get a bit old – doesn't hold a charge as long as it used to, scratched up. I find I am texting much more than I used to be – even for work I often have to text and a QWERTY keyboard would make life easier (and texts faster). I also wonder if I used my cell to check email, I would be on the actual computer less.
So I can get a free phone with my cell provider, but I would have to change plans to accommodate a "fancy" phone. This would be an increase of $20 a month. I don't see any other "old school" phones that are any nicer than the phone I have now so I don't see the value in upgrading from regular cell to regular cell. But I don't know if it's worth the $20/month to become high-tech and modern with a phone that can surf the Web, hook up to my email account and calendar, have GPS (I don't have one for my car), blah blah blah… What's your opinion?