This article may contain affiliate links; if you click on a shopping link and make a purchase I may receive a commission. As an Amazon Associate, I earn from qualifying purchases.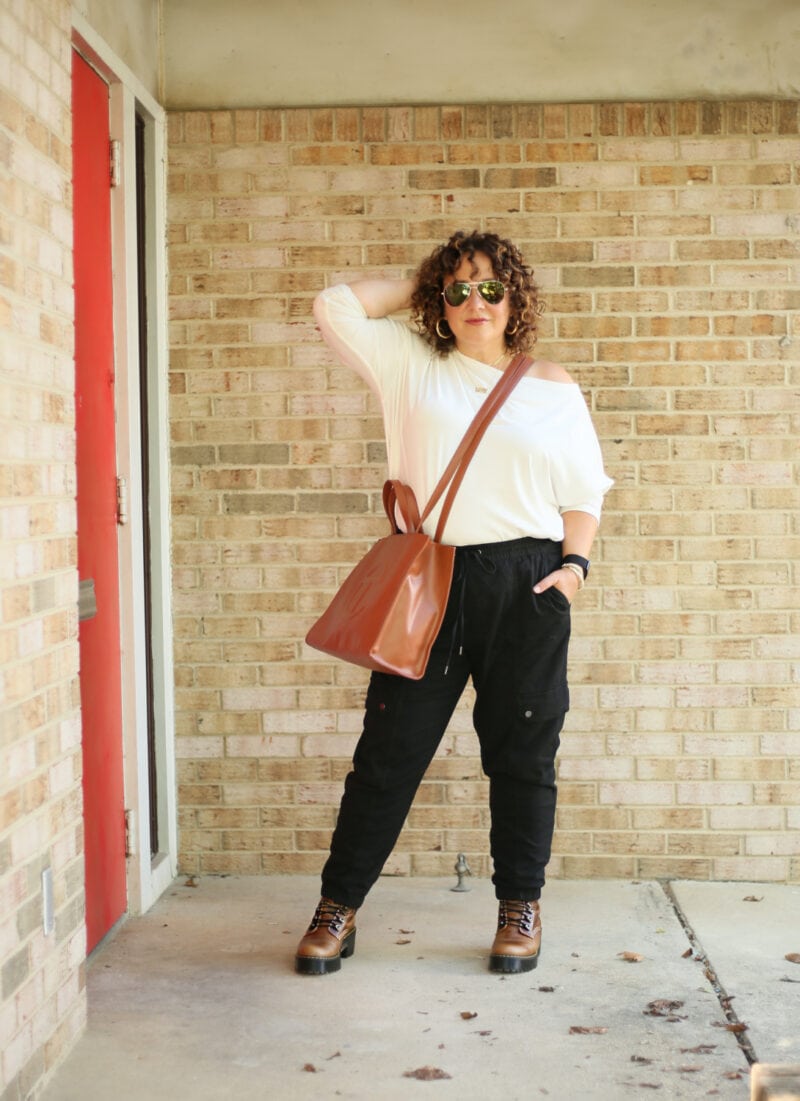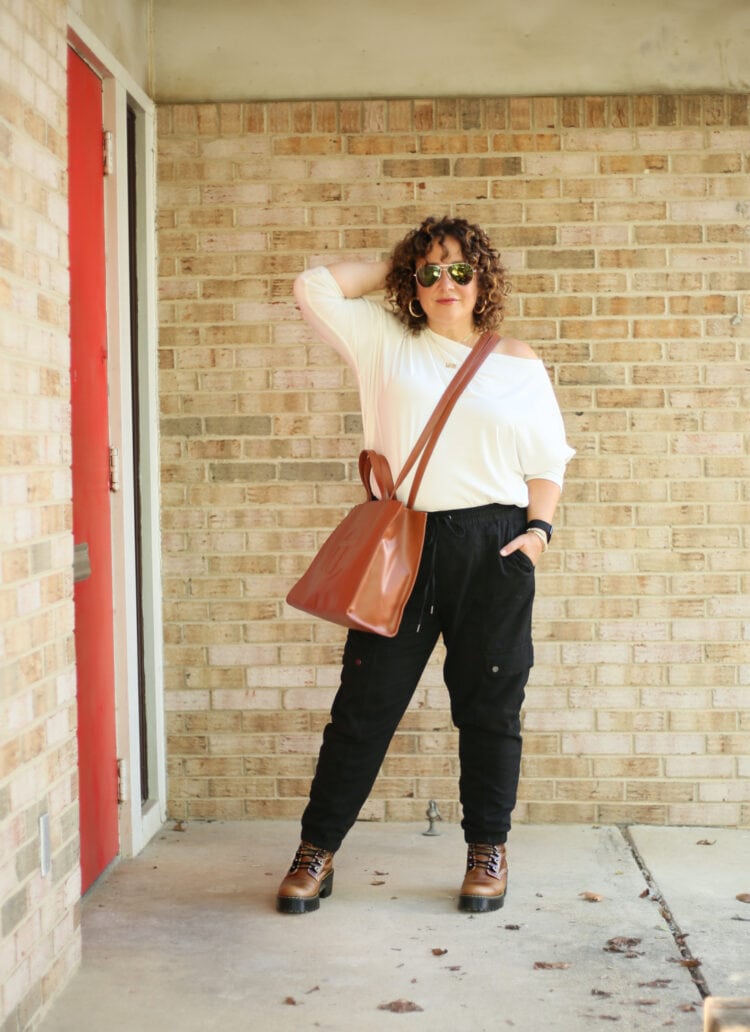 You'd think I wouldn't love off the shoulder tops because I have a large bust and require a bra with some serious hardware to have the breasts look the way I like. But there's something about an off the shoulder top that is sexy, and it's a way to feel sexy and devil may care without showing a lot of skin or feeling like mutton dressed as lamb.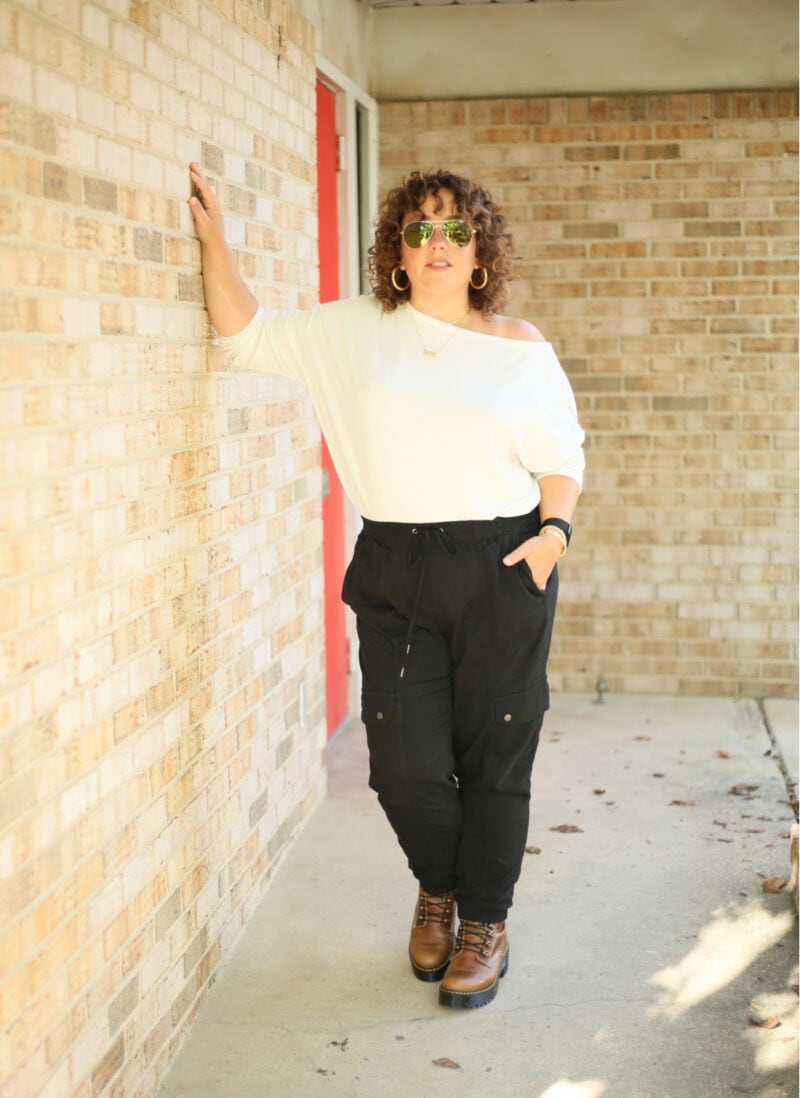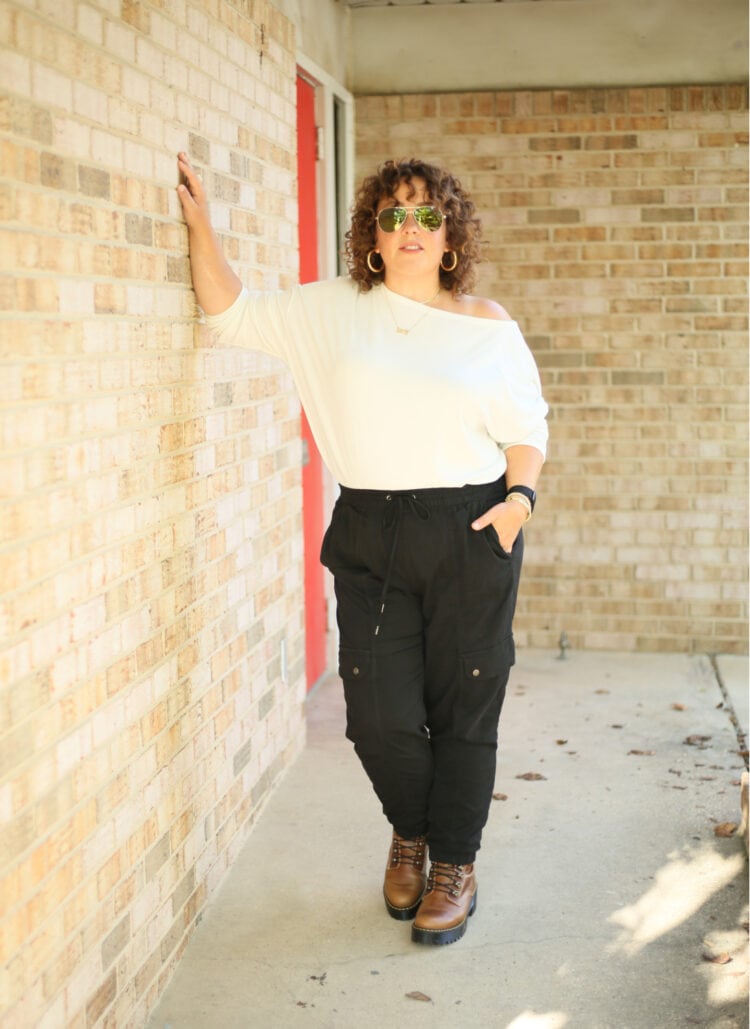 This top from ALLSAINTS was part of the Nordstrom Anniversary Sale; I ordered it in black and it was canceled. I ordered it in white… canceled. After the sale it came back in both colors and I figured if I was that pressed to order it twice during the sale I could order it once full price. Figuring I have this short-sleeved off the shoulder tee in black and a black off the shoulder sweatshirt-like thing (seen here), I decided to get it in white. And I am so glad I did.

This top is a heavier-weight jersey with a spongey feel and nice drape. This is not a summer fabric. It runs very big; I am wearing a size Medium and usually with ALLSAINTS I'd go with Large or even XL. It can be worn more like a boatneck or drape off either shoulder of your choosing.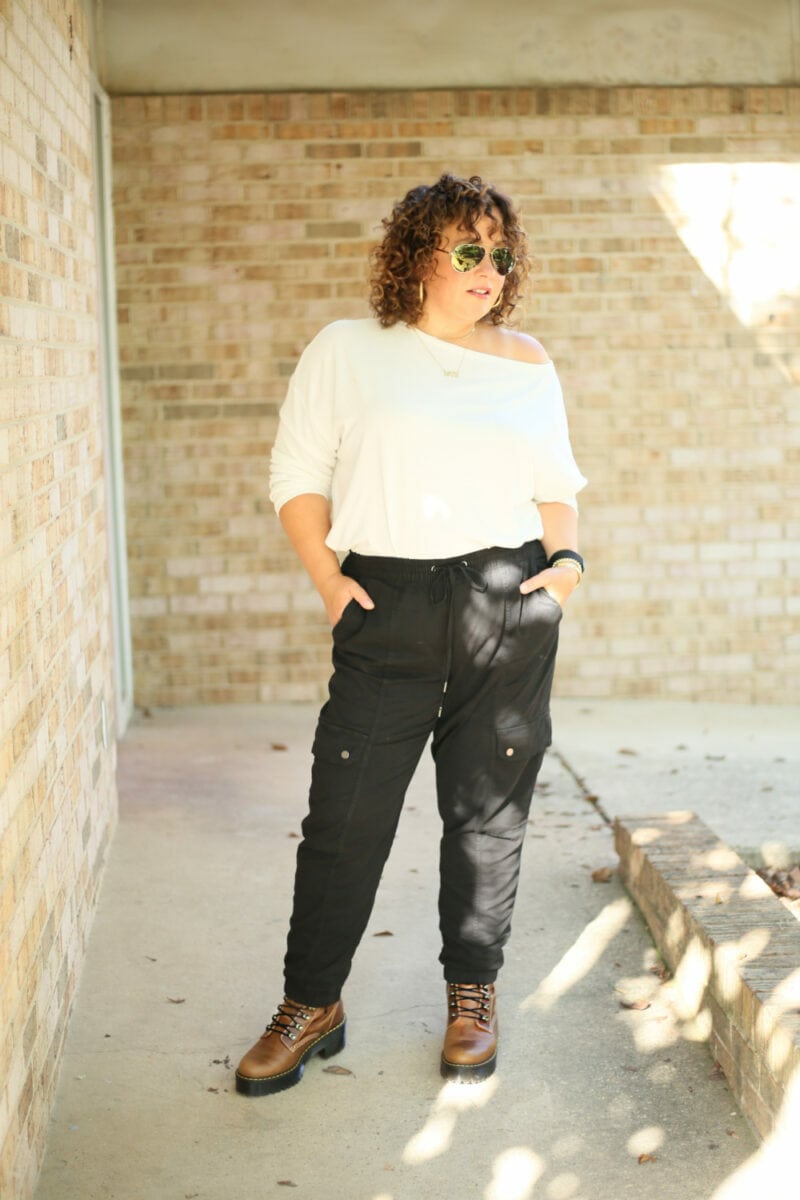 This top hits my low hips and has a lot of volume; I'd only wear it untucked if I was wearing it with leggings. The other week I wore this top tied in front with a pair of ankle jeans; you can see the look here on Instagram. That day I didn't worry about hiding my bra and wore it purposefully with a black bra so the strap showing was clearly not a mistake. This time, I wore a molded cup bra (this one to be specific) and just slid one strap down my shoulder and it worked fine, especially because it was tucked in giving volume on top to camouflage most everything.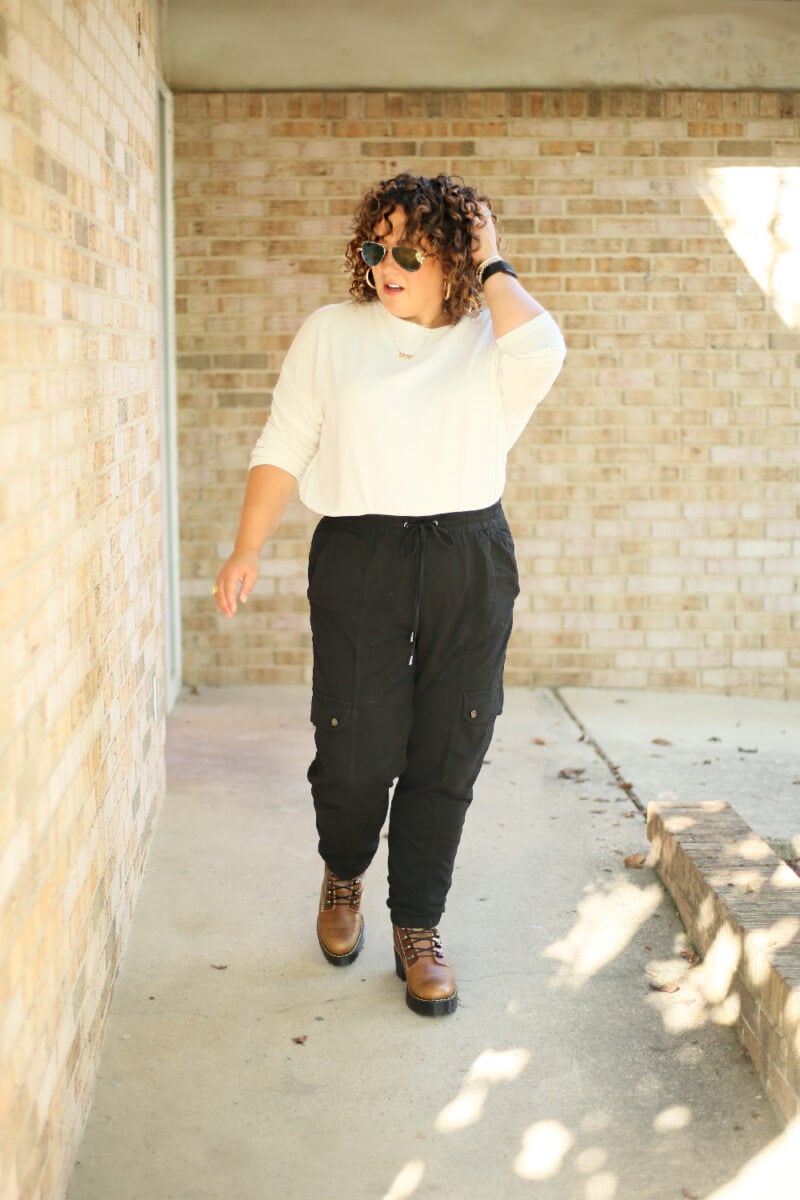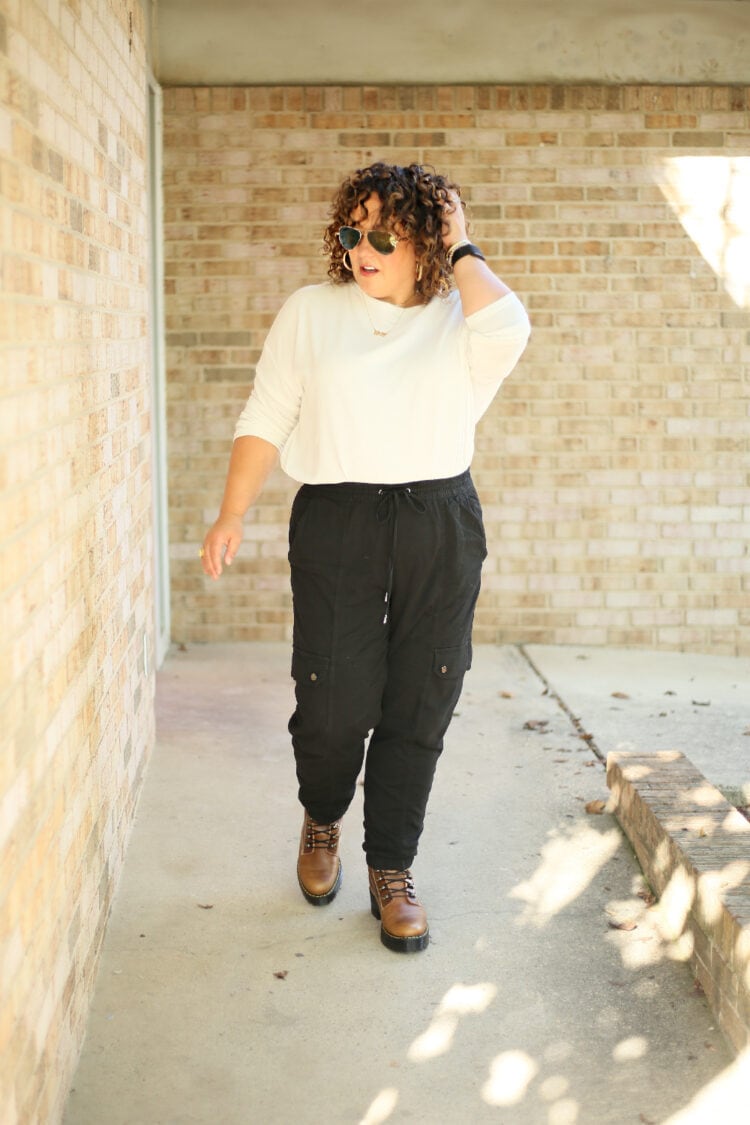 These pants are a recent purchase from Banana Republic and I have been wearing them nonstop. After a year at home wearing 99.9% knits, I am liking a casual pant that still has comfort but more structure. These pants are a great alternative to knit joggers, still having the ankle band and stretchy waist. I like them so much I am considering getting a second pair in a different color.
I know the size and color options are limited; a reader shared a very similar pant is available at Banana Republic Factory. While I am not a fan of a lot of factory brands, I do think Banana does it well with similar quality to the regular store and similar styling. This pant is available in regular and petite up to XXL in four colors.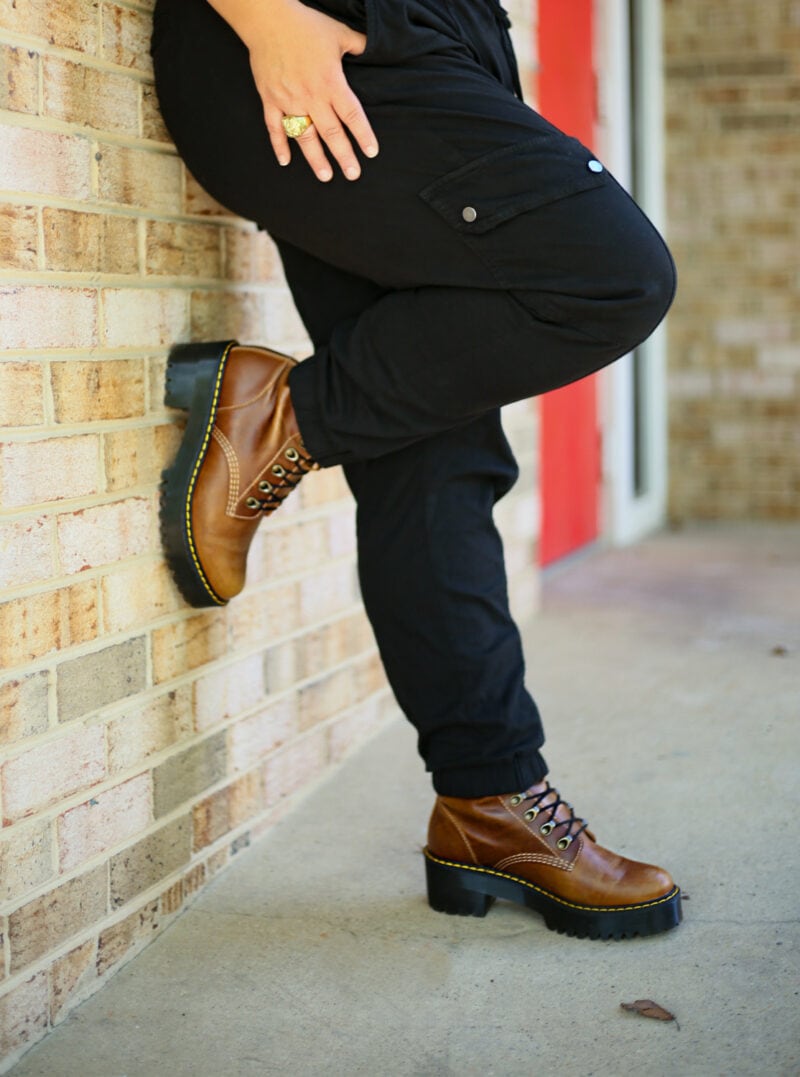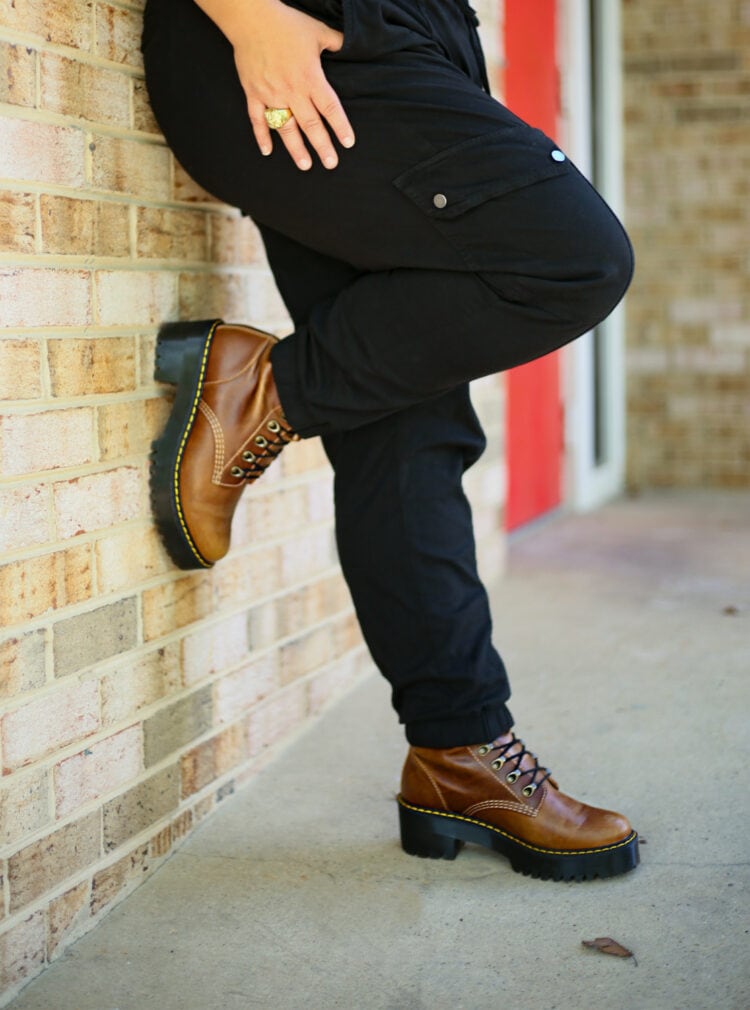 Thinking about the fall shoe trends and the type of life I am living now, I wanted a lug sole boot. I already own these boots in black and these boots in black and I liked the idea of brown boots with black, with olive, and with the dark moody florals of the season. And as a GenXer, I had to check out Doc Marten for a classic lug sole. I fell in love with the Leona 7-hook boot.
These boots, unlike a lot of Docs, had zero break-in period for me. I am wearing thicker wool socks with them to keep them comfy as they mold to my foot but I have now worn out of the home twice for longer than two hours and have no hot spots, just a place on the shaft where it needs to soften up so I am not as "aware" of it.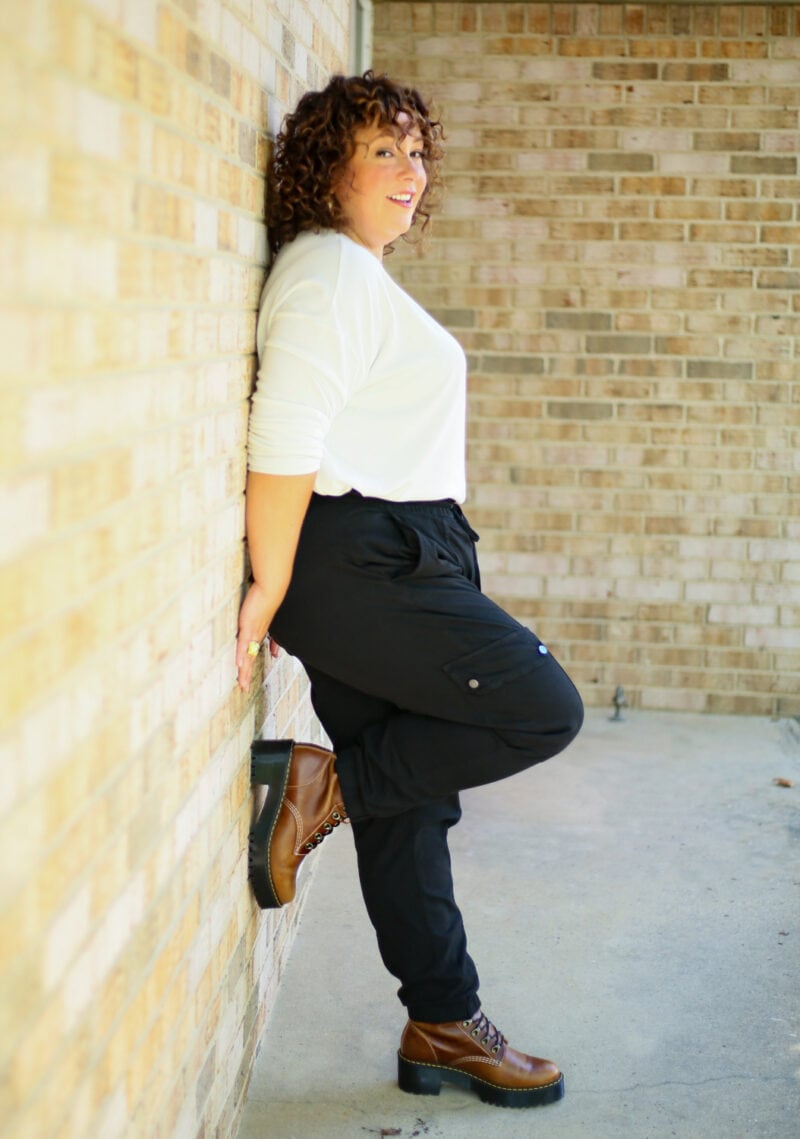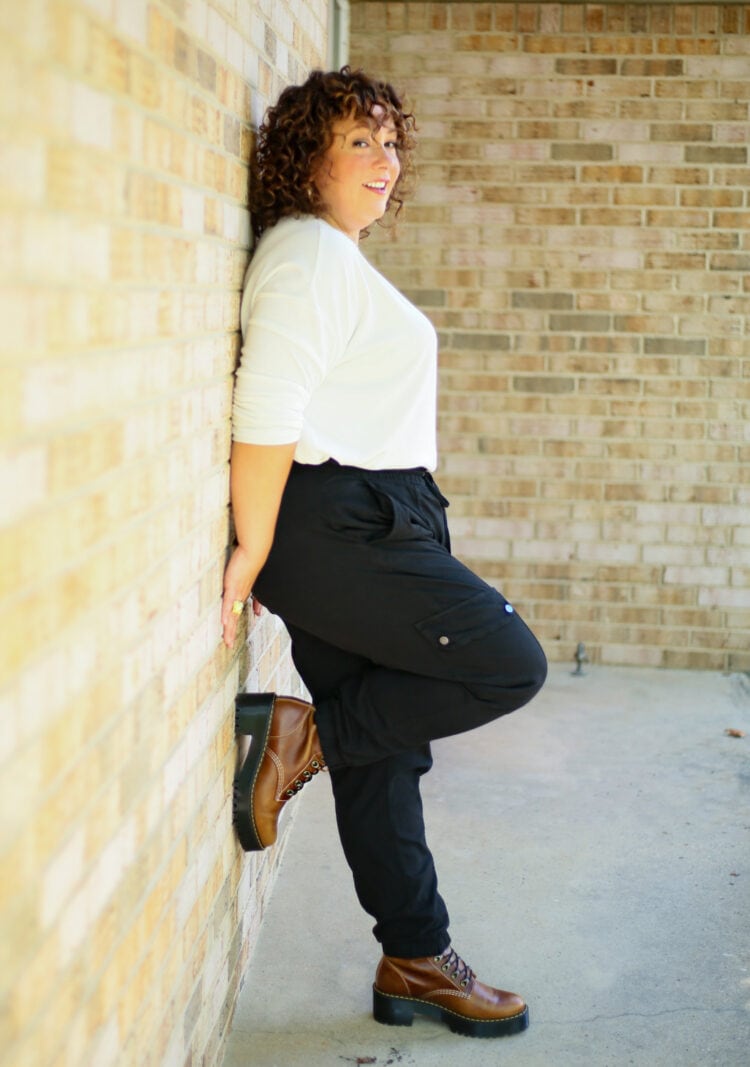 I think this boot would be cute with midi and maxi dresses and skirts, under jeans, joggers, and wide-leg trousers. Last year I did a lot of tucking looser pants into boots like this to create a military/jogger sort of effect and I plan to do it again this year with these boots. While I got these at Zappos, I know the sizing is limited right now. I also found this boot in black and brown at American Eagle, in black and brown and burgundy at Shoes.com, and black at Nordstrom.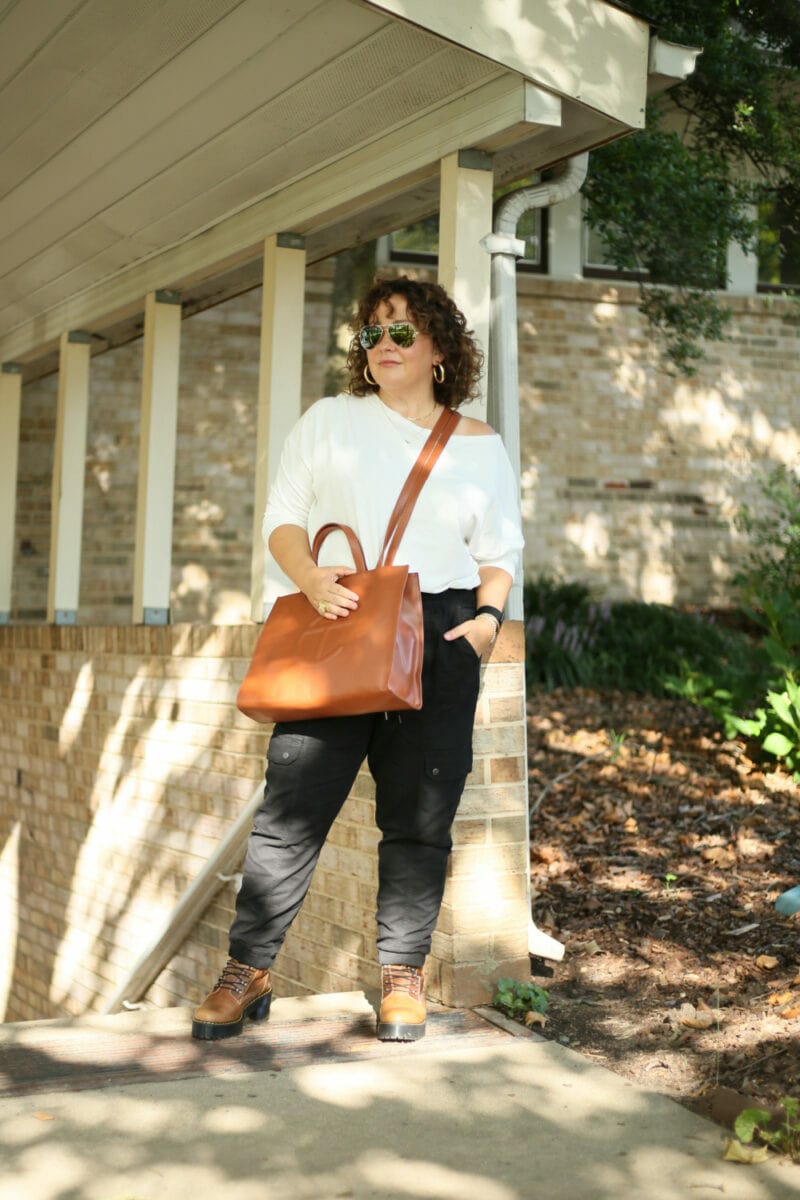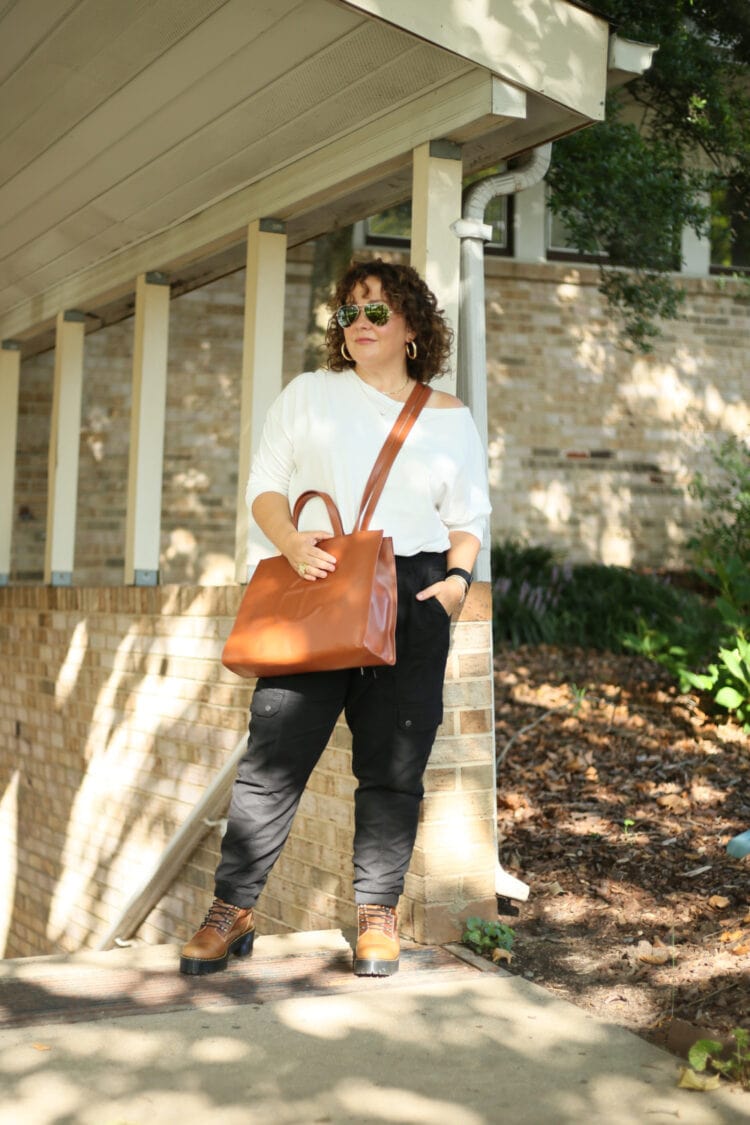 And this bag is from TELFAR; I got it last year figuring it would be a great commuter bag and then I ended up not commuting anywhere. This is the medium shopping bag, and I've found it just too large for most situations. I've used it for travel, I have used it to hold clothes when changing outfits for photo shoots, but that's it. But now that I will be commuting again, I am glad I have it.
In fact, the building where I took these photos is where I have signed a six-month lease for an office. It's a building in my neighborhood that has been transformed into a coworking space. Individuals can rent an office, and the building has a conference room, kitchenette, mail service, and more. I can't wait until I can move in (hopefully next month!).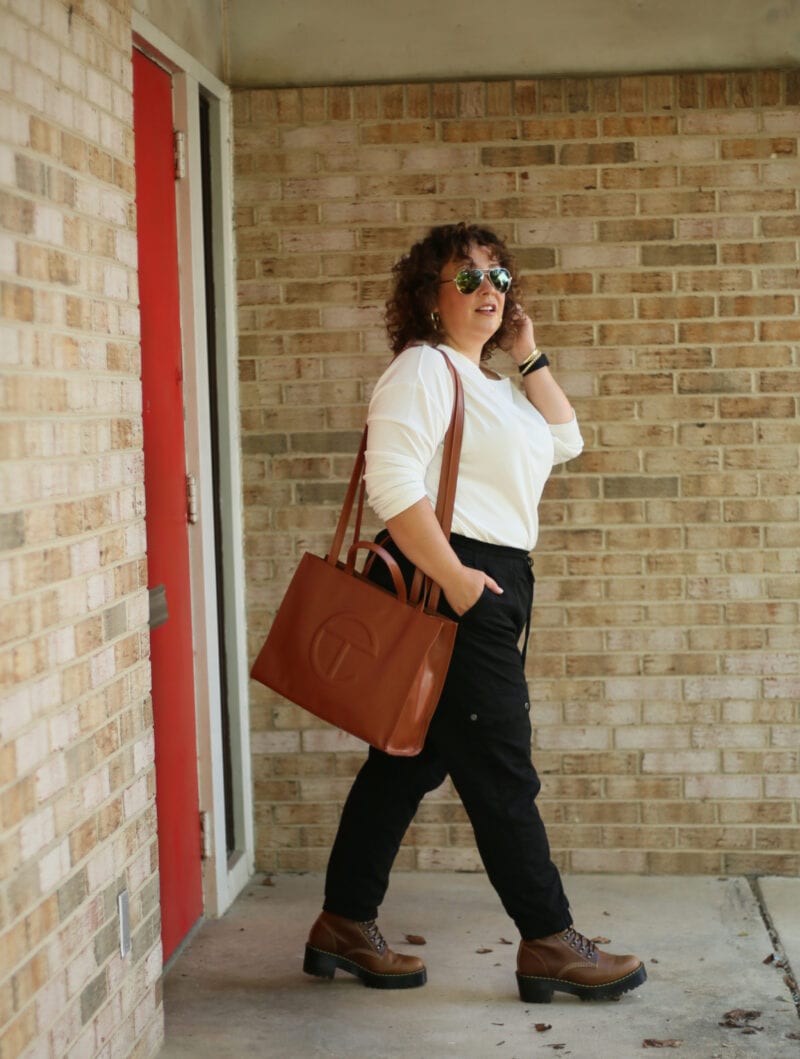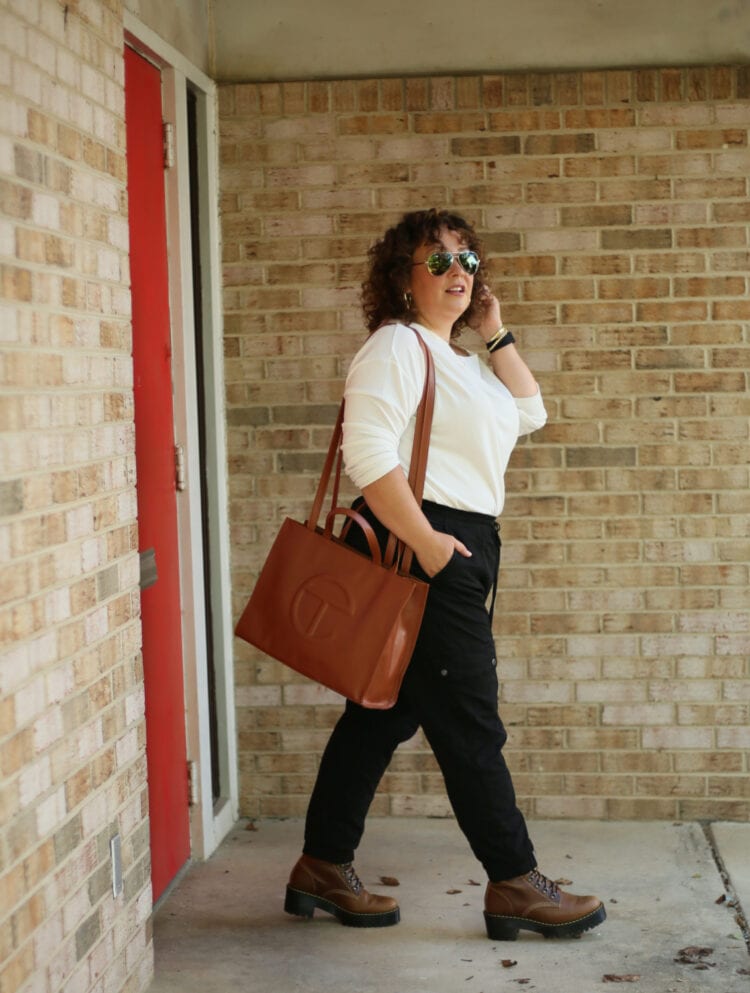 Anyway, back to this chic bag from a Black designer that is not ridiculously expensive. And while it isn't real leather, it is very well crafted, durable, and comfortable on the shoulder, in the hand, or across the body. You can't just go buy a TELFAR bag; but if you sign up for the email list, you'll be notified of weekly drops on certain colors.
However, these sell out FAST. I was thinking of getting a small black one and an hour after the sale started the only thing left was XS belts and the largest size tote. You can find TELFAR bags at resale sites like The RealReal and Poshmark, but expect to pay much more than the retail price.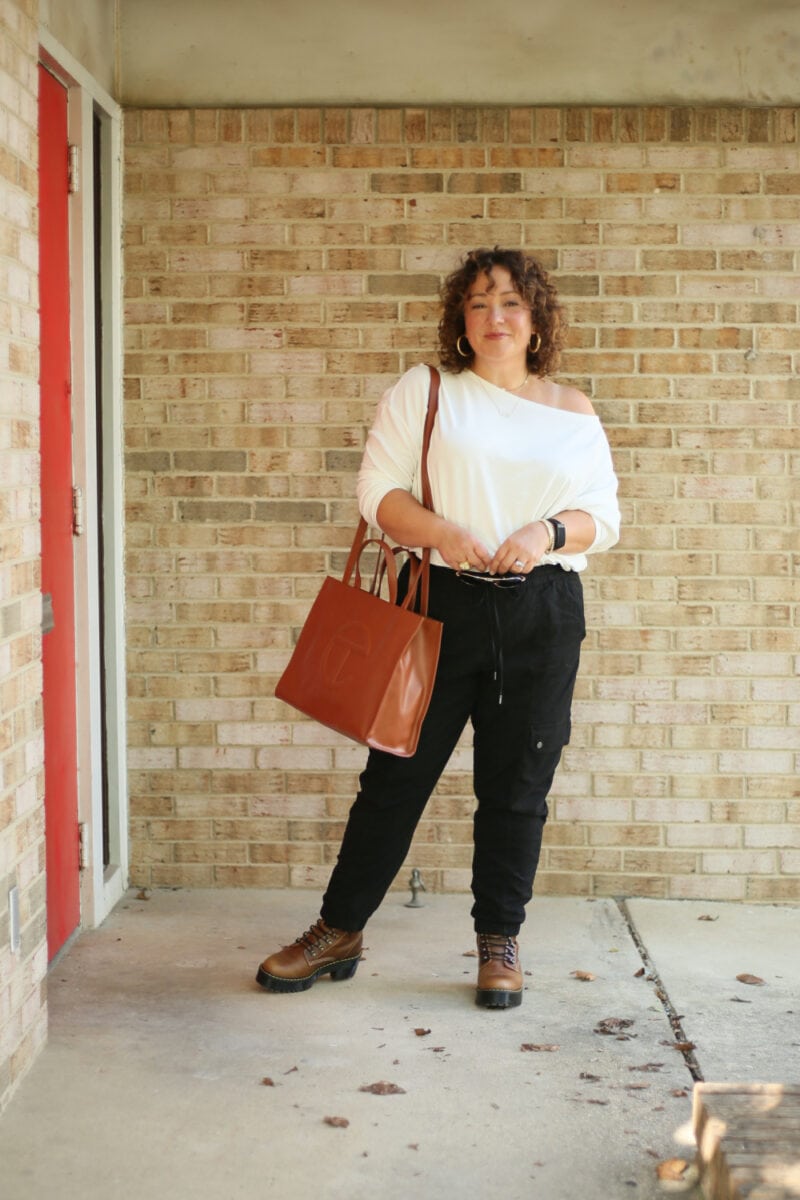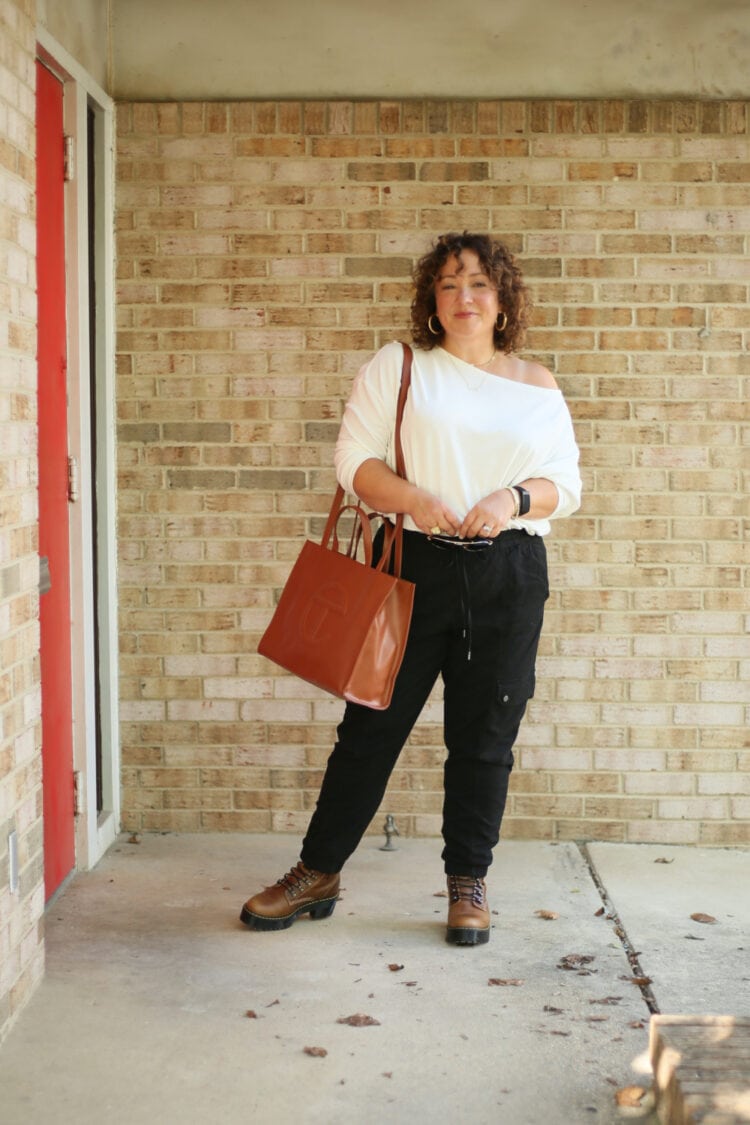 The earrings are these from Baublebar, the necklace is this one from Etsy. The sunglasses are the Phantom Alloy from ROKA; I never thought I'd find a pair of aviators I'd love more than my beloved 62mm Ray-Bans. But these are amazing. They are super lightweight, they don't fall off when I bend over or slide off my face when my nose gets sweaty/oily. I got the custom option with gold frames and copper lenses but here I am wearing my husband's which have green/Ranger lenses.
Shop the Look: