This article may contain affiliate links; if you click on a shopping link and make a purchase I may receive a commission. As an Amazon Associate, I earn from qualifying purchases. 
I'm in my 30s. I work full time from home. I have a 2 year old son that keeps me very active. I live in yoga pants/work out attire because a) I'm in public less than a couple of hours per day so getting "dressed" feels like a chore and b) I'm a hands on mom who loves playing/getting dirty with her little one so work out attire is more daily activity appropriate for us (hiking, running around the park, playing ball at the house) and is more comfortable, layer able, etc. I'd like to create a capsule wardrobe but I don't know where to start. Any suggestions on a comfortable, no frills/fuss wardrobe on a budget that will allow me to make my yoga pants a thing of the past?
I totally get it. My daughter is 6 and as soon as I get home I switch into machine washable comfortable clothing. My evenings and weekends are spent at the playground, sitting in the grass at the lake or farmers market, taking a hike, and doing other activities where life as well as sticky peanut butter handprints can take a toll on my wardrobe. But that doesn't mean it's all or nothing, dry clean only or yoga pants. Casual clothing has come a long way baby, and there's some amazing fabrics and silhouettes out there to help you look polished but still be able to be active and toss your clothes in the washer at the end of the day.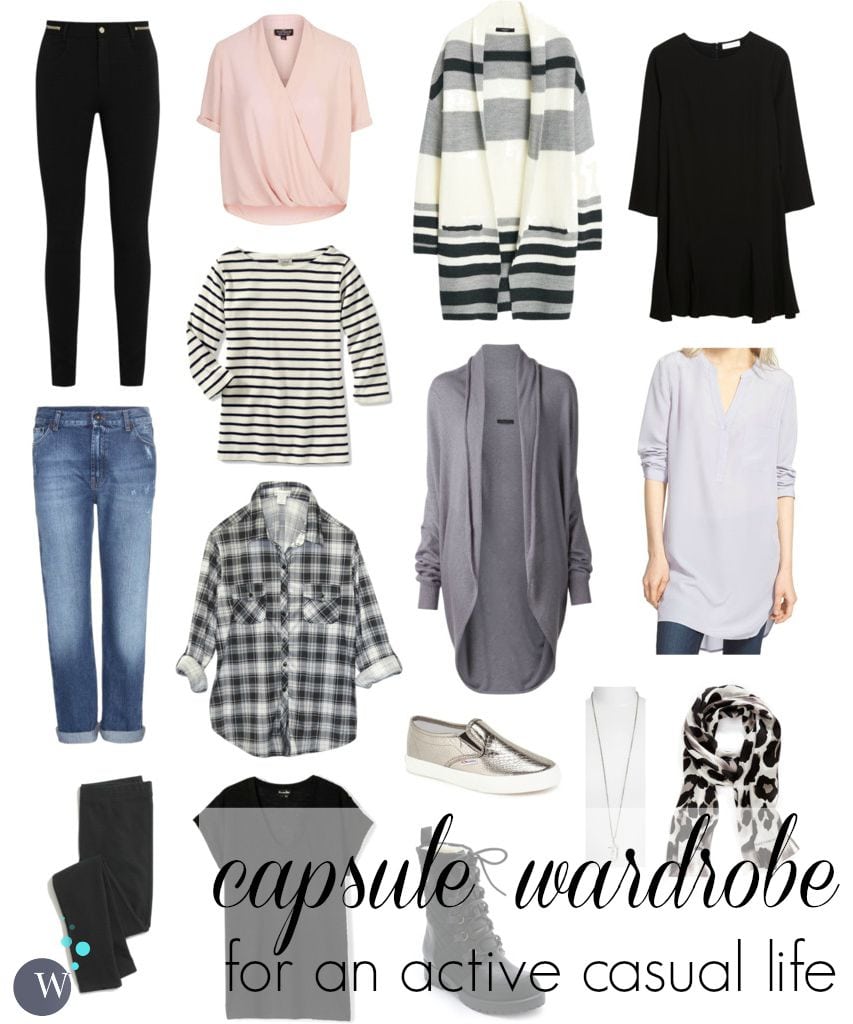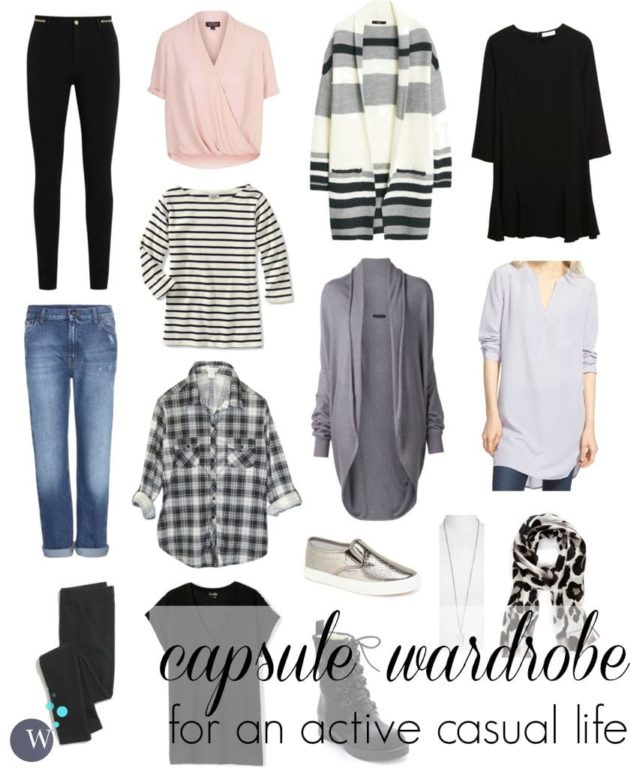 Shop Similar: ponte pants | boyfriend jeans| leggings | drape top | stripe top | plaid shirt | black tee | striped cardigan | gray cardigan | silver slip-on sneakers | hiking boots | black dress | gray tunic | crystal pendant necklace | leopard scarf

For this capsule wardrobe, I considered a woman who wants her clothes as active as she yet to still look put together enough for brunch with a friend, bumping into an ex at the market, or attending a sports game or outdoor festival with the family. I chose a pretty neutral color palette of black, gray, off-white and pink, but this could easily be switched out for autumnal shades, cool tones, or most any other combination you like. However, sticking to a certain color story makes pieces more versatile and it helps you get into the capsule mindset when shopping. When you know your color story, you're less likely to purchase items that don't work not only when it comes to color, but also silhouette and purpose.
This capsule has three different types of bottoms – heavyweight ponte pants in a slim fit, boyfriend jeans, and heavyweight leggings. I used these three to show how you can incorporate different cuts of pants and jeans with the featured tops, but also know you can also wear all types of cuts of jeans, cords and stretch twill pants (a pair of olive utility pants would be a great alternative and the color goes great with neutrals, pastels, and jewel tones).
When it comes to machine washable tops, look for pieces with an interesting detail. The top has drape, elevating it above basic tees. A heavier-weight striped top with bracelet sleeves and a boat or bateau neck is classic elegance. Plaid shirts are back in style; to keep from looking like a lumberjack choose a soft fabric, more muted of print, and a feminine silhouette. The v-neck tee is more flattering and dressy than a standard crew.
Shop Cardigans and Casual Toppers:


Layers will not only keep you warm, but also add interest to your outfit. Choosing toppers with a length longer than your base layer adds depth to your look. A patterned open cardigan is as cozy as a zip-up fleece but incorporates current trends and an interesting print. A waterfall, cocoon, or batwing cardigan incorporates an interesting silhouette to your look while still being easy to wear. With toppers, they don't get laundered as often and I find I can get away with dry clean or gentle cycle/throw over a towel bar to dry since it's not so often. Don't think the flannel has to just be a shirt; you can wear it open or half-buttoned over tees and tanks or just wear tied around the waist to break up a basic knit and jeans outfit.
Dresses and tunics don't have to be dressy. Retailers like Athleta often carries athletic dresses; pair with leggings and slip-on sneakers and you're as comfortable as you were in your yoga pants but look more polished. A tunic in a drapey or silky machine-washable fabric is a great addition to a casual capsule wardrobe because it adds polish, shine, but no additional effort. This tunic comes in several different colors and a couple fun prints and would look great with leggings for the weekend, a boyfriend blazer and skinny jeans for a night out, or wear tucked into trousers or a pencil skirt for an office-friendly outfit.
Accessories complete a capsule wardrobe and take pieces from being separates to an ensemble. A long chain with a crystal pendant is simple, budget-friendly, and adds not just shine but a bit of weight to a look, helping tops drape better. A lightweight scarf in a fun print jazzes up most any look you can create from this capsule; I'm a fan of leopard prints which play nicely with other patterns like stripes. Hiking boots not only work for your lifestyle, but are also on trend this season. Choose a pair in leather and/or in a solid color and they can easily incorporate into non-trail looks. A pair of slip-on sneakers in a fun print or interesting texture are comfortable, easy, yet show you're aware of current trends. I like this metallic finished one which is just as comfy as a canvas version but adds shine and personality to a casual or weekend wardrobe.
When shopping for a casual, weekend, or SAHM wardrobe step out of the workout wear department and look for easy care pieces with drape, interesting details, and feminine silhouettes. Stick to a simple color palette and use accessories to add personality and polish to your outfits. It is possible to have an active lifestyle and still achieve style!