This article may contain affiliate links; if you click on a shopping link and make a purchase I may receive a commission. As an Amazon Associate, I earn from qualifying purchases.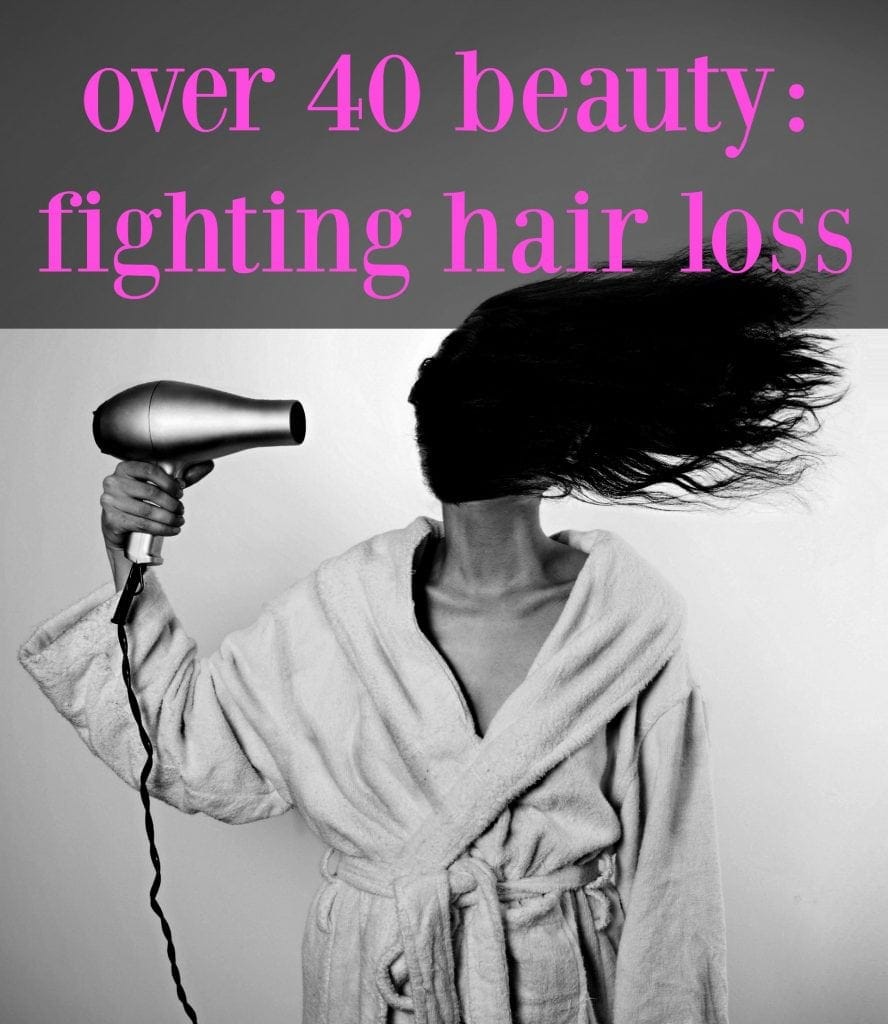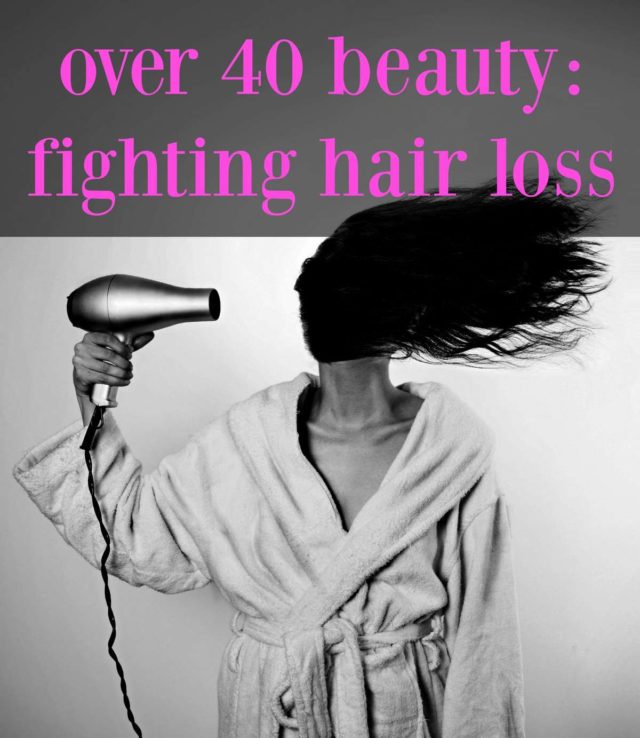 Since I entered my 40s, I felt my hair was getting thinner, but didn't really think much about it until my husband mentioned it. Being a foot taller, he could see the issue – he said he could clearly see my scalp and my part was a lot wider when just a few months ago he never thought twice about my hair. I never took before and after photos because I wasn't doing any sort of experiment for the blog. In fact, I was embarrassed about my hair situation and in a few outfit posts when it did show, I cloned my hair to cover up the spots. I have tried a lot of products to fight hair loss; some have been great and some notsomuch. Below I share tips to fight hair loss, products and methods I used, and my honest thoughts.
I Tried Viviscal to Fight Hair Loss
I think many people when experiencing hair loss will think of two brands – Rogaine or Viviscal. About a decade ago we had a friend who was experiencing hair loss and used Rogaine. It had such a distinct smell… there are some smells that just bother me even though others don't notice it. I just can't stomach using the product. Maybe Rogaine doesn't even have the smell anymore, but I just can't. So I bought a box of Viviscal Extra Strength (why even have regular, anyone with thinning hair wants the strongest and most effective product amirite?).
I used a whole box and I believe the product really worked. I took it morning and night and after about two weeks my part didn't seem as wide and white. The problem was my hair was so greasy! I could shower in the morning and by 5 pm I looked as though I hadn't washed my hair for days. I changed shampoos, changed products, I didn't connect it to the Viviscal until I came across this piece on The Cut. I then cut my Viviscal in half and the grease went down.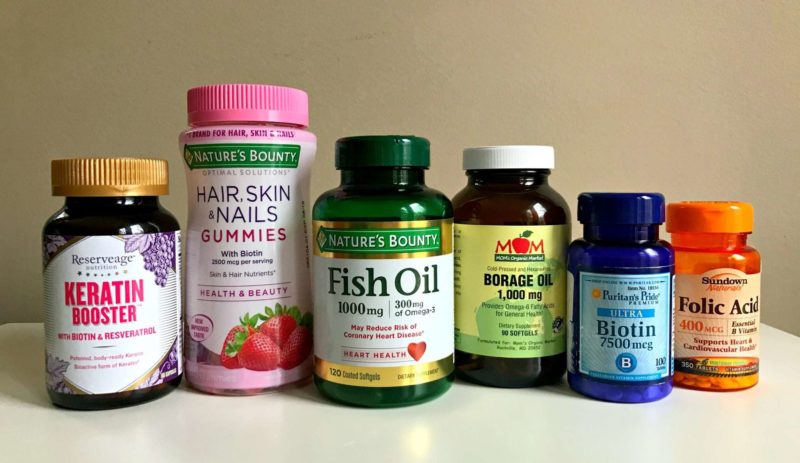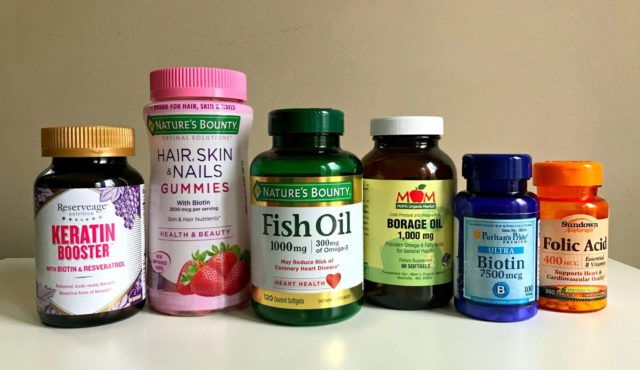 I Tried a Variety of Supplements to Fight Hair Loss
That article on The Cut convinced me to try something different when I ran out of Viviscal. I bought this bottle of Keratin, this bottle of Folic Acid, and this bottle of Biotin. Each morning I took two of Nature's Bounty Hair, Skin & Nails Gummies, and one of the Keratin pills. Every night I took one Folic Acid and one Biotin. I've done the Keratin, Folic Acid, and Biotin since around the beginning of February and added the Nature's Bounty gummies near the end of that month. It has maintained the growth I gained from taking Viviscal and added some, along with resiliency. I was seeing hair fall out everywhere – I'd put in shampoo or conditioner and end up with a spider's web of hair on each hand. I'd blow dry my hair over the sink and have to clean out a whole ball of hair in the basin. I'd come to work and my upholstered office chair would have a layer of my hair on it. Since adding these supplements to my day, the fallout has gone back to the same kind of fallout I experienced in my 20s and 30s.
Biotin Gave me Acne
However, after a couple of months, I started getting acne on my chin and jawline, those deep pimples that take forever to reach the surface and just as long to go away. Doing more research, I found that Biotin can cause acne. I stopped taking the Biotin and the acne ended almost immediately. If you are experiencing acne and are taking Biotin, try removing it from your diet and then bringing it back at half the dosage to see if your system can handle it.
I Tried Collagen To Strengthen My Hair
I kept hearing how collagen would make hair and nails grow long and strong. Friends said that collagen peptides did as much as prenatal vitamins and being pregnant for hair growth. I went with the most recommended collagen peptides supplement brand – Vital Proteins. They say that collagen is tasteless and odorless…. they are wrong. I tried collagen powder in my morning coffee and almost threw up from the smell and taste. I found it easiest to consume when putting in my morning smoothies or vanilla-flavored protein shakes where it disappeared and didn't seem to congeal as much as it did in warm drinks. I used Vital Proteins for two months straight… and saw absolutely no change to my hair loss. My nails were a bit stronger, but my goal was stopping hair loss and collagen peptides did nothing to slow down hair loss or bring back hair growth.
I Changed my Diet and It Helped My Hair
My husband read the book Foods that Fight Pain as he was dealing with some aches and pains from getting older and wanted to see what he could do about it without medication. Based on that book and additional research that my husband and I did, we decided to change our diet:
We cut out red meat and cured meats
We cut out most cow-based dairy (we still eat goat cheese)
We cut out almost all alcohol (we'd still have the occasional white wine or vodka)
I added Borage Oil pills to my morning vitamins and supplements
I stuck to a diet that was full of veggies and plant-based protein and felt great. I also noticed my hair looked better and I noticed less hair fallout in the shower. Not only that, I felt better – my knees hurt less, I got fewer headaches and no more migraines and my skin looked fantastic. But then I fell off the wagon. Travel, celebrations, I slipped and then I just went all-in back with burgers and beers and soon after that, I started seeing the clumps of hair in the shower.
I visited my doctor and got a full workup. He said I was fine, my levels are fine, it's likely premenopause and stress. He recommended I get more sleep, and eat a diet rich in iron and consume Vitamin C at the same time to help with iron absorption. Think seafood with lemon, spinach with tomatoes, beans with peppers. Omega-3 Fatty Acids are also great for hair: salmon, oatmeal, seeds, and nuts. I'm not back 100% on the diet, but each time I look at my hair in the mirror it reminds me how it's worth it to stay on track.
I Tried to Reduce Stress to Reduce Hair Loss
One side effect of stress is hair loss, so I looked for ways to reduce stress to help my hair. A few things I did:
I downloaded Headspace and committed to a guided meditation every day. I sometimes do two a day, finding it can keep me calm when I do it first thing when I wake, and help me sleep if I do it before bedtime.
I stopped using my iPhone and computer at least an hour before bedtime and restricted my news consumption to just 15 minutes a day.
I strove for a 10 pm bedtime so I would get a minimum of six hours of sleep a night.
I upped my water intake. This doesn't sound like something to beat stress, but dehydration can cause anxiety. I have noticed that the days that I drink at least 40 ounces of plain water I am more level-headed and have better focus. A perk is it really makes my skin glow! I also take Fish Oil which keeps my skin hydrated in the winter, and likely also helps with my hair.
I Was Gentler With My Existing Hair to Prevent Further Hair Loss
I now only blow dry two times a week, when I used to do it daily. I turned down the temp on my curling iron and use it more sparingly. I use a silk pillowcase to prevent breakage and to wake with hair that needs less work to look decent. I invested in a microfiber hair towel, which is gentler on hair. I do the occasional deep conditioning, though not as often as I should. No point in taking pills to grow hair if I'm doing things to break it off once it grows!
I Switched Up my Hair Styling
I realized that my hairstyle required a lot of round brushes and hot tools – things that can cause hair stress and breakage. I began embracing my natural texture, allowing wave and eventually finding out I have curly hair. In this post, I share how I embraced my natural curl, coaxed it out, and what products I used. This change made it so I never use a curling iron and use a hair dryer maybe once or twice a month. I also don't have to wash every day, don't use brushes, and with it, I have found not only is there less breakage, but the texture makes my hair appear fuller and hides my scalp.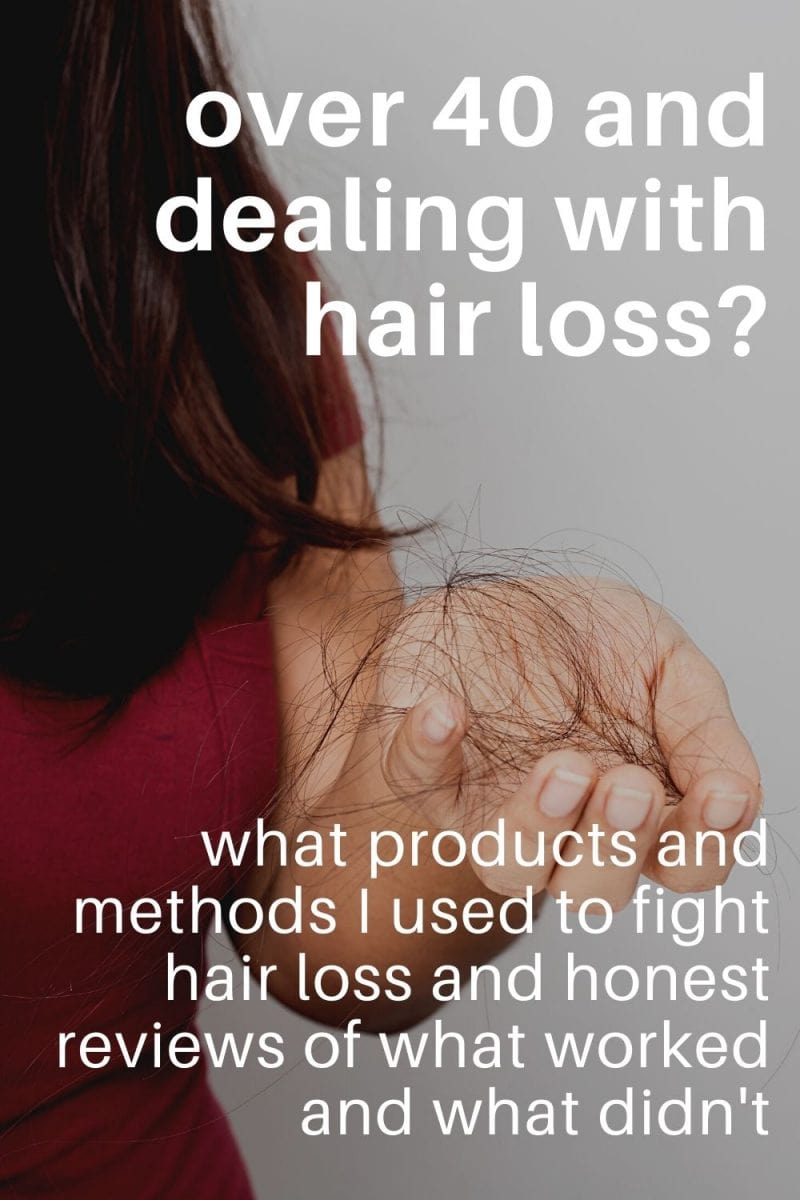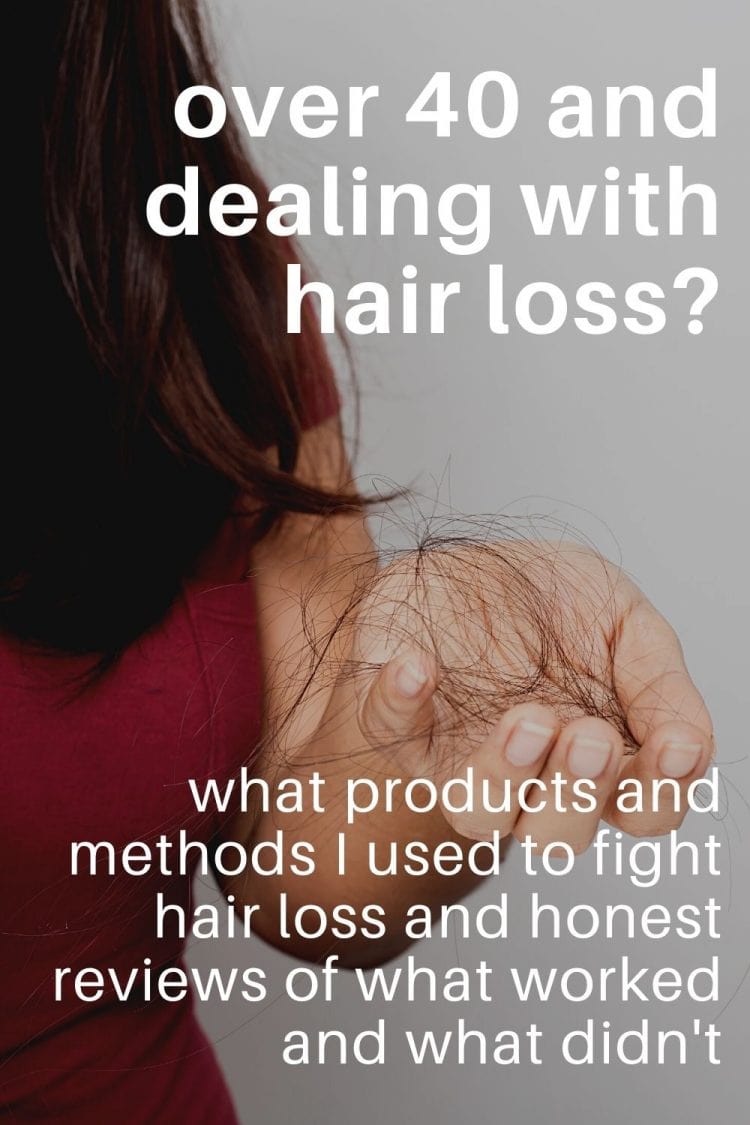 I hope these tips to fight hair loss, especially when you're over 40, are helpful to you. I am not over looking for solutions and will continue to try products and methods to fight hair loss and maintain the hair I currently have. If you have any methods or products that have worked for you, please share them in the comments to help others dealing with the same issue!