This article may contain affiliate links; if you click on a shopping link and make a purchase I may receive a commission. As an Amazon Associate, I earn from qualifying purchases.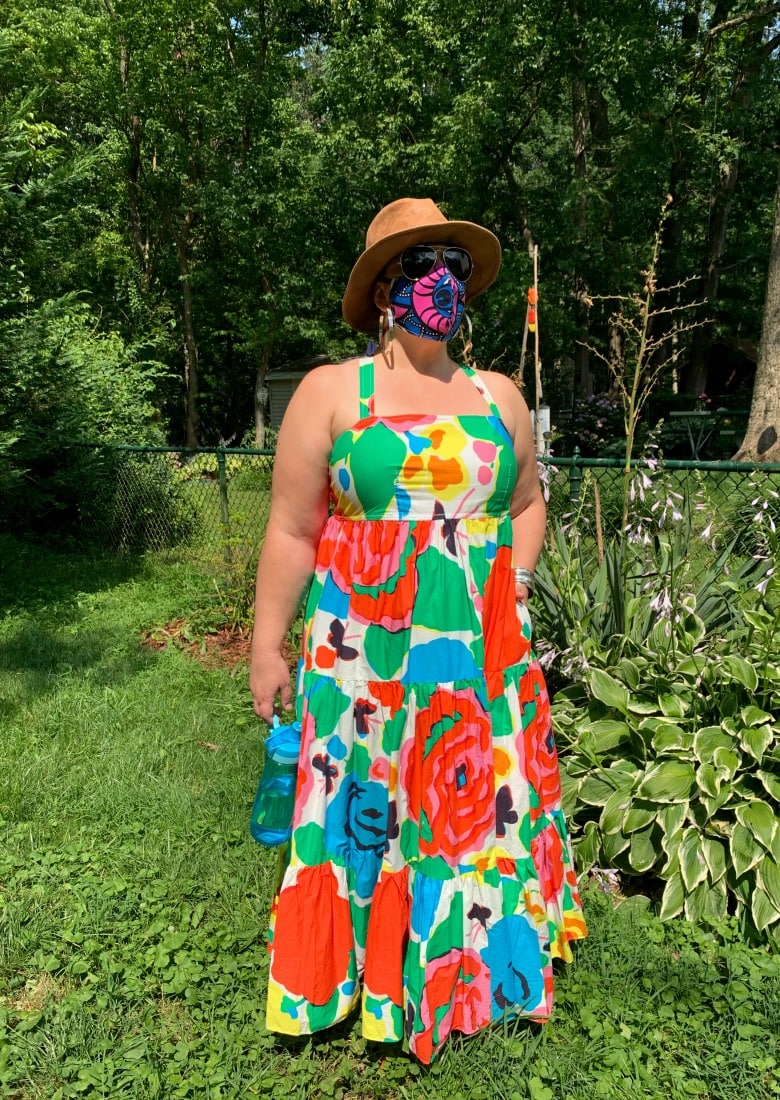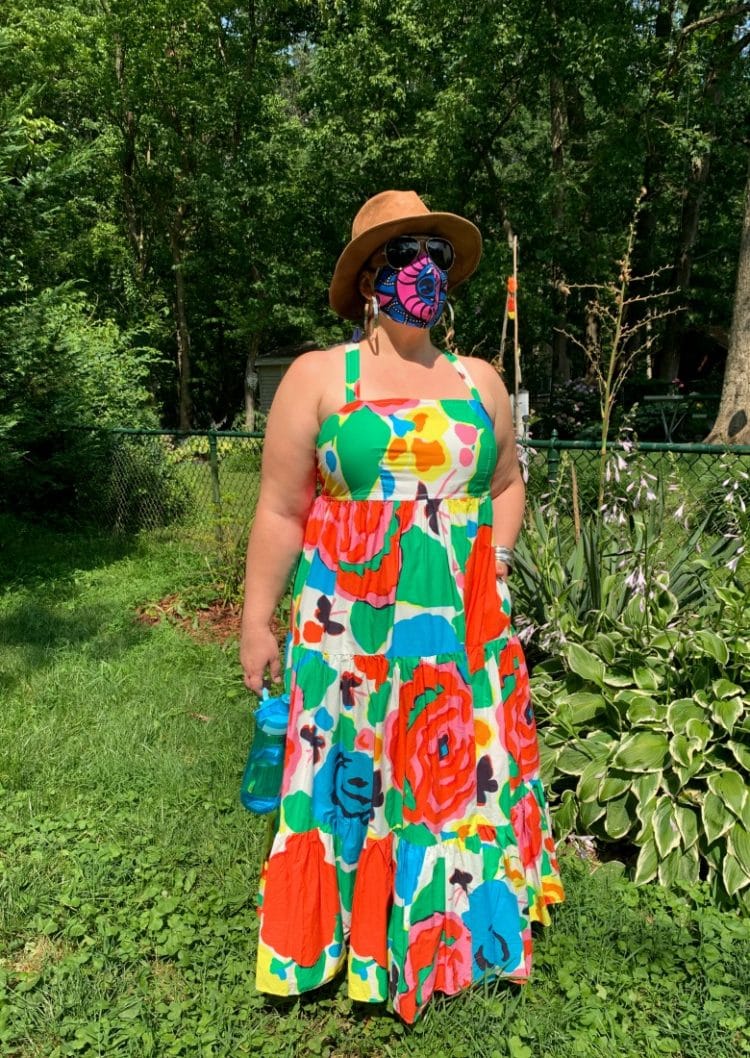 Yesterday, my daughter and I walked the few blocks to my mom's house to visit. It was in the 90s and steamy, one of those summer days when you didn't have to look at the news or an app to know that the blue skies would change later afternoon into a shower. I put on a pair of shorts and a t-shirt to wear over but then thought… why? I mean, nothing wrong with such an outfit, I wear such an outfit quite often. But today, I wanted more. I wanted color and fun. A bit of drama and plenty of comfort. And this dress has it all. This dress has been such a good purchase.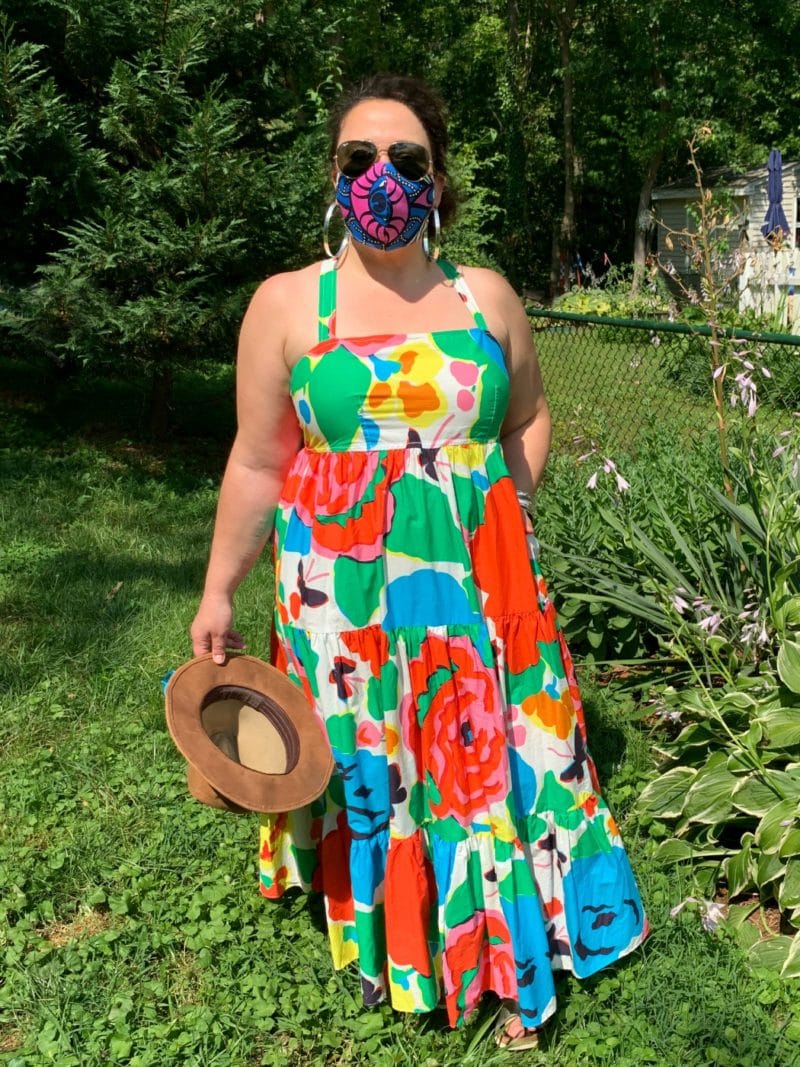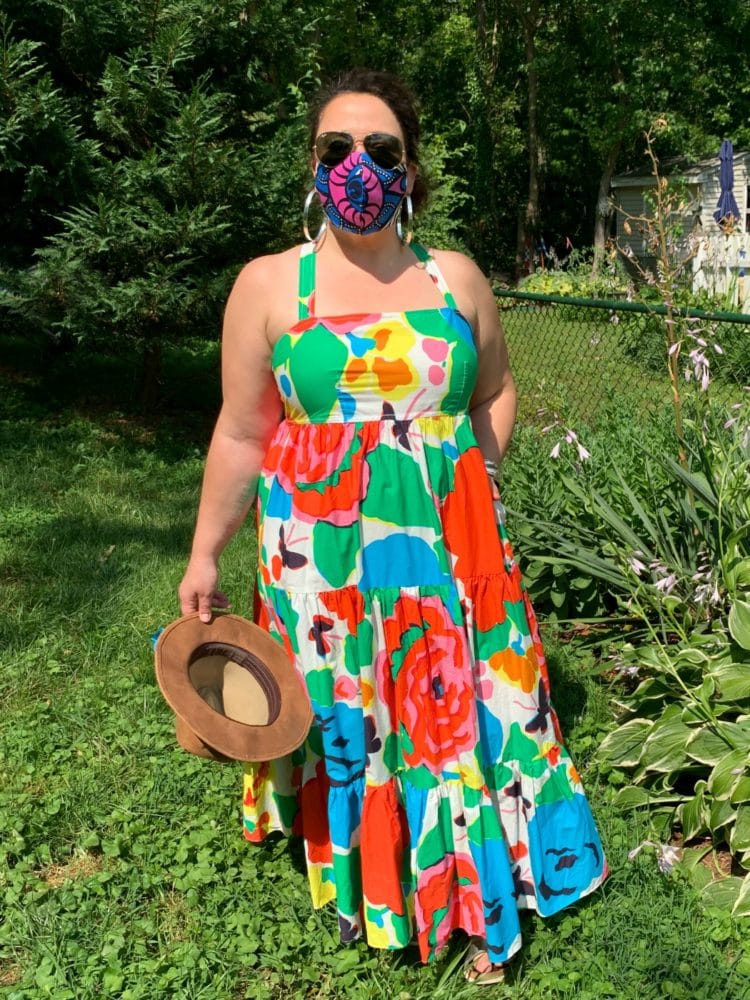 This dress is no longer available at J. Crew. J. Crew does have the same style of dress in this stripe, in two solid colors but in taffeta instead of cotton, and this taffeta print. But I searched eBay, Mercari, and Poshmark. While at the time of writing this I couldn't find any at Poshmark and limited choices at Mercari, I found a bunch of this same style of dress both in this print and in other prints at eBay and gathered them below:

My body keeps changing. The adjustable straps that were a hair long but wearable a month ago are now non-functional. My husband unbuttoned them and twisted them around one another to turn the x-back into what looks more like an I to make the dress work until I can get to a tailor or decide to just sew them in place. The adjustment was enough to keep my strapless bra under wraps. My strapless bra is from Soma, but they don't make that style any longer. When it went on clearance (I think it was called the Stunning Support) I bought one beige and one black as backup. I am now wearing those backups. It's hard to find a strapless bra that actually lifts and isn't painful. This one ticks off both, I'm thinking because I've had Soma success before I'll try this one next once my current strapless bras kick the bucket as it gets fantastic reviews for support and comfort.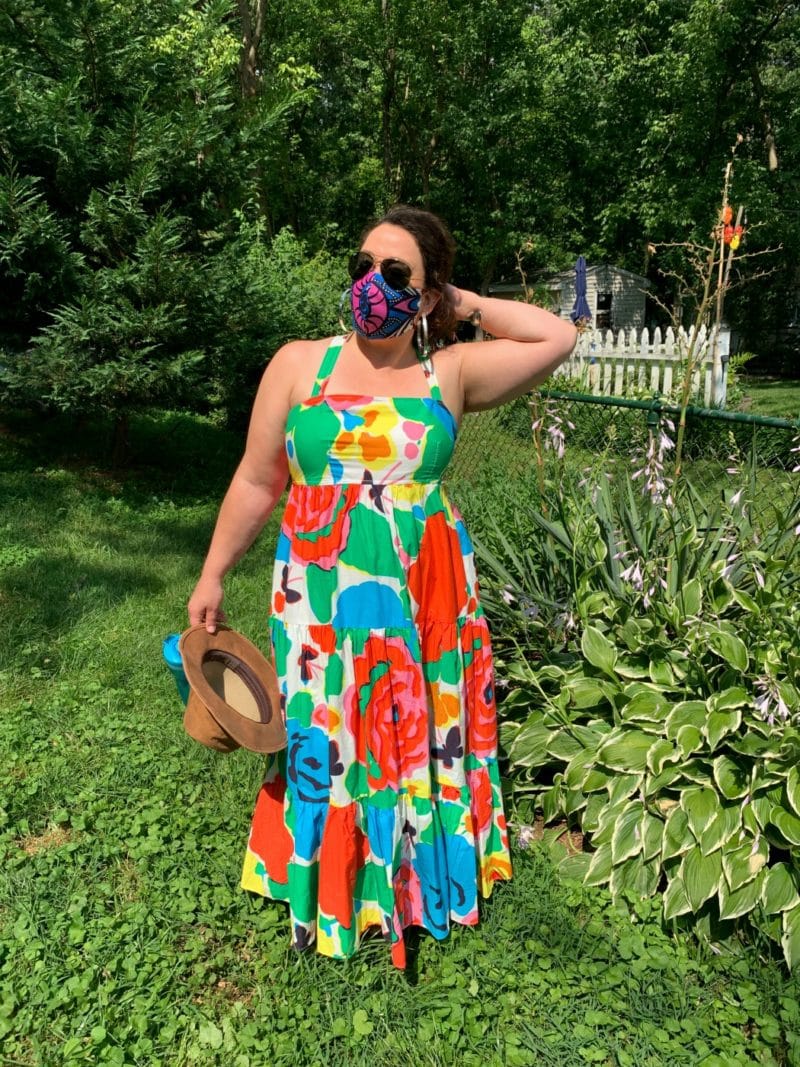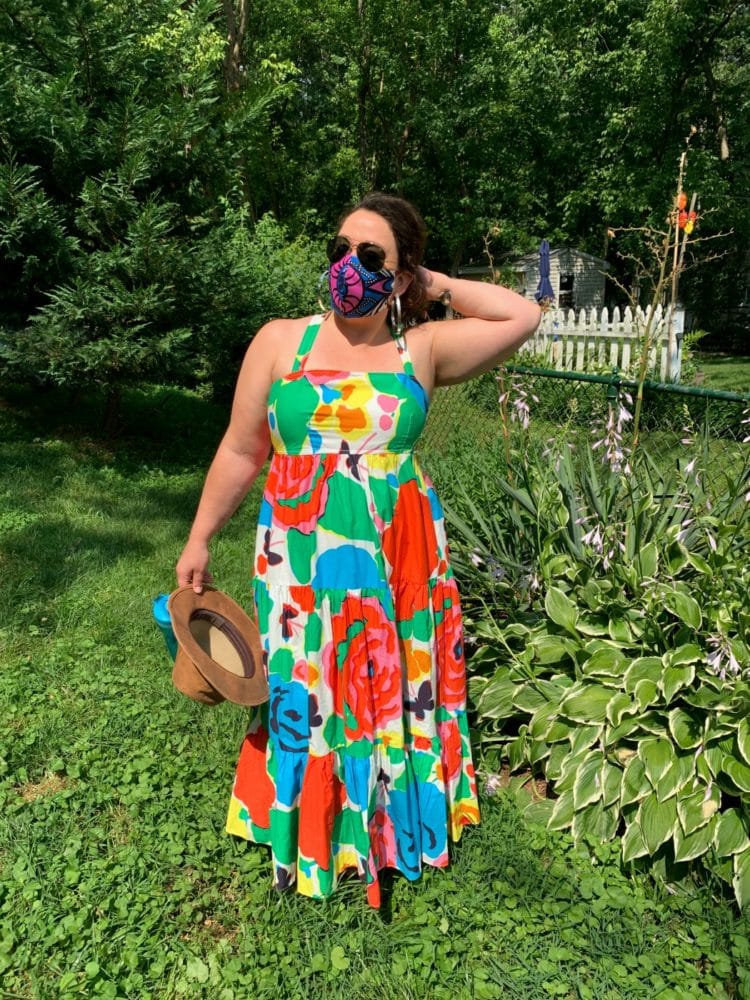 I showered before bed the night before but my hair hadn't been washed since Friday morning and was showing it. I twisted my hair into a messy off to the side low bun and put on the hat to cover the stringy bangs and my roots. The hat is from Stetson, it's called the Dreghorn. It has wire in the brim, and has become quite dented over time. Once I tried really hard to straighten it and get it back to new but it soon was dented again so I embrace the imperfection. The hat has achieved more imperfection charm by sitting out in the sun to bake off the day's events the past several weeks.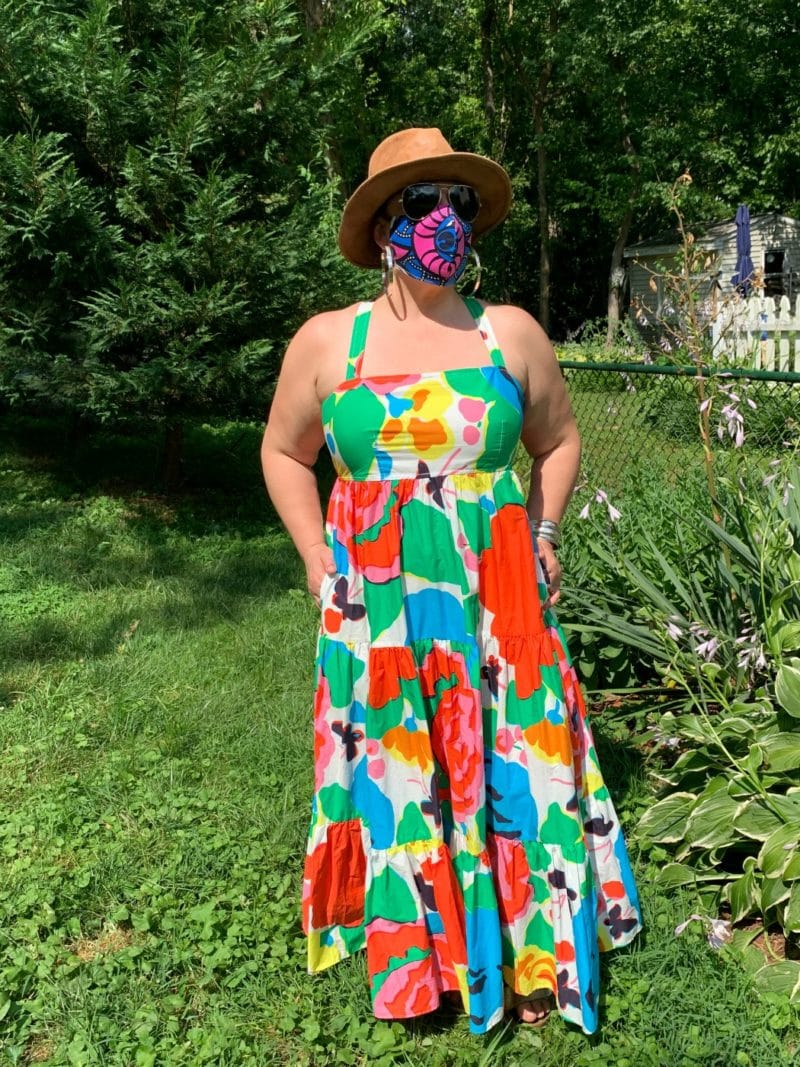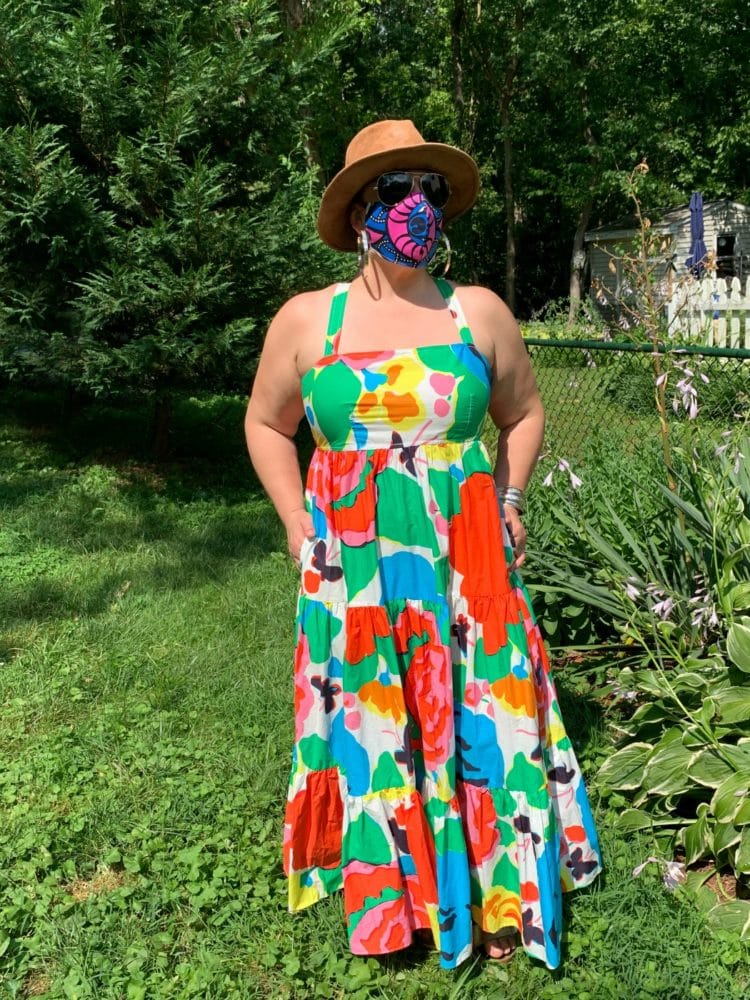 Adding silver hoops and my silver cuff made the combo feel purposeful. These days, I appreciate those kinds of details that state no, these are not pajamas/gym clothes/gardening clothes, this is a legit outfit. The earrings are from Jenny Bird, they are called the Cober Hoops but are no longer available. I haven't seen any show up on Poshmark, believe me I've looked. I want a backup pair, I love them so much. The last time I wore these hoops, I shared these $75 Sterling hoops as a nice alternative and these hoops that are costume jewelry are a better match for style. The cuff I bought at Hecht's Department Store back in 1997. It had no tag on it, I asked a bored salesperson, I think he thought it was from Monet (the case it was mistakenly placed in) and not Sterling and told me $35. I bought it for $35 and have worn it at least weekly ever since. I really haven't seen anything similar though this Sterling cuff on Etsy is pretty fabulous. The sunglasses are Ray-Ban and a good decade old.
Under this dress are my silver Birkenstocks. I bought them last year to replace a pair I bought two years before that. I think in the past four months I have worn these shoes more than the past three Birkenstock summers combined. And speaking of under the dress… I'm also wearing a pair of Thigh Society shorts!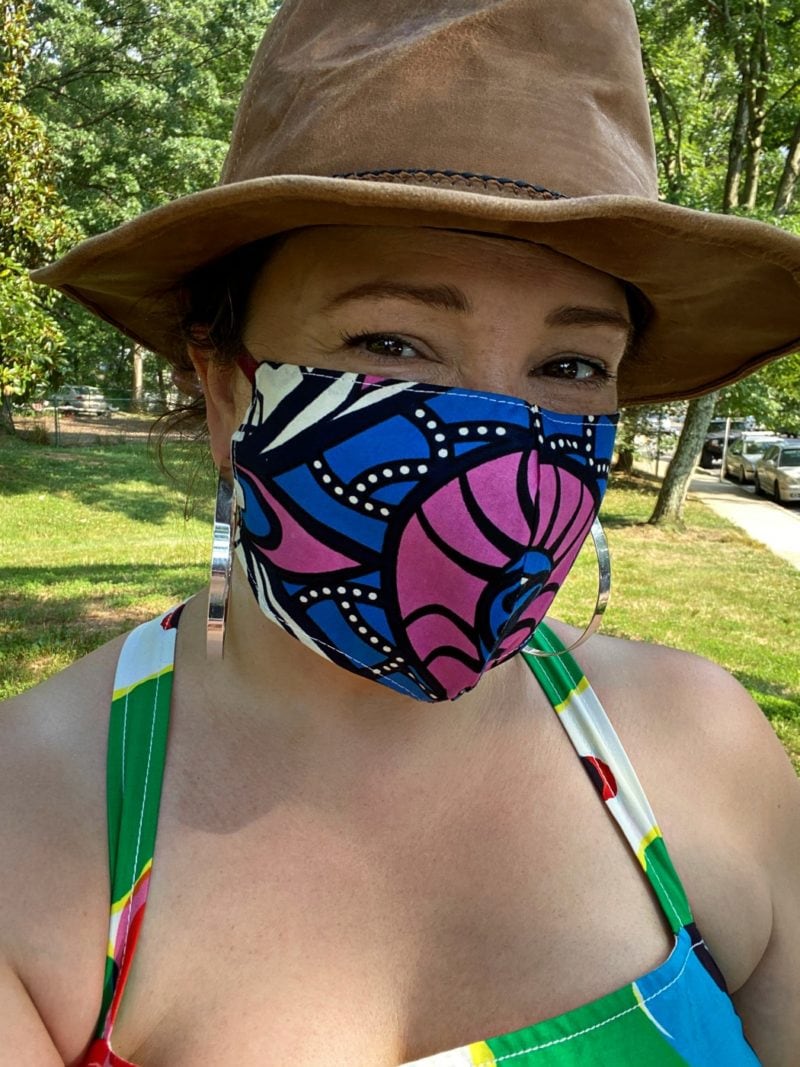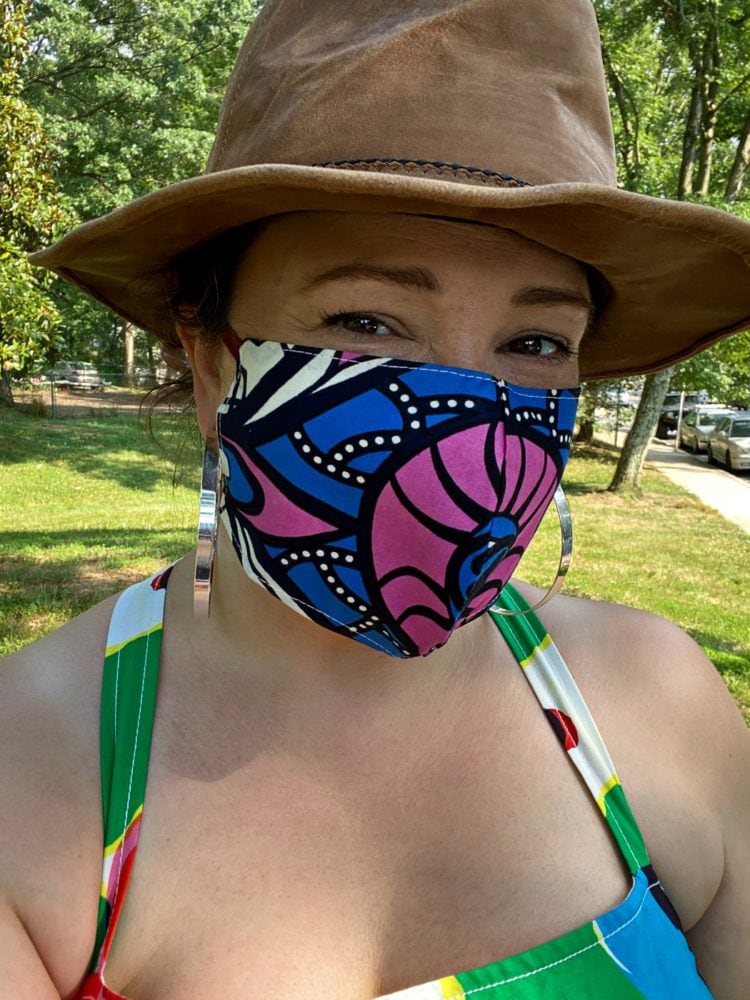 This mask is from Kaela Kay; I mentioned in my cloth face masks review that I had ordered a mask from this designer. It arrived and it's quite nice. It's a good fit for a face that is more wide than long. Instead of elastic, there are two sets of ties. One went above my bun, one tied at the neck. It's shaped well enough that I didn't have to untie to slide down to my neck and have it fit well when I slid it back up. It is well-crafted with a pocket inside to slip in a filter. I didn't even realize until compressing photos for this blog post that not a single photo of me was taken without a mask. Well, it IS the must-have accessory for the Summer of 2020.
Shop the Look: