This article may contain affiliate links; if you click on a shopping link and make a purchase I may receive a commission. As an Amazon Associate, I earn from qualifying purchases.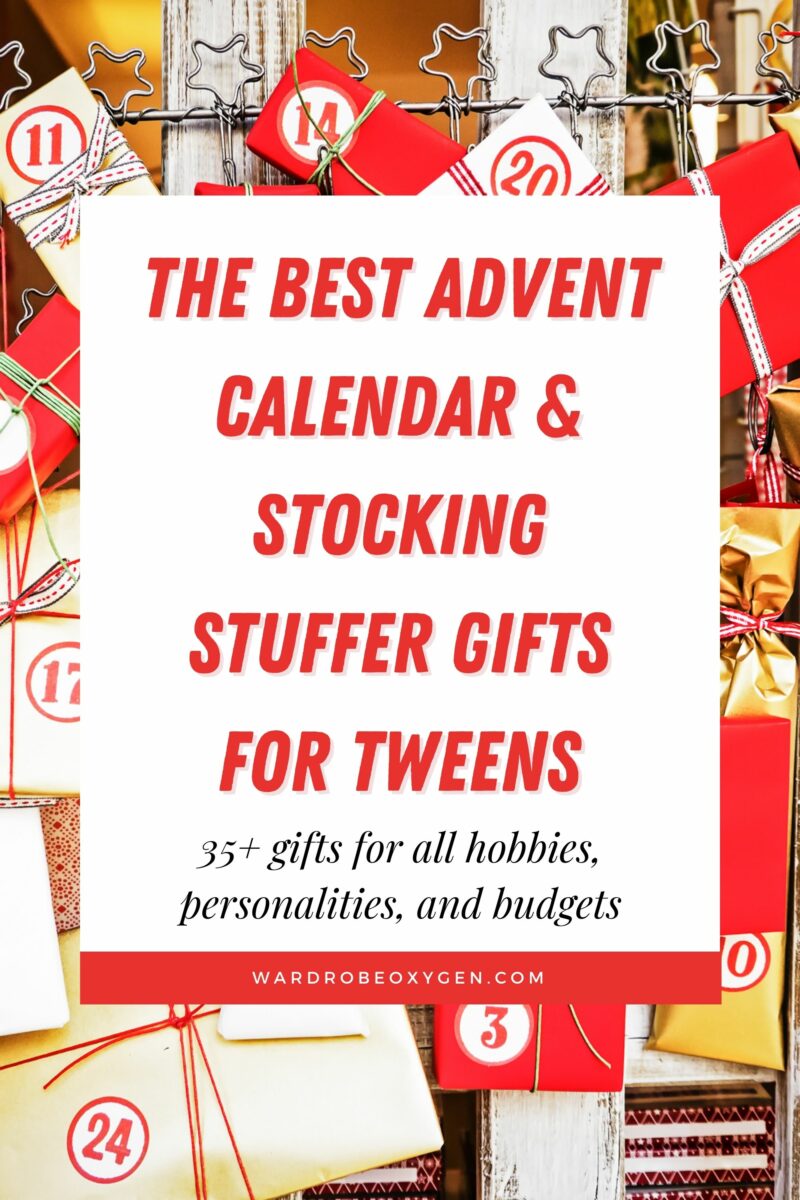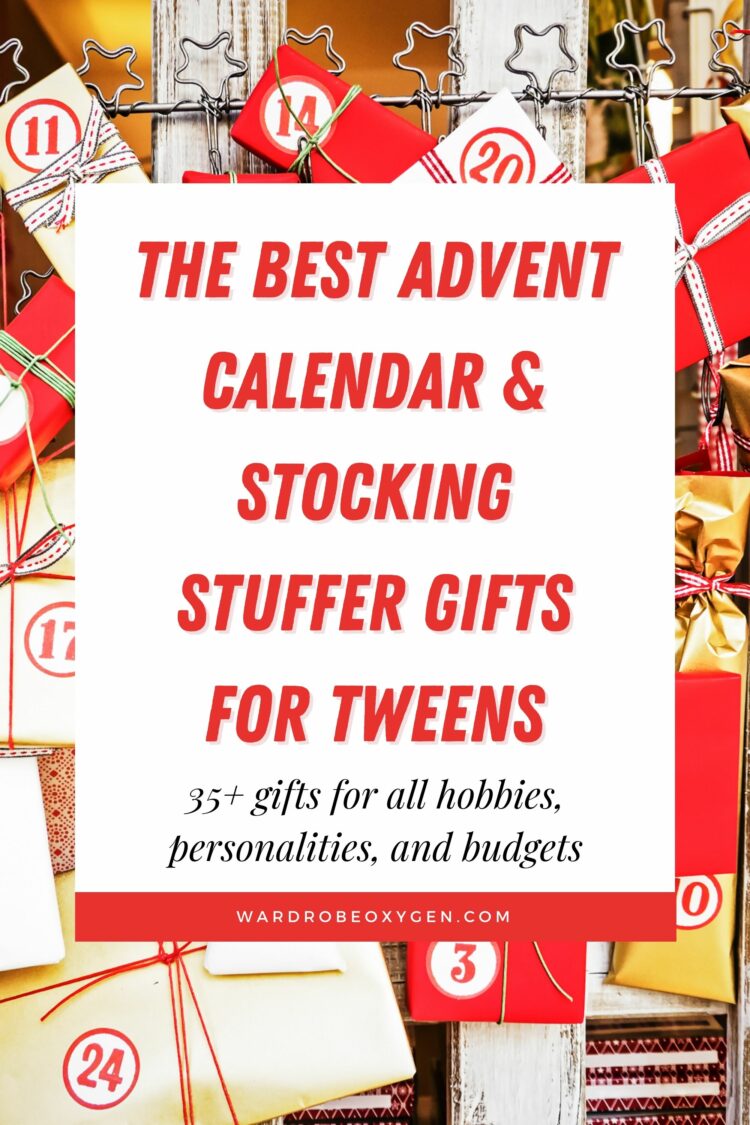 In the Wardrobe Oxygen community, we were discussing holiday traditions for older kids and I mentioned how we enjoy our reusable advent calendar. Back in 2017, I did a collaboration with a skincare brand and promoted their advent calendars. One of the advent calendars was made of heavy cardboard with individual drawers and a flap you could tie to close it. The collaboration was in November; I used and gifted the contents and then that December decided to reuse the box for my kid who at the time was 8.
She is now 12 and we still use the same reusable advent calendar. It has become a fun holiday tradition we look forward to every year. She enjoys the gifts, and we parents enjoy trying to think of creative additions to add to our kid's advent calendar.
Shop Reusable Advent Calendars:

What to Put in a Tween's Advent Calendar or Stocking?
The thing is, it can be hard to think of what to put in an advent calendar, especially as kids grow from the little toy age. When she was 8, it was easy to buy little trinkets and break up toy sets to have a treat each morning. But as she has gotten older I have had to become more creative with gifts that aren't food (just a personal choice), aren't too expensive, and will fit in the small drawers of our reusable advent calendar. Many of these also make for great stocking stuffers.
I thought it may be helpful to share what we have put in our tween's advent calendar and stocking. There is a range of price points, some may fit better in a stocking than an advent calendar, and there are some for tween girls, some for tween boys, but most are for any tween regardless of what they identify as. Since I have so many, I put them in alphabetical order. I hope they get your creative gift-giving juices flowing!
35+ Ideas of What to Put in a Tween's Advent Calendar or Stocking
Cable Bite. My kid still has the panda bear one I got her two years ago. They are fun and also keep cords from sliding off tables when not in use.
Charm Bracelet and Charms. We did this the year she turned 10. On Etsy, I found a simple Sterling silver charm bracelet and like 6 different charms that fit her personality and lifestyle that year. The bracelet was in one of the first drawers and the charms dispersed throughout the month. I was impressed by the options found at Etsy for most any hobby, sport, or interest. This shop has charms on clasps so they're easy for your tween (and you) to put on the bracelet and switch around.
Craft Projects. Three skeins of embroidery floss and a safety pin to make a friendship bracelet (or this great kit). Gimp and a ring to make a keychain (or this kit to make several or enjoy with friends). A roll of really cool washi tape. Elastic thread and beads to make a bracelet (again, a really great kit with all the necessities). Fabric and a piece of elastic to make a scrunchie. This clay earring kit is cool. When she was younger, I'd buy interesting things to add to slime like glitter or charms.

Earpods case. If your kid has a pair, you've likely had at least one time when the whole household is searching for them. A case will make it stand out in a pile, and also have a clip so they can attach it to their backpack or even belt loop. I really like the quality and variety of the ones at CaseMate.
Earrings. My kid doesn't have her ears pierced but she loves the occasional pair of fun clip-on earrings. Etsy is the place to go where you can get clip-on earrings in the shape of hedgehogs, gummy bears, llamas, donuts, and other fun things.
Enamel Pins and Buttons. With my job I often get ones in PR kits and will stow them away for the holidays. However, you can find some really fabulous ones at Etsy. This is a great way to promote important causes too; I often find great buttons and enamel pins at The Outrage and Social Goods.

Face Masks. I got a holiday-themed one in one of the drawers for the first few days, and maybe one or two others that were fun. Sequins, a favorite character on it, a cool fabric, or even a mask chain fits in the drawer nicely.
Funko Pop Keychain. Pretty much any character you desire is available in a mini version to fit in the advent calendar and hang from their backpack.

Fun Socks. I'll get a three-pack and break them up across multiple days. For example this year I got her this three-pack of Animal Crossing socks.
Gel Pens. If it's a multipack of really cool ones I'll break it up to extend beyond one day in the advent calendar.
Gift Cards. I don't do many, but I will occasionally put in a $5 gift card to Target, Nintendo, ROBLOX, or Starbucks.
Goat Lords Card Game. This one is a lot of fun and appropriate for ages 8+.
Handmade Coupons. I will print out something that looks like a professional ticket or coupon and then use packing tape to "laminate" it. Canva has templates specifically for coupons that you can customize. But we've done coupons for camping in the backyard, baking cookies, and even done one for $5 towards going thrifting together.
LED Charging Cord. I now want one for myself!
LED Flashlight. A mini flashlight is always practical, but you can get it in their favorite color to make it fun as well!
Lip Products. Kids don't think about chapped lips until they're really bad. I use this time to get her at least three different interesting lip products so there's one near her bed, one in the bathroom, and one on her desk. Again, Glossier is a good bet for tweens and teens, though the Laneige Lip Mask, Rosebud Salve, Mario Badescu, and classic Carmex are also popular choices.

Micro Arcade Games. Only the size of a credit card, these are retro games like Frogger, Pac-Man, and Galaga with full functionality and sounds.
Mini Handyperson Tools. A mini screwdriver set so they can change the batteries themselves on their LED or twinkle lights. A tiny tape measure. A multitool. These little tools will empower them and be teaching tools as well.
Mini Magic 8 Ball. Because it's awesome, that's why.
Mini Personal Care Tools. Especially as your kid gets older, they could benefit from their own tweezers, nail clippers, cuticle scissors, and other mini personal care tools. Get them in fun colors so it feels more like a gift.
Mini Uno Cards. I got these for my kid back when she was into American Girl dolls because they were the right size, but now they are something that is fun to tuck in a bag for a getaway or a long car ride to enjoy.
Nail Polish. Again, I'll get a multipack and break it up over multiple days.
Nose Whistle. I got one when I was a teen visiting a five and dime on vacation and I still have it!
Ornaments. Most kids won't want more than one, but it's fun to get an ornament that is either personalized or very specific to their hobbies or lifestyle over the past year. It's a great way to have their personality part of the family tree and see how they've grown and changed over time.

Pez Dispenser. The one time I add candy, since Pez dispensers are kind of like a figurine or toy. If your tween has a favorite movie, anime, or animal, there's a good chance there is a Pez dispenser for it.
Pocket Microscope. I know, it's cool, right?

Pura Vida Bracelets. I don't know why these are so popular, but likely it will be appreciated by your tween or teen girl.
Scrunchies. My kid isn't really into them now, but when she was I'd add about five throughout the month from a pack I'd get at the store or Etsy. I'd put a holiday-themed one in the first few days so she could wear it throughout the season.
Selfie Ring Light. Whether it's FaceTiming their BFF across the country or making their latest TikTok, they're cheap and small yet effective.
Squirrel Finger Puppet. This was THE HIT of Christmas 2020!
Stickers. It can be a sheet of stickers of their favorite character or hobby, or a single nice sticker for their favorite band, saying, or activity.

Swiss Army Knife Keychain. They come in a range of tools, sizes, and colors. It's a good time to teach them how to use the tools and when they should and should not carry such a tool.
Tamagotchi. Yep, they still make them!
Temporary Tattoos. I'm not talking the cheapy ones that came in the toddler birthday party goody bags. These days, temporary tattoos are well-made, creative, and look real. I've designed my own from Ink Daze and find the quality excellent. I recommend shopping Etsy instead of Amazon to get temporary tattoos that are more age-appropriate and consistent quality.
Travel-sized Toiletries. Somehow, a mini deodorant or a hand sanitizer in a cute package is fun while the full-sized version is boring. Target is a great resource for a great range of mini toiletries; my tween loves Glossier and I get one of their sets and break up the items to use in multiple drawers.
USB Disco Ball. It plugs right into any USB brick to make an instant party!
USB Heated Fingerless Gloves. I know my house is a bit drafty and these are great for cold days during virtual school or gaming.
World's Smallest Super Soaker. So cute and actually functional!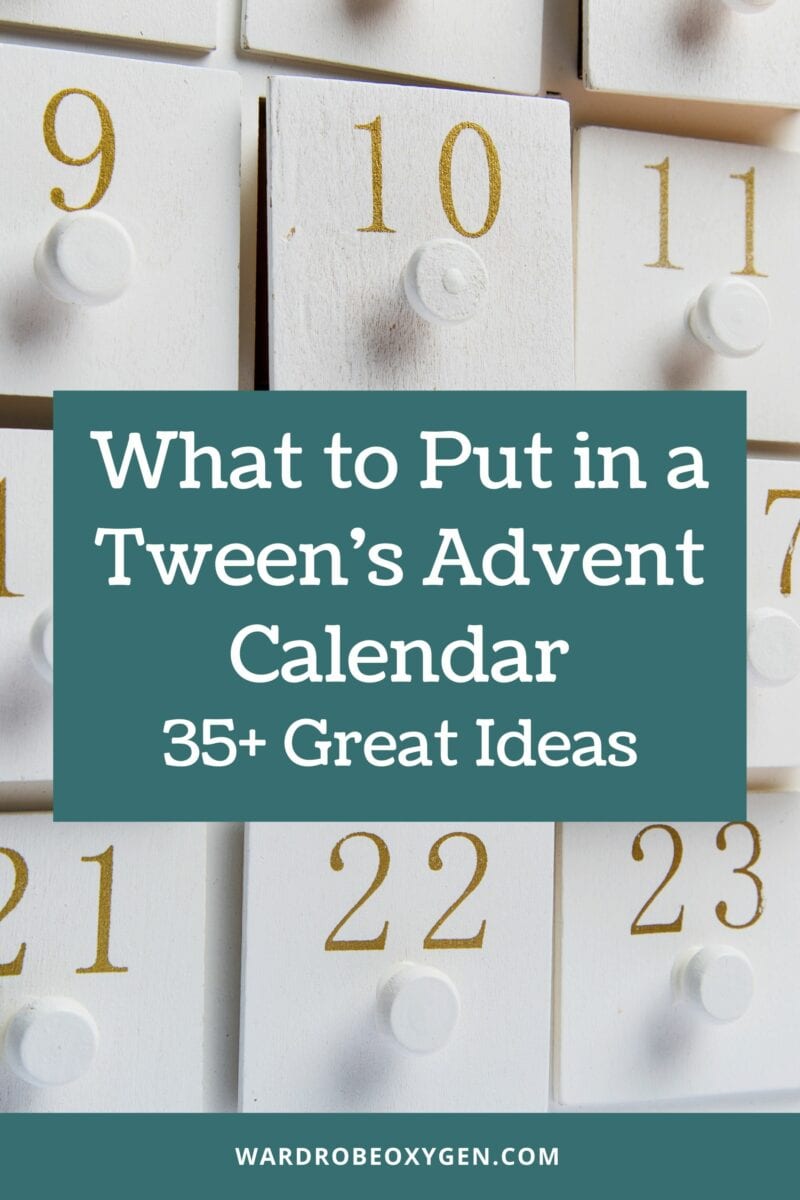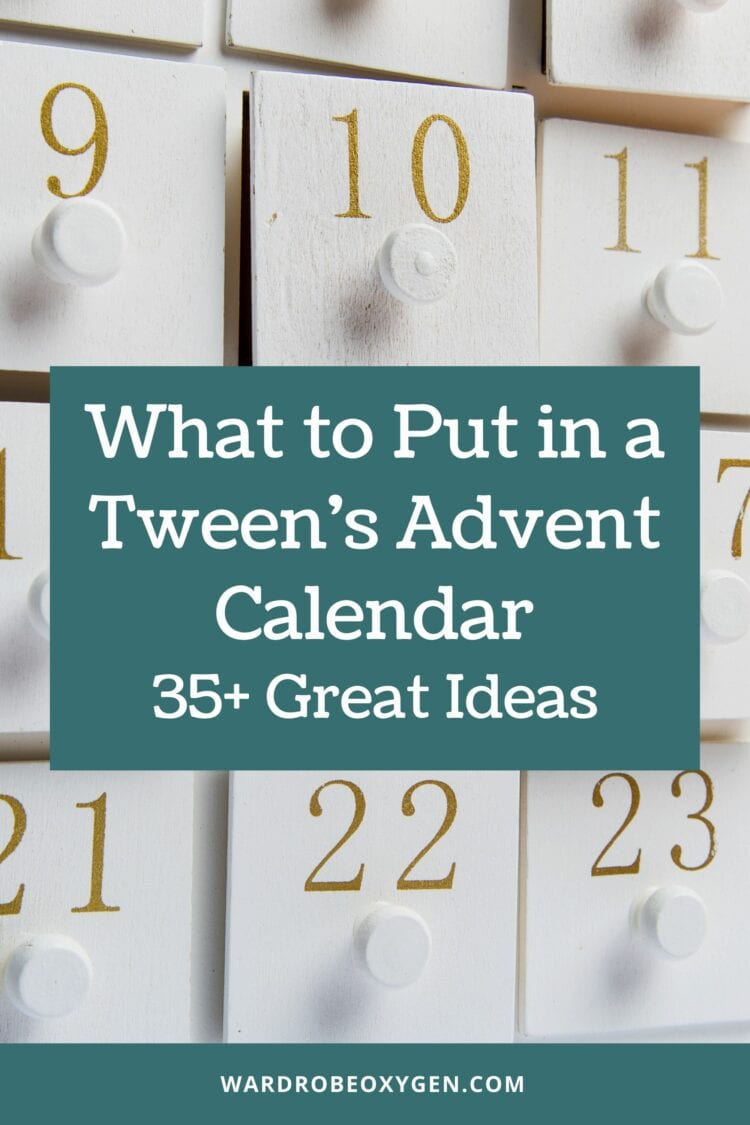 My Stocking Stuffer Hack for Parents
I often buy multipacks and will put some in one year's advent calendar and save the remainder with my holiday supplies in the attic to add to the stocking for the following year! While some items will be "baby" the following year for tweens that grow so quickly, other items like craft projects, tools, and art supplies will remain "cool" next year.
Good luck parents, and if you have any great ideas on what to put in a tween's advent calendar or holiday stocking do share below in the comments!