This article may contain affiliate links; if you click on a shopping link and make a purchase I may receive a commission. As an Amazon Associate, I earn from qualifying purchases.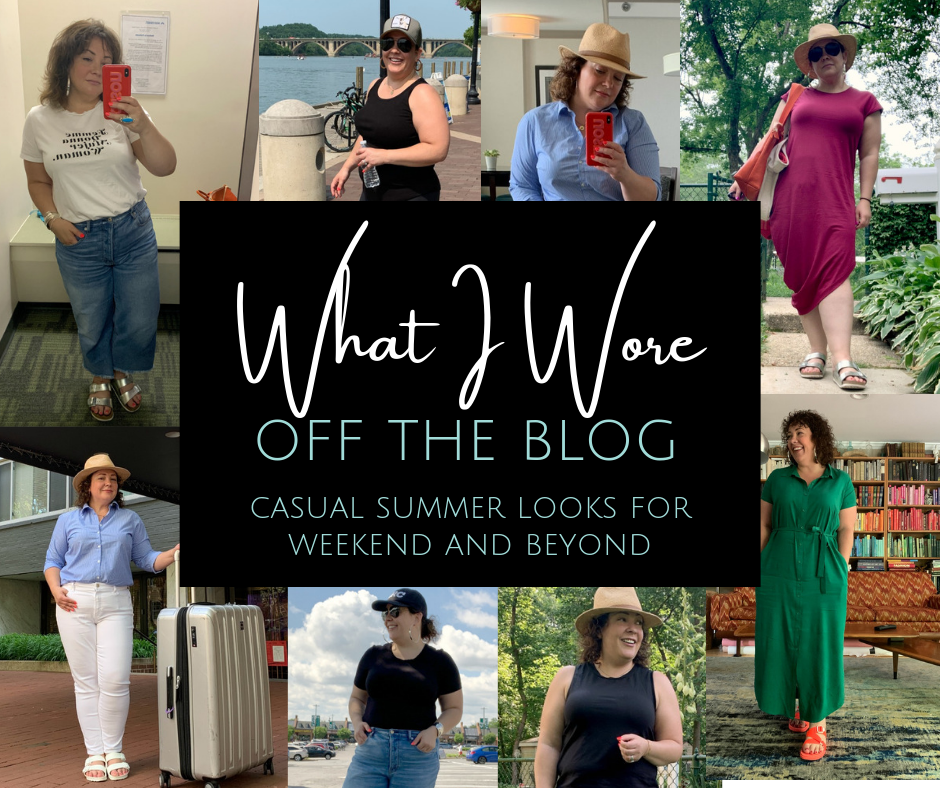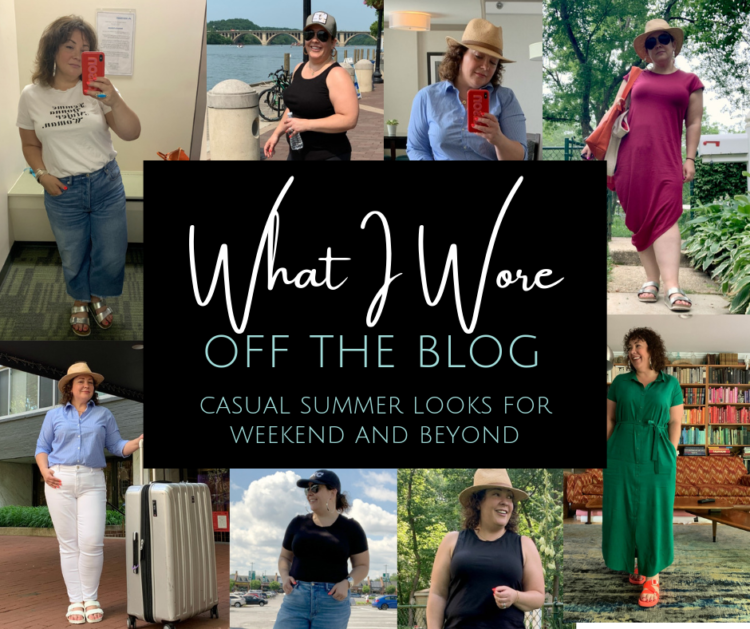 The self-timer on my iPhone and this handy (and nicely priced) Bluetooth phone remote have helped me capture more of what I've worn off the blog.  These are all casual looks as my nicer ensembles got captured and shared as true outfit posts.  What I wear on weekends, early mornings, when I'm sick, and when I'm heading to the doctor: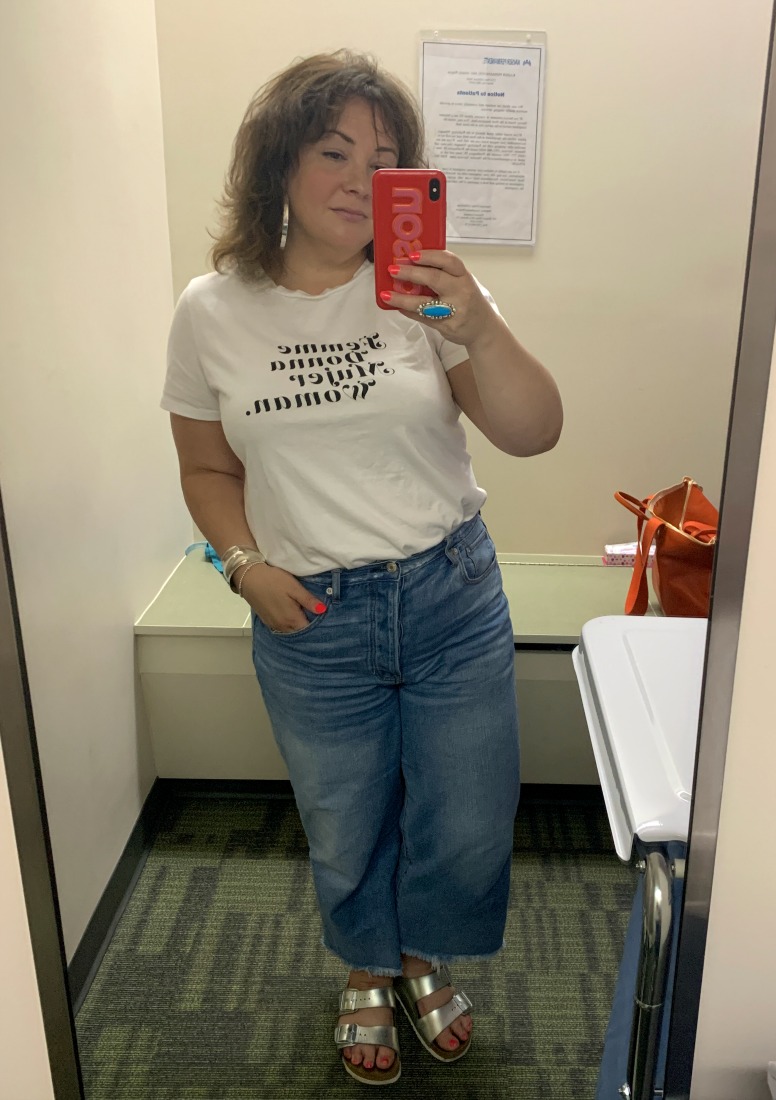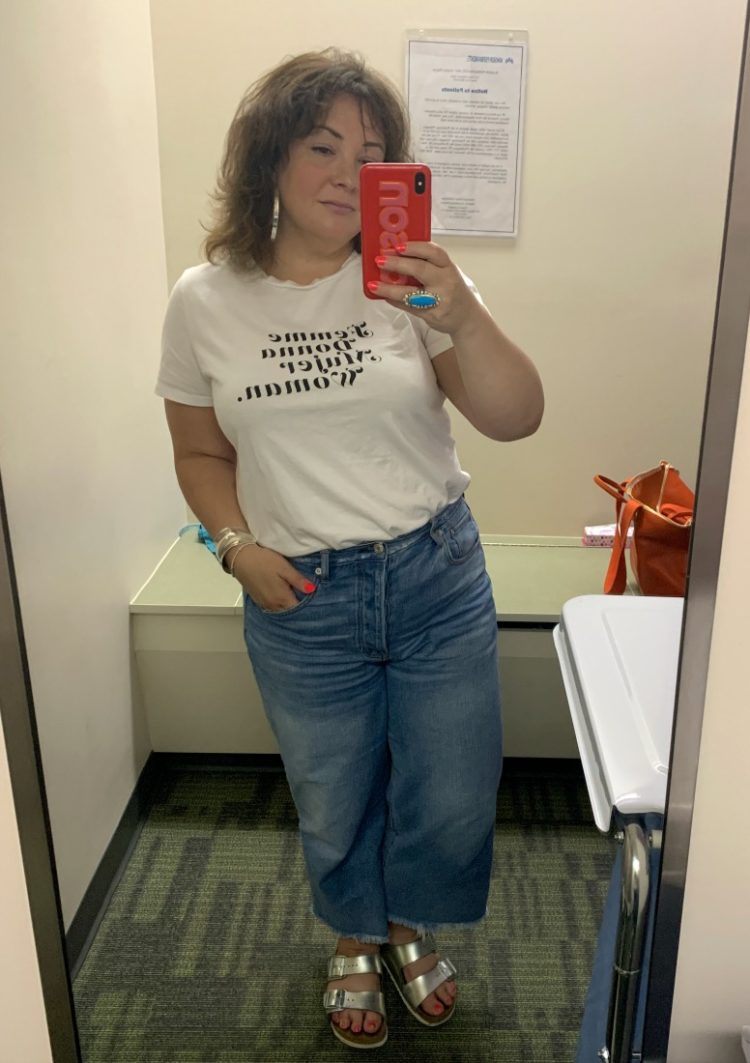 This look is titled, "What to wear to your mammogram."  I took this photo after my gynecologist appointment and mammogram, post-gown getting back into my street clothes.  The t-shirt is from Banana Republic, size large, and on sale.  The jeans are from American Eagle (14 short and on sale), first seen on the blog in this post.  The shoes are Birkenstocks, the ring Chaco Canyon Trading (first seen in this post), the earrings are Jenny Bird.  The orange bag in the background is my purse, it's from Clare V.  They don't seem to still have it in orange but this is the same bag in other colors.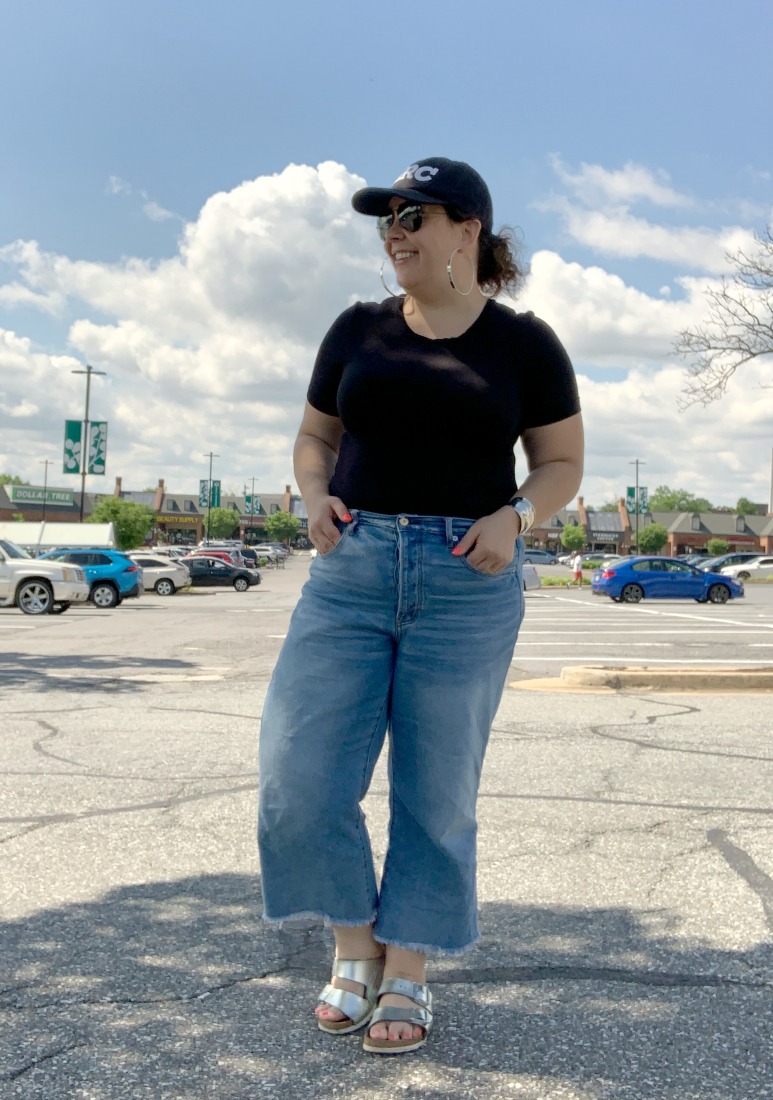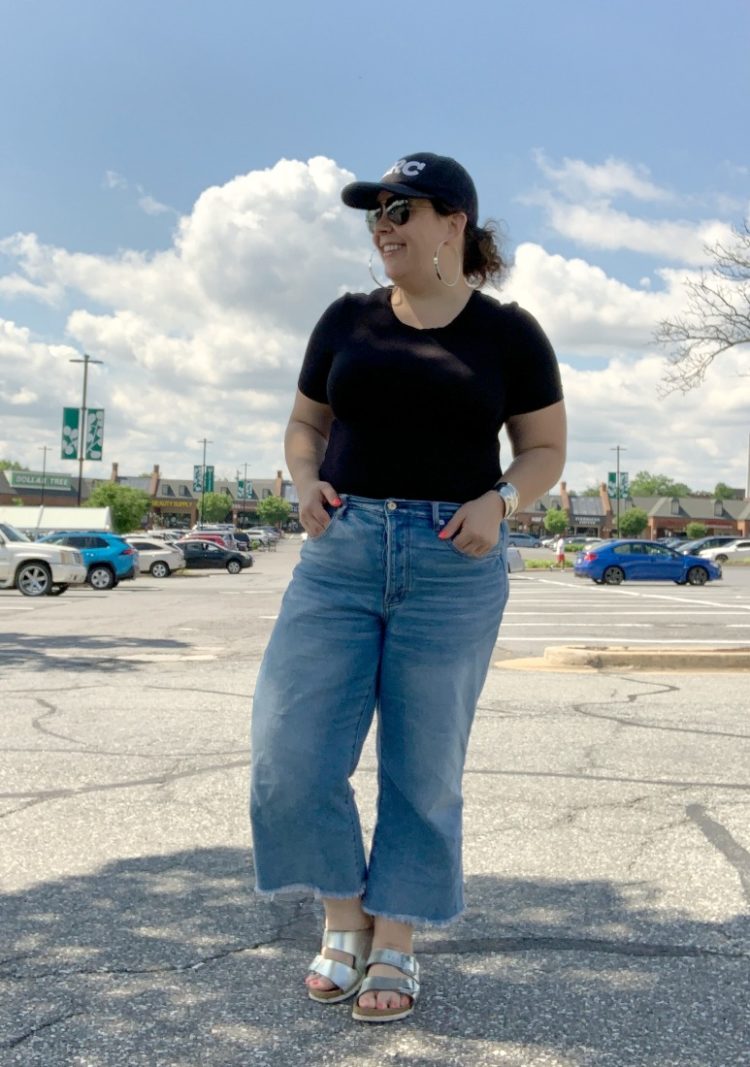 This look is titled, "Same jeans, different day."  This was an early morning when I had to hit the grocery store, ATM, PO box, and UPS drop-off before 9 am so it was a throw on clothes and hide the hair kind of look. I love these jeans for spring and summer because they're not too heavy but heavy enough to not get all saggy and baggy, and the wide cropped legs allow for airflow.  Same silver Birkenstocks, but this time I styled it with the crew t-shirt from Universal Standard's Foundation collection (size XS). The Foundation collection is super stretchy and lightweight but as you see, quite opaque.  Again the Jenny Bird hoops to make a relatively boring outfit look purposeful.  My HRC cap to cover bedhead and my favorite black aviators.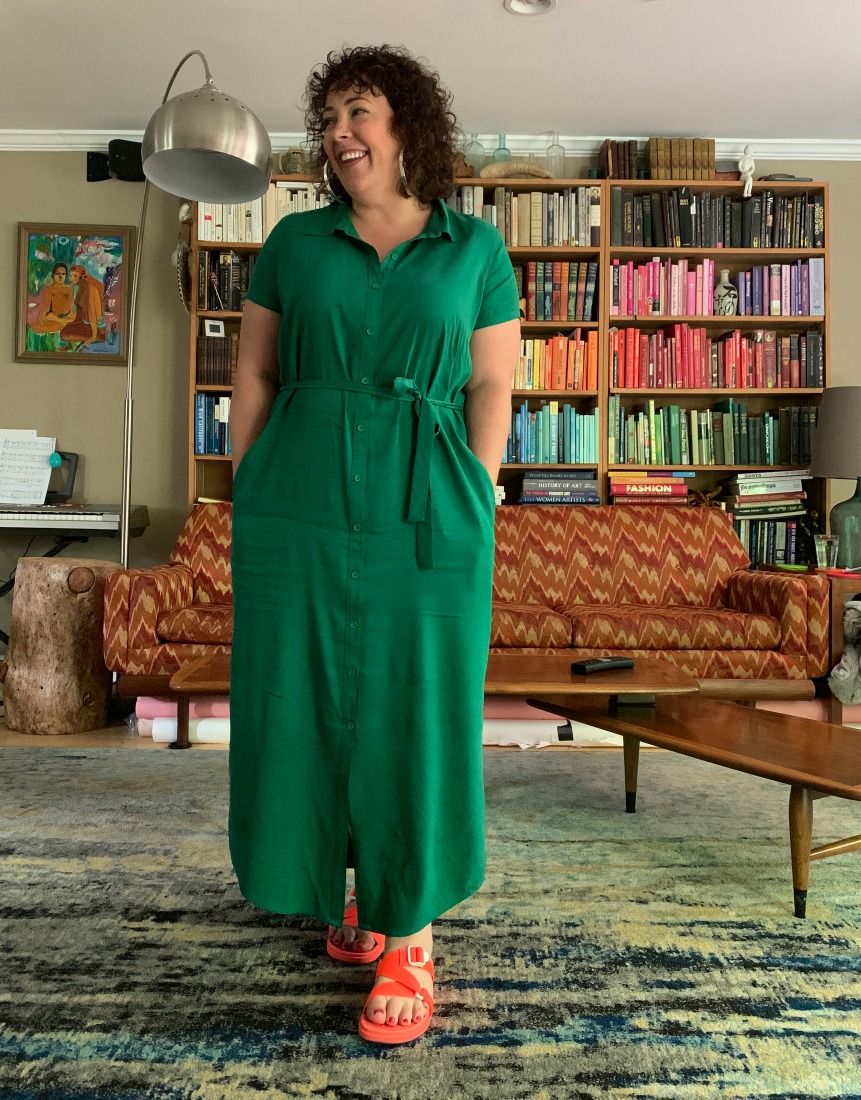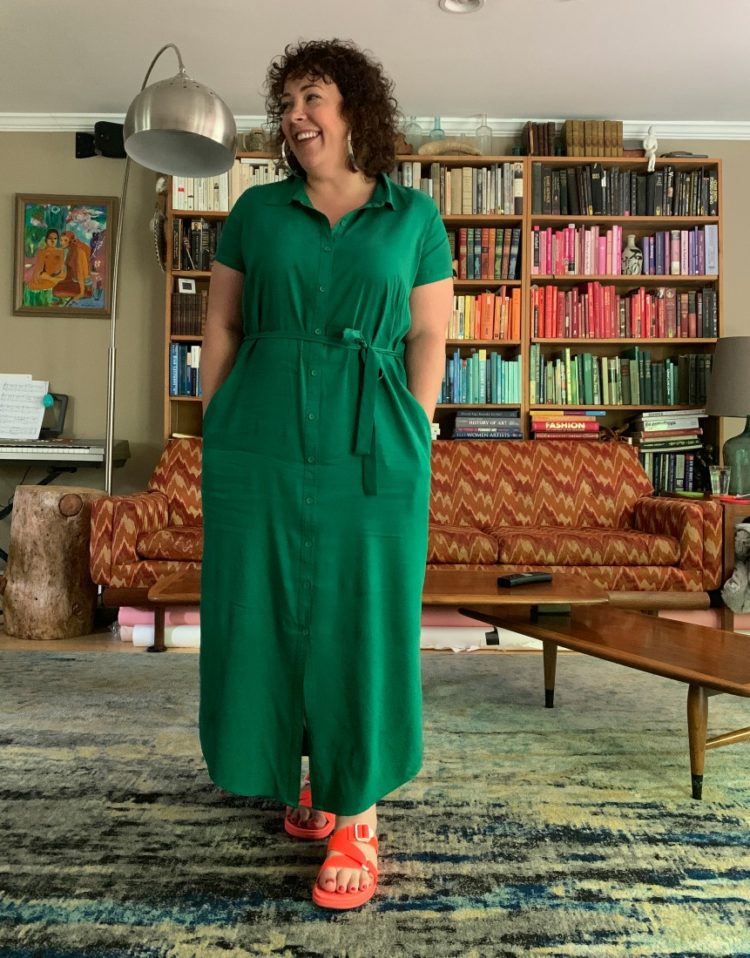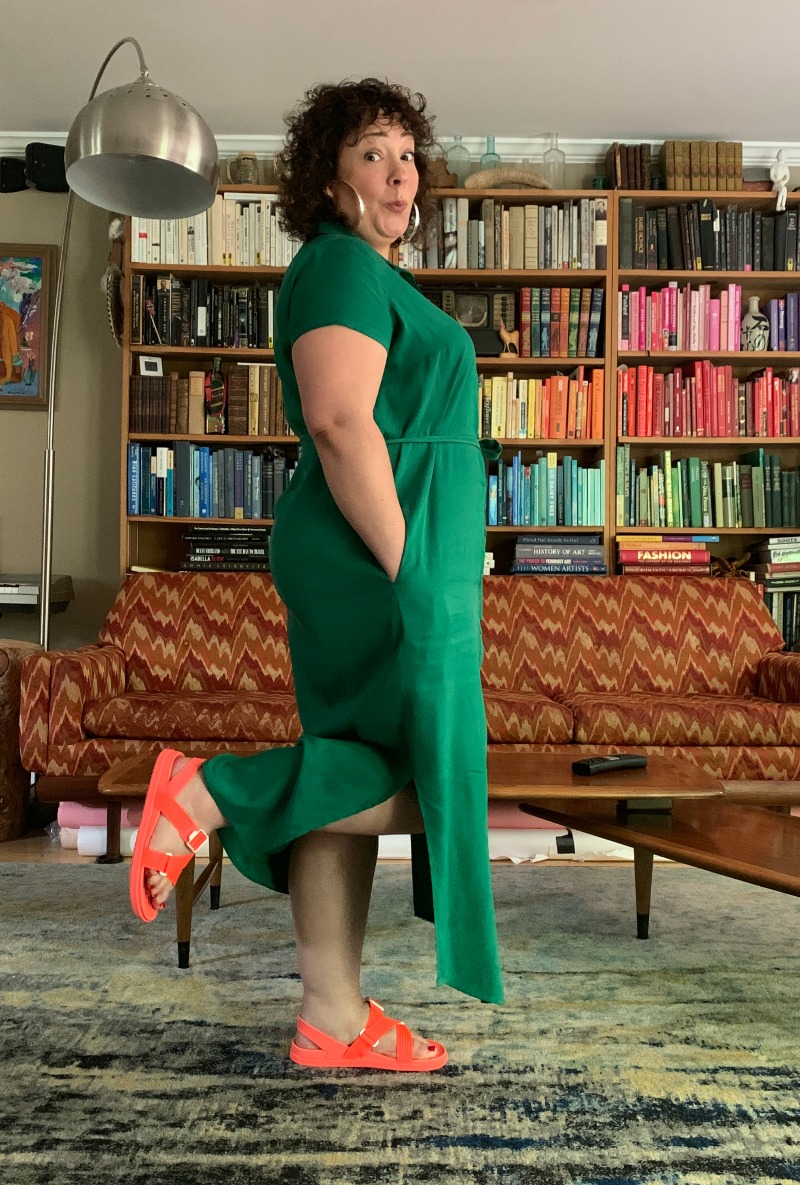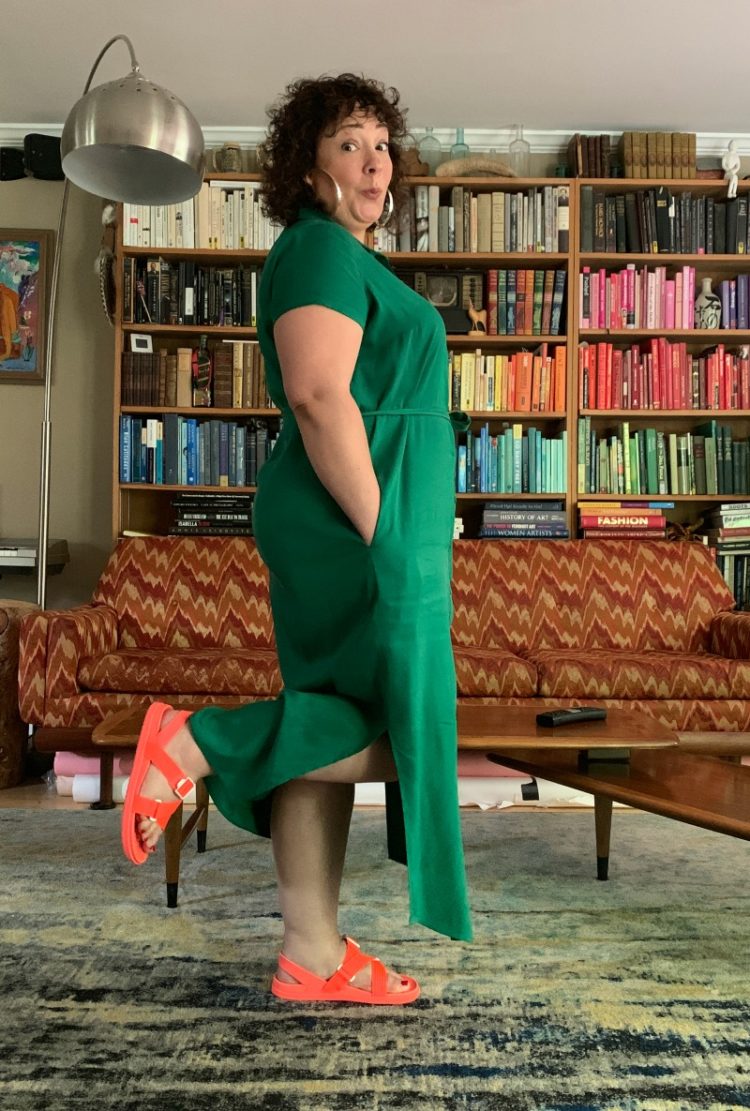 This look I titled, "Comfort, but make it colorful." This cupro shirtdress from Universal Standard (size XS) has been on the blog before in this post.  While it does crease, I've decided to treat this dress as though it's made of linen and am embracing the rumple since it's so breezy and comfortable on a summer day. And gosh I love the color! Unfortunately, the dress is no longer available; this is a similar dress with sleeves, and this is one without sleeves. Again, the Jenny Bird Cober hoops; a big shiny earring can make the most casual look feel elevated.  As for the shoes they are from Native.  This summer, the comfort sandal is a big trend and everyone is trying to come out with the most colorful, fashionable, and funky version of a Teva. This shoe comes in four different colors; I felt the neon coral (which is called Popstar Pink but isn't at all pink) was ridiculous enough that it would be a statement piece to go with a lot.  They're wide enough for my feet (I can't say the same for most sandals like this) and while the straps are all one piece, you can adjust it to make it looser or tighter. They're washable, odor-resistant, and feel more secure than my everyday Birkentstock Arizonas.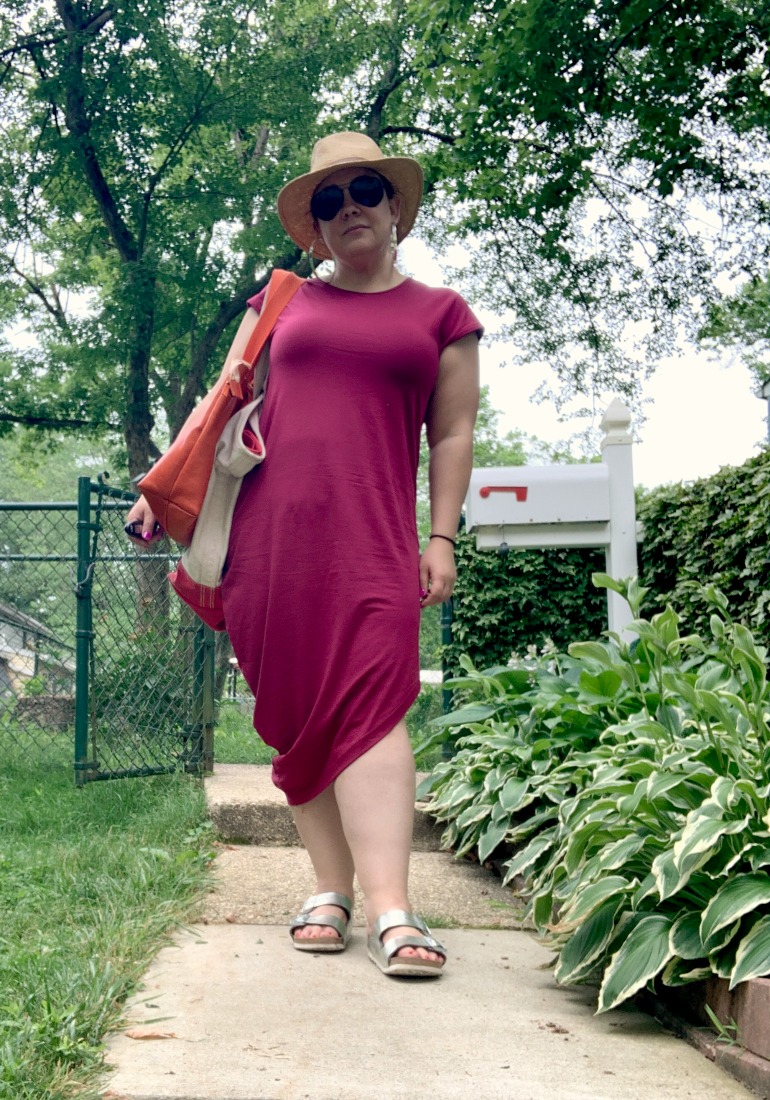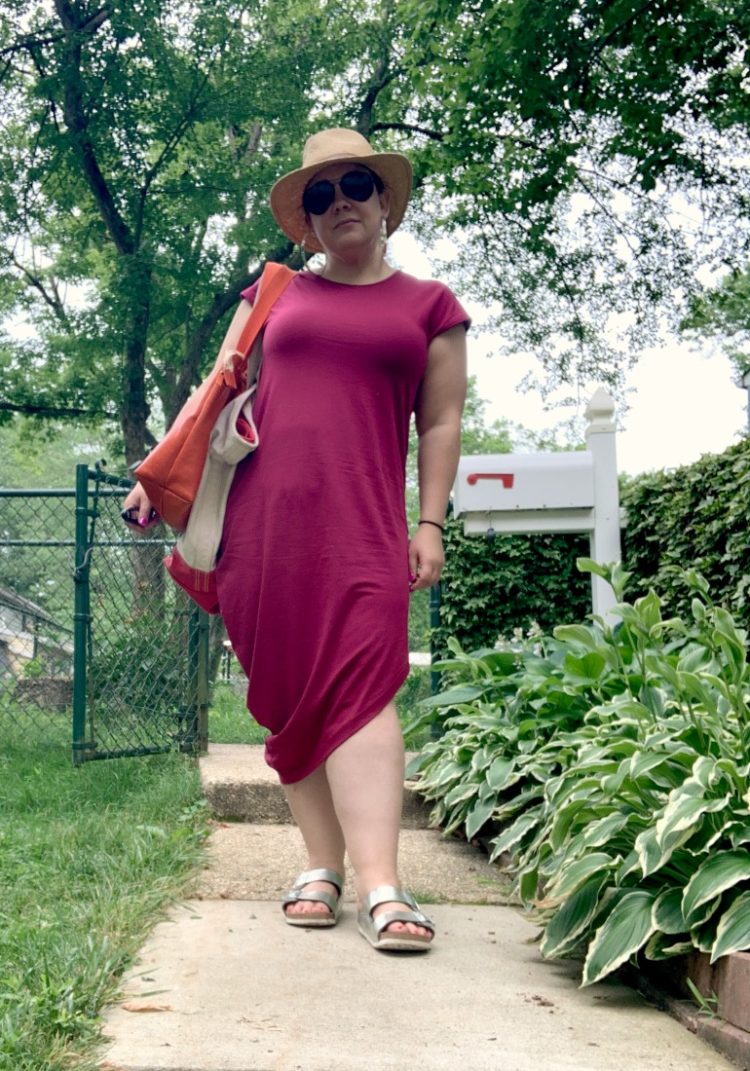 I call this look, "Sick, but make it fashion."  I've had a cold for almost two weeks.  One day I'll feel fine and the next I feel like death warmed over.  This was one of those death warmed over days yet I still had things I needed to do that required me to leave the house.  I now have three of this dress from Universal Standard (XS Petite).  You can see me wear the blue one in this post. They're so great because they seem more stylish than a standard t-shirt dress and the asymmetrical cut makes the dress fall away from the belly, showing less of your shape without looking like a sack.  Again, the silver Birkenstocks, the silver Jenny Bird hoops, and the same orange Clare V. tote seen in the first photo (plus an XL Lands' End tote for grocery shopping). To hide my sick face and too sick to style hair, my Ray-Ban 62mm aviators (on sale) and a hat from Banana Republic (old; this looks similar).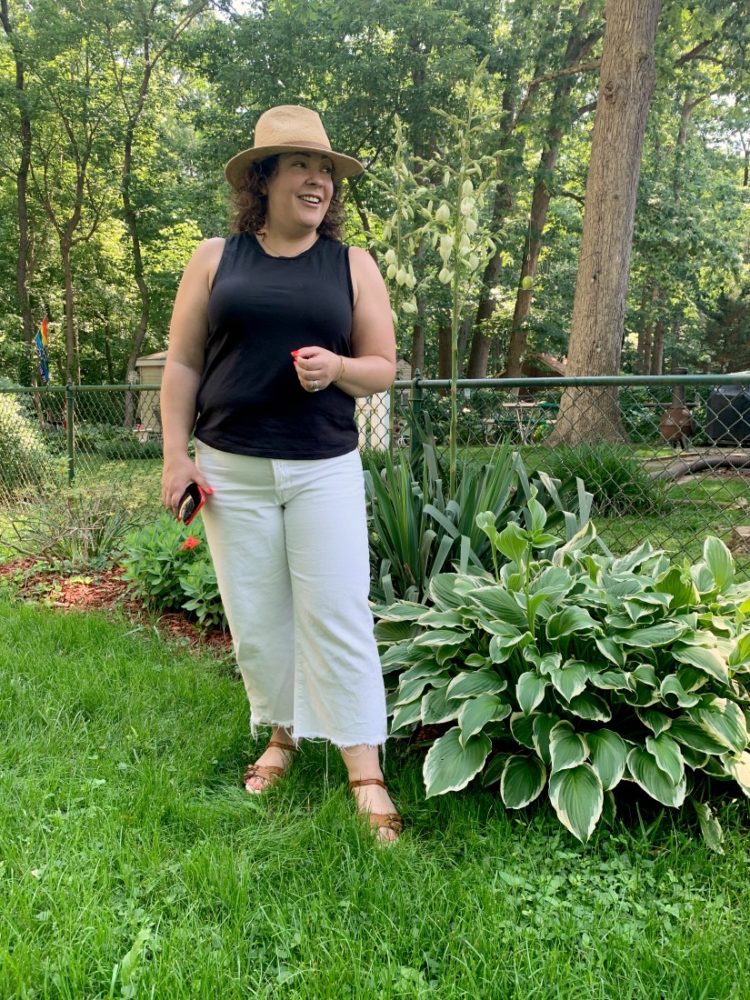 This look is called, "Farmers Market Chic."  These are the same American Eagle jeans seen in the first two looks, but in cream.  They were first seen on the blog in this post.  They're out of stock now, but these are similar.  With it is a black sleeveless t-shirt from cabi (size large).  The sandals are from SAS; they're the most incredibly comfortable sandals.  They come in a lot of different colors; I felt this combo was the least frumpy and wear them often with dresses, shorts, and cropped pants.  They're so comfy I wore them to walk in the DC Pride parade this past weekend! Again the Banana Republic hat (similar) to hide messy hair and also for sun protection.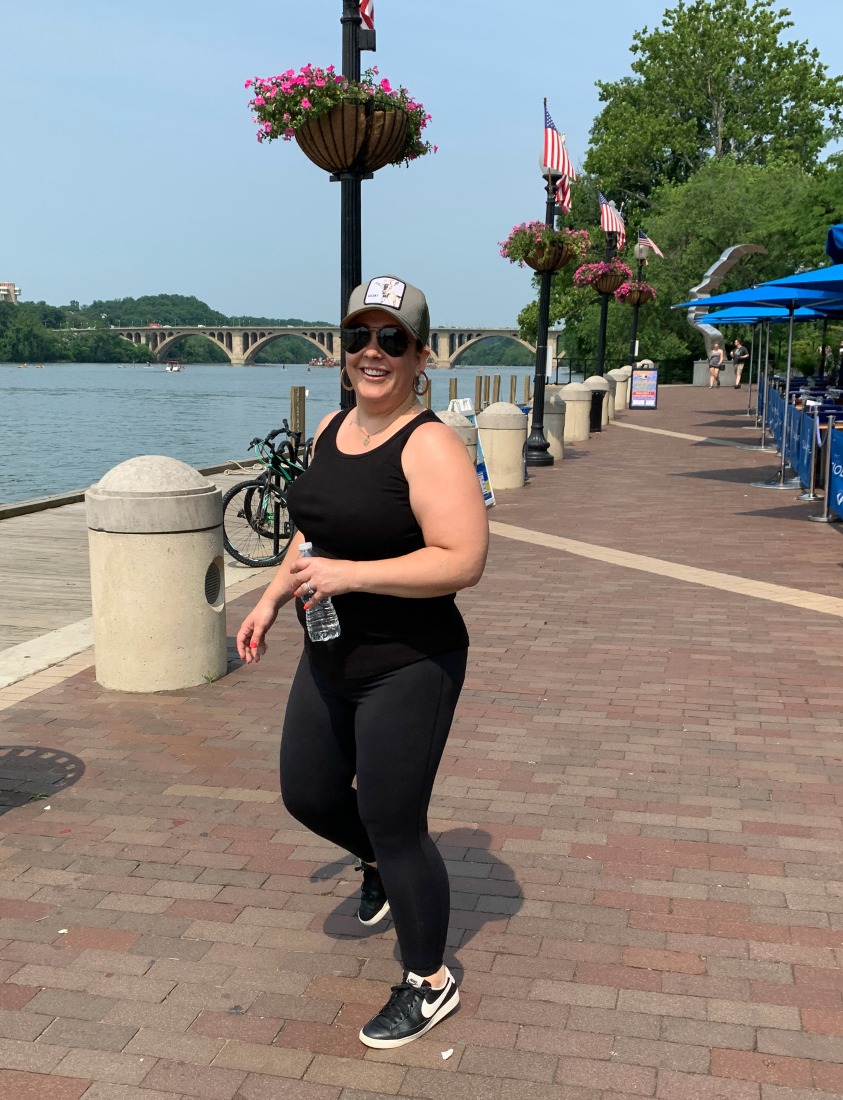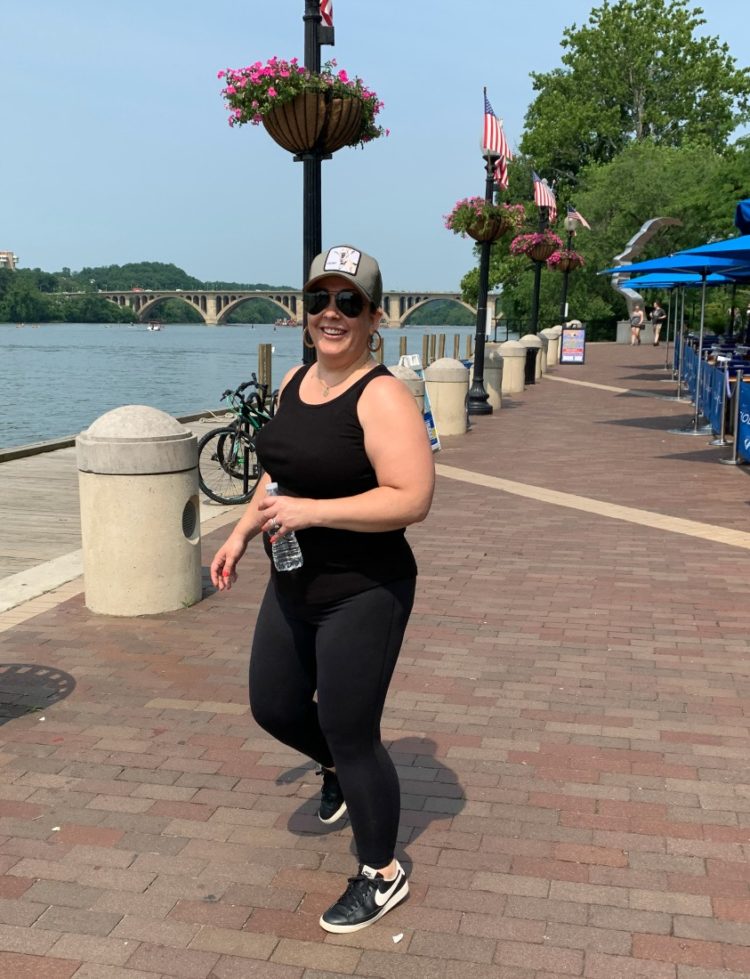 I call this look, "Make it Work."  A couple of weekends ago, Karl and I took a staycation to The River Inn for our wedding anniversary.  I packed very quickly, and honestly was only thinking how we'd go out to eat, wander the tree-lined streets, visit a coffee shop, that sort of thing.  And we woke up feeling like we wanted to do more.  We walked the C&O canal, roamed around Georgetown, put in a few miles and I did not pack for such an excursion.  Black Loire tank from Universal Standard (XS Petite) which is a favorite because it fits so incredibly well and washes great (this has been laundered dozens of times).  Black Zella leggings that are free of athletic details (large), Nike "Blazer" sneakers I brought for the gym or for a cute casual outfit, and Karl's trucker cap. The hoops are Jenny Bird (from their upcoming collection, not yet available), as is the necklace.  Same Ray-Ban sunglasses seen earlier in this post.  This look worked; I didn't look so gym that I felt weird in a restaurant but was comfortable even when I got sweaty. The only issue was the shoes; this is the longest time I've worn them and I've come to the conclusion my feet are not shaped for Nike.  They curve where my foot goes straight and I was in pain after three hours of wear.  So yeah, looking for a replacement shoe…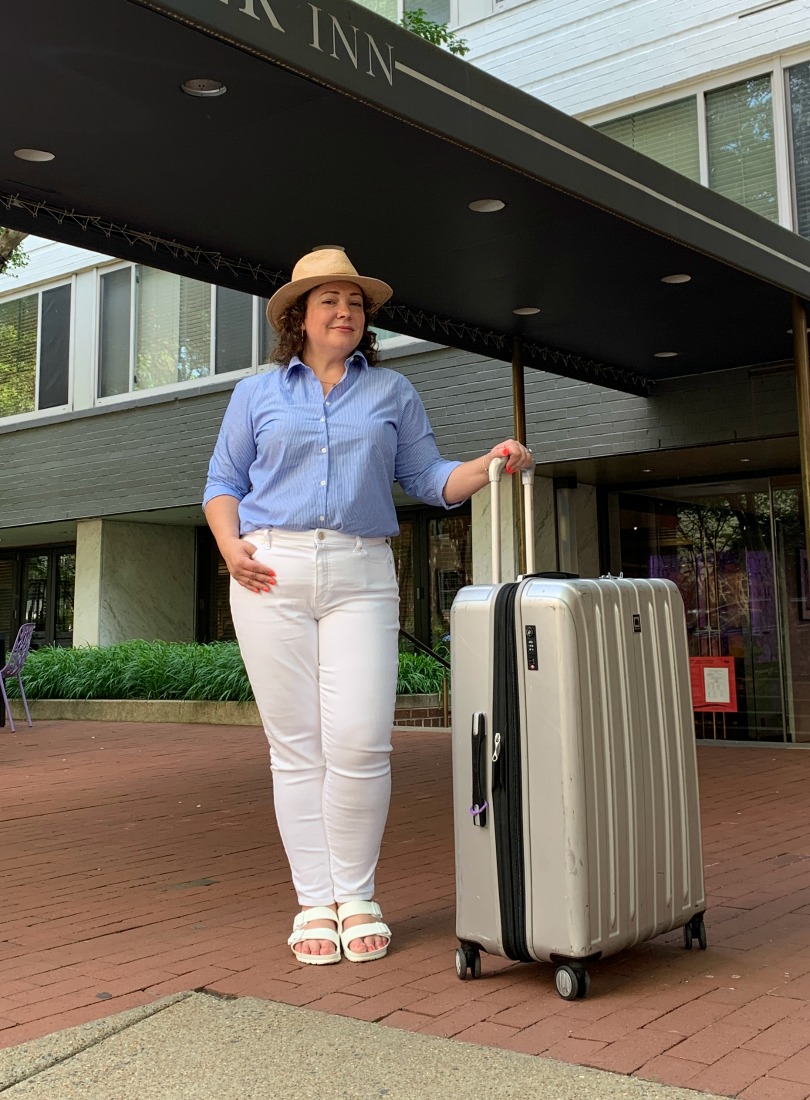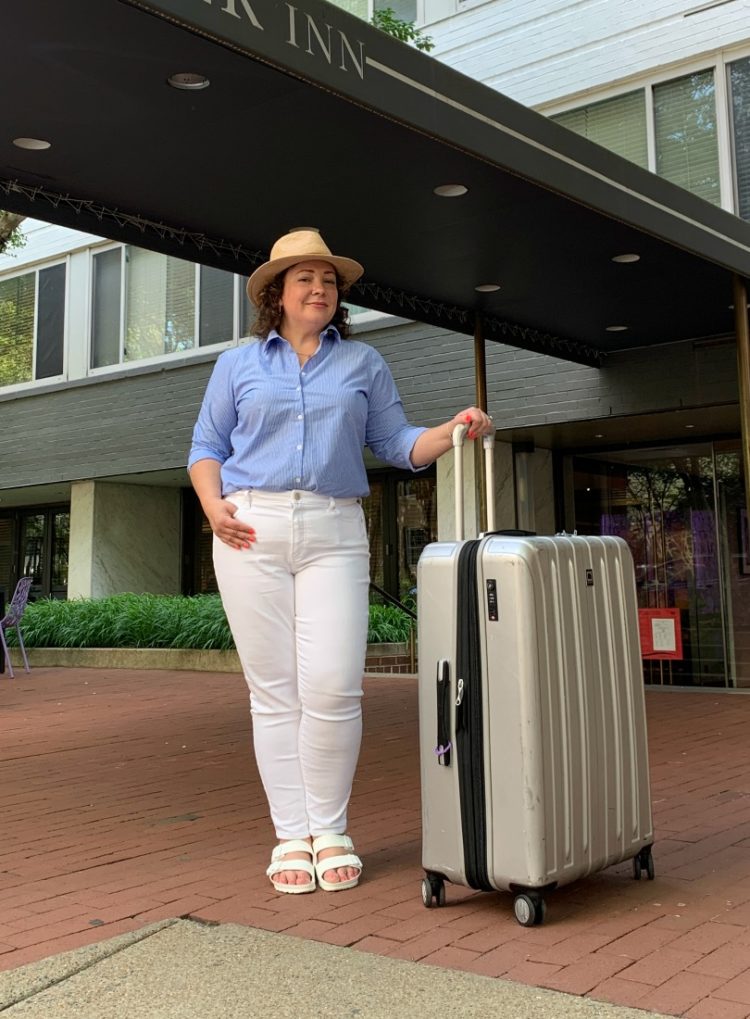 I call this look, "Tourist in My Own City."  I wore this look to drive to our DC staycation, and then wore it as we walked around the neighborhood and then had a little happy hour snack and drink at Kingbird.  The shirt is from Lands' End and is a few years old; you can see it in this blog post.  This shirt, also from Lands' End, is similar. The jeans are Talbots; my review of these jeans you can find in this blog post.  Another pair of Birkenstocks, these are made from EVA.  Again, the Banana Republic hat (similar).  And the suitcase is Delsey; this is the bigger one I own (read my review of this suitcase here). Karl and I decided to bring one suitcase versus individual ones and we also packed in some food since The River Inn has a kitchenette in each suite.
Shop the Looks in this Post: