This article may contain affiliate links; if you click on a shopping link and make a purchase I may receive a commission. As an Amazon Associate, I earn from qualifying purchases. 
Universal Standard is one of my favorite apparel brands. Offering their entire selection in sizes 00-40, Universal Standard is one of the few apparel retailers that is truly size-inclusive. Their clothing is in general, excellent quality and classic enough of design to provide me with years of stylish wear. I have been wearing Universal Standard since 2017, but one thing that frustrates me about the brand is that it is web-based. That is until I was able to attend a Universal Standard Trunk Show.
I am updating this post because Universal Standard is returning to the Washington DC area this month! The Universal Standard US on Tour will be in the DC area August 24 – August 27, 2023. This is a special opportunity to try on Universal Standard as they do not have brick and mortar stores throughout the country. Not only that, it's an opportunity for a personal styling experience and a chance to try new items. I've heard Universal Standard will have their new suiting and fall items not yet released at their trunk show. To sign up to attend the DC Universal Standard trunk show in Arlington, visit this link.
My Experience at a Universal Standard Trunk Show
What is a Universal Standard Trunk Show?
Making their way across the United States, starting in the cities that have the largest concentration of existing customers, Universal Standard is having a series of trunk shows to let folks not only try on the clothing in person, but get styling tips from US staff and even experience up-and-coming pieces before they are available to the public. Requiring appointments to keep it a manageable size, Universal Standard has enough apparel with them at these trunk shows where you can try almost everything from the brand in whatever size you wear.
For many folks, this is a revolutionary experience. Even though 67% of the female population in the U.S. wears plus sizes, such size range is rarely ever available in a brick-and-mortar store. And even if the size is available, it is rarely high-quality apparel and is rarely paired with caring and knowledgeable staff (and free water or bubbly) in an elevated environment.
How To Get Invited to a Universal Standard Trunk Show
In February 2023, the Universal Standard Trunk Show came to the Washington DC area, and I immediately made an appointment. I was notified by email as I am a previous US customer; previous customers in the area receive emails about the event but anyone can register even if you have never shopped Universal Standard. That means if a friend gets a link you can also use it.
For those not in the DC area, I recommend you follow Universal Standard on social media (here's the link to their Instagram) to learn when a US on Tour will be heading to your neck of the woods. And if you hear of a trunk show heading your way but you haven't received a link to register, reach out to Universal Standard and they'll send you a link
My Experience at a Universal Standard Trunk Show
Folks from the Wardrobe Oxygen Community who had experienced the Universal Standard Trunk Show previously when the tour came through their part of the country said it was a great experience. I wanted to see for myself.
Even though I own a LOT of Universal Standard (and full disclosure, occasionally receive free apparel to promote sales and new launches), there were many pieces I wanted to try out and see how they worked on my frame. I also wanted to experience fabric and quality to determine if any pieces would be a good idea for a future capsule wardrobe.
When I made the appointment I was able to choose whether to attend solo, or bring up to three friends. I invited my sister, a fellow Universal Standard customer, to join me for the trunk show. We arrived at our scheduled appointment time to an Airbnb in a cute neighborhood just two blocks from downtown Clarendon, Virginia. We were warmly welcomed and invited to sit in the dining room of the house. The dining table had been pushed to the side and the room circled with seating. We were two of six individuals there for our scheduled time.
Once we had all arrived, Universal Standard staff greeted us and invited us to share our name and if we were familiar with the brand, what size/s we wore and if new to the brand, what sizes we usually wore in other retailers. We were also asked what type of clothing (pants, jeans, dresses, workwear, loungewear, etc.) we were looking for.
Then we chatted amongst ourselves as the four employees from Universal Standard collected items and set up our fitting rooms. I recognized one of the employees as a person who has modeled apparel on the US site for a couple of years; another I first met in 2017 when Universal Standard had a pop-up shop in DC. All four were very warm and friendly. Once the fitting rooms were ready, we were invited to follow them to the living room.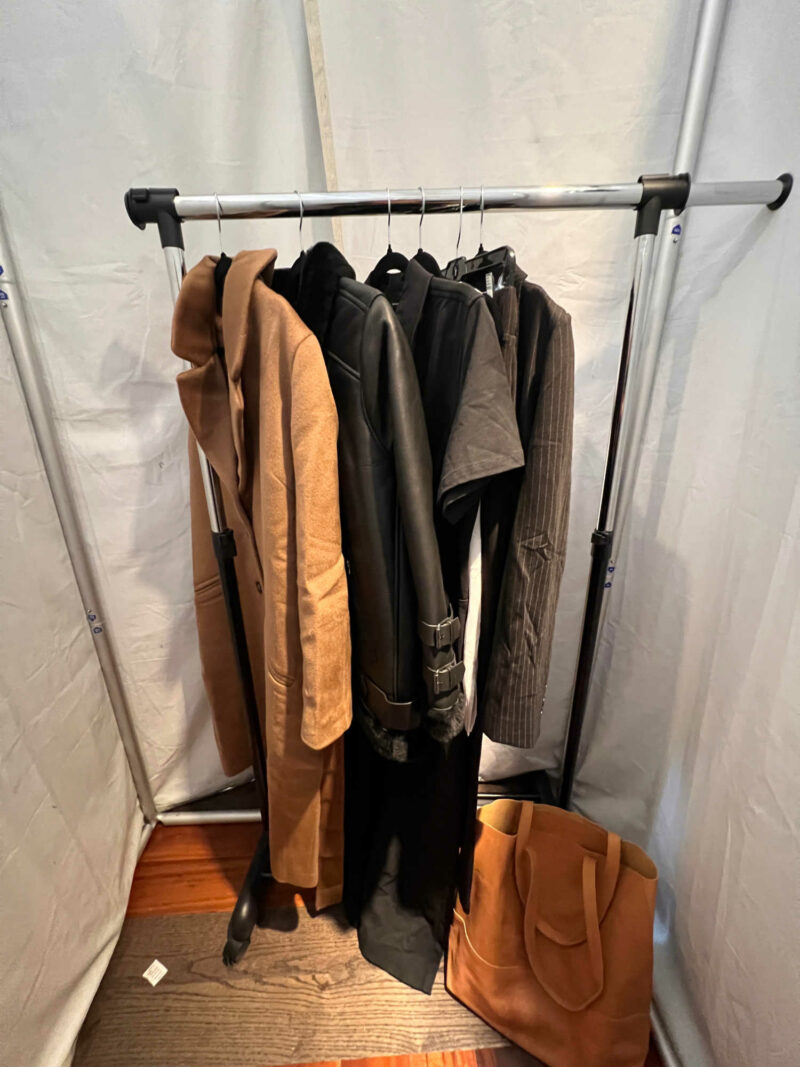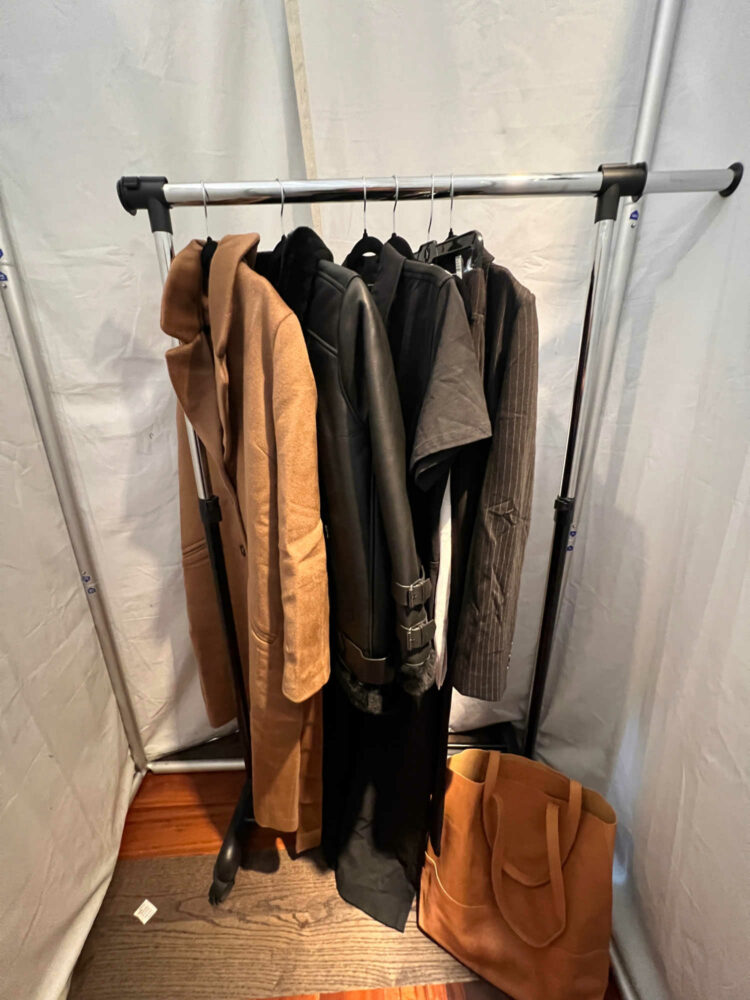 The Fitting Room Situation at a Universal Standard Trunk Show
The living room was set up with six portable fitting rooms that were made with PVC pipe and canvas curtains. The three back sides were taut like walls, the front had two curtains you pulled open to get in and out. A clip was there to keep the curtain closed while you were in side. These fitting rooms were larger than the fitting rooms at the Universal Standard Trunk Show I went to almost a year ago.
Inside each fitting room was a rolling rack where your initial items picked for you were placed, and you could place other items as you tried them on. There was a small portable fan in each fitting room as well to keep you from overheating while trying on clothing.
The only mirrors are outside the fitting room. At this trunk show, Universal Standard had three large mirrors for us six guests. It was plenty as we all were on different try-on schedules and the space was big enough that you could get two folks checking out their looks in the same mirror.
Universal Standard staff was helpful in suggesting how to tie or adjust garments to get the best effect. As we came out of our fitting rooms we often encountered another customer in the same piece and we'd remark on how it looked on one another. Everyone in attendance was very friendly, warm, and supportive.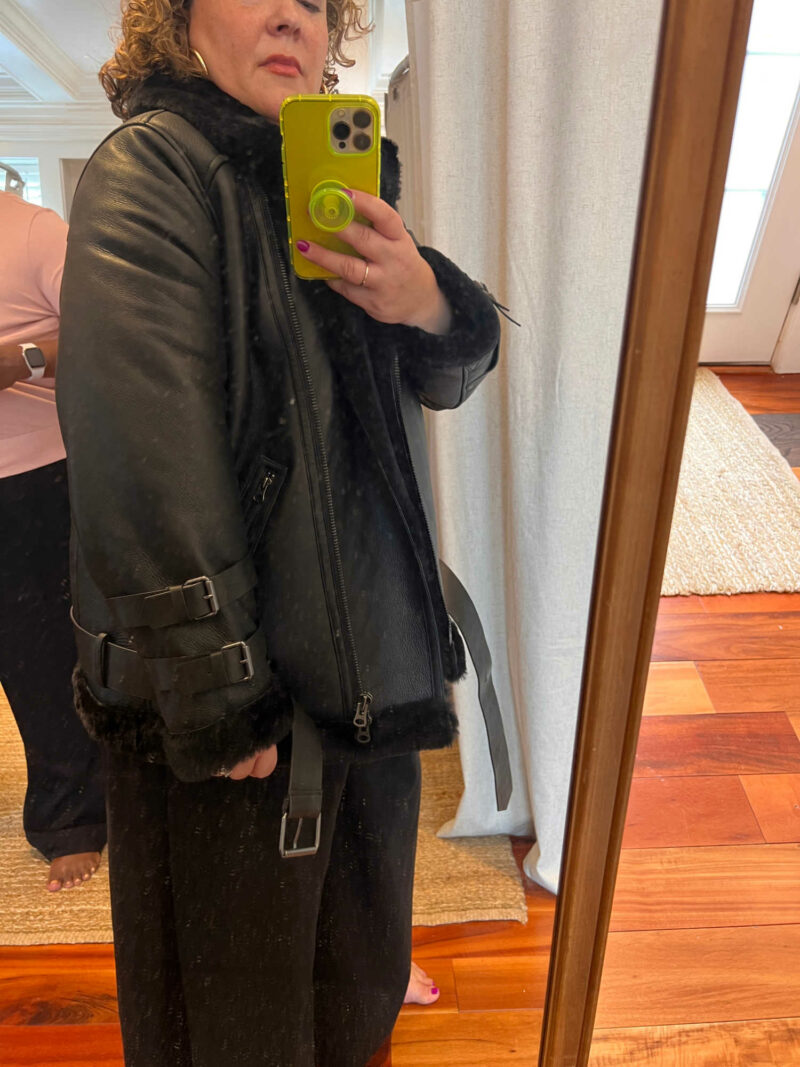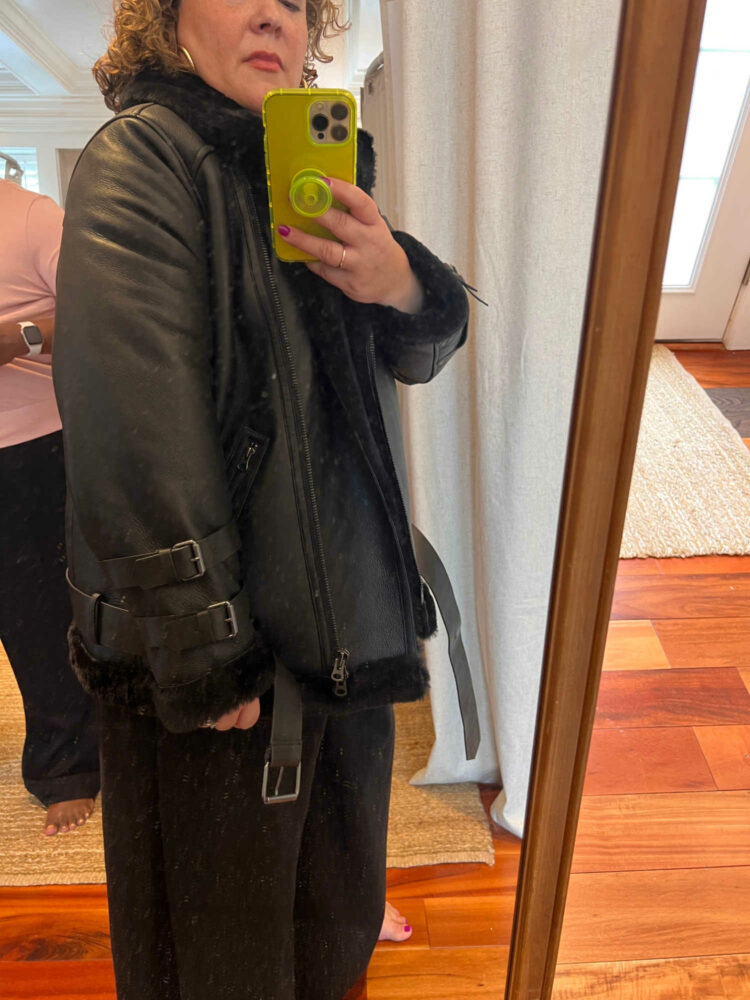 What Kind of Fashion is at the Universal Standard US On Tour Trunk Show?
Universal Standard had almost their entire selection of apparel at the trunk show, and each style was available in every size, though not necessarily every size in every color or wash. Folks were trying on suiting, dresses, loungwear, jeans, t-shirts, pants, skirts, sweaters, and more. There was casual fashion, suiting, and their dressier pieces at the US on Tour Trunk Show in DC.
I have heard that this US on Tour Trunk Show will include the new suiting that is available at Universal Standard. I am excited as I wanted to try current Universal Standard workwear and see how it fits and feels. I also heard that Universal Standard will also include fall fashion that has yet to be launched on the Universal Standard website.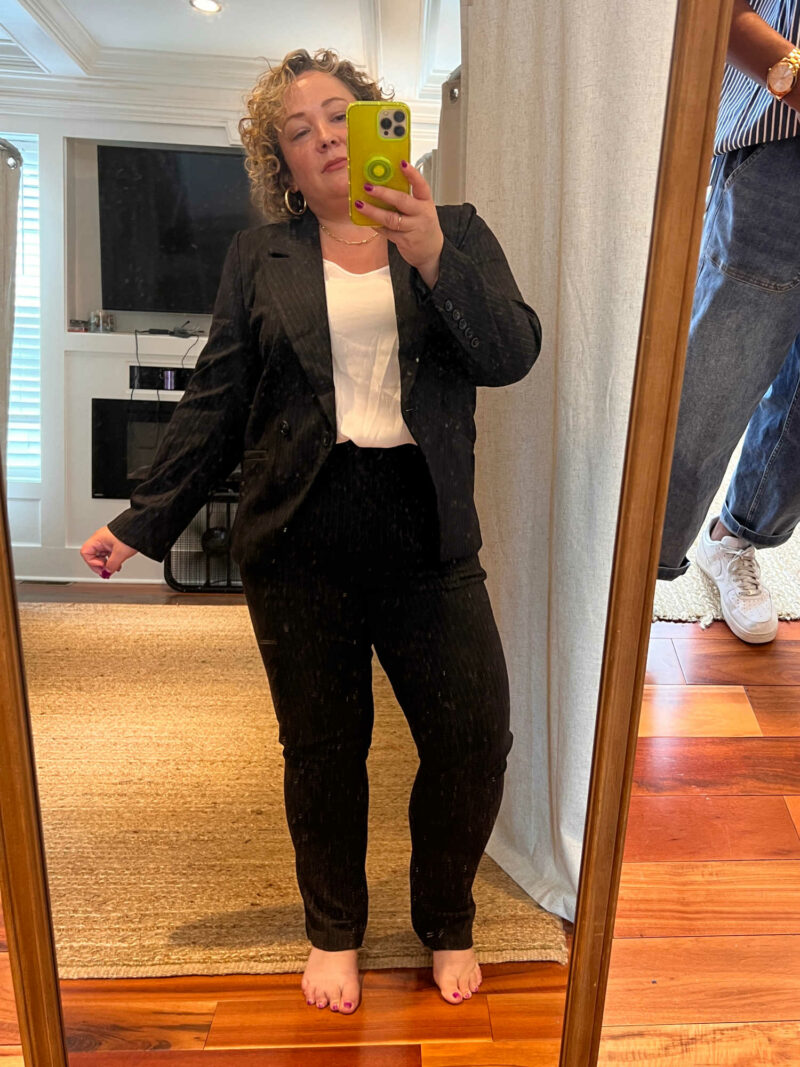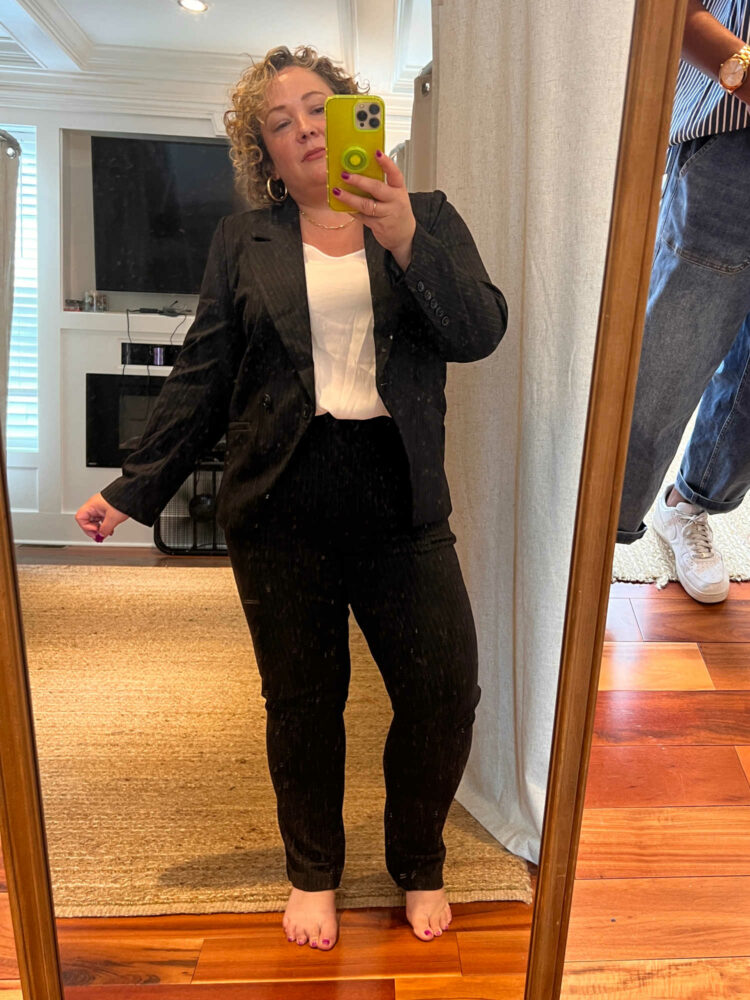 How Long is a Universal Standard Trunk Show Appointment?
Each US on Tour appointment is an hour in length which I felt was sufficient. I tried four dresses, three pairs of pants, three tops, and three jackets during that time while also chatting with my sister and staff, admiring items on the other customers, and having sips of my drink (they offered bubbly and water to all who attended). I never felt rushed and wasn't even told the session was over, it just slowly wrapped up.
Some individuals have been able to leave a Universal Standard Trunk Show with their purchases; most have placed an order to have their purchase shipped to their home. Orders were placed through an iPad and a card scanner; orders were associated with the email address you have for your Universal Standard account (if you have made previous purchases). Universal Standard Trunk Show orders can be exchanged and returned like any web-based purchase.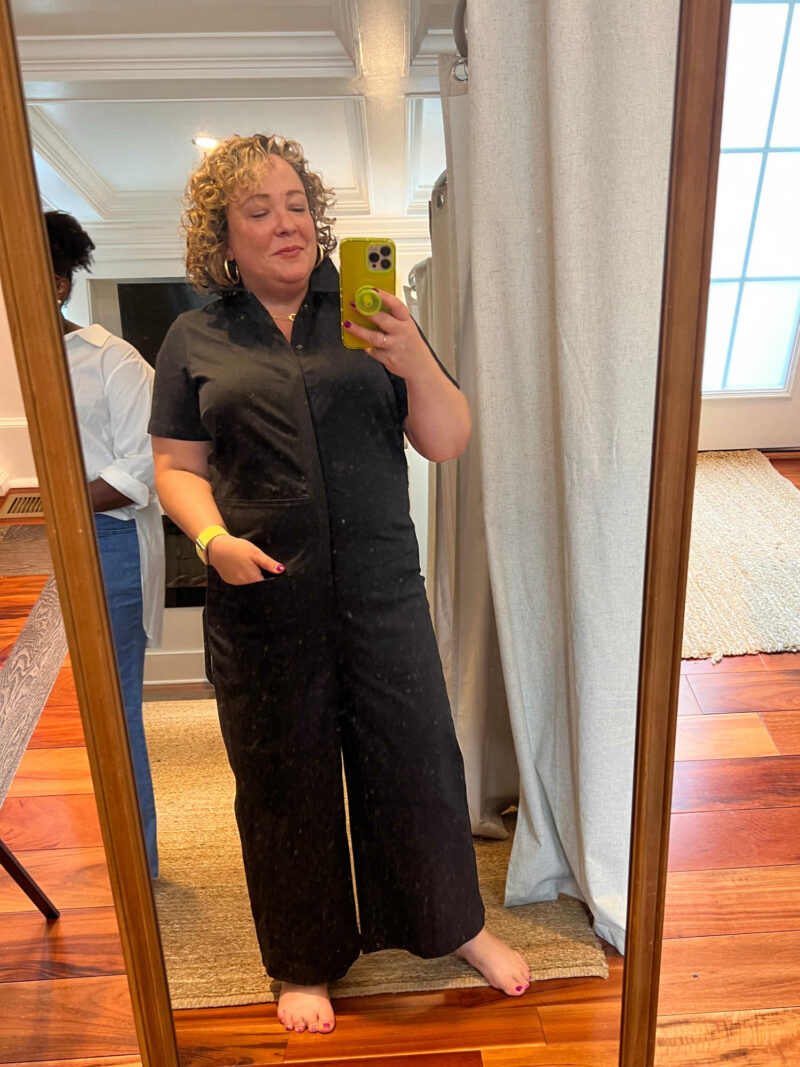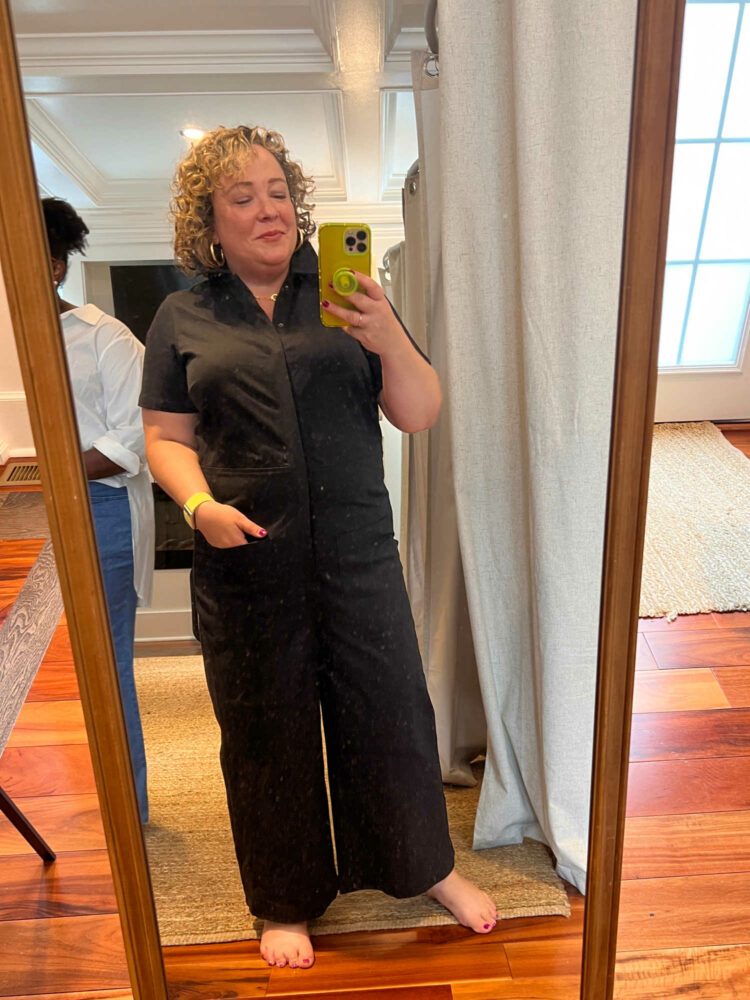 Should You Attend a Universal Standard Trunk Show?
I think your experience at a Universal Standard US on Tour Trunk Show will vary depending on your relationship with the brand, your comfort level trying on clothes in a group setting, and your expectations. Some folks I've talked to had an incredible experience where they found a lot of clothing they loved. They didn't feel pressured to buy and learned a lot. Others had a less positive experience, frustrated by the current Universal Standard collection and feeling guilty for not shopping.
I had a great experience, but I am in an unusual situation being an influencer who has shopped and worked with Universal Standard for five years. Many of the pieces the US employee brought me I had not only tried but owned in my closet. I know which pieces are new and which are legacy, I know which styles have been updated over the years, and call garments by their style name instead of design.
I know the folks who were at the trunk show the same time as me who had never before shopped at Universal Standard left very happy and made purchases of multiple garments. I do not know if the other customers who were familiar with the brand ended up buying anything. I didn't see any sales pressure; I myself bought one item.
If you are already frustrated with Universal Standard due to fit, colors, or design you will not have a good experience at a Universal Standard Trunk Show. Even though these trunk shows have upcoming pieces available to try, the majority of what is available to try on is what is currently on the site. Unless your trunk show is just before the upcoming season, there is nothing incredibly revolutionary that will be pulled out of a back room to change your opinion on the current collection by Universal Standard.
Also, a Universal Standard Trunk Show is not the time to air grievances. I did mention I wish to see more petites and bold colors (and saw way more bold colors this summer), but it fit into the conversation. You are not being styled by the CEO, this is not the audience for hopping on a soapbox, but your suggestions may help improve future collections as well as future trunk shows.
If you have been hesitant to try Universal Standard or order items with new-to-you fabrics or silhouettes, this will be a great experience. No need to stress about returns, you can try that dress, those pants, and every style of denim. You can see that color in person and decide if it's something you'd enjoy. You'll be able to swap out sizes, see what other garments coordinate with it, and possibly see it on other bodies.
If you are a big fan of the brand, you should attend. It's fun to chat with the staff, hear about what is coming down the pike, get styling tips from those who know the brand best, and meet fellow folks in your area who love the brand or desire a more intimate and size-inclusive shopping experience.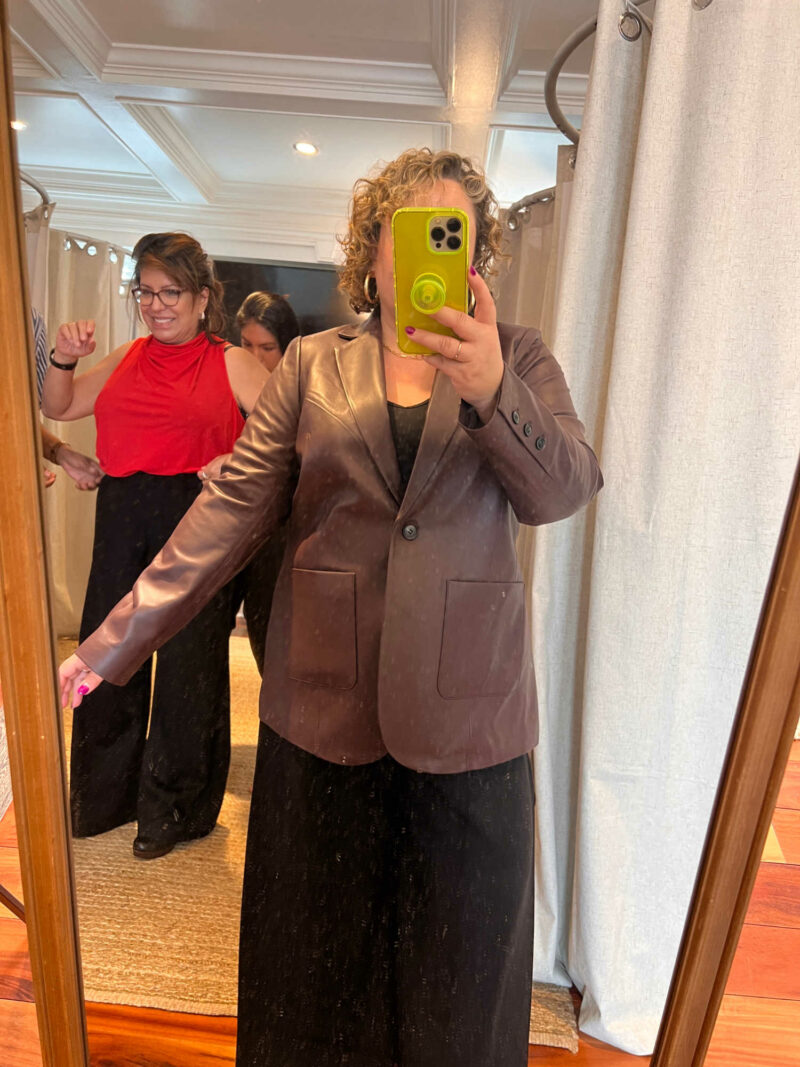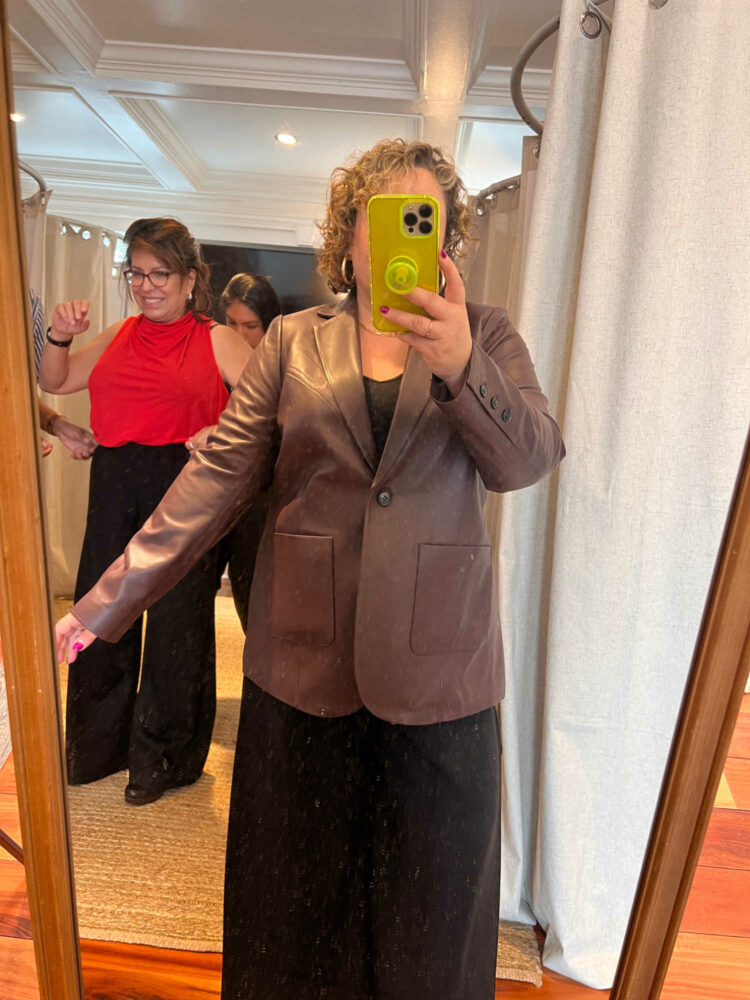 What To Bring to a Universal Standard Trunk Show
I recommend wearing a skin-colored t-shirt bra and seamless underwear so they disappear underneath light colors and fitted garments. If you usually wear a certain underpinning under dresses or other garments, bring it with you.
If you are looking for a specific garment for a specific situation, bring the shoes you would likely wear. If work clothes, bring your favorite shoes for work dresses or pants; if a wedding bring your dressy shoes. If you know you often like to style garments with belts or other accessories, bring them as well. Universal Standard did not offer belts, shoes, or other styling items at their trunk show.
The current fitting rooms for a Universal Standard trunk show have curtains that don't like to stay completely closed. A member of the Wardrobe Oxygen Community suggested bringing a hair claw clip to clamp the curtain closed; I brought one and it was perfect to offer modesty and not worry about bumping it open when I bend over to pull up a pair of pants or take off my shoes.
Consider wearing separates. If you have a bottom and a base layer/shell in the outfit you wear, you will have something to wear under jackets or cardigans or with tops while you try on different things.
I recommend taking the time to do your hair and face as you would for work or a special occasion. Just like when going to the hair salon, it's a lot easier to focus on the clothes and not on what you find to be your faults when you look how you find to be your best. If applicable, consider a comb or lipstick to refresh your look after a few try-ons.
And be sure to bring an open mind. Allow the staff to bring you something you would not usually consider. Don't see it as upselling, see it as a chance to try something new with no strings attached. Use this opportunity to branch out with color, silhouettes, and even size.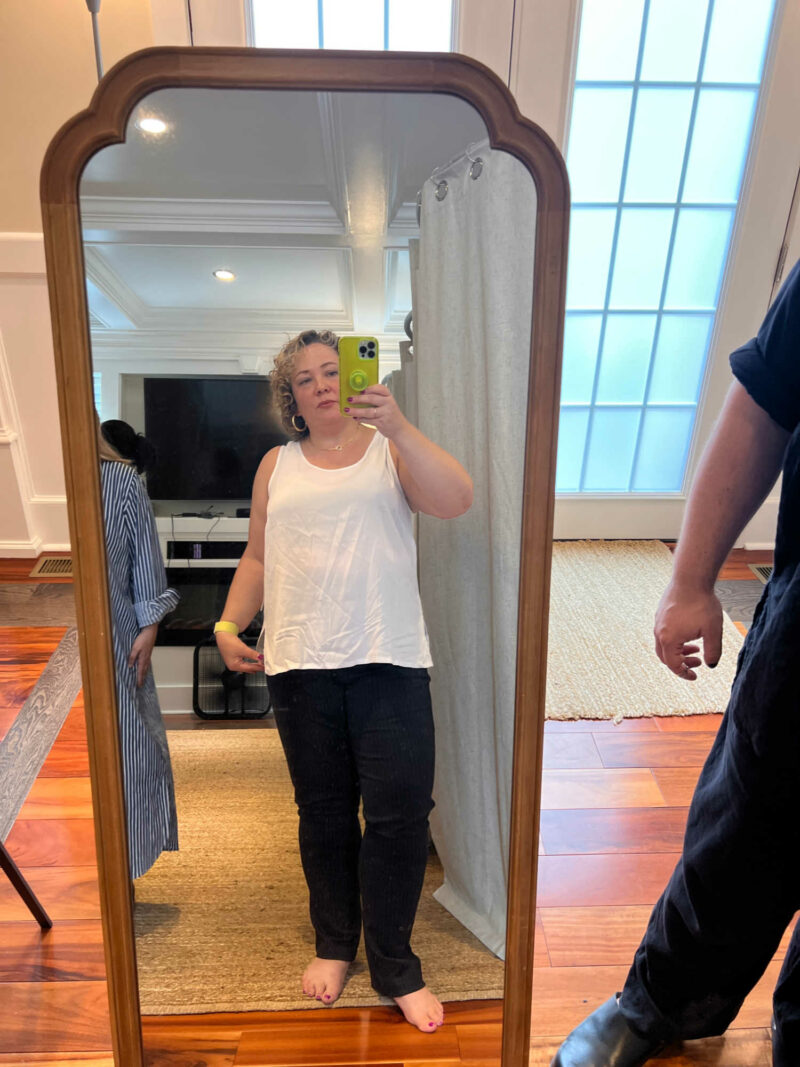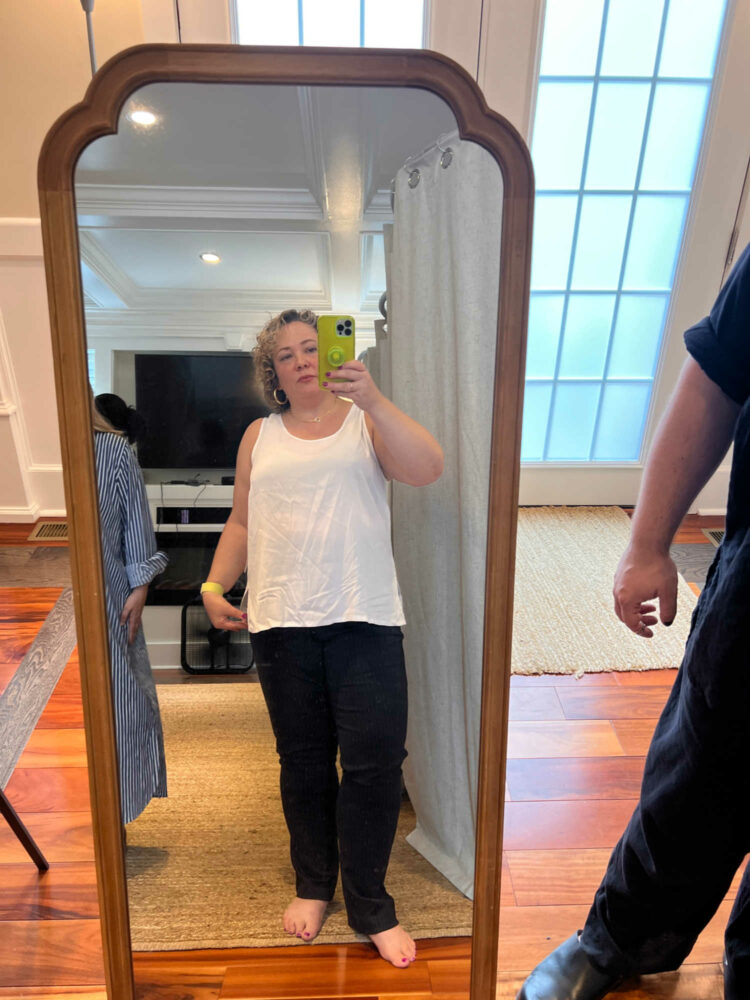 What Did I Learn at the Universal Standard Trunk Show
I am writing this post because Universal Trunk Shows aren't going anywhere. Universal Standard loves the ability to visit different cities and connect with more customers than if they had a couple of brick-and-mortar stores. If Universal Standard hasn't yet visited your city stay tuned!
I was asked what feedback I had to improve future trunk shows; I said I'd love to see larger fitting rooms. They said that's on the list already; they got the largest they could find premade but are considering having custom mobile fitting rooms created for the future.
Per this link, US on Tour is heading to Pittsburgh and Indianapolis. I can only assume this link stays updated with future dates of Universal Standard Trunk Shows. Folks have mentioned they have received emails for US on Tour to Texas, Chicago, Ohio, and other places in the U.S. Who knows, your city may be next!
Have you attended a Universal Standard Trunk Show? Share your experience in the comments!