This article may contain affiliate links; if you click on a shopping link and make a purchase I may receive a commission. As an Amazon Associate, I earn from qualifying purchases.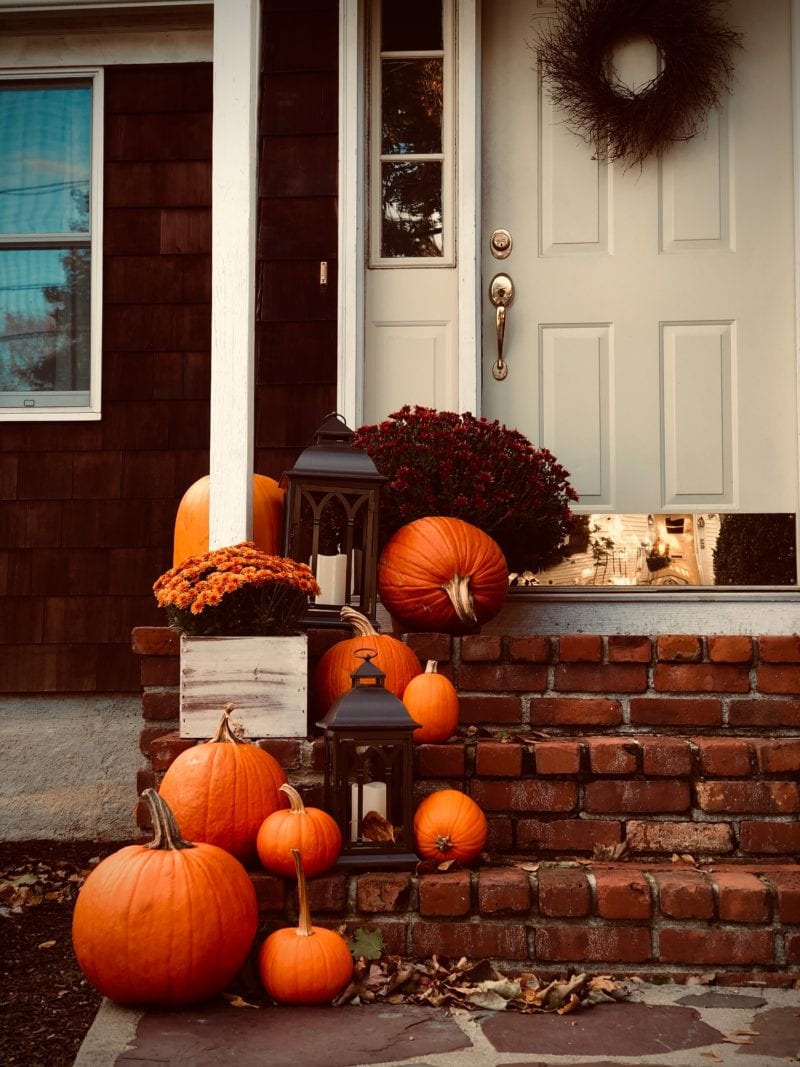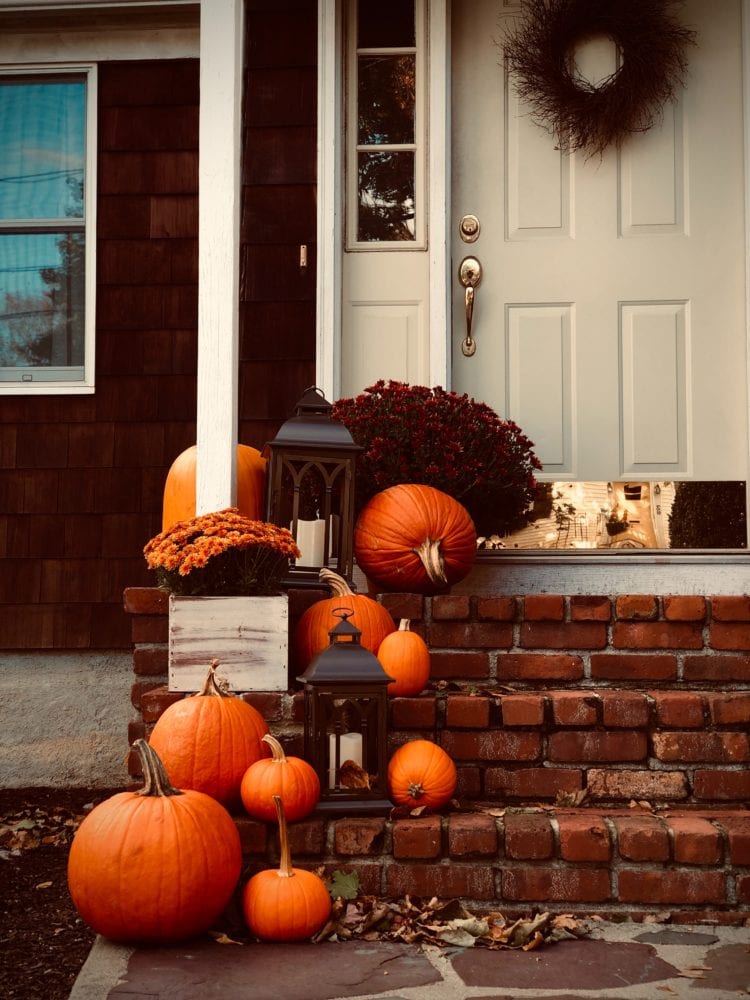 This week, our neighbors decorated their yard for Halloween and I didn't realize how much I look forward to it. We've been neighbors for a long while, I remember half walking, half carrying Em to their house to be the first place she trick or treated because they do such a beautiful combination of campy, scary, festive, and fun. It inspired us to buy a bunch of pumpkins and potted mums to jazz up our yard for the season. With the way things are right now, it's so easy to blink and a month has gone by; finding ways to recognize the seasons and holidays helps time slow down. It also helps distract from everything else, if just for a moment.
This week I also turned in our mail-in ballots. Our state has these gigantic drop boxes at various locations and since we've already seen vandalism and attempted break-ins to mailboxes in the area, each dropbox location has a cop hanging out in their car at that nice distance of being able to prevent tampering but also letting voters drop off their ballots in peace. I already received an email notification that my ballot was received by the state board of elections. That email also helped center me this week, knowing I accomplished something positive for our country's future. I don't think I have to tell any of you to register to vote, I would hope you have done so already but in case you're not sure if you're registered or if you asked for a mail-in ballot, or you don't know your polling place or where to vote early, head on over to vote.org where you can have all your questions accurately answered. And please have a voting plan. If at all possible, don't wait until November 3rd. Over 6 million Americans have already submitted their votes; at the same time in 2016 only around 750,000 have done so. Let's keep up that momentum and if you have voted already, see how you can assist community members with getting their vote counted. Transportation to the polling place or a ballot drop-off location, internet assistance with registering to vote or if still available, requesting a mail-in ballot, answering questions in your neighborhood NextDoor or Facebook group that offers clear facts and links to accurate information for safe voting. We can all make a difference, and this year, we've seen how one person and just one small act can make a big difference.
Weekend Reads
How to cope when everything feels bad and somehow it keeps getting worse. (Vice)
Is your ballot selfie illegal? (The Washington Post)
Pantone's new color is a nod to menstruation. (New York Times)
In the COVID-19 era, tribal nations want research in service of their people. (High Country News)
You know how Etsy recommends you things based on your past purchasing and hearting history? Well, Etsy recommended me this mug and dang, they get me. And this whole shop is full of colorful glass things. Some of the faces painted are a bit creepy, but the colors and the prints are totally calling to me. Loved ones, don't be surprised if you get a holiday gift from here.
Angelica Ross from Pose on inclusivity in Hollywood, getting a buzz cut, and blossoming into herself. (Self)
Kamala Harris is fueled by optimism: Harris is on this month's cover of Elle magazine; enjoy this interview with her and Ashley C. Ford. (Elle)
And while we're talking about Senator Harris… the politics of her hair. (Cosmopolitan)
This list shares the 100 best places to live in America, is your city on the list? (Livability)
Toxic masculinity and the miseducation of the American boy. (The Atlantic)
How the $36 billion vitamin industry tricked a generation of adults into believing sugary gummies were the ticket to good health. (Business Insider)
My best friend is gone, and nothing feels right. Get the tissues ready. (The New York Times)
My new fragrance? It's not an eau de toilette or a parfum, it's the Relief Cream from Equilibria. Have you seen this meme? It's me. Somehow I can fall asleep on the couch and be fine, fall asleep next to my kid in a twin bed lying on a Gudetama plushy and be fine, but then get in my bed with my fancy pillows and mattress and do something weird while I'm asleep and wake with a stiff neck or even foot (like how do I hurt my foot while sleeping?). I started with putting this on when I woke and was achy, but now I do it before I sleep. Dab almond oil under the eyes (claims to reduce dark circles) and on the décolleté and arms, Aveda hand cream, Laneige Lip Mask, and then my Relief Cream on my neck, lower back, and I massage a bit on my feet. It has an herbal/essential oil/spa scent mixed with some menthol and I like it; it has become part of my nighttime ritual and I have seen a marked improvement of waking up and being able to nod and shake my head without pain or stiffness. I know, I still need to write a full Equilibria review, my hope is I'll get to it this weekend. BTW, if you use wardrobeoxygen at checkout you get 15% off your first order.
Also, I completely forgot to put this in The Friday Shop, but last year's fleece leggings no longer fit so I've been on the hunt for new ones. I got these from Athleta and I really like them. Not too thick, not stiff or spongey, but they do keep you warm and cozy while looking like normal leggings you could rock with a sweater and boots. They come in two colors, petite, tall, and plus sizes, are $98 and IMO worth it for the fit and quality.
See/Hear/Read
I'm late to it, but we binged the Netflix series, Unorthodox, last weekend and OMG it was soooo good. I wasn't interested at first, thinking it would be really heavy and there's enough heaviness in the world right now. But in fact, I found it uplifting and beautiful. It's the kind of series that you will be thinking about and referencing for years to come; my husband also loved it and we struggled to not do an all-nighter to watch it all in one sitting!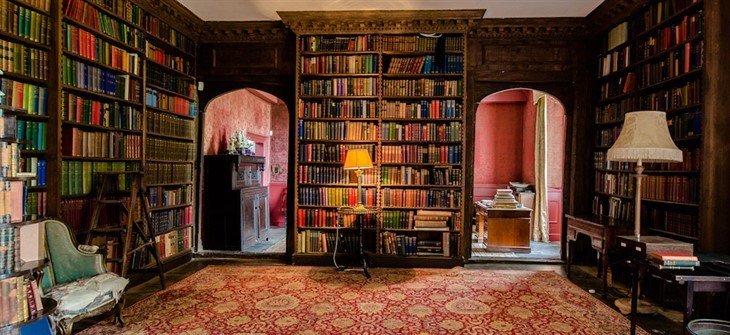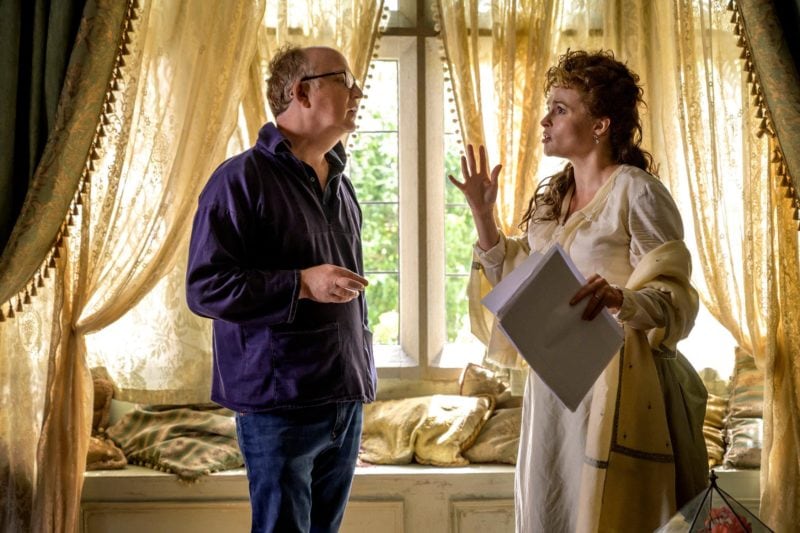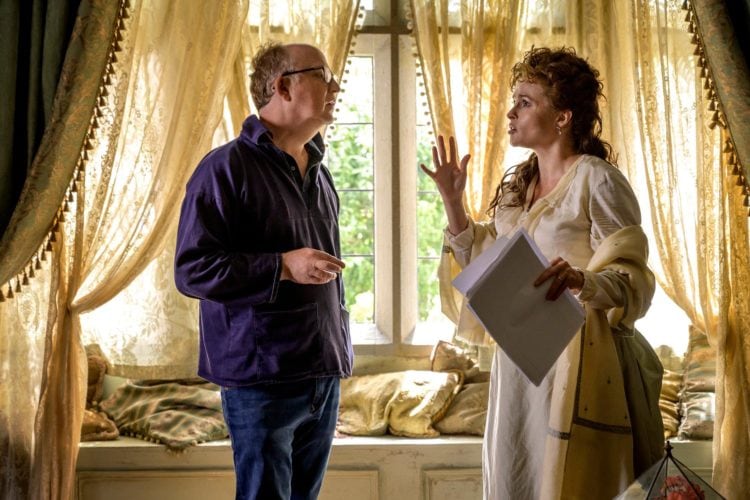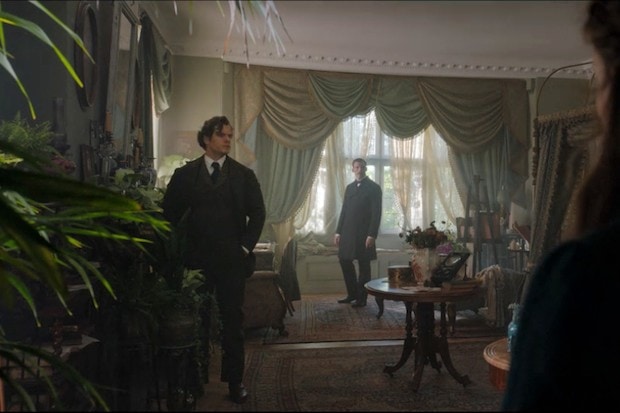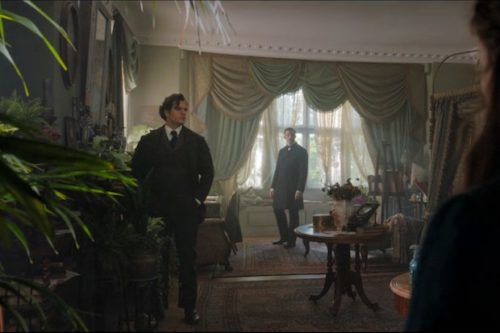 Last weekend we also watched the Netflix original movie, Enola Holmes, as a family. It too was sooo good and our tween adored it and was inspired by Enola. Gosh I hope this becomes a series of movies like the series of books. It was funny watching this and Unorthodox essentially at the same time, the two protagonists are from different times, different cultures, but both so curious and strong (and honestly have similar facial characteristics). Enola Holmes is the story of Sherlock Holmes' teenaged sister with Enola played by Millie Bobby Brown, Sherlock played by Henry Cavill, Mycroft played by Sam Claflin, and their mom played by Helena Bonham Carter. I was terribly inspired by the decor in the Holmes' residence and adored the mom's bedroom curtains. These were the best photos I could find online; you'll just have to watch it to see for yourself!
My daughter and I started watching another Netflix original series, Julie and the Phantoms and she loves it so much she wanted to watch another episode this morning before school. Nope, she has to wait! But I too want to see what happens next. Sure as an adult I find many issues with this show about a 15-year-old girl who has three guys from a rock band circa 1995 die and end up as ghosts in her garage, but it's also a lot of fun. Think Disney, but not as saccharine. Ignore the fact that the studio was left along for a year and is full of thriving plants and not a speck of dust. Don't overthink these boys' 1995 outfits and how we didn't wear fanny packs let alone crossbody or socks over our jean hems at that point in history. And yes, I noticed that the one guy's Champion sweatshirt wasn't circa '90s but current based on the logo on the hoodie. There are a lot of "ghost things" that make absolutely no sense and aren't consistent through episodes, but my 11-year-old didn't notice all this and did notice the supportive friendship of the protagonist and her bestie, how she "totally ships" the relationship between two adorable male ghosts, how the teachers aren't mean stereotypes but supportive and caring, how the Julie and her family have a very healthy and supportive relationship, and how Julie has fierce style and a covetable bedroom while also being super talented at piano and singing. I, the adult, again was super into the decor and the home and spent a while googling Carlos Ponce who plays the dad, who looked incredibly familiar to me though I felt I "knew" him when he was younger. Ponce has been in everything under the sun and will be a well-known face to Puerto Ricans, telenovela fans, and fans of Latin pop. As for Madison Reyes who plays Julie, she's a newbie to acting which makes me love her even more.
Continuing to be obsessed with Lovecraft Country, continuing to catch snippets of the podcast, Nice White Parents while doing my makeup, balancing the reading of Caste with the occasional chick lit, and starting my Monday with coffee and Real Housewives of Potomac which I DVR. And if you're an SNL fan, this week Morgan Wallen was to be the musical guest but because he broke COVID protocols, it will now be Jack White!
For Your Entertainment
SNL is back and their first episode this season was pretty impressive for all that is going on right now. But the most impressive part of the show was Megan Thee Stallion's performance of "Savage." I've heard from those my age and older that they don't know who Megan Thee Stallion is, or have heard of her but think she's crude or she makes music they aren't interested in. I think music is one of the best ways to keep abreast of trends, social views, politics, fashion, lingo, and more and Megan Thee Stallion is a voice you should take time to hear. And this performance is a good entry: