This article may contain affiliate links; if you click on a shopping link and make a purchase I may receive a commission. As an Amazon Associate, I earn from qualifying purchases.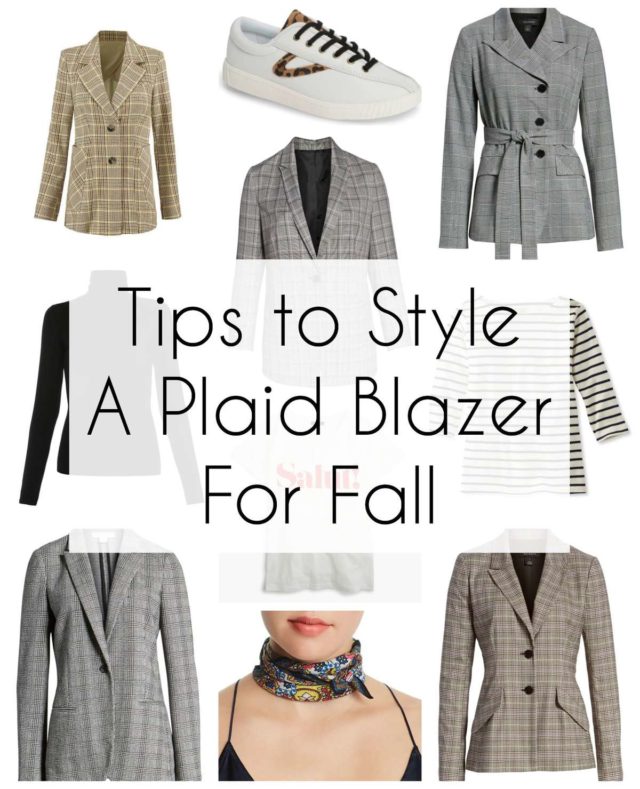 If you haven't noticed, plaid blazers, especially glen plaid blazers are a hot trend for fall. Glen plaid blazers are a classic, and very well may already be residing in your closet. If it's not, this is a great time to buy this timeless piece. When a classic becomes trendy, it means there's plenty of selection available in regard to size, silhouette, and color. Below I share several ways of styling a glen plaid blazer; looks that are more fashion-forward, looks that are timeless, and how to style an oversized glen plaid blazer versus a more tailored fit. As with my previous Oxygen Edit posts, I try to reuse pieces and choose classic wardrobe staples showing you can acheive a lot of style with just a few things in your closet.
Styling a Plaid Blazer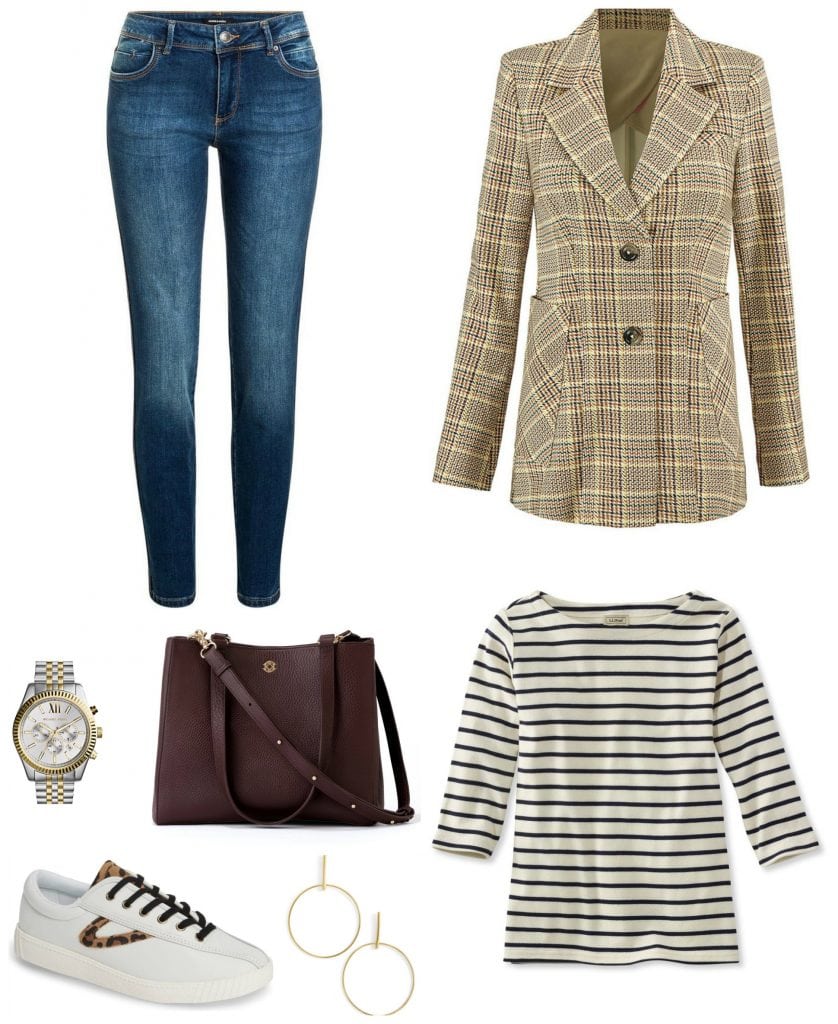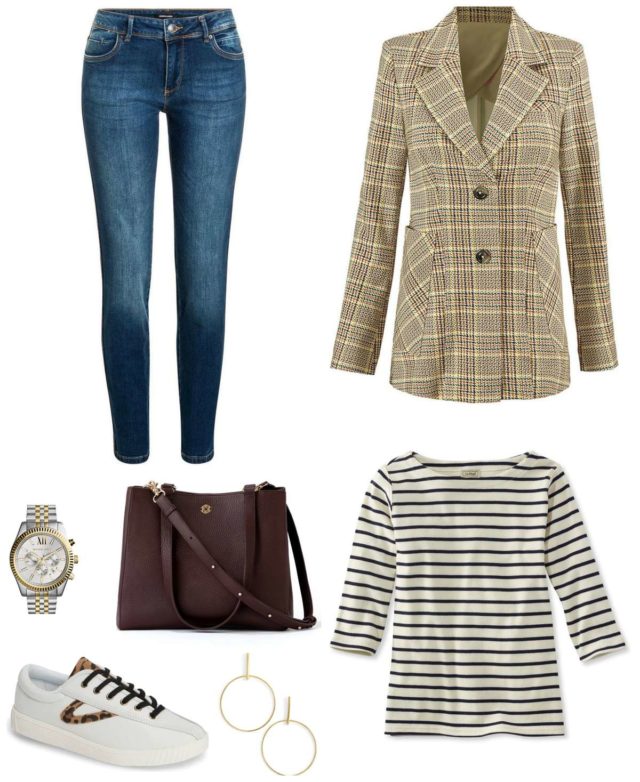 Jacket | Jeans | Top | Bag | Watch | Earrings | Shoes
This look centers around the cabi Pastime Jacket which I own and wore in this blog post. It's made of ponte knit which makes it comfortable even though it's tailored. The fabric also makes it easy to dress down for the weekend.  With this look I decided to do a mix of patterns, incorporating a classic Breton stripe and a sneaker with a hint of leopard. Don't be afraid to mix plaid with another print, especially this season.  Leopard print is also a hot trend this season and stripes are a classic that works well with so many patterns.  With so many prints, keep the rest clean and classic.  A hint of oxblood with the bag softens the prints and brings an autumnal feel to the look.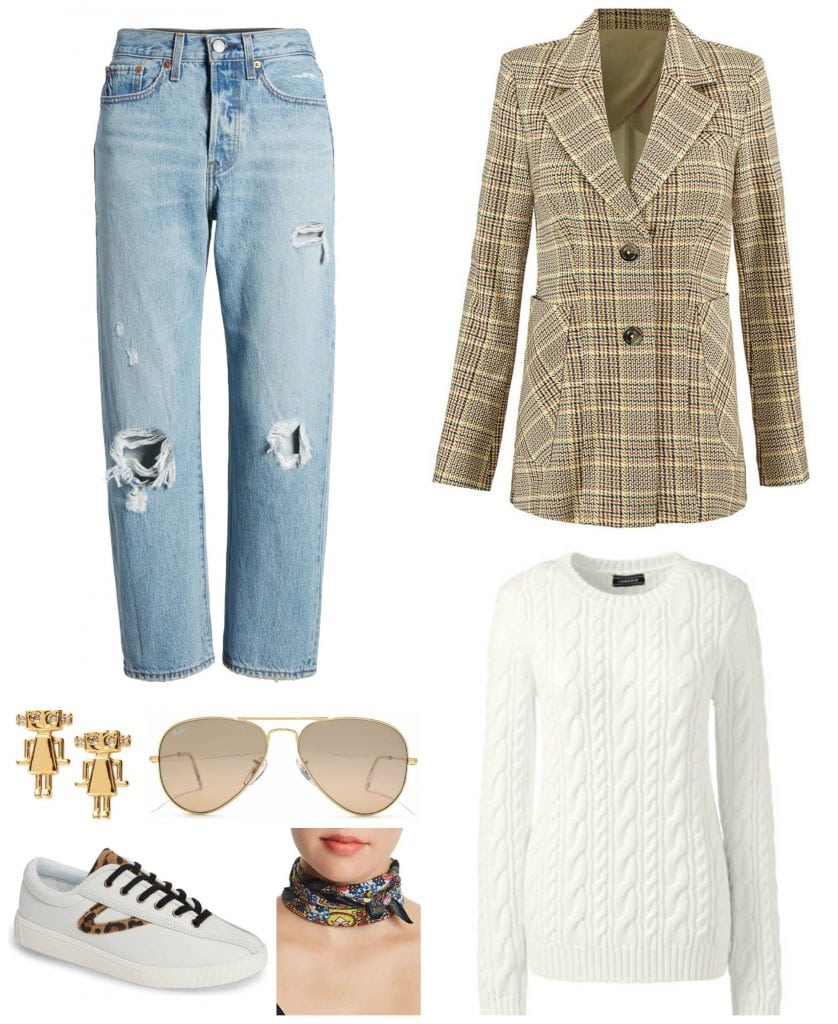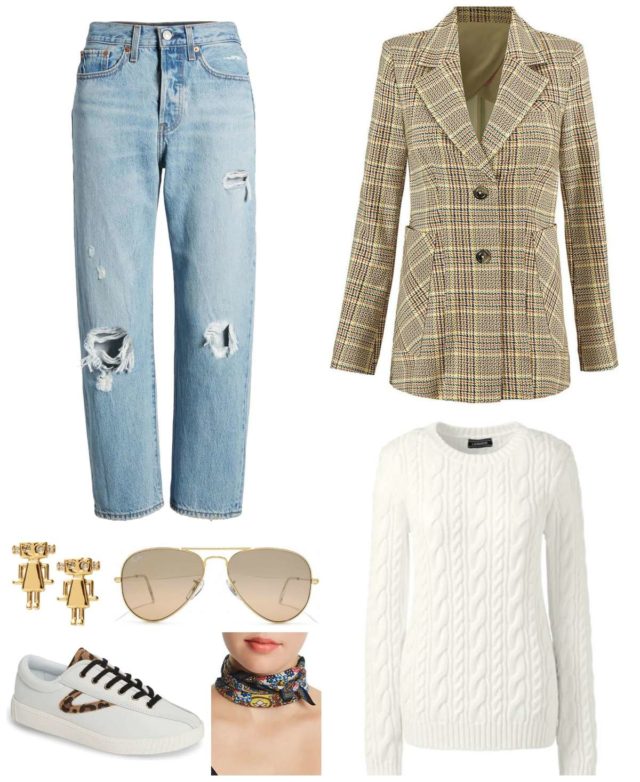 Jacket | Sweater | Jeans | Earrings | Sunglasses | Shoes | Scarf
Okay, at first glance this may seem like a lot of a look but hear me out.  You don't need to do alll the things in this look, but it may give you some ideas.  See, a plaid blazer can feel stuffy and conservative; incorporating a current casual trend will make the jacket feel fresh and modern.
With a ponte blazer, you can layer it over thicker items.  A great way to stay warm and be on trend is to layer it over a cable-knit sweater or even a hooded sweatshirt. This will give a downtown chic vibe to your weekend looks and shows how a blazer can be a great alternative to a denim jacket.
After years and years of skinny and straight jeans, this season has some novelty styles that can carry a look.  Instead of using your top or a pop of color to bring interest and texture to a look, this season consider denim.  These jeans are an ankle length but not tight, and have a higher waist. Also, notice the lighter wash.  The concept is of a vintage jean that it is a bit slouchy but not as baggy as the boyfriend jean of a few seasons ago. Try half-tucking a top or sweater into such a jean.  If this isn't your thing don't worry, skinnies, straights, and baby boots are still on trend and available at all retailers.  Consider trying a pair with a stripe down the side to get the silhouette and color you're comfortable with but with a modern update.
Scarves continue to be a popular trend for fall, especially silky ones that are square. This one is a bandana style which is easy to fold or roll on the oblong and tie in a knot to the front or side without looking like a flight attendant.
With so much going on, keep the jewelry to a minimum. If you want a bit of shine, why not something small but mighty? This season there are so many quirky, fun, and pretty stud earrings.  These are a pair I recently found that are just too cute.
And yes, those ARE Tretorns!  The '90s are back in a big way, and it shows with the sneaker trends this season.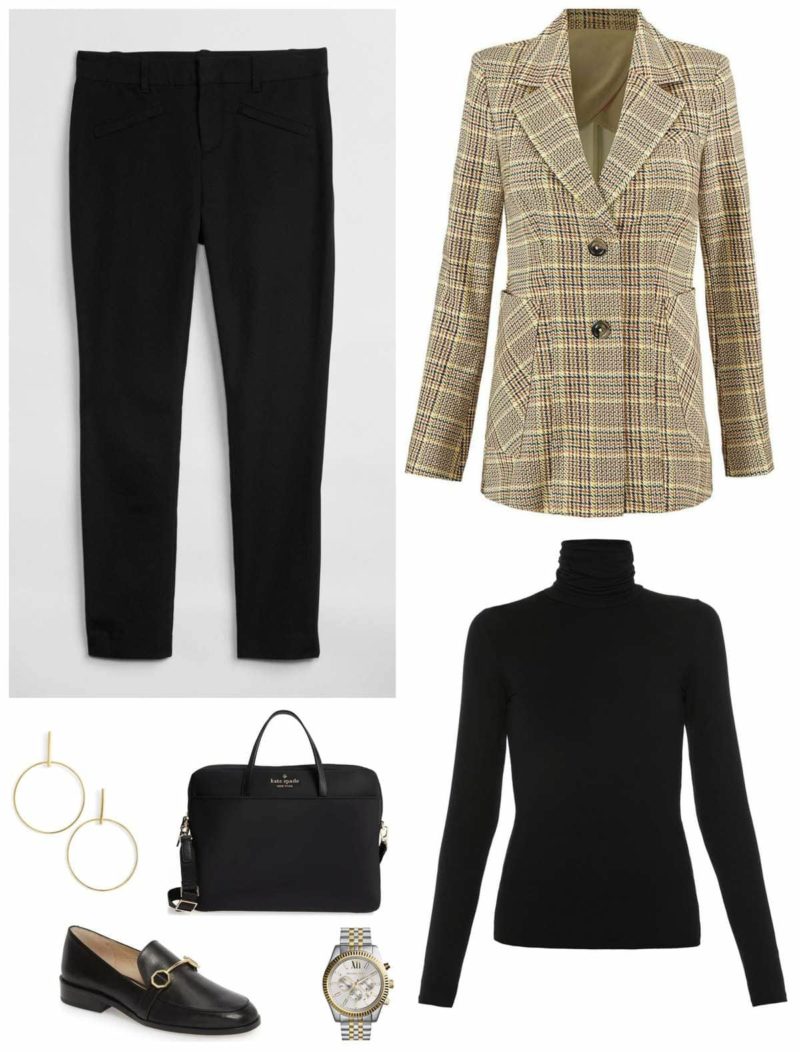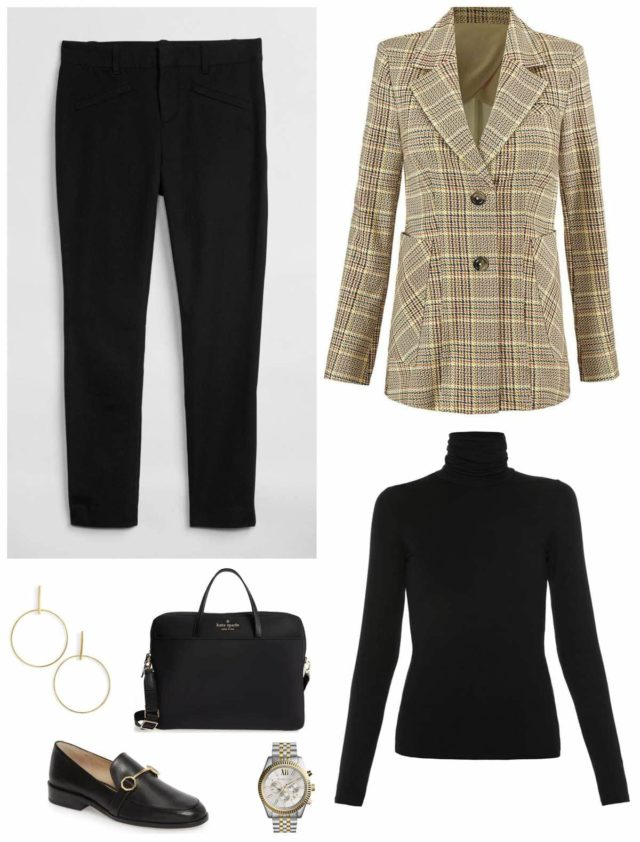 Jacket | Turtleneck | Pants | Earrings | Laptop Bag | Loafers | Watch
A plaid blazer is a given for the workplace, but the way to make it modern is to pair it with sleek and sophisticated separates. A slim merino turtleneck and tailored ankle pants provide a clean backdrop for a statement blazer.  Continue the collegiate vibe of the plaid with a pair of elegant loafers and a chronograph watch.
Styling an Oversized or Boyfriend Fit Blazer
This season, one of the most popular silhouettes of blazers is the oversized or boyfriend fit. Often this version of blazer has shoulder pads, a straighter cut, and a longer length. The idea is to look as though you borrowed the jacket of a man larger than you. Sleeves on this cut are often pushed up or cuffed to emphasize the "borrowed from someone bigger" effect. Oversized blazers come in double- and single-breasted styles. This cut is surprisingly flattering on a variety of figures because the oversized blazers are usually a lighter-weight fabric and have a nice drape. The key is balancing the volume of the blazer with a slimmer look underneath.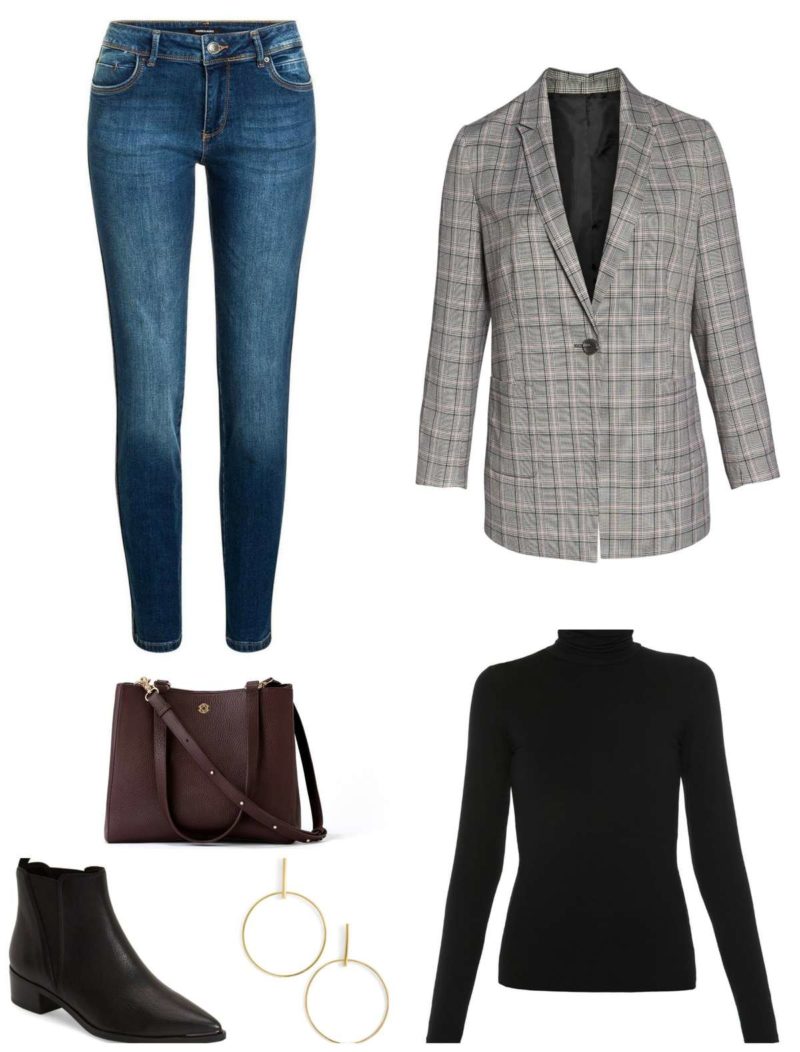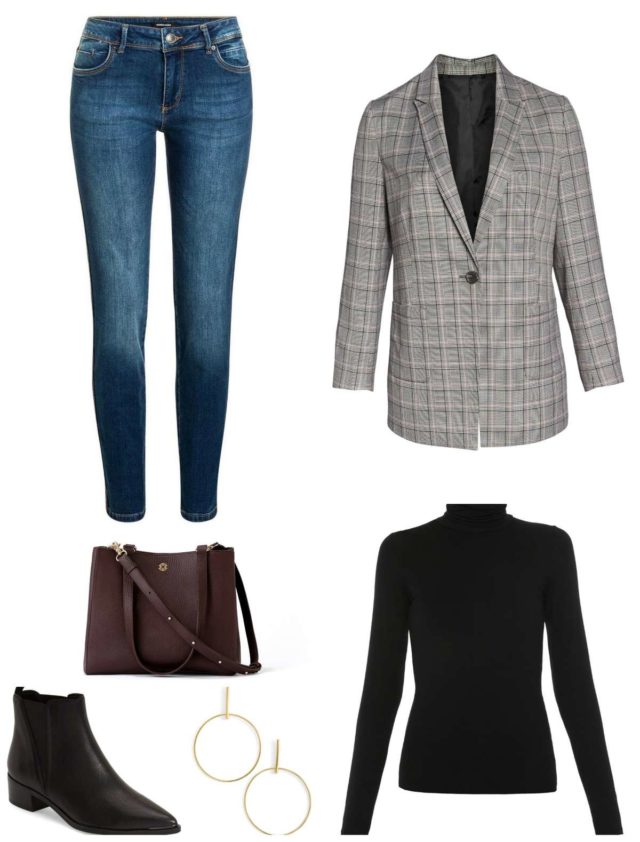 Blazer | Turtleneck | Jeans | Boots | Earrings | Bag
This look isn't drastically different from previous looks in this post, what is different is the jacket silhouette.  While it's hard to see in this collage, this is an oversized jacket with boxy shoulders, a straight fit, and a hem that ends at the thigh. To balance such volume, style with slim pieces. A crossbody or shoulder bag is also a great choice to temper the volume. This is the new smaller version of the Dagne Dover Allyn Tote which has an optional crossbody strap. Stay tuned, I'll be reviewing this bag in a future blog post.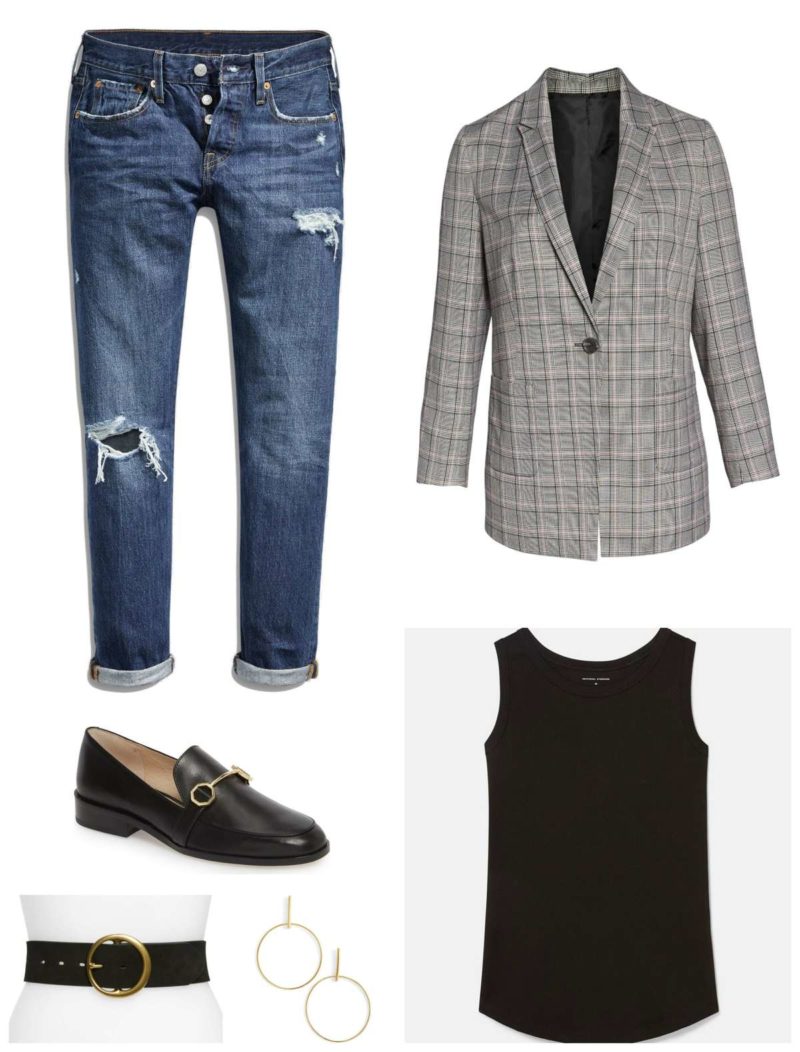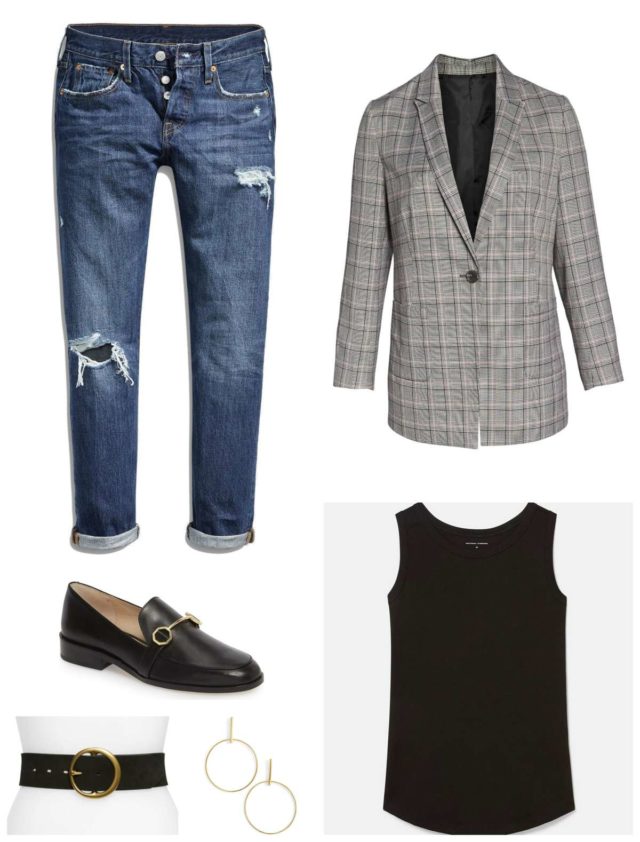 Blazer | Tank | Jeans | Loafers | Belt | Earrings
Transform the look of your oversized blazer with a belt!  This large belt is a great choice because it will cinch smoothly and balance the fabric of a blazer.  Play around with the belt, you may like it with the blazer buttoned, with the jacket wrapped underneath, or maybe with an inch of space between the sides of the blazer, letting your base layer peek out.  With the statement that is made with belting your blazer, you don't need a lot of flashy details.  Classic loafers and a modern gold hoop complete the look.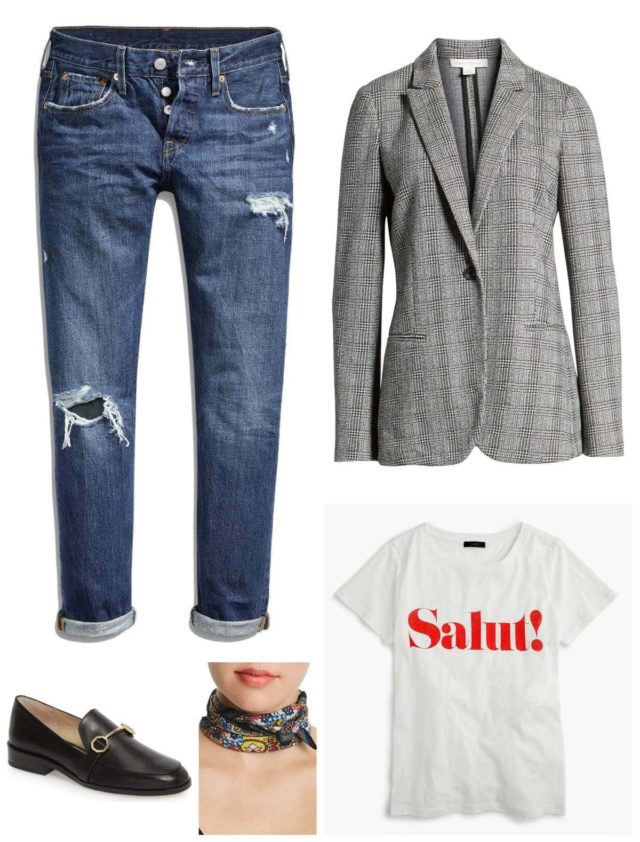 T-Shirt | Blazer | Jeans | Loafers | Scarf 
A plaid blazer is perfect when paired with a graphic t-shirt.  Whether it's a witty statement, a cool pattern, or your favorite band make sure the t-shirt isn't too boxy or stiff.  This shirt is from J. Crew, one of my favorite retailers for graphic t-shirts.  I paired this look with distressed jeans but you could easily switch out the jeans for a pair of skinnies, ankle pants, or even faux leather leggings.  The loafers can be replaced with sneakers or even a pair of pumps or mules. Add a silk scarf to pull the entire look together and add some drama.
Styling a Unique Blazer
Along with glen plaid blazers, this season is seeing a lot of unique cuts and details on jackets. Racing stripes, faux fur trim, belts, multiple fabrics or patterns, and much more. Many of these details are also seen on plain blazers, and the effect is quite fun. How to make such unique blazers work without looking like a fashion victim? Let the jacket be the accessory. Keep the rest of your outfit subtle and let the blazer shine.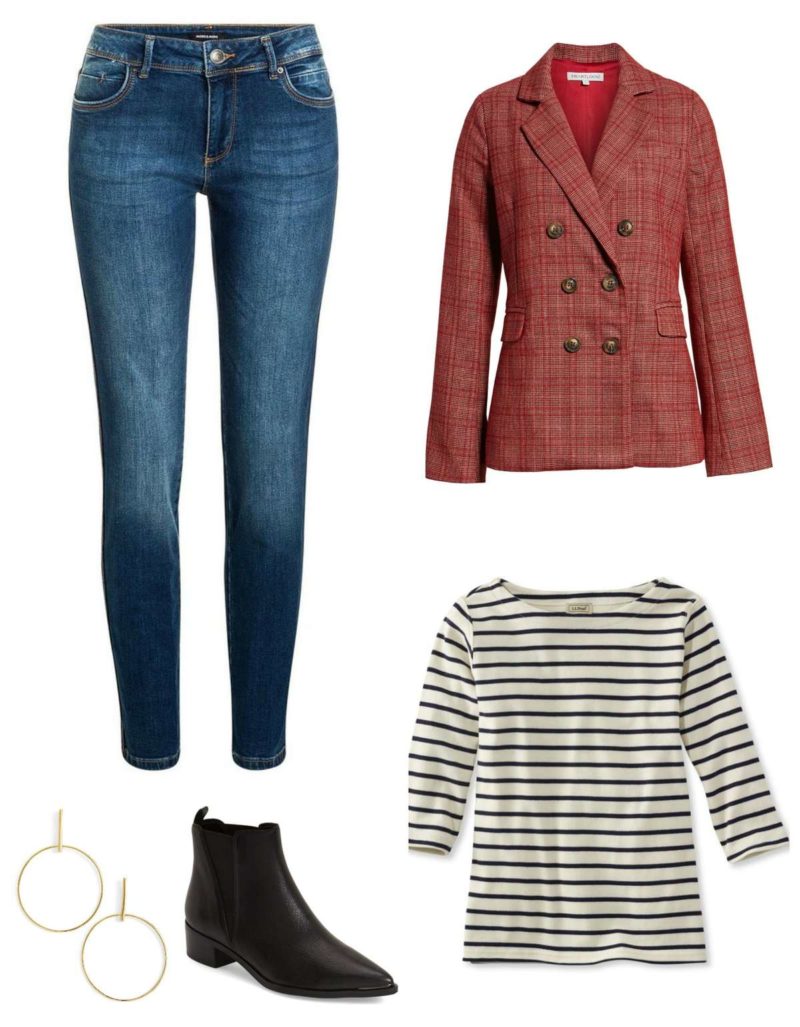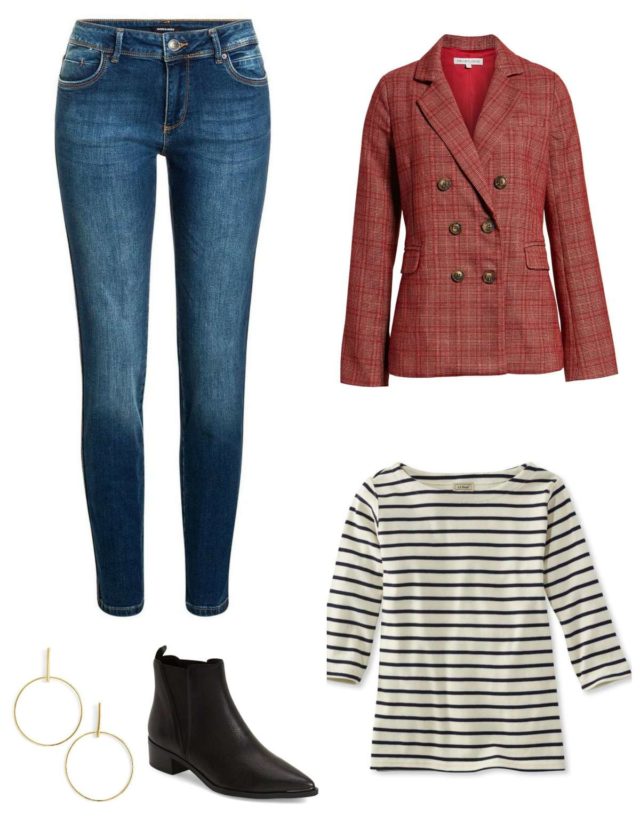 Blazer | Top | Jeans | Boots | Earrings
While this blazer isn't that dramatic, this concept works more for statement jackets. Balance the over the top with classic looks.  Breton stripes work with most anything, and make a wild print or interesting silhouette feel purposeful.  Slim jeans and a sleek boot create a continuous line that will also balance a more unique blazer.  Keep accessories clean, these hoops are unique but won't compete with the jacket.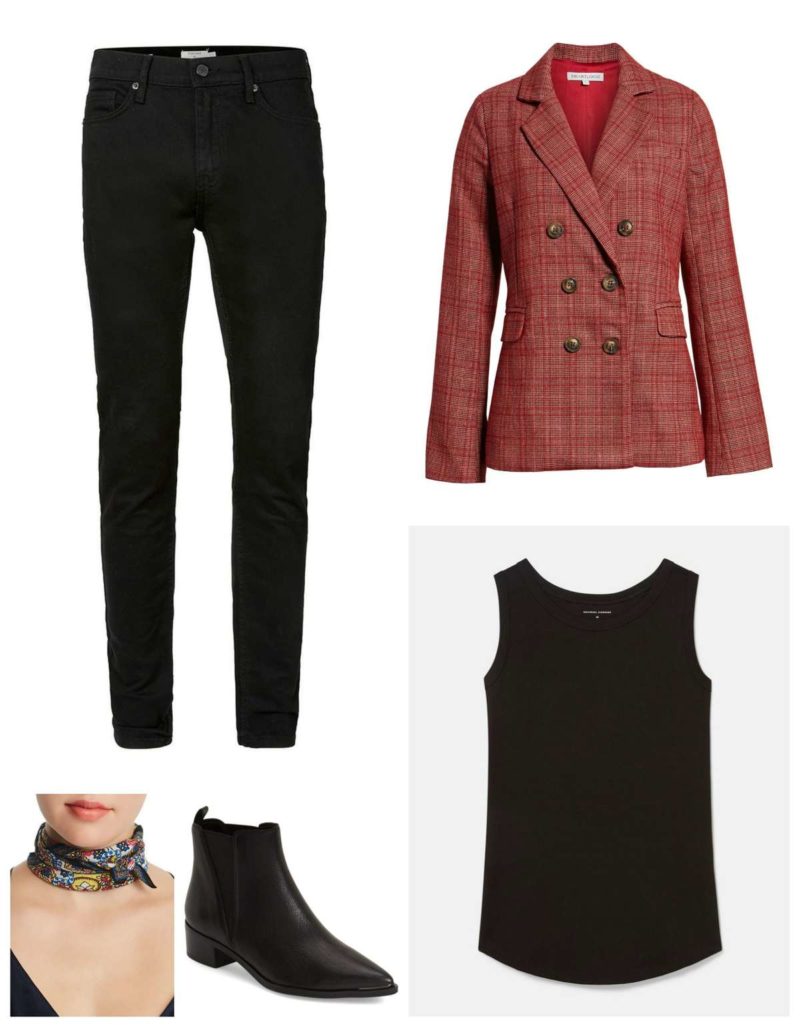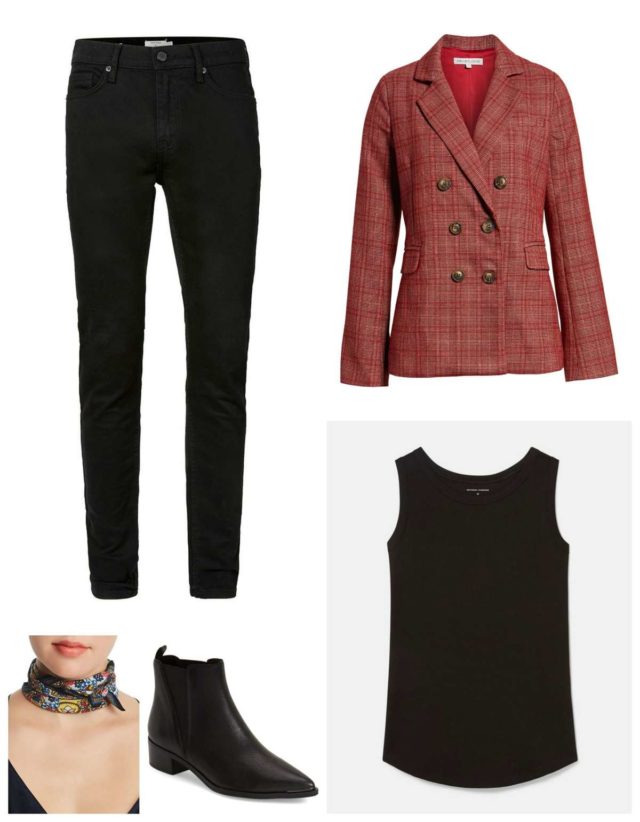 Blazer | Tank | Jeans | Boots | Scarf
Again, keep the base look simple to let the blazer shine.  Having an all-black base is perfect for jackets with bold prints and edgy silhouettes.  While this look features black jeans, depending on the length and cut of your jacket consider switching out for faux leather leggings to add texture without being over the top.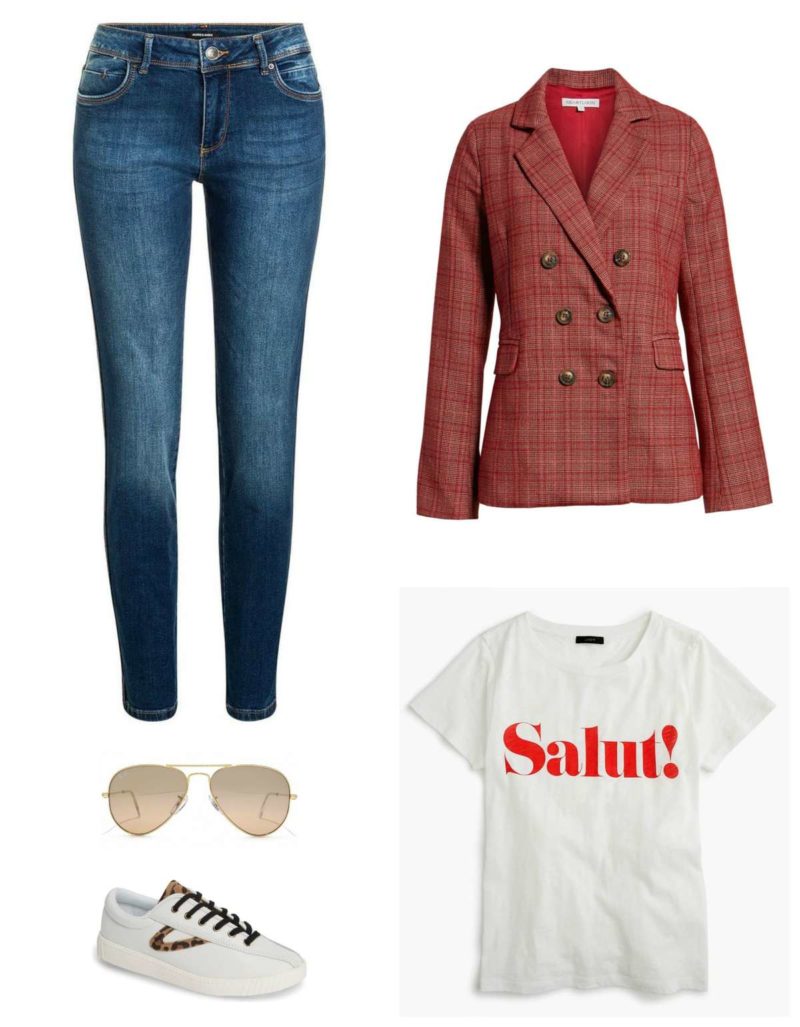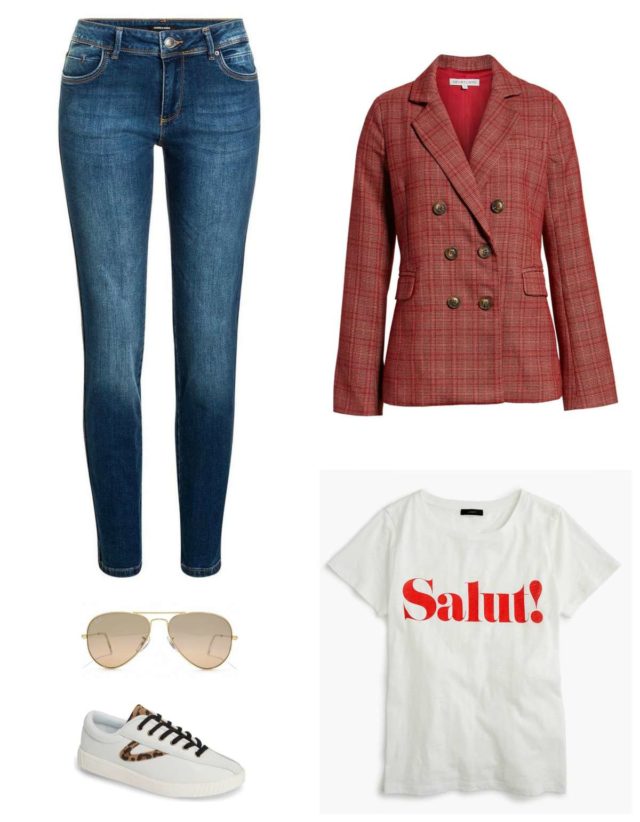 Blazer | Jeans | T-Shirt | Sunglasses | Sneakers
Again, the same concept as before with plaid blazers, but note how simple this look is.  No distressed denim, no statement earrings, no bold shoes.  Very clean, very simple, add a red lip (my personal favorite red) if you like but this lets the jacket steal the show.  By keeping everything else simpler, you're increasing the chic quotient.  While there are some bold trends this season, the overall concept right now is less is more.  Balance the bold with subtle, intricate with simple, embellished with simple and you'll rock this and the other hot trends this fall and winter.