This article may contain affiliate links; if you click on a shopping link and make a purchase I may receive a commission. As an Amazon Associate, I earn from qualifying purchases.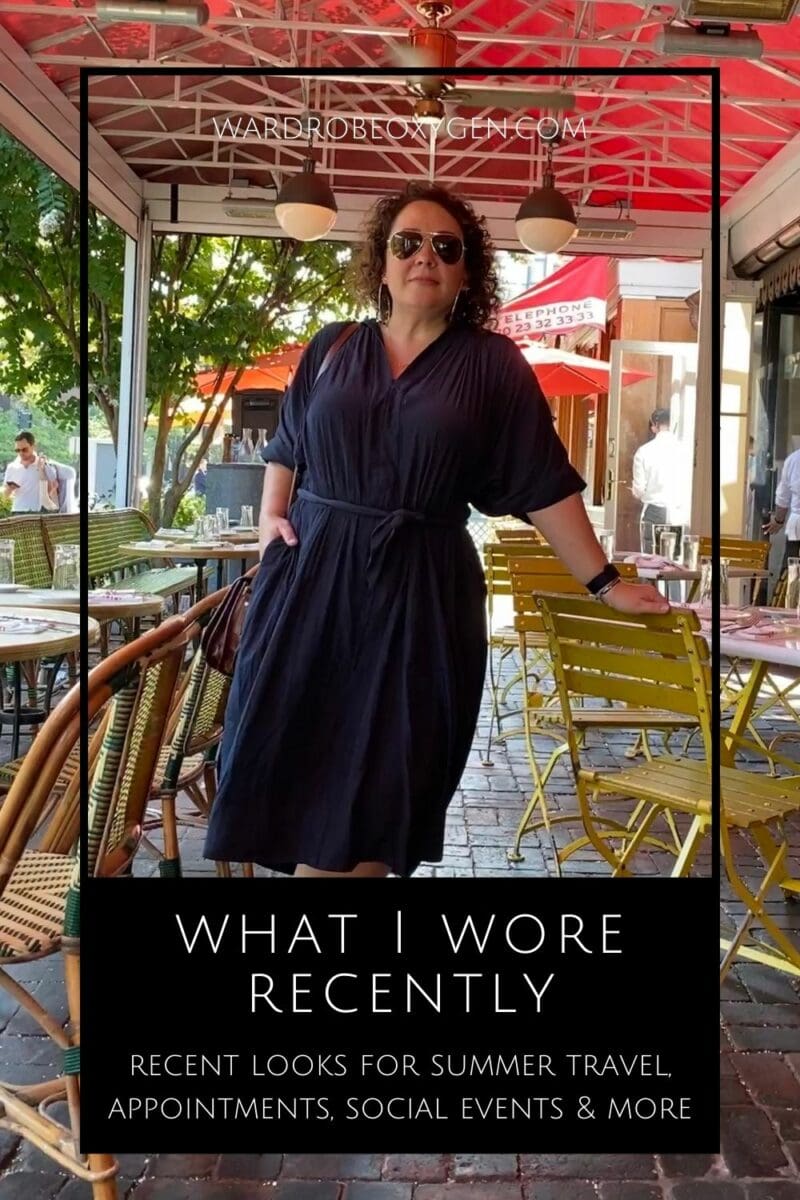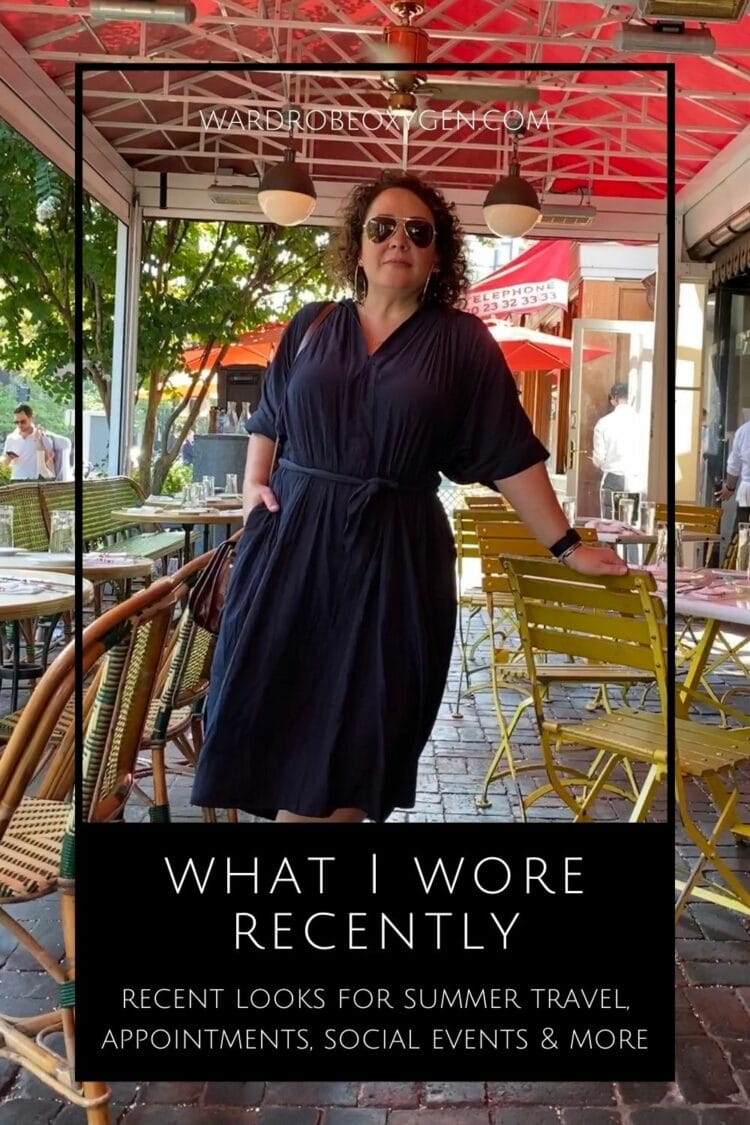 While I've slowed down on content creation this month, I'm still going out and about and to do that, wearing clothes! Here are a few of the looks I have worn recently with honest reviews, tips on fit, and more. Below each photo is a widget to shop the look or something similar if the item is out of stock or unavailable to add to such a widget. Links in the paragraphs will have the exact items, will note when I share similar, and I also have links to previous posts where I wore the same item.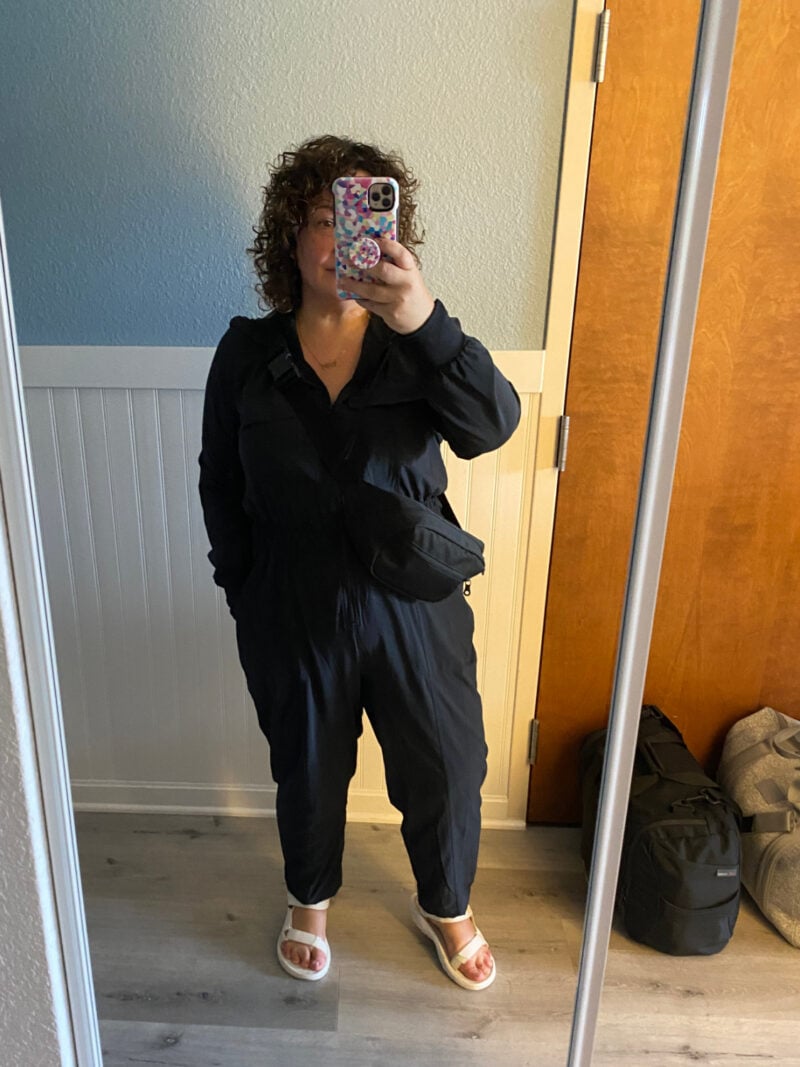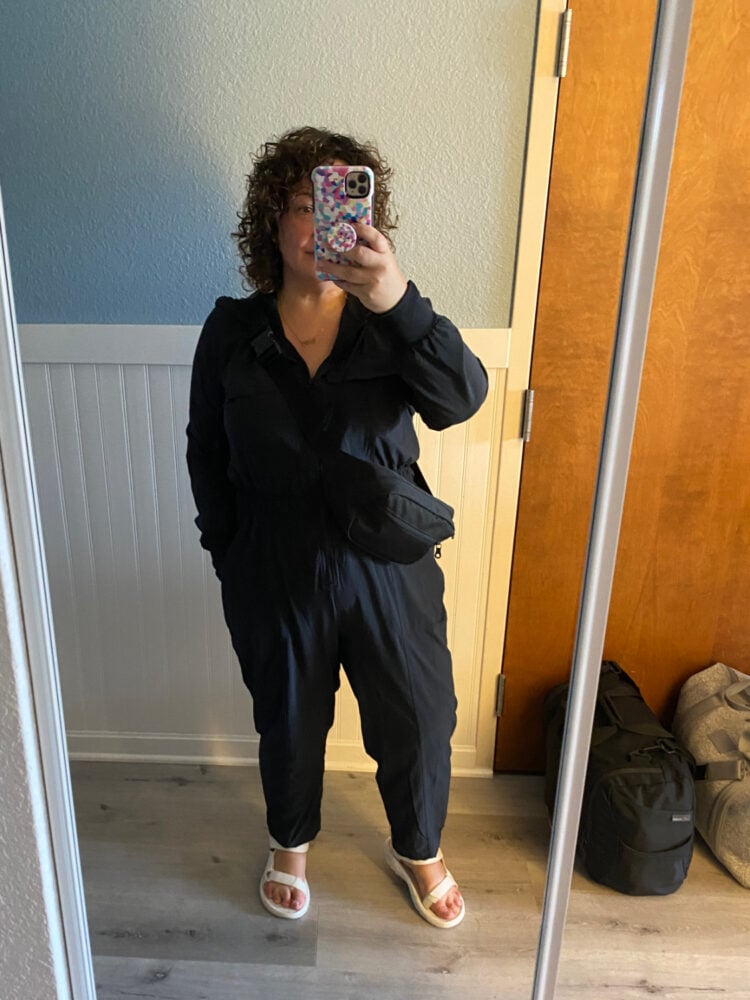 This is the only item I bought myself from the Nordstrom Anniversary Sale that I kept. This is this jumpsuit from Zella in size Large and no surprise, this jumpsuit lover loves it. The fabric is like stretchy running shorts, with a soft knit waistband and cuffs. The stretchy fabric and zipper make it super easy to get on and off, and the knit waistband hits at just the right spot on my torso, showing my shape without being restrictive. So many pockets, and pockets with zippers!
I wore this jumpsuit to drive to the Delaware beaches, which was about a 4-hour drive and I was super comfy. So comfy, I kept it on walking around Rehoboth Beach and I wore it to linner too. The fabric is athletic fabric, so it kept me cool and breezy and not feeling all funky even on a warm summer day. Reviews say it runs small, it runs large… at 5'3″ tall and a size 14 who usually gets a Large in Zella, I felt it ran TTS but if you're taller you may want to size up to have more room.
With it, I'm wearing my white Teva Hurricane sandals, this Girlfriend Collective belt bag as a crossbody, and this necklace from Etsy. My phone case is PopSocket x OtterBox.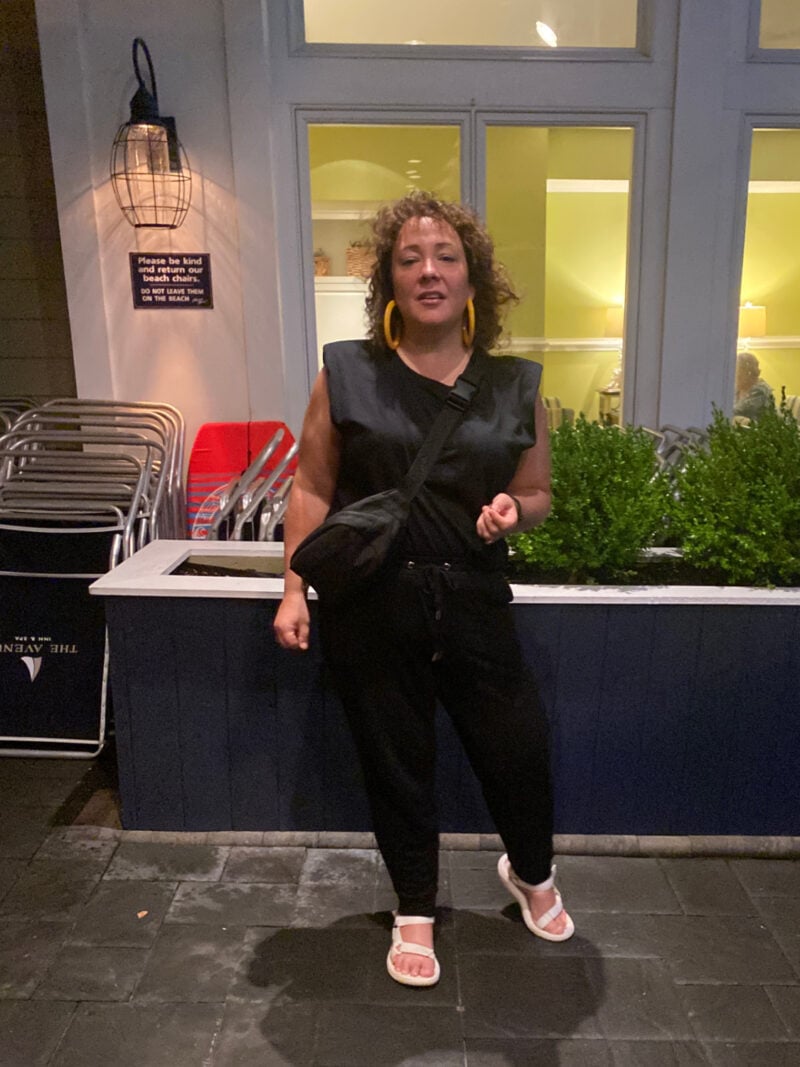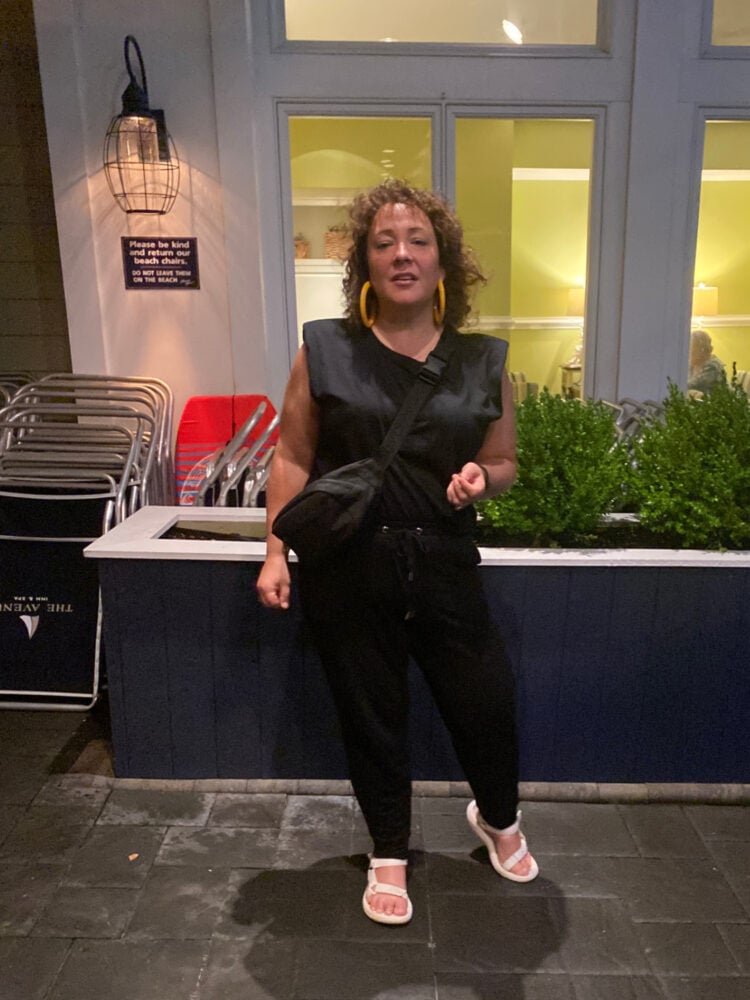 The second night we were at the beach it POURED. It rained, stopped, and rained again and it was muggy and damp feeling. I decided to keep it chill and comfy for dinner and wore my beloved Soma joggers with this shoulderpad tee from Banana Republic. The earrings are vintage from More Than Your Average (these are a similar effect) and the sandals are again my Teva Hurricanes. Again the Girlfriend Collective belt bag as a crossbody.
Not easy to see, but I also added a pop of color with royal blue liquid liner. I kept the rest of the makeup very simple, no eyeshadow, just bronzer, brows, mascara, and lip gloss. Summer is the best time for playing with makeup, and I am really digging the return of colored eyeliner and mascara. And y'all know by now I'm obsessed with this glitter liner and have been for years. Don't think only the GenZers can wear colored liner and mascara; I may not be doing a whole eye with ombre holographic colors and winging my liner, but a thin line of blue, green, turquoise, or white has been a fun thing any age can rock.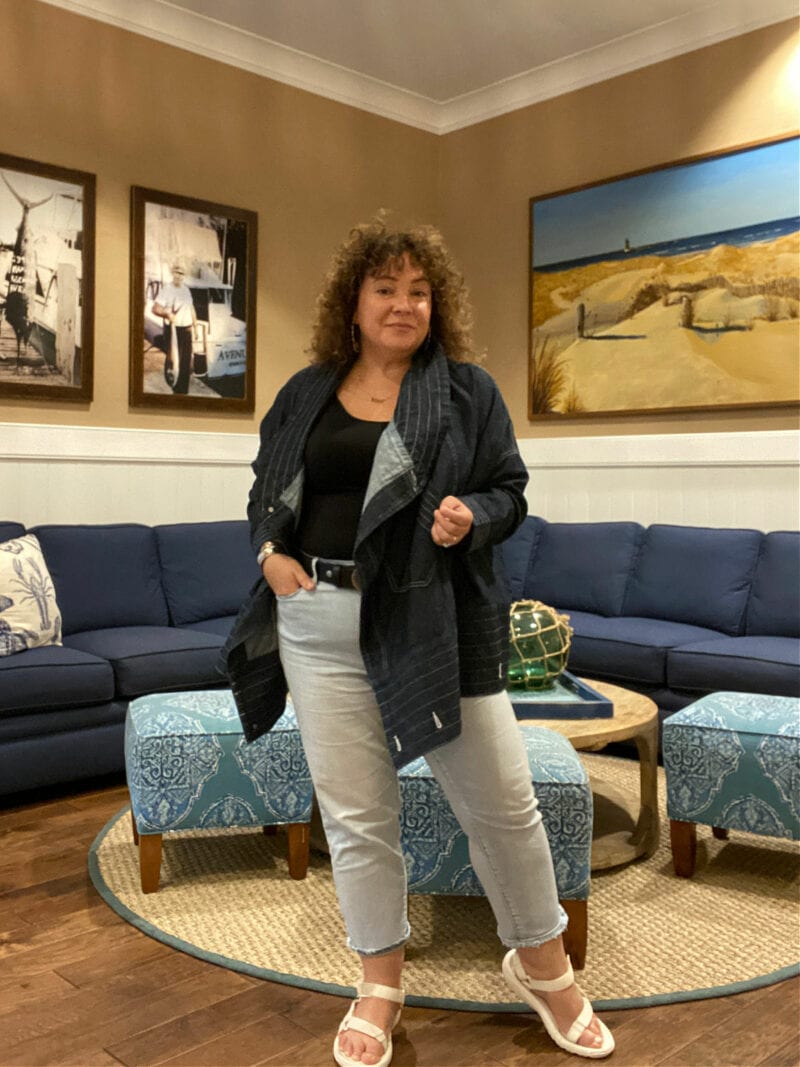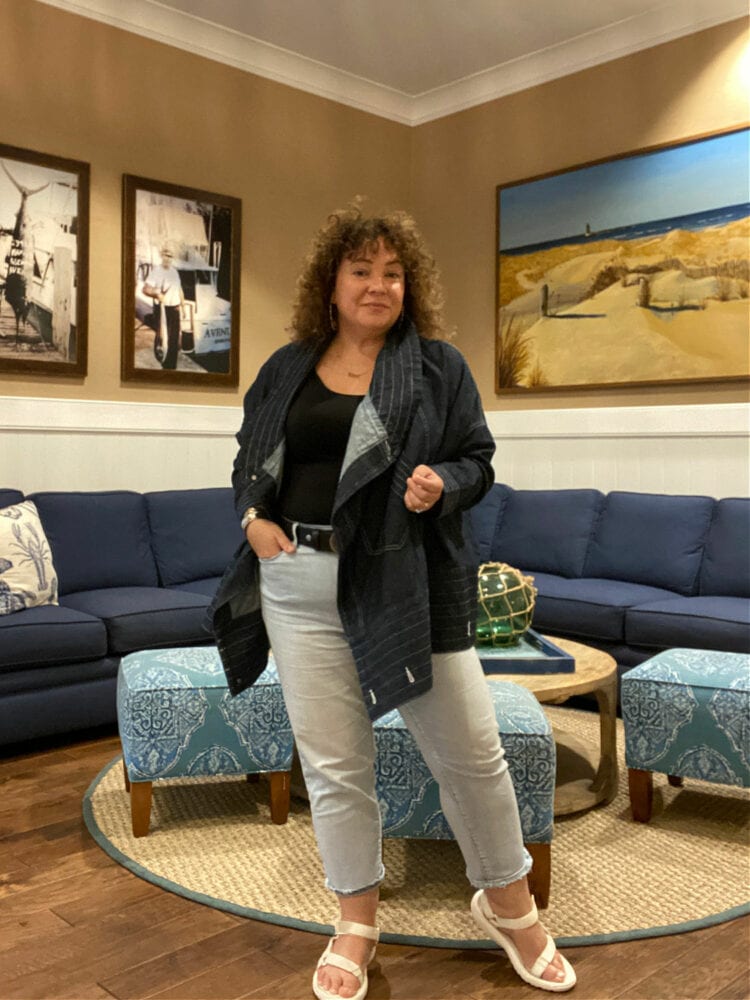 On the last day at the beach, I kept it simple with this black tank from Chico's in size 1.5 and an old favorite pair of jeans from Athleta (previously seen here). These jeans look similar. I added a black belt with silver and mother of pearl buckle (seen here back in 2019) and because it's the beach, I added the Teva sandals again (the only shoes I took to the beach were these and my sneakers).
Since it was chilly in air conditioning, while inside I added this lightweight denim jacket by Gary Graham for Amazon. If you watched the most recent season of Making the Cut, a fashion competition show on Amazon Prime, you may recognize it. Each week, a version of the winning look is for sale on Amazon.
I have never bought an item from this show before; as soon as I saw it being made I turned to Karl to say I hope it wins so I can buy it, and he said the same thing! When we saw that Gary Graham won the Levi's competition, I grabbed my phone and went to Amazon and ordered two. The jacket was available in S/M and L/XL; this is the L/XL.
This jacket is back in stock. It is not perfect, and it is $200, so it's not cheap. But I love it anyway. This is a jacket that you can wear two ways; it is not reversible. Instead, you flip it upside down so the collar is the waistband and vice versa. It even has two Levi's labels inside so there is always their iconic leather patch centered on your shoulders.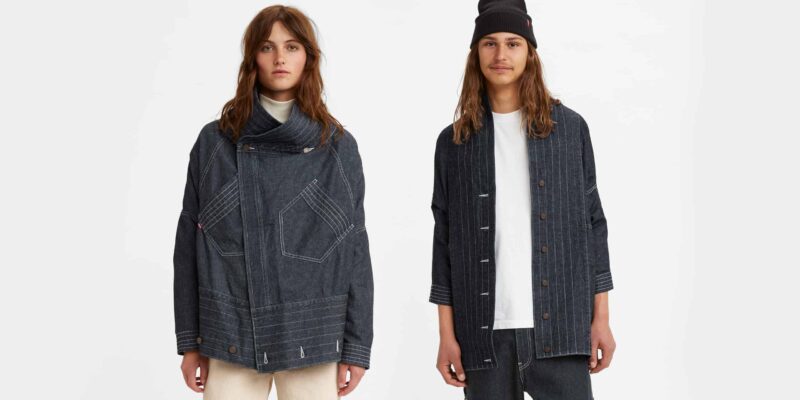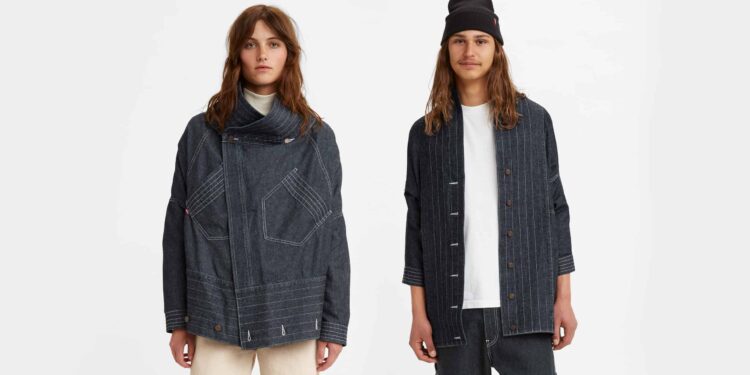 I like it the way I have it above, which I'd assume is the expected way because it's leather Levi's label has the size tag attached to it. It is the way seen on the first female model on Amazon, and the second way it was styled on the runway.
The other way is how it looks on the first male model on Amazon. This is a miss because the back at the waist flips out like a ducktail. You can see it has a slight flip on the runway, but this mass-produced version was created to be an accessible enough price to sell out fast (which it did but it's back in stock)… it's not as refined and it makes the second way to not be as cute… unless you are tall and have a booty. Then I think this could look custom on your body. It's the right point for Karl who is 6'4″ and a size men's Medium/Universal Standard XS but he has no booty so it just looks weird.
If there were a few more buttons you could wrap the edges of the front and it would cinch the jacket, turning it into a bomber, but kind of a cool thing to wear as a shirt. It's not something you can MacGuyver, believe me, I've tried but I think this jacket could also be transformed with a belt.
So neither of us find this jacket to be perfect, but we're both keeping it. Karl said it's not something he'd wear now, but he could see himself wearing it 5-10 years from now. He has said that before about clothes he had randomly acquired and he has always been right. So take that as you will. The fabric is a great weight and wash, the white stitching is not perfect but cool looking, and the Levi's branding is well done. I'll get better photos of this jacket in the future.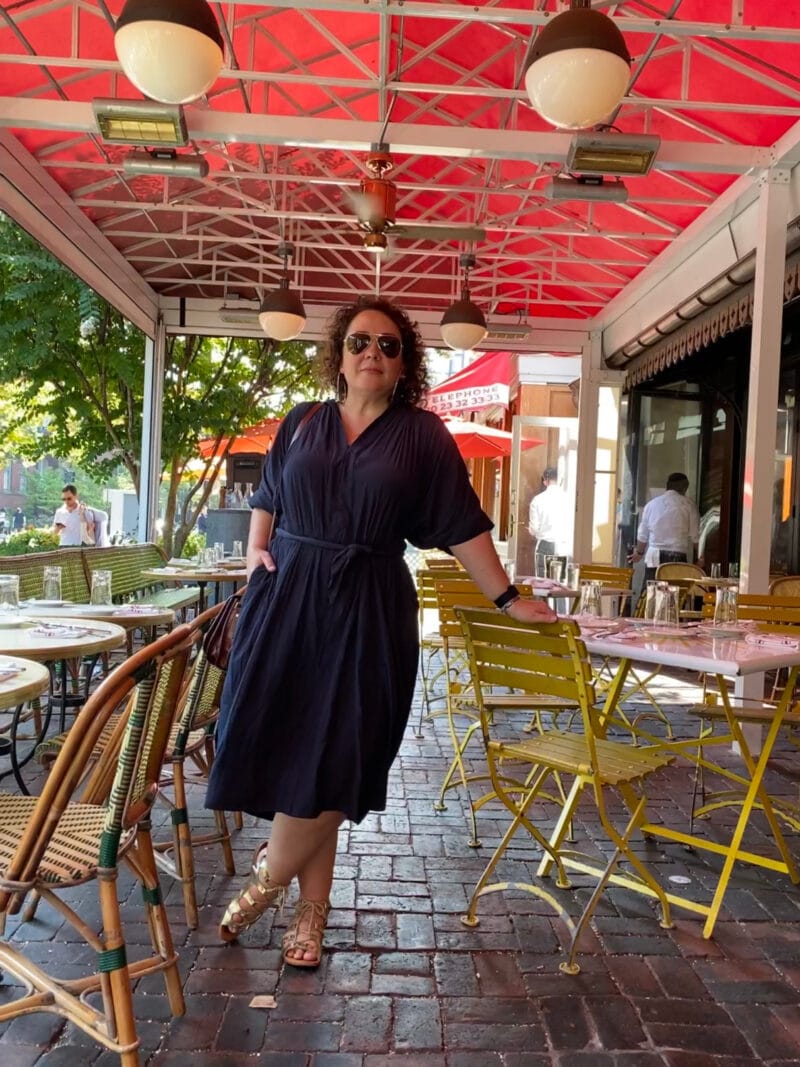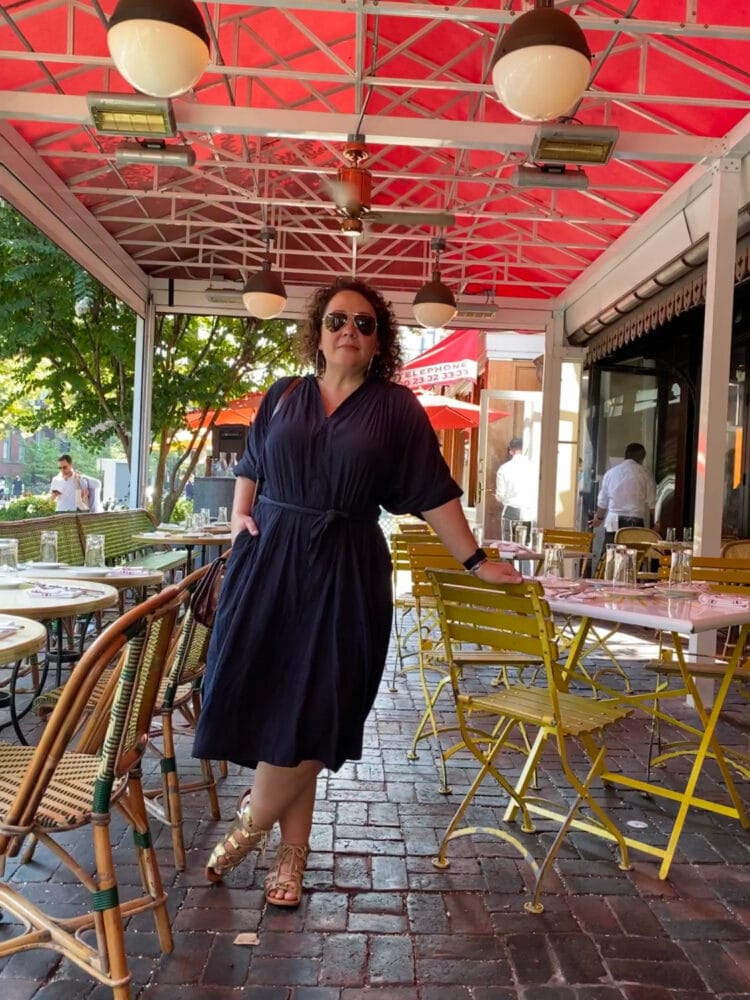 In the Wardrobe Oxygen Facebook Community, someone asked about Ever by X, an Australian woman-founded sustainable slow fashion brand that creates just one dress. I'm not one for gimmicks in fashion (types the woman who just bought an Amazon jacket that can be flipped upside down) but I liked that this dress came in sizes 6-24 with regular and petite options, and it was from a sustainable machine washable fabric. I reached out to the owner, Kerryl, and she offered to send me a dress to honestly review on the site. The review will be next month.
But you can't do a review without test driving the product. When I was meeting my friends Sylvia and Elizabeth for lunch at Le Diplomate. It was a hot day in DC, which means it's also humid, and thanks to Delta, we were eating outside. Going through my closet I felt this dress could be a good choice for looking and feeling cool. For reference, this is the petite version.
There are several ways to tie and twist this dress to create different looks; I pulled this dress straight from the packaging (it comes in a fabric pouch the size of a thick paperback novel) and tied it in the most obvious manner without following any directions or looking at tutorials.
This dress was super comfortable; we sat for about three hours chatting under this covered patio at the restaurant during the hottest point of the day. No sweat stains, no sticking to my back, and it has pockets (kinda small but big enough to hold an iPhone). With it I'm wearing some very old sandals from Bella Mia (previously seen here and here), my Maxwell Scott saddlebag (use ALISON10 for 10% off; see it here back in 2015 and here earlier this year), and my large gold hoops from Jenny Bird (no longer available). The sunglasses are from ROKA.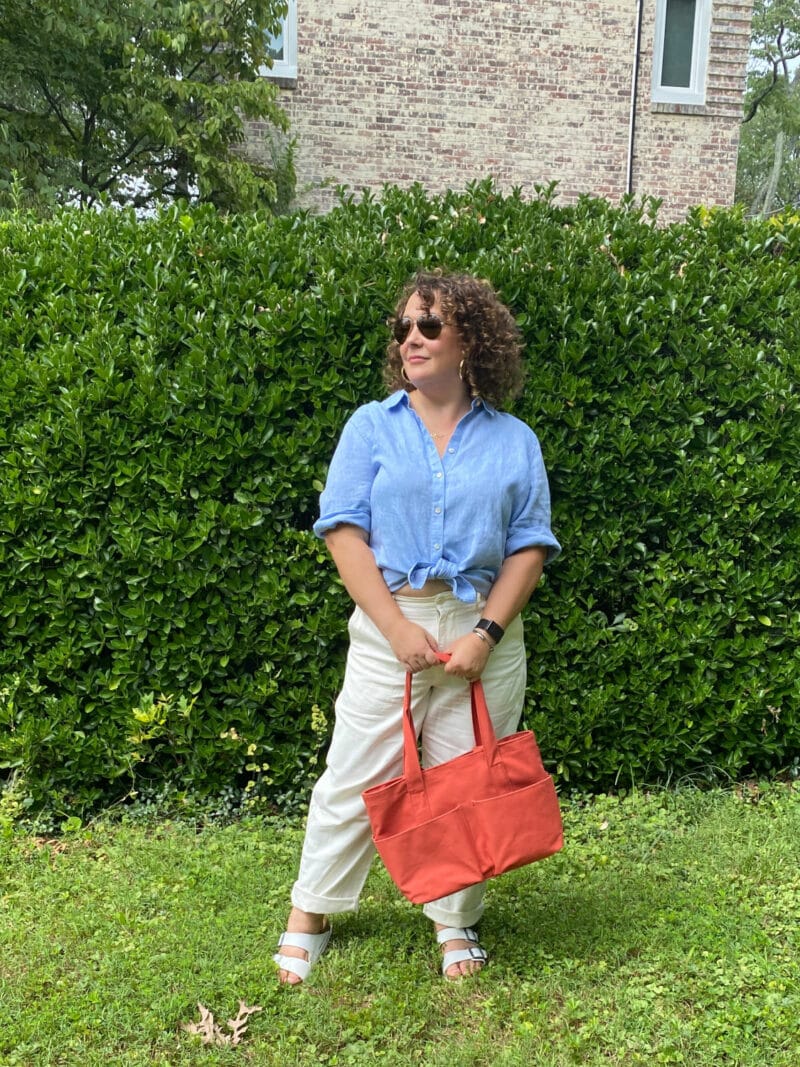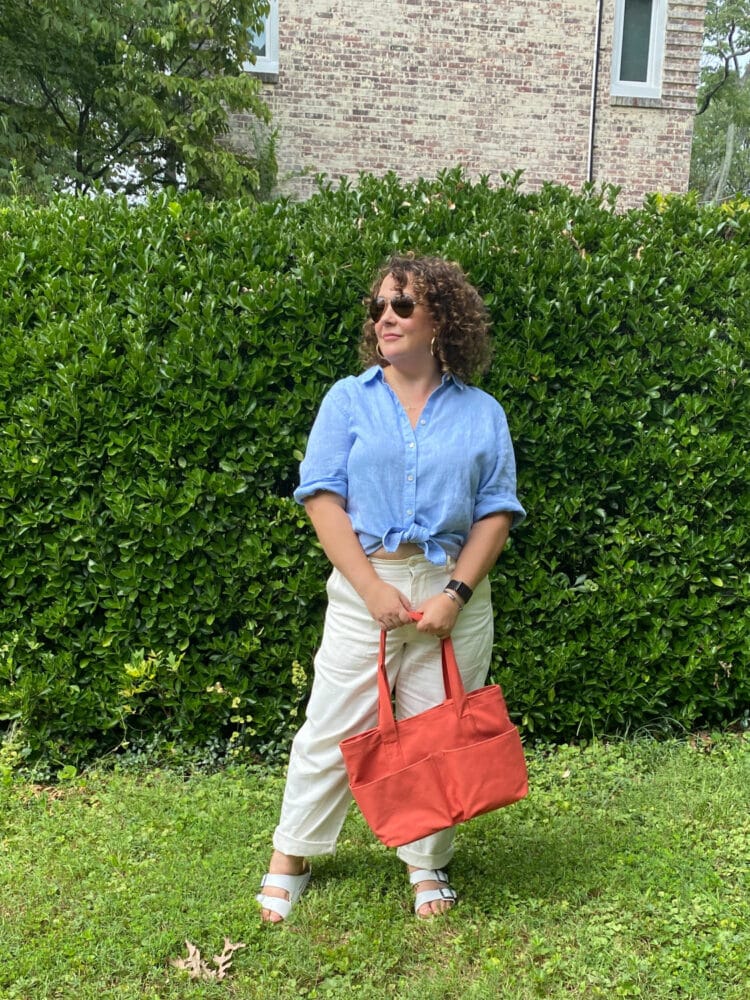 You've seen this blue no-wrinkle linen shirt from Chico's here and in many of my Instagram Stories this summer. It continues to be a favorite and will be something I'll be taking on vacation next weekend. This is the tunic version, which I like for the extra length to tie it in front, and I also often use this as a swim coverup. No surprise, this shirt is sold out in all colors except white and then it's only in smaller sizes. The regular length shirt is available in two colors and select sizes.
The pants are these from J. Crew. I've been craving a slouchy casual pant to wear now with graphic tees and this fall with sweaters. I ordered these on a whim and I really dig them. These are 14 regular, I cuffed them twice the width of the hem. You'll see them again in the next outfit; the cropped length I like with my white Birkenstock Arizonas. Same ROKA sunglasses, and these Baublebar hoops.
The bag is the Small Vida Tote from Dagne Dover. I have been a Dagne Dover fan for almost a decade. It is a bag company founded by three women who are still friends and still in charge of the business. This bag is made from organic cotton and has a kazillion different pockets and pouches including a removable neoprene sleeve for a water bottle. Right now I don't have much to put in a purse, but this bag is ready to carry a lunch, change of shoes, or be filled with goodies from the farmers market.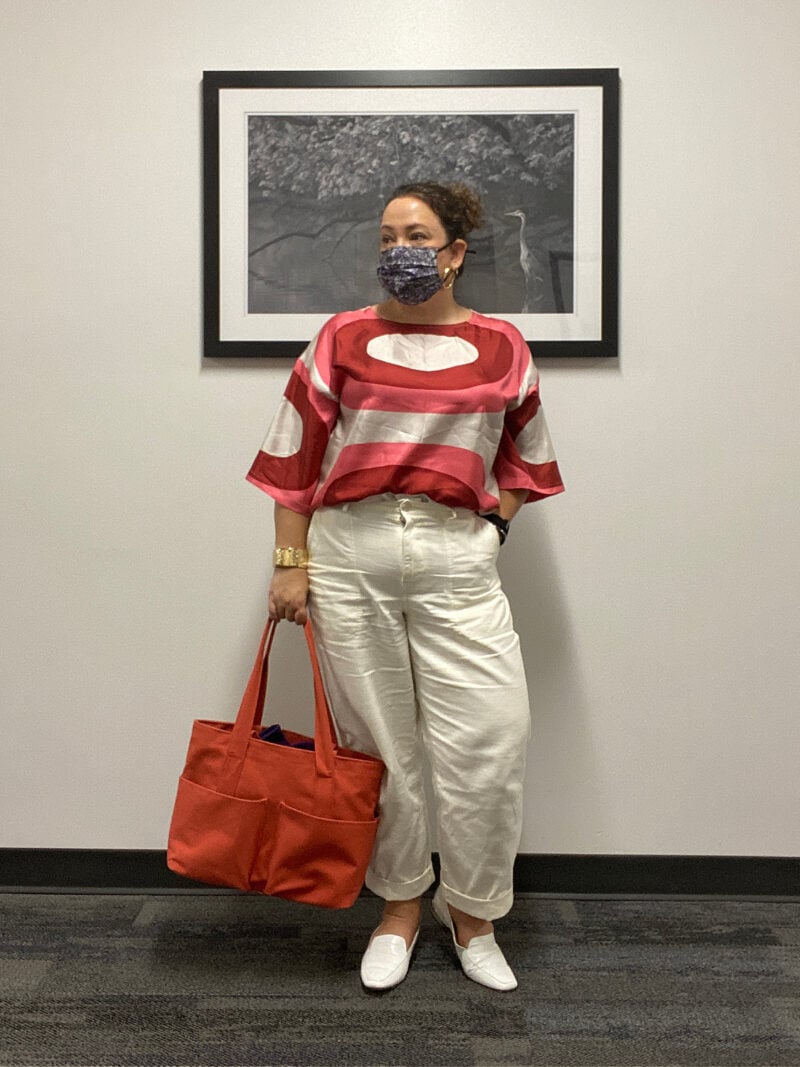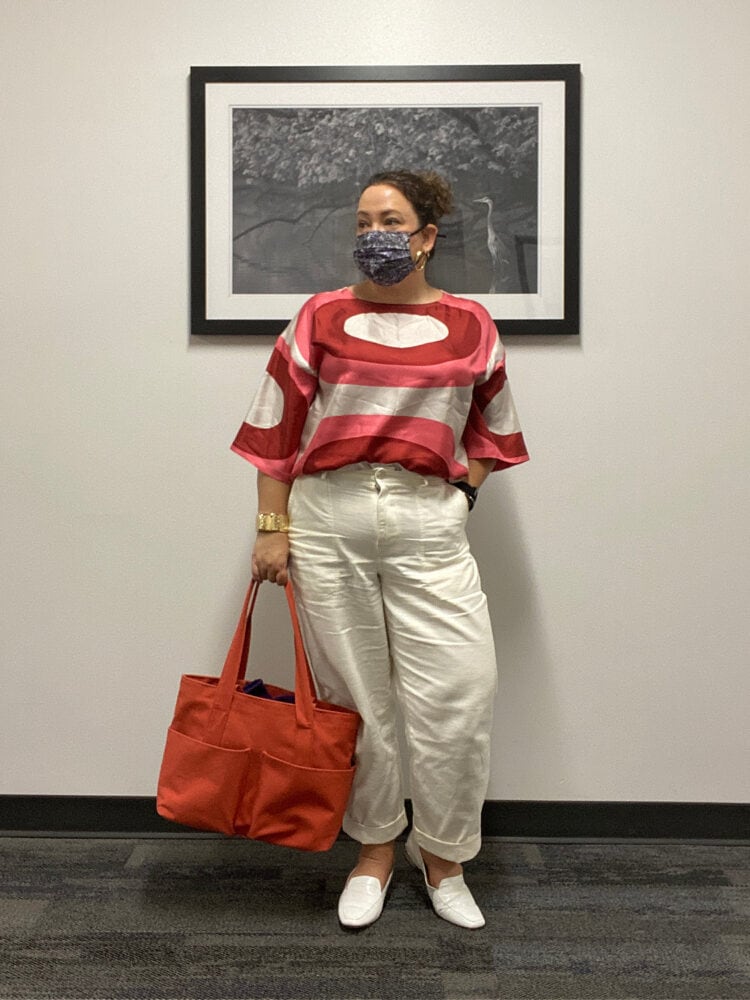 I went with my mom to an appointment and this is what I wore. No shame, this is the day after the previous look, wearing the same pants, pulled straight off the chair where I left them the night before. And the same Dagne Dover Vida Tote in small. The loafers are from Naturalizer and I got them in 2019; these are very similar. The cuff is Chico's and the earrings are the same ones from Baublebar I wore the day prior. The face mask is Athleta.
The silk tee is from Marimekko; I mentioned it in this Friday Shop that I ordered it. When it arrived I was doing the whole, "This much for what is essentially two T's of silk sewn together with white thread?" thing. But thinking about this post and that dress, I kept it. And I am glad I did. It's lightweight and comfortable while adding interest and elevating what is a pretty casual look. I'd like to style it this fall with high-waisted tailored wide-leg trousers. I think it would look good under a pantsuit, and since it looks nice untucked I could totally do it with a boyfriend blazer and leggings for a quick and easy look.
I share more of my outfits on Instagram and even more, including the workout and lounge outfits on Instagram Stories. I'm doing more Instagram Stories this month than anything since it's so easy and unfiltered, but will be back to regular posting on all platforms in September!