This article may contain affiliate links; if you click on a shopping link and make a purchase I may receive a commission. As an Amazon Associate, I earn from qualifying purchases.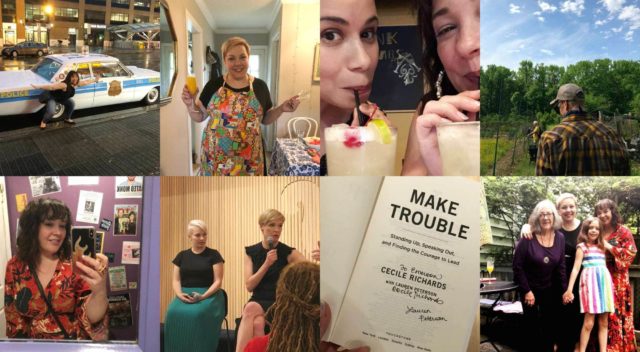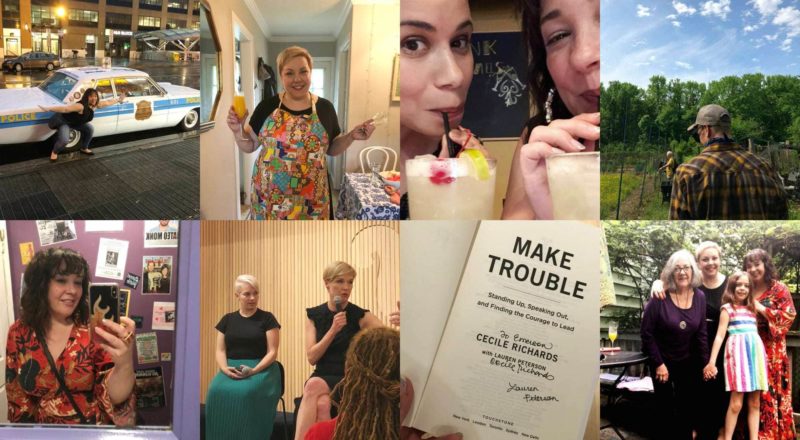 I'm writing this in advance because as this goes live I will be at a sleepover at the National Aquarium in Baltimore with my daughter's Girl Scout troop. Yep, your girl Allie sleeps with the fishes! And I'm doing that instead of watching the Royal Wedding. While I'm not the type to be drinking tea in my fascinator at 5am, I did want to see it so my DVR is scheduled.
This week was a busy one. A company I worked with at my old day job reached out asking if they could contract me for a virtual event. This was my speciality at my old job, and I partnered with this company every year on this event. The calls and meetings for the virtual event started this week so I did a lot of switching mindset from Webinar Allie to Blogger Allie. Total flashback to life just a few months ago! It's been awesome, it's a topic I care about a lot, people who are passionate about the subject, and it's nice to keep my skills fresh. But heads up, content may be reduced over the next month (or maybe it won't be because I always work well under pressure!).
Colleen Rothschild is having their Friends & Family sale! Through Sunday, May 20th save 25% off the ENTIRE SITE with the promo code FRIENDS25. I've shared many times how much I love this skincare line and this is a great way to try it for less. My picks:
Each month I donate a portion of the profits from Wardrobe Oxygen to a charity. I am saddened by what happened in Santa Fe yesterday and positively FED UP by NRA and those who care more about money and power than people. This is the 22nd school shooting in 2018. THE TWENTY SECOND SCHOOL SHOOTING! Our children should feel safe at school, and arming teachers is NOT going to do it. This month I donated to Moms Demand Action and encourage you to do the same, but please share other charities in the comments as I want to do more and help smaller, grassroots organizations working to also make positive change. Finally, when I saw Cecile Richards speak earlier this week she said the most important thing we as women can do is VOTE. You want change? Not only should you vote, but find ways to register others in your community to vote and help them with transportation, etc. so they can get to the polls.
If you've shopped at an Ann Taylor or LOFT factory store in the past few years, you may want to check out this class action suit. This Reddit thread also provides a lot of valuable information about outlet stores in general.
I've been looking for a place to give barely-used beauty products. As a blogger I get a lot of products to test and not all are a good fit and end up hardly used. Most charities won't accept used beauty products, but my old assistant Jessica told me about Project Beauty Share. I'll be sending them a box next week! Not only do they want beauty and feminine care products for women in need, they also need donations. Click to learn more.
I am OBSESSED with my Needham Lane caftan. If you follow me on Instagram Stories you've likely seen it many times. The pattern is so fun, the lightweight cotton is the type that only gets better with wear and washings. It's a button neckline so you can button it up or show a bit of decollate, and best of all it has pockets! Wear it as a housedress, wear it as a hostess caftan for a party, wear it as a beach coverup, or wear it as a nightgown. Heck, because it launders so beautifully wear it for all of them! Also, Needham Lane is a small husband and wife business in New England, they go to India to source the fabrics, make the designs, have a hand in every aspect of the business and they're super nice people too!
A really interesting report on diversity in ad campaigns. It seems it's improving… kind of…
I'm so excited, Universal Standard now offers sizes 6-32. One of my goals for Wardrobe Oxygen is to feature more size-inclusive brands that can cater to the largest percentage of you who read. Some of you contacted me saying you liked Universal Standard, but they didn't have small enough or large enough sizes. This is an example of true size inclusivity, not just adding large plus sizes but smaller sizes as well. You've seen me wear Universal Standard many times on the blog and I will be wearing it a lot in the future as well. This update to the brand just makes me more of a fan.
You know I'm loving the rainbow trend this season, so I was super psyched to see this colorful and happy collection from Show Me Your MuMu. . No shocker, I'm especially drawn to this rainbow maxi dress!
Take a step into the New York Metropolitan Opera costume closet and wig shop. You know you wanna…
And for your viewing pleasure… Winona Ryder and Keanu Reeves in a romantic comedy. No really, it's a real movie and it looks as though it's going to be amazing or positively dreadful!