This article may contain affiliate links; if you click on a shopping link and make a purchase I may receive a commission. As an Amazon Associate, I earn from qualifying purchases.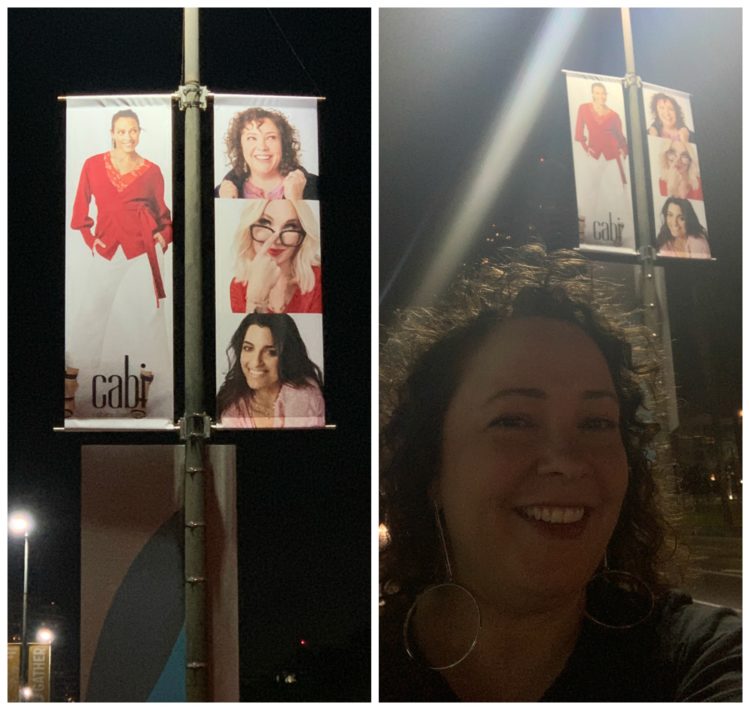 I'm writing this Thursday night from a hotel room in San Diego, California. I am here for cabi's twice-yearly conference, The Scoop. This is my fourth time attending a Scoop, but this time is different as I am one of the faces of cabi this season! Outside the San Diego conference center is a street light with a banner on it, and on that banner is my face. There is also marketing inside the conference center and that will be used by cabi Stylists for their events and such with me rocking Spring 2020 cabi fashion. This was what I filmed when I went to LA a few months ago for a super quick trip, but I had to keep it under wraps until now. It's really surreal, and I am really proud of it. This is a brand I really like wearing and working with; I'm thrilled they extended their size range this year and that I am in a campaign with an amazing and diverse group of women. I wonder if I can get the banner after the conference? No idea what I would do with it, but come ON, how often do you get a banner with a 6′ photo of you on it? Even if it's rolled up in my attic for decades, I still think it's a pretty sweet memento from a pretty cool experience!
Weekend Reads
Blue makes a great color for the ceiling of a porch, but that blue with a hint of green is known as "haint blue" and this piece delves into the history of that color and the shade of blue in America. (Atlas Obscura)
As menopause nears, be aware it can trigger depression and anxiety, too. (NPR)
Less sex (and with that, less masturbation) linked to getting menopause earlier. (Buzzfeed)
Really clear, helpful information about perimenopause and how to work through it. (NPR)
Yeah, didn't plan that menopause theme but it seems to be the hot topic in 2020!
A really interesting piece about homelessness from the perspective of a person who left residency to become a leading researcher on homelessness. (New York Times)
One in eight couples struggles to conceive. No wonder investors are injecting cash into the industry. Fertility Inc.: Inside the big business of babymaking. (Fortune)
Did you know that John Mayer may be the most influential watch collector on the planet? Me neither, and I was intrigued to find out why, and if you are also intrigued this article is for you. (GQ)
New Jersey has become the third state in the U.S. to formally ban discrimination based on hairstyles associated with race. (Business of Fashion)
If you're looking to modernize your nail game, this piece shares all the nailcolor and nail art trends for 2020. (Elle)
I really enjoyed this profile on Aidy Bryant. (The Cut) As for what she's wearing, at first glance I thought it was this blazer from Universal Standard that I own in green but then read it is from Veronica Beard… possibly this one?
For Your Entertainment
In the Forever35 Plus Facebook group, someone asked about plus size musical artists and of course, I got all up in there with my opinions and recommendations. But others also had recommendations and of artists I didn't know and one was Alanna Royale. Alanna Quinn-Broadus is the frontwoman for the band Alanna Royale, a soul group based out of Nashville. Quinn-Broadus has been performing since she joined musical theater at age 14 and went to the Berklee College of Music. Before Alanna Royale she was in a ska band and a post-punk band. Learn more about Alanna Royale at their website and enjoy one of their better-known songs in a fab retro-inspired video with a gorgeous mix of dancers. And BTW, inspired by that thread in the F35 Plus group, I made a plus size artists playlist on Spotify!