This article may contain affiliate links; if you click on a shopping link and make a purchase I may receive a commission. As an Amazon Associate, I earn from qualifying purchases.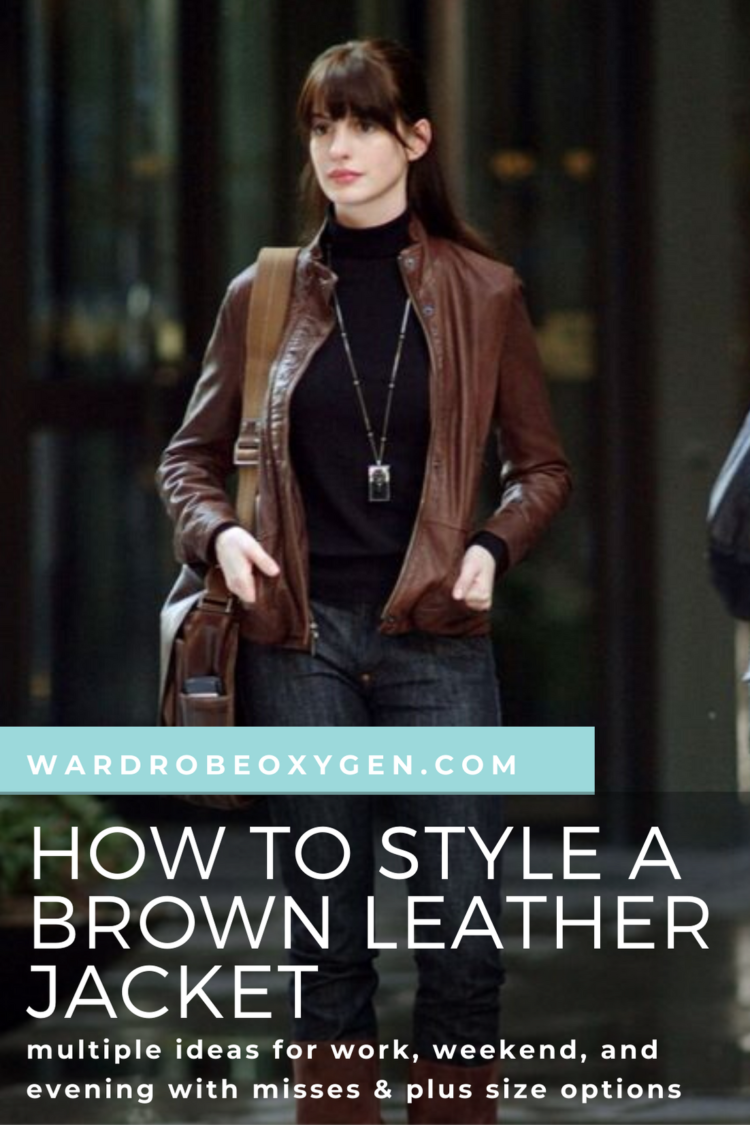 I regularly receive emails asking how to style a brown leather jacket. With black being a prominent color in fashion the past decade it can seem confusing how to style brown leather. In fact, I recently received this email from a reader asking how to style her brown leather jacket:
I have a lovely brown leather moto jacket. However, I don't wear it as often as I'd like because I'm unsure of how to pair it with my mainly black and grey wardrobe. Any tips to point a girl in the right direction?
The thing is, in the past decade or so, while black has become the most popular neutral, it has also become very chic to mix neutrals and break traditional color combination fashion rules. There is nothing chicer than pairing brown leather with other neutrals. In fact, it achieves a luxe and casually refined look not accomplished by styling brown with brown. Hopefully, these examples will show that in fact, a brown leather jacket is a very versatile wardrobe addition!
Tips for Styling a Brown Leather Jacket
When I think of styling a brown leather jacket, I think of Anne Hathaway in the movie, The Devil Wears Prada. I have always remembered how classic and chic she looked in a brown leather jacket, black turtleneck, jeans, and tall boots. I used her outfit as inspiration for this example.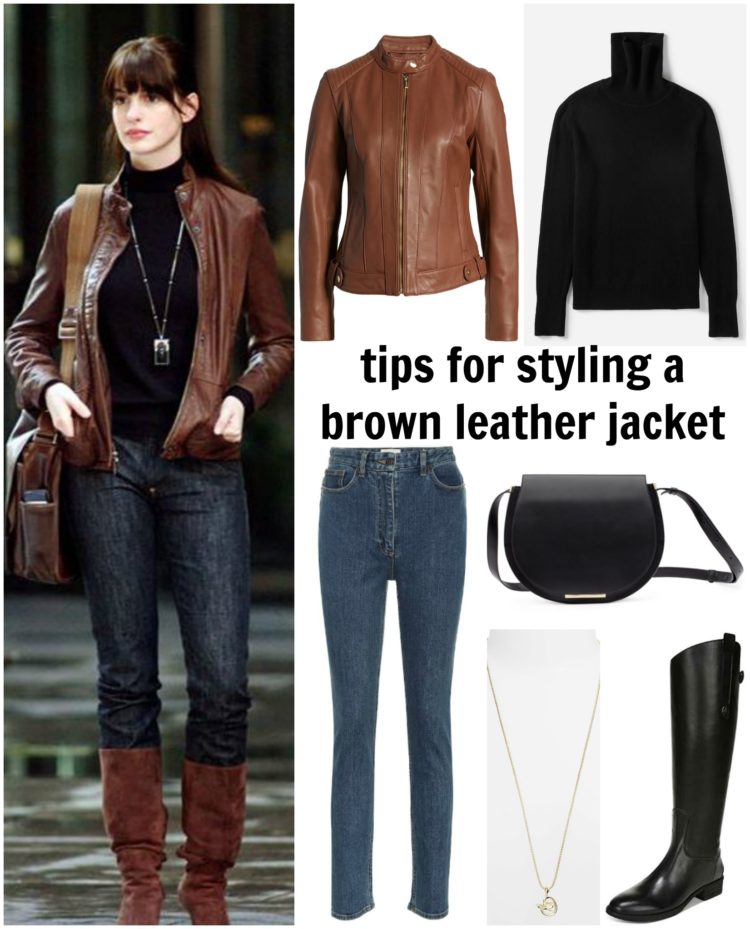 Shop the Look: jacket (plus-size option) | turtleneck (plus sizes) | jeans (plus-size option) | boots (wide calf option) | bag | necklace

While Hathaway's character mixed a brown leather jacket with brown suede tall boots, I chose to switch out the boots for a more classic black leather style that may already be residing in your wardrobe. Having less of a contrast creates a column of color which not only elongates the body, it highlights the jacket. I also chose a gold pendant that achieves the same effect while upping the luxe factor and creating a more timeless ensemble. It would be easy to switch out the rinse-colored denim for
black or even dark gray
, the brown leather jacket for any other color or fabric, the pendant necklace for a
scarf
or pair of
hoop earrings
, the tall boots for a pair of
ankle booties
or even
trendy sneakers
.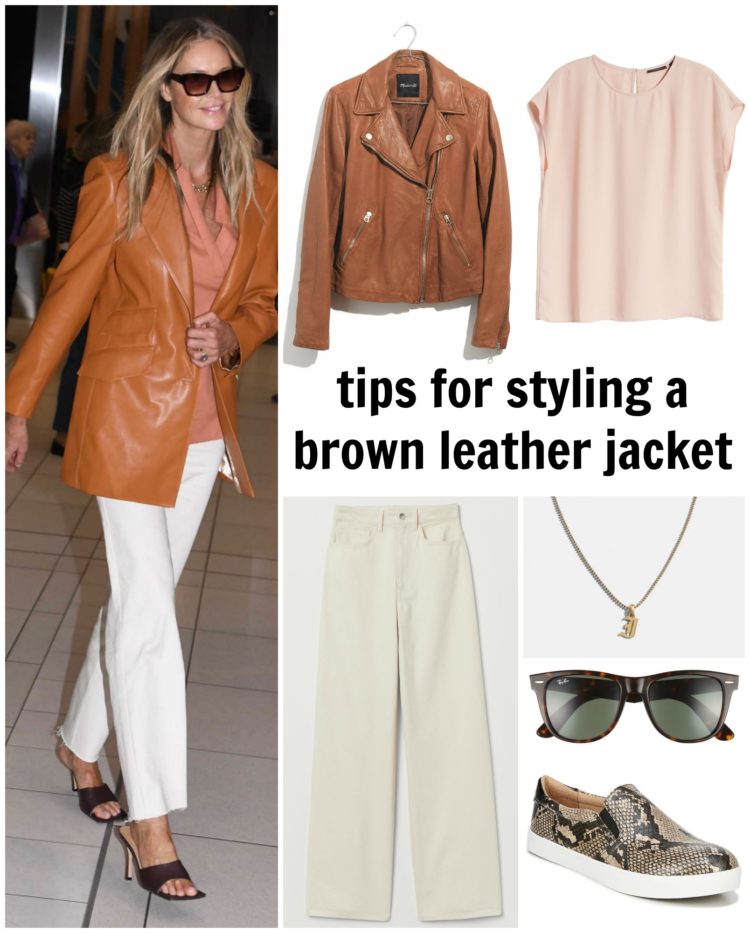 Shop the Look: jacket (plus-size option) | blouse (plus-size option) | pants (plus-size option) | sunglasses | sneakers | necklace

Brown shades of leather looks so chic when paired with light-colored neutrals such as cream, tan, ivory, and blush. Inspired by this look worn by Elle MacPherson, I created a more casual ensemble from the same color story. The silky fabric of the blouse and the twill of the trousers work well with the leather, the mix is very on-trend as the runways show combinations of casual and dressy fabrics, soft with stiff, matte with shine. This look could dress up easily with a pair of heels or loafers and even with a traditional trouser, but I created a weekend look with
slip-on sneakers in a snakeskin print
. Snakeskin is the hottest skin print this season, and these shoes are a neutral that will go with many more looks in your closet. However, you could easily switch them out for a camel leather flat or a more traditional trendy sneaker. Again inspired by MacPherson, the accessories are simple – a
classic pair of Wayfarers
and a bit of shine at the neck. And while this look features a lighter brown coat, this could also work with chocolate or other neutrals such as beige, tan, black, or gray and other fabrics like suede.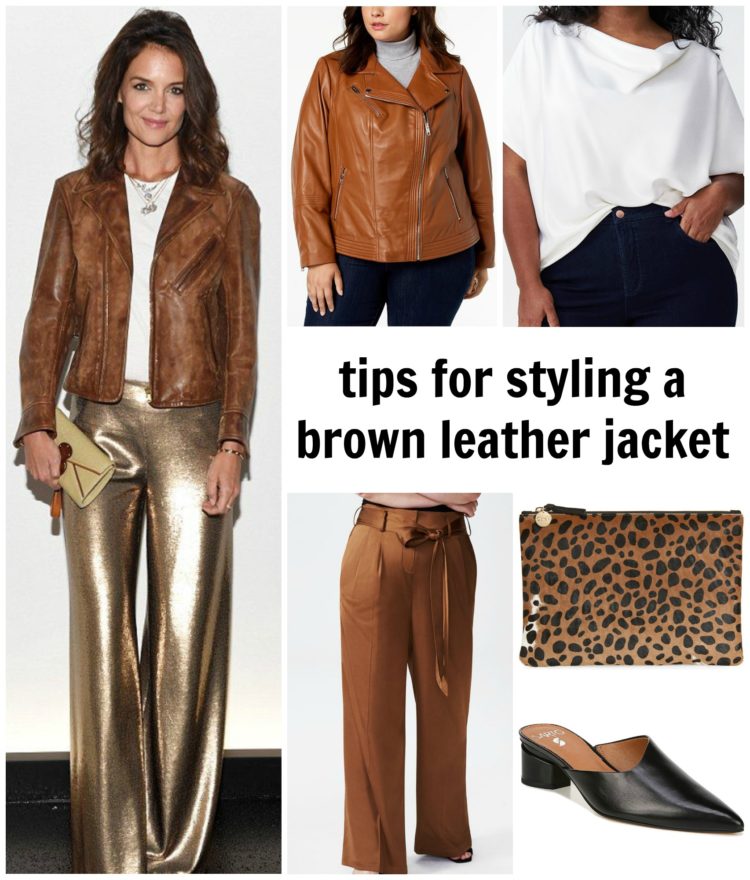 Shop the Look: jacket (misses sizes) | blouse | pants | bag | shoes

A brown leather jacket can feel casual, but as stated above, the trend now is to mix dressy with casual, polished with distressed. This outfit worn by actress Katie Holmes shows how you can style a brown leather jacket, even one that is a bit weathered or vintage, in a way that is dressy. The key is to mix textures. I own these pants (
see when I wore them to a Lizzo concert
) and in person, they are a shiny bronze with a finish like a heavy satin. They can easily dress up or dress down, making them a perfect pairing with a leather jacket. I also own the blouse (
worn here with the same pants in navy
) and think the sheen of these two pieces with leather would look quite chic. For shoes, I kept things comfortable with a
low-heeled mule
, but this is where you can show your personality and add formality. A sparkly heel or even a casual sneaker would be a stylish alternative. I kept it more casual with a
leopard calfhair clutch
, but this is also a place where you can add personality and formality with a pop of color or sparkle.
What Colors Go with a Brown Leather Jacket?
It can feel as though a brown leather jacket is a hard color to style, but with the direction of fashion trends in the past few years, it has become easier and easier to add to a wardrobe. A few suggestions:
Keep it classic. Brown leather always looks chic with a white shirt and denim. Switch it up with different shades of blue jeans or consider replacing a plain white shirt with a Breton stripe in navy, black, or red and white stripe.
Go western. Brown leather is the shade of horses, of cowboy boots, of the desert. Keep that vibe and pair brown leather with desert hues (which is a hot trend for 2020) and pops of coral and turquoise.
Black goes with everything. Seriously, black goes with everything including brown! That old rule of not mixing brown and black has been outdated for a long while. The important detail is to make sure there is enough of a contrast between the two colors so they look independent and not as though you got dressed in the dark.
Try cool neutrals for contrast. While above I showed brown leather jackets with warm neutrals like cream and bronze, switching it up with cool grays, gray-blue, and a cool-toned olive can look downright chic. Mixing metals has been a popular trend for a few seasons and the concept of mixing silver with rose and yellow gold can transfer over into the fabrics you wear too!
Use it as a neutral. Treat your brown leather jacket like a denim or black leather one and wear it with most anything! Brown looks amazing with shades of blue, pink, green (if trees can rock it so can we!), warm tones like goldenrod and pumpkin, berry and violet, and much more. Brown has come back in style as have unexpected color pairings so go ahead and get creative!
This post was originally published in 2013 but updated in 2020 with updated styling advice and shopping links.
Shop Stylish Brown Leather Jackets: