This article may contain affiliate links; if you click on a shopping link and make a purchase I may receive a commission. As an Amazon Associate, I earn from qualifying purchases.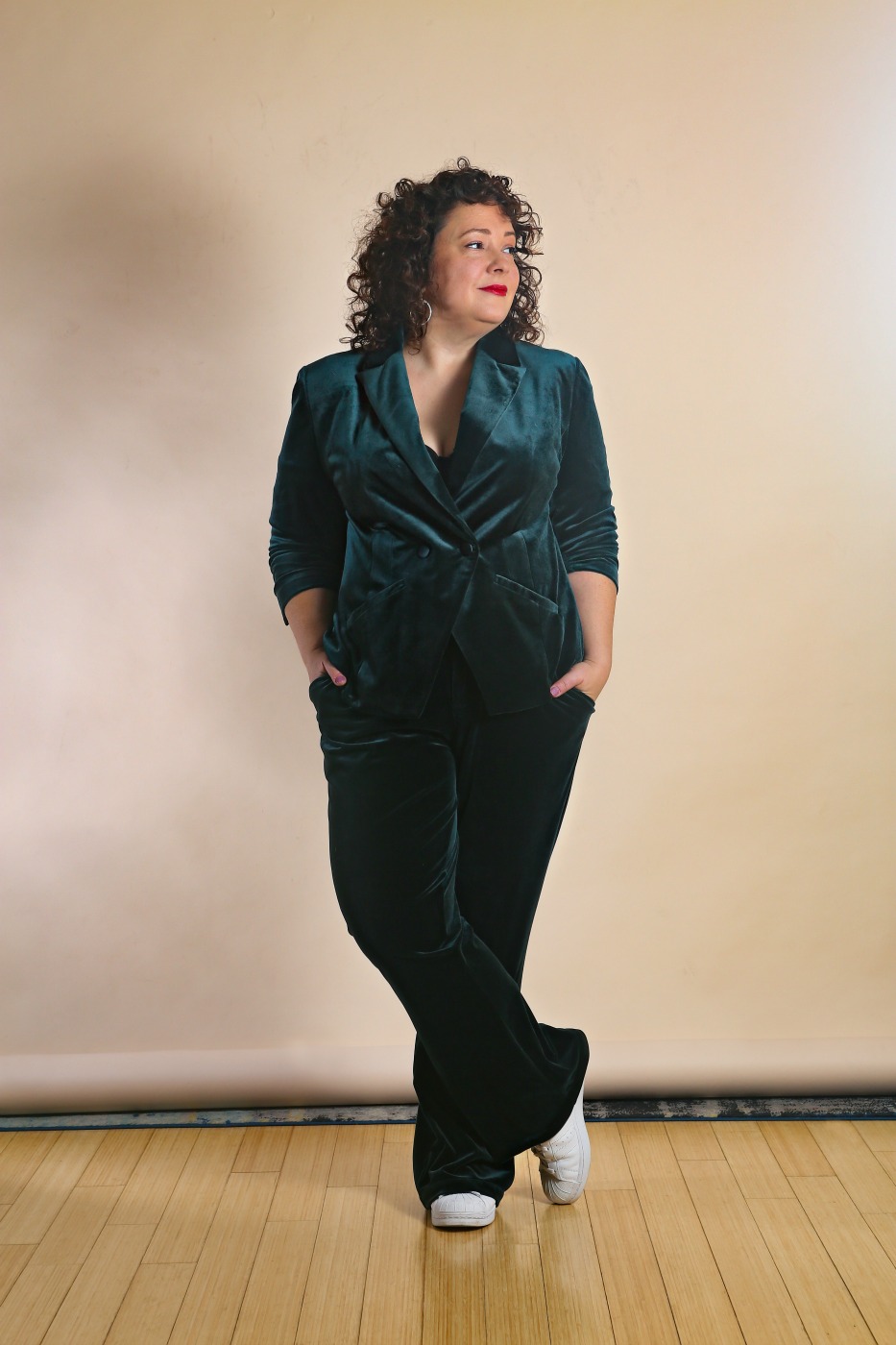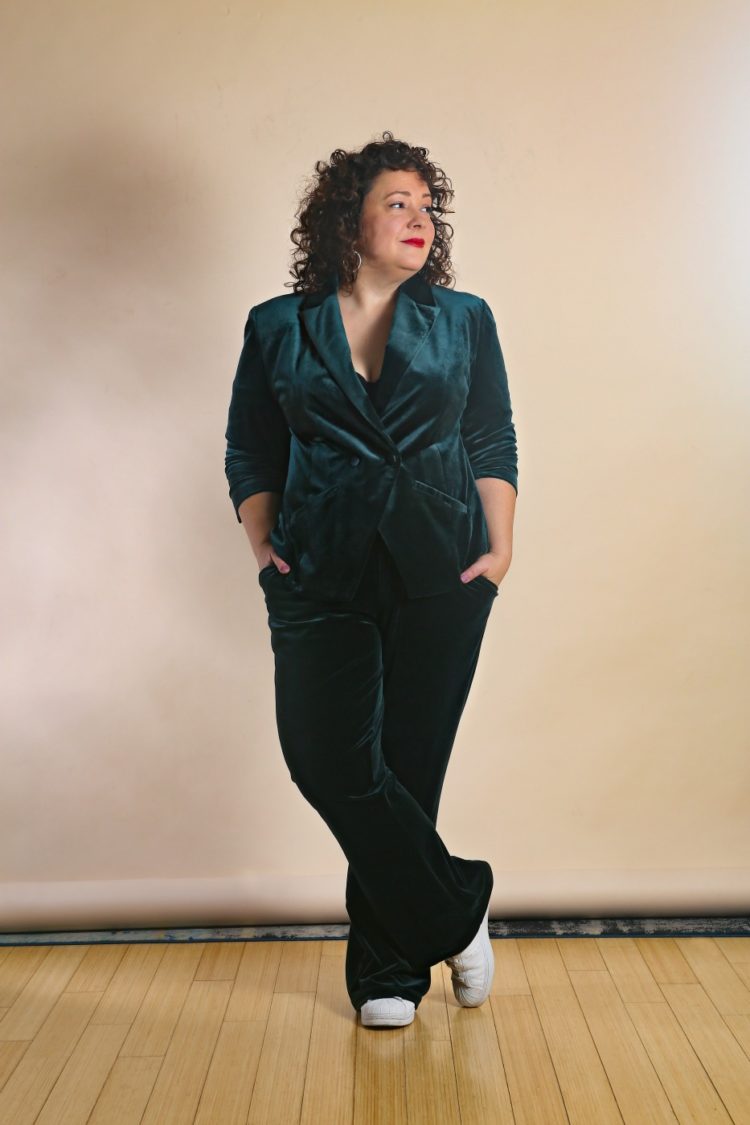 2019 was The Year of the Suit. I recently cleared out my closet and was surprised by how many suits I have amassed and how many of them I wear often and know I will continue to wear. White pantsuits to cocktail parties, red double-breasted numbers to speak at a conference, velvet-trimmed plaid ones for afternoon tea, pinstripes for a birthday dinner, a pop of pink for speaking in front of grad students, and a black lady tux for an awards gala. I learned you don't need to wear a skirt, fancy undergarments, or a pair of heels to look elegant, formal, and fabulous. In 2019 I realized a pantsuit holds power not only because of its classic professional silhouette, but because of the ease and comfort while looking like a badass. I liked them with turtlenecks and buttoned-up blouses, I liked them with just my bra. I wore the suit pieces as separates, dressing them down and giving them multiple lives. I had so much fun rocking pantsuits in 2019, I know this will be a trend I continue to rock in the next decade!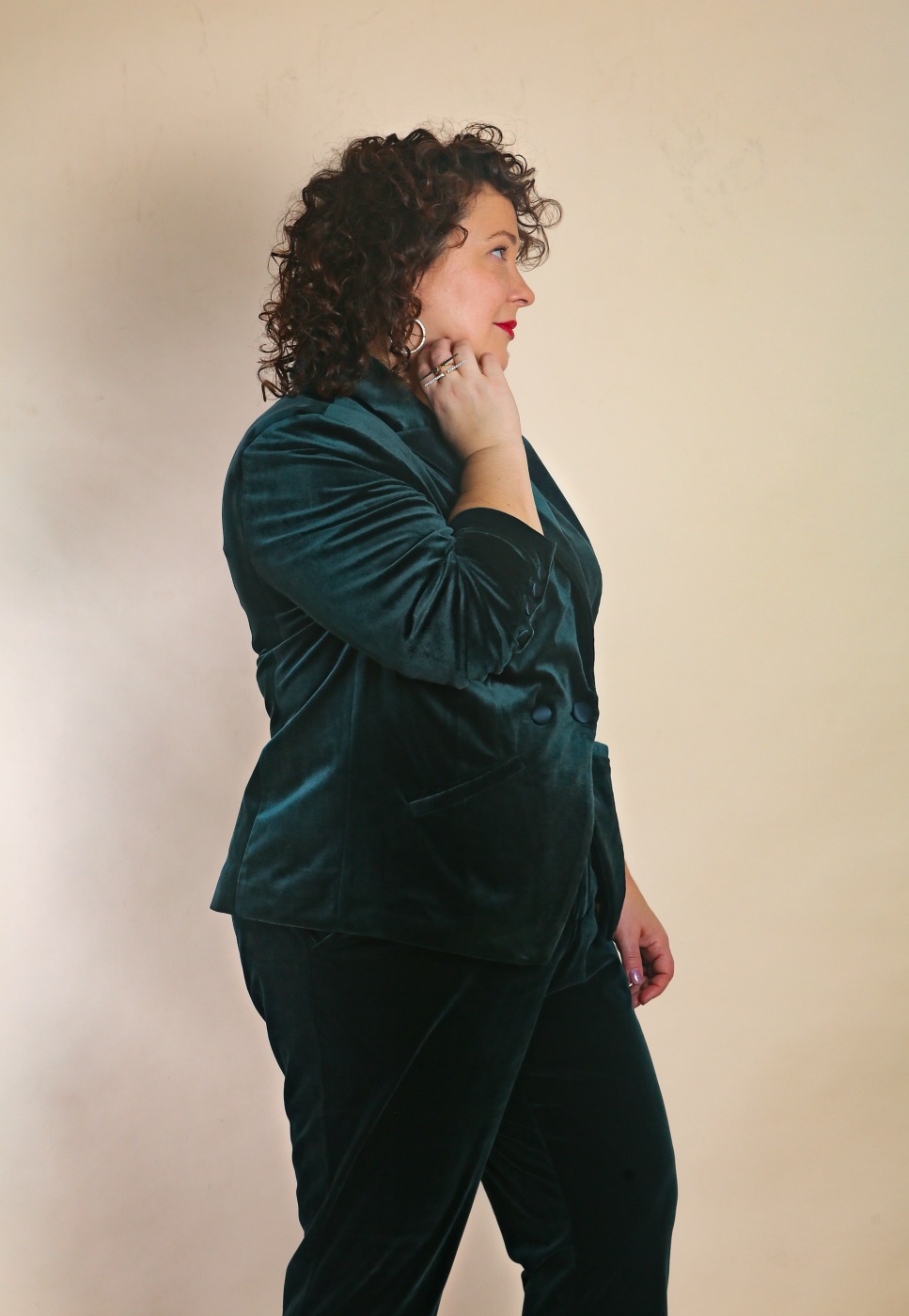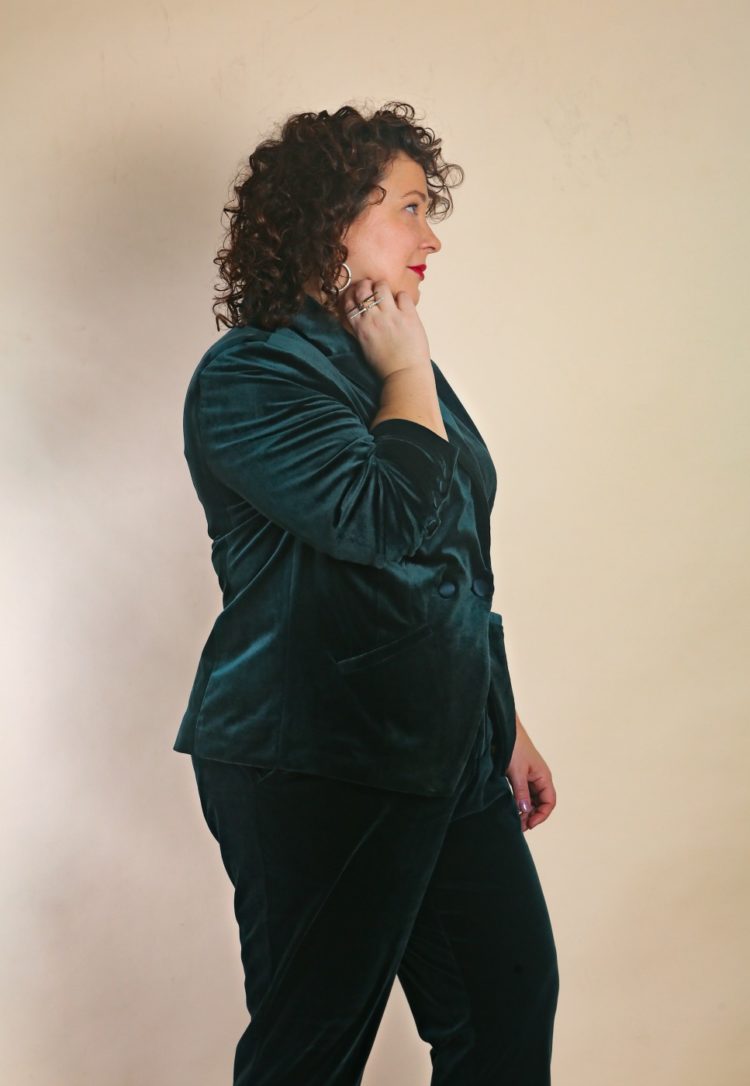 Blazer: Universal Standard (12) | Pants: Universal Standard (12) | Shoes: Adidas | Bra: Soma | Earrings: Domain Pave Portrait Hoop Earring c/o REALM Fine + Fashion Jewelry | Necklace: Empire Stiletto Pave Pendant c/o REALM | Black Ring: Sceptre Linea Pave Median Ring with CZ Noir c/o REALM | Crystal Ring: Sceptre Linea Pave Median Ring with CZ Blanc c/o REALM | Lipstick: Lancome 'Caprice'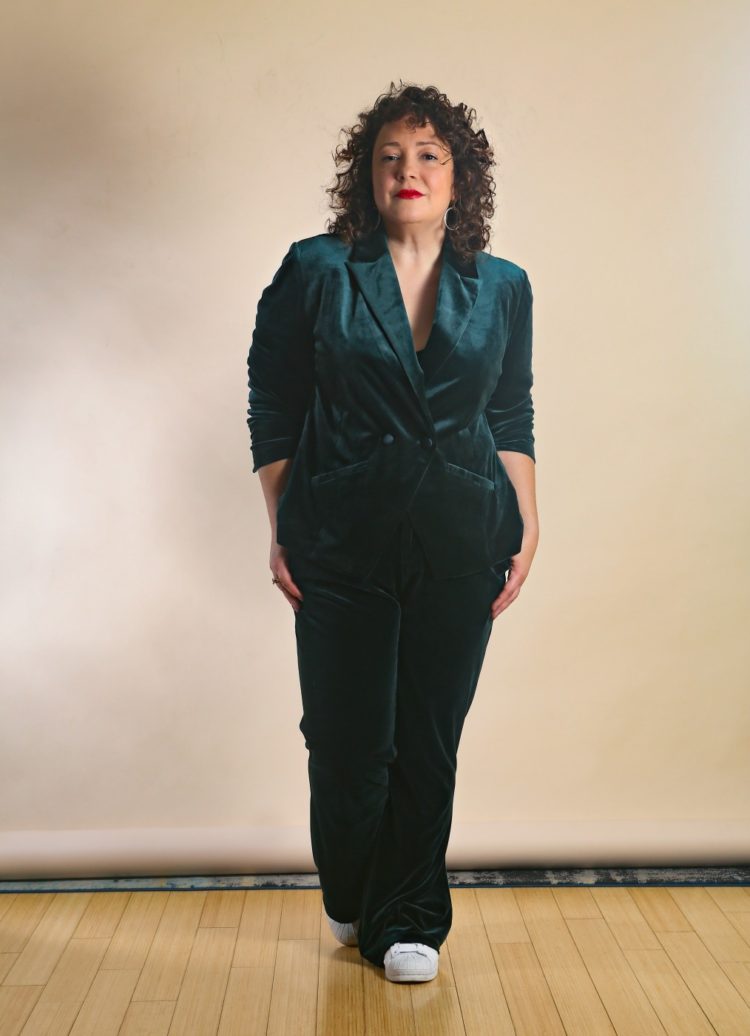 We all know by now I am a sucker for anything Universal Standard so when I saw this suit in my inbox one morning I made a beeline for the US website and ordered it immediately. the suit comes in gold, black, and green and I knew I needed the green. I ordered my standard size in US, not even realizing that the pants are meant to be slightly cropped. They arrived, I put them on, and wondered, did I somehow order this suit in petite? I was surprised that the pants were a perfect length for me with a bit of heel showing with heels or just touching the floor with flats. I do think these pants would look cute in the shorter length they're supposed to be (reminds me of this suit I wore almost a year ago with ankle booties) but this is a perk for someone who usually has to get her suits tailored!
Shop the Look:

When I first tried on this suit, I styled it with heeled ankle booties which felt super chic. But for this shoot I decided to go comfortable with my Adidas Shelltops. It's a wonderful time where we women can wear comfortable shoes and be celebrated for our style! This suit would also look great with a pointed-toe flat or a pair of classic loafers in a metallic or brocade. You could also embrace the menswear trend with a pair of brogues. I'm wearing the suit just with a plaid black bra, but this would also look great with a button-front shirt, a silk blouse, a turtleneck, a graphic tee, or a sparkly shell.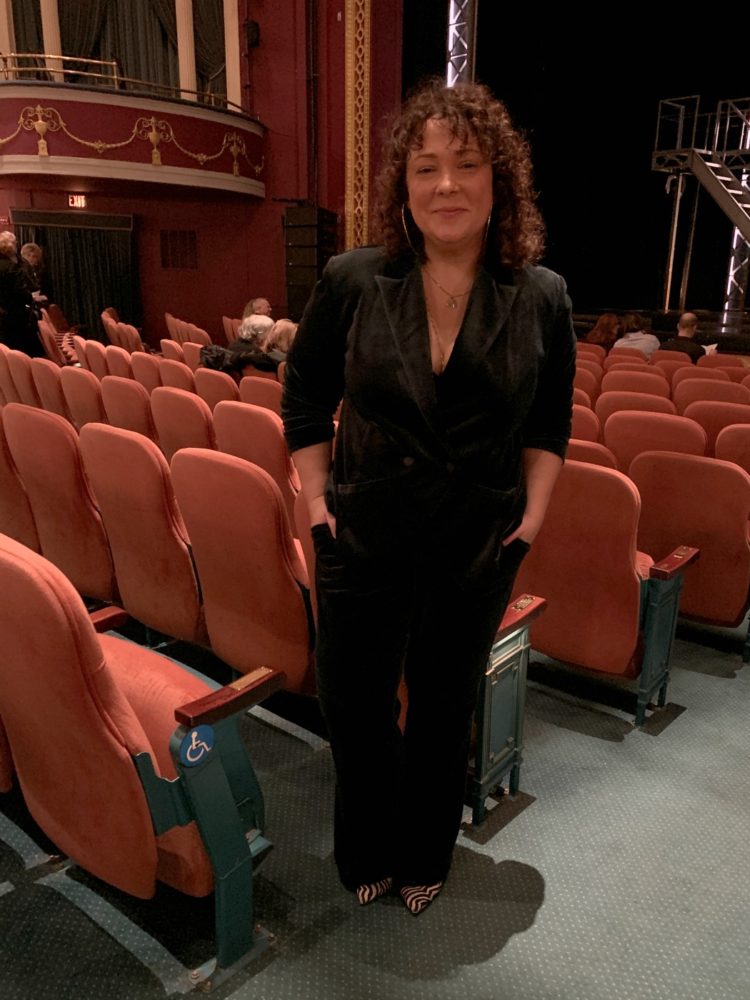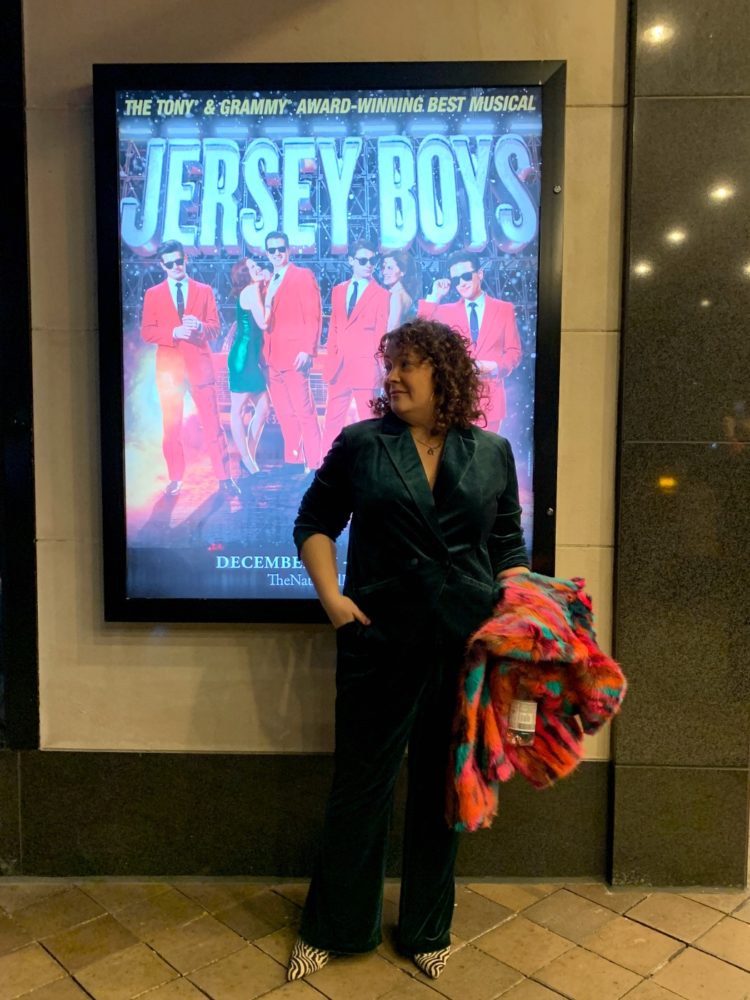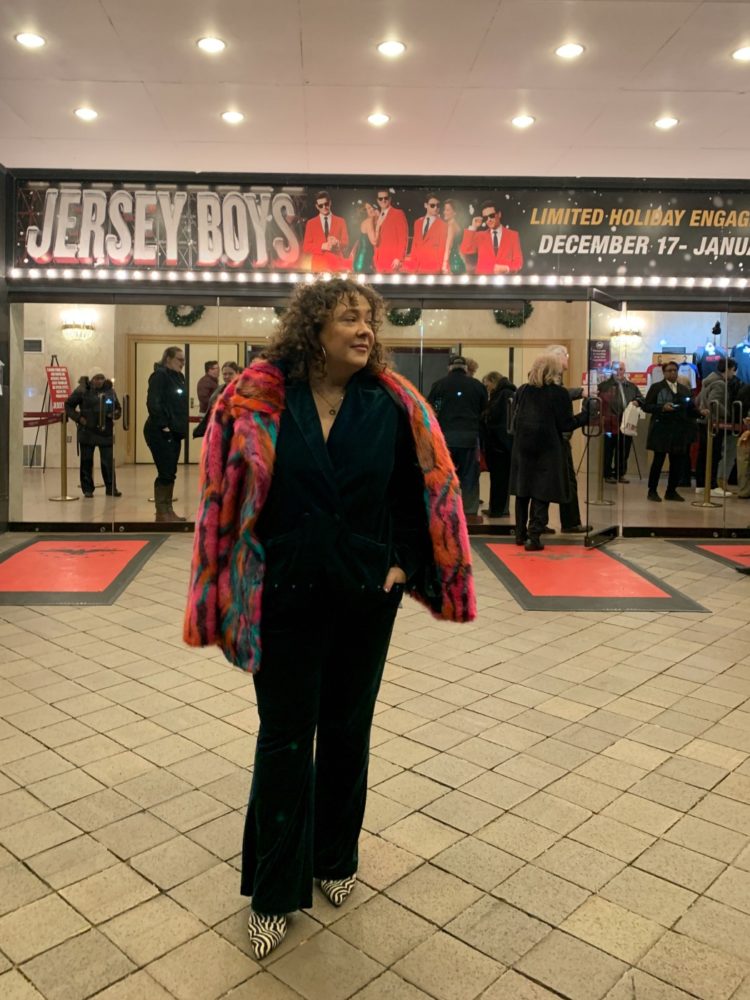 Last night I went to see Jersey Boys at the National Theatre with my mom. It's a special limited holiday engagement through January 5th and it was fantastic! Great cast, great music, we both had a blast. I wore the Universal Standard green velvet pantsuit with my MIA sock booties and Jenny Bird Monogram Hoops. The coat is a couple of years old from ASOS. It's not my size anymore but I just can't quit it! It does make it more comfortable when worn over blazers and thick sweaters.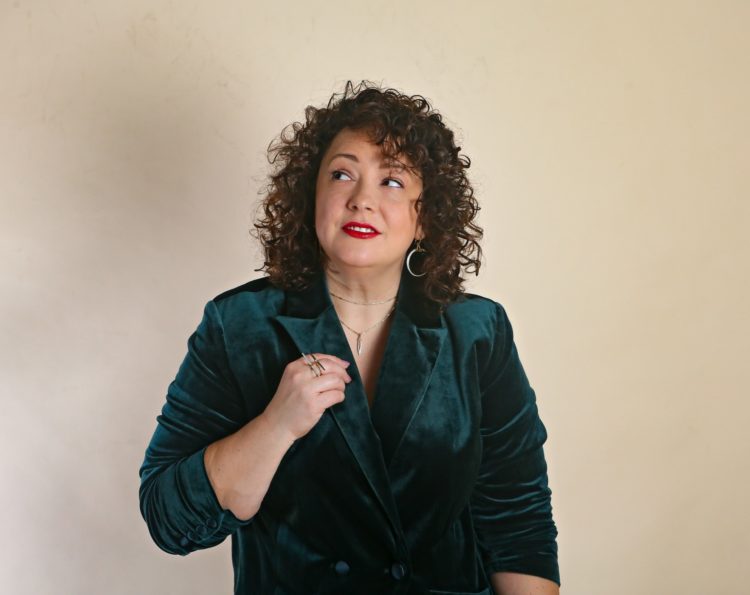 Right now you can save 25% off at REALM with promo code DAZZLE. This is fantastic because REALM rarely goes on sale. I've featured REALM before, it's a woman-owned and designed fine fashion jewelry line based in Philadelphia. This is high-end fashion jewelry, made with precious metals and quality stones. These are pieces that offer years of statement-making style. I wore these two rings together Sunday night when I went to my friend Angelica's holiday party and so many people stopped to ask about them. They're unique rings that look good alone, stacked with other rings (really pretty with some sparkly slim bands), or doubled up like I have them here! And for those thinking you may gouge an eye out, this is the benefit of quality materials. The ring doesn't bend, and fits so well even the klutz I am hasn't caught them on anything and find them quite comfortable. This necklace I've worn as a long pendant and have doubled up the chain to wear in v-necklines. And you've seen the earrings many times, they are so beautiful.