This article may contain affiliate links; if you click on a shopping link and make a purchase I may receive a commission. As an Amazon Associate, I earn from qualifying purchases.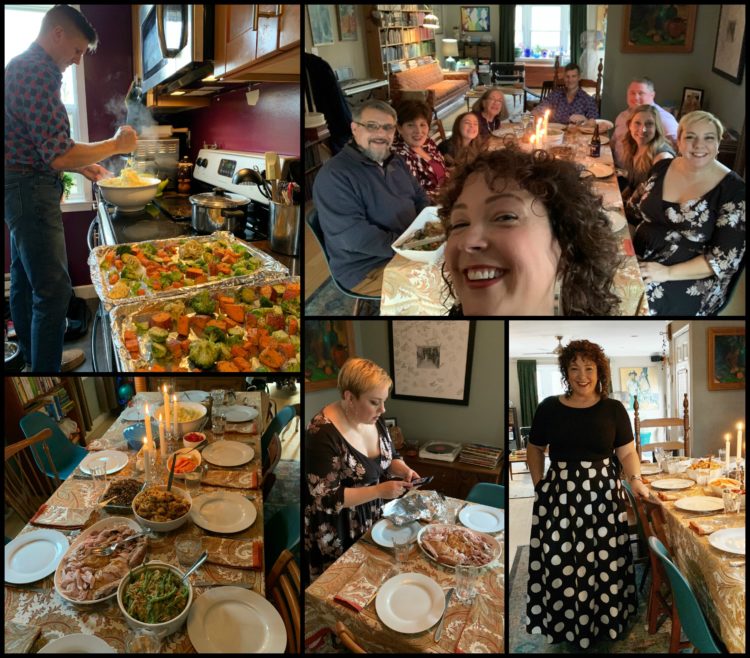 Weekend Reads are late this weekend because this is no typical weekend!  If you're like me you may not even be sure what day of the week today is!
Yet again, we hosted Thanksgiving.  This year was a nice-sized group of just nine of our family and like family. We're eating plant-based, so Karl cooked up a vegan feast of mashed potatoes, roasted vegetables, dressing which included Beyond Sausage, mushroom gravy, green bean casserole, and more.  My mom brought her apple pie, pumpkin bread, stuffing and rolls.  My sister spatchcocked a turkey, my best friend made a gorgeous cheese board, and my cousin made her famous wild rice dish, cranberry relish, and mango chutney.
Friday we drove up to the New Jersey/Pennsylvania border to spend some time with family.  They live farther north and came down to visit family so we came up to meet them for the second half of their trip.  I am typing this from a hotel room while the cousins are off splashing in the indoor pool and later we will be celebrating a cousin's birthday! This was Oscar's first road trip and he did amazingly well. He napped most of the way in his Kurgo booster seat (we like that this one has a safety harness) and in the room, we have his soft crate and his favorite blanket and toys so things feel and smell familiar.
I hope all of you who celebrate Thanksgiving had a wonderful holiday with family and friends.  I am so thankful for all of you.  I love this community and connecting with you and feel so blessed you choose to read Wardrobe Oxygen!
Sale Alert
In honor of Small Business Saturday, the sales below are for great small businesses!
Weekend Reads
Malls are dying. The thriving ones are spending millions to reinvent themselves. (The Washington Post)
This is the list of fancy fashion items that defined this decade.  I found this interesting to see how designer pieces trickle down and transform over seasons and pricepoints.  When I think of the 2010s, I think hair extensions, makeup contouring, skinny jeans, ankle booties, Valentino Rockstud shoes, backpacks, sustainable fashion in desert colors, and sneakers with everything.  What fashion trends do you think of as defining this decade? (Vogue)
"Does 'coffee, wine, and Amazon Prime'… spotlight the fact that conventional expectations of motherhood are untenable even for those who are most eager to embrace them?" The quiet protests of sassy mom merch. (The New Yorker)
I was a lifeguard; it was an early Saturday morning and I was scrubbing the decks before the pool opened.  We were playing a top 40 radio station over the speakers and it was how I first heard "You Oughta Know" by Alanis Morrisette.  I was so obsessed that very day once my shift was over I raced to the record store and bought the CD.  I proceeded to play that album over and over the rest of the Summer of 1995. Needless to say, I enjoyed this piece on Alanis Morissette. (New York Times Magazine)
Another profile on another iconic singer – the incomparable Judy Collins. (New York Times)
The best lingerie for people with chronic pelvic pain and dysfunction. (The Lingerie Addict)
I wish I could have attended this session at the Chicago Humanities Festival with the lovely Judith Boyd of Style Crone and Ari Seth Cohen from Advanced Style! (Style Crone)
I love it when fellow monetized sites remind people to slow down on spending.  We can be successful businesspeople without encouraging mindless and wasteful spending.  A great read on the questions to ask before purchasing. (Man Repeller)
Currently reading (because this hasn't been the weekend… yet… for chilling and reading) this crazy piece on Canadian blockchain whiz Gerald Cotten and wondering if he faked his own death. (Vanity Fair)
For Your Entertainment
This is the time of year where everyone comes out with their best albums of the year lists.  My husband LOVES these, and all week has been going through them and "Designer" by Aldous Harding is on many of them.  I heard of her, I heard the song "The Barrel" at some boutique or coffee shop earlier this year, Shazaamed it, and had it on a playlist I've created for when I am on planes or trains and want some background music while I read or nap.  But I didn't know much about this artist.  Yesterday while driving to Philadelphia, I asked Karl what he wanted to listen to next and he said Aldous Harding.  So while her album played, I did a quick Google on this New Zealand singer-songwriter. And I found this video, and it not only changed the entire song "The Barrel" for me, it made me want to see her live in concert.  Talented and not at all ordinary, I agree with others that her entire album is worth checking out.  It makes for good driving on a sunny day music, or adding to a playlist for chill behind the scenes tunes. This is such a weird video but it makes me giggle too.  You think it's weird?  Wait until that hat comes off. The comments on this video are amazing too.