This article may contain affiliate links; if you click on a shopping link and make a purchase I may receive a commission. As an Amazon Associate, I earn from qualifying purchases.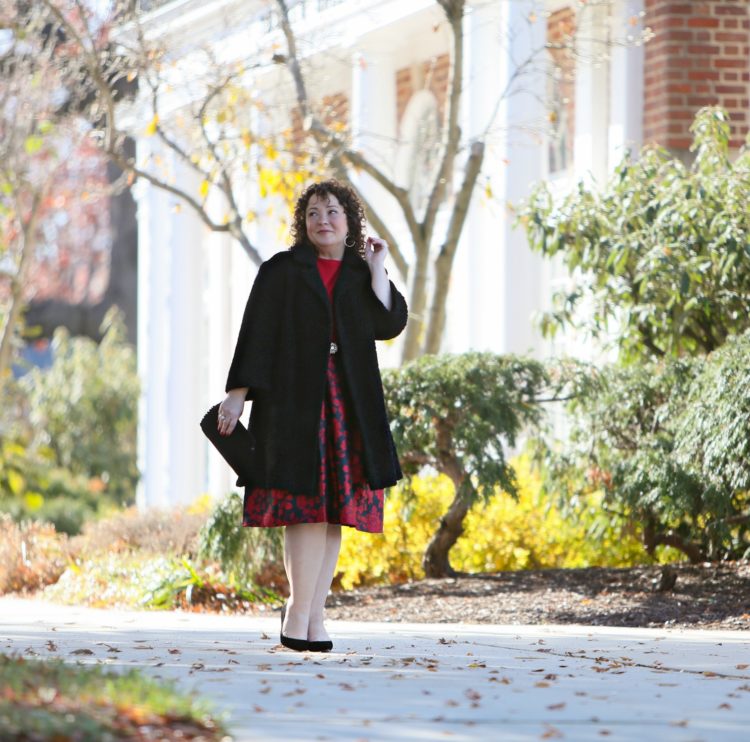 Earlier this month I shared a holiday capsule wardrobe I made in partnership with Talbots. Last week I shared one look from the capsule wardrobe; today is the second look! I think this look would be perfect for a variety of holiday events, from a church service to a holiday party. This is a look that can easily be updated with flat shoes and/or tights for comfort.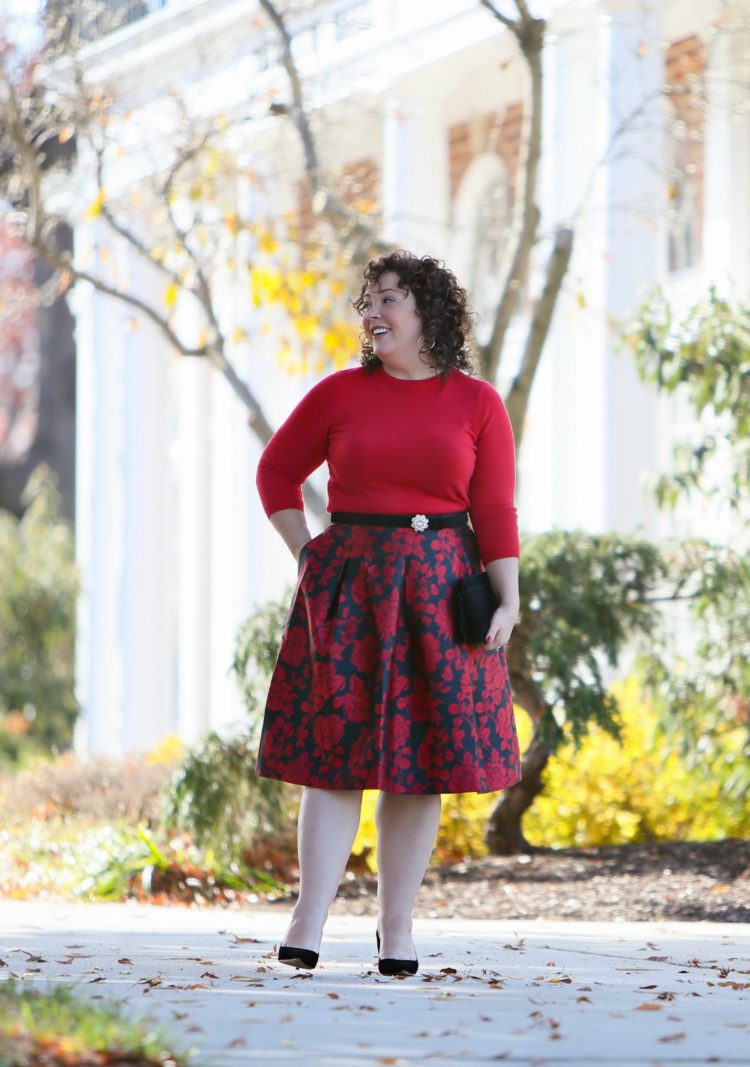 Sweater | Belt | Skirt | Shoes | Coat | Bag | Ring | Earrings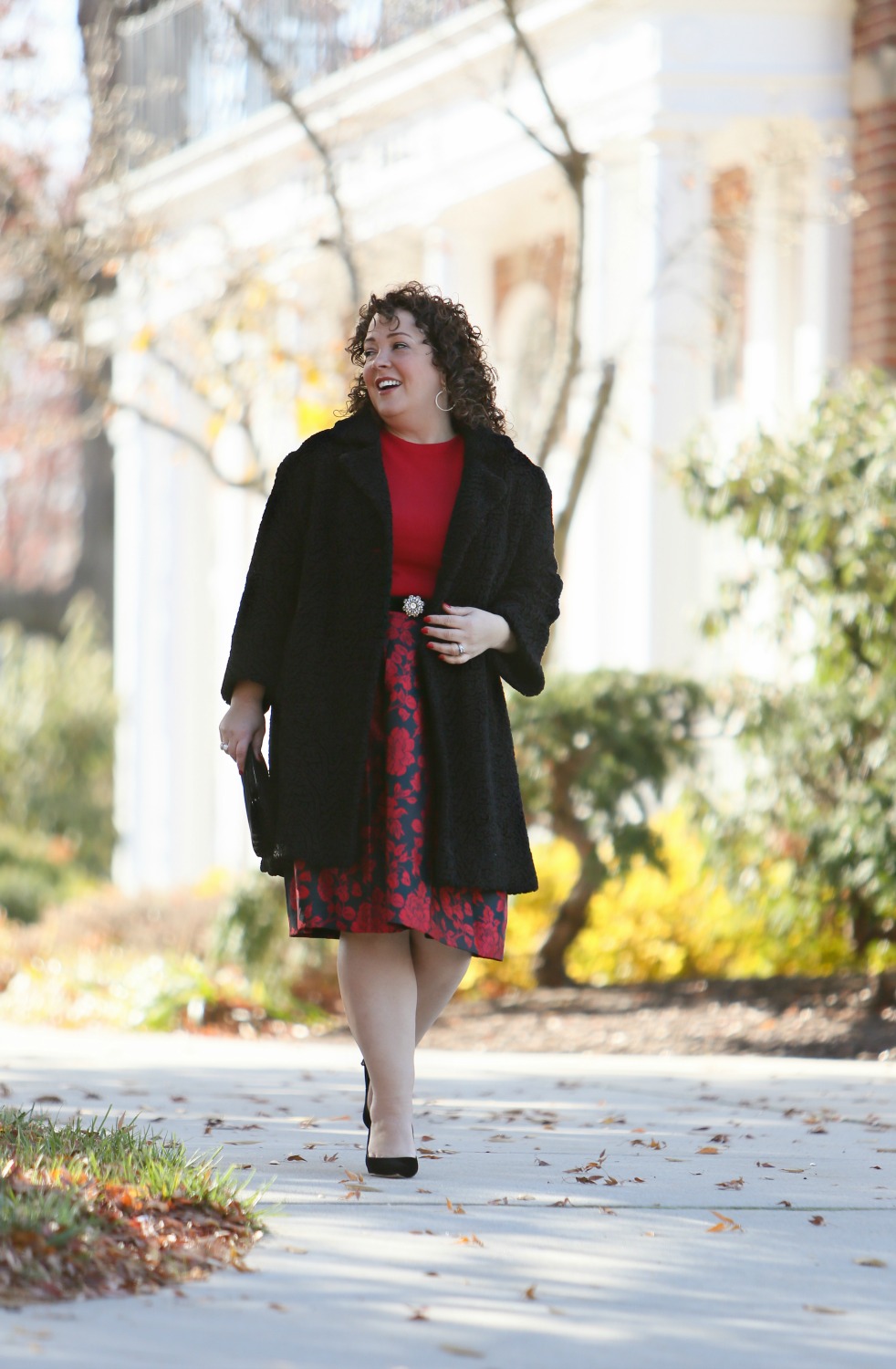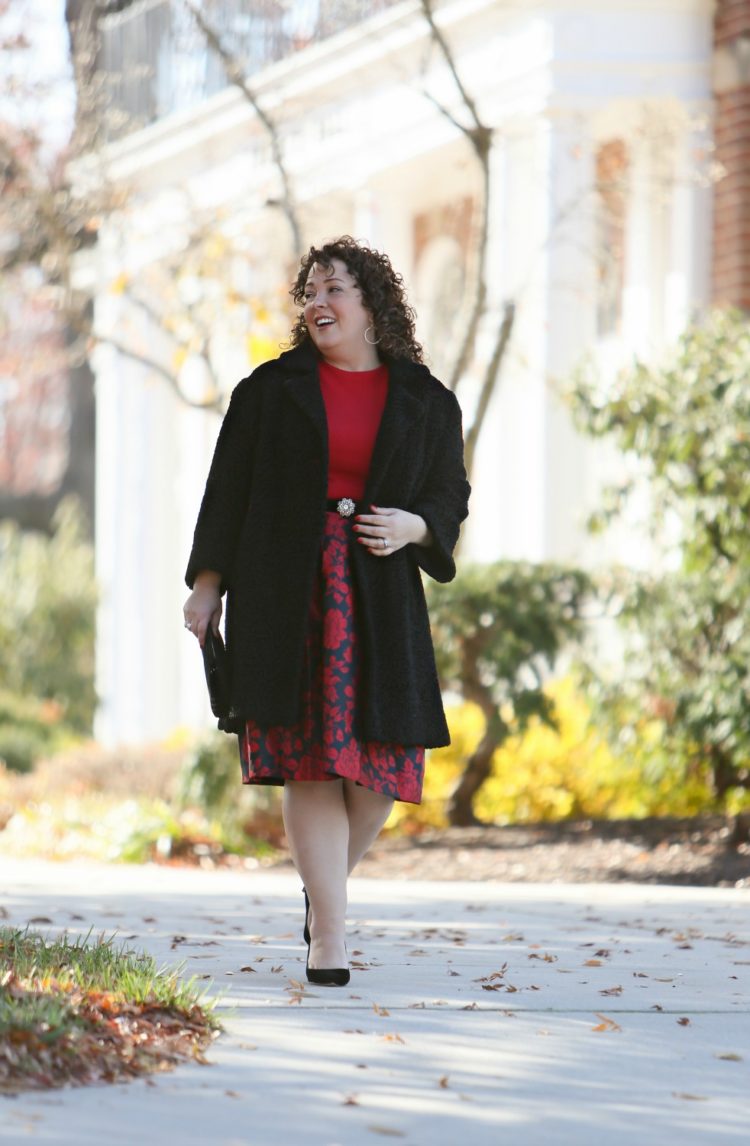 Sweater: Cashmere Audrey Sweater c/o Talbots (LP) | Skirt: Floral Jacquard Full Skirt c/o Talbots (14P) | Belt: Silk Suede Belt c/o Talbots (L) | Shoes: c/o WHBM (old; similar) | Bag: c/o Talbots (old; similar) | Coat: Vintage (similar concept, plus size option) | Ring: Sceptre Pave Ring c/o REALM | Earrings: Domain Pave Portrait Hoop Earring c/o REALM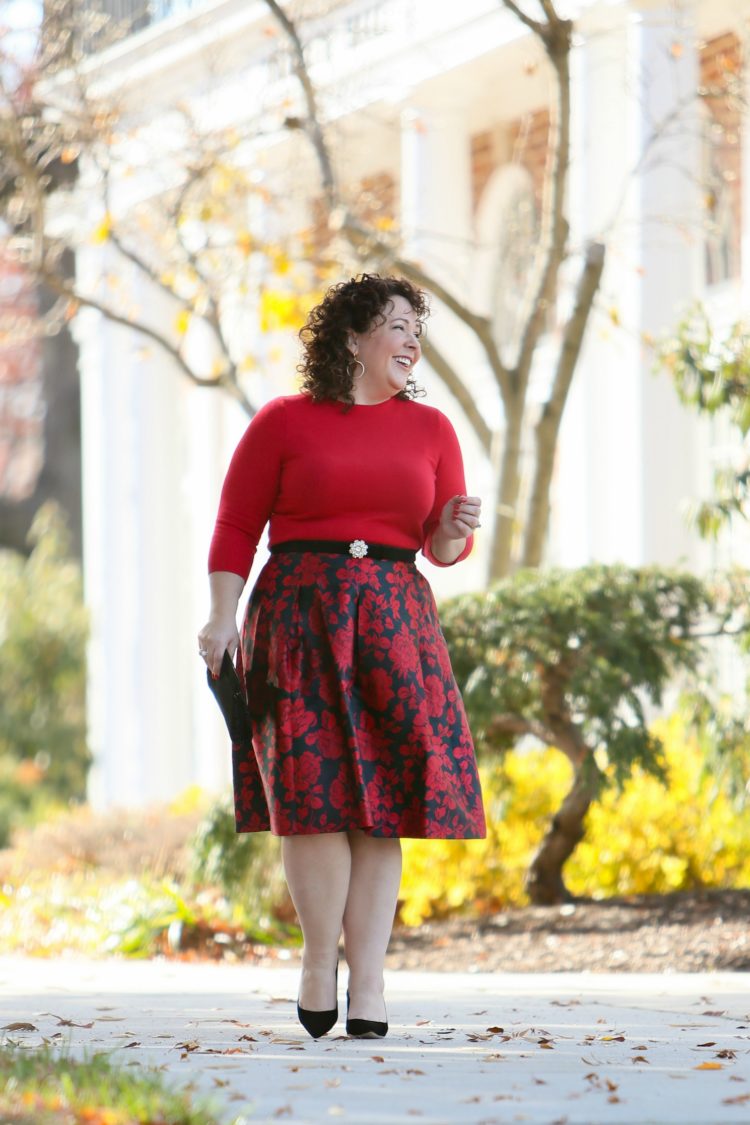 There are many sides to my personal style, and one is ladylike and feminine. This look totally calls to that side of my style! This skirt has volume without being stiff or adding bulk; it's lined which adds warmth while also adding a quality detail. And hello pockets! The waistband is black grosgrain ribbon so it looks lovely with an item tucked in sans belt, and also offers a smooth finish under fitted untucked tops. Choosing petite, the skirt was at a length I found better highlighted the curves of my legs.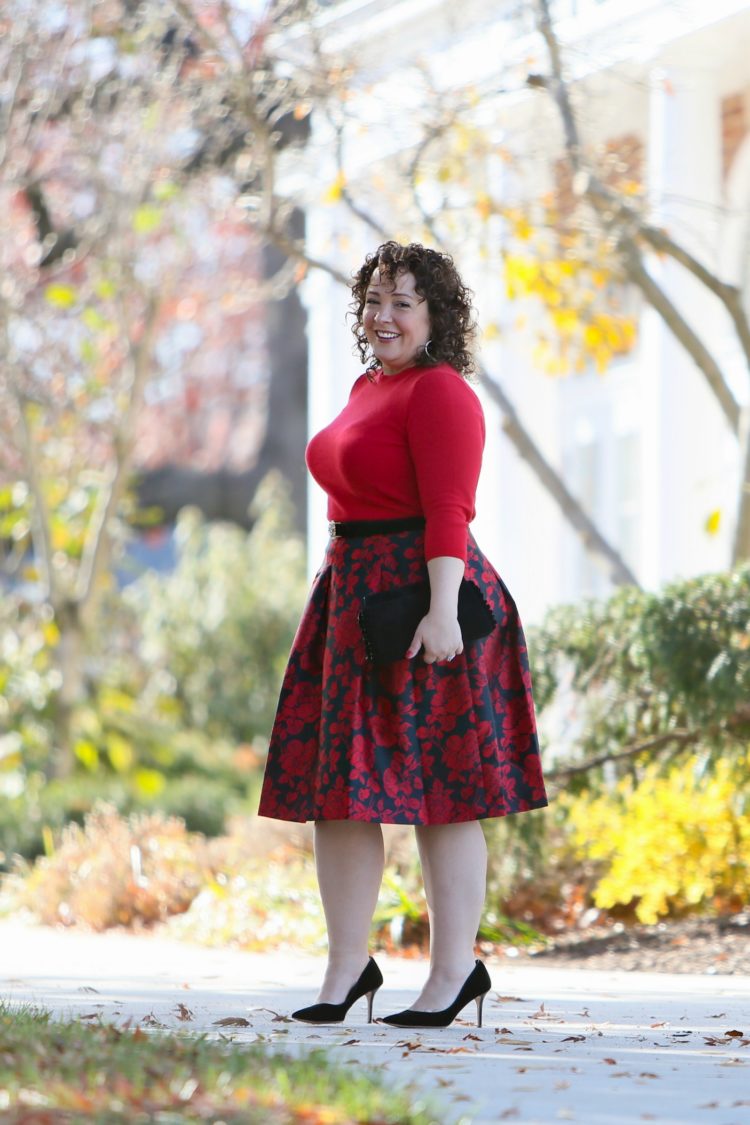 This is the third Audrey sweater I've owned from Talbots and I love the higher retro-inspired neck and bracelet-length sleeves. My previous Audrey sweaters are Large Regular, for this one I went with petite so it would be shorter, looking more polished untucked and having less to tuck in. Talbots makes true petites; this sweater isn't just shorter but has more narrow of armholes and is a more trim fit throughout. It does make for a good layering piece while still being a flattering and not tight fit.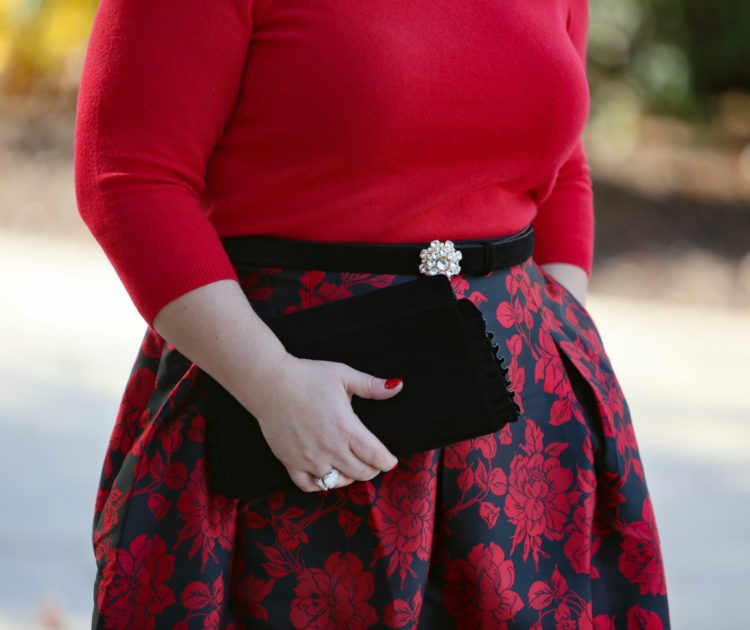 For the holidays, accessories make your look. This is a time when all the bling in your jewelry box is acceptable. I love a dressy belt, it's such an easy way to glam up a look. Slide through the belt loops of jeans, use to cinch a longer cardigan over trousers, replace the self-belt of a dress, or just add to the natural waist of any ensemble like this. If in doubt with this belt, size down. I was pleasantly surprised by how big the Large is; I think it would comfortably fit up to at least a 16. To really make the look festive, I added these sparkly portrait hoops from REALM and a pave cocktail ring also from REALM you've seen before in this post and this post.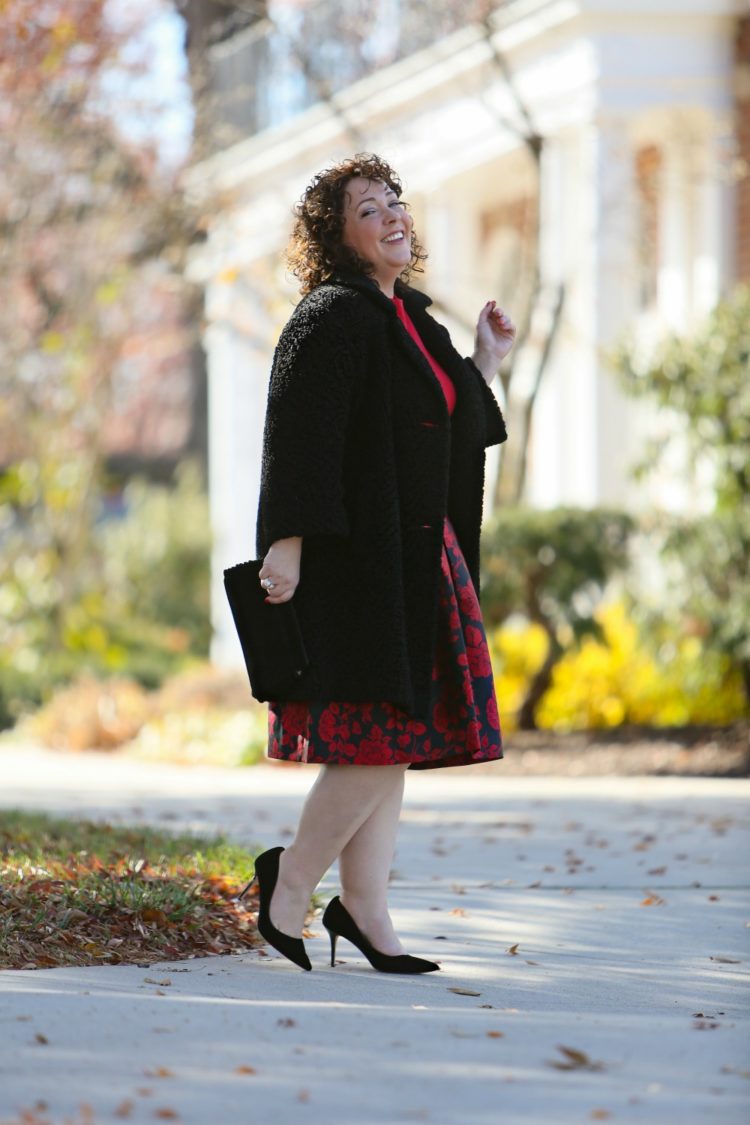 Finally, this coat. All my grandparents had passed before I was two. My grandfather's cousin Ted, my first cousin twice removed, he and his wife Laura were sort of like replacement grandparents for us. They had their own kids and grandkids, but we'd visit every summer and they had a major impact on my life. Laura was a badass. She always wore crisp white shirts with pastel-colored shorts, hose, and white sneakers. She antiqued, and my mismatched dining chairs are inspired by their dining room. When we visited we would always go yardsale-ing with Laura, she's who inspired my glass insulator collection. When I was in college she gave me this Persian broadtail lamb coat she scored at an estate sale. I won't wear new fur, but I regularly wear this super warm yet dressy coat every winter and think by doing so I am giving respect to the animals that were killed to create it. Thanks to its vintage silhouette, I've been able to rock this coat as a size 8 and a size 16, in the '90s and today. Go through my archives and you can find several posts like this one from 2010 where I've worn this coat.
Shop the Post: